ING/ESP LA PEQUEÑA RETOSA CON MI PADRE/THE LITTLE ONE CHALLENGES WITH MY FATHER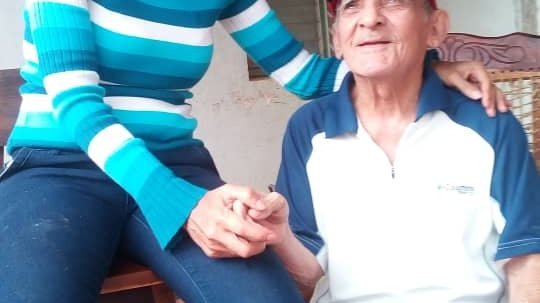 Saludos mi gente amiga! hoy les presento un video que grabe en compañía de mi querido padre, que este 29 de octubre cumplirá 86 años de vida, su nombre es AlpidioAntonio Suarez Suarez, Casado con mi señora madre (fallecida) hace 29años; de es unión matrimonial nacieron diez hijos, tres varones y sietes hembras a pesar de que su formación educativa fue muy poca, solo estudió hasta segundo grado de educación primaria, porque lastimosamente quedo huérfano a los 7 años, es muy hábil en las matemáticas nadie le ganaba sumando y multiplicando.
---
Esas destrezas en las matemáticas le sirvieron para afrontar las situaciones de la vida. Se dedicó a la agricultura, a la cría de cabras y ovejos, fue vendedor de hortalizas y verduras. Hace veinte años quedo invidente por padecimiento de glaucoma bilateral, aún no ha perdido lucidez mental, es muy vivaz y alegre, lo ayudo mucho el hecho de ser zurdo, mantiene muy buena memoria y recita versos, canta, baila, y eso le permite estar muy activo y alegre. Eternamente agradecida de tenerlo como padre y muy agradecida con Dios de tenerlo con vida y con buena salud.
---
Greetings my friends! today I present you a video that I made in the company of my dear father, who this my dear father, who this October 29th will be 86 years old, his name is Alpidio Antonio Suarez Suarez, married to my mother (deceased) 29 years ago; from this marriage union marriage union, ten children were born, three boys and seven girls, although their educational his educational formation was very little, he only studied up to the second grade of elementary education education, because unfortunately he was orphaned at the age of 7 years old, he is very skilled in mathematics.
He is very skilled in mathematics, no one could beat him in addition and multiplication.
---
Those skills in matemáticas mathematics served him well in coping with life's situations. He dedicated himself to agriculture, raising goats and sheep, he was a vegetable and greengrocer. Twenty years ago, twenty years ago he became blind due to bilateral glaucoma, he has not yet lost his mental he is very lively and cheerful, he was helped a lot by the fact that he is left-handed, he has a very good memory and recites verses, sings, dances, and that allows him to be very active and cheerful. and cheerful. Eternally grateful to have him as a father and very grateful to God to have him alive and with us. God to have him alive and in good health.
---
Se Utilizo el traductor DeepL.com
▶️ 3Speak
---
---