Sketch Of Venompool – Boceto de Venompool [ENG-ESP]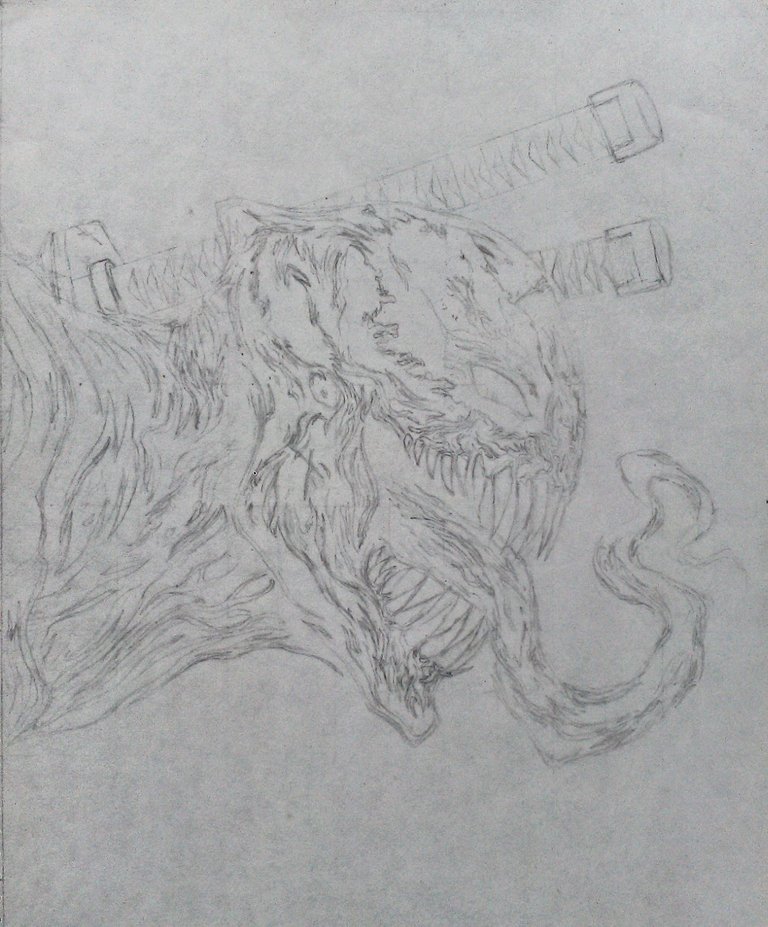 The truth is I always wanted to make a symbiote, it represents a great challenge from my point of view, however close friends had already made a Venom and a Carnage, which are the most famous symbiotes, so I had to wait a while until I found a good reference, until one of them sent me a photo on Instagram and I really loved it, the amount of details seemed a real challenge, the sketch seemed very detailed, and it took me about 4 hours in just that, but the I found the result amazing, so before applying color, I wanted to share it with all of you and give me your opinion or advice to make sketches or something else.
I think about applying colors and markers on it, if the result is as expected I will also share it with you, I will explain the process that I will do.
la verdad siempre tuve ganas de hacer un simbionte, representa un gran reto desde mi punto de vista, sim embargo amigos cercanos ya habían hecho un Venom y un Carnage, que son los simbiontes mas famosos, asi que tuve que esperar un tiempo hasta que encontrara una buena referencia, hasta que uno de ellos me envio una foto por Instagram y la verdad me encanto, la cantidad de detalles me parecio un verdadero reto, el boceto me parecio muy detallado, y me tarde unas 4 horas en solo eso, pero el resultado me parecio asombroso, asi que antes de aplicar color, quise compartirlo con todos ustedes y que me den su opinión o consejos para hacer bocetos o alguna otra cosa.
Pienso en aplicar colores y marcadores en el, si el resultado es el esperado tambien lo compartiré con ustedes, explicare el proceso que hare.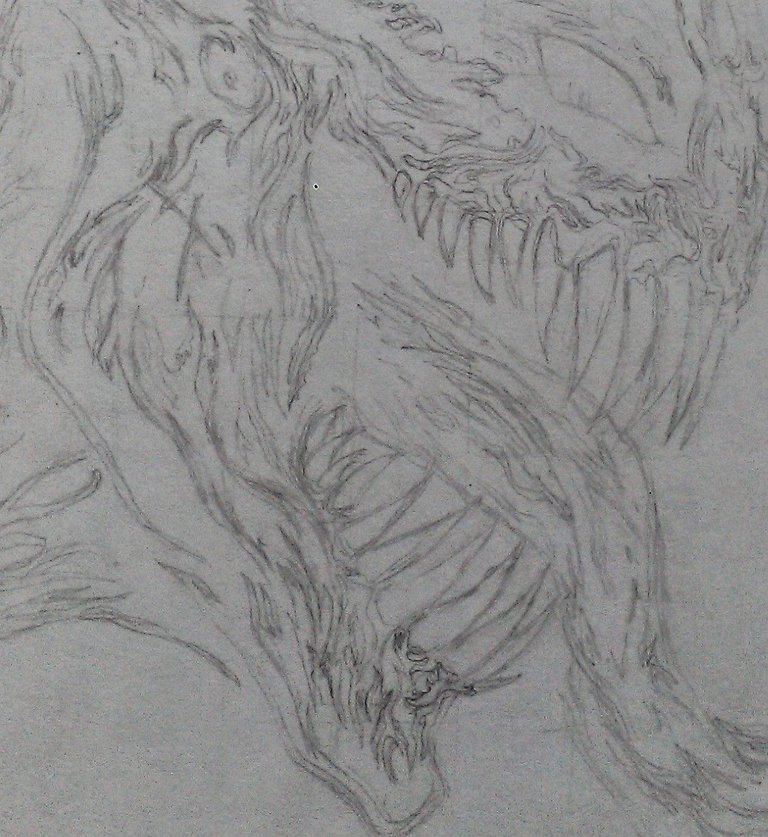 It is necessary to mention that in the comic that you look at, the Venompool design is not anything similar to the one you see or will see in this drawing.
es necesario mencionar que en el comic que ojee el diseño de venompool no es nada parecido al que ven o veran en este dibujo.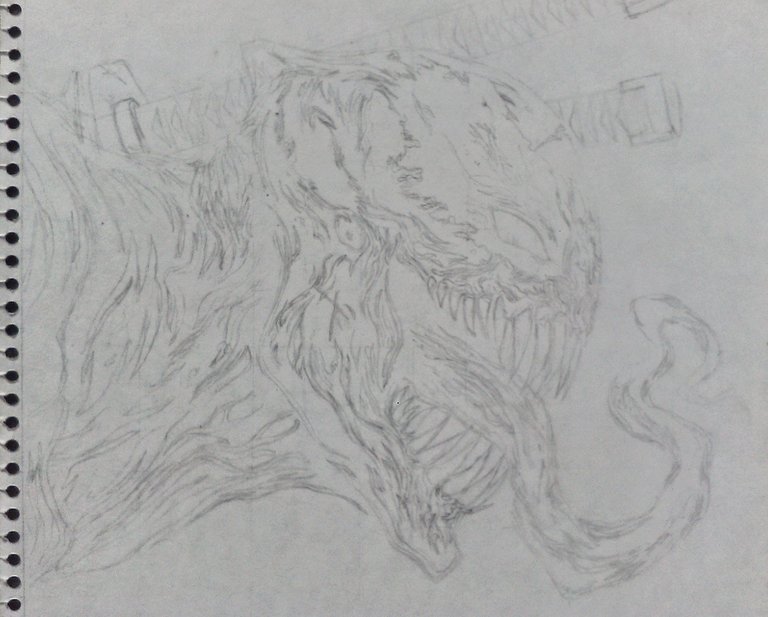 Venom? or Deadpool?
Why choose one?
Both are one of the most loved antiheroes by fans, personally my favorite is Deadpool and second Venom, although a combination of both would be perfect, or at least for me it would be.
¿Venom ? o ¿Deadpool ?
¿porque decidirse por uno?
ambos son uno de los antiheroes mas queridos por los fans, en lo personal mi favorito es Deadpool y segundo Venom, aunque una combinación de ambos seria la perfeccion, o al menos para mi lo seria.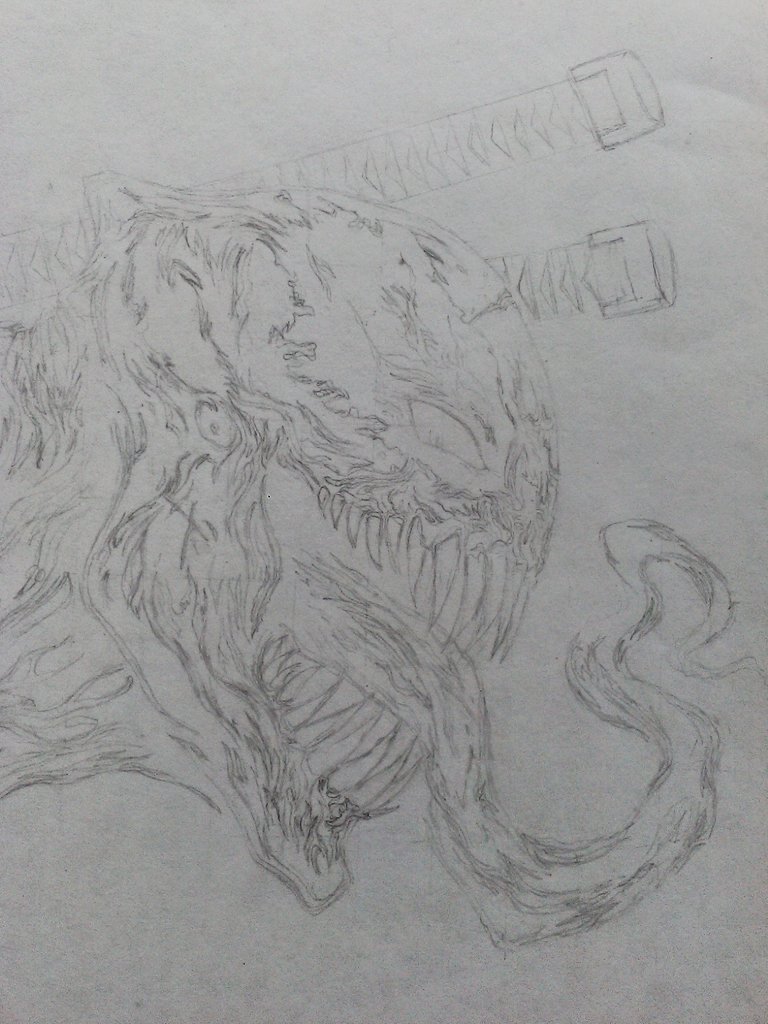 I did it using the Loomis method, placing margins on the sheet and separating parts of the drawing to focus on small points.
Use a Mongol brand graphite pencil (I recommend a lighter one or mechanical pencil with very fine leads) and an opaline cardboard from the Caribbean block (I recommend those sold individually, although the block is cheaper in total cost).
I had some complications and failed attempts but you know how this art is, even if we fail we have to keep trying.
Lo hice utilizando el método Loomis, ubicando márgenes en la hoja y separando partes del dibujo para asi concentrarme en pequeños puntos.
Utilice un lápiz de grafito marca mongol (recomiendo uno mas claro o portaminas con minas muy finas ) y una cartulina opalina del block caribe (recomiendo las que venden individualmente, aunque el block es más económico en costo total)
tuve algunas complicaciones e intentos fallidos pero ya saben como es esto del arte, aunque fallemos tenemos que seguir intentando.
Edit the sketch a little, so that you can better observe the amount of detail that it required, and if anyone wants it, also use the sketch as a reference since for some it is easier that way.
Without more to say, see you in the next work, the truth is that I do not know if it will be the procedure of this drawing with colors or I will leave it for later and do something simpler while I get other materials that would make the result much better than what planned.
Edite un poco el boceto, para que puedan observar mejor la cantidad de detallez que requeria, y si alguno lo desea tambien utilizar el boceto como referencia ya que para algunos es mas facil asi.
sin mas que decir, nos vemos en la proxima obra, que la verdad no se si sera el rpocedimiento de este dibujo con colores o lo dejare para despues y hare algo mas sencillo mientras consigo otros matteriales que harian que el resultado sea mucho mejor de lo planeado.
---
---