My growth as an artist. Yuno Yuno Fan Art 2016 vs 2022 – Mi progreso como artista. Fan art de Yuno 2016 vs 2022 [ENG-ESP]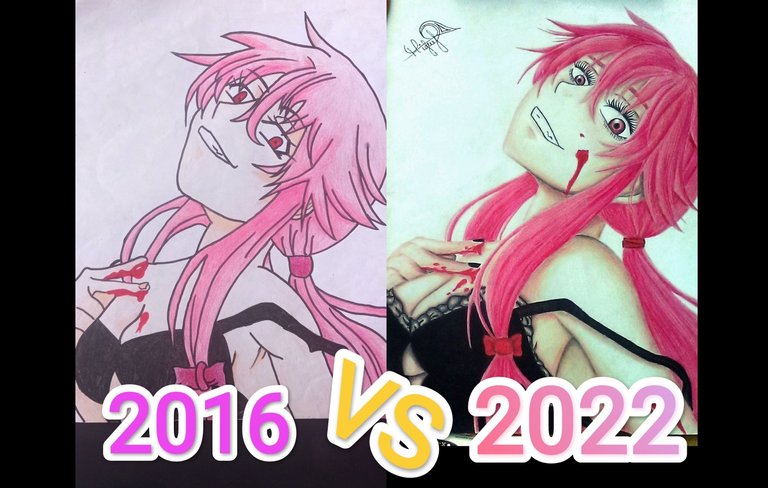 While I was tidying my room, I noticed that there was a sheet out of the folder of old drawings and when I saw what it was, I saw this drawing of Yuno from Mirai Nikki which I had really liked at the time, but I noticed how it was full of errors everywhere but I still liked it a lot so I thought I should try it again to see how my growth as an artist was, I had no expectations since I did it with recycled colors, a simple printing sheet and a black office marker. Even so, I loved the result and I noticed that although I still have a lot to learn, I have had a great advance as an artist.
In addition to sharing my happiness for my results, I also want to encourage those who read so that they never give up if they want to improve in drawing, since many of us tend to get depressed by not having the results we expect, but to be experts in something, we first have to be beginners and we have to be very consistent, practice and be willing to make mistakes to learn
mientras ordenaba mi habitación note que había una hoja fuera de la carpeta de dibujos antiguos y al ver que era vi este dibujo de Yuno de Mirai Nikki el cual me había gustado muchísimo en aquellos tiempos, pero note como estaba lleno de errores por todos lados pero aun asi me gustaba mucho asi que pensé que debía reintentar hacerlo para ver que tal era mi crecimiento como artista, no tenia expectativas ya que lo hice con colores reciclados, una simple hoja de impresión y un marcador negro de oficina . Aun asi me encanto el resultado y note que aunque me queda mucho por aprender si he tenido un gran avance como artista.
Además de compartir mi felicidad por mis resultados también quiero animar a los que leen para que nunca se rindan si quieren mejorar en el dibujo ya que muchos de nosotros solemos deprimirnos al no tener los resultados que esperamos pero para ser expertos en algo primero tenemos que ser principiantes y tenemos que ser muy constantes, practicar y estar dispuestos a cometer errores para aprender.
2016 version.
Start by making the frame of the face, then the hair, then the nose, eyes, eyebrows, and mouth. Then I made the neck, and the shape of the body including the hand to put the clothes on later
For this version you can notice the materials that I use but I will tell you anyway
black marker on clothes and to outline
red marker in the eyes and blood
Pink color in the hair with which I only settle to try to make shadows
Purple color for pigtails
Skin color (peach) in the skin only settle more in the shaded areas.
versión del 2016.

Inicie haciendo el marco del rostro, luego el cabello, luego la nariz, ojos cejas y boca. Luego hice el cuello, y la forma del cuerpo incluida la mano para poner la ropa después
Para esta versión se puede notar los materiales que use pero igual se los digo
marcador negro en la ropa y para delinear
marcador rojo en los ojos y la sangre
Color rosa en el cabello con el cual solo afinque para tratar de hacer sombras
Color purpura para las coletas
Color piel (durazno) en la piel solo afinque mas en las zonas con sombra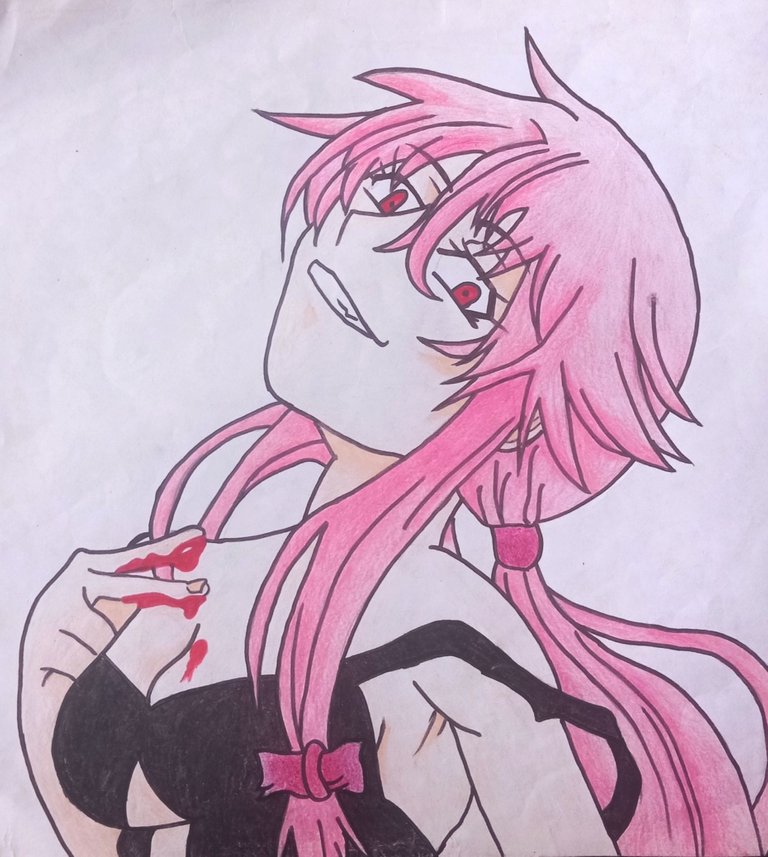 2022 version.
first step – Sketch.
Use the loomis method, and I started with the circle then a rectangle to place the elements of the face well, then with great patience the shape of the hair, then very softly and subtly make the frame of the jaw, continuing with the eyes, nose, lips neck, torso, breasts, left arm, right arm to finish
I did it with a simple MONGOL Paper Mate graphite pencil, which is the most common and cheapest pencil in my area, although I personally recommend using a mechanical pencil for the sketches, since the lead will always be finite and thus avoid making dark spots on the sketch and they can draw on it freely if they make it very clear.
primer paso – Boceto.
Utilice el método loomis, y un empecé por el circulo luego un rectángulo para ubicar bien los elementos del rostro, luego con mucha paciencia la forma del cabello, luego con mucha suavidad y sutileza realice el marco de la mandíbula, continuando con los ojos, nariz, labios cuello, torso, senos, brazo izquierdo, brazo derecho para finalizar
Lo realice con un simple Lápiz de grafito MONGOL Paper Mate que es el lápiz mas común y económico en mi localidad, aunque personalmente les recomiendo usar portaminas para los bocetos, ya que la mina siempre va a ser finita y así evitaran hacer manchas oscuras en el boceto y pueden dibujar sobre ella libremente si lo hacen muy claro.
second step – Hair.
Start by applying a light pink, then apply medium pink, followed by dark pink and a little red in the darkest areas, after this with a scalpel I scraped the color in line to give the hair a shine and texture effect.
segundo paso – Cabello.

Inicie aplicando un rosa claro, luego aplique rosa medio, seguido de rosa oscuro y un poco de rojo en las zonas mas oscuras, luego de esto con un bisturí raspé el color en línea para dar efecto de brillo y textura al cabello.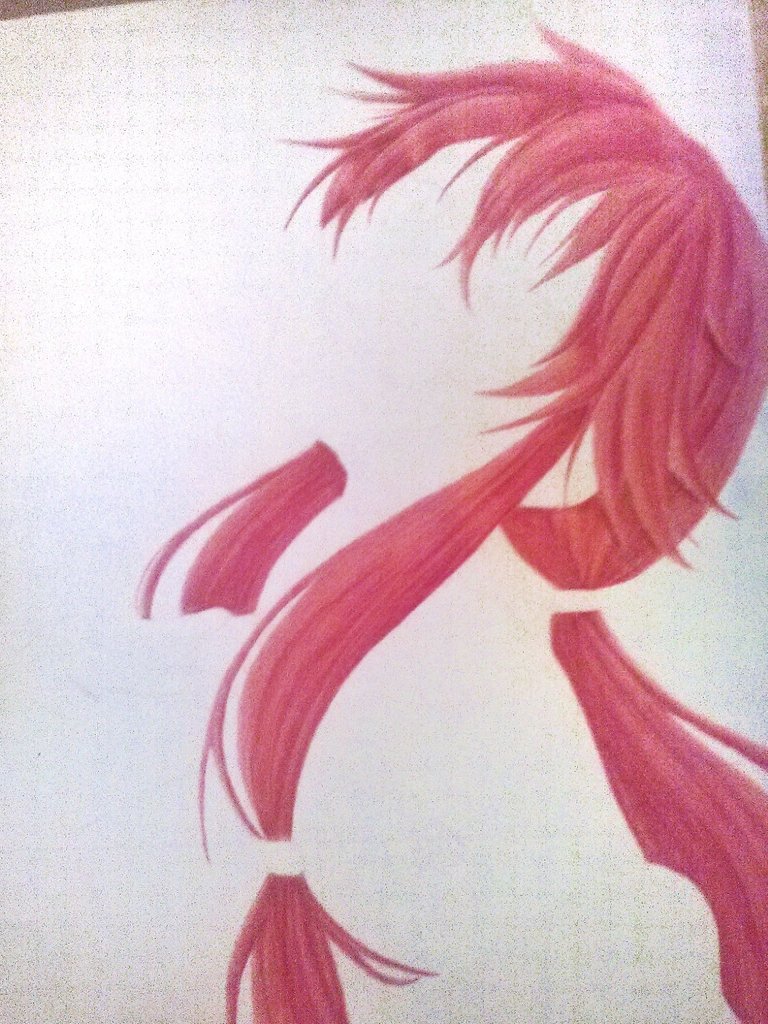 thrid step – elements of the face and skin.
1- eyes: by the pupil directly with the color black, then the circle of the iris followed by the frame of the eyes and eyelashes with this same color, then the iris, using a pale pink base color, followed by pink and red, and a bit of black for some details. The white sclera just apply a little gray.
2- nose: I made it guided by the central line of the loomis method.
3- mouth: first I made the frame guided by the lopmis method to position it, then I made some line details to separate the lower and upper teeth.
4 SKIN: Although for many it seems very complex or made of specific materials, the skin is made with only three colors (Brown, pink, and pink, many know as skin color) and obviously, school colors from the box of 12 Paper Mate Units. The process was the following; With the brown color I applied an almost unremarkable layer in the whole drawing and then I blurred it, then with this same color I made the shadows with gradients in the dark areas, then on this I applied the pink also in gradients, then on all the colored one I applied the skin or light pink applying less pressure on shiny areas.
tercer paso – elementos del rostro y piel.
1- ojos: por la pupila directamente con el color negro, luego el circulo del iris seguido del marco de los ojos y pestañas con este mismos color, luego el iris, usando color rosa palido de base, seguido de rosa y rojo, y un poco de negro para algunos detalles. La esclerótica en blanco solo aplique un poquito de gris.
2- nariz: la hice guiándome por la línea central del método loomis.
3- boca: primero hice el marco guiándome del método lopmis para posicionarla, luego hice unos detalles de líneas para separar los dientes inferiores y superiores.
4 PIEL: aunque para muchos parezca muy complejo o de materiales específicos la piel la realice con solo tres colores (Café, rosa, y el rosa muchos conocen como color piel) y obvio, colores escolares de la caja de 12 Unidades Paper Mate. El proceso fue el siguiente; con el color café aplique una capa casi innotable en todo el dibujo y luego la difumine, luego con este mismo color hice las sombras con degradados en las zonas oscuras, luego sobre este aplique el rosa también en degradados, luego sobre todo el coloreado aplique el piel o rosa claro aplicando menos presión en las zonas brillosas.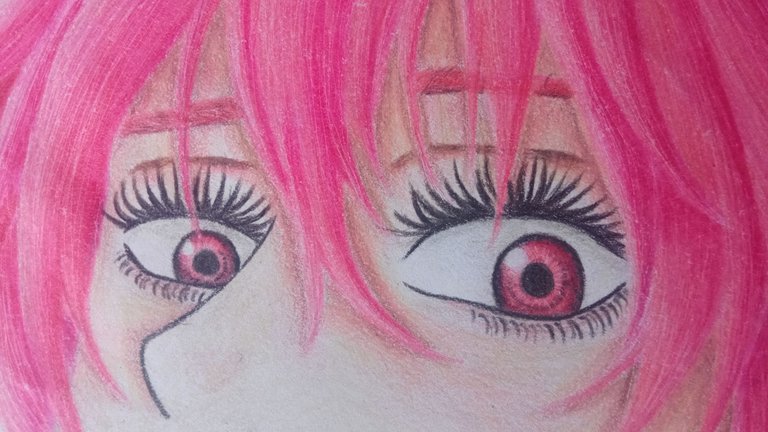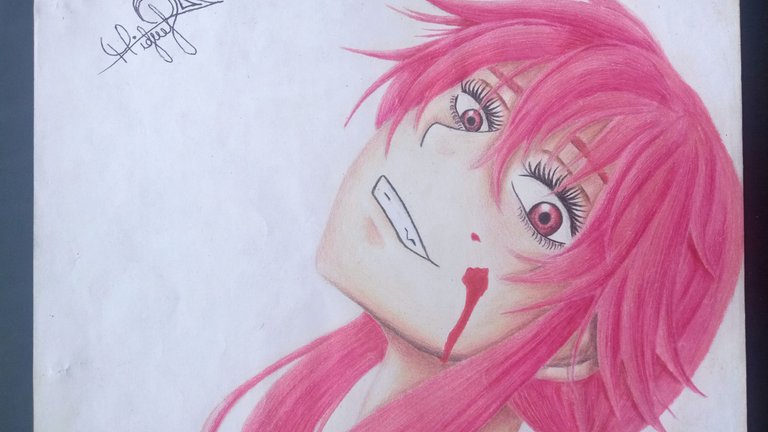 Fourth and last step – Black Clothes and final details.
Use a Shearpi marker (any other will do, in fact this is the cheapest in my town) on it in the darker areas and sewing details the Color Black. If it is within your possibilities, do it only with Black and Dark Gray, I did not do it because I do not have enough black for everything.
Blood: use a terracotta color, then a red throughout the area and a bit of pink to compact. This same combination for the pigtails but using a bit of the scalpel in the form of a net without so much pressure.
Remember that if you want step-by-step tutorials you can ask for them in the comments and I could gladly do them so that you can also achieve these or better results.
Cuarto y ultimo paso – Ropa Negra y ultimos detalles.
Utilice un marcador Shearpi (cualquier otro sirve, de hecho este es el mas económico de mi localidad) sobre este en las zonas mas oscuras y detalles de costura el Color Negro. Si esta entre tus posibilidades hazlo solo con color Negro y Gris oscuro, yo no lo hice porque no poseo suficiente color negro para todo.
Sangre: utilice un color terracota, luego un rojo en toda la zona y un poco de rosa para compactar. Esta misma combinación para las coletas pero usando un poco el bisturí en forma de red sin tanta presión.
Recuerden que si desean tutoriales paso a paso lo pueden pedir en los comentarios y con gusto los podría hacer para que ustedes también lograr estos resultados o mejores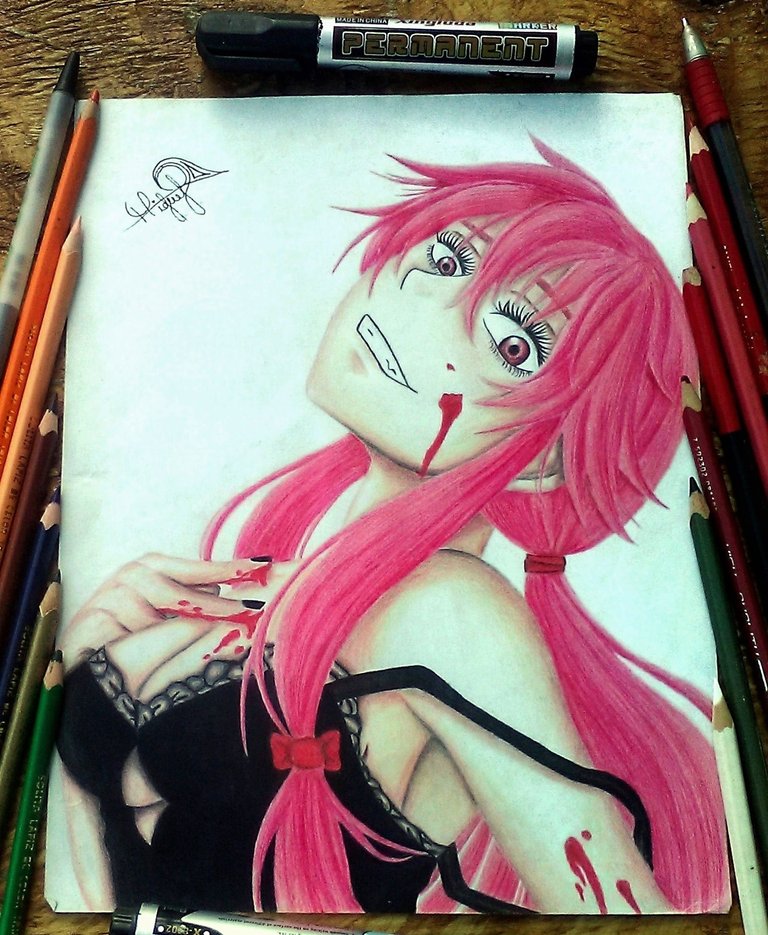 You can also ask me for tips on how to take photos since some of us do not have a high-quality camera or the knowledge to take a decent photo with the camera we have available.
In any case, I could make a tutorial on it.
Tambien pueden pedirme tips sobre como tomar las fotografias ya que algunos no poseemos una camara de alta calidad ni los conocimientos para tomar una foto decente con la camara que tengamos disponible
En cualquier caso podria hacerles un tutorial sobre ello
---
---