Nadie se puede confiar en este mundial! / No one can be trusted in this world!
Luego de un resultado histórico, y muy doloroso en lo personal, donde Arabia Saudita venció por 2 a 1 a Argentina, hoy volvimos a ver otro resultado muy sorprendente, pues la Alemania de Hansi Flick cayó con el mismo marcador ante la selección de los samurais, demostrando por segundo día consecutivo, que nadie puede confiarse en Qatar. Estos resultados no fueron los únicos impactantes del día, pues una España que no convencía a la mayoría de los espectadores, endosó una goleada 7 a 0 a Costa Rica, equipo revelación de Brasil 2014, mientras que Croacia y Bélgica tampoco tuvieron un partido tan plácido, llegando a verse superadas en grandes tramos de sus partidos contra Marruecos y Canadá, respectivamente.
After a historic result, and very painful personally, where Saudi Arabia beat Argentina 2-1, today we saw another very surprising result, as Hansi Flick's Germany fell with the same score against the Samurai team , proving for the second day in a row that nobody can be trusted in Qatar. These results were not the only shocking ones of the day, as a Spain that did not convince the majority of the spectators endorsed a 7-0 win over Costa Rica, the revelation team of Brazil 2014, while Croatia and Belgium did not have such a placid match either, getting to see themselves surpassed in large sections of their matches against Morocco and Canada, respectively.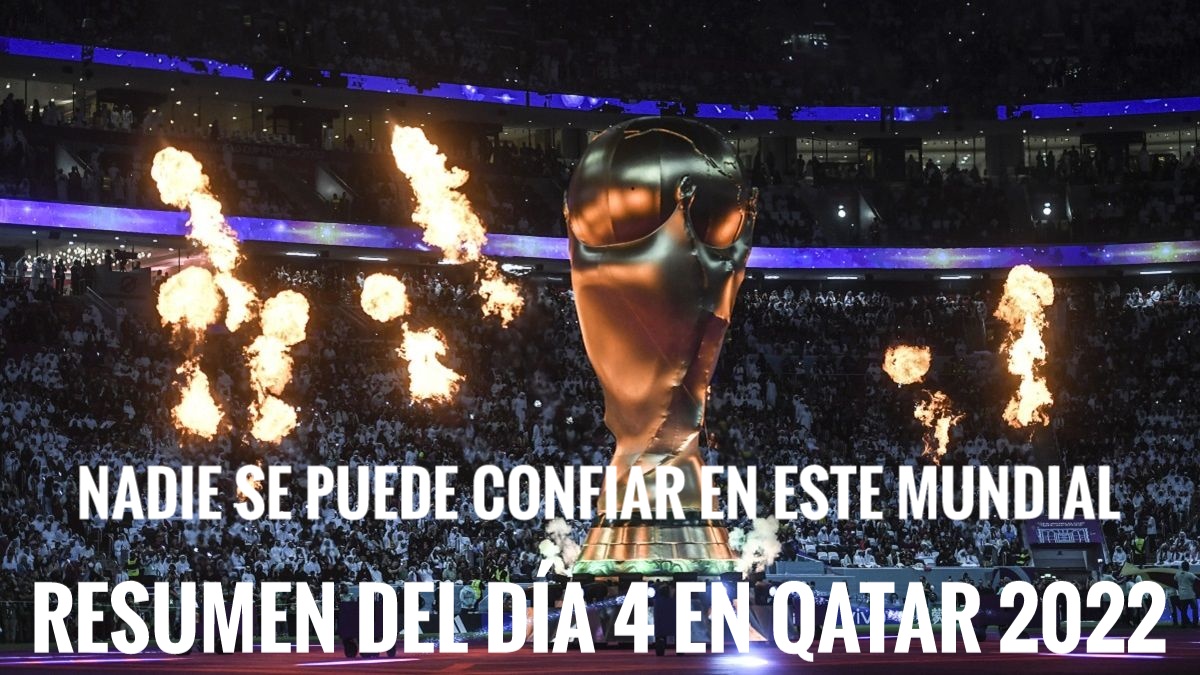 Fuente
Marruecos 0 - 0 Croacia: Un partido con stamina, pero sin goles / A game with stamina, but without goals.
La fecha la abrieron los actuales subcampeones del mundo contra Marruecos, una de las selecciones africanas más interesantes, y aunque no le llamaba mucho la atención este partido, como tuve que madrugar, aproveché para ver este partido. Pese a que Modric y compañía lucían superiores en la previa, el partido estuvo muy igualado de inicio a fin, los croatas tuvieron que apoyarse en su medular para poder romper la presión asfixiante de los marroquíes, y aunque ambos equipos juegan bien y son muy verticales, terminaron anulándose.
The date was opened by the current runners-up in the world against Morocco, one of the most interesting African teams, and although this match did not attract much attention, as I had to get up early, I took the opportunity to watch this match. Despite the fact that Modric and company looked superior in the preview, the match was very close from start to finish, the Croats had to rely on their midfield to break the suffocating pressure from the Moroccans, and although both teams play well and are very upright They ended up being cancelled.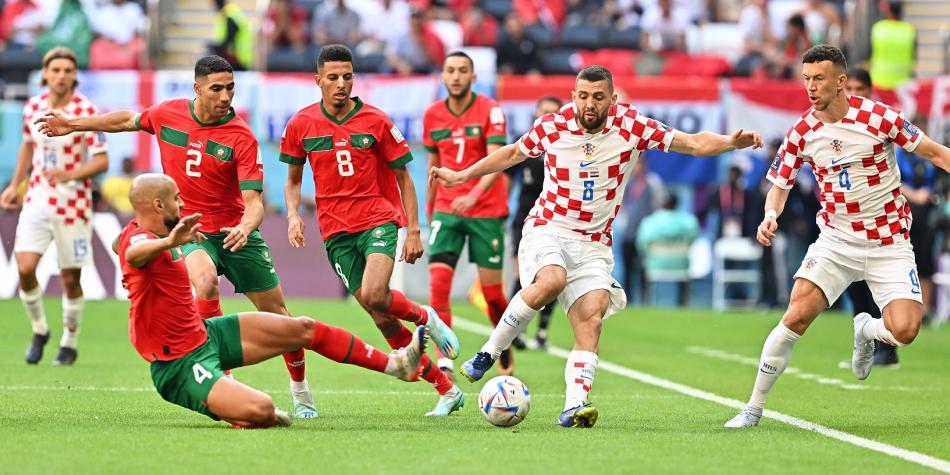 Fuente
Croacia comenzó con mayor tenencia de balón, siendo gran parte de ella estéril por estar casi siempre en su área, pero cuando daban una orientación vertical al balón, llegaban con cierta facilidad a tres cuartos de cancha rival, con ciertamente sin crear demasiado peligro. Marruecos fue creciendo poco a poco con el pasar de los minutos, con lo que el partido se transformó en un ida y vuelta poco dinámico, pues Croacia por medio de Modric le daba más sentido a su juego, mientras que los africanos apostaban más por la velocidad de sus jugadores por banda.
Croatia started with more possession of the ball, a large part of it sterile because they were almost always in their area, but when they gave the ball a vertical orientation, they reached three quarters of the rival field with some ease, certainly without creating too much danger. Morocco grew little by little with the passing of the minutes, with which the game became a round trip with little dynamic, since Croatia through Modric gave more meaning to their game, while the Africans bet more on the speed of your players per band.
La más clara del partido la tuvo Croacia en el final de la primera primera parte, Sosa desbordó por la banda zurda y centro raso a la llegada de Vlasic, pero Bono tapó ese disparo, manteniendo el empate en el marcador. La reanudación fue muy parecida, no habiendo muchas ocasiones claves, pero el portero del Sevilla como Livakovic estuvieron muy bien con los balones que colgaron a su área los rivales, mostrando mucha solidez en un juego que terminó con el mediocampo roto.
The clearest of the game came from Croatia at the end of the first half, Sosa overflowed down the left wing and low center upon Vlasic's arrival, but Bono blocked that shot, keeping the score tied. The restart was very similar, not having many key chances, but the Sevilla goalkeeper and Livakovic were very good with the balls that the rivals hung in their area, showing great solidity in a game that ended with a broken midfield.
El partido no fue del todo aburrido, pues hubo mucha velocidad y entrega de parte de los marroquíes, quienes incluso estuvieron a punto de dar la primera sorpresa de esta jornada, pero Mazraoui no pudo rematar bien la más clara de los suyos, terminando incluso lesionado en esa jugada.
The game was not entirely boring, as there was a lot of speed and dedication on the part of the Moroccans, who were even about to give the first surprise of this day, but Mazraoui could not finish off the clearest one of his own well, even ending up injured in that play.
Alemania 1 - 2 Japón: La sorpresa de los samurais en Medio Oriente / The surprise of the samurai in the Middle East.
Seguiríamos con la sorpresa de la jornada, pues pese a que casi nadie hubiera apostado que Japón sacaría un resultado positivo ante Alemania, estos terminaron remontando un duelo donde comenzarían perdiendo con un gol de penal de Gundogan en la primera parte. Pese a esto, y al dominio de los teutones en la primera parte, los nipones avisaron desde muy temprano que los tetracampeones no tendrían un partido sencillo, pues luego de un error en salida de Gundogan, Maeda recibiría un balón dentro del área y posteriormente anotaría a los 8 minutos del partido, pero luego de una revisión de VAR, se vería su posición antirreglamentaria, dejando todo igualado.
We continue with the surprise of the day, because despite the fact that almost no one had bet that Japan would get a positive result against Germany, they ended up coming back from a duel where they would start losing with a penalty goal by Gundogan in the first half. Despite this, and the dominance of the Teutons in the first half, the Japanese warned very early that the four-time champions would not have an easy match, because after an error on the way out by Gundogan, Maeda would receive a ball inside the area and later score 8 minutes into the game, but after a VAR review, his illegal position would be seen, leaving everything even.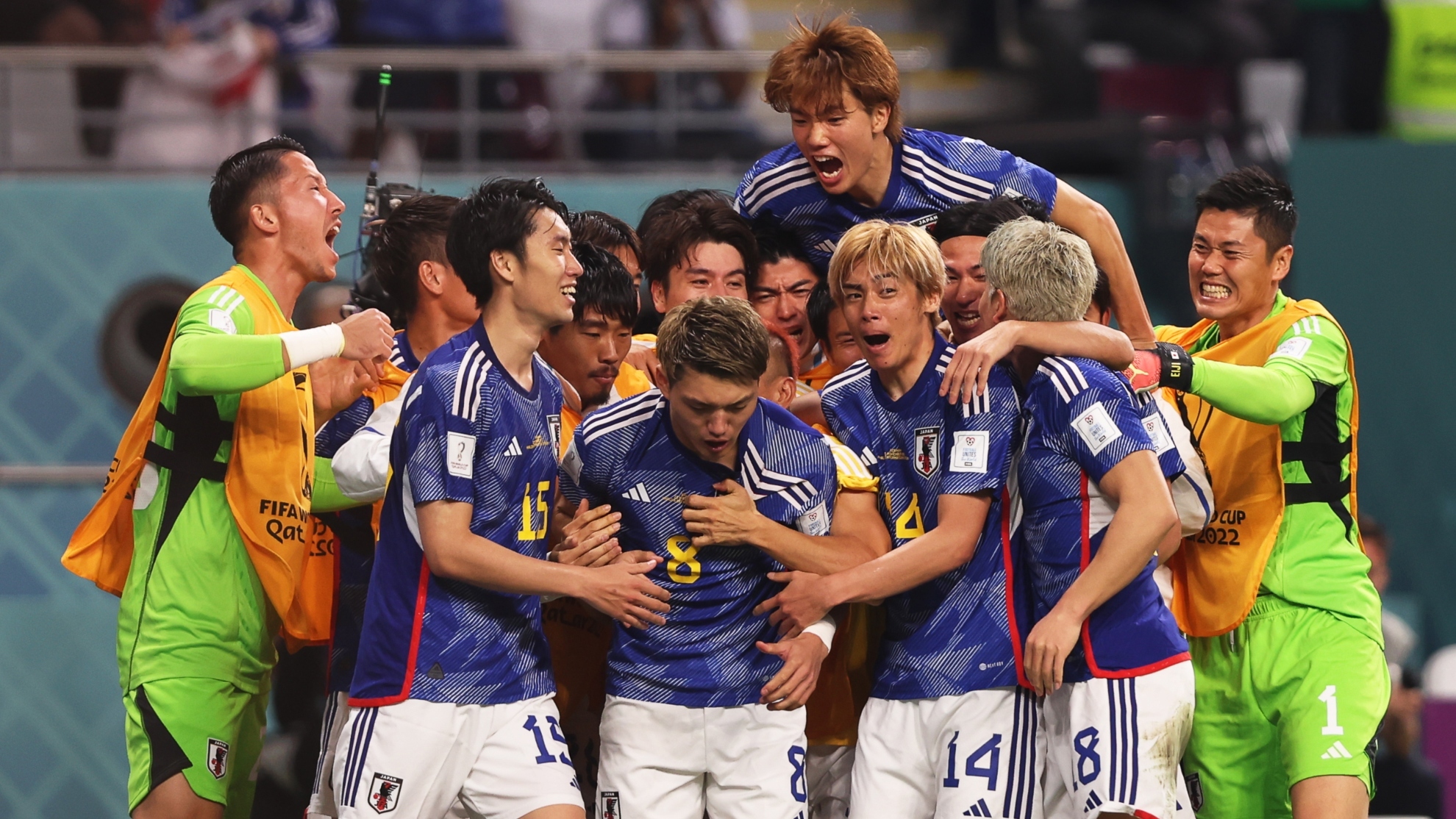 Fuente
Los alemanes por poco cierran el partido en el ocaso de la primera mitad, pero nuevamente el VAR anularía otro gol luego de percatarse de una posición adelantada de Gnabry al tomar un rebote del portero, por lo que el tanto de Havertz no subió en el marcador. En la reanudación Alemania siguió dominando el encuentro, Gundogan estrelló un balón al poste y hubo un fuera de juego inexistente que frenó un ataque alemán muy prometedor, dejando con vida a los japoneses, que gracias a los cambios de su entrenador, empezaron a crear más peligro y a dominar más el balón, consiguiendo un empate inesperado por medio de Doan, que no falló un regalo de Neuer al intentar despejar un pase vertical de Minamino.
The Germans narrowly closed the game in the twilight of the first half, but again the VAR would disallow another goal after noticing Gnabry's forward position when he took a rebound from the goalkeeper, so Havertz's goal did not go up on the scoreboard . After the restart, Germany continued to dominate the match, Gundogan hit a ball against the post and there was a non-existent offside that stopped a very promising German attack, leaving the Japanese alive, who, thanks to changes in their coach, began to create more danger and to dominate the ball more, achieving an unexpected equalizer through Doan, who did not miss a gift from Neuer when trying to clear a vertical pass from Minamino.
Al igual que Argentina, el desconcierto afectó a los teutones en los minutos siguientes, encajando el 2 a 1 luego de un contragolpe finalizado por Asano. En los minutos finales los de Flick intentaron responder, pero no pudieron quebrar la disciplina e intensidad nipona, perdiendo así nuevamente en su partido inaugural de una Copa del Mundo, tal cual como sucedió en Rusia 2018.
As Argentina, confusion affected the Teutons in the following minutes, conceding 2-1 after a counterattack finished by Asano. In the final minutes, Flick's team tried to respond, but they could not break the Japanese discipline and intensity, thus losing again in their opening match of a World Cup, just as it happened in Russia 2018.
España 7 - 0 Costa Rica: Goleada histórica de La Roja de Luis Enrique/ Historic win for La Roja by Luis Enrique.
La España de Luis Enrique también debutó hoy, y más allá de jugar contra un rival muy inferior, rompió todos los pronósticos al conseguir una goleada historia contra Costa Rica, equipo que aún contaba con algunos jugadores de la generación que eliminó a Inglaterra y a Italia en Brasil 2014. Pese a algunas dudas con la formación inicial, algo muy característico de Luis Enrique en España, ya que nunca podemos adivinar sus alineaciones, La Roja salió con Rodri como defensa central, con Busquets en el pivote y sin un delantero centro puro, haciendo Asensio de falso 9, su victoria fue incontestable.
Luis Enrique's Spain also made its debut today, and beyond playing against a much inferior rival, broke all the forecasts by scoring a history-beating victory against Costa Rica, a team that still had some players from the generation that eliminated England and Italy in Brazil 2014. Despite some doubts with the initial formation, something very characteristic of Luis Enrique in Spain, since we can never guess their line-ups, La Roja came out with Rodri as central defender, with Busquets as the pivot and without a pure center forward, making Asensio a false 9, his victory was undeniable.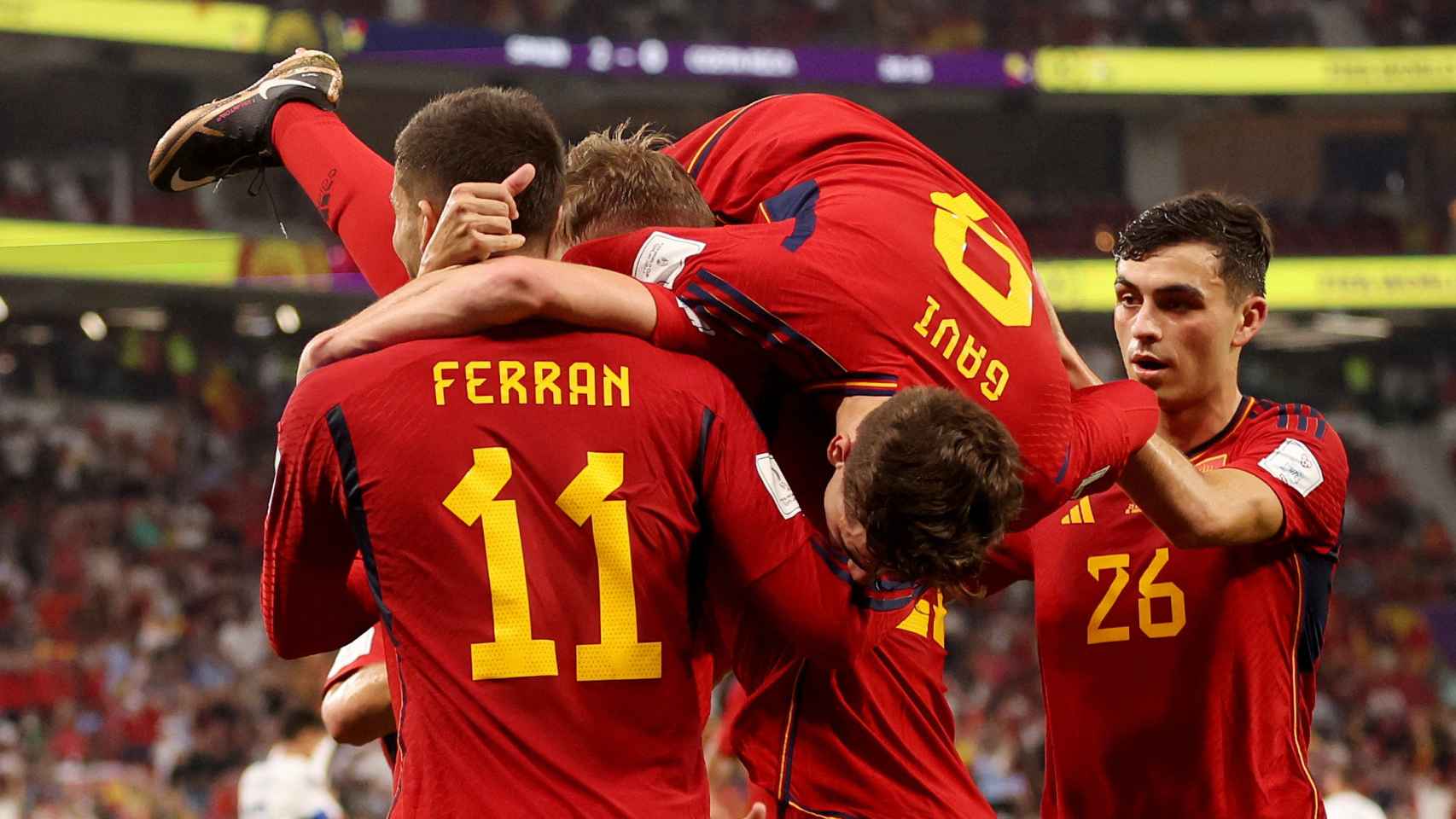 Fuente
Desde el minuto 1 España tuvo la pelota, mientras que Costa Rica apenas podía encadenar un par de pases, y aunque esto no es ninguna novedad en los partidos de España, al no tener un punto fijado y con la calidad de Rodri para sacar el balón desde atrás, el dinamismo de su juego fue imparable, los ticos nunca pudieron adivinar los movimientos de los jugadores rivales. Al final de la primera primera parte, ya el marcador estaba cerrado, Dani Olmo, Asensio y Ferran Torres fueron los anotadores, pero esto no fue suficiente para un equipo insaciable, que pese a ver a los Costarricenses ya inofensivos y con los brazos agachados, continuaron con la misma dinámica, anotando otros 4 goles en la segundo mitad.
From minute 1 Spain had the ball, while Costa Rica could barely chain a couple of passes, and although this is nothing new in Spain's matches, not having a set point and with Rodri's quality to get the ball out from behind, the dynamism of his game was unstoppable, the ticos could never guess the movements of the rival players. At the end of the first half, the score was already closed, Dani Olmo, Asensio and Ferran Torres were the scorers, but this was not enough for an insatiable team, which despite seeing the Costa Ricans already harmless and with their arms folded, they continued with the same dynamic, scoring another 4 goals in the second half.
De este partido no hay muchos más que comentar, Luis Enrique empezó este mundial de la mejor forma posible, callando a muchos de sus retractores por sus decisiones, el nivel de jugadores discutidos como Busquest o Jordi Alba es otra nota positiva del partido, es increíble lo mucho que puede hacer crecer a estos dos jugadores en un contexto ideal de juego intenso y de posesión. Su siguiente partido será contra Alemania, y ante la necesidad del equipo de Flick, estoy convencido que veremos un verdadero partidazo.
There aren't many more to comment on this match, Luis Enrique started this World Cup in the best possible way, silencing many of his critics for his decisions, the level of players discussed like Busquest or Jordi Alba is another positive note of the match, it's incredible how much he can make these two players grow in an ideal context of intense play and possession. Their next game will be against Germany, and given the need for Flick's team, I am convinced that we will see a real match.
Bélgica 1 - 0 Canadá: La historia fue demasiado para los norteamericanos / The story was too much for the North Americans.
La fecha la cerraron Bélgica y Canadá, y aunque pensé que en este partido veríamos otra sorpresa, la jerarquía de los belgas predominó en un partido donde fueron superados por amplios tramos del juego. Este juego tenía muchos condicionantes para los norteamericanos, que no solo enfrentaban por primera vez en su historia a los europeos, sino que además buscaban cambiar su propia historia, pues no solo tenían 36 años sin asistir a un mundial, sino que además en su única presentación perdieron sus 3 partidos y no lograron agitar las redes ni en una ocasión, y pese a tener un penal a favor en los primeros minutos del juego, Davies falló su cobro ante Courtois, una mala decisión a mi parecer, ya que contaban en el campo con un delantero letal como Jonathan David.
The date was closed by Belgium and Canada, and although I thought that in this match we would see another surprise, the hierarchy of the Belgians prevailed in a match where they were outclassed for large stretches of the game. This game had many conditioning factors for the North Americans, who not only faced the Europeans for the first time in their history, but also sought to change their own history, since not only had they not attended a World Cup for 36 years, but also in their only presentation they lost their 3 games and failed to shake the nets even once, and despite having a penalty in their favor in the first minutes of the game, Davies missed his collection against Courtois, a bad decision in my opinion, since they counted in the game field with a lethal forward like Jonathan David.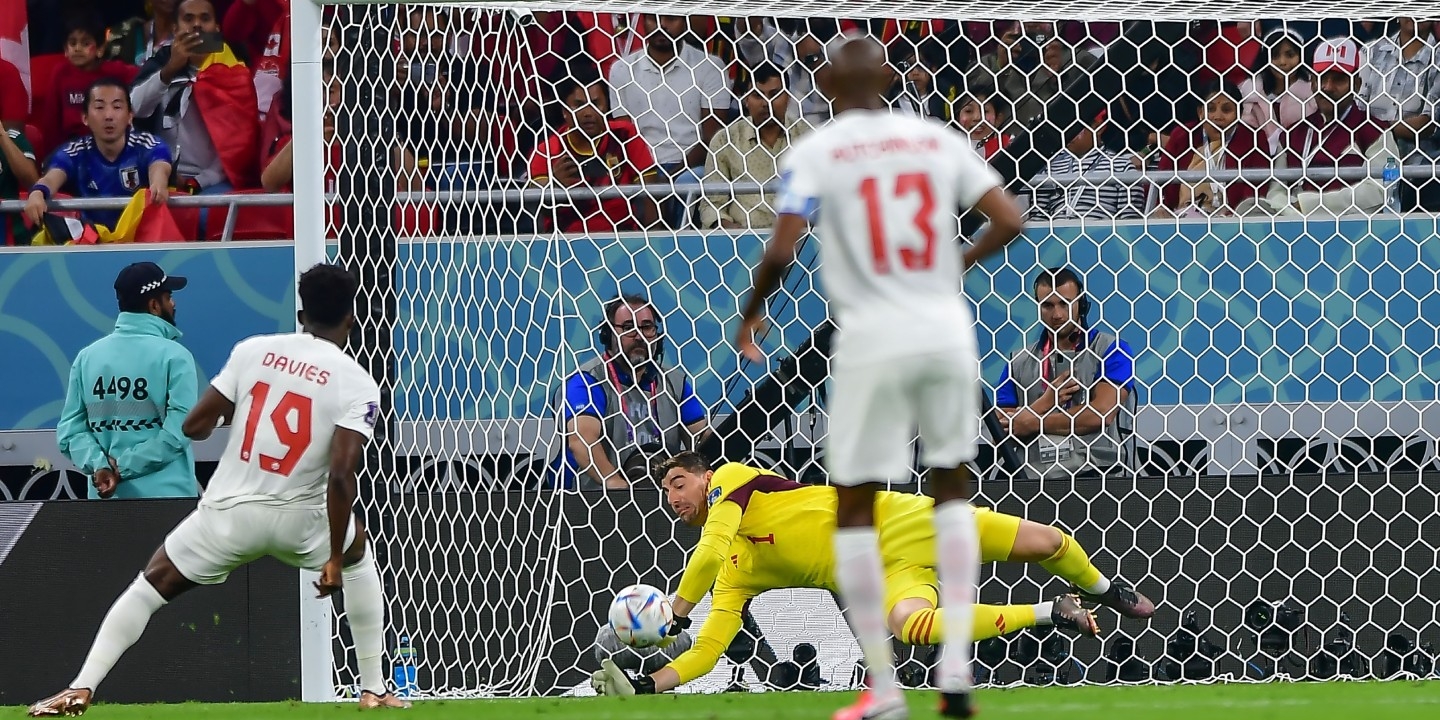 Fuente
Los belgas jugaron un partido muy incómodo, la presión de los canadienses los hizo cometer muchos errores y en zona creativa tampoco estuvieron muy acertados, pero un gol solitario de Batshuayi, luego de bajar con gran maestría un pase largo de Alderweireld, fue suficiente para llevarse un partido en el que sufrieron mucho, y terminaron agradeciendo la falta de experiencia de los canadienses, que fallaron más de lo que debían, apostando muy seguido por disparos lejanos, que muchas veces no estuvieron ni cerca de los 3 palos.
The Belgians played a very uncomfortable game, the pressure from the Canadians made them make many mistakes and in the creative zone they weren't very successful either, but a solitary goal from Batshuayi, after masterfully lowering a long pass from Alderweireld, was enough to win a match in which they suffered a lot, and ended up thanking the Canadians for their lack of experience, who missed more than they should have, often betting on long shots, which often were not even close to 3 sticks.
Bélgica no fue el equipo que me esperaba, y aunque muchos los hayan puesto como la gran decepcion de este mundial, van a dar la cara y a plantear su juego a las individuales que tienen, pues varios de estos jugadores pueden cambiarte un partido en cualquier momento, ademas de que saben que es la última oportunidad para coronar con un título a la mejor generacion de futbolistas de su historia, mientras que Canadá aún tiene dos partidos para cambiar su propia historia, y conseguir por primera vez un gol en el mundial, y como ya comenté en otro post hace algunos meses, este equipo juega muy bien y tácticamente son muy sólidos, por lo que aún no descarto que puedan regalarnos otra sorpresa en Qatar, un mundial donde nadie se puede confiar.
Belgium was not the team I expected, and although many have put them as the great disappointment of this World Cup, they are going to show their faces and raise their game to the individual ones they have, since several of these players can change a game at any time In addition, they know that it is the last opportunity to crown the best generation of soccer players in their history with a title, while Canada still has two games to change their own history, and score a goal in the World Cup for the first time, and As I already commented in another post a few months ago, this team plays very well and tactically they are very solid, so I still don't rule out that they could give us another surprise in Qatar, a World Cup where nobody can be trusted.
---
---