Dilletante's Review #10 - White Collar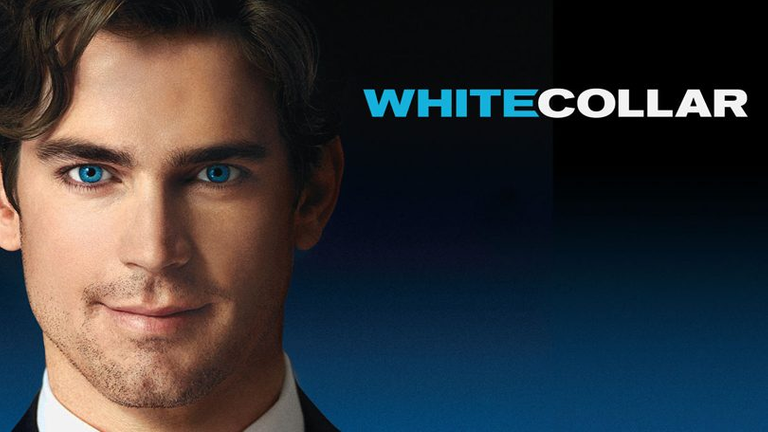 source
Hello! It is the 10th post in my review series, so to celebrate, I'll write about a series that belongs to one of my favourite genres - a detective/criminal show. I really like to watch these, especially if they do not include too much violence or graphic depictions of the crimes themselves. Honestly, I am quite sensitive to those, so I prefer to avoid watching series which do that - an example could be Criminal Minds.
In this review, I'll write about White Collar. It is currently available on Disney+ and that is where I watched it. It is actually one of my favourite criminal shows, despite some flaws that it does have - so it will be a positive review! It was quite important for me to make a positive one for my 10th, so here it is!
Synopsis
This is a series that follows the lives of two main characters - Peter Burke and Neal Caffrey, as well as a large supporting cast.
Neal Caffrey is a criminal convicted of bond and art forgery, nearing the end of his prison sentence. Right before that happens though, he decides to break free, in order to reunite with his love - Kate Moreau, believing she was giving him secret signs that she needs him or his help.
The escape goes smoothly and he manages to get out unscathed. Peter Burke on the other hand is working on a case of the Dutchman, a criminal that the White Collar division of the FBI was trying to take down for a while. Bad becomes worse when he learns that not only the venture is a failure, but also Neal Caffrey escaped prison.
In a surprising turn of events, he finds Neal with ease and after a short back and forth, gets offered a deal. In the end, they come to an agreement - Neal will become Peter's criminal informant if he manages to help him catch the Dutchman. This begins a long-term partnership that we get to see during the show.

My Opinion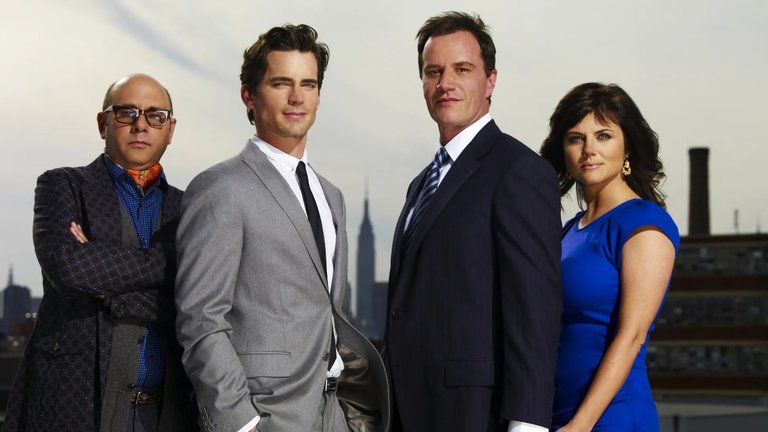 source
I'll start off with the bad, as there is less of it and I like to get it out of the way. First of all, everything just goes a little too smooth. While I know that it is a series and in general, the cases are should be going the right way in the end - else, it'd be a damn short series. Here is my main gripe: it seems that no one freaking knows that Neal is a criminal informant to the FBI. He uses all these contacts in the "underground world" that he has, introduces himself as.. well, himself quite often. Sometimes we get great thieves, who know so much, do great research.. But somehow, no one knows.
The other problem is the way his actions are portrayed during heists he pulls off as part of working for the FBI - it just seems so easy. I know it isn't meant to be too difficult or he isn't supposed to fail, but it's a bit too much for me to gloss over it.
There is much more that is great though! Obviously there is, as I loved the show myself and it is one of my favourites! One of the best parts is the kind of crimes that they are following. Especially during the first few seasons, there aren't that many murders and gore crimes, which makes watching exciting - but not too heavy. You don't overthink some sort of potential suffering or so.. It is just fun to see Neal and Peter use their expertise in respective fields in order to find out what happened and who is the culprit.
When it comes to the characters themselves, this is also a big upside. Peter and Neal are very different and work together well.. But they are also quite wary of each other, do not trust each other fully and simply are on their toes. Their development throughout the series is also impressive. Oftentimes, I find it to be overdone, with clear transformations - here, they remain themselves, just slightly altering parts of their character. That part is something I find very well done.
Finally, something that I find important when watching this kind of shows is that they keep being about solving crimes. What makes me stop watching sometimes is when the overarching storyline takes over completely and it stops being a criminal/investigation show. This is something that made Lucifer less pleasant to watch for me towards the end. White Collar does this fairly well. While it does slowly turn to being more focused on the main storyline, there is still a lot of the classic: get a case, solve a case kind of thing. I know that this is not what everyone is looking for, but this really can make or break a show for me.
Overall, White Collar is one of my favourite investigation/criminal/detective series for the reasons presented above. I love the main characters, as I do the side ones. Everyone feels sort of important and they aren't left behind when everything around them changes - we learn quite a bit about Neal's "side kick", Mozzie for example, who becomes an important part of the story as it progresses.

Closing Words
There we go! I think I would rate the show with something along the lines of 8,5 or 9/10. It's fun to watch and it really is not too heavy for a criminal show - which at least for me is a big deal when considering what to watch! I can recommend it if you like fairly traditional criminal shows.
---
---