How To Identify Scam Platforms In Three Simple Ways.

With everyone looking for ways to build their wealth and attain financial freedom, there are tons of scam projects and investments out there ready to take advantage of the ignorance of the public. So far, none of the scam projects I've ever been involved with screamed "I'm A Scam" from afar, but a closer look at some of their features displayed more red flags than the Chinese communist party.
🚩🚩🚩🚩🚩🚩🚩🚩
There are three key ways I use to identify scams which when deeply researched would show if a platform is truly run by scammers or not.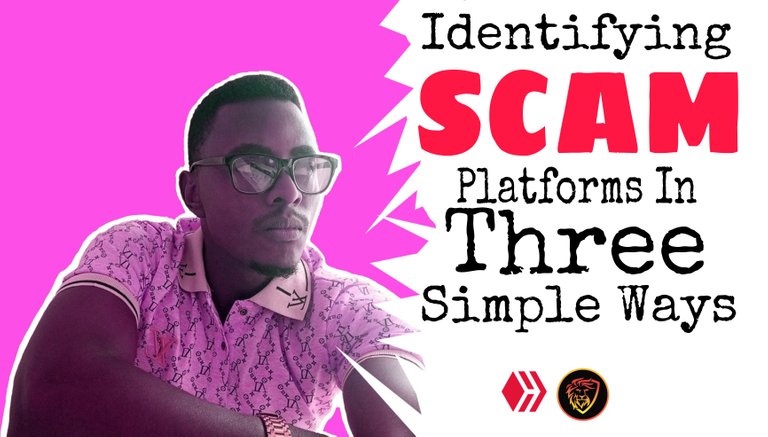 THE PROMISE
The first general sign of most scam platforms is a "promise"of high return in a short while and financial freedom. Don't get me wrong, there are legitimate businesses / platforms out there that have given so many people financial freedom and have proven to be worthy of both our time and money. Hive is a good example of such platforms.
The issue with scam projects is the "promise" and assurance of financial freedom to their customers or prospects. This could be by publicly announcing to pay a certain high ROI every day, week or month, the promise of the value of their coins at a particular date and time (not dependent on market), promise of not facing any economic challenges etc. "If its too good to be true, it probably is".
ANONYMITY
Loads of a scam project out there depend on anonymity for the success of the scam. For obvious reasons, scammers and fraudulent investors keep their identity unknown for smooth operation and so they won't be caught. Anonimity gives them a chance to be able to get away with fraud.
However, some scammers have taken a bold step on not keeping their identity a secret and have successfully carried out their operations with the public knowing almost everything about them. This happens in many developing and underdeveloped countries where these scammers can get away with the fraud by bribing their way through the poor judicial systems and traveling out of the country to seek asylum. It's quite easy to fall for these sorts of scammers because they made themselves public and act like there's nothing to hide. Going a extra mile to know more about the platform would definitely help and prevent you from being a victim.
VAGUE SOURCES OF INCOME.
Most scam platforms I've known gain the trust of their victims by claiming their income are from agriculture, real estate, crypto trading, forex trading. Its easy to attach themselves with known ways of legitimate investment just to appear more appealing to their victims and prospects. In reality, most of them run a ponzi scheme and kept rolling the funds of victims to keep the business going. There really was no farm, real estate business or trading. This would be more evident when they don't make their assets physical to the public but keep claiming to own them verbally.
Scam platforms would do everything in their power to get your trust by paying people and look legitimate. They are always gonna be around as long as the thirst for financial freedom exists. but we can do our best to make sure we and our loved ones don't fall victims by doing our deep research before delving into any firm of investment with any individual or firm.
Thank you for reading. I hope you found this post helpful and educative.
---
---