The Crypto World - A World Of Opportunities
Welcome to a world where so many things happen and some things never happen... A bit confusing to me if it were confusing to you but here is what I mean.
The crypto world has so many advantages that has benefitted a lot of us but we can't rule out the fact that some are still at disadvantage in the crypto world because they have refused to learn better at it. A coin may go very low (it's for the best) and a coin may go really high (it's for the best too) but some people don't see it this way and they run at loss because of this.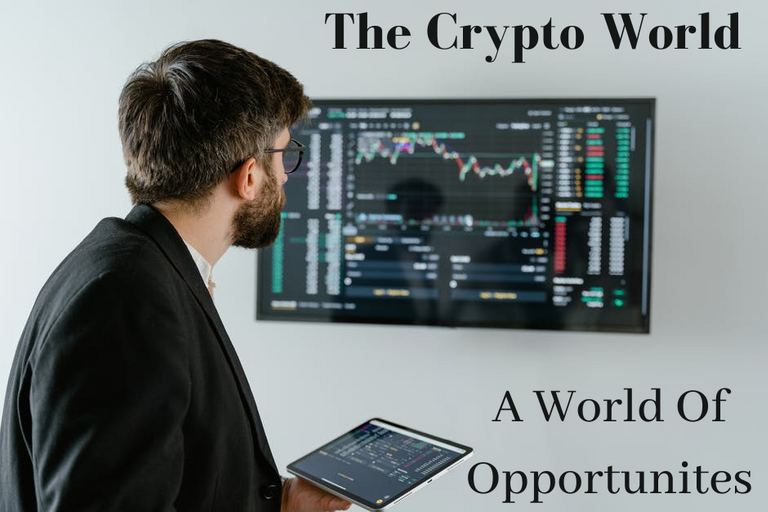 Source edited using Canva app
I'm not an expert on what the crypto world really is but I would like to share what the crypto world is like to me from my little experience. We should be happy we're into crypto and we should have in mind to stick to the crypto world into its future, why?
The Crypto world builds Bloggers/Vloggers
For those writing like myself and those making videos, we would agree that we're not same as we started, the crypto world is succeeding in building people who are willing to accept the change it's offering and we see them doing better by every attempt they make in blogging and vlogging. These write ups and videos goes out into the outside world and sometimes captivate the hearts of some who would see opportunities through them and they join the crypto world.
The Cypto world builds Connection and Projects
This is one of the biggest opportunity that the crypto world has offered to us - Connection. We are able to make friends from far places, read and learn from articles written from far places and also share our write ups to be read by so many who are far from us. We find ourselves trying to connect more with our minds than just using our heads like we do when we talk to our family and friends close by. The crypto world is more about understanding ourselves with our minds and that is a very unique thing to learn, if you'd agree with me.
So many projects which would have suffered are thriving all thanks to the opportunities they get from the crypto world. People are able to grow their projects and businesses, meet nearest patronages and that can be really fulfilling.
The Crypto world builds Gamers
I was so surprised to find out that people earn from playing games also, how cool is that? The crypto world keeps growing everyday to give more opportunities to us and one of them is Gaming. I know so many like me haven't been able to understand how it's been played but we're still here and we will get to know how to soon enough because the crypto world offers to build whoever wants to have a change.
The Crypto world builds Investors
Almost every person on Hive and on any other crypto currency block chain are investors. So many were never investors until they found the crypto world and go deeper to learn how to stay in the world. Investing in crypto gives more opportunities and experiences, investors have more to say about the crypto world than those who lose faith and don't invest. The crypto world teaches people how to invest more, investing is a risk but people are taking that risk everyday because they believe in the crypto world.
From the little I've shared, we would agree that the crypt world is more about opportunities than loses, if there's any loss though. The crypto world changes us and our mindset, we're to show the outside world what great opportunities they're missing. We should see the future of crypto and work towards being part of it's future.
@cryptoandcoffee said something in his post titled Why We Love Crypto
The one point which is becoming more and more obvious everyday is how early we all are and this is what is going to pay off. The percentage of people involved in crypto is still so small and the benefits of what we have will be seen when others arrive
This is my entry for the DCC contest you can also participate.
Thanks for reading!!!
---
---