Hive Open Mic #142 - "Rewrite The Stars" From The Greatest Showman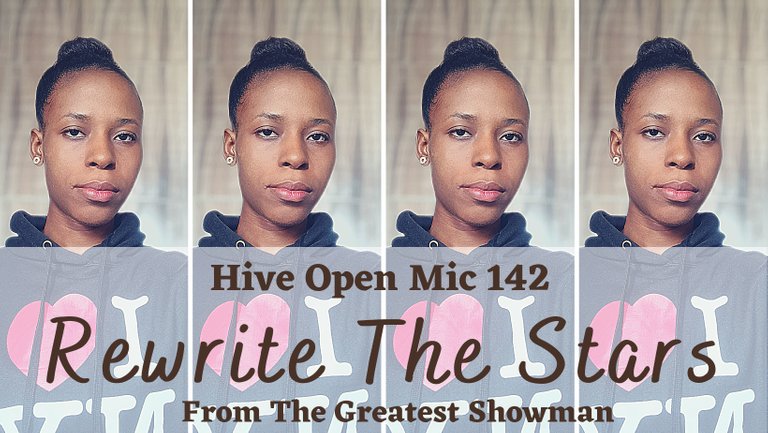 ---
Hello Hive Open Mic community!
It's been a while I shared a song entry here and honestly, I had planned to participate in the past two themes which I missed but somehow, something happens and I end up not being able to meet up with the deadline. I had a really lovely song for the last two theme but it didn't go to waste for learning it, I'm keeping it for next theme that it will fit into to.
It's a new week and I'm here with a song that I think fits into the theme perfectly...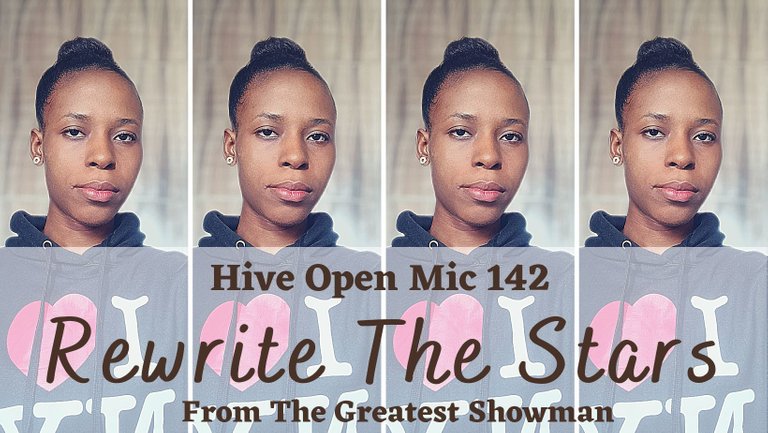 "Rewrite The Stars" is a song that is perfect for the theme "Nuestro Destino which is translated to Our destiny" because it is about two lovers who are deprived from being with each other because the guy's parents feels the lady is way below their class.
It's a song from a movie titled "The Greatest Showman" a movie I'll recommend for anyone who loves musical focused movies. And this song says a lot about fighting for one's destiny even when it seems decided already by others or when it seem so hard to control how it should go for one's favour.
The lyrics of the song says a lot more about giving in or not to what others say, two lovers coming to an agreement to fight for their destiny together as one.
It's a duet song but I decided to sing it as a solo and I hope it came out well enough for you all, do enjoy my cover and your comments are very welcomed.
Song lyrics
You know I want you
It's not a secret I try to hide
I know you want me
So don't keep saying our hands are tied
You claim it's not in the cards
And fate is pulling you miles away
And out of a reach from me
But you're here in my heart
So who can stop me if I decide that you're my destiny?
What if we rewrite the stars?
Say you were made to be mine?
Nothing could keep us apart
You'd be the one I was meant to find
It's up to you, and it's up to me
No one could say what we get to be
So why don't we rewrite the stars?
And maybe the world could be ours tonight
You think it's easy
You think I don't wanna run to you, yeah
But there are mountains
And there are doors that we can't walk through
I know you're wondering why
Because we're able to be just you and me within these walls
But when we go outside
You're gonna wake up and see that it was hopeless after all
No one can rewrite the stars
How can you say you'll be mine?
Everything keeps us apart
And I'm not the one you were meant to find
It's not up to you, it's not up to me, yeah
When everyone tells us what we can be
And how can we rewrite the stars?
Say that the world can be ours tonight
All I want is to fly with you
All I want is to fall with you
So just give me all of you
It feels impossible
It's not impossible
Is it impossible?
Say that it's possible
And how do we rewrite the stars?
Say you were made to be mine?
And nothing could keep us apart
'Cause you are the one I was meant to find
It's up to you, and it's up to me
No one could say what we get to be
And why don't we rewrite the stars?
Changing the world to be ours
Tonight
Lyrics source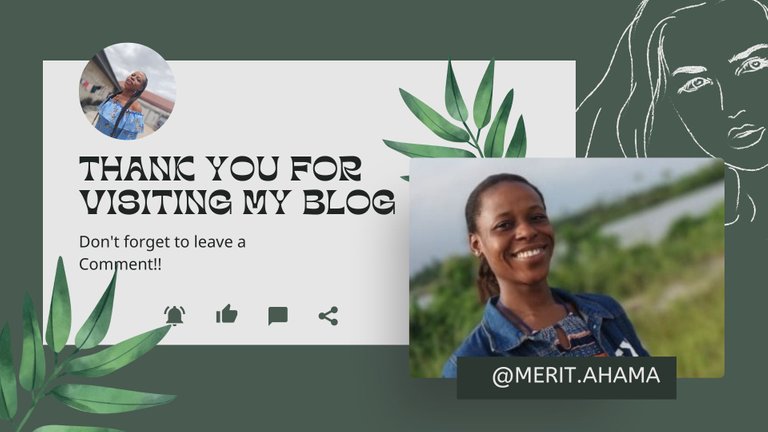 ---
▶️ 3Speak
---
---