Daily Business, Finance & Motivational Vlog - Vol 4
---
Good day everyone. This is Vol 4 of the vlog series which is centred on improving us, as I will be talking on fantastic topics in the business or finance section or will talking on motivating issues that will inspire you to success. This series will be educative, informative and inspiring, so do well to follow me, as I will be releasing vlogs on a daily.
---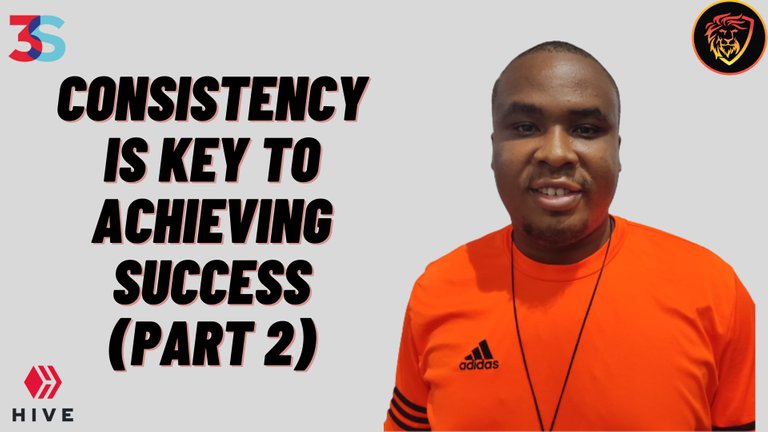 Image Is Mine. Edited On Canva
---
Today's topic is the continuation of Vol 3's, which is "Consistency Is Key To Achieving Success". I will be talking about the two major importance of consistency, which are
---
Self-Discipline: Consistency ensures we develop the habit of being self-disciplined which is a trait which is found in almost every successful individual. We are consistent at anything, that means, you follow a routine and by following a routine you are developing the habit of being self-disciplined.

Overcoming Challenges: Consistency ensures you develop the habit of overcoming challenges, as it makes you continually practice your task and when you are stuck or meet a challenge, you won't be able to rest as you would love to overcome such challenge. You would have the patience, discipline and desire to research, study and figure out a way to overcome any challenges that comes your way, when learning a new skill or when exercising or on literally anything. According to Thomas Edison and I quote
I have not failed 10,000 times—I've successfully found 10,000 ways that will not work. Source
---
Kindly watch the video above, as I go into detail with the points mentioned above. It will be worth your time. Go on and watch the video.
If you like the video or have some opinions to share, kindly make comments, as I would be very glad to respond to every comment.
---
The background music is Free to use. The author of the song is Ashamaluevmusic. Song Link.
---
Previous Vlogs
Vol 3 - Consistency Is Key To Achieving Success.
Vol 2 - Time Management And 3 Useful Tips.
Vol 1 - Achieving more by doing the hardest task first.
---
Till I Come Your Way, Stay Safe & Smile!!!
⚫️⚪️⚫️
Thanks For Reading & Watching
---
▶️ 3Speak
---
---