[En/Es]✨ Original Mario Party 🟥 for Nintendo 64 /The first adventure of them all 🎮🎮
English
🤞Nintendo Monopoly🎉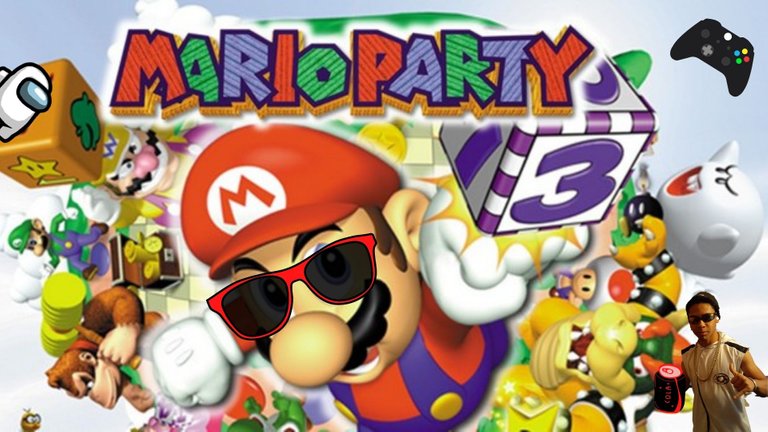 Image edited in Canva
Hello Hive family and Gamers of the community, how are you doing? I hope you are super well and welcome to a new post made by me, a week ago I talked about my experience playing one of the best video games of the Nintendo DS, one of the many video games that have the Mario Bros. franchise.
On that occasion I talked about Mario Party DS, a game where Mario and his friends were transported to our world, with such a tiny size that they can be compared to an ant, to play once again a game of Mario Party, the concept of that game was very interesting for a child like me at the time, in that post I also mentioned that I am not a big fan of the saga or much less, well I tell you that it is true, but I must admit that I overlooked a video game of the saga that I played a lot in my school days with my friends.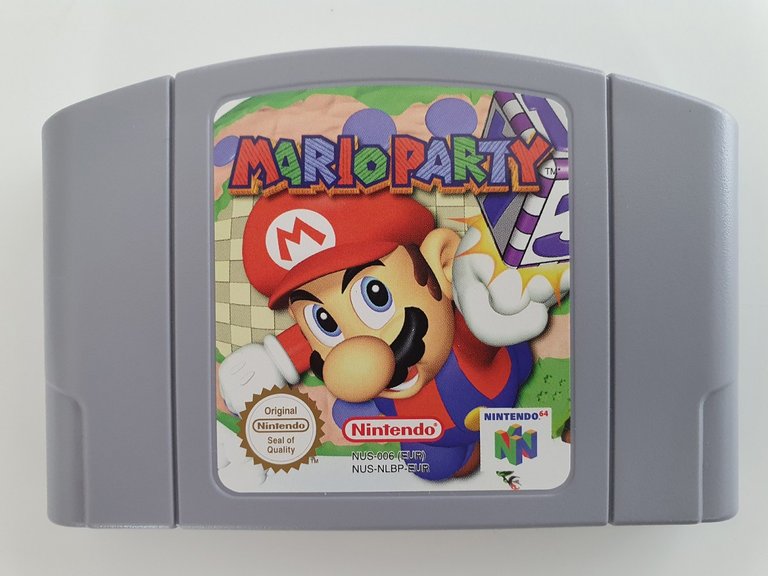 Source
This is nothing more and nothing less than the first Mario Party in history, which came out for the Nintendo 64 in 1998 or 1999 depending on the geographical area, the truth is I can not believe that this game I have completely forgotten, of course, I never got the game as such, I always had to go to my best friend's house to play it with him who by the way is an expert.
Not even my cousin @epilatero nor my brother @joheredia21 got the game on their respective Nintendo 64 consoles, so you can say that I knew the origins of Mario Party thanks to people outside my family circle.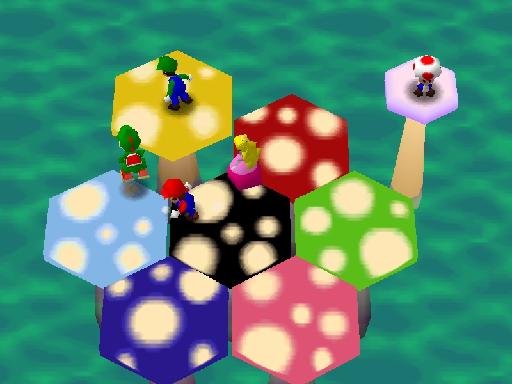 Source
Speaking of origins something very interesting that I managed to discover while digging for more information about the game, is that at the beginning of the development this franchise would only have a single installment and was not even going to do with the characters of Mario Bros as we all know them, according to the various forums were original characters, they say they would be toys, others that would be living plants and even animals, the game was going to be geared towards children.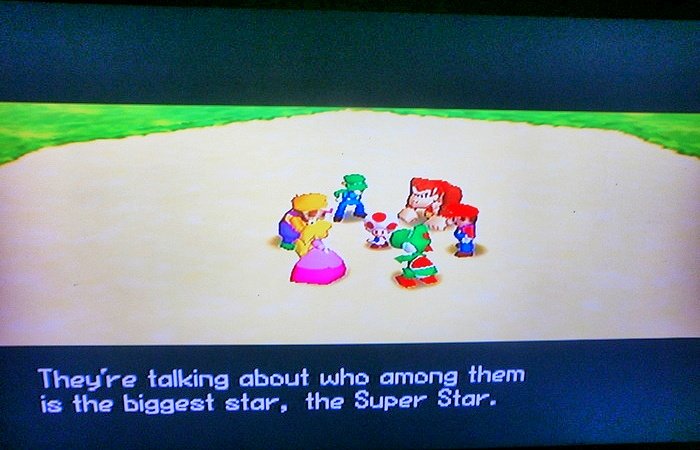 Photo taken by the author
But by the work of Jesus all-powerful, these ideas were discarded and the Japanese programmers decided to break the mold and create an adventure with the plumber and his friends, that's how Mario Party was born, the Nintendo Monopoly haha, fascinating story don't you think, but well anyway I'll tell you about my experience and the different options we have to play and enjoy.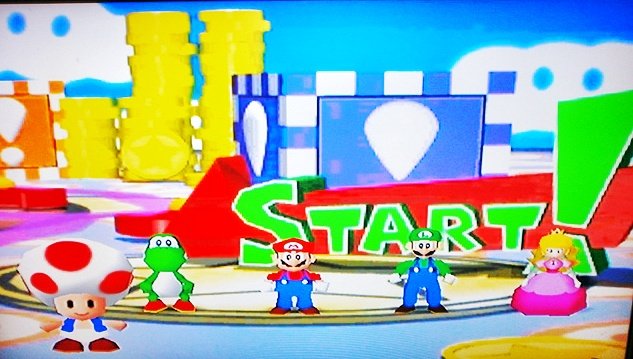 Photo taken by the author
As I said before this Mario Party videogame I met it thanks to my best friend, but it was not in the original Nintendo 64 console, it was thanks to an emulator that he had in his Xbox Classic, that's right gentlemen, once again I involve my favorite console in a post just like I met again a Nintendo 64 game thanks to an emulator that has nothing to do with Nintendo haha.
We played for long hours on a Saturday afternoon, I remember it was his birthday, a few family members arrived and we were ready to play in teams, I chose Luigi my favorite character from the Mario Bros saga, I think we chose the beach board, where a lot of colorful Yoshi appear, I will not explain in detail the game just say that in the overall record I was second with more coins than the others below, but with a disadvantage of 3 stars haha.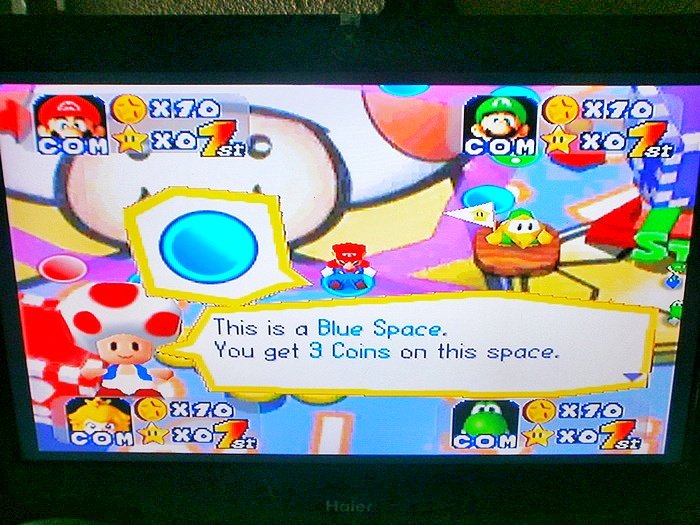 Photo taken by the author
That was the only time I played Mario Party 1, according to legend at the time that this game came out the Gamers of that time were left with sore palms, it was very common for accidents to happen thanks to the "good" distribution of controls offered by the Nintendo 64, the mini-games that appeared in the game were very difficult, according to experts consider Mario Party 1 as the most difficult game of the saga, for the reasons I'm talking about.
In some minigames we had to match, yes as you read it, match not press, match the buttons to be able to win a race. For example, I remember a minigame that afternoon about a minecart, the minigame was two against two and the goal was to reach the finish line before the other team, according to the layout of the controls and the instructions of the minigame we had to use only the "A" and "B" buttons, the problem is that it was not enough to press them from time to time, we had to be very fast if we wanted to reach the finish line and that caused inflammation in the thumbs.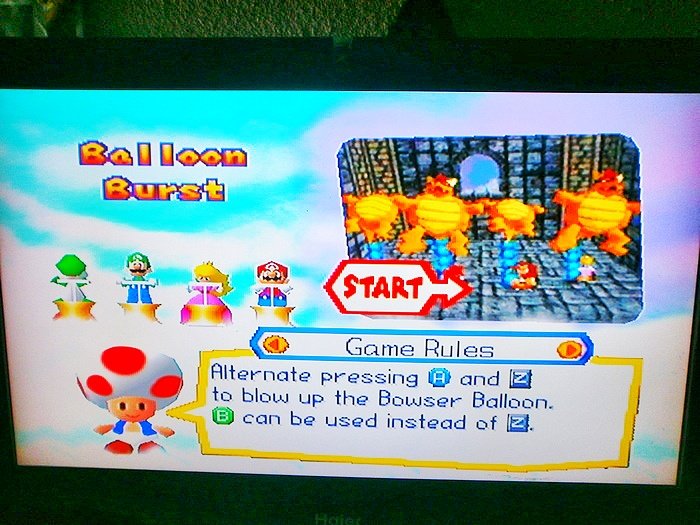 Photo taken by the author
At least that's what I could read on some reviews of the minigames, for my part I never played it on Nintendo 64, but on Xbox Classic and I can say that it is almost the same as the descriptions made on the internet, the Xbox controller buttons are much smaller and are harder, besides they are mechanical also that this was an innovation that would later be applied to newer consoles.
Returning to the game, that day when I played it at my friend's house I noticed that our fingers hurt after each minigame, that minigame with the minecart was not the only one where you had to press the "A" and "B" buttons to win, there was another one that I remember that was much worse, this minigame was about inflating a balloon of Bowser using the "A" and "B" buttons but you had to do it accurately and pressing both buttons at the same time if not, it was useless.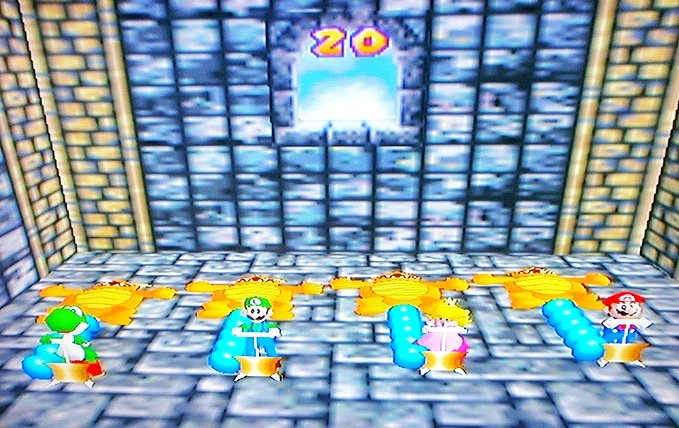 Photo taken by the author
Imagine if when we were kids, we suffered from pressing a single button, now imagine pressing two buttons at the same time plus the pressure that one of your friends can beat you, that is, for me it was torture because my competitive side for those who do not know me exceed my common sense, I did not mind damaging my hands if it means I can beat them and be the first in my group of friends in the game hahaha.
To finish with the bad things about the game, I can't leave without mentioning the reason why most people hate the stick of the Nintendo 64 controller, many minigames required the use of the stick that may or may not be worn out, many minigames had the habit of sending you to rotate that stick at speeds that could burn not only your fingers but the whole palm of your hand. Source
On Xbox you could say that it is less painful for the reason that the controllers of that console have a rubber band, in the same way, I had to move the lever of that controller at exorbitant speeds and it is one thing to be in a minigame alone than to be with friends, I explain, I remember a minigame that was about a Boo, the objective was to scare it away using a light bulb but that bulb had to be energized and as we give it energy with a walker and the controls were simply to turn the lever, that minigame almost took my thumb off, of course, everyone started laughing at my misfortune, but that's separate.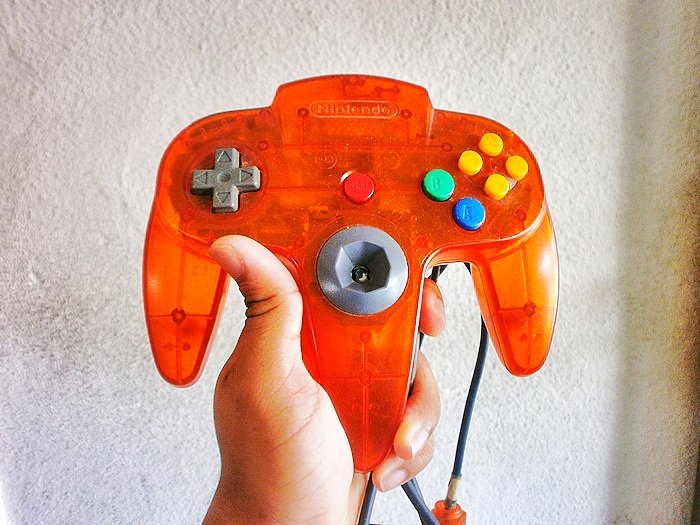 Photo taken by the author
Of course, that was playing in an individual minigame but when it was in a group it was at another price, there is a minigame that is said to mark an entire generation of gamers loyal to the Nintendo 64, which grabbed serious injuries and burns for this minigame, I do not know what the name is, but surely you will know what it is when I describe it if you played the game at its time of release.
This minigame was 1 vs. 3, set in a biome table with a carnivorous plant below the ravine, a rope, three people on the right side of the stage, and a person with a Bowser suit that gave him supernatural strength, I think you know what minigame I'm talking about, the goal was to pull a team towards the plant to remove the coins by doing a complete turn with the lever.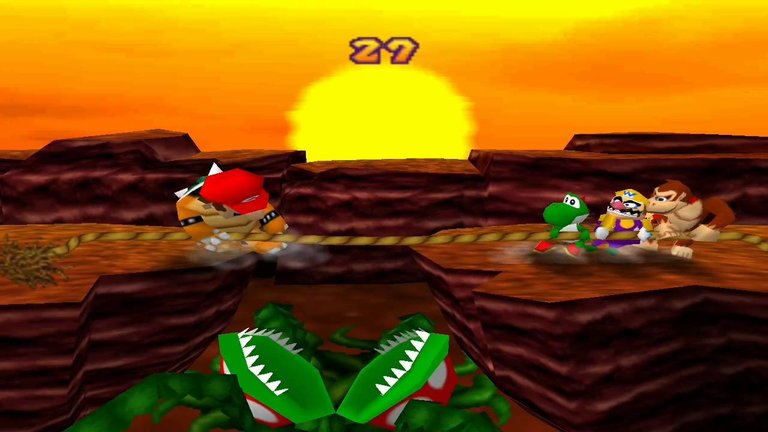 Source
Well this minigame if I suffered enough and it was in an Xbox controller, I do not want to imagine how it would be in an original Nintendo 64 controller, fixed or the stick goes flying or my thumb goes flying, my condolences to those generations, well, I must say something, beyond the lousy controls that has the video game the truth is too much fun, especially with friends and teams.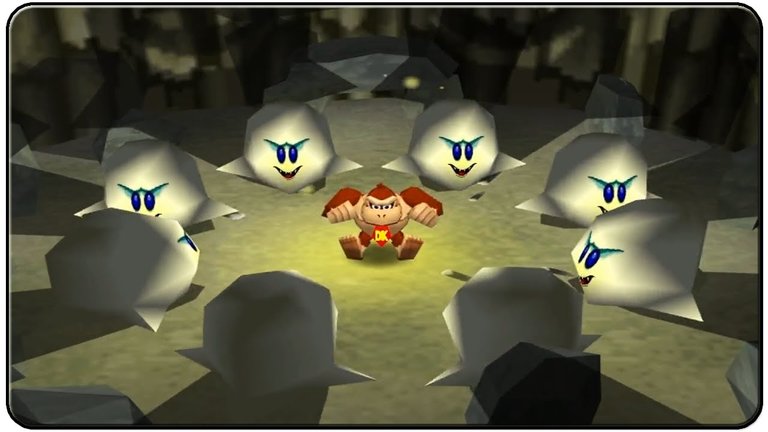 Source
As it was the first installment much more could not be asked more than hours of fun with the people we love the most and frustrate all of us haha. To finish, I want to mention some parameters that I found interesting, the first is that we can choose the minigames we want to play in a gallery, I thought that would not be implemented, but, from the beginning, there was always that option.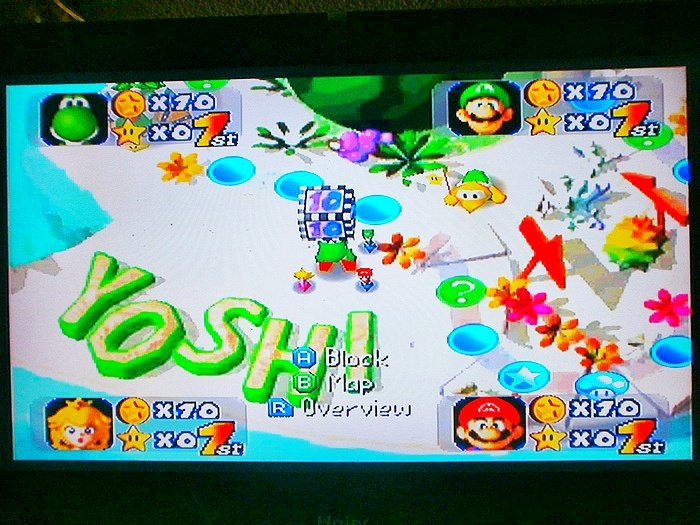 Photo taken by the author
The second is the number of characters, we only have six characters, the typical Mario, Luigi, Peach, Yoshi, Wario, and DK, it should be noted that DK today in the most recent installments of Mario Party is no longer a playable character, and the third is the scenarios and their soundtracks, really relaxing for a game that causes a lot of stress haha.
Well Hive family and friends Gamers, I hope you liked it a lot this post, Mario Party is great, as long as you use gloves, ok no, beyond all its imperfections is one of the Mario Party that I like the most, for its origin and its difficulty, although I'm happier to have it on Xbox Classic than on the original console to lie to us.
Photo taken by the author
I won't take any more of your time family, see you soon, see you later.🎉💥
Thank you very much!!

Translated with www.DeepL.com/Translator



🤞El monopoly de Nintendo 🎉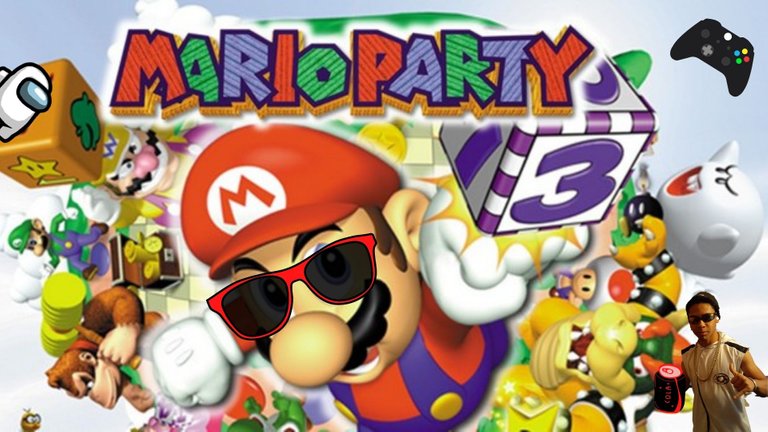 Image edited in Canva
Hola familia de Hive y Gamers de la comunidad. ¿Cómo están? Espero que estén super bien y sean bienvenidos a un nuevo post hecho por mí, hace una semana les hablé sobre mi experiencia jugando uno de los mejores videojuegos de la Nintendo DS, uno de los tantos videojuegos que tiene la franquicia de Mario Bros.
En esa ocasión hablé sobre Mario Party DS, un juego donde Mario y sus amigos eran transportados a nuestro mundo, con tamaño tan diminuto que se les puede comparar con una hormiga, para jugar una vez más una partida de Mario Party, el concepto de ese juego era muy interesante para un niño como yo en su momento, en ese post también mencioné que no soy gran fan de la saga ni mucho menos, pues les digo que es verdad, pero debo reconocer que se me pasó por alto un videojuego de la saga que jugué bastante en mi época de escuela con mis amigos.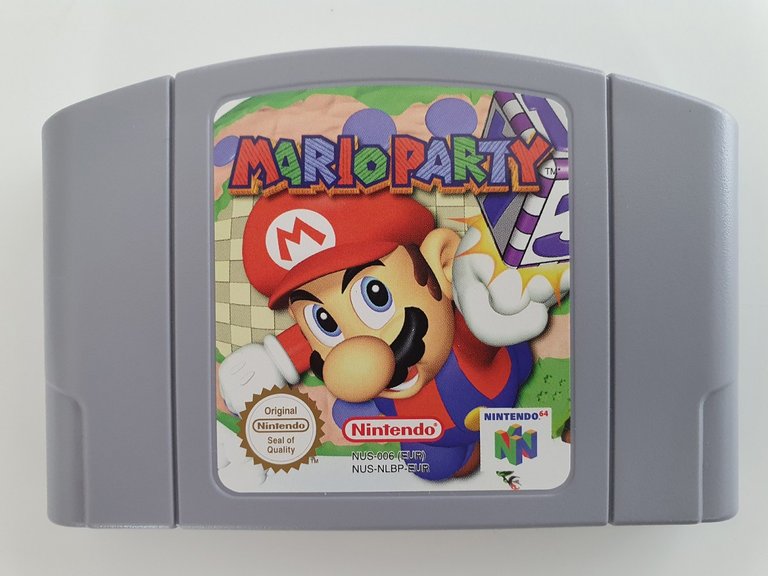 Source
Este es Nada más y nada menos que el primer Mario Party de la historia, el que salió para la Nintendo 64 en el año 1998 o 1999 dependiendo de la zona geográfica, la verdad no puedo creer que este juego lo haya olvidado por completo, claro el videojuego nunca lo obtuve como tal, siempre tenía que ir a la casa de mi mejor amigo a jugarlo con él que por cierto es un experto.
Ni siquiera mi primo @epilatero ni mi hermano @joheredia21, obtuvieron el juego en sus respectivas consolas de Nintendo 64, así que se puede decir que conocí los orígenes de Mario Party gracias a personas externas de mi circulo familiar.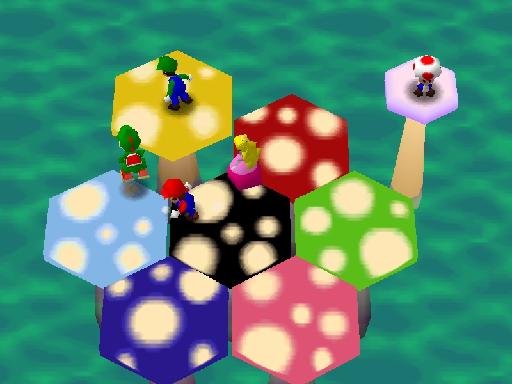 Source
Hablando de orígenes algo muy interesante que logré descubrir mientras indagaba para buscar más información sobre el juego, es que al inicio del desarrollo esta franquicia sólo contaría con una sola entrega y ni siquiera iba a hacer con los personajes de Mario Bros como todos los conocemos, según los distintos foros eran personajes totalmente originales, dicen que serían juguetes, otros que serían plantas vivientes e incluso animales, el juego iba a estar orientados hacia los niños.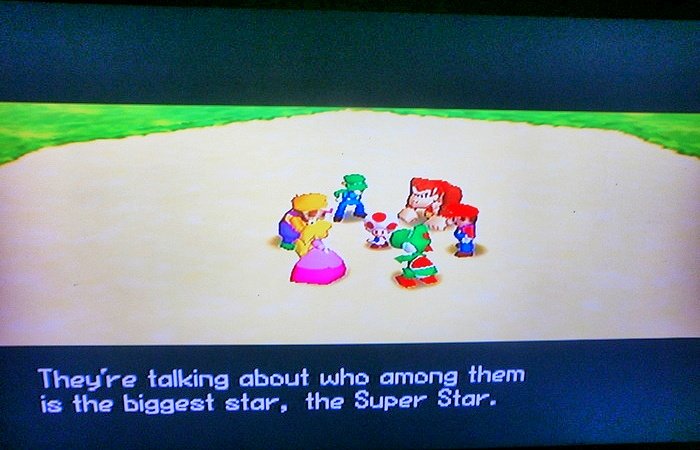 Photo taken by the author
Pero por obra de Jesús todo poderoso, esas ideas fueron descartas y los programadores nipones decidieron romper el molde y crear una aventura más con el fontanero y sus amigos, así fue como nació Mario Party el monopoly de Nintendo jaja, fascinante historia no lo creen, pero bueno en fin les hablare de mi experiencia y las distintas opciones que tenemos para jugar y disfrutar.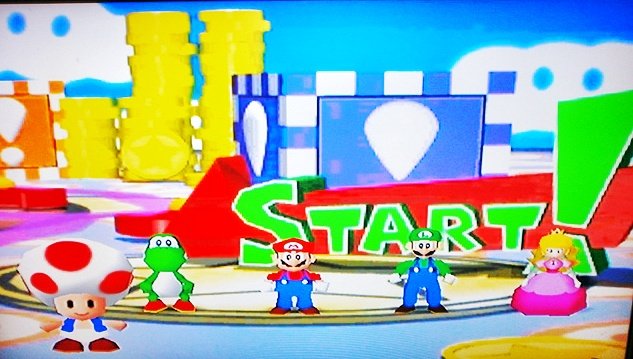 Photo taken by the author
Como dije anteriormente este videojuego de Mario Party lo conocí gracias a mi mejor amigo, pero no fue en la consola original de Nintendo 64, fue gracias a un emulador que él tenía en su Xbox Clásico, así es señores, una vez más involucro mi consola favorita en un post al igual que volví a conocer un juego de la Nintendo 64 gracias a un emulador que no tiene nada que ver con Nintendo jaja.
Jugamos por largas horas en una tarde de sábado, recuerdo que era su cumpleaños, llegaron unos cuantos familiares y nos disponíamos a jugar en equipos, yo escogí a Luigi mi personaje favorito de la saga de Mario Bros, creo que escogimos en tablero de la playa, donde aparecen un montón de Yoshi de colores, no les explicaré a detalle la partida sólo diré que en el registro general quedé segundo con más monedas que los demás de abajo, pero con una desventaja de 3 estrellas jaja.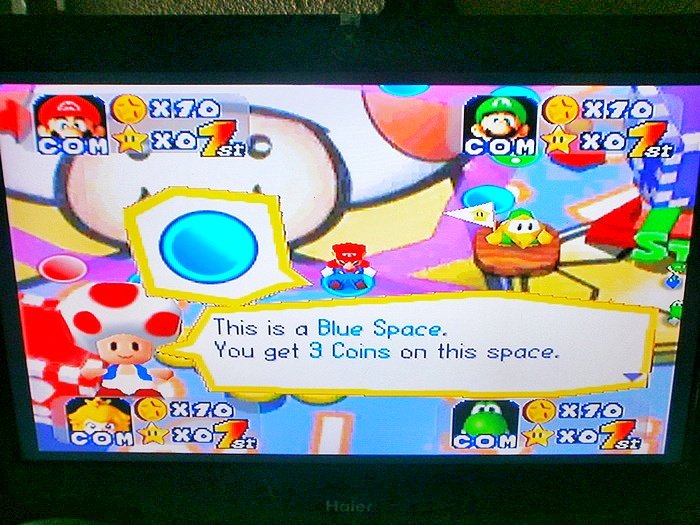 Photo taken by the author
Esa fue la única vez que jugué al Mario Party 1, según cuenta la leyenda en la época que salió este videojuego los Gamers de aquella época salían con dolor de palmas, era muy común que ocurrieran accidentes gracias a la "buena" distribución de controles que ofrecía el Nintendo 64, los minijuegos que aparecían en el juego eran muy difíciles, según expertos consideran a Mario Party 1 como el juego más difícil de la saga, por las razones que estoy comentando.
En algunos minijuegos debíamos machacar, si como lo leíste , machacar no presionar, machacar los botones para poder ganar una carrera. Por ejemplo, recuerdo un minijuego de aquella tarde que trata sobre un carrito de las minas, el minijuego era dos contra dos y el objetivo era llegar a la meta antes que el otro equipo, según la distribución de los controles y las instrucciones del minijuego debíamos sólo usar los botones "A" y "B", el problema es que no bastaba con presionarlos de vez en cuanto, había que ser muy rápido si queríamos llegar a la meta y eso causaba inflamación en los dedos pulgares.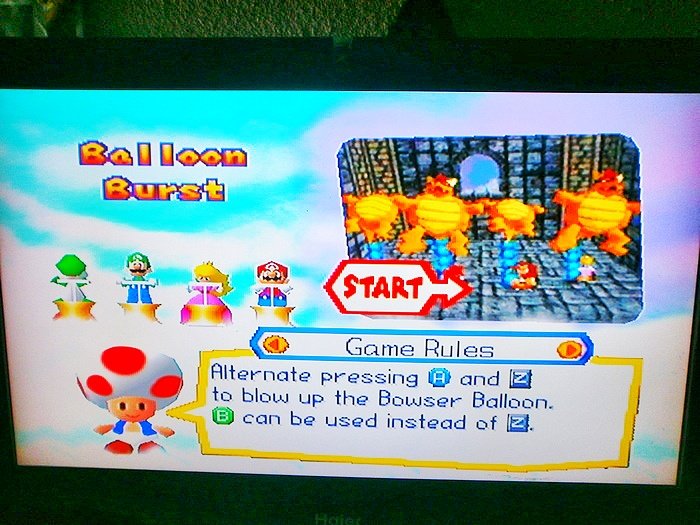 Photo taken by the author
Al menos eso es lo que pude leer sobre algunas reseñas de los minijuegos, por mi parte jamás lo jugué en Nintendo 64, pero si en Xbox Clásico y puedo decir que es casi igual a las descripciones que hacen en internet, los botones del mando de Xbox son mucho más pequeños y son más duros , aparte son mecánicos también que esa era una innovación que posteriormente sería aplicado a las consolas más nuevas.
Volviendo al juego, ese día cuando lo jugué en casa de mi amigo noté que nos dolieron los dedos después de cada minijuego, ese minijuego con el carro de las minas no era el único donde había que presionar los botones "A" y "B" para ganar, había otro que recuerdo que era mucho peor, este minijuego trataba sobre inflar un globo de Bowser usando los botones "A" y "B" pero había que hacerlo de forma precisa y presionando los dos botones al mismo tiempo si no, no sirve.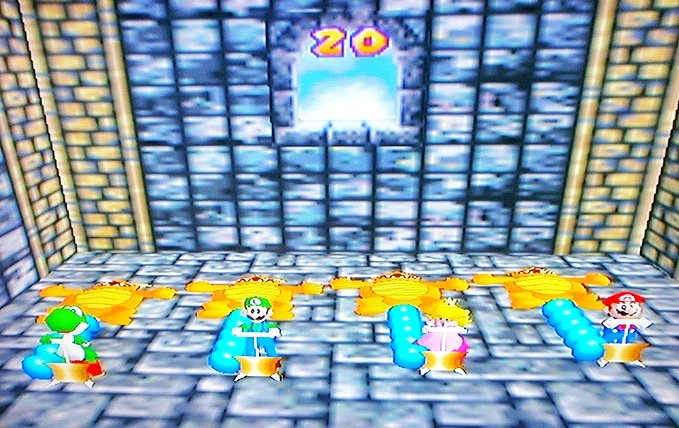 Photo taken by the author
Imagínense si nosotros de pequeños sufríamos con presionar un solo botón, ahora imagínense presionar dos botones al mismo tiempo más la presión de que uno de tus amigos te pueda ganar, es decir, para mí fue una tortura porque mi lado competitivo para los que no me conocen superan mi sentido común, no me importaste dañarme las manos si eso significa que les puedo ganar y ser el primero en mi grupo de amigos en el juego jajaja.
Para acabar ya de una vez con las cosas malas del juego, no puedo quedarme sin mencionar la razón por la cual la mayoría de personas odian al stick del mando de la Nintendo 64, muchos minijuegos necesitaban obligatoriamente el uso de la palanca que puede ser que estuviera desgastada o no, muchos minijuegos tenían la costumbre de mandarte a girar esa palanca a unas velocidades que te podían quemar no sólo los dedos, si no toda la palma de la mano. Source
En Xbox podrían decirse que es menos doloroso por la razón de que los mandos de esa consola traen de por si una gomita, de igual modo me tocó tener que mover la palanca de ese mando a velocidades exorbitantes y una cosa es estar en un minijuego sólo que estar con amigos, me explico, recuerdo un minijuego que era sobre un Boo, el objetivo era espantarlo usando un bombillo pero ese bombillo había que darle energía y como le damos energía con una caminadora y los controles eran simplemente girar la palanca, ese minijuego casi me saca el pulgar, claro todo el mundo se empezó reír de mi desgracia, pero eso es aparte.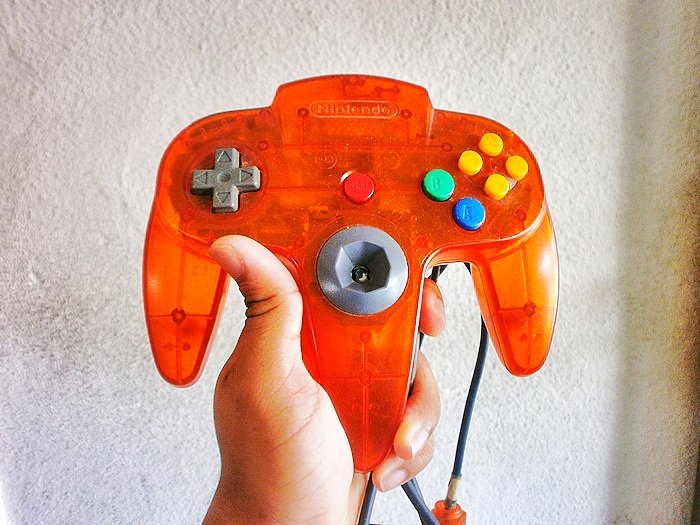 Photo taken by the author
Claro eso fue jugando en un minijuego individual pero cuando era en grupo era a otro precio, hay un minijuego que según dicen marco a una generación entera de Gamers fieles a la Nintendo 64, los cuales agarraron serias lesiones y quemaduras por este minijuego, no sé cuál es el nombre, pero de seguro sabrán cual es cuando lo describa, si es que jugaron el juego en su época de lanzamiento.
Este minijuego era 1 contra 3, ambientado en un bioma mesa con una planta carnívora abajo del barranco, una cuerda, tres personas del lado derecho del escenario y una persona con un traje de Bowser que le proporcionaba fuerza sobre natural, creó que saben de qué minijuego hablo, el objetivo era tirar a un equipo hacia la planta para quitarle las monedas haciendo la vuelta completa con la palanca.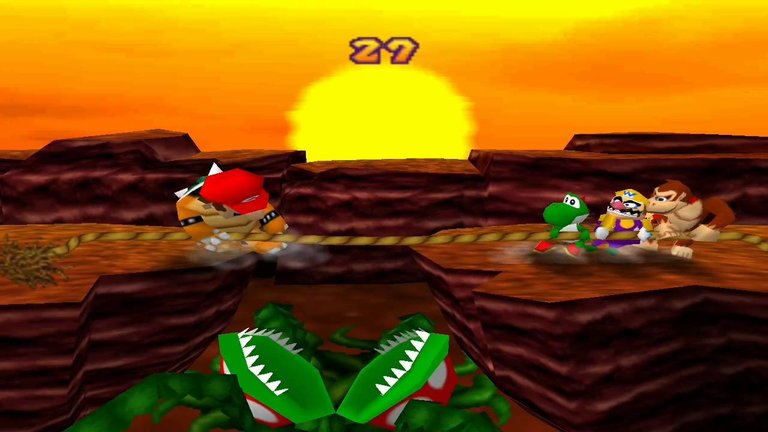 Source
Bueno este minijuego si lo sufrí bastante y fue en un mando de Xbox, no me quiero imaginar cómo sería en un mando original de la Nintendo 64, fijo o sale la palanca volando o sale mi pulgar volando, mis condolencias por esas generaciones, bueno, debo decir algo, más allá de los pésimos controles que tiene el videojuego la verdad es demasiado divertida, sobre todo con amigos y en equipos.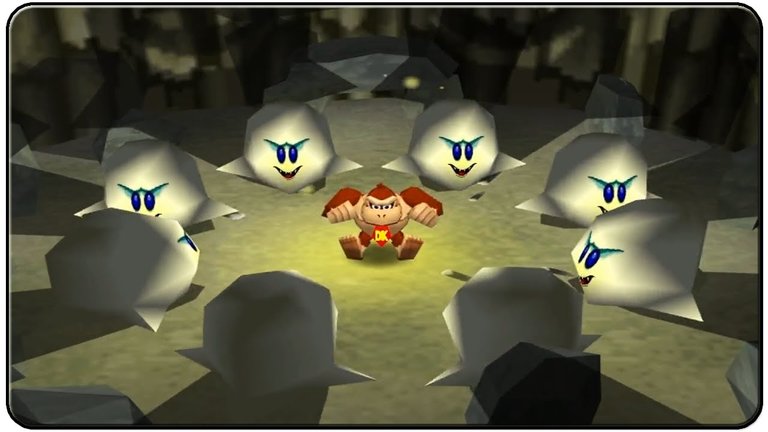 Source
Como era la primera entrega mucho más no se le podía pedir más que horas de diversión con las personas que más amamos y frustrarnos todos entre nosotros jaja. Para acabar, quiero mencionar algunos parámetros que me parecieron interesantes, el primero es que podemos escoger los minijuegos que queramos jugar en una galería, pensé que eso no estaría implementado, pero al parecer desde los inicios siempre existió esa opción.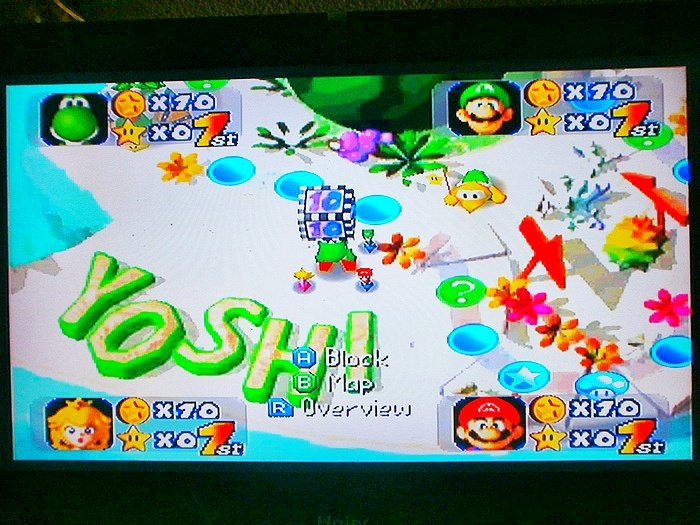 Photo taken by the author
El segundo es la cantidad de personajes, solamente contamos con seis personajes, los típicos Mario, Luigi, Peach, Yoshi, Wario y DK, cabe decir que DK al día de hoy en las entregas más recientes de Mario Party ya no es un personaje jugable, y el tercero son los escenarios y sus soundtracks, realmente relajantes para un juego que causa mucho estrés jaja.
Bueno familia de Hive y amigos Gamers, espero que les haya gustado mucho este post, Mario Party es genial, mientras uses guantes, Ok no, más allá de todas sus imperfecciones es uno de los Mario Party que más me gustan, por su origen y por su dificultad, aunque estoy más feliz de tenerlo en Xbox Clásico que en consola original, para que mentirnos.
Photo taken by the author
Ya no les quito más tiempo familia, nos vemos pronto, hasta luego. 🎉💥
¡¡Muchas Gracias!!

Translated with www.DeepL.com/Translator


---
---