[Week 118]: Weekend-Engagement concept || Shared weekend with..
---
Shared weekend
You get to spend the weekend with one of the people/characters listed below. Who do you choose and why, and what does your weekend look like - what discussions do you have? (Beware of using images that don't belong to you or are not free-to-use stock images which must be credited with a link)
Leonardo da Vinci
Lara Croft (from Tomb Raider)
Neo (from the Matrix)
A homeless military veteran
Adolf Hitler
Bugs Bunny and Daffy Duck
Arnold Schwarzenegger
Viktor E. Frankl
Napoleon Bonaparte
Your 90 year old self
---
---
No doubt this weekend challenge is very interesting, I wish I could choose more than one, but this time I'm going to choose an actor I've admired since I was a child. Thank you Mr.
@galenkp
for creating these fun themes to exchange ideas on the weekends, I hope you like this one. Welcome.
---
---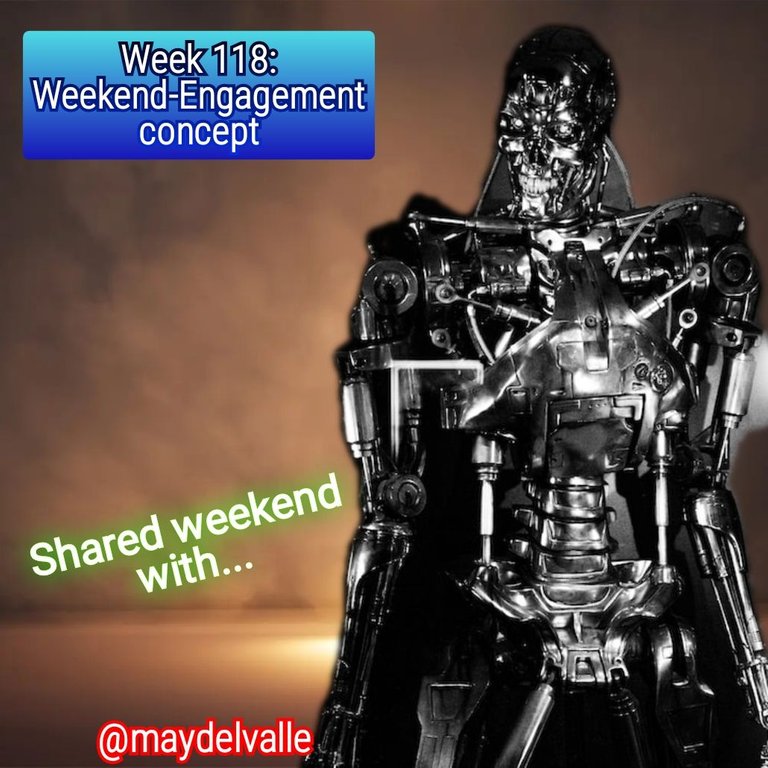 Free Unsplash download image mounted on the Picsa app, available at
For me what I associate with the name Arnold Schwarzenegger is "Terminator", I grew up watching this movie so I would definitely choose to spend a weekend meeting this man who has been an icon of cinema for several generations.
I have a slight memory of the first time I saw this movie, it was a wonderful performance and it scared the hell out of me when the character removes his eye and the skin from his arm and exposes his true life form. My passion for this actor is genuine and whenever he has been in any movie, I watch them to enjoy his talent, I know that many times he has received not so positive comments about his acting, but I see that he has had an incredible growth as an actor.
Maybe when I see him and I can greet him my hands will sweat and my voice will tremble, he is a figure that represents tenacity, discipline, clarity in the established goals and above all, to believe in himself. He has struggled since he was very young to be somebody and at his age he can afford to be known all over the world. He has a very good economic position and has achieved and conquered what he has set in his objectives.
That is why I want to tell you what my ideal weekend with this great actor would be like. At first I would ask him to come to my country Venezuela, once here I would take him for a Creole breakfast with Andean mojito, refried beans, curd and peeled corn arepas, of course I would give him to taste a great cup of coffee freshly made by the hands of my mother, he will love it. I would then take him to see part of my state of Trujillo, starting with the monument to the Virgin of Peace. Then I would take a direct flight to Falcon to show you the beaches and the hueque waterfalls. A beautiful place.
The rest of the night we would pass by the incredible blues of the coastal area in La Guaira, where I could enjoy a fascinating sunset. I would take advantage of dinner to ask him about his tireless motivation and discipline he had as a young man to achieve his goals, struggling even with the standards of his own parents, something not easy to do many times.
On Sunday I would ask him to climb the Avila to marvel at the panoramic views of the capital city, having there in front of him the majestic work of our creator. For lunch I imagine him going to the plains to eat beef on a stick and enjoy a sunset in the middle of savannahs and Venezuelan music. And when it is time to say goodbye, I would tell him how grateful I am to show him that in these mountains so far from his home of origin, he is respected, admired and loved. I hope he enjoys the simplicity of my weekend, but I carry with me my affection and recognition.
Undoubtedly this actor is a human being that I would like to meet, I am curious to ask him also about how he felt filming the scenes as a pregnant man, a movie that we always watch as a family.
Well, here I leave the link to the post that has each of the guidelines to participate in this new weekend edition, link
---
---
See you in the next post 🌷🙏✨.
---
---
Banner created in Canva, using their resources.
Translator used DeepL free version.
---
---

---
---