Sound Money System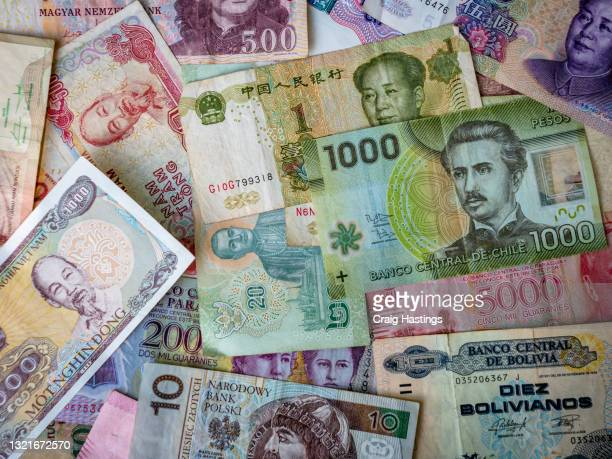 Inflation has been running rampant on a global scale for almost a year now. From US having everything rising in price to Europe even more so especially with energy prices. Curious though is there an answer to this inflation? Well the central banks are trying to create the answer but essentially removing money in the supply and increasing the cost of lending so less borrowing occurs. These two factors will likely cause an economic slowdown.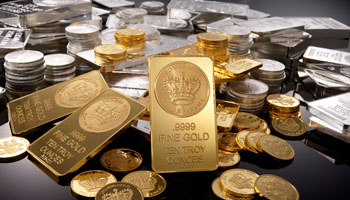 (Courtesy of soundmoneydefense.org)
What if there was another way or system to "fixing" the inflation problem? There is such a thing and it is a sound money system.
Definition, courtesy of soundmoneydefense.org, of a sound money system:
Sound money is money that is not prone to sudden appreciation or depreciation in purchasing power over the long term, aided by self-correcting mechanisms inherent in a free-market system.
There are some sound money systems that have existing in human civilization. This was before the creation of central banks and fiat currency. One such system is the "gold standard".
Gold Standard 1870s - 1920s
A brief overview is that in the late 1800s most develop countries were trying to develop a form of currency to trade between each other. The currency would be backed by some form of precious medal and the two that was used back in the day were silver and gold. Over the years developed countries establish their own currency with an equivalent amount of silver or gold and used to within the country and exported. This started off well since universally silver and gold had some form of value to them due to their limited supplies and established history through centuries.
Yet as some countries obtained more gold they were leading the usage of more gold than silver. This lead to countries with less gold and more silver a disadvantage. The imbalances would cause financial burden to the ones that have less gold than others.
You can read more about the history of the Gold Standard on Wikipedia Link Here.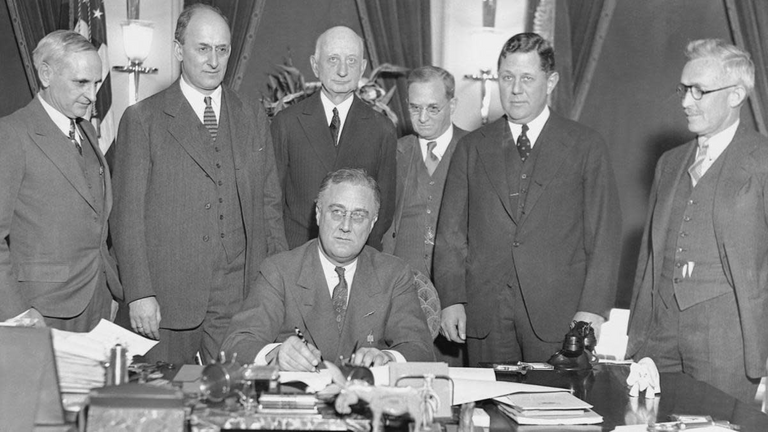 (Courtesy of www.history.com)
The United States having prospered the most since the late 1800s became a super power and lead the way to a gold standard with their currency being a reserved currency. Some historians have linked the US's reserved currency status factored into the start of World War I. Note the reserved currency was announced in 1913 while World War I started in 1914.
The end result of World War I was a victory for the United States and with it they became recipients of gold from their allies and countries that surrendered. This only made the US reserve currency even stronger.
Bretton Wood
Economic cycles come and go as the globe faced a Great Depression and in turn another World War. At the end of the second World War the countries came together to make a consensus to have their own countries' currency be able to trade for the US dollar. Meanwhile the US dollar would be tradable for a fixed amount of gold, since the US at the time was the largest holder of gold.
This mean US dollar entrenched itself as the world reserve currency and all other countries would be trading for the dollar when needed to hold up their own country's currency.
BBBRRR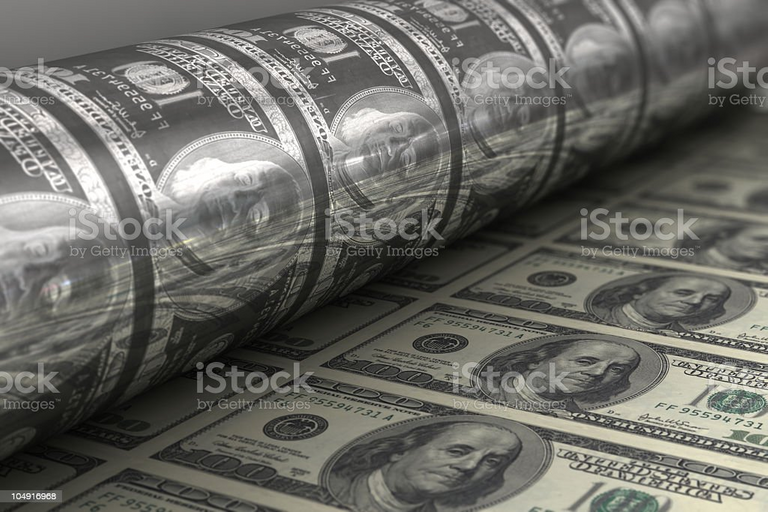 (Courtesy of istockphoto.com)
The US since World War II had to deal with their own struggles but along the way began printing more and more money to sustain its country's then so prosperity. By the early 1970s the US decided to take out its currency peg to gold which essentially made what then was a "sound money system" all but removed out of the global countries.
With the US reserve dollar still maintained foreign countries were trading with the United States with what is to be called only fiat, paper currency, that was worth its value on the basis of a promise.
Conclusions
You can see how this current inflation is hurting the economy, and now after reading this post also realized what really lead up to such inflation. The US was originally on a form of sound money system with it's currency back against silver and gold. Yet over the years this was removed and in its place is nothing more than a promise that the paper money will still be useful tomorrow.
Paper can be easily copied and recreated hence inflation can be easily created. On the other hand in a sound money system the gold that was held in US were limited in supply and likely to maintain it's value through the years. Losing the peg between the US dollar and gold essentially removed the global monetary system
away from a sound money system.
This would lead into what is now becoming global crisis in inflation. Multiple countries are living outside their means by printing excessive amount of money to purchase a finite amount of goods and services. If only we had a sound money system still in place we would likely not have seen such crisis in money inflation.
None of what I write is financial advice. It is for entertainment purposes only. Thanks for reading!

LeoFinance = Financial Blog
LeoDex = Hive trading exchange for Secondary Tokens, Low 0.25% fees for deposits and withdraws.
HiveStats = Hive stats per user
LeoPedia = Informative content related to anything about Crypto and how to make financial gains in crypto!
CubDefi = LEO Finance's Defi with CUB Token
---
---