Our walk on the Baltic Sea - a festive procession as bronze statues in the small alleys of a seaside resort
Hi Hive friends!
In this post I would like to show you a place that has become a kind of short holiday experience in my new home Rostock. It's the alleys and beaches of Warnemünde, which is right by the sea. Unfortunately, I get to spend a few hours here far too rarely, but the times I am here, I am happy. You can let your soul dangle and escape a little from the stressful everyday life. A weekend trip is always a great experience, too.
The photos were taken a few weeks ago, but I wanted to show them anyway. On those days it was just 5 degrees there and a friend and I had to dress warmly. It's about half an hour's train ride from Rostock's main station and you don't have to change trains, which is nice.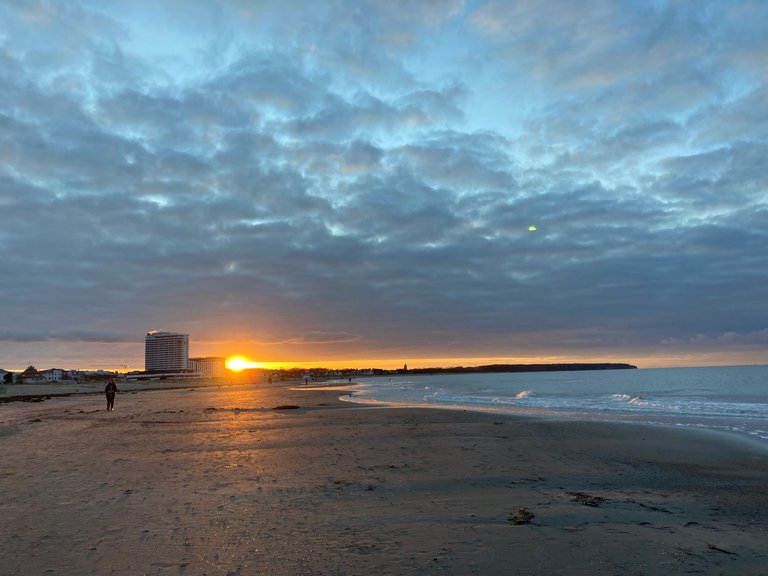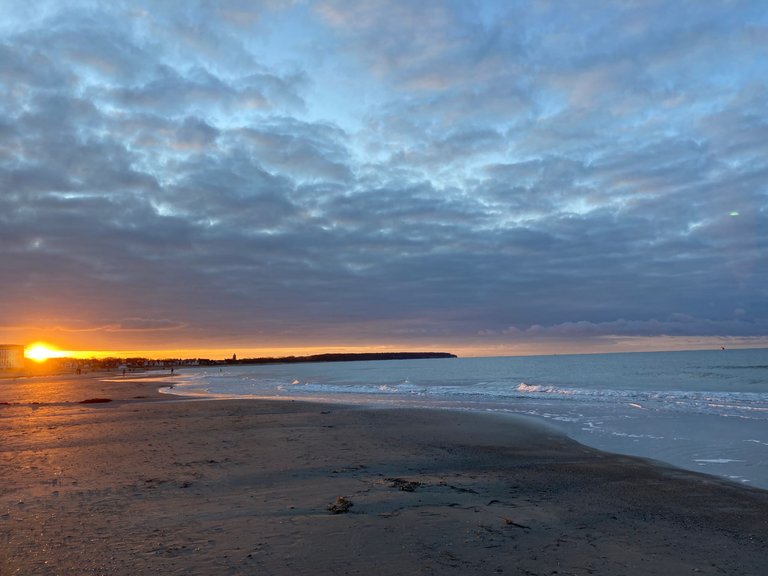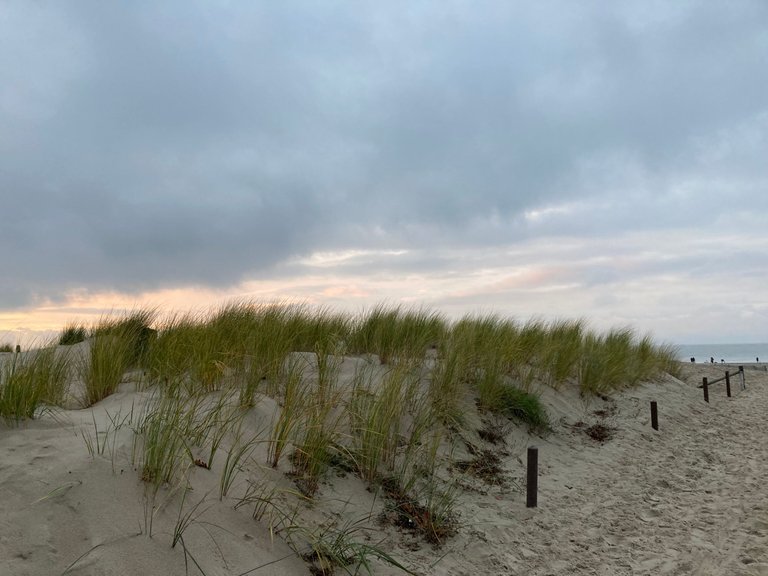 I took a few more photos of the dunes, from which you had a nice view of the sky.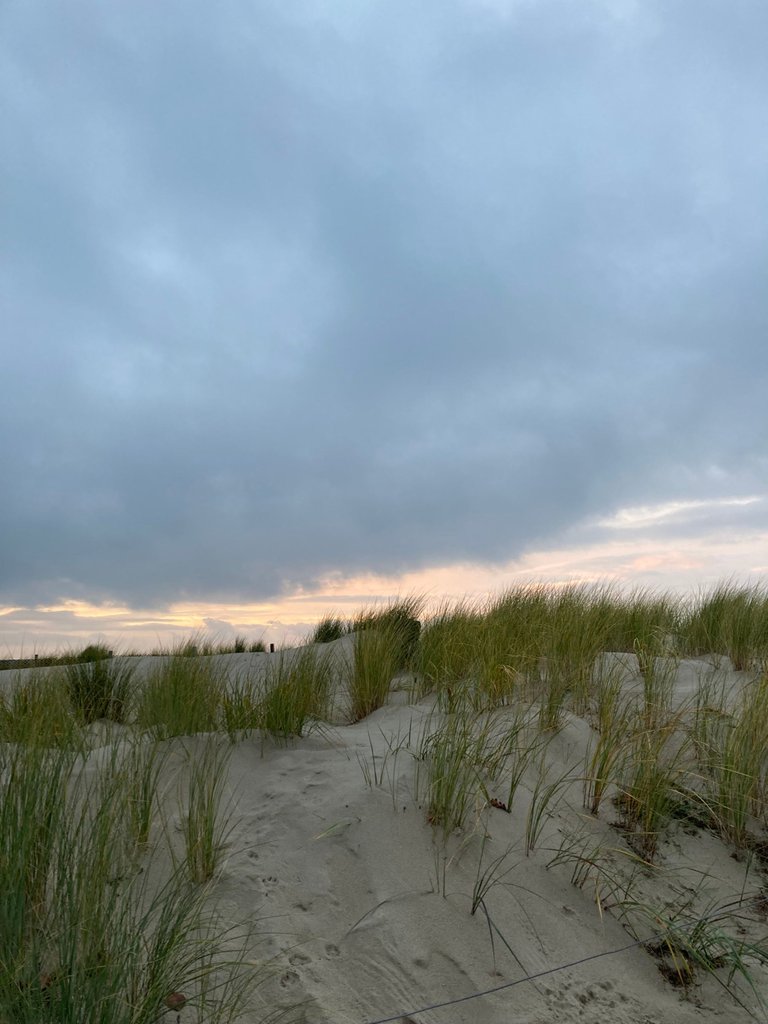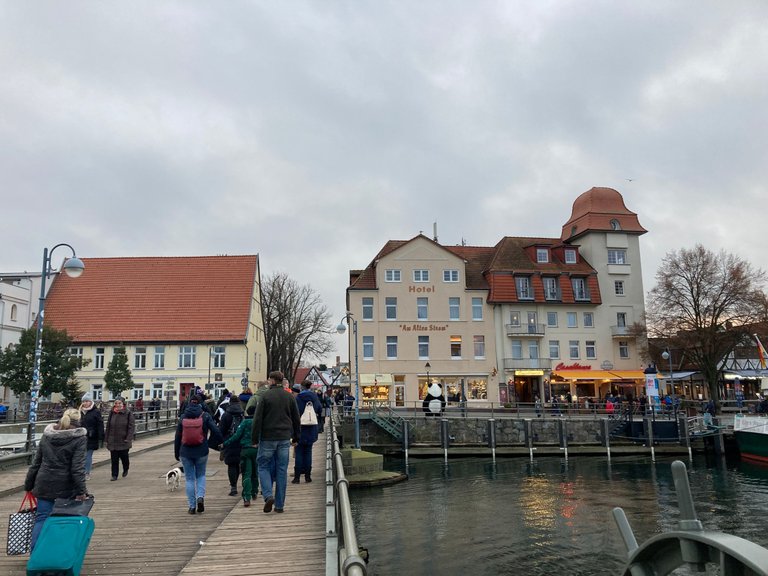 Here you can already see the Warnemünde harbour - I can tell you, there are soo delicious fresh baked fish rolls here! On this day, my hands would not have stood the cold air and I kept them in my pocket. For the summer, however, I plan to eat a baked fish roll there more often. They are not big companies but small family businesses, which is why I like to buy food there.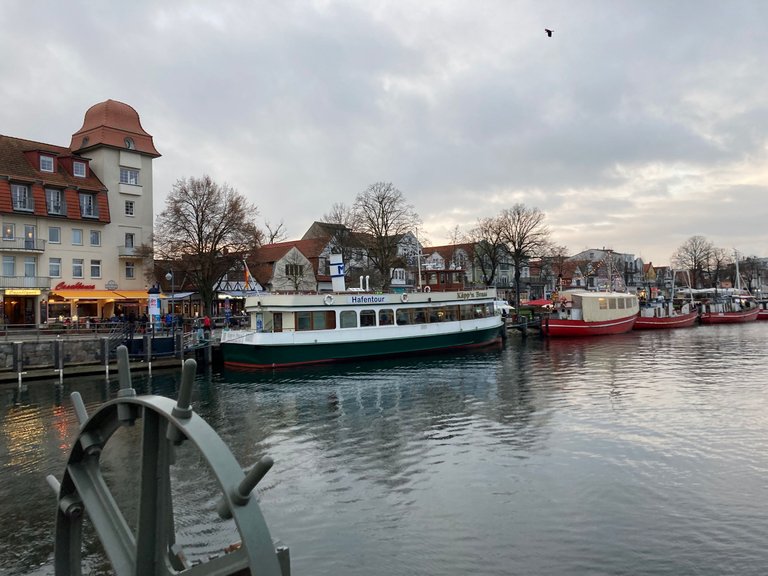 There is a big difference between the crowds of tourists in summer and the few tourists in winter. In winter it is relatively empty and mostly only locals are out and about, whereas in summer you can hardly get out of your way at the harbour. Only in the small alleys can you still stroll comfortably, which I will show you in a moment.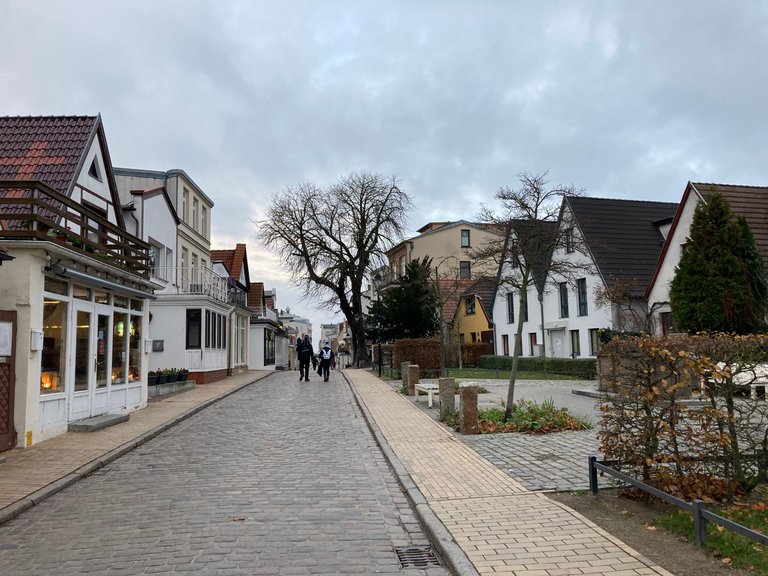 Here you can see the small alleys that also lead to the beach, but where it is a little emptier than walking directly along the harbour past the boats and fish stalls. I really like the architecture of the little houses, it all looks very peaceful.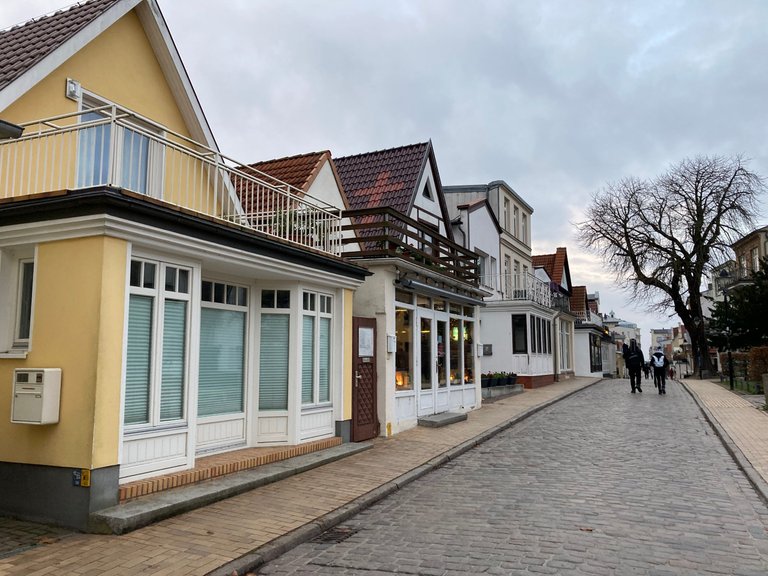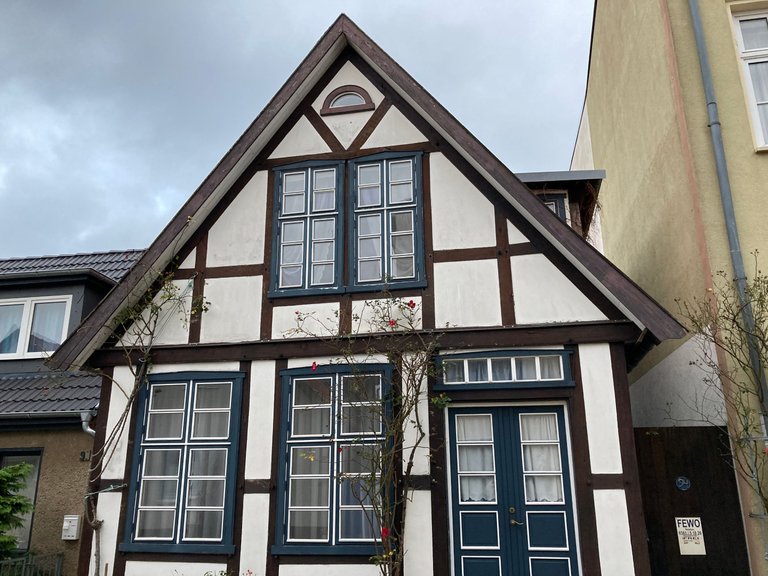 This small half-timbered house with flowers in the front yard of the alley made us stop for a moment.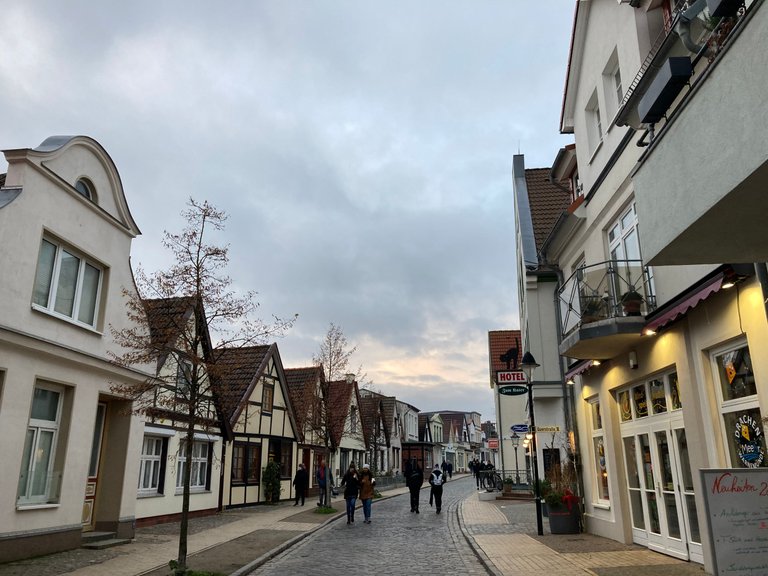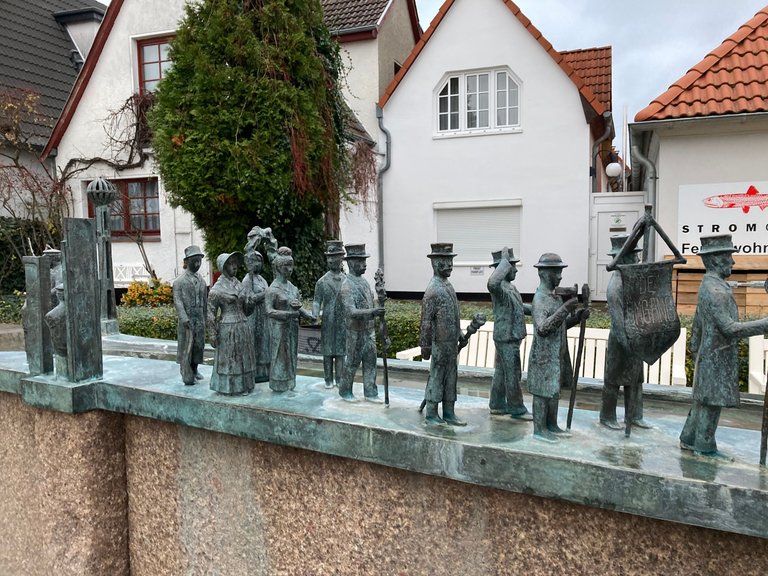 We passed the fountain "Warnemünder Ümgang" - quite a well-known fountain in Warnemünde itself, but outside it doesn't mean much to many people. I thought it was beautiful and that's why I took pictures of it. It is an important local tradition, so to speak, and it shows the citizens of Warnemünde taking part in a procession and dressed festively. The procession used to take place as a tradition when the former fishing village opposite the city of Rostock got a new representative. The 19 bronze figures can be seen marching there.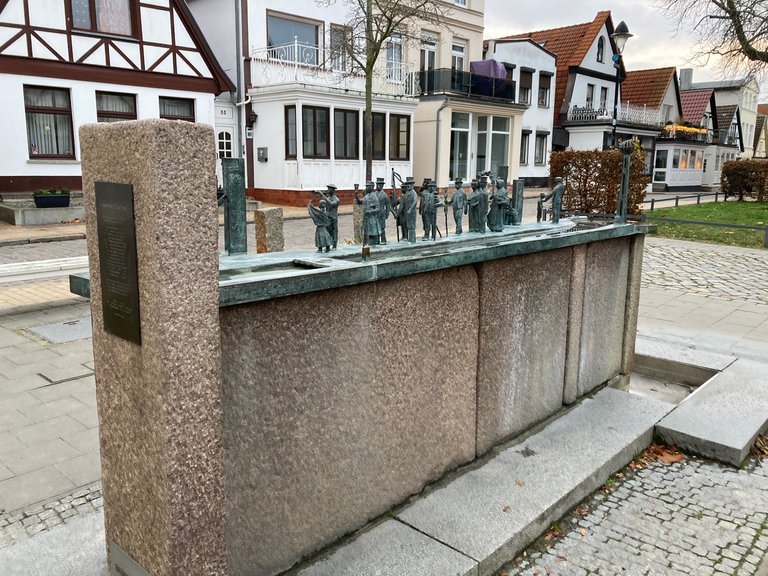 It stands in Alexandrinenstraße, which you can see in the pictures, and was created by the sculptor Wolfgang Friedrich. We were not the only ones who stopped and paused there that day; many walkers stop curiously at this fountain. The figures stand on a granite pedestal and cast a little shadow on the water. If the sun had been shining, you would have been able to see it even better. Even today, every year on the first weekend in July, there is a colourful and cheerful procession through the town, in which artists, clubs and tradesmen also take part. So far I have not known about it, but I will try to be there this year.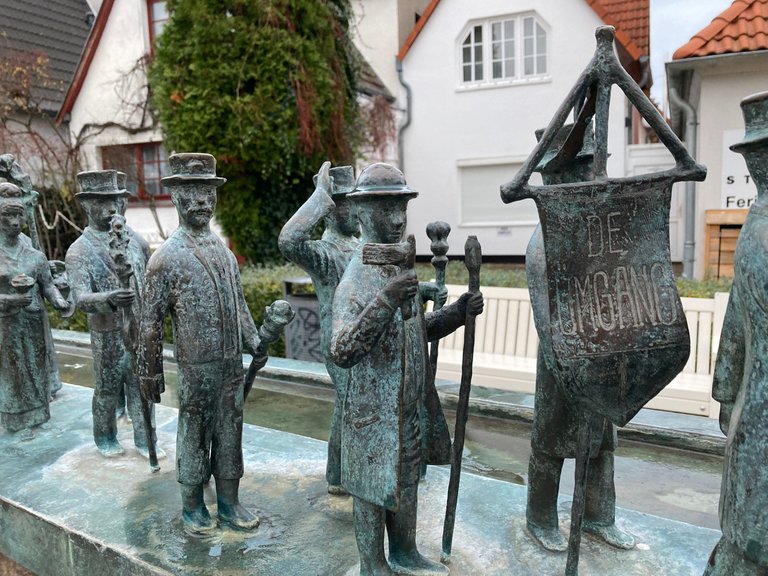 On the shield to the right in the picture of the bronze figure is written "De Ümgang".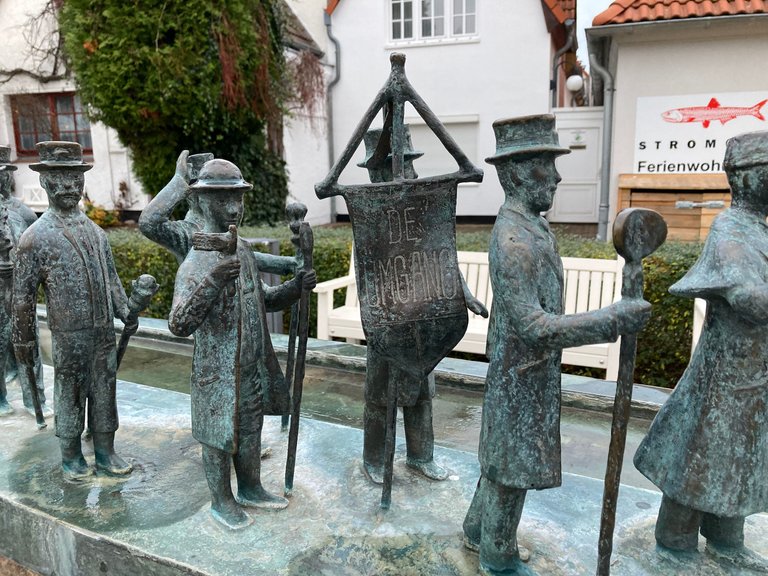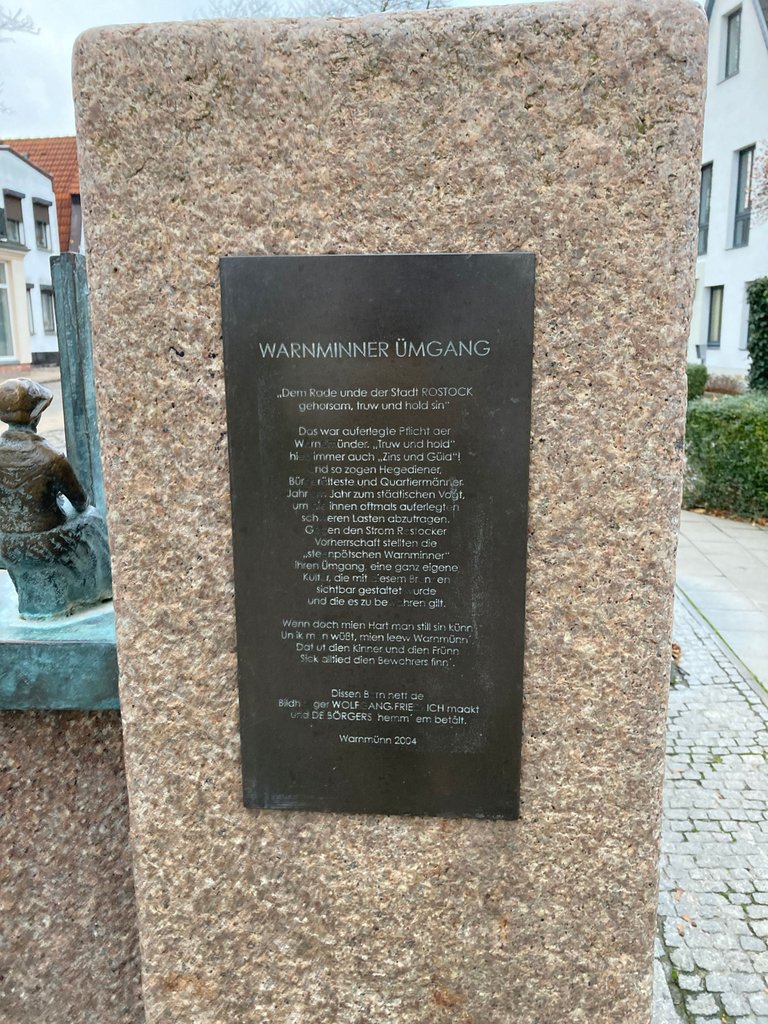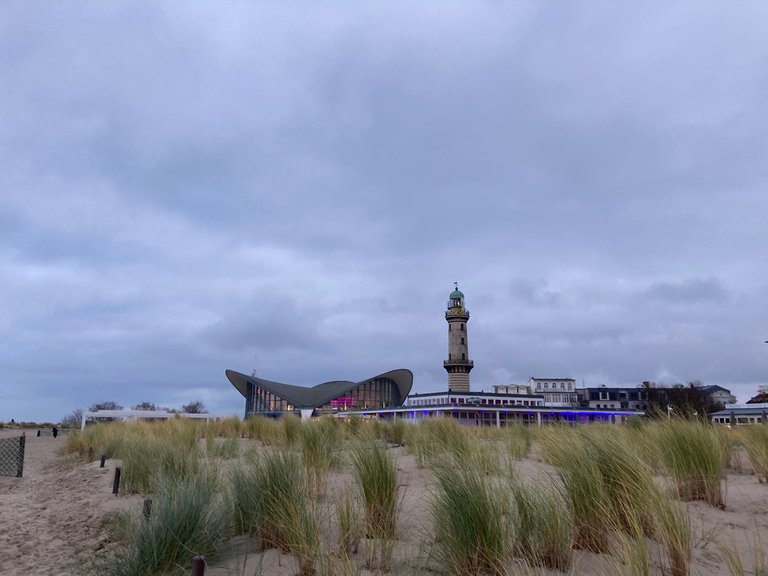 From the beach you have a beautiful view of the lighthouse, which is the landmark of the seaside resort and was commissioned in 1898 and is almost 37m high.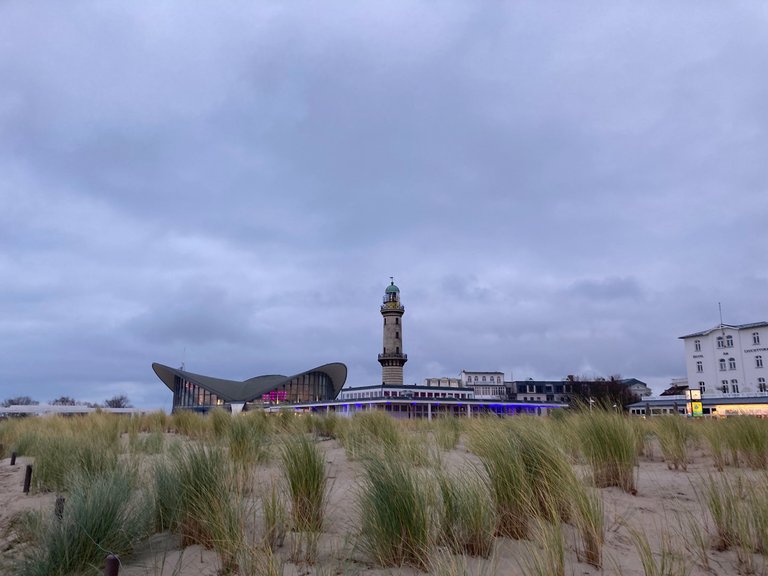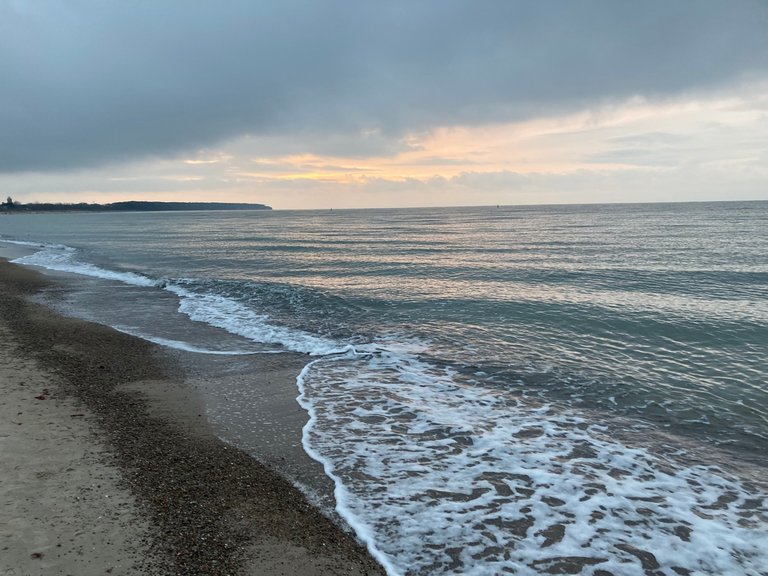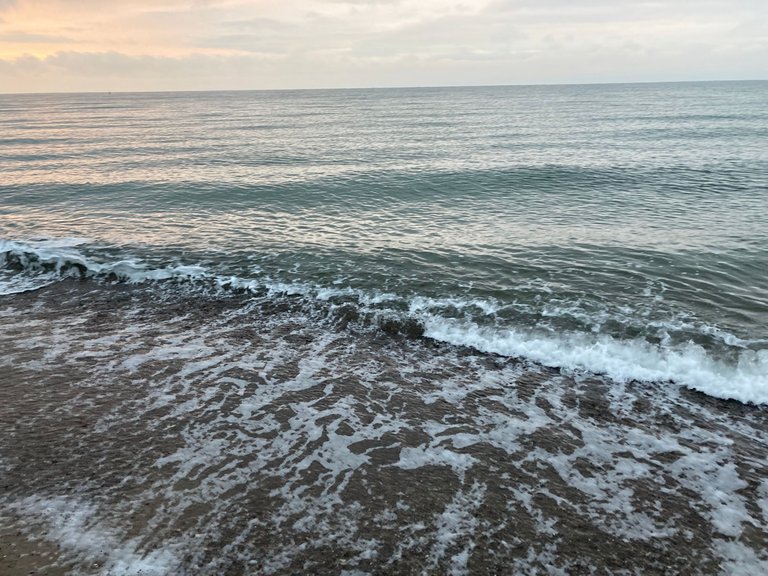 Later on our walk, when we were about to return, we went to a second lighthouse, which shines in the colours green and white. I already knew it, but my friend saw it for the first time, so we decided to visit it again before going home. You could take beautiful pictures of it because it is illuminated in the dark. It is part of the "Warnemünde pier light" - which includes two lighthouses on the Warnemünde west and east piers. They both mark the entrance to the Unterwarnow as a side mark. The two lighthouses are operated by the Baltic Waterways and Shipping Authority.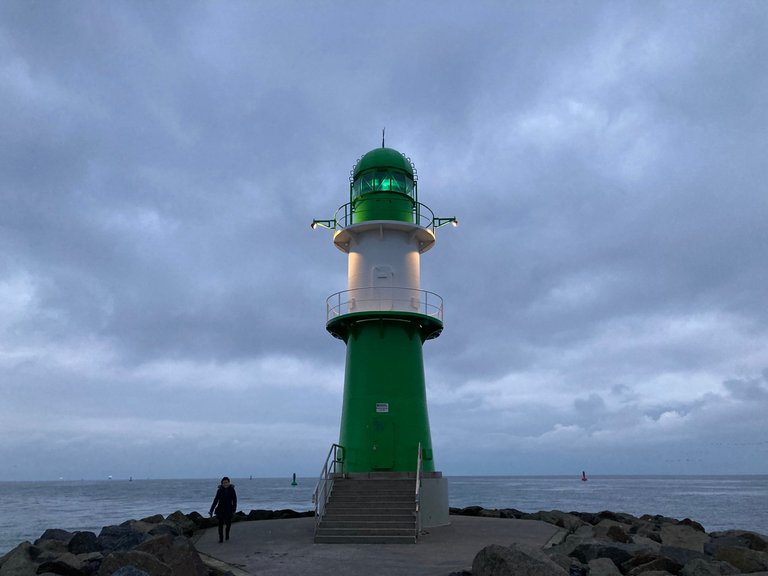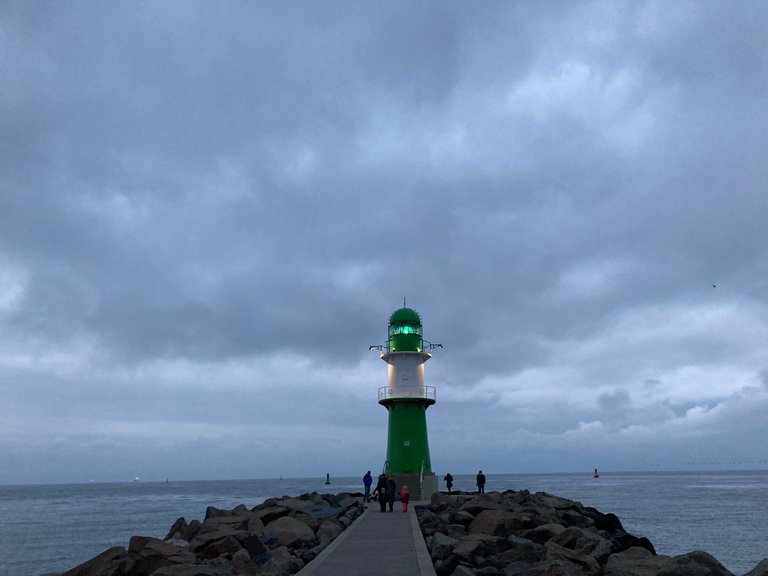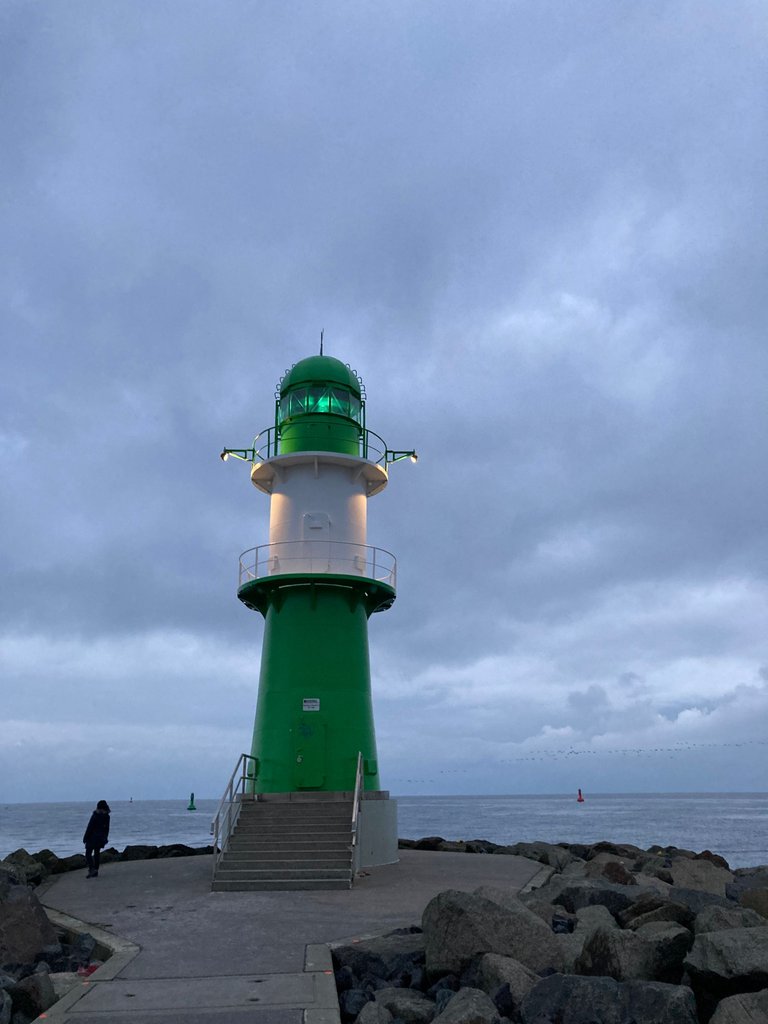 You can also "climb" on the stones - but be careful, I slipped once and almost fell into the water haha. To be honest, my footwear wasn't designed for that either.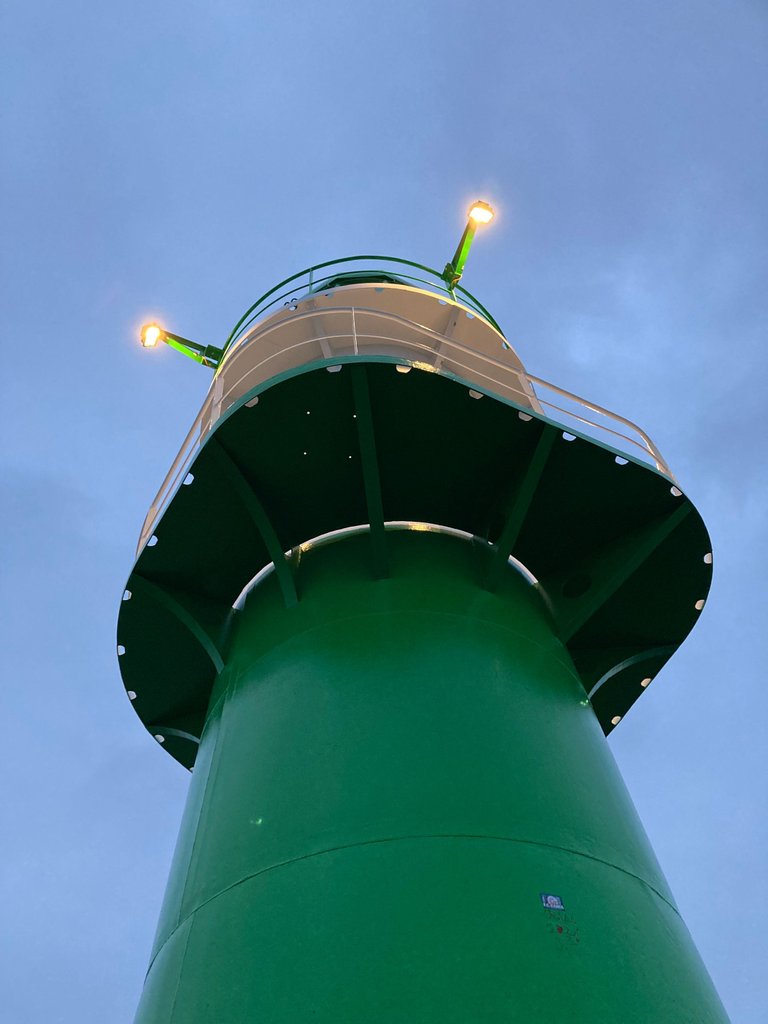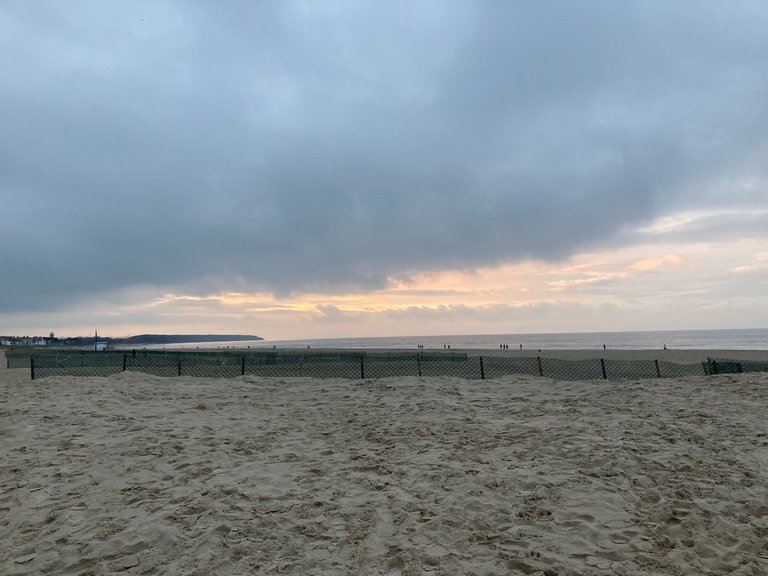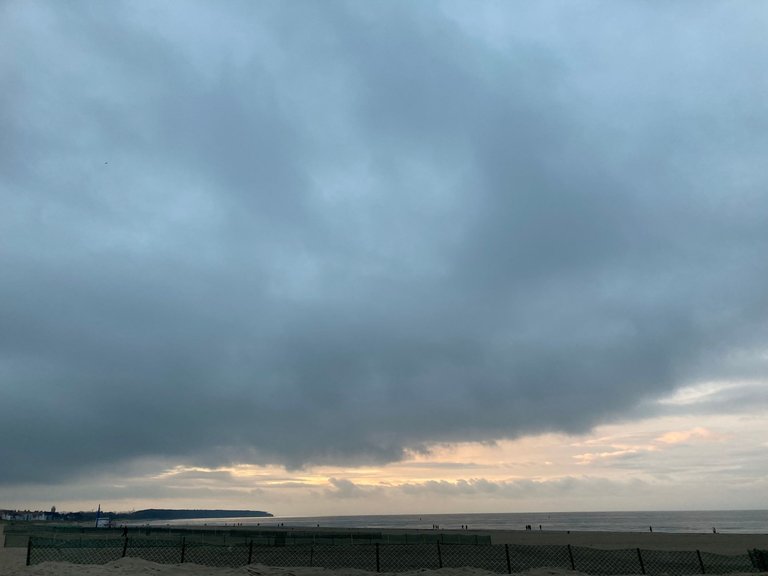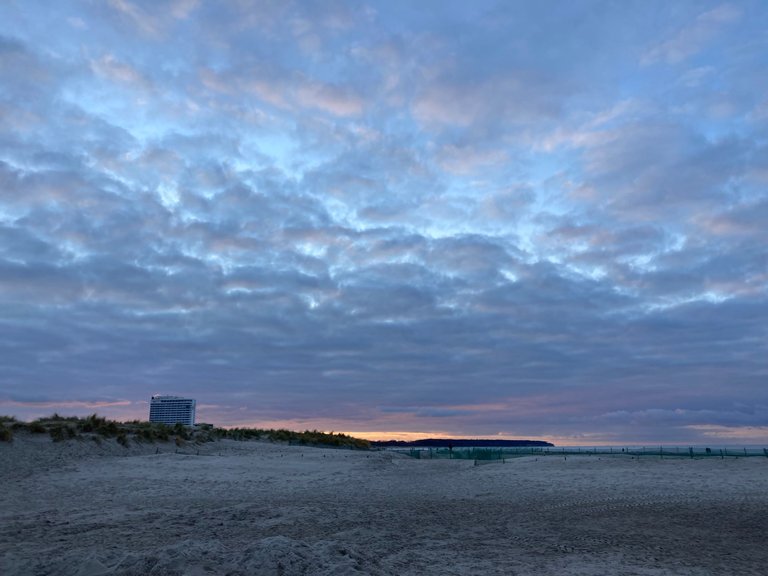 The sky was very cloudy that day, but we were still lucky enough to catch a small sunset. It almost felt like summer, only the cold air reminded you that it was still winter. You can see the Neptune Hotel in the distance. Many tourists holiday here directly on the beach and it is only a stone's throw to the nearest swimming pool. It's a 5-star hotel in the Baltic Sea resort, and if I didn't live so close to it, I would have tried it out for a night. It's a whole 64m high, making it the third tallest building in the whole of Warnemünde.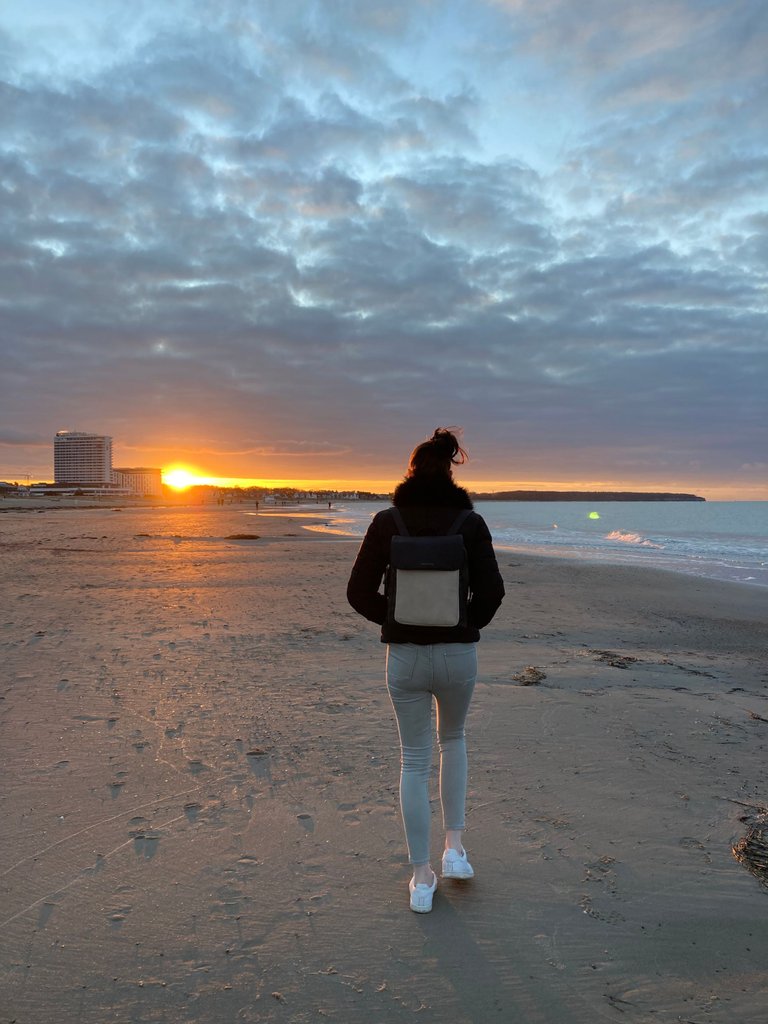 Here you can see me walking along the beach. I love it when there are so few people and that's why I tend to come here out of season, even though it's a bit fresher then.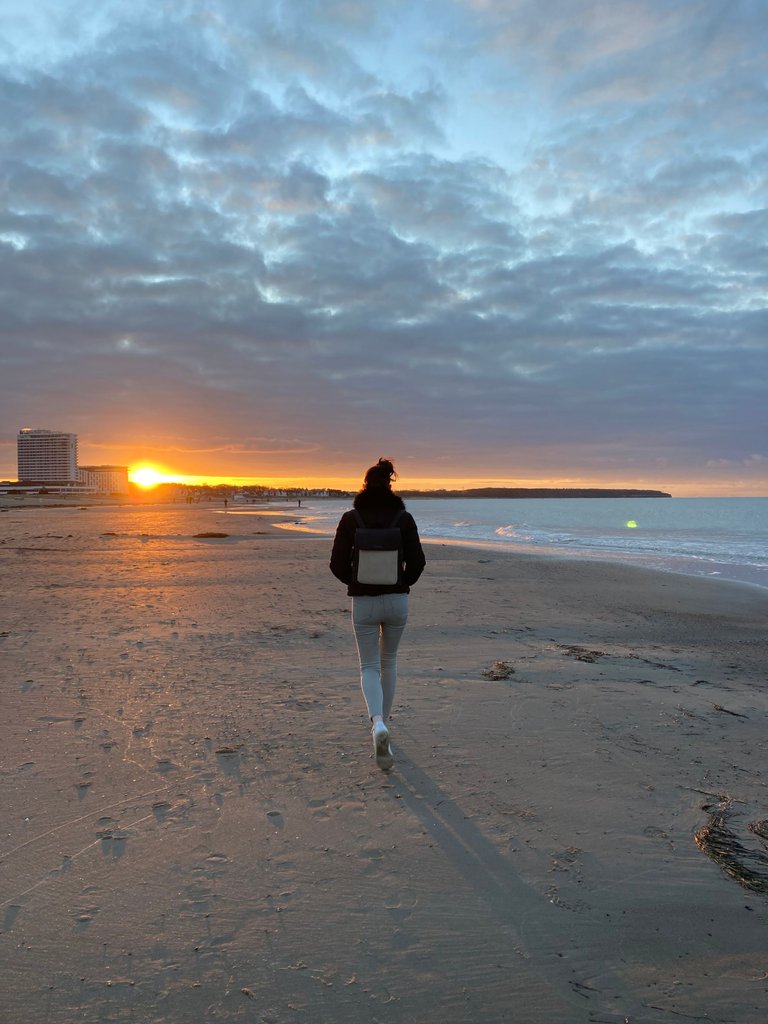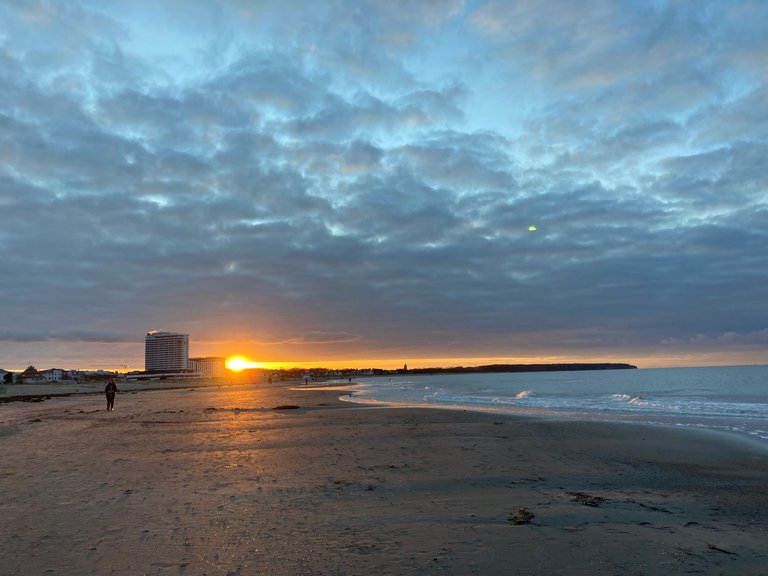 At the end of the day, we arrived at the flat a little exhausted but happy. We hadn't walked too much, probably the exhaustion came more from the fresh cold wind.
Do you have a place near your home that you like to go to when you're stressed or just want to relax a bit?
I am grateful to have found this place and that I could introduce it to you. I don't know what it is exactly, whether it's the wind, the fresh air by the sea or the few people that make this place so beautiful for me, maybe it's a bit of everything.
I hope you had a nice day.
---
---