Barcelona, ​​a city shaped by Gaudi
Hi Hive Friends,
today I would like to take you further on my journey through Spain. It follows a continuation, so to speak. We are in Barcelona:). Barcelona is one of the cities from which friends have always told so much great that I sometime no longer wiederste kontte and had to convince myself of this city.
One of the most beautiful sights that has to offer this great city for me, I would like to introduce you right at the beginning: The Parc de Güell. I think the name sounds very funny, what do you say?;). The park belongs to the World Heritage Site. When I read that, it was clear to me, we must visit the park (I was with a friend in Barcelona). Fortunately, we had mostly the same ideas about how our vacation should look like and what destinations we wanted to visit.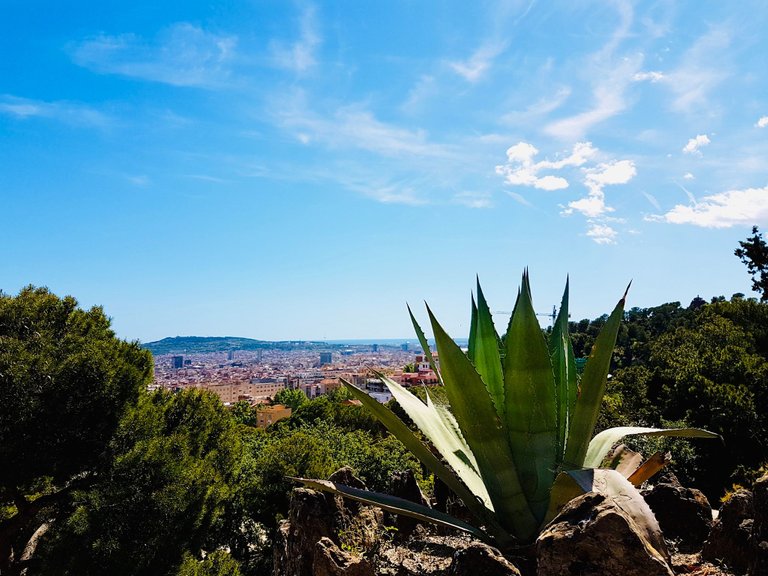 Great view of the city Barcelona from Park Güell
Gaudi style everywhere in the park
Do you know Antoni Gaudí? The park, that is, the complex, was created by him. You can clearly recognize his style here.
The park is very beautifully designed and even one of the most famous sights in Barcelona. Here you can find everywhere sculptures and art decorated with broken ceramics. Do you know the sinuous bench above the portico decorated with broken ceramics? It is famous all over the world. A salamander greets us at the entrance. Of course, it is also decorated with broken ceramics.
Trencadis - that what the broken ceramics are called
The salamander is the emblem of the park. However, he not only welcomes visitors, but also guards the entrance at the same time. If you want to catch a glimpse of him, enter the park through the main entrance on the south side. You will not miss it. The broken ceramics here are called trencadis. Gaudi's style can be found everywhere: colorful pavilions, an extraordinary salamander or the very elaborate staircase.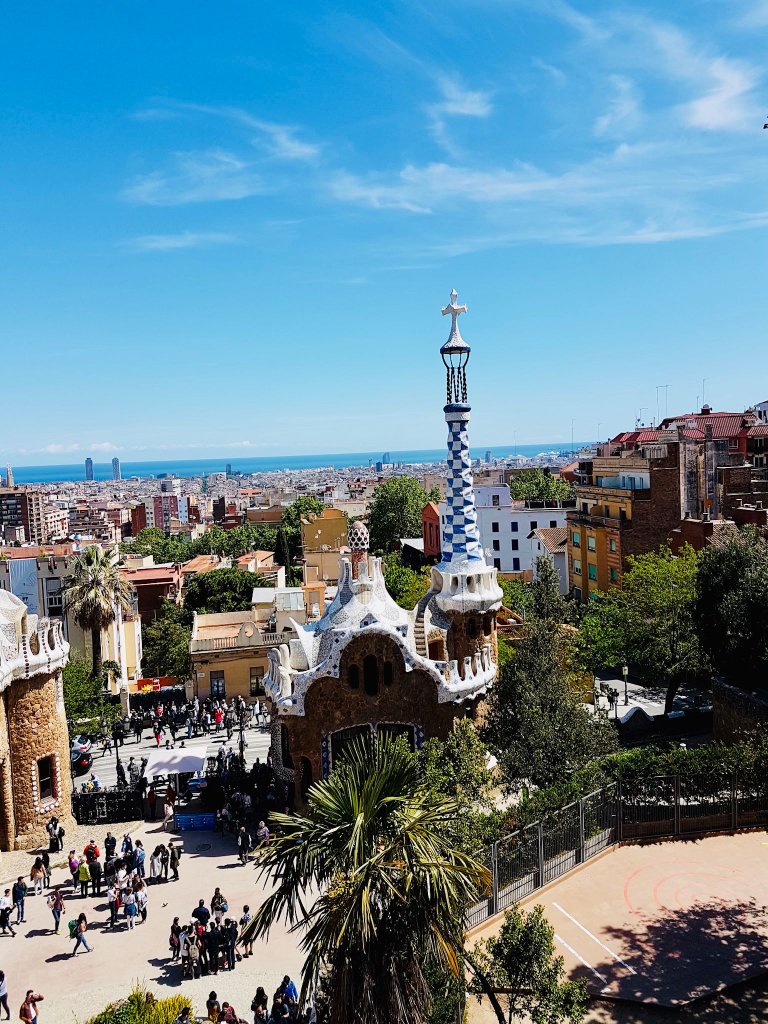 Ceramic decorations all over the park - can you see them on the buildings?
The temple of Dheli as inspiration
After passing the entrance, we come directly to a staircase. And over this to a hall. It looks very spectacular: Whole 86 columns, I read later, there are here. It used to be the marketplace of a residential area.
If you look more closely, you notice at second glance that there are many influences of Greek, or more precisely ancient Greek architecture here. Does the hall remind you of anything? Well, possibly the temple of Dheli floats before the eyes of one or the other. Because it was precisely this that Gaudi was inspired by when he created the hall. Above the hall is the terrace. There is an incredibly beautiful view. You can look over the red roofs and Barcelona. On summer days I could have sat here for a whole day. Even if here then a whole lot is going on.
The terrace is built on columns. There is also the famous bench here. Of course also covered with broken ceramics ;). Hie rist really so much so colorful. Sometimes, in small MOments, the park reminded me of a playground. Simply because it is so colorful. What I can definitely recommend you is to pause once in peace, sit on the bench and enjoy the view. It was again one of the MOmente where I felt freedom. A lot of freedom. Mostly it is when I look into the distance and my thoughts are free.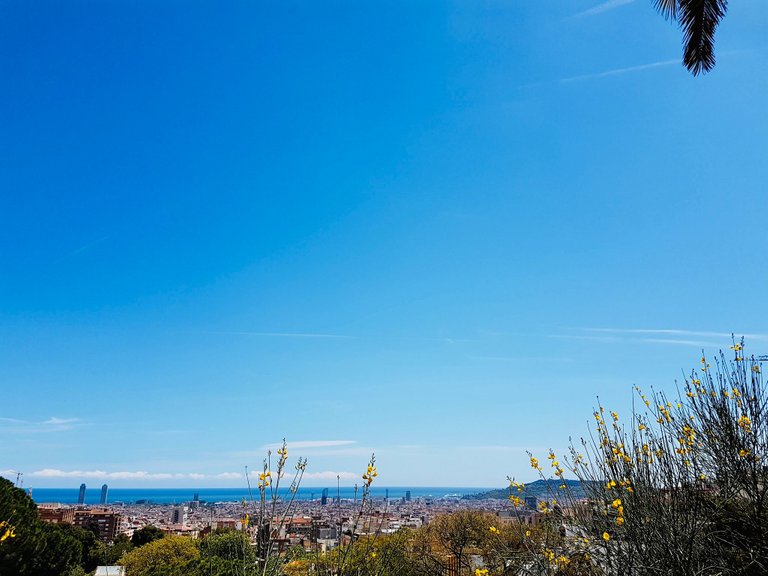 Great view from the park, can you see the sea?:)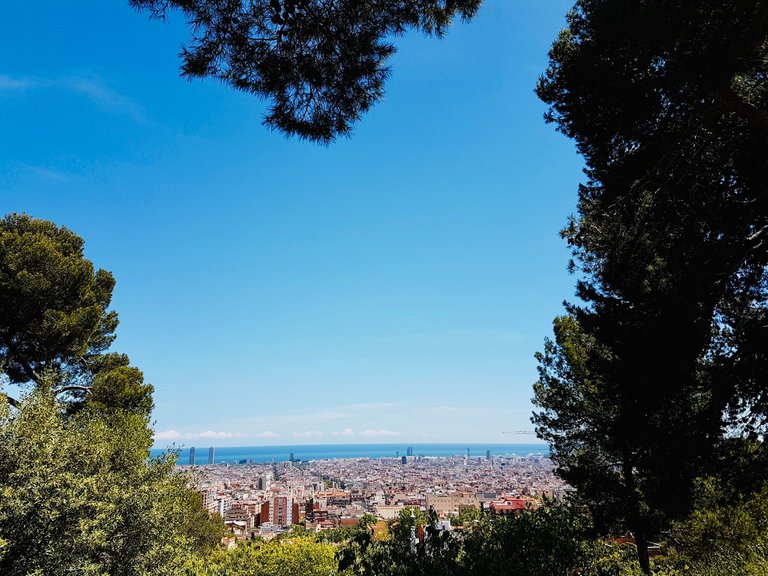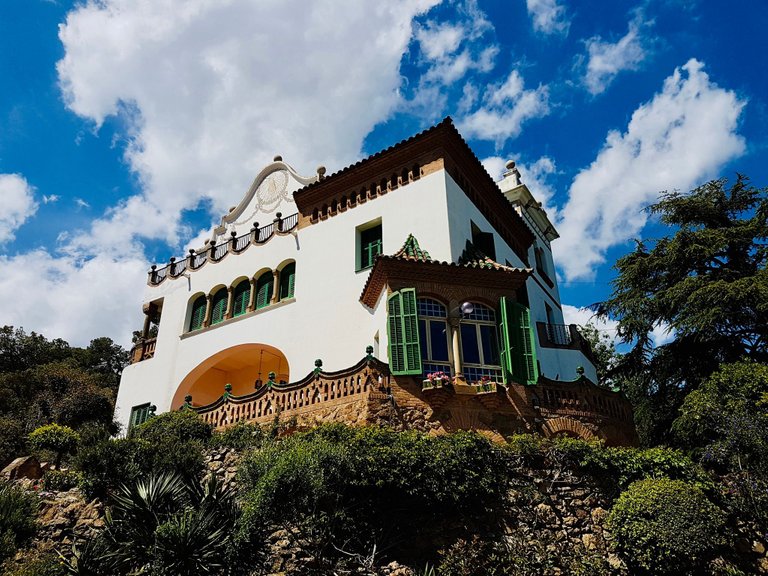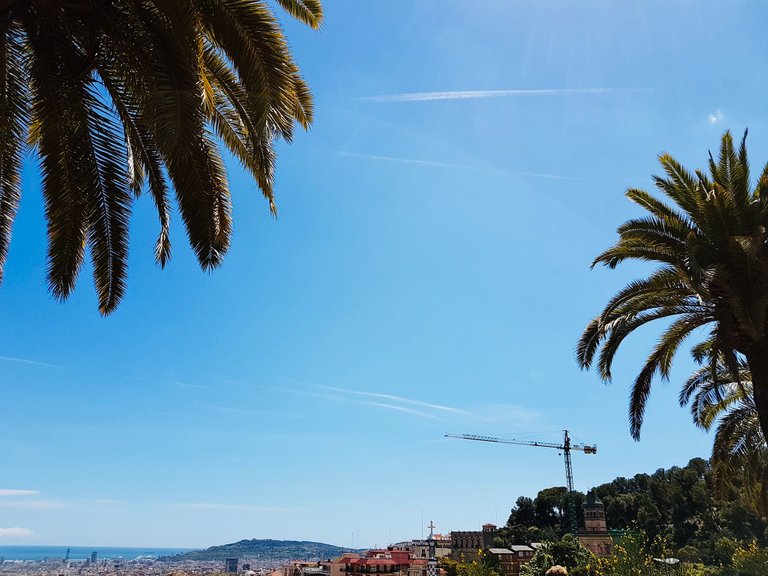 A colorful fairy tale landscape
But sometimes I didn't feel like I was in a playground, but rather in a leisure or amusement park. In a positive sense. Because there I also always get lost. The green area of the park, the meadows, are rather inserted into the environment, and complement it. That is to say, art has made a place for itself here in such a way that nature has, as it were, taken up residence where it could. It is often said that Gaudi succeeded in adapting his art or architecture to nature. i would rather say that nature adapted. But that is a matter of opinion. But it was not displaced. I would rather call it a harmonious coexistence. The park consists largely, apart from the art, of paths, arcades, walls and bridges. Especially the walls and bridges also reminded me of a fairy tale landscape. Of a colorful fairy-tale landscape.
I would recommend you to plan enough time for the park. It's one of those places where you want to get away from the hustle and bustle and just gaze into the distance over the rooftops of Barcelona.
The park also offers a visit to an associated Gaudi Museum. We have not visited the museum, but if you still have time left, it may be worth a look. It is located in a former residential building. The museum is about 200 meters east from the main entrance. A visit to the park is definitely worth it. The view alone, which extends to the sea, is worth a visit, but also the many small details. The architecture is really impressive. A little tip: To visit the park, you need a ticket. Be sure to book the ticket online beforehand. Especially during Corona, only a few visitors are let in, but also otherwise only a limited number of visitors is allowed. This way you avoid unnecessary waiting times. With our ticket we could enter the park in a certain time window and stay there as long as the park is open. The park is closed at the moment, i read, but i think it will definitely be open again in the summer.
Sagrada Família - A basilica that has been under construction since 1882
Another attraction we visited in Barcelona was the Sagrada Familia.
Guess which famous architect created the Sagrada? Of course, the question was also a bit simple. It was fun. I think he accompanied us every day with his works.
The Sagrade Familia is one of Gaudí's most famous works. She is incredibly tall. When I saw the pictures on google before, I didn't realize how big. She is a huge basilica. It has been under construction since 1882, without interruption. That reminded me a bit of our Cologne Cathedral in Germany. Whenever I come to visit Cologne, there is also construction going on there. But I don't think anyone can top the basilica ;) How long do you think it will take to complete the construction? I have to say that most of it is finished, of course. I think now it's just a matter of fine tuning. a target of around 30 to 80 years is set. So maybe I'll live to see it ;). Or i will become ancient hihi.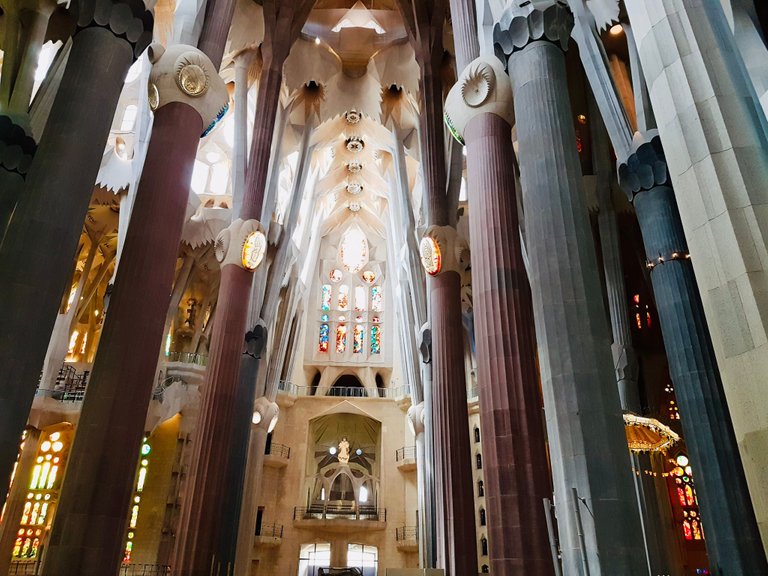 Inside the Sagrada Familia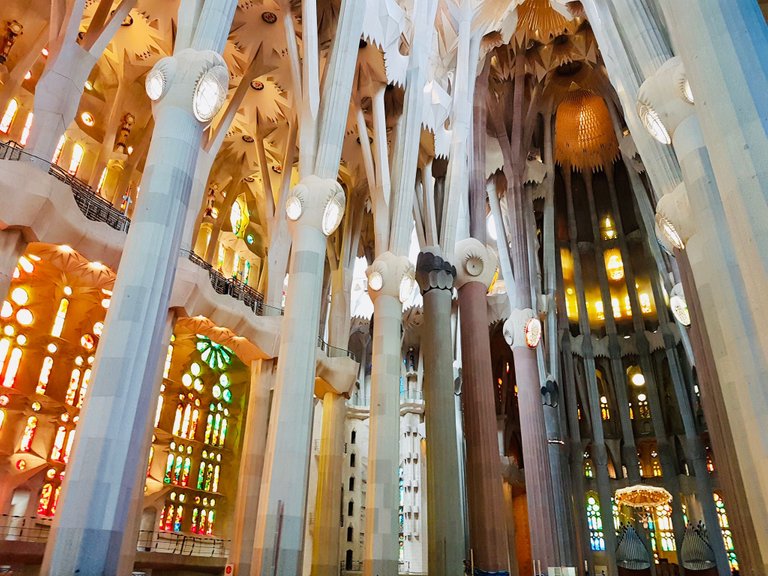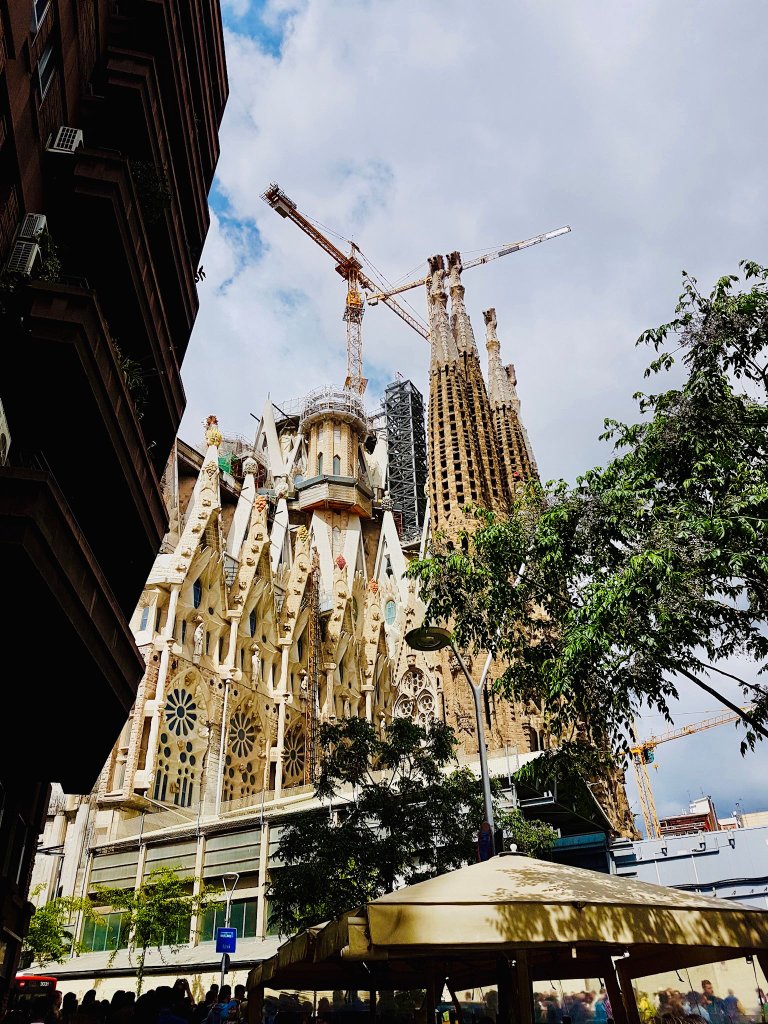 Never ending construction work ;))
A cityscape shaped by Gaudi
Of course, different materials are used for construction today than Gaudi used to be. Many people think that Gaudi never needed it back then. Who knows?!
The stone facades of the building differ greatly and in general the building does not look completely uniform when you take a closer look. I like it when you look at the construction process of a building. It shows the history it has lived through.
Gaudi worked on the construction for a very long time, to be more precise, until his death. Like many artists, he was very meticulous and had very specific ideas about his work (for me, gaudi was not only an architect, but also an incredibly great artist). He has shaped the cityscape of Barcelona very much.
For today's architects, the continuation of Gaudi's work is a real feat. This is because the stones already built into the basilica all have an irregular shape.
To visit the basilica inside you have to pay 26€. I really recommend it, the interior design is at least as remarkable.
Camp Nou, the most visited stadium in Europe
Finally, I would like to give you a little insight into the Barcelona stadium. It was founded in 1957 under the name Stadion des F.C. Barcelona inaugurated. Despite this, it is called Camp Nou (New Square). This is because it replaced the old Camp de les Corts football stadium.
I already mentioned that I was in Barcelona with a friend - he's a big football fan. So of course I couldn't avoid looking at the stadium as well. Willing to compromise as I am, I got involved ;). I have to say I wouldn't recommend visiting the stadium (I'm not a big football fan either). But protect yourself, maybe it's something for one or the other: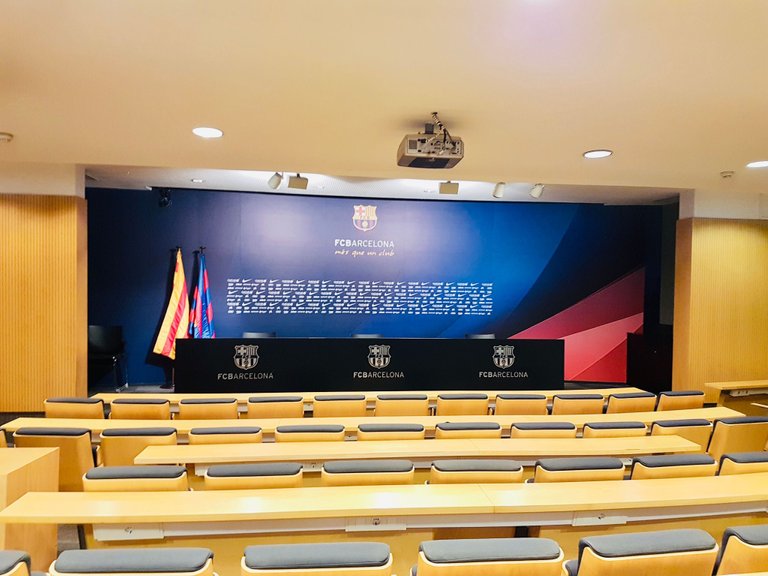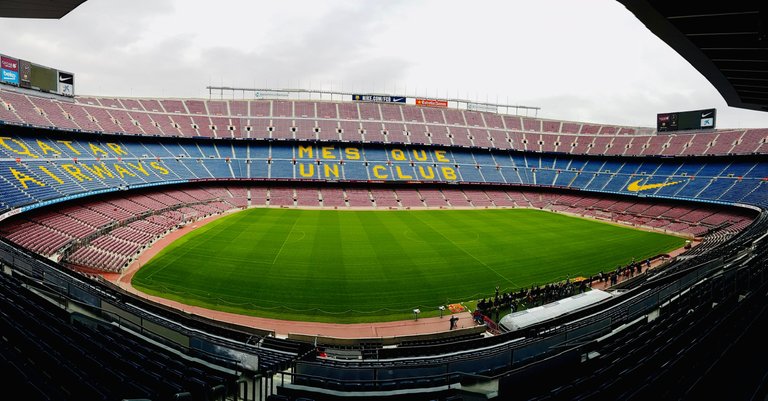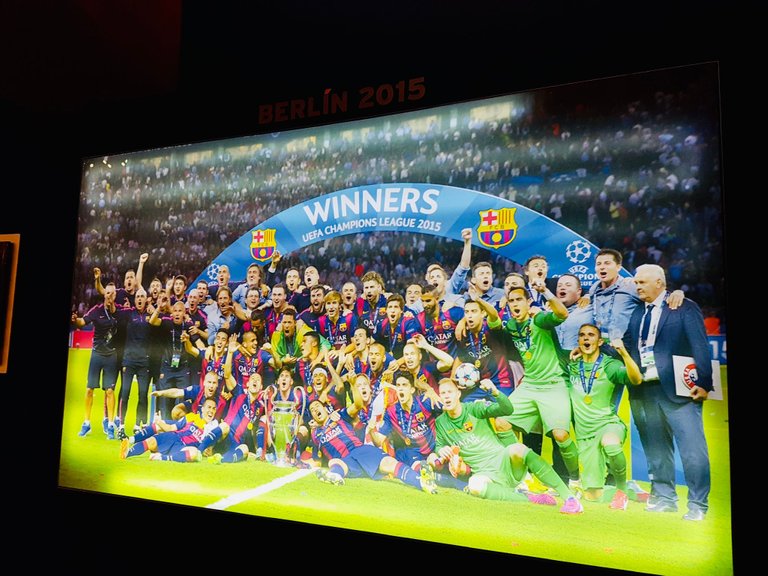 ---
---