A pottery club in the old town of Wismar and the old water tower
Hi Hive friends!
If you've been following my last post, you've already got to know Wismar a bit. Today I want to talk about this beautiful city near Rostock. I've always wanted to explore the area around Rostock, and two months ago it was the perfect opportunity. It is one of the largest cities in Mecklenburg-Vorpommern and the district capital of the Nordwestmecklenburg district. Unfortunately, we had chosen a day with not so good weather for this excursion, but we didn't want to miss out on the fun! :) I used to go exploring with my parents in the area around our hometown, now I go to the area around my place of study.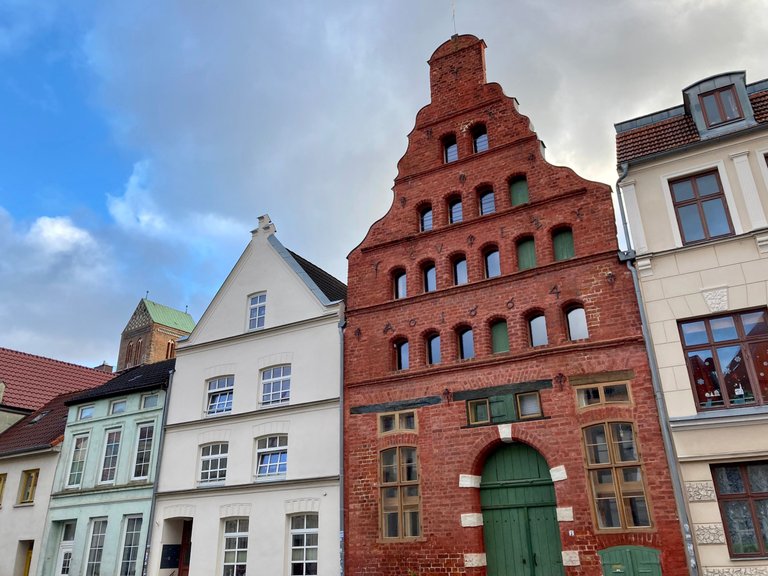 Kaso- Craft friends meet to make pottery and soap themselves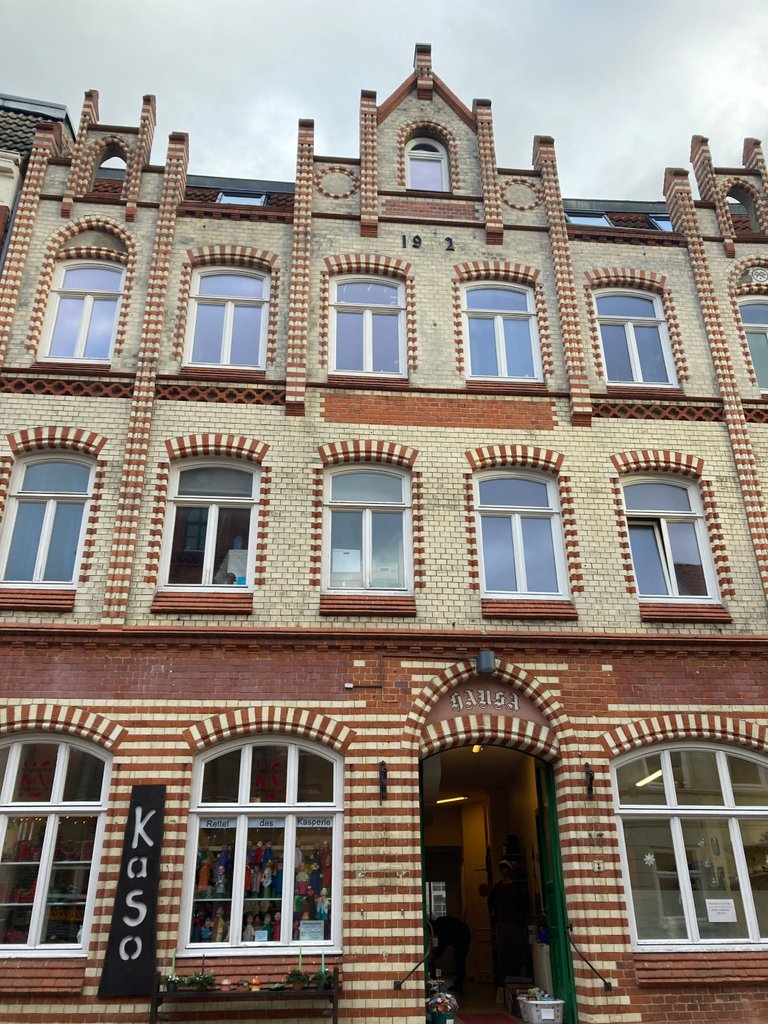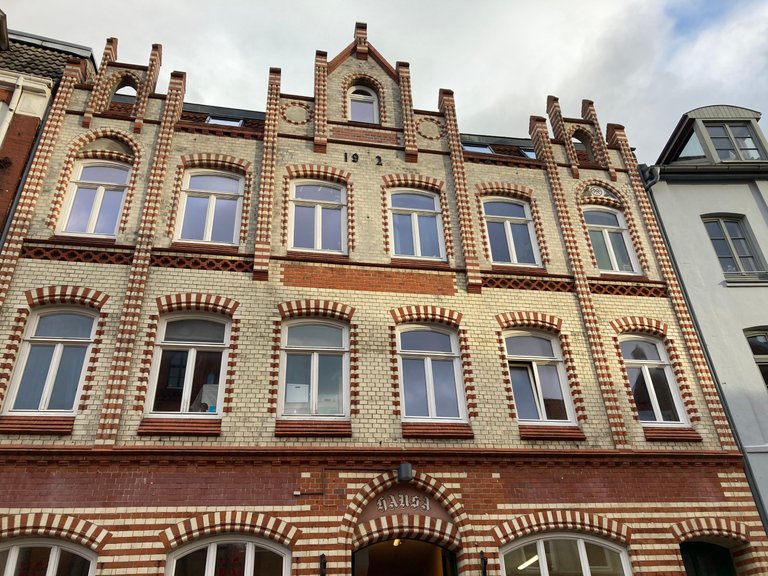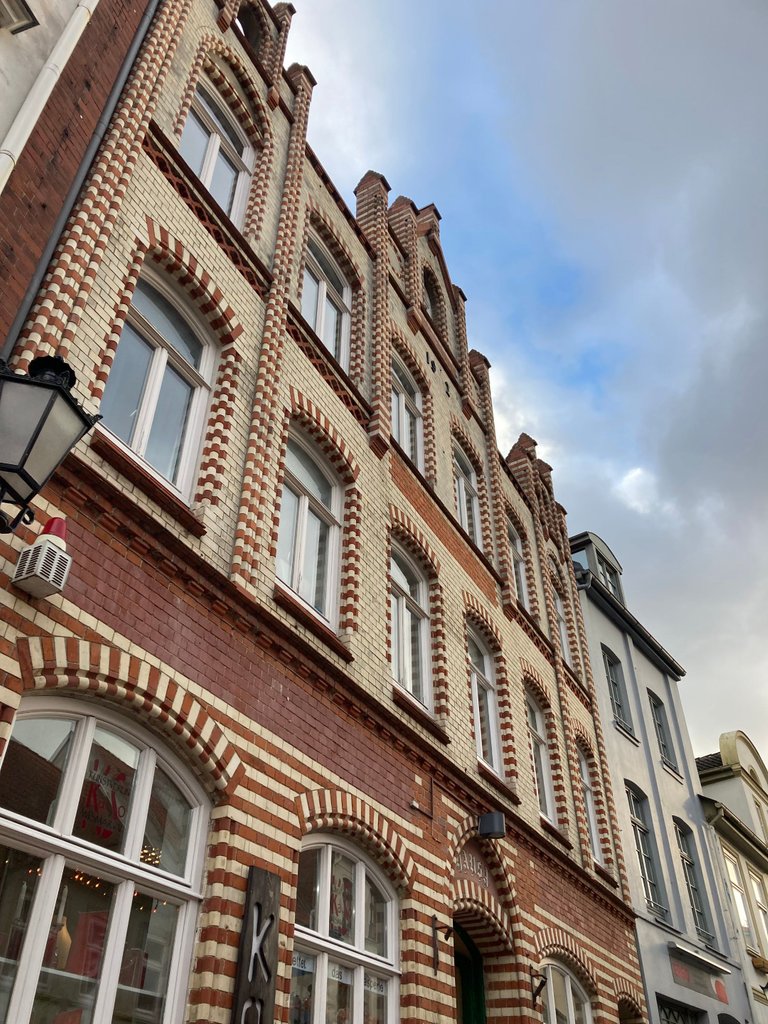 The Kaso Kunstverein Wismar is based in this building. Here you can support the association by buying, for example, refurbished chairs or hand-sewn tascehn - and have a little homemade treasure in your home. We were only in there for a short time, but the decorative items are very beautifully designed. We were told that there is even an annual chair parade- what a lot there is! Kaso stands for the abbreviation work creatively, organize social affairs. There are 22 artisans and artisan friends who formed an association in 2004. Its goals include integrating Wismar's art institutions into Wismar's social and social life, and organizing art markets and exhibitions.
There are even art offers and holiday activities for children and adults. Social projects are particularly encouraged here. There is a so-called "Open Workshop" in which courses in pottery, felting, soap making and basket weaving as well as knitting and spinning are offered. There is even lichen! The course fees are not expensive either, we were told 5 euros for children and 10 euros for adults.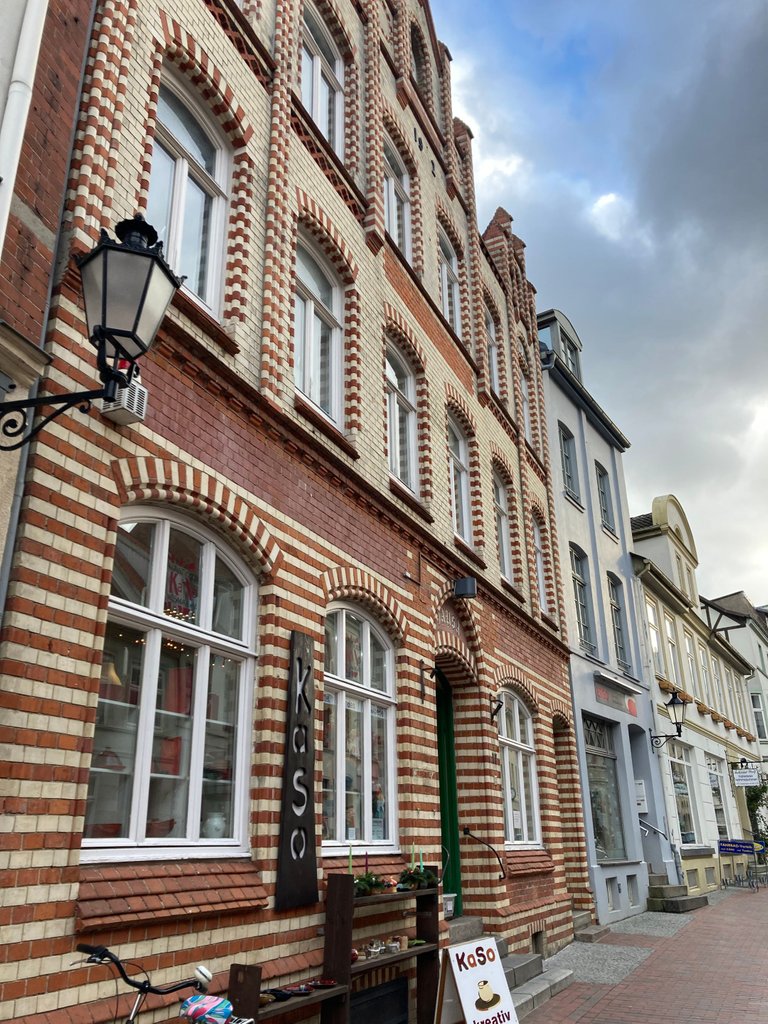 At the very beginning of our exploration, we walked along the pavement behind a young family with a pram. It was a very stormy day and we walked close to the walls of the houses. Suddenly, unsuspectingly, just a metre in front of the pram, a tile flew off a roof and landed on the pavement. That gave us all a fright! Fortunately, no one was hurt! We wanted to tell the tenants in the building, but unfortunately no one opened the door and the shop downstairs was closed.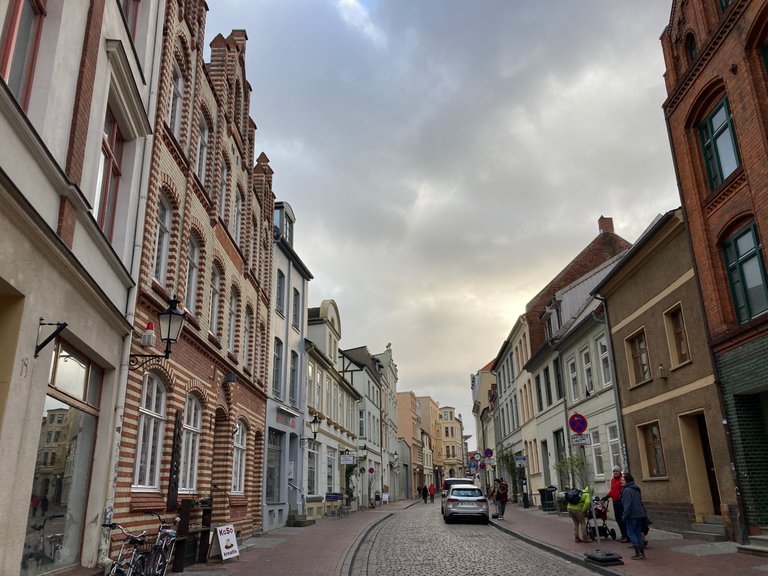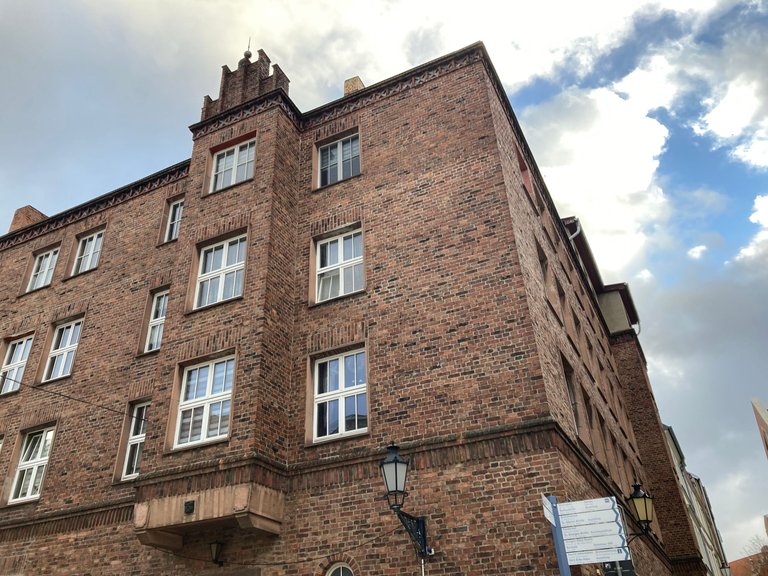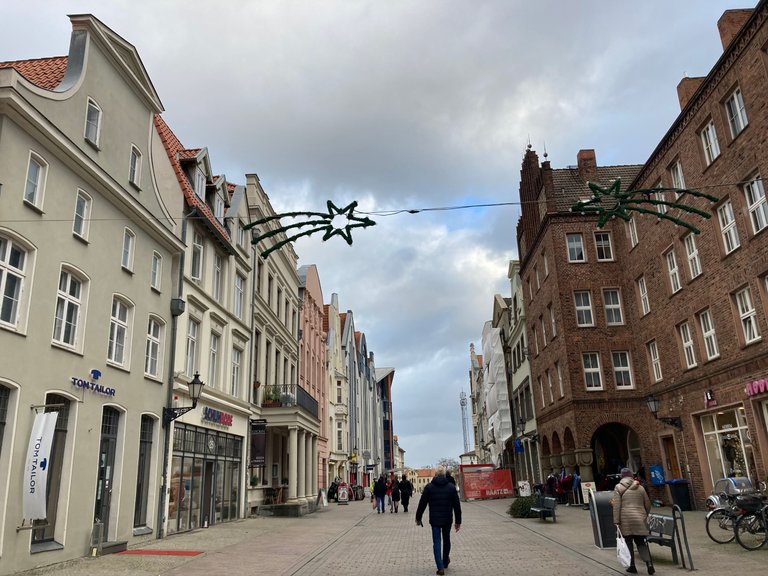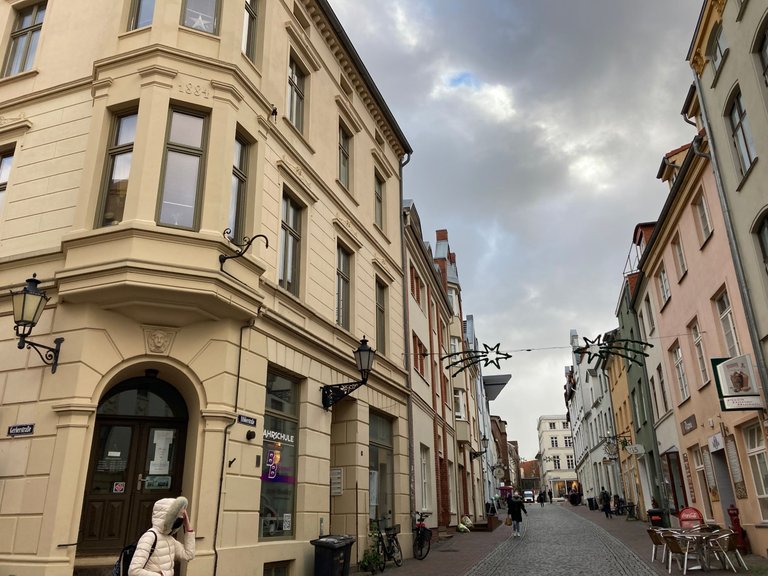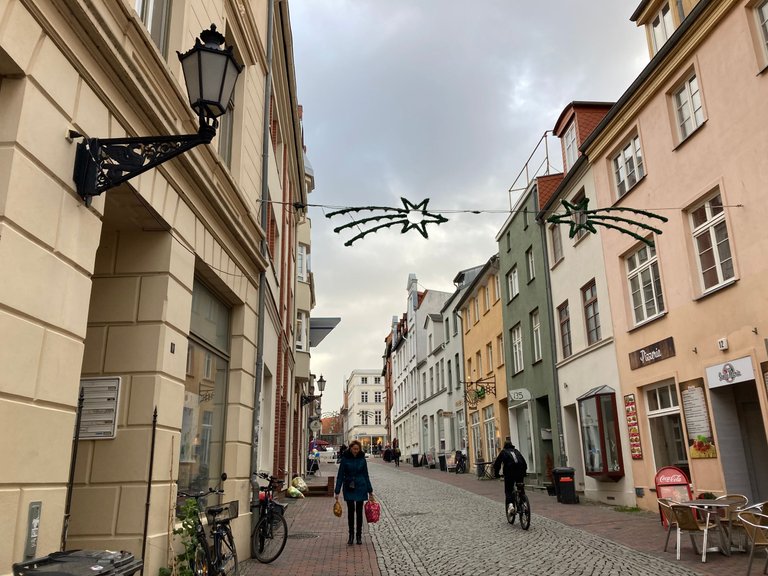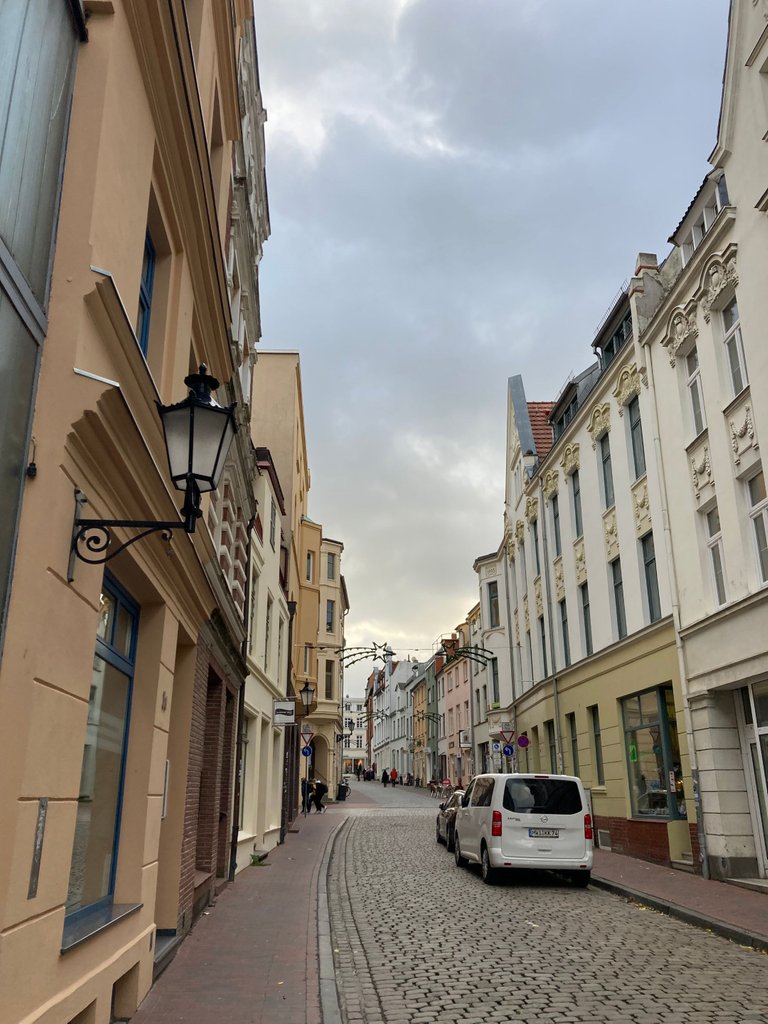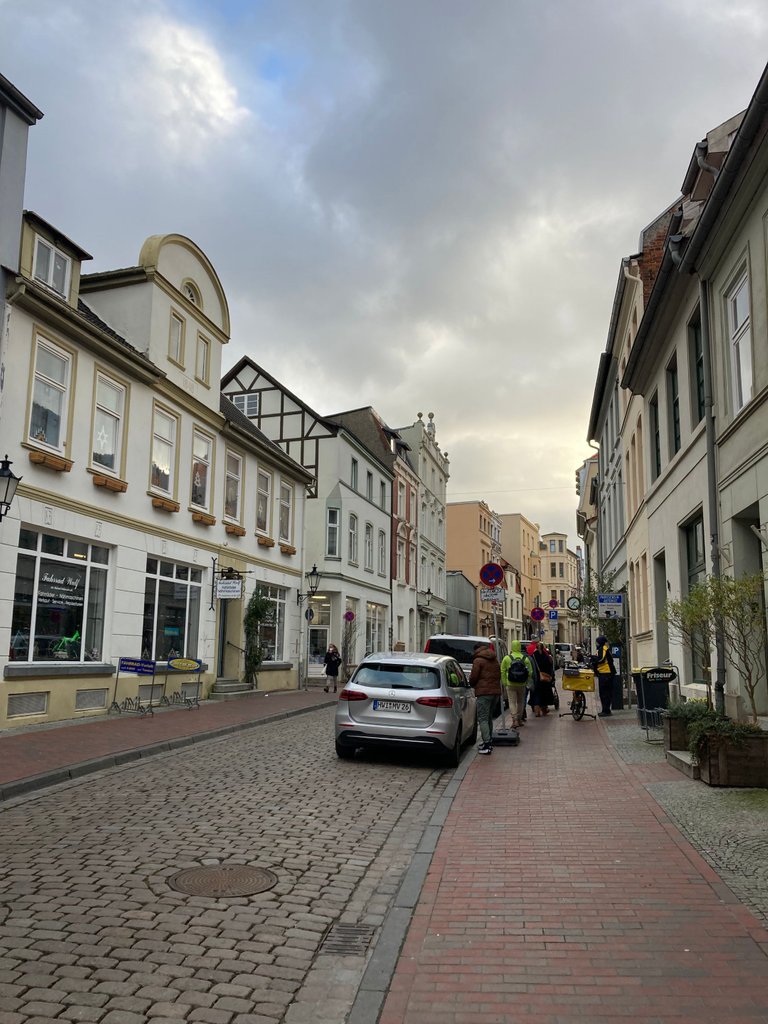 I don't know why, but northern Germany always fascinates me with the buildings, the old towns and the somewhat rough weather, there's something about it that I can't exactly describe - maybe a bit of freedom for me. Do you also have such places?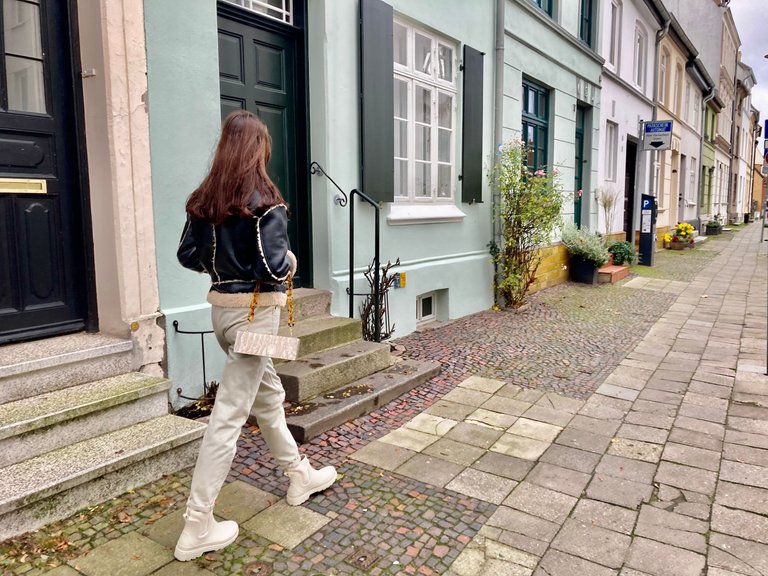 Here are a few pictures of me- as you can see I wasn't exactly perfectly prepared for the cold trip with my clothes, but on the train ride back I was able to warm up a bit.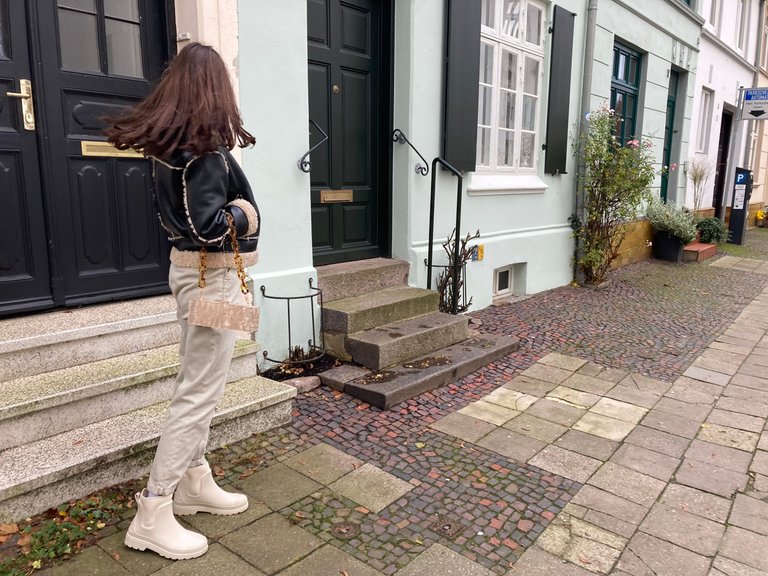 The angular water tower at the Lindengarten
Later we arrived at the former water tower at the Lindengarten. It is one of the remaining parts of the old fortification, as is the water gate. The mayor at the time, Anton Scheffel, abandoned the conversion to a water tower. the tower was operated at the time with horse power via a Göpelwerk. Because of the siege at the time, it was connected to the waterworks with pipes made of wood. It was even in operation until 1873, but was then replaced by newer technologies.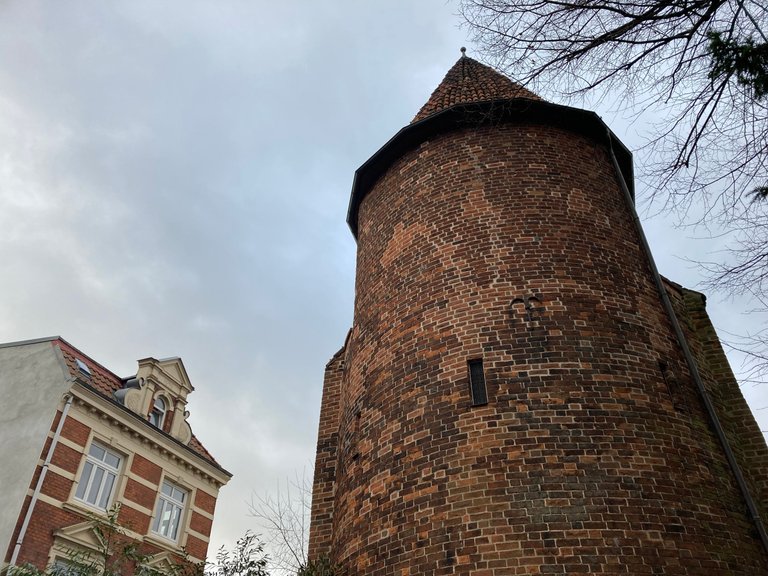 It is a rectangular brick tower - unbelievable how it could have been built back then if you ask me. Water was pumped into the tower from the mill pond to supplement the water supply from the waterworks on the market square.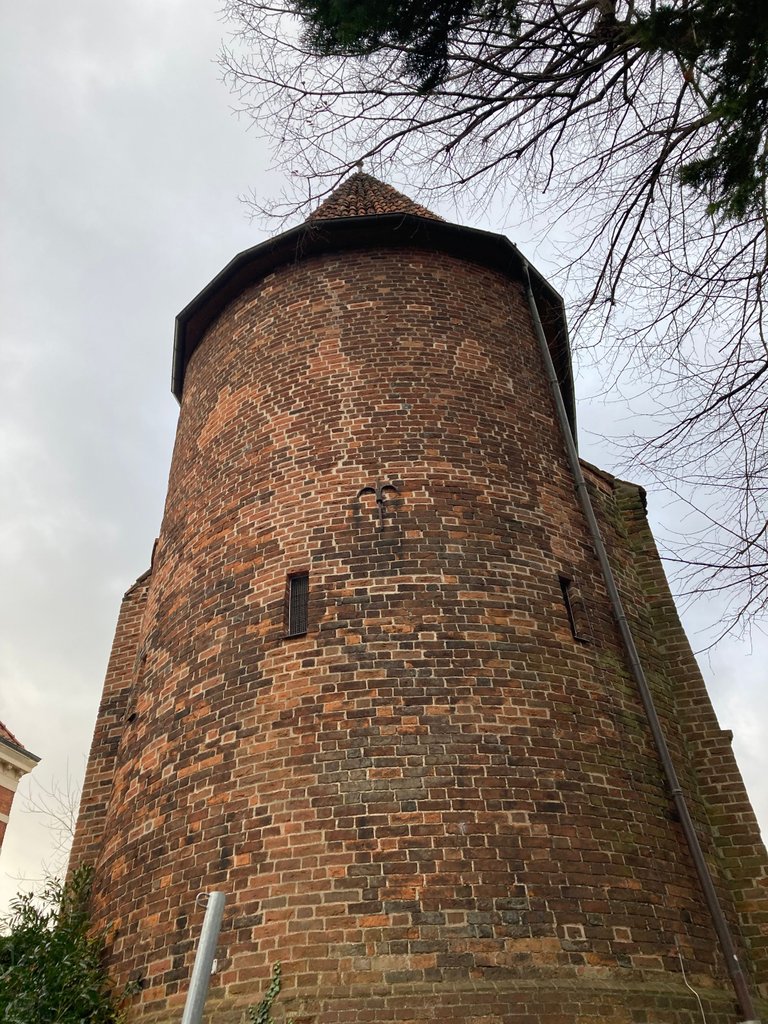 It is located southeast of the old town and was built in the neo-Gothic style. In addition to the water tower, there are many old trees and benches in the Linden Garden, where you can relax in the summer. For us, however, it was a bit too cold for that. It has four storeys and is about 28m high, which probably suited its function at the time. The top floor has a battlement. To me, it was not directly recognisable as a water tower.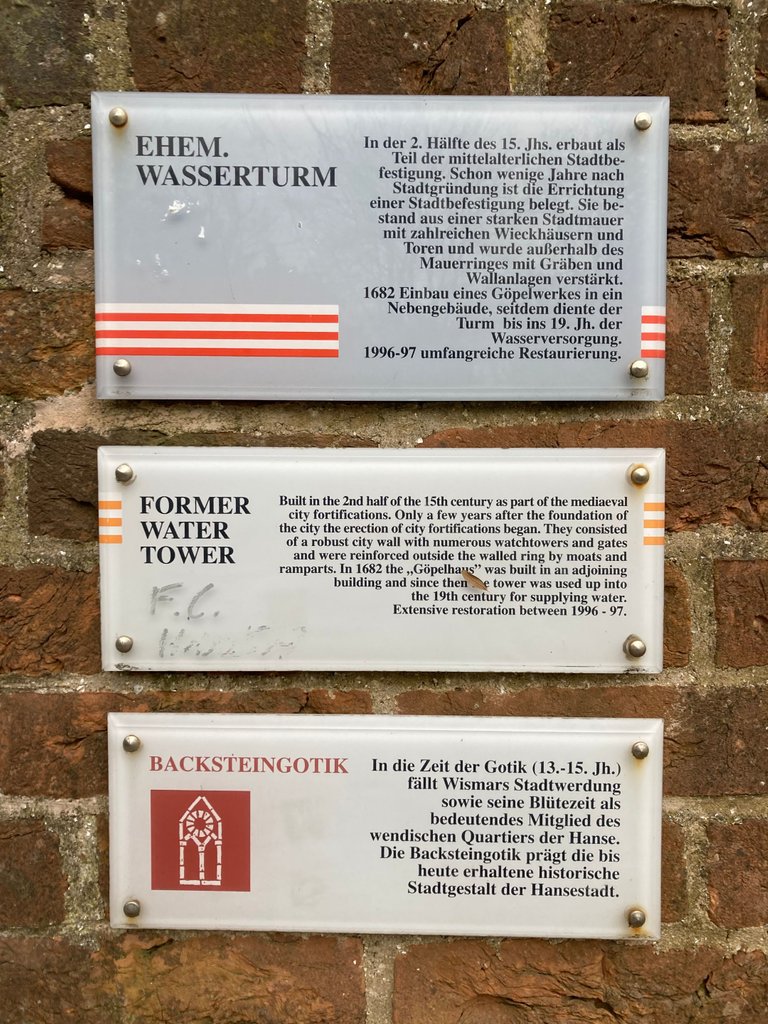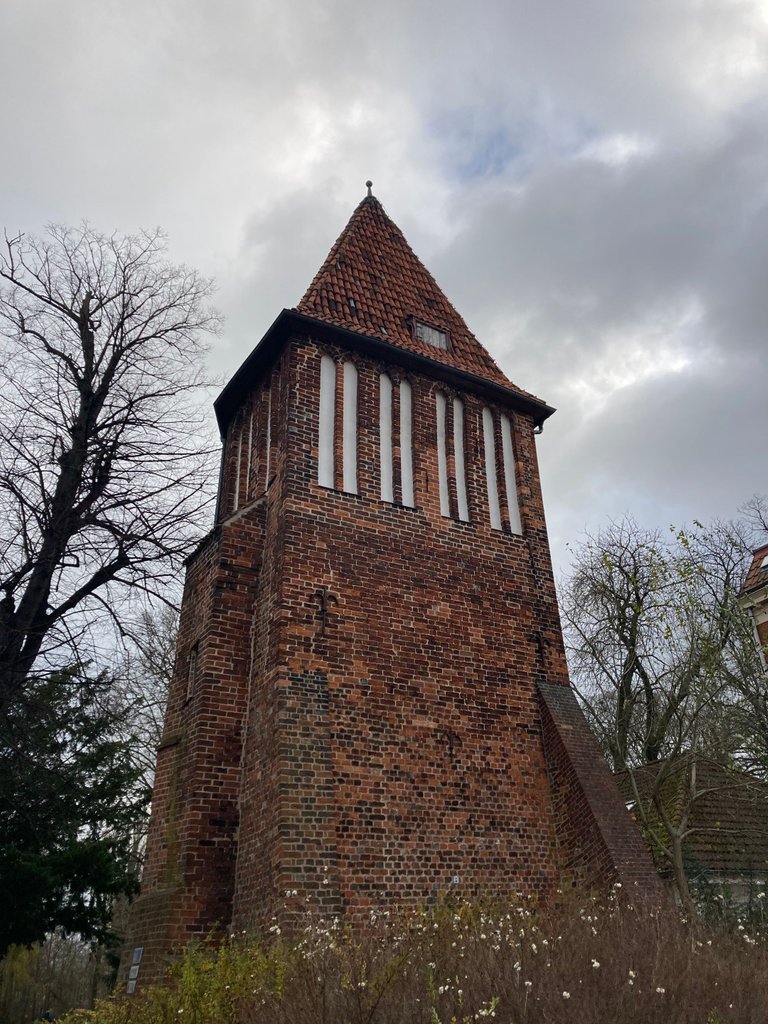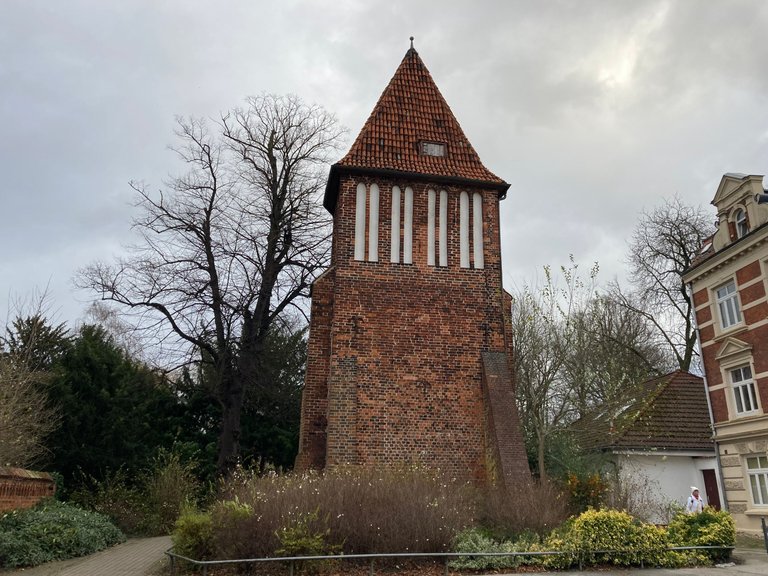 Here you can see the market square of Wismar - this is where most of the life of the old town takes place! It is about 10,000 square metres in size and is one of the largest marketplaces in Germany. It is the largest market place in northern Germany. It was created by planning on a drawing board - funny, isn't it? It is almost square and there are access roads in almost every direction. The Rostock market square seemed almost tiny to me - but no less beautiful! :)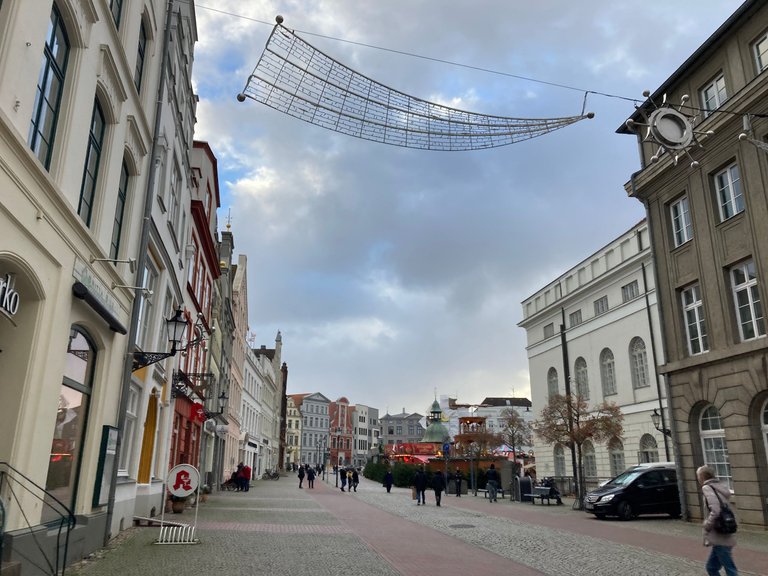 When we were there, the Christmas market was just open before it closed early again because of Corona. However, there weren't many people strolling around because of the weather. Nevertheless, I found the place very beautiful!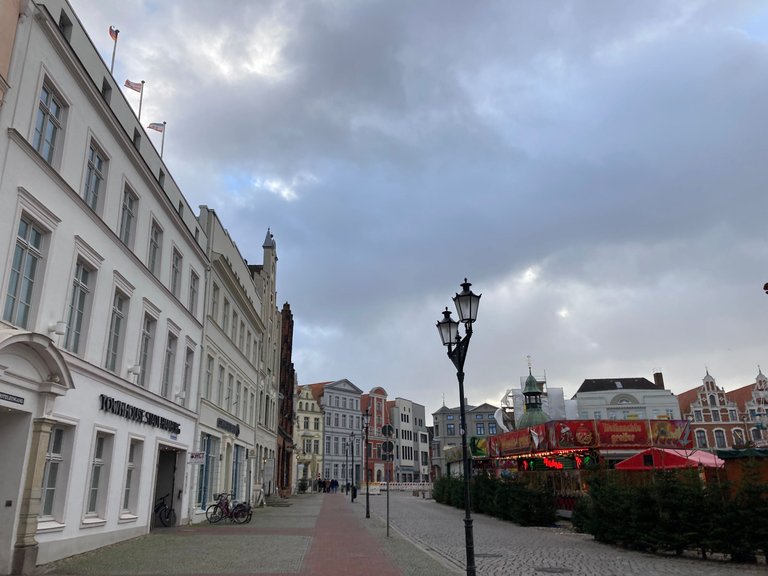 At first we wanted to visit Schwerin - another city near Rostock, but then decided on Wismar at short notice. If you also find Schwerin interesting, let me know in the comments, then I would also make a post about Schwerin - there is also some interesting information there.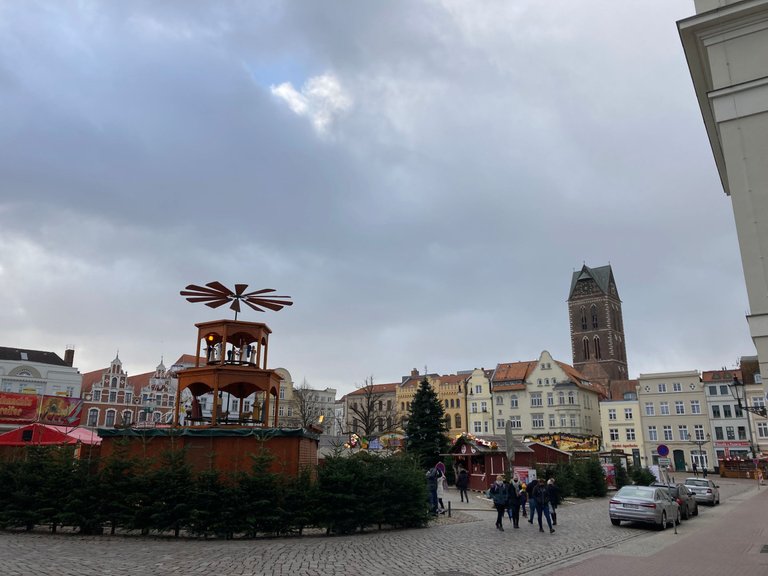 I loved discovering the Kaso association and who knows, maybe I'll find the time to take a pottery class one day? Are you crafty or interested? I have to say I'm not really talented, but having fun and enjoying creating and designing something together also counts.
How did you like the rest of my little tour of Wismar? Do you also like to go on little discovery tours around your area from your home? I hope you all had a great start to the weekend!
---
---