Luna-Terra's Misery; "How the Mighty have Fallen"

---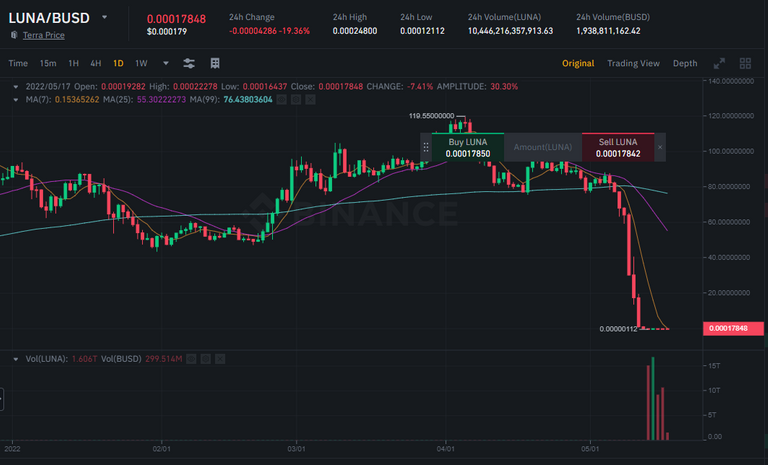 PC Snipshot
---
Hello and welcome to Ml-Blog
For the past few weeks, Bitcoin has been bearish, and this has also dragged every other crypto along with it. But while all the crypto markets seemed to be experiencing their worst days, Luna chose to steal the show. Would you blame it? Of course not. Who wouldn't love to be the star player on every team?
I've got to say, for so long, I kept hearing people use the phrase "how the mighty have fallen." This wasn't really a statement I put much interest in, but seeing what happened to Luna, I guess I just had a first-class experience of what that statement means.
Recently, it has really not been the best of weeks for crypto traders, especially the heavy Luna investors. It really sucks to have to see all your investments go down in just the twinkle of an eye, but I believe everyone in the crypto market understands full well that such is inevitable as far as crypto is concerned.
Luna isn't the first to undergo such a downfall. I hope it will be the last, but hoping doesn't make it alright because such things are bound to happen in the crypto business, which is why investing in crypto requires a good understanding of the project model.
Is It Possible for Luna to Bounce Back?
In the case of such a question, I may decide to remain in my lane since I'm not a developer nor am I a crypto expert, but one thing I can say from the entire situation so far is that hoping that Luna will bounce back requires one to be a strong believer in miracles.
This doesn't mean that Luna is totally off the market, but it just might have become the latest shitcoin in circulation, and shitcoins are also tradable. After all, just last week, the same Luna in its shitcoin level made over a 10X gain, and anyone who might have still had faith in them must have made a little fortune for themselves.
Personally, I feel for everyone who lost their investment in Luna, and this includes myself, which is why deep down, I still hope for a turnaround. You won't believe I bought more Lunas after they had already flattened. Anyway, to me, I did it as a recovery plan, which might never happen, but it's fine to have such a plan.
I had 15 Lunas which I bought at $20 each, hoping that I bought the dip. Unfortunately, the dip went deeper. So as a recovery plan, when it flattened, I threw in an extra $10, which got me up to 40,000 Lunas. Probably, if Luna ever (which is unlikely) hits 10 cents, I will have made $4K.
Anyway, we're back to business as usual for the time being, but I'd love to hear your thoughts on any possible Luna recovery.
---
Thanks for reading
Keep visiting my page for more intriguing posts

---
Contact & Support
Discord: martinlazizi#2242
Twitter:https://twitter.com/martin_1900s
---

---
---
---