Hive-Leo can do the Trick
Hello there!
For so many years, stability of finance has been a great deal to achieve. As a matter of fact, gathering finance has been a very difficult task talkless of its stability. To add salt to injury, the recent dip in the Crypto market has done nothing but worsen an already bad situation, but I believe in the world of possibilities and achieving financial freedom through crypto is still very possible.
It's no longer news that my account has faced the worst during the past few weeks and to be sincere I still perceive more hardship stationed on the way, but what was that last thing I said? World of possibilities right? Yeah, that's right.
The past few days have seen me join my friend in a sporadic application for remote jobs, probably those that have to do with writing. The streets are not smiling 🤣 but we have been taught to change steps when the beat changes. But one thing is still not so clear to see. This journey of attaining financial freedom through crypto, how possible is it?
---

Background image
---
I think Hive - Leo is equal to the task.
On the hive platform, earning has become more difficult by the day yet there is a frontend that offers a dual-earning opportunity. However, I have thought to myself and resolved that the best way to go about this, is to set a goal each month. As it stands, a $100 monthly goal will not solve the problem but will go a long way and serve as a great place to start. Probably, as days pass by, new goals will come up.
A Hundred dollar goal for the next 30days is achievable
While we wait for bullish markets, using the current market price to make my calculations at the rate of $0.5 per hive, simply means that my $100 dollar 30days goal falls at 200 hives. Wow, can I make such an amount of hive in 30days? I guess time will provide the answer to this question and like I said easier leo-hive combination is very much equal to the task.
---
Road Map to Achieving this Goal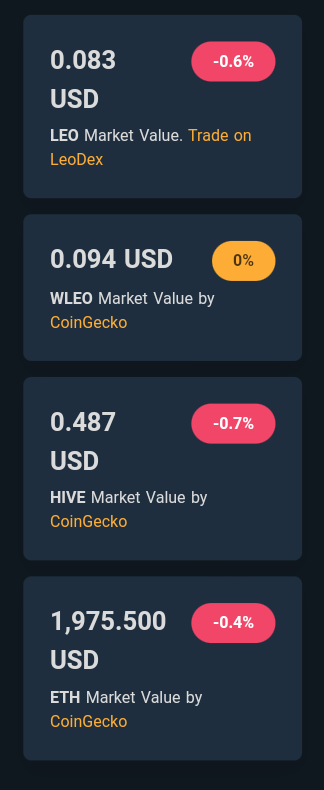 With the price of Leo below 10cent and that of hive below 50cent, it will be much harder to gather a substantial amount of Leo/hive in just 30days to sum up the $100 goal.
---
To achieve this, I think it's better to share the rate of earning in both hive and Leo at the 80:20 percentage. This simply means that to achieve $80 worth of hive, I will have to gather 165 hive in 30days, which breaks down to 5.5 hive per day.
---
Also achieving $20 worth of Leo in the next 30days requires that I gather a total of 251 Leo with the current rate and this breaks down to 8.1 Leo per day. Huh? I'm crying 😭😭 already because this goal seem quite difficult judging by my current earning rate.
---
Anyway, it's a set goal and I hope to achieve it just as planned. Who knows, the market might choose to be bullish at the process of pursing the goal and simplify things a further.
On the bright side, 5.5hive and 8.1 Leo per day isn't much a huge task. I good day can make up for every other bad ones, and so the journey begins.
---
Thanks for reading
Keep visiting my page for more intriguing posts

---
Contact & Support
Discord: martinlazizi#2242
Twitter:https://twitter.com/martin_1900s
---

---
---
---