🇬🇧Nice llama flowerpot./ 🇪🇸Simpática llama maceta.
🇬🇧Good morning to all my dear friends !! Today I am with you to show you how I painted and decorated this joy flower pot in the shape of a flame.
🇪🇸Buen día a todos mis queridos amigos!! Hoy estoy con ustedes para mostrarles como pinté y decoré está alegra maceta a forma de llama.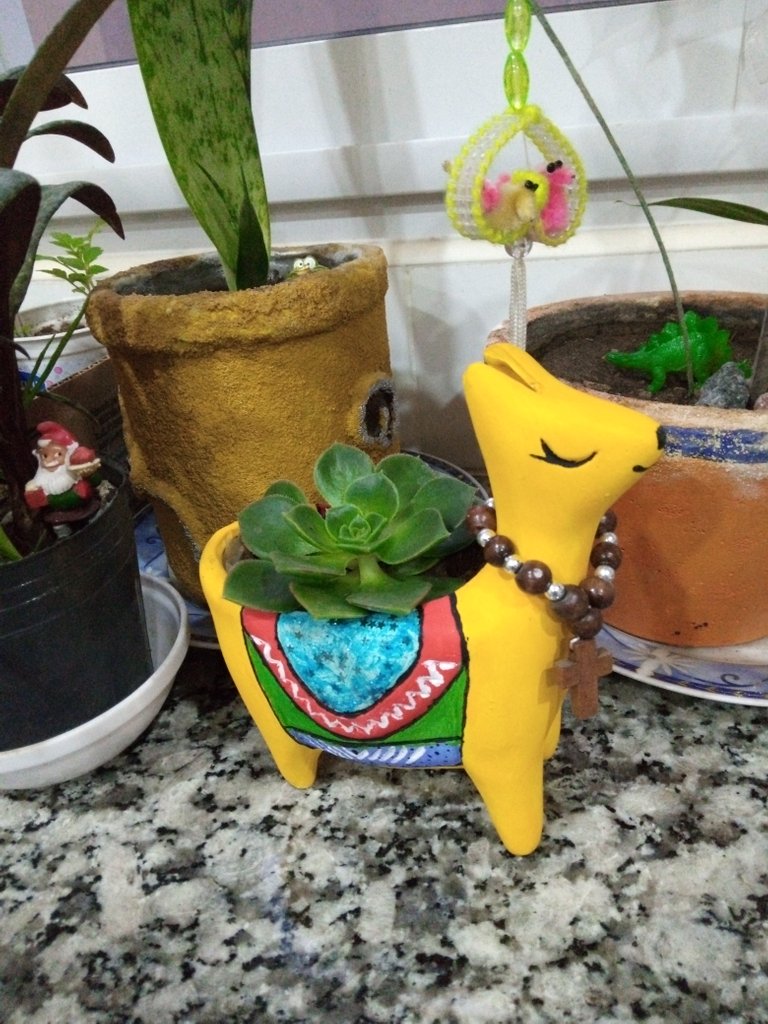 🇬🇧It was a lot of fun and they are those little jobs, quite easy, that take up not a lot of time and give you a lot of satisfaction when you see it finished and that beautifies a little corner of your house.
🇪🇸Fué muy divertido y son esos pequeños trabajos, bastantes fáciles, que te ocupa no muchísimo tiempo y te da mucha satisfacción cuando lo ves terminado y que embellece un rinconcito de tu casa.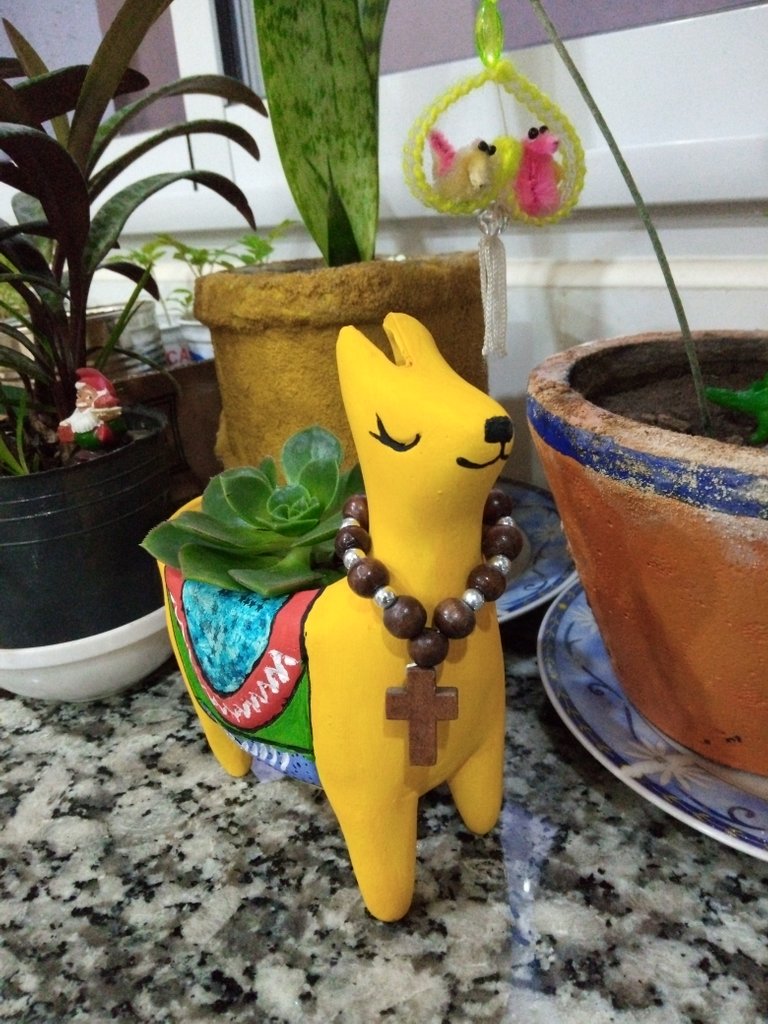 🇬🇧Of course the flame was not made by me, I just painted it. It is possible to make it homemade but my lack of time prevents me from creating very elaborate works.
🇪🇸Por supuesto la llama no la hice yo, solo la pinté. Es posible hacerla casera pero mi falta de tiempo me impide crear trabajos muy elaborados.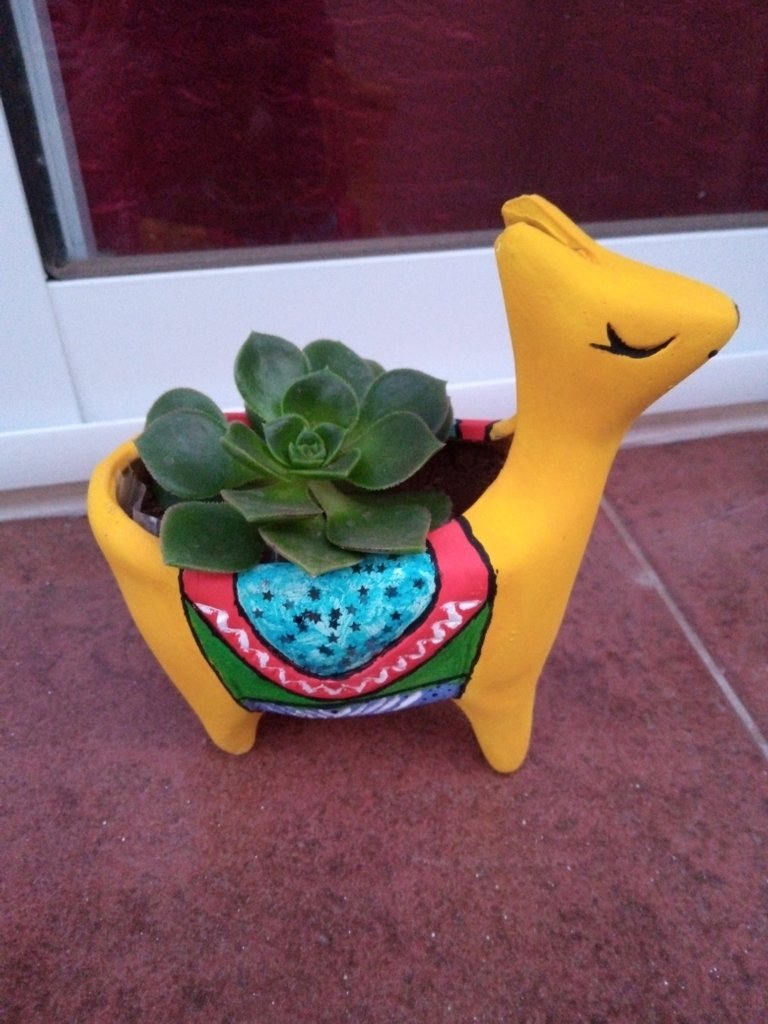 🇬🇧The llama I bought it in a business where they sell everything for crafts. There were several models of various themes and measures.
I chose a medium flame because of the short time available.
🇪🇸La llama la compré en un negocio donde venden todo para manualidades. Había varios modelos de varios temas y medidas.
Yo elegí una llama mediana a causa del poco tiempo a disposición.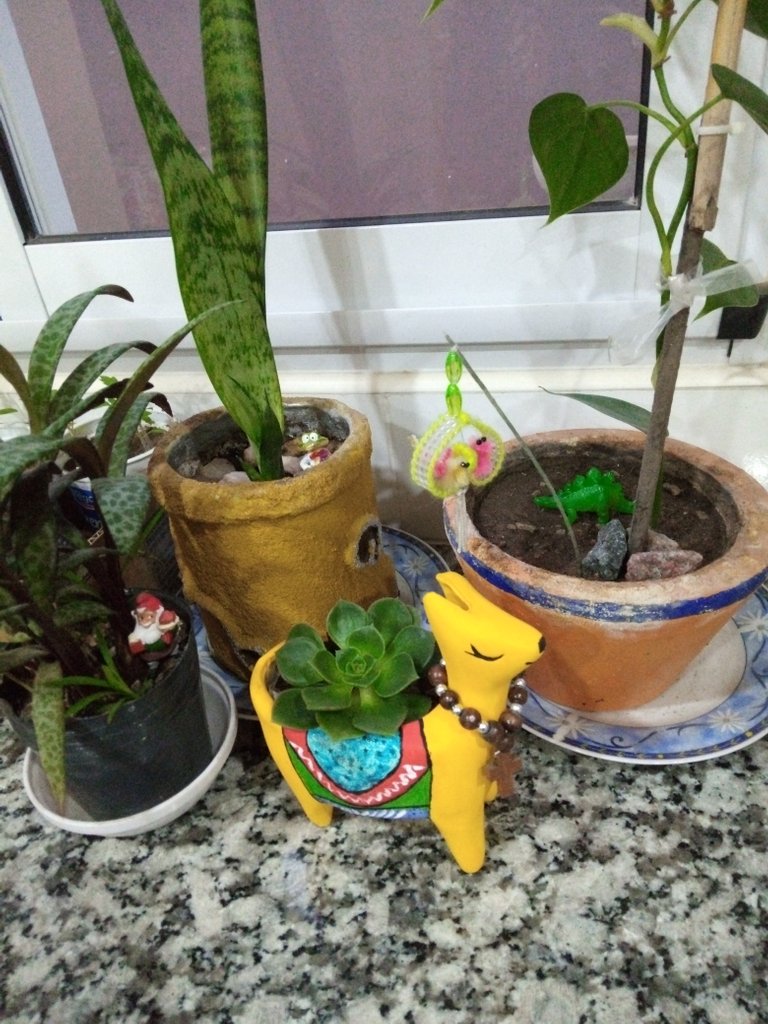 🇬🇧It is made of simple ceramic, that is, it is not glazed.
This is the second one that I actually paint, I had already done a smaller one a little while ago, and since at that time I had no paintings, I painted it with colored pencils and then I varnished it with a transparent varnish.
🇪🇸Es de cerámica simple, o sea no esmaltada.
Esta es la segunda que pinto en realidad, ya había hecho otra más pequeña hace un tiempito, y como en ese momento no tenía pinturas, la pinté con lápices de colores y luego la barnicé con un barniz transparente.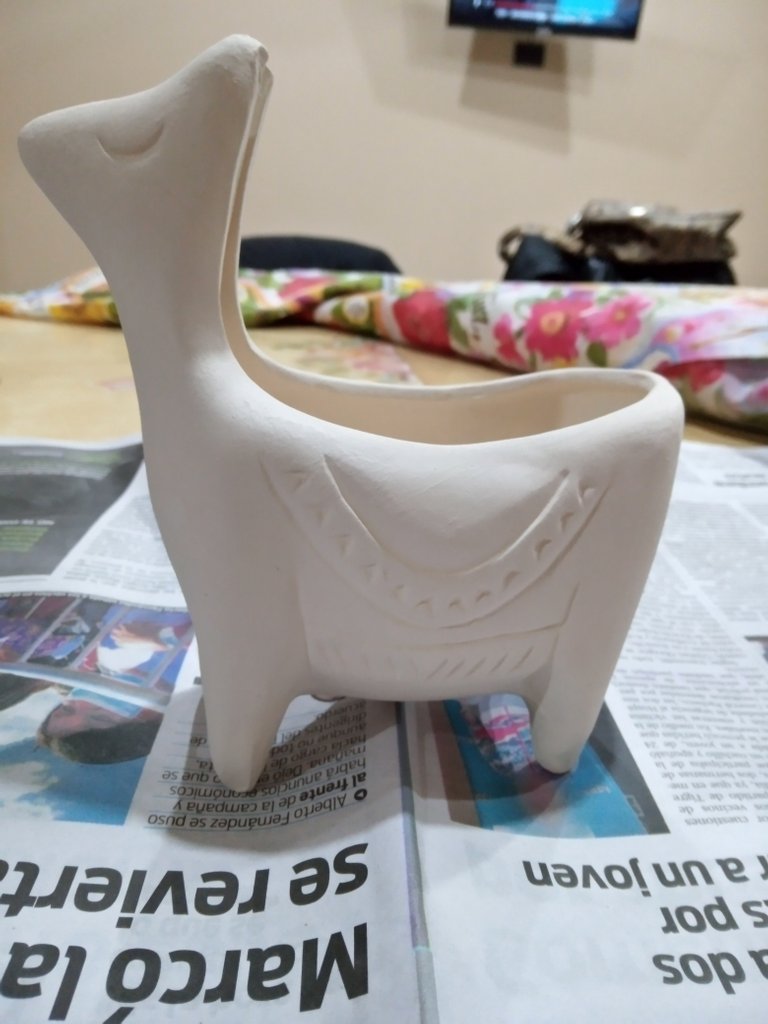 🇬🇧This time I made it for my brother because he really liked mine. I also took advantage of my daughter's acrylic colors and brushes. It was much easier than with pencils and the colors were very striking, fantastic !!
🇪🇸Ésta vez la hice para mi hermano porque le gustó mucho la mía. Además aproveché de los colores acrílicos y pinceles de mi hija. Fué mucho más fácil que con los lápices y los colores quedaron bien llamativos, fantásticos!!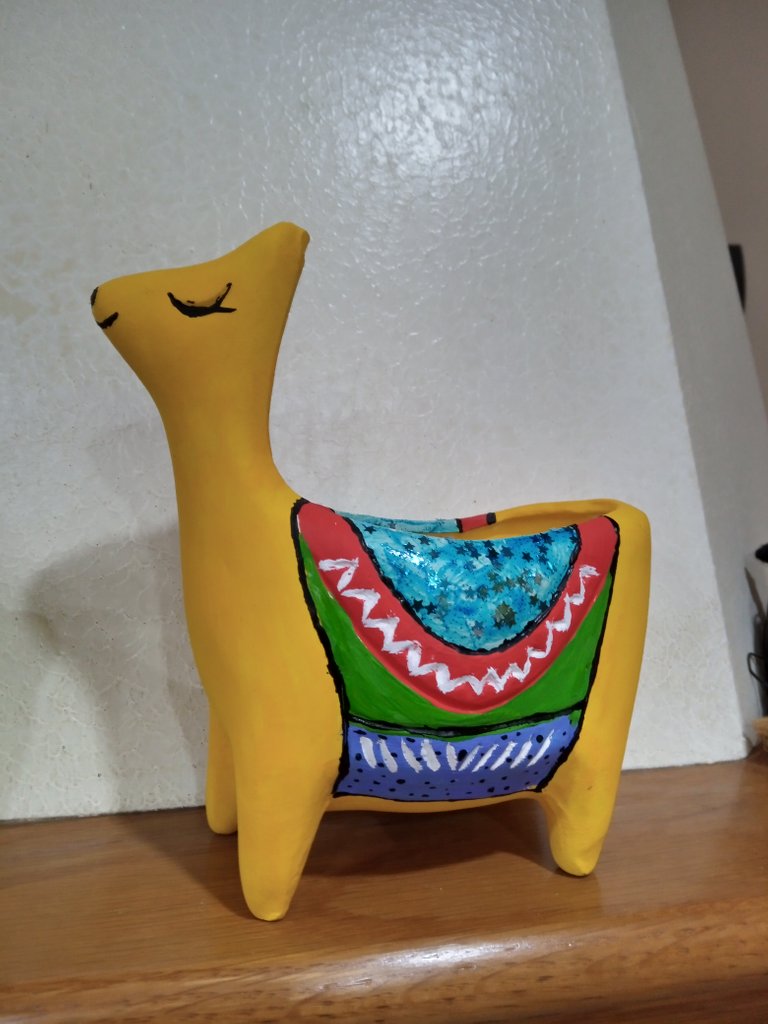 🇬🇧First of all, I painted the whole body yellow, leaving the part covered with the blanket without color.
Yes, because every domestic llama has a blanket on its back, at least here in Argentina. In the north of our country, llamas, alpacas and vicuñas are domestic animals and they are cared for with respect.
🇪🇸Primero de todo pinté todo el cuerpo de amarillo, dejando sin color la parte cubierta con la manta.
Si, porque cada llama doméstica tiene su manta en el lomo, por lo menos aquí en Argentina. En el norte de nuestro país, llamas, alpacas y vicuñas son animales domésticos y los cuidan con respeto.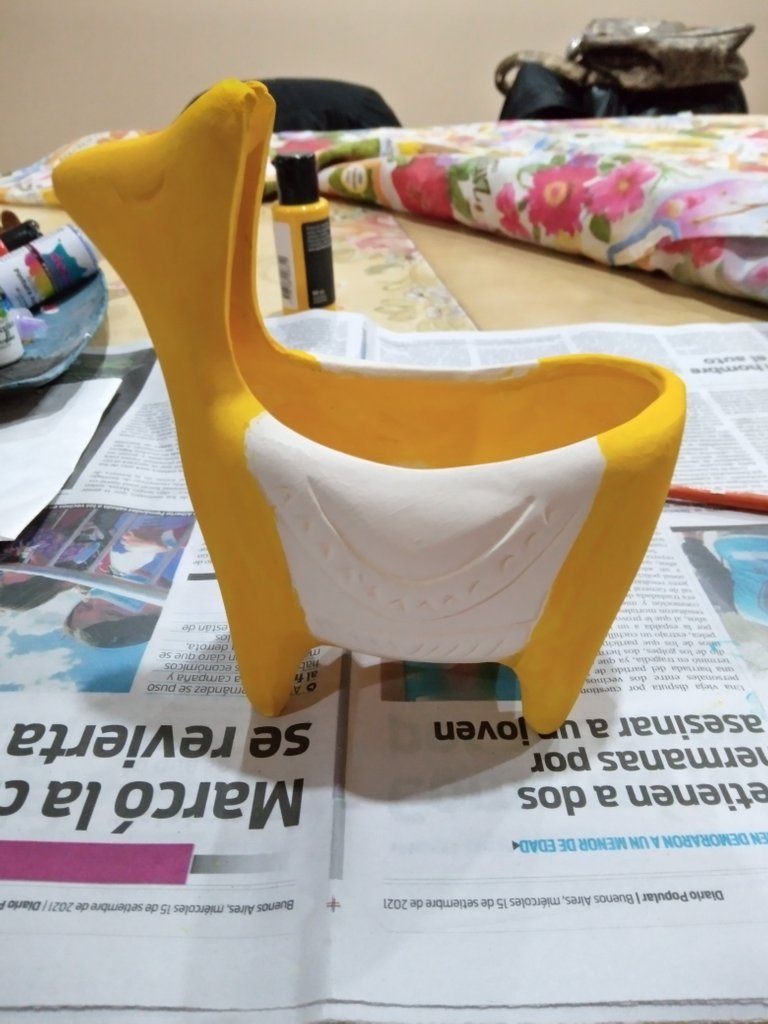 🇬🇧The blanket I started with a red part.
🇪🇸La manta la empezé con una parte de color rojo.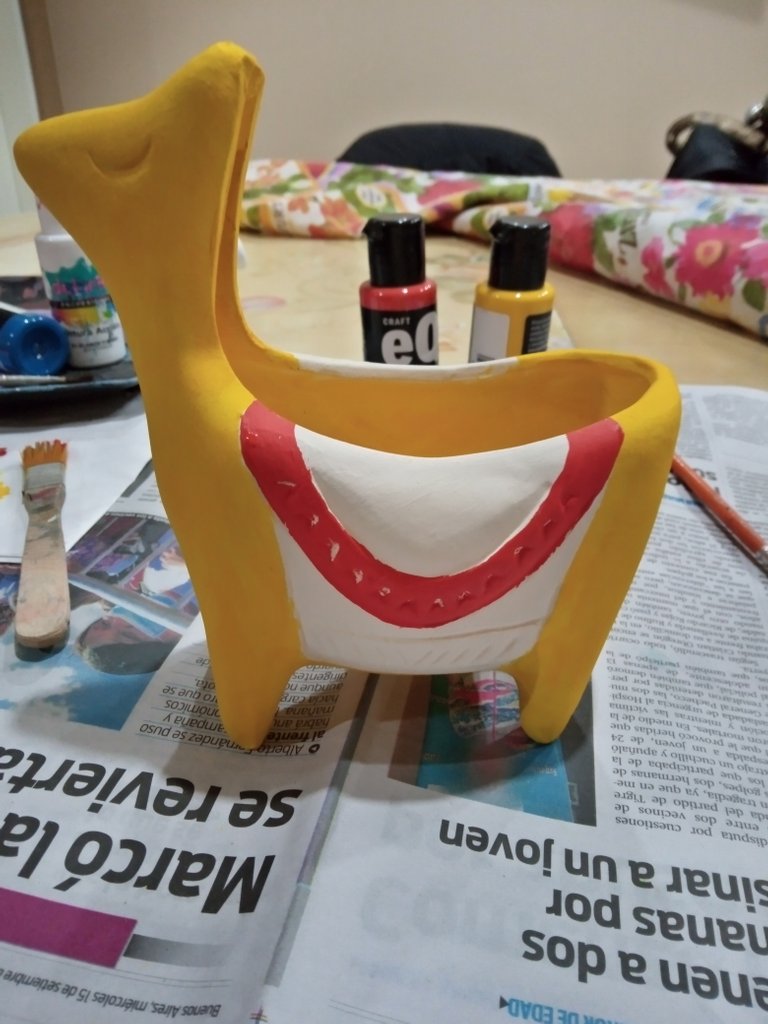 🇬🇧I continued later painting another part with a special tempera that brings glitter and stars. It is very cute!
🇪🇸Seguí después pintando otra parte con una tempera especial que trae brillantina y estrellitas. Queda muy linda!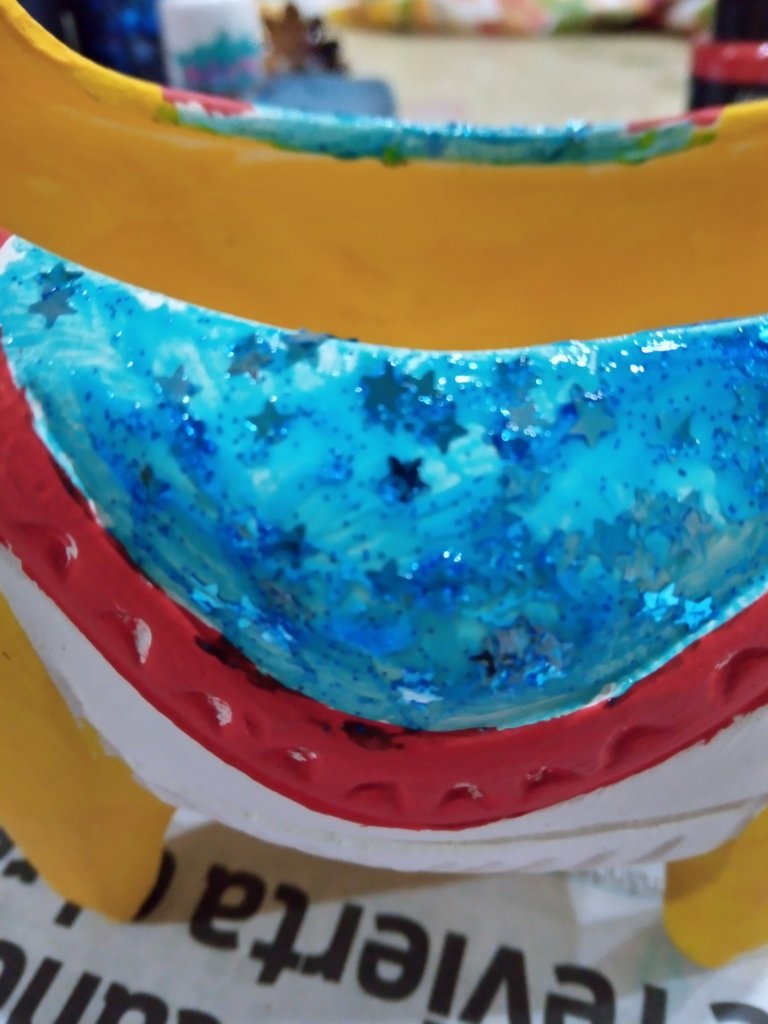 🇬🇧Then I painted the lower part of the blanket with lilac.
🇪🇸Luego pinté la parte más baja de la manta con lila.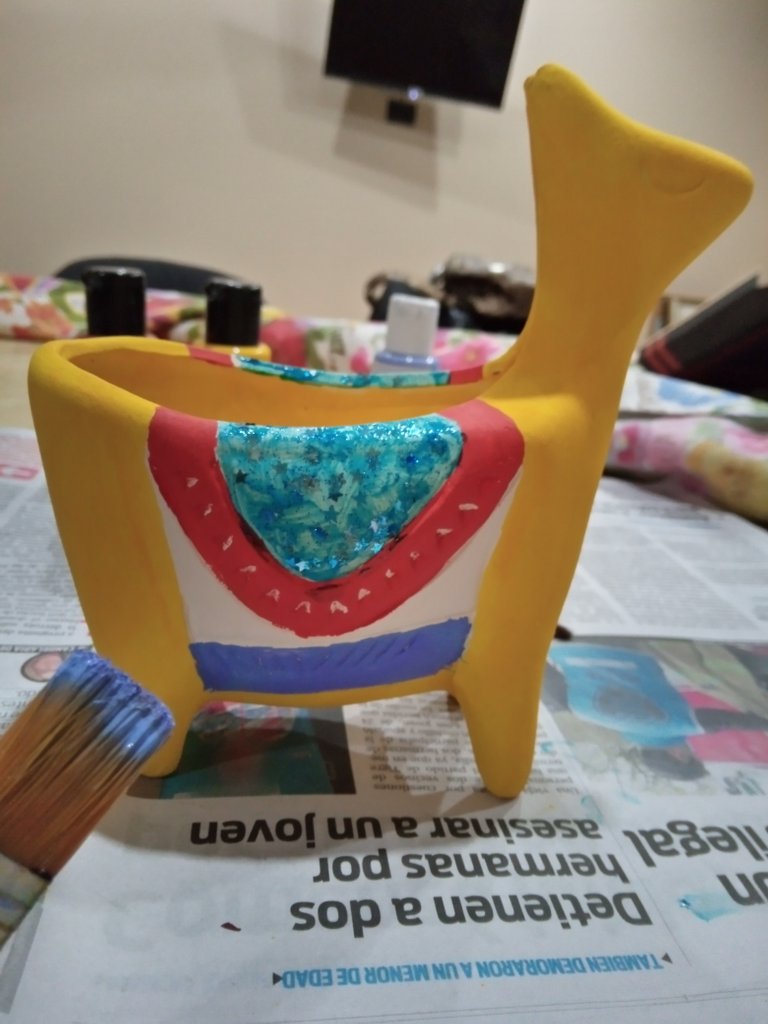 🇬🇧And the last bit of green.
🇪🇸Y el último pedacito de verde.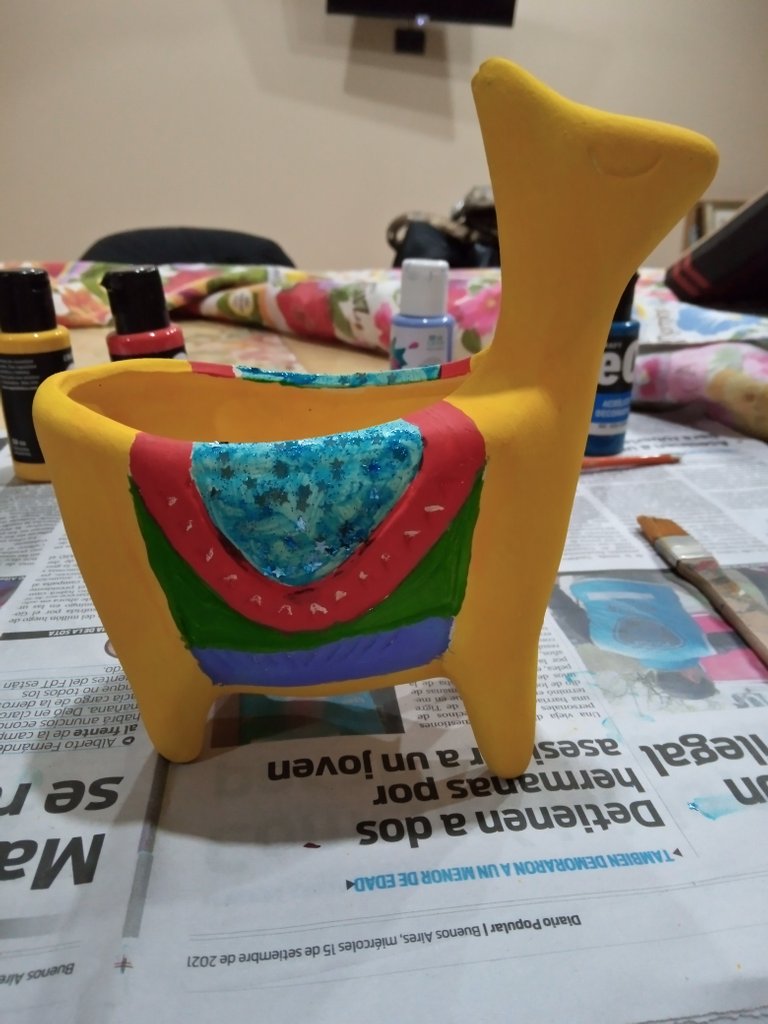 🇬🇧To give it a little more touch, I painted the embroidery on the blanket with white.
🇪🇸Para darle un toquecito más pinté los bordados de la manta con blanco.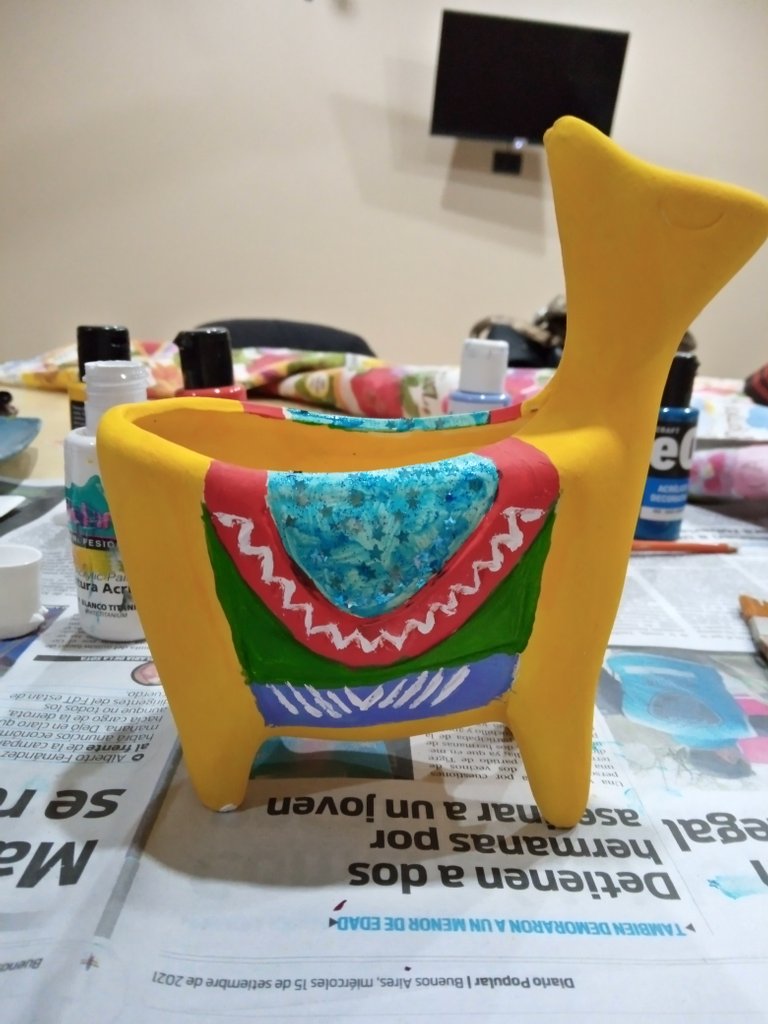 🇬🇧And to bring out all the colors well, I marked all the outlines with black.
🇪🇸Y para resaltar bien todos los colores, marqué todos los contornos de negro.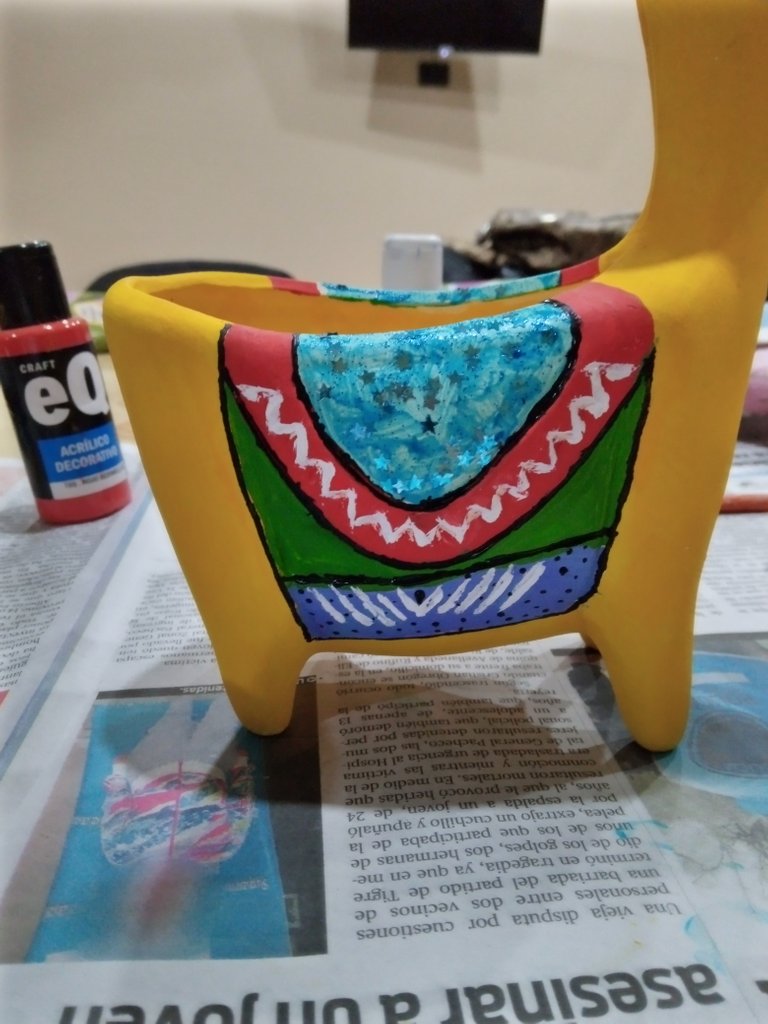 🇬🇧To finish, with black I drew the eyes, the nose and the mouth. Finally, I put a rosary-type bracelet on her necklace. We jokingly say that they are missionary llamas !! 😂
🇪🇸Para terminar, con el negro dibujé los ojos, la nariz y la boca. Por último le puse de collar una pulserita tipo rosario. De broma decimos que son llamas misioneras!!😂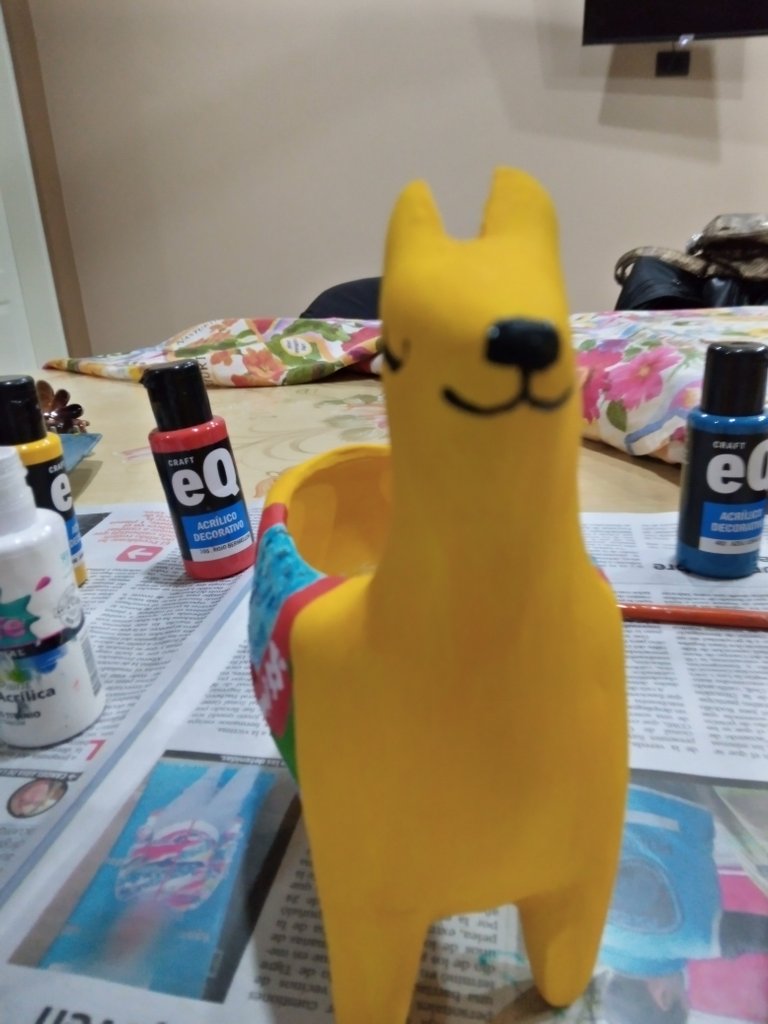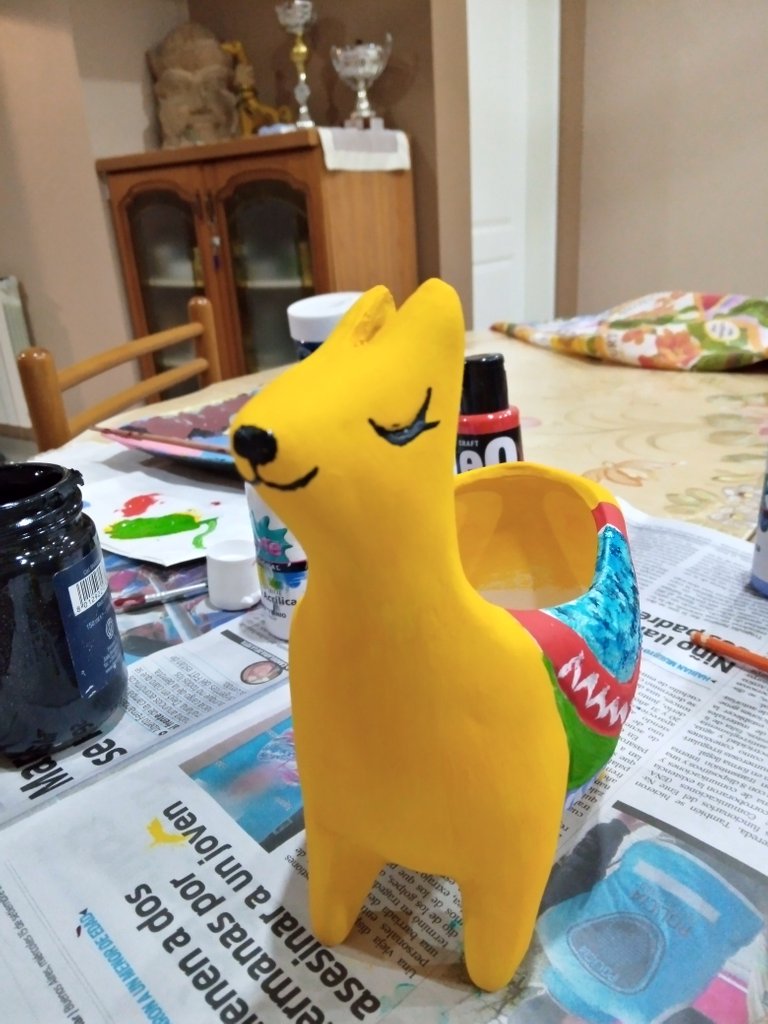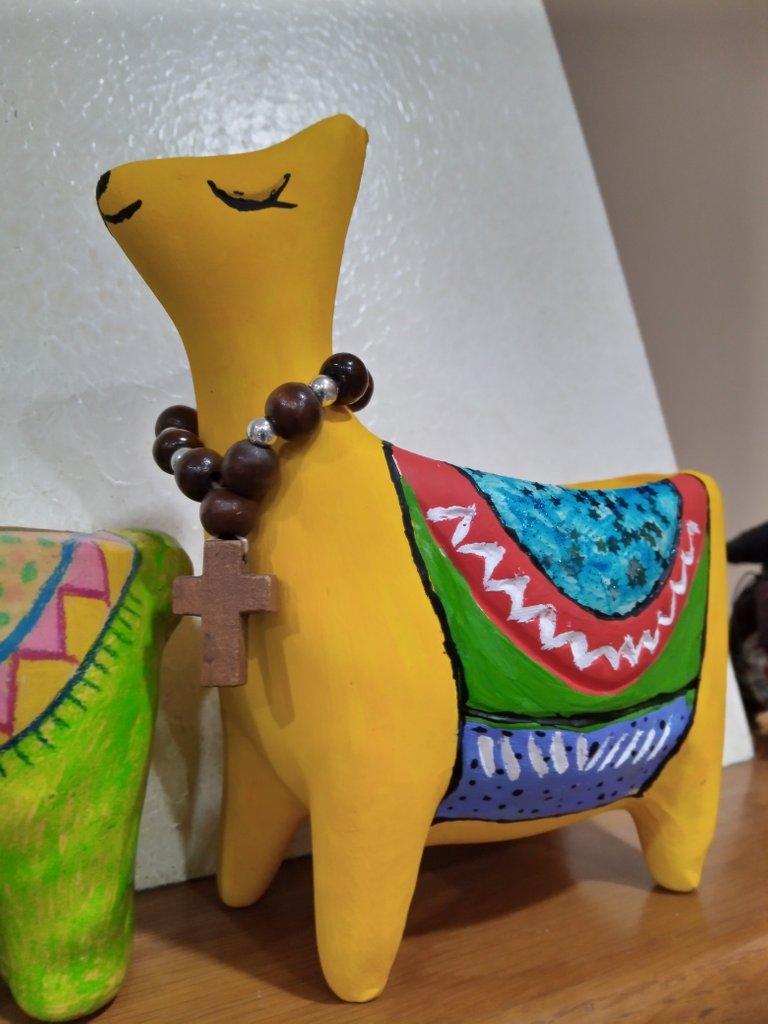 🇬🇧It was a beauty !! This is how it looks next to the other flame painted with pencils.
🇪🇸Quedó una preciosura!! Así es como se ve al lado de la otra llama pintada con lápices.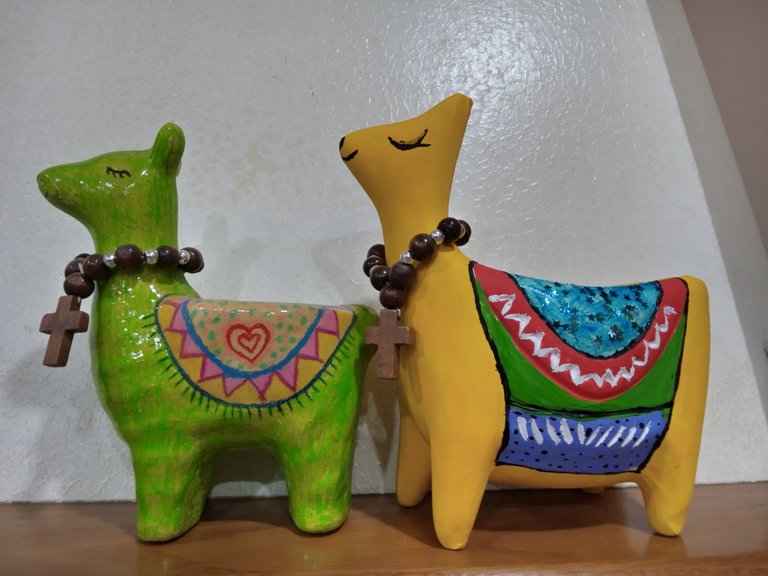 🇬🇧But something is still missing.
I put a small nylon bag inside the hole in the back and filled it with soil. Then I put in a little succulent plant. Now it is ready !!!
🇪🇸Pero todavía le falta algo.
Puse una pequeña bolsita de nylon dentro al hueco que tiene en el lomo y la rellené de tierra. Luego coloqué una plantita de suculenta. Ahora sí que está lista!!!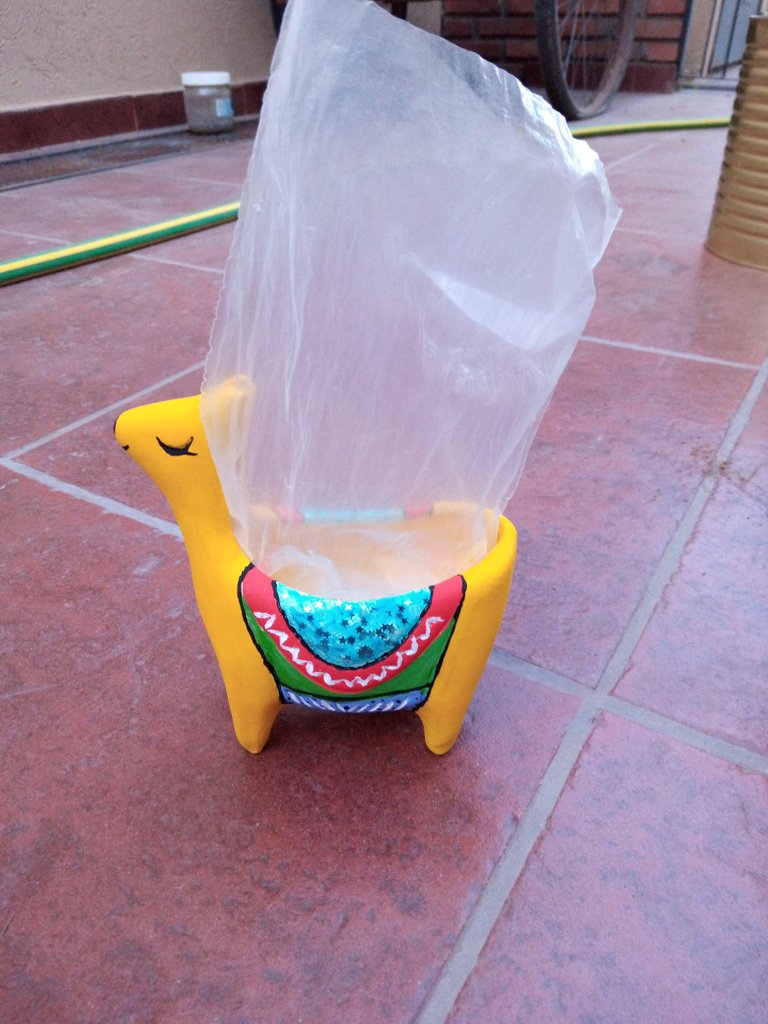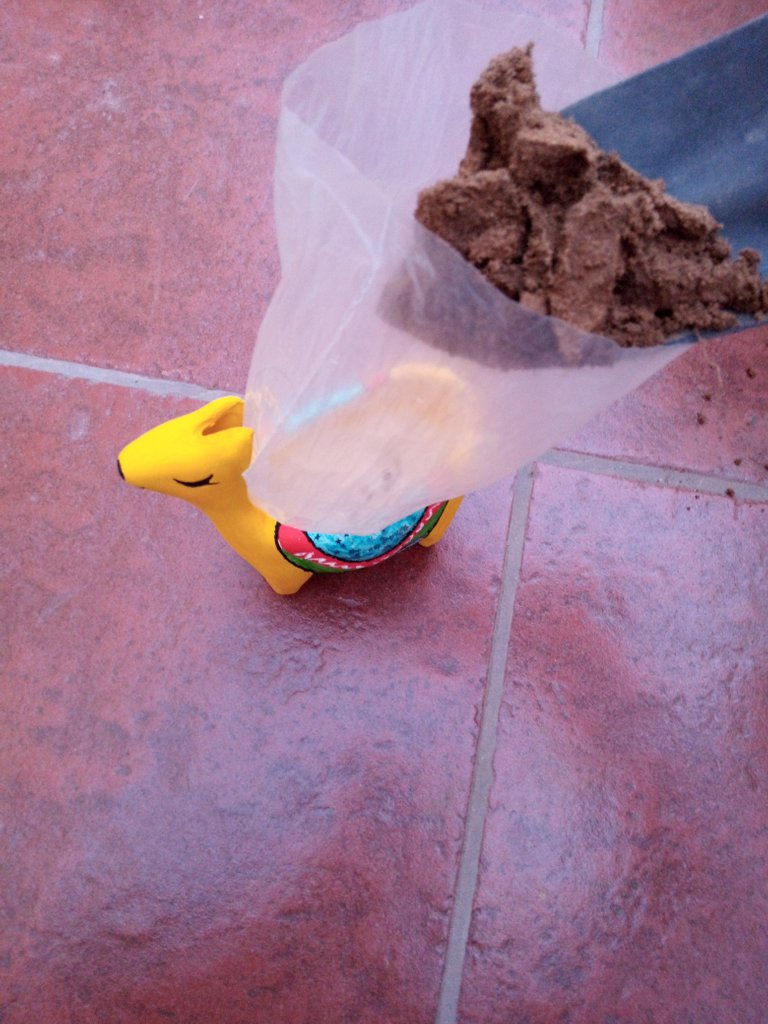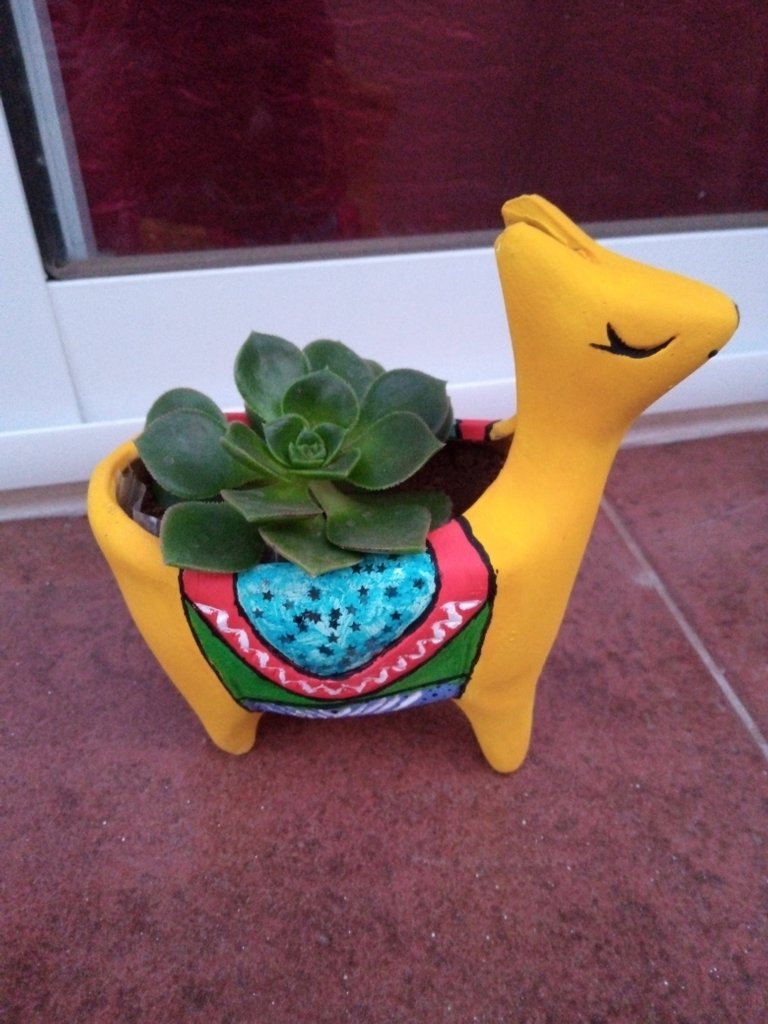 🇬🇧I hope my friends have enjoyed this publication !!!
I wait for you next time !! Thank you!!
🇪🇸Espero mis amigos que hayan disfrutado de esta publicación!!!
Los espero a la próxima!! Muchas gracias!!
---
---