Elaboración de tareas escolares con mi princesa 🤗

Hooolaaa mi hermosa comunidad de @motherhood un gran abrazo para todos ustedes y para cada miembro que forma parte de esta hermosa familia hoy es ya inicio del fin de semana donde acá en Cumaná estado Sucre hay un gran sol radiante y hermoso y a la vez super caluroso (risas) ☀️.
Estos días e estado ausente porque e tenido que realizar las tareas de clases con mi pequeña pues ella está en primer nivel de preescolar y ya empezaron a enviarles sus tareas y pues hemos estado super activas con cada una de ellas realizandolas día a día.
Hooolaaa my beautiful community of @motherhood a big hug for all of you and for each member that is part of this beautiful family today is already the beginning of the weekend where here in Cumaná state Sucre there is a great radiant and beautiful sun and at the same time super hot (laughs) ☀️.
These days I have been absent because I had to do homework with my little girl because she is in the first level of preschool and they have already started to send her homework and we have been very active with each one of them, doing it day by day.
---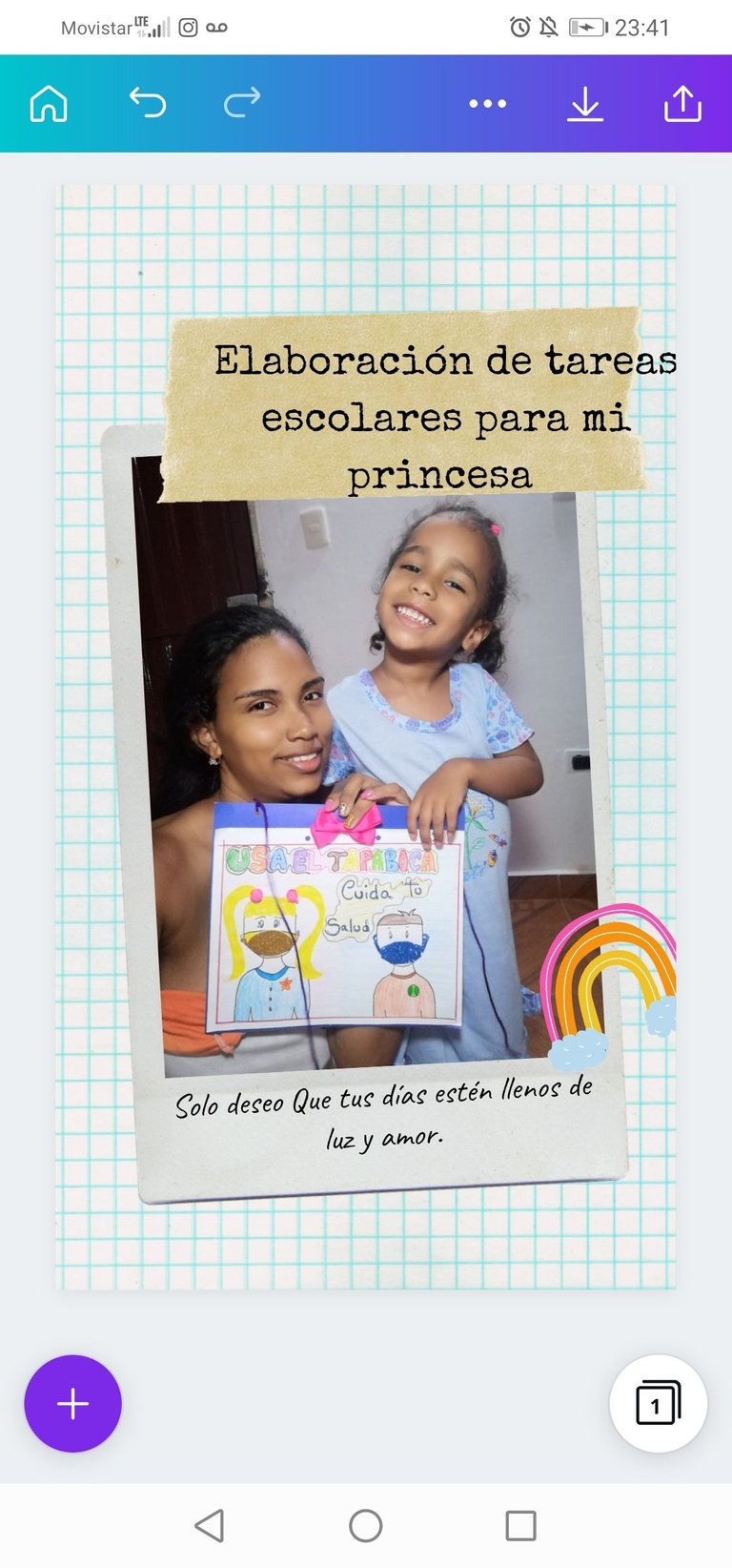 Muchos me dicen está en preescolar que tanto si no hace las tareas y pues mis queridos mamis y papis les diré que incorporar las tareas a la rutina diaria de los niños es muy importante porque los enseña desde pequeños a como aprender a organizarse mejor y por supuesto a desarrollar buenos hábitos que les acompañarán toda su vida, cuando los niños pequeños hacen las tareas parte de su rutina diaria les desarrolla habilidades de destrezas y les pone a volar su imaginación porque no se imaginan todo lo que un niño puede imaginar que está dibujando y les digo imaginar porque ni pequeña tiene tres años y aún está en la etapa de garabato sin embargo ella te dice que su dibujo es una playa, papá, mamá (risas)
Many people tell me that if they are in preschool, what if they don't do their homework and well, my dear mommies and daddies, I will tell you that incorporating homework into the daily routine of children is very important because it teaches them from an early age how to learn to organize themselves better and of course to develop good habits that will accompany them throughout their lives, when young children make homework part of their daily routine it develops their skills and develops their imagination because they can't imagine all that a child can imagine drawing and I say imagine because my little girl is three years old and is still in the doodle stage but she tells you that her drawing is a beach, daddy, mommy (laughs).
---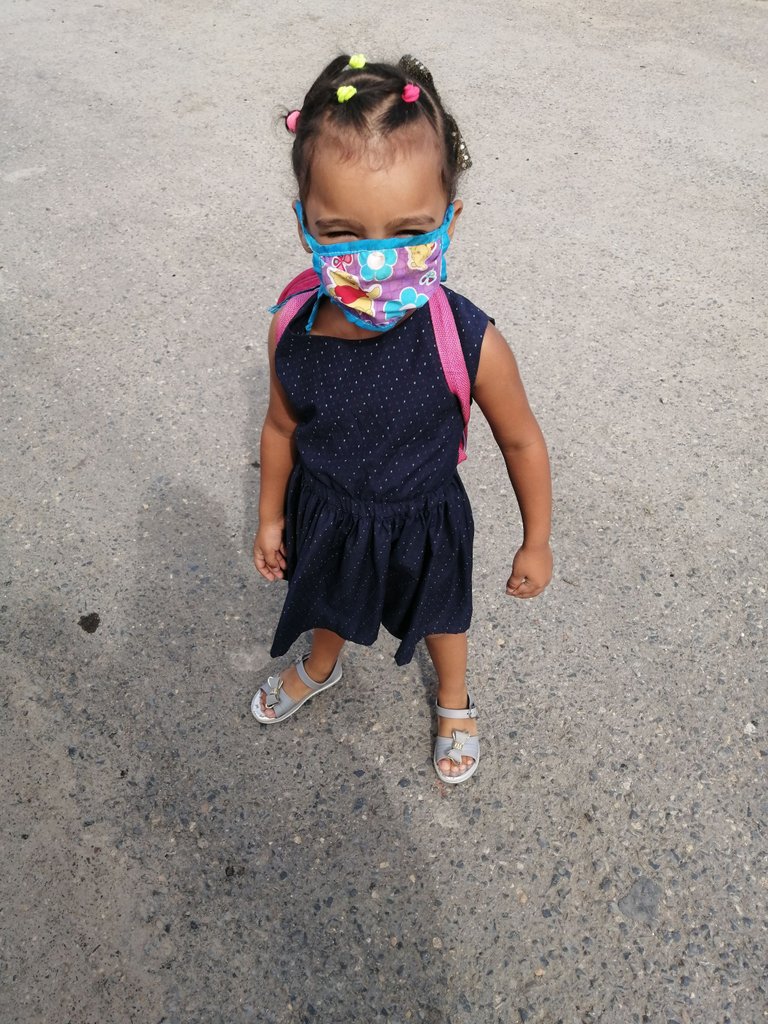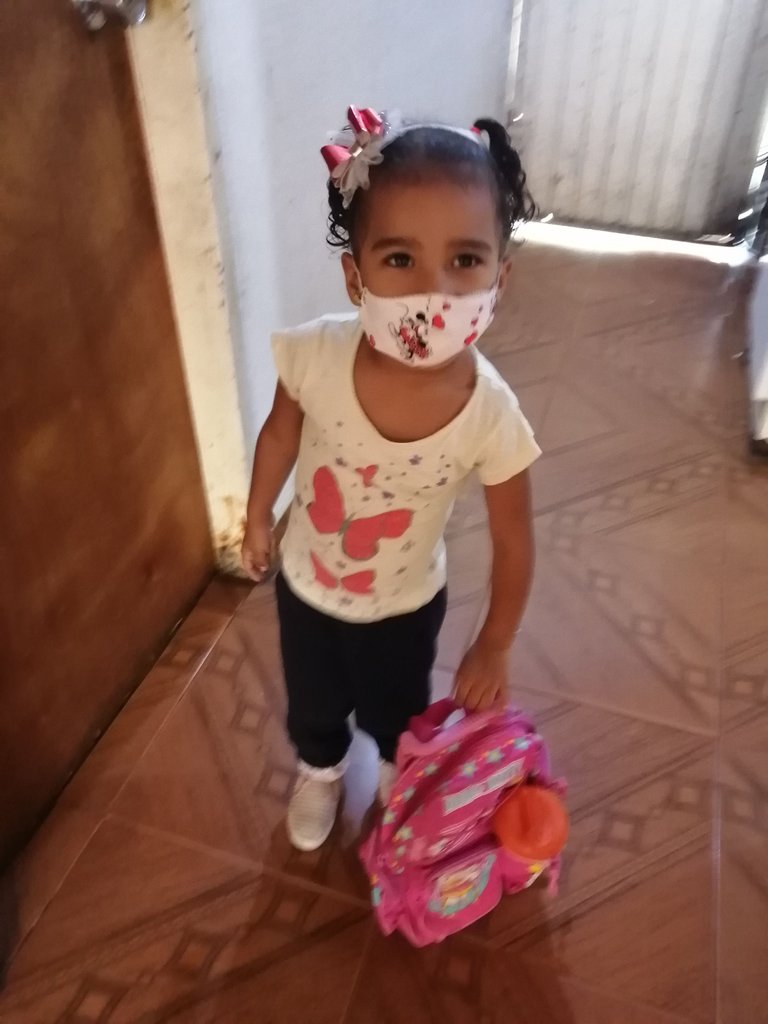 La mejor manera de crearles este hermoso hábito es pautar una misma hora todos los días y escoger un buen lugar donde se sienta cómoda y sin distracción.
Una de las tareas que me gustó muchísimo realizar con mi princesa fue un cartel sobre una medida de bioseguridad para evitar el covid-19 y le dibuje una niña y un niño usando su tapabocas y le explique que debemos de usarlo para no enfermarnos y debemos no quitarnolos en el colegio ni en la calle, a ella realmente le gusta usar su tapabocas gracias a Dios no tengo inconvenientes con ella para que se lo coloque.
The best way to create this beautiful habit is to set the same time every day and choose a good place where she feels comfortable and without distractions.
One of the tasks that I really enjoyed doing with my princess was a poster about a biosecurity measure to avoid covid-19 and I drew her a girl and a boy wearing their masks and I explained to her that we must use them to avoid getting sick and we must not take them off at school or in the street, she really likes to wear her mask, thank God I have no problems with her to put it on.
---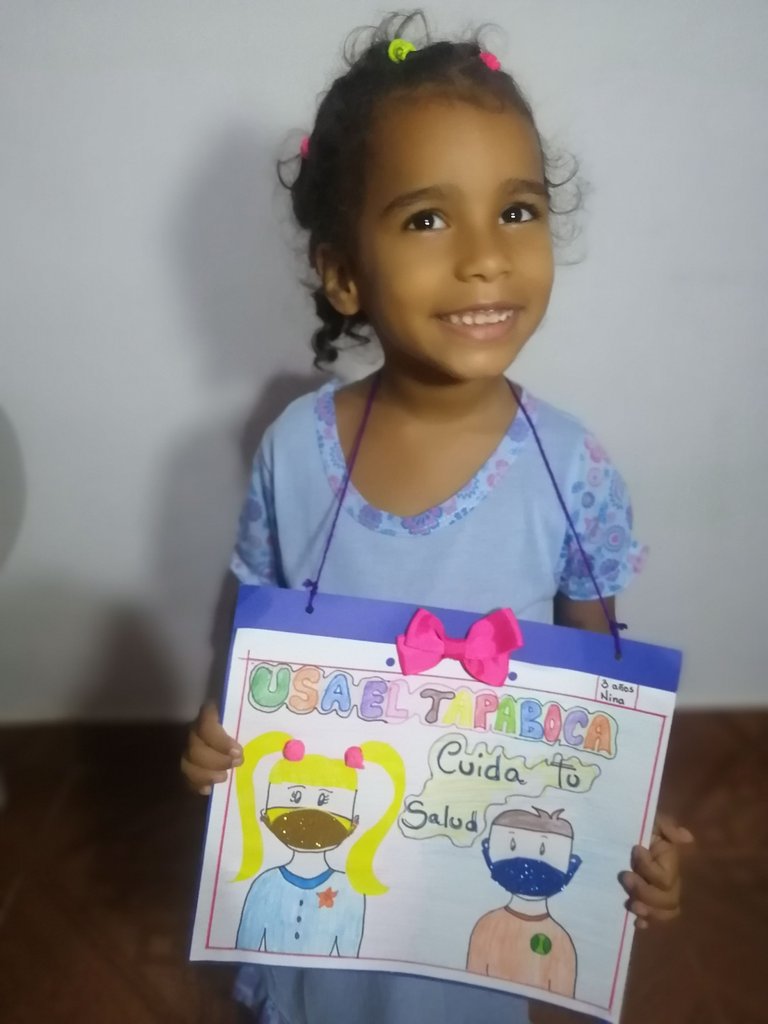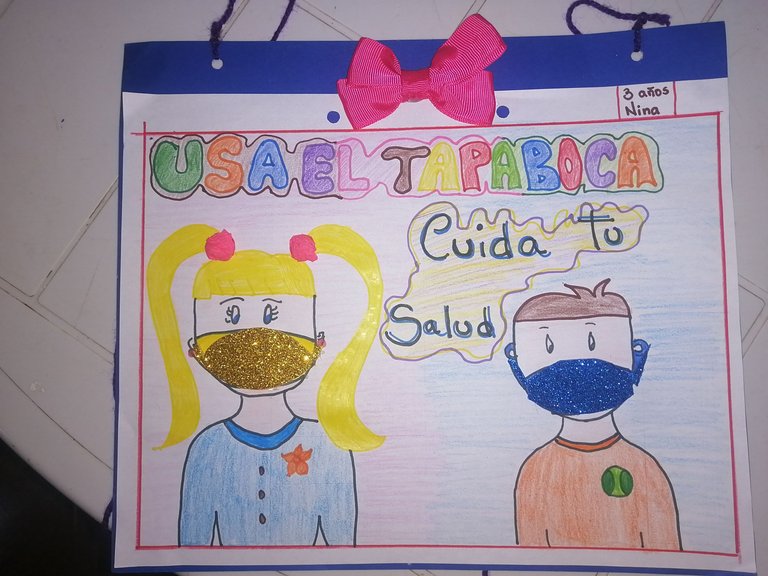 Entre las tareas mi hija realizó un dibujo de un indio por el día de la resistencia indígena que hace poco fue el 12 de octubre y yo le conté la historia de una manera sencilla para que ella se la imaginara, también.
Among the tasks my daughter drew a picture of an Indian for the Indigenous Resistance Day, which was recently October 12, and I told her the story in a simple way so that she could imagine it, too.
---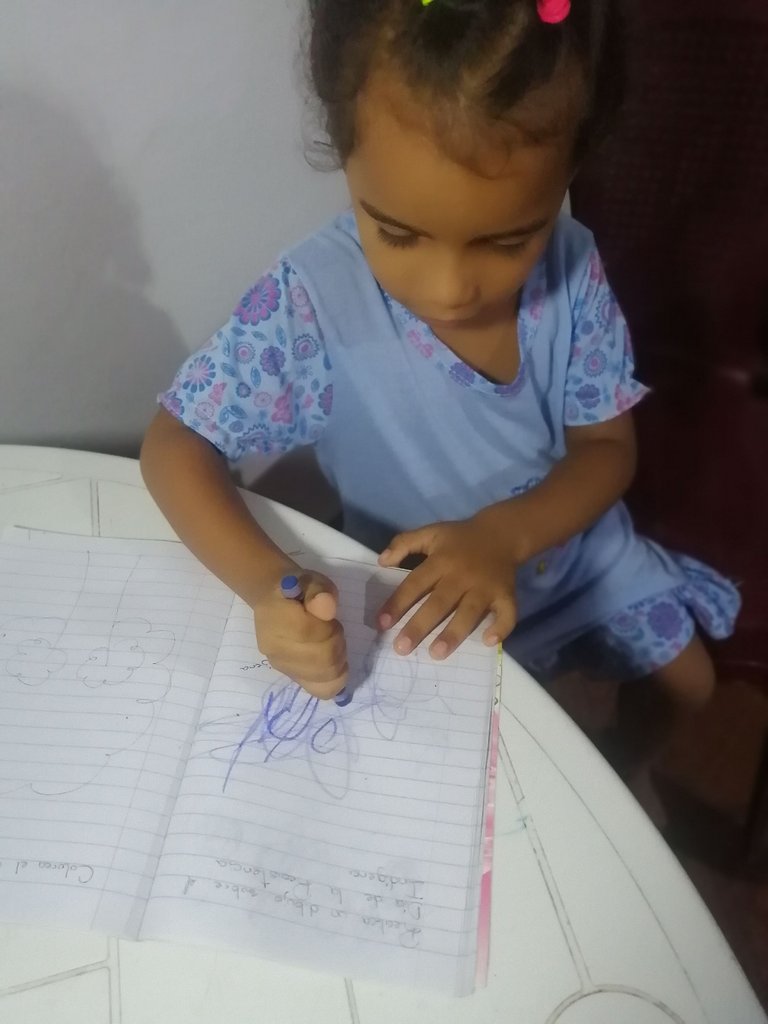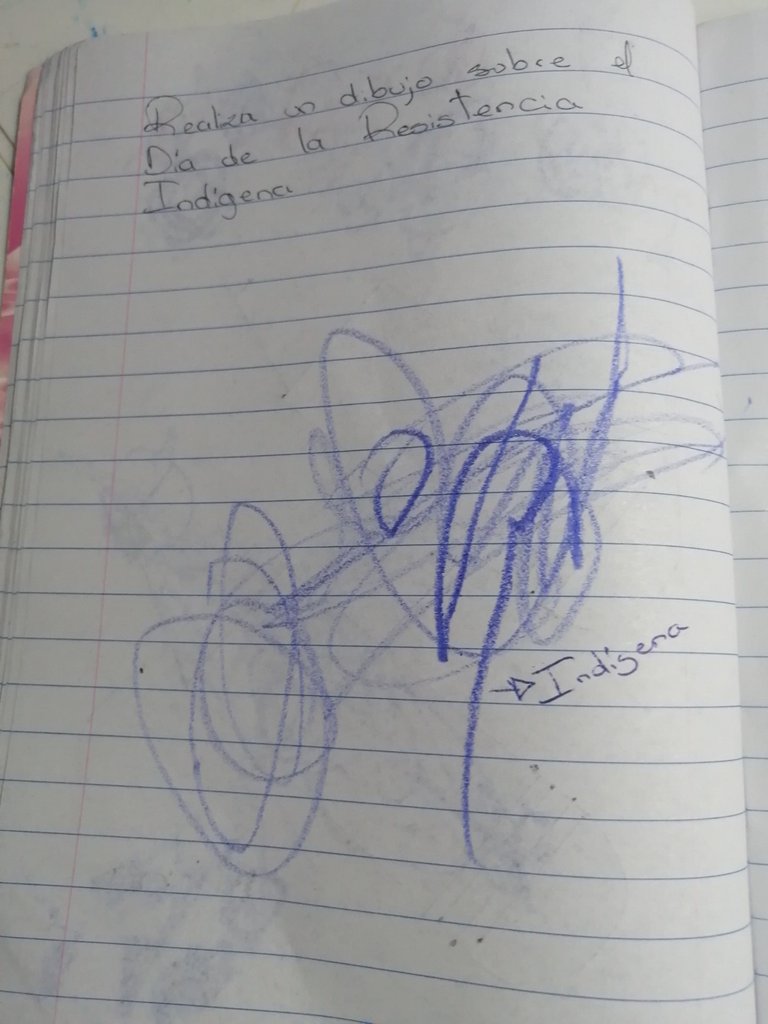 Otras actividades que realizó fue identificar las figura grandes, medianas y pequeñas la cuales mi hija ya sabia diferenciar y las hizo rápidamente, también colores el sol y pinto con temperas las figuras geométricas de círculo, triángulo y cuadrado, ella es muy inteligente capta super rápido salió a su mamá (risas) a pesar de que su físico es del papá sin duda alguna su inteligencia es de mamá. 🤭🤭🤫
Other activities she did was to identify the big, medium and small figures which my daughter already knew how to differentiate and she did them quickly, she also colored the sun and painted with tempera the geometric figures of circle, triangle and square, she is very intelligent and she is very quick to understand her mom (laughs) even though her physique is from her dad without a doubt her intelligence is from her mom. 🤭🤭🤫
---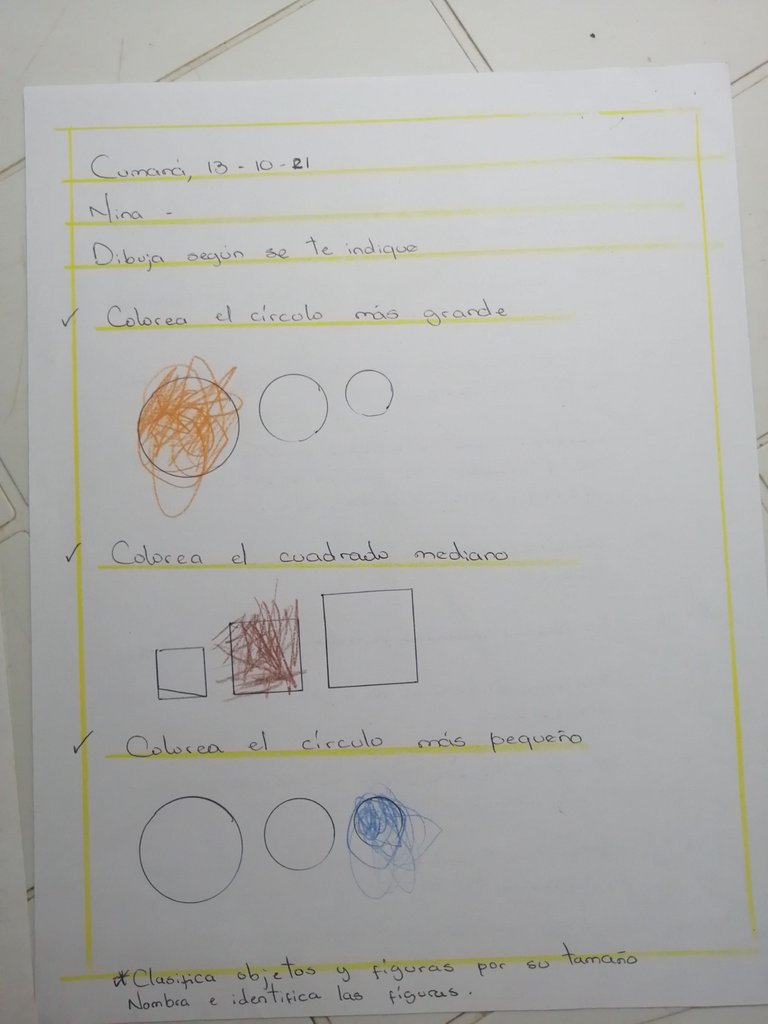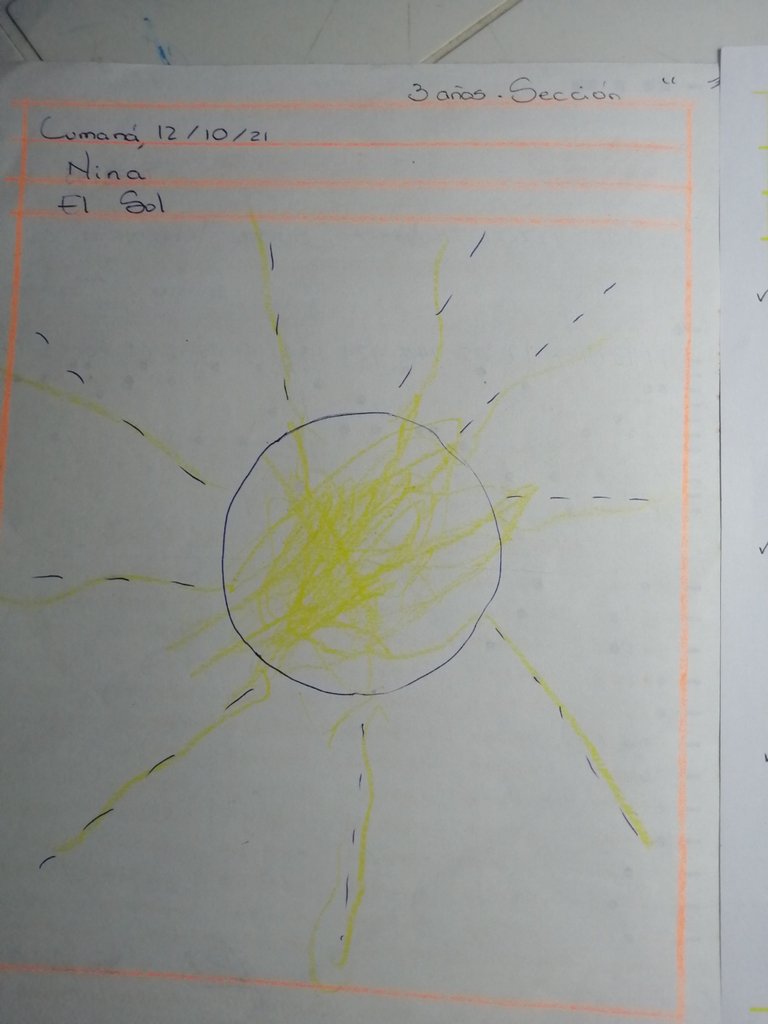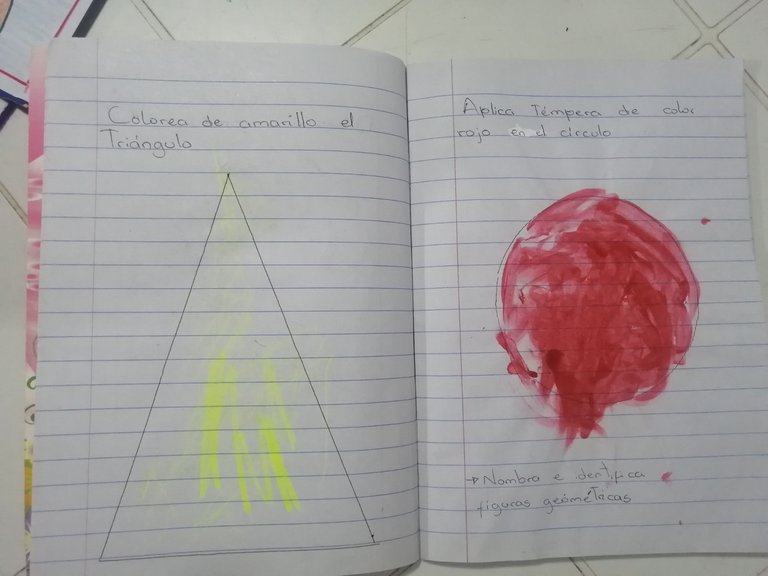 Mi hija esta semana ha trabajado en sus tareas ya ella sólita me dice mami hagamos las tareas (risas).
Ahora me toca despedirme mis queridos mamis y papis les envío un abrazo cargado de muchas bendiciones para todos ustedes y para sus pequeñines recuerden no descuidar las tareas escolares de sus niños y hacerlas parte de sus rutinas.
My daughter has been working on her homework this week and she tells me mommy let's do the homework (laughs).
Now it's my turn to say goodbye my dear mommies and daddies, I send you a hug full of blessings for all of you and for your little ones, remember not to neglect your children's homework and make it part of your routines.
---
Todo el contenido que se encuentra en esta publicación es amplia-mente original del autor, cualquier duda y recopilación del mismo, deben hacer mención de mi persona.
---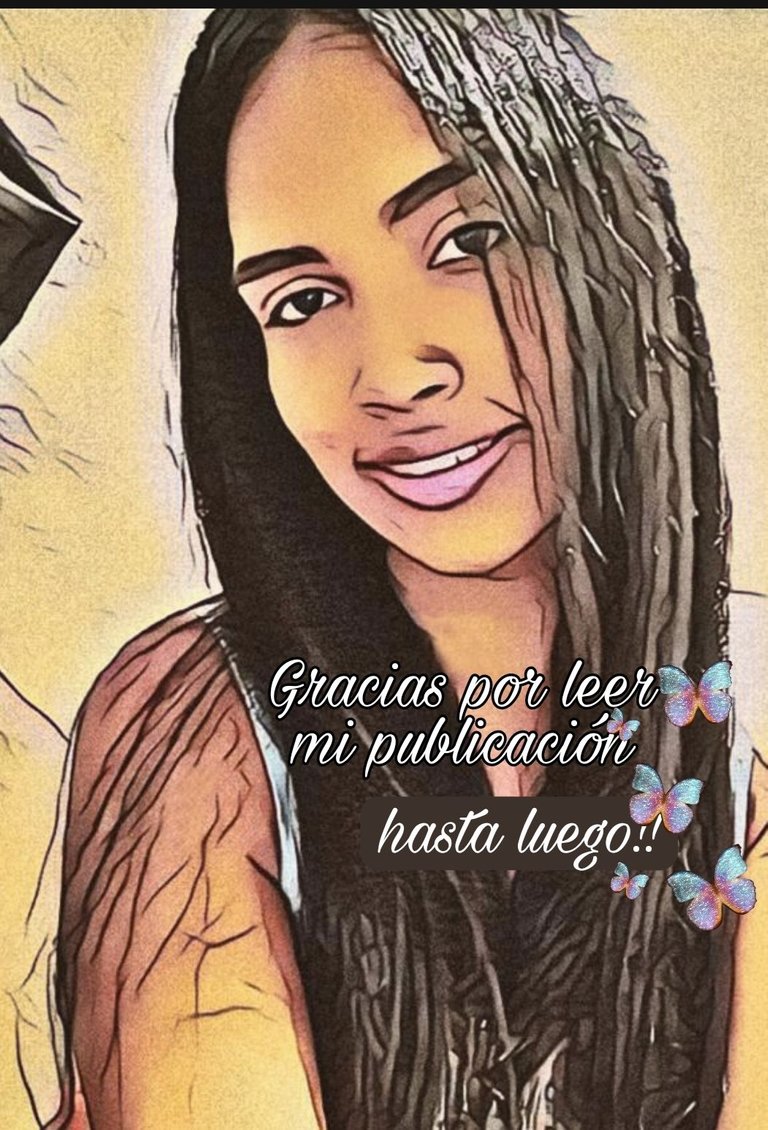 ---
---