[ESP/ENG] DIBUJO Y HABLO TANTITO EN: 5 MIN DE INSPIRACIÓN ❤️ I DRAW AND TALK FIVE MINUTES WITH U
---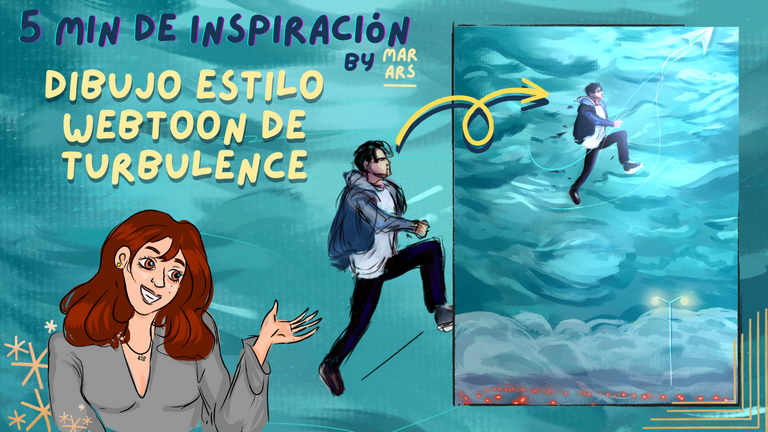 La inspiración tras turbulence (texto del vídeo)
Inspiration behind turbulence (video text)
Hola y feliz año a todos los que escuchan, soy Mariana ars, hoy quise traer algo especial hablar mientras se muestra el proceso rápido de mi dibujo, como una especie de 5 min de plática random, así podrán ver cuán desorganizada soy al momento de hacer un dibujo, y escucharme mientras, ahora que lo pienso no sé si esto se considere especial pero intentémoslo.
Hi and happy new year to all who listen, I'm Marian ars, today I wanted to bring something special to talk while showing the quick process of my drawing, like a kind of 5 min of random talk, so you can see how disorganized I am when making a drawing, and listen to me while, now that I think about it I don't know if this is considered special but let's try it.
Para este dibujo me inspire de un momento en particular del vídeo clip llamado turbulence de Ateez, para los que ya me siguen no será sorpresa el ver varios dibujos de este grupo de k-pop en mi blog, la inspiración musical es importante para mí, con el tema de turbulencia capturé el momento en el que el cuerpo de esta personita se levanta despegando como si se tratara de un avión elevándose tratando de alcanzar algo que nadie mas que él puede percibir en el cielo, esta canción tiene una letra muy significativa que plasma quizá el dolor en la joven adultez, y digo quizá porque fue mi interpretación al final es relativo el significado de la canción según quien lo escuche, ya explicada la referencia vamos con el proceso del dibujo. Y si creíste que explicaría el dibujo no sera este el caso, hablaré la inspiración detrás del mismo.
For this drawing I was inspired by a particular moment of the video clip called turbulence of Ateez, for those who already follow me it will not be a surprise to see several drawings of this k-pop group in my blog, the musical inspiration is important to me, with the theme of turbulence I captured the moment in which the body of this little person rises taking off as if it were a plane rising trying to reach something that no one but him can perceive in the sky.This song has a very significant lyric that maybe shows the pain in young adulthood, and I say maybe because it was my interpretation at the end it is relative the meaning of the song depending on who listens to it, now that the reference is explained let's go with the process of the drawing. And if you thought I would explain the drawing this will not be the case, I will talk about the inspiration behind it.
Han escuchado lo de la crisis que se vive al pasar de la adolescencia a la adultez? O tal vez de la famosa llamada crisis del cuarto de vida, sí la que se vive a partir de los 25 años, esta canción me hizo pensar en ello.
Have you heard about the crisis that happens when you move from adolescence to adulthood? Or maybe the famous so-called quarter-life crisis, yes the one you live from the age of 25, this song made me think about it.
En medio de la incertidumbre y de preguntas como:¿qué debo ser?, ¿Dónde debería estar a esta edad?, ¿Es suficiente de esta forma ?,¿Soy o hago suficiente?
In the midst of uncertainty and questions such as: what should I be, where should I be at this age, is this way enough, am I or do I do enough?
Preguntas simirales y de forma lírica aparecen en la letra y al finalizar estremece el cuerpo con un consuelo: sí, está bien ser tú mismo.
Cito:
"¿Alguien está escuchando? Esta canción grabada en mi corazón
Están bien estar aquí, siendo nosotros mismos"
Lyrically, similar questions appear in the lyrics, and at the end it shakes the body with a consolation: yes, it's okay to be yourself.
Quote:
"Is anyone listening? This song engraved in my heart. They're fine to be here, being ourselves"
Esta respuesta muchas veces tarda en llegar a nosotros, especialmente en tal etapa donde la confusión y las sobre exigencias están a la orden del día, tendemos a tener una métrica para todo lo que hacemos, exaltar el mínimo error, y autocuestionar nuestras habilidades, parece ser que nunca es suficiente para ser suficiente, y aunque sabemos que la vida perfecta no existe y los estándares para alcanzar ese estilo de vida fantasioso son mucho más absurdos estamos dispuestos a sacrificarnos, es entendible que nuestra mente esté en confusión como en un laberinto se responsabilidades sin resolver. A partir de los 20 años o incluso en los 30 la vocación, la independencia o la falta de las mismas juegan sus cartas contra la estabilidad mental, sin mencionar el rol que desempeñamos en la sociedad ese rol repleto de estereotipos, sin importar la edad tratar de encajar al molde puede afectarnos negativamente.
This answer often takes time to come to us, especially at such a stage where confusion and over demands are the order of the day, we tend to have a metric for everything we do, exalt the slightest error, and self-question our abilities, it seems that it is never enough to be enough and although we know that the perfect life does not exist and the standards to reach that fantasy lifestyle are much more absurd we are willing to sacrifice, it is understandable that our mind is in confusion as in a labyrinth of unresolved responsibilities. From the age of 20 or even in the 30's, vocation, independence or lack thereof play their cards against mental stability, not to mention the role we play in society that role full of stereotypes, regardless of age trying to fit the mold can affect us negatively.
Hay una oración de tal canción que me tuvo reflexiva mientras lo escuchaba:
"Ya estoy agobiado de ser apenas yo mismo
¿Alguien está escuchando? ¿Puede alguien solo abrazarme?"
There is a sentence from such a song that had me pondering as I listened to it:
"I'm already overwhelmed with being barely myself. Is anyone listening, can someone just hold me?"
Lyrics
A veces no basta con nosotros mismos y necesitamos de un consuelo.
Sometimes it is not enough with ourselves and we need a consolation.
A veces solo nos tenemos a nosotros y es difícil darnos ese consuelo.
Sometimes we only have ourselves and it is difficult to give us that consolation.
si nos llegamos a sentir incomodos dentro de nuestra propia piel hay que cuestionarnos y deconstruir ciertos ideales, es verdad que tener dudas o querer cambiar el estilo de vida, el laburo, la carrera, el entorno, las amistades, en muchos casos es parte del curso de crecer, aparece en escena la auto confrontación, la comparación, el cuestionarse.Como moretón que se aprieta en la piel si seguimos presionando nuestra mente más allá de aclararse se va a oscurecer.
if we feel uncomfortable within our own skin we have to question ourselves and deconstruct certain ideals, it is true that having doubts or wanting to change our lifestyle, job, career, environment, friendships, in many cases is part of the course of growing up, self-confrontation, comparison, questioning appears on the scene, as a bruise that is pressed on the skin if we continue to press our mind beyond clarifying it will darken.
Creo que nadie puede amarse al 100% las 24h del día todos los días, pero llevar la relación con nosotros mismos y con nuestro entorno de la manera más sana posible ayuda a conciliar ciertas batallas internas, cuestionarse está bien si es de a ratitos, castigarse está mal.Somos los únicos que podemos responder a nuestra exigencias mentales.
I think no one can love oneself 100% 24 hours a day, every day, but to manage our relationship with ourselves and with our environment in the healthiest way possible helps to reconcile certain internal battles, questioning is fine if it is only for a few moments, punishing ourselves is wrong. We are the only ones who can respond to our mental demands.
La verdad sin ánimos de dar reflexiones a la ligera explico lo que que me transmitió tal vídeo y el mensaje de la canción me hizo preguntarme más y más cosas, y a analizar cómo me he tratado últimamente.
I really don't want to give light reflections, but I would like to explain what this video transmitted to me and the message of the song made me ask myself more and more questions, and to analyze how I have been treating myself lately.
Para mí Turbulence se resume en : todos tenemos sueños y algunos están tan lejos que alcanzarlos implica alzar vuelo, en el viaje de la vida muchas veces habrá turbulencia. Es normal tener dudas, es normal querer un abrazo y un consuelo, y está bien no siempre estar bien al final ser nosotros mismos también está bien ¿Cuántas veces dije está bien ?
No importa, eso también está bien .
For me Turbulence is summarized in: we all have dreams and some are so far away that reaching them implies taking flight, in the journey of life many times there will be turbulence. It's normal to have doubts, it's normal to want a hug and a comfort, and it's okay not always to be okay in the end to be ourselves is also okay. How many times did I say it's okay?
It doesn't matter, that's okay too.
Creo que dije tantas cosas que no sé si tuvieron sentido, pero ya logramos el objetivo y aquí está el dibujo listo ✨❣️ espero que les haya gustado.Y déjenme saber si les gustó.
I think I said so many things that I don't know if they made sense, but we achieved the goal and here is the drawing ready ✨❣️ I hope you liked it. And let me know if you liked it.
Tengo una pregunta: Has enfrentado algo de lo que te mencioné ? Si te sientes cómodo o cómoda puedes contestar en los comentarios. Hasta luego y gracias por ver o leer.
I have a question: Have you faced any of what I mentioned ? If you feel comfortable you can answer in the comments. See you later and thanks for watching or read.
---
---
•Ilustración: elaborada en ibistpaint x.
•Illustration: made in ibistpaint x.
•Música del vídeo: créditos a @Chillpeach links

•Video music: credits to @Chillpeach.
•Link del MV: Turbulence - ATEEZ
•Edicion: realizada en la app Capcut.
•**Editing: realized in the Capcut app.
•Traducción: gracias a DeepL traductor.
•Translation: thanks to DeepL translator.
💗
Tengo cuenta en Instagram:
•Follow me on Instagram:
Click here 📷
Sígueme en Twitter:
•And Twitter:
Bird Here🐦
---
▶️ 3Speak
---
---