[ESP/ENG] ✨Dibujo: fragmento de mi viejo diario / drawing: fragment of my old diary 🧡☀️
Hola #hivers espero que se encuentren bien, últimamente no he podido ordenar los pensamientos con respecto a mis dibujos, vienen mil ideas 💡 y termino culminando apenas dos de todas las que se me ocurren, por lo que opté por dibujar exactamente lo que se me ideara por el momento, poco a poco me ví inmersa en la sencillez y pensé en lo satisfactorio que era hacer garabatos en la hoja de mi cuaderno mientras un profesor amargado impartía sus "aburridas clases" de matemáticas en mi tiempo de colegiala.
Así que revise algunos diarios viejos y gracias a ellos y al sentimiento de bonita nostalgia al ver los bocetos sin terminar que la inspiración llegó y dió temática a mi dibujo con ese estilo de notebook.
Ojos, rostros desprolijos, figuras por aquí y por allá que representen lo que pienso, la sensación de sentirme vigilada, la frágil flor que por impulso corto para tomarla, fragmentos de la niñez encajado a la fuerza en la adultez para que no se pierda el pasado, entre muchos más elementos que con dedicación dibujé y que sería muy imprudente describir desde mi punto de vista ya que deseo que le den ustedes su propio significado.
Sin más que decir aquí está el pequeño dibujo:
Duración del Dibujo:51:54s.
App:Painter.
Traducción:traductor Google.
Hi #hivers I hope You're well, lately I haven't been able to organize my thoughts regarding my drawings, a thousand ideas come 💡 and I end up finishing just two of all the ones that come to mind, so I chose to draw exactly what I think I thought for the time being, little by little I was immersed in the simplicity and thought how satisfying it was to scribble on the page of my notebook while an embittered teacher gave his "boring" math classes in my schoolgirl time.
So I went through some old diaries and thanks to them and the feeling of nice nostalgia when seeing the unfinished sketches that the inspiration came and I themed my drawing with that notebook style.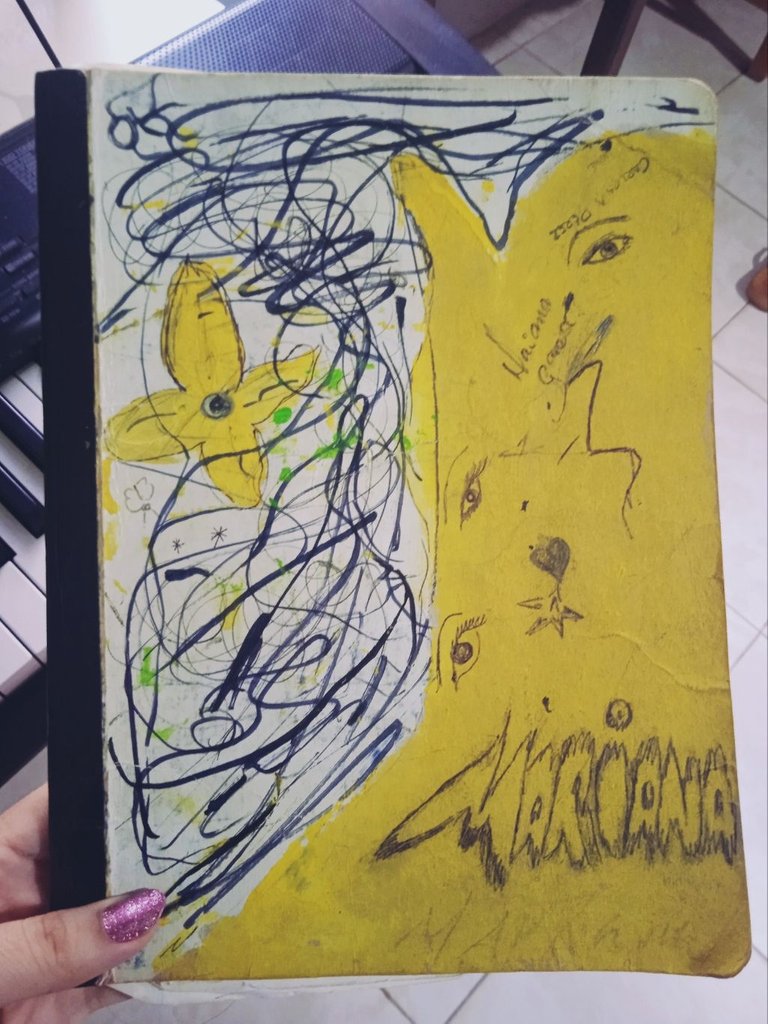 Eyes, messy faces, figures here and there that represent what I think, the feeling of being watched, the fragile flower that I cut short to take, fragments of childhood forced into adulthood so the past isn't lost, among many more elements that I drew with dedication and that it would be very imprudent to describe from my point of view since I want you to give it your own meaning.
Without further ado, here is the small drawing:
Duration of the drawing:51:54s.
App:Painter.
Translation: thanks to Google translate.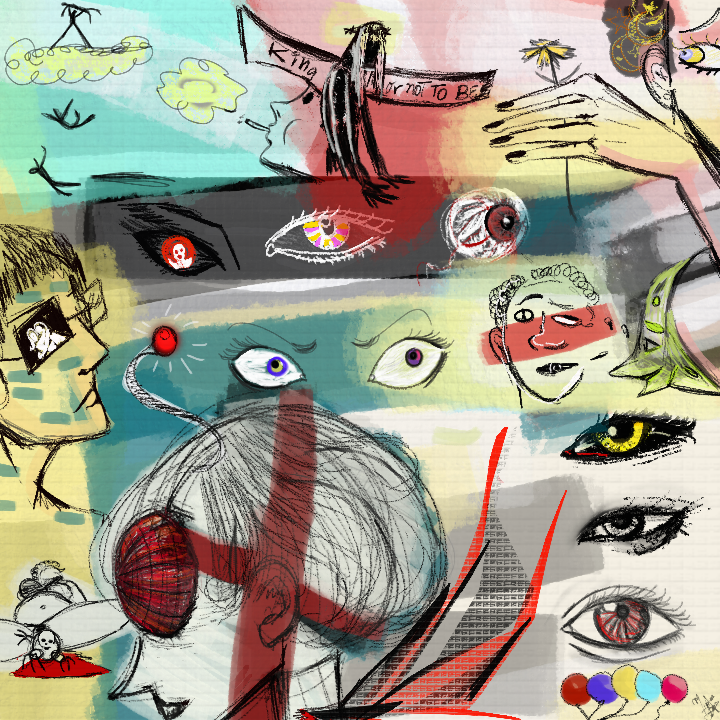 Espero que les guste ❤️ me encantaría saber que opinas de el✨
I hope you like it ❤️ I would love to know what you think of it ✨
---
---
---