[ESP | ENG] 😱💉Y después de tantos días, fue fractura en el pie |😱💉And after so many days, it was fracture in the foot.
Saludos a todos, esperando la estén pasando muy bien, son mis mejores deseos. Yo en lo que cabe bien, a Dios dándole las gracias que no paso a mayores lo de mi pie, realmente fue fractura después de aguantar tantos días de dolor y colocarme calmantes.😱💉
Greetings to all, I hope you are having a great time, these are my best wishes. I'm doing well, I thank God that my foot didn't get worse, it really was a fracture after enduring so many days of pain and taking painkillers.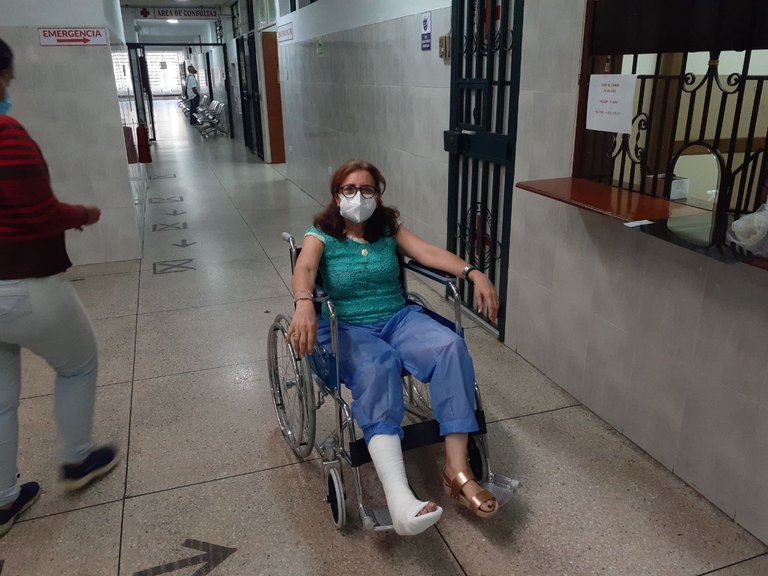 A qui les echo el cuento de como fue lo que me paso ese día y el día de ayer que por fin decidi ir medico para ver que tenia en el pie.
Here is the story of what happened to me that day and yesterday when they finally took me to the doctor to see what was wrong with my foot.
¡Comencemos con el cuento de lo que me paso con mi pie💉 sin mas preámbulo!:
Let's start with the story of what happened to my foot💉 without further ado!
Aquí va el cuento de lo que me paso el Miércoles 15 de Septiembre y los días posteriores.
Como todos los días lo hago, es mi rutina de hacer ejercicios y salir a caminar al final de la tarde acompañada de mi hija @keritroberts, cuando llevo mas o menos un par de metros me comienza a doler el pie derecho y le digo a mi hija que paremos porque tengo un dolor en el pie y en ese momento hice un ejercicio para el mismo, pensé que era porque no había calentado el cuerpo primero para comenzar a caminar. Bueno entonces seguí caminando y me seguía doliendo, pero no le preste atención, pensé que cuando calentara mi cuerpo todo iba a estar muy bien. Pero no fue así, me seguía doliendo cada vez mas y no logre caminar hasta donde yo generalmente lo hago y a mitad de camino me tuve que regresar, porque ya el dolor era mas intenso y se me hacia un poco complicado asentar ya el pie.
Here is the story of what happened to me on Wednesday September 15 and the following days.
As I do every day, it is my routine to exercise and go for a walk in the late afternoon accompanied by my daughter @keritroberts, when I have been walking for a couple of meters or so my right foot starts to hurt and I tell my daughter to stop because I have a pain in my foot and at that moment I did an exercise for it, I thought it was because I had not warmed up my body first to start walking. Well then I kept walking and it was still hurting, but I didn't pay attention to it, I thought that when I warmed up my body everything would be fine. But it was not like that, it kept hurting me more and more and I could not walk to where I usually do and halfway I had to go back, because the pain was more intense and it was a little complicated to settle my foot.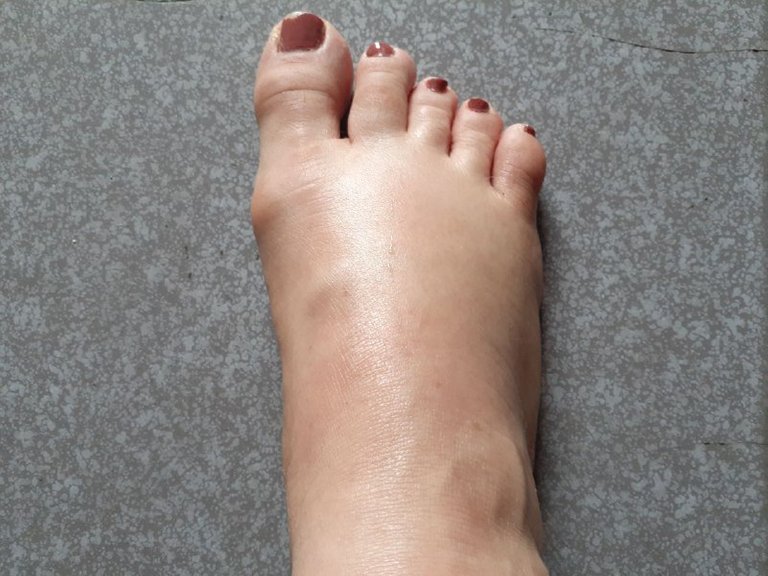 Cuando faltaban unos cuantos metros para llegar a mi casa, no se que me paso y me he caído, que por cierto casi estuve a punto de caer en una alcantarilla que no tiene tapa. Me pegue en el hombro y se me doble el pie derecho, el mismo que me estaba doliendo durante la caminata. Se me hizo luego muy difícil llegar a casa porque el pie comenzó a inflamarse, caminaba media cuadra y tenia que parar porque el dolor era muy fuerte y así poco a poco llegue a la casa. Me hice una terapia yo misma colocándome el pie en agua caliente y luego en agua fría, por varios minutos y luego de esto me eche una crema desinflamatoria y me tome tambien un analgésico - des inflamatorio y así pase la noche con mucha molestia.
When I was a few meters away from my house, I don't know what happened to me and I fell, and by the way I almost fell into a manhole that has no cover. I hit my shoulder and bent my right foot, the same one that was hurting me during the walk. Then it became very difficult for me to get home because the foot started to swell, I walked half a block and had to stop because the pain was very strong and so little by little I got home. I did a therapy myself by putting my foot in hot water and then in cold water for several minutes and after that I applied a disinflammatory cream and I also took an analgesic - anti-inflammatory and so I spent the night with a lot of discomfort.
Amaneció el día jueves y el pie me amaneció desinflamado pero con un poco de dolor y así todos los días posteriores la pase, colocándome la misma terapia, pero el día martes 22 de septiembre como ya no veía ninguna mejora, llame a el novio de una prima que sabe sobar y efectivamente vino a casa y el si me advirtió y me aconsejo que me mandara hacer una radiografía para estar seguros y el poderme sobarme. A todas estas yo un poco terca no me hice la placa y le pedí que me sobara de todos modos, que tenia fe que no era nada de fractura sino era el pie abierto, un esguince o tal vez era solo el golpe. Y si efectivamente me lo soba y me coloca un vendaje. Esto me lo hizo en la noche pero les cuento que no pude dormir con la vendaje porque el pie se me inflamo mucho y me empezó a dolor mas, que lo que me había dolido antes.
Thursday morning dawned and my foot woke up feeling less swollen but with a little pain and I spent all the following days like that, undergoing the same therapy, but on Tuesday September 22nd as I did not see any improvement, I called the boyfriend of a cousin who knows how to rub and he came home and he warned me and advised me to have an x-ray done to be sure and to be able to rub my foot. I was a little stubborn and didn't get the x-ray done and asked him to rub me anyway, I had faith that it wasn't a fracture but an open foot, a sprain or maybe it was just the blow. And he did indeed rub it and put a bandage on it. He did this at night but I tell you that I could not sleep with the bandage because my foot became very swollen and it started to hurt more than it had before.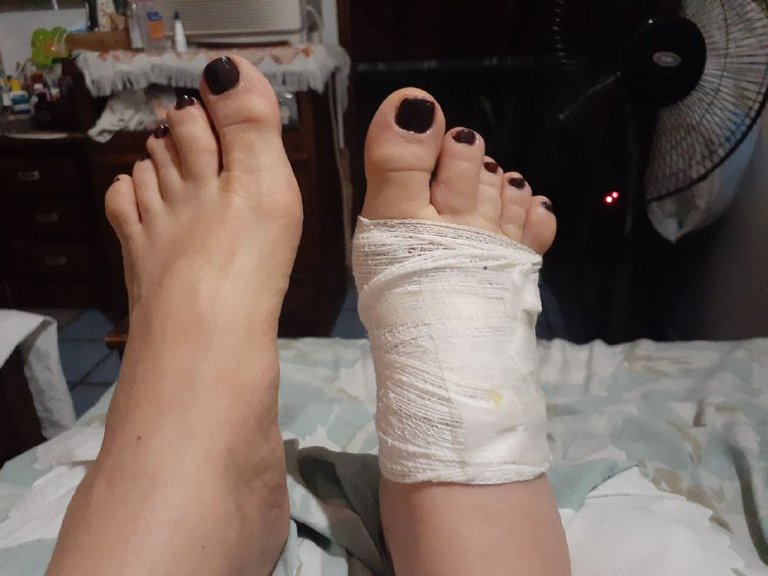 Al día siguiente ósea ayer 23 de Septiembre me levante bien temprano hacer todos los quehaceres del ahogar a pesar de que todavía presentaba la molestia en el pie. A media mañana salí a que me colocaran la 2da. dosis de la Vacuna. Me llevo mi hermana y mi hija. Al llegar al sitio donde me tocaba colocármela fue toda una odisea y una falta de humanidad de parte de las autoridades a cargo de esta jornada..
The next day, yesterday, September 23rd, I got up very early to do all the chores of choking even though I still had the discomfort in my foot. In the middle of the morning I went out to get the 2nd dose of the vaccine. My sister and my daughter took me. When I arrived at the place where I was to receive the vaccine, it was an odyssey and a lack of humanity on the part of the authorities in charge of this day.
Aquí les cuento porque / Here I tell you why
Le pedía a las autoridades que por favor me dejaran pasar porque estaba con una lesión en el pie y no podía estar mucho tiempo allí parada sin hacer la respectiva cola, que por cierto estaba bien larga para acceder a vacunarse. Y ¿adivinen cual fue la respuesta del guardia?: que tenia que hacer la cola como todos. Para mi fue muy indignante esa respuesta. Y ¿adivinen que hice? En un descuido del guardia pase al centro de vacunación y fue como pude acceder a que me vacunaran sin necesidad de hacer la cola y de soportar el dolor en el pie.
I was asking the authorities to please let me pass because I had a foot injury and I could not stand there for long without waiting in line, which by the way was very long to get vaccinated. And guess what the guard's answer was: that I had to wait in line like everyone else. For me that was a very outrageous answer. And guess what I did? In an oversight of the guard I went to the vaccination center and that was how I was able to get vaccinated without having to wait in line and endure the pain in my foot.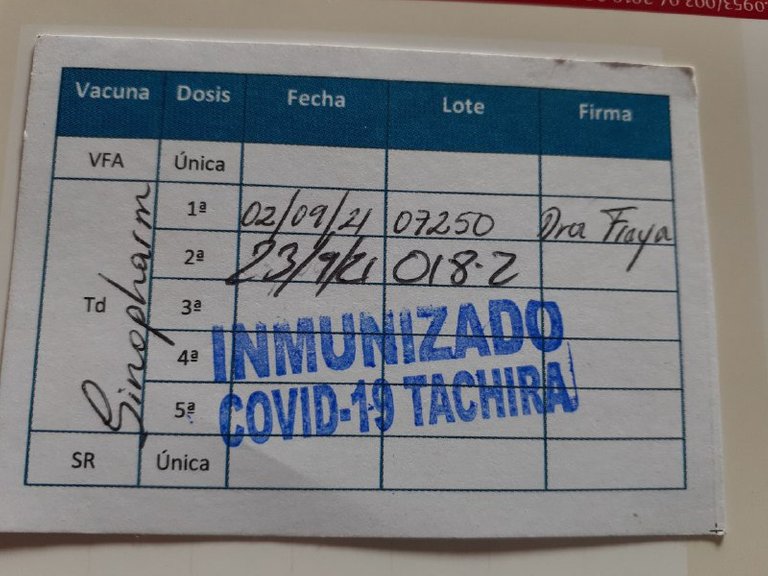 Saliendo de allí, mi hermana me busco en su camioneta con mi hija. Cuando me monte me dijeron que no íbamos a la casa sino que íbamos directo a la Cruz Roja para que me viera un medico al cual ellas mientras yo estaba en el proceso de la vacunación ya habían coordinado todo. Llagamos al centro medico y me vio el traumatólogo y me mando que me realizara una radiografía y luego se la llevo a el y efectivamente era una fractura.
Leaving there, my sister picked me up in her truck with my daughter. When I got in, they told me that we were not going to the house but that we were going straight to the Red Cross to be seen by a doctor that they had already coordinated everything while I was in the vaccination process. We arrived at the medical center and the traumatologist saw me and sent me for an x-ray and then I took it to him and it was indeed a fracture.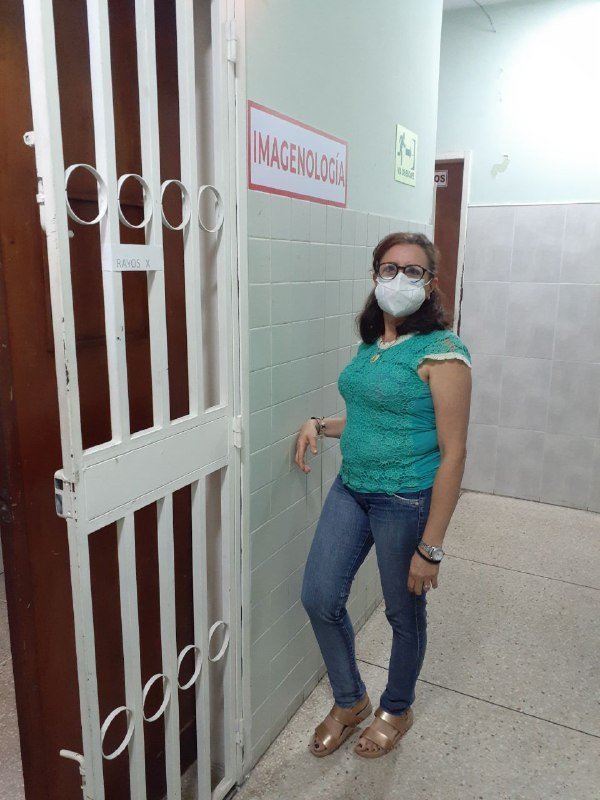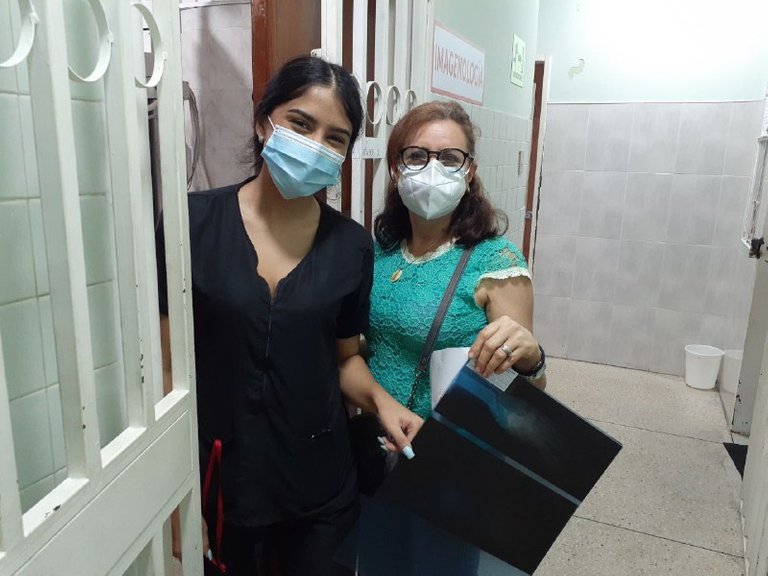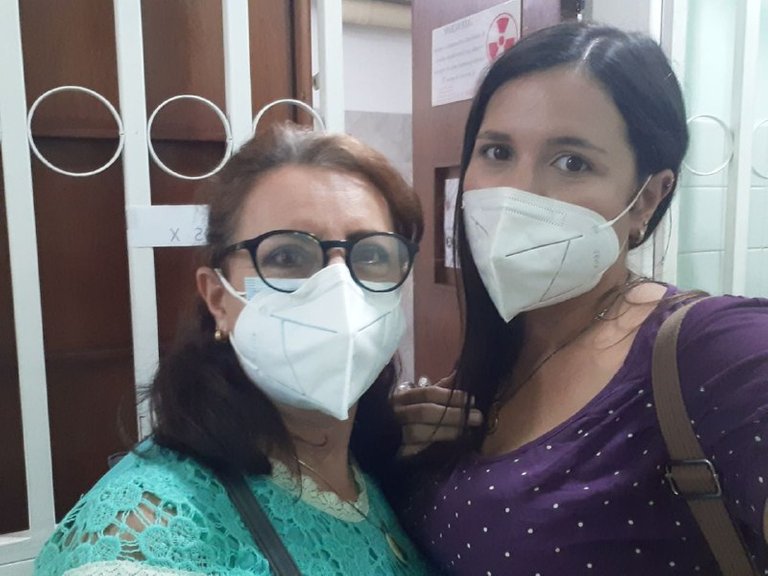 El me dijo que ¿por qué? había esperado tanto tiempo, pero que me quedara tranquila que no era necesario operarme, porque los huesos estaba alineados, pero si que tenia que pasar a Emergencia para colocarme una férula de yeso. Ya listo todo el procedimiento me indico el medicamento y el reposo por 21 días. Que me cuidara mucho que por ningún motivo podía asentar el pie en el piso. Y que regresar luego de ese tiempo para retirarme la férula.
He told me why I had waited so long, but he told me that it was not necessary to operate, because the bones were aligned, but that I had to go to the emergency room to put on a plaster splint. Once the whole procedure was done, he told me to take the medication and rest for 21 days. He told me to be very careful that I could not put my foot on the floor for any reason. And to return after that time to remove the splint.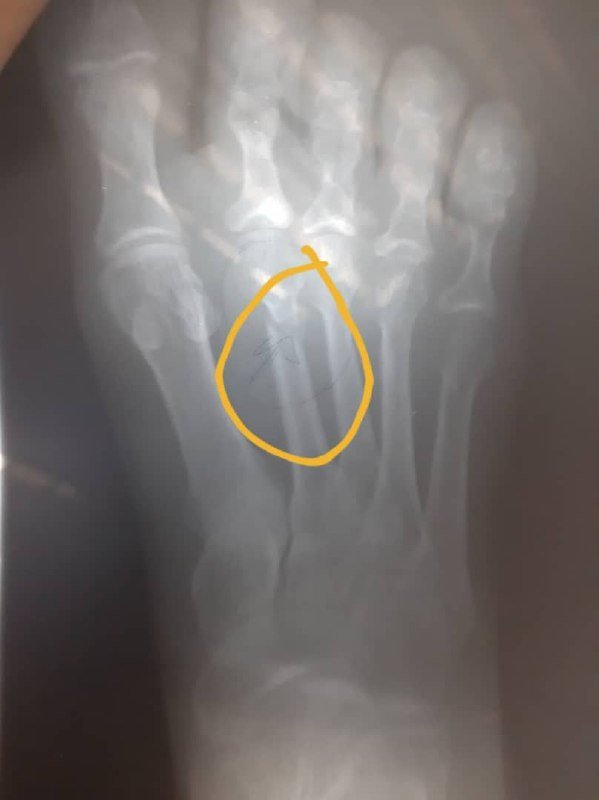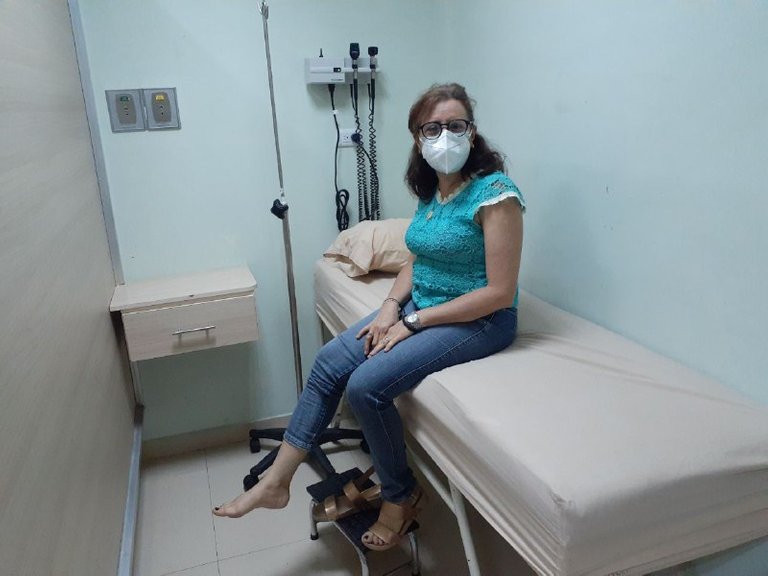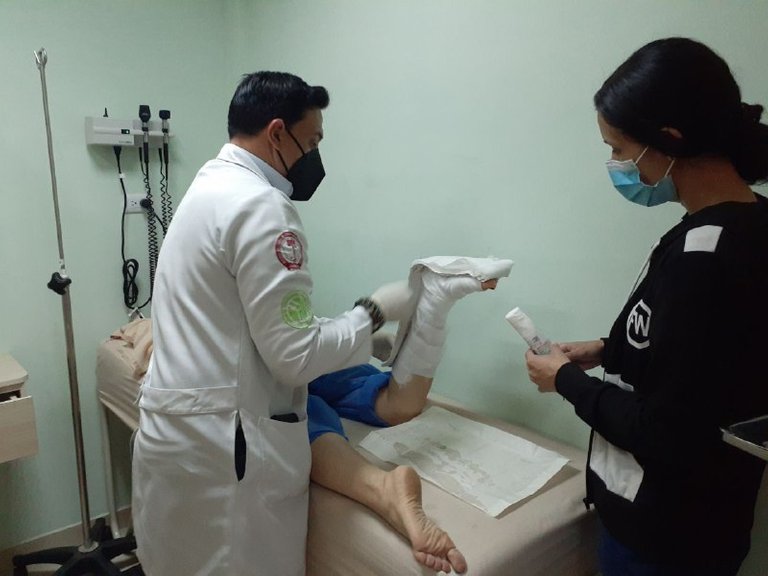 Bueno esto es todo lo que me ocurrió con el pie y la odisea de el día de ayer. Ah y se me olvidaba contarles que todo los gastos corrieron por mi propia cuenta ya que a pesar de que trabajo para el gobierno no gozamos de ningún tipo servicio medico o seguro de vida y en total la cuenta de la clínica salió en 100$.
Well that's all that happened to me with my foot and yesterday's odyssey. Oh and I forgot to tell you that all the expenses were on my own because even though I work for the government we do not have any kind of medical service or life insurance and in total the clinic bill came out to $100.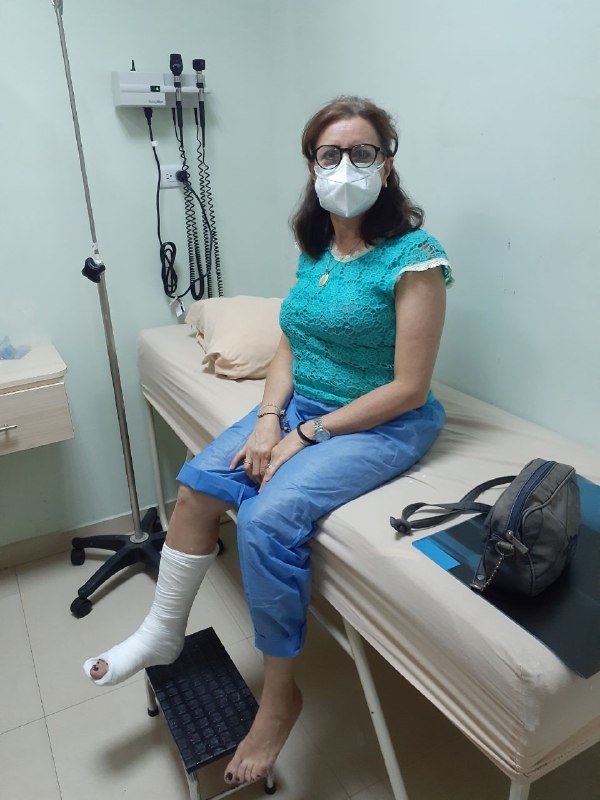 Palabras finales | Final words
Para concluir debe decirles que cuando tengan alguna lesión en sus cuerpo hay que ir al medico lo antes posible, no esperar como hice yo para ver si hay alguna mejoría porque puede traer consecuencias peores.
To conclude, I must tell you that when you have any injury in your body you should go to the doctor as soon as possible, do not wait as I did to see if there is any improvement because it can bring worse consequences.


Muchas gracias por visitar y leer mi blog. Actitud positiva ante todo, hasta la próxima entrega.
Thank you very much for visiting and reading my blog, positive attitude above all, until the next installment.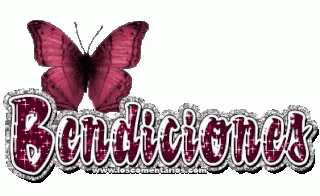 Separador de Texto | Text Separator
Las fotos fueron tomadas con mi teléfono Samsung A20 | The photos were taken by me with my Samsung A20 phone.
Texto traducido con | Text translated with:
DeepL

---
---