Nueva temporada de Fórmula 1 Mobile Racing | Gameplay
---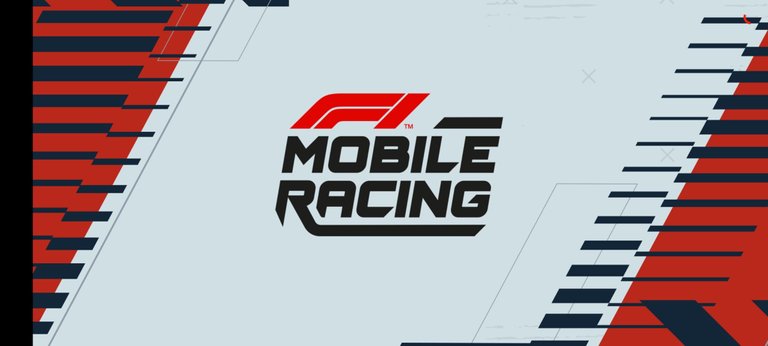 Luego de varios meses de espera, finalmente ha llegado Fórmula 1 Mobile Racing en su versión 2022, con apenas un día de haber sido lanzada, traemos las primeras impresiones, mostrando un poco del gameplay en el modo carrera y en el modo online, notándose un poco de lag en ciertos momentos, pero que termina siendo lo bastante normal para un juego que apenas se estrena, mejorando levemente el apartado gráfico y más en profundidad la textura de los Fórmula 1, en donde el mayor cambio lo podemos encontrar en su jugabilidad, mucho más real, con efectos de sonidos mejorados, así como la actualización de escuderías y rendimientos similares a los de la vida real.
After several months of waiting, finally Formula 1 Mobile Racing has arrived in its 2022 version, with just one day of being released, we bring the first impressions, showing a little gameplay in career mode and online mode, noting a little lag at certain times, but that ends up being quite normal for a game that is just released, slightly improving the graphics and more in depth texture of Formula 1, where the biggest change can be found in its gameplay, much more real, with improved sound effects and updated teams and performances similar to those of real life.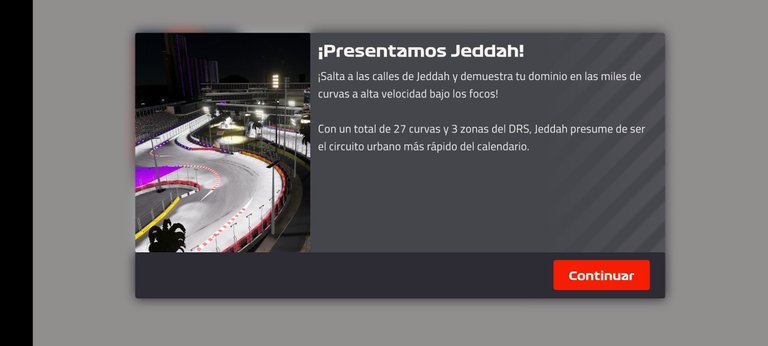 🎮 Nuevo Circuito | New Circuit 🎮
---
Entre las diferentes mejoras que incluyen esta versión 2022, también se encuentra el nuevo circuito de Jaddah, aún no he podido jugar allí, pero supongo que en el modo carrera o en el modo online, lo estaré disfrutando en cualquier momento, en lo que se muestra en la imagen, parece que el circuito ha sido adaptado para horario nocturno y con bastante iluminación, ahora en el modo carrera se correrán 21 circuitos, uno más que la temporada 2021.
Among the various improvements that include this 2022 version, there is also the new Jaddah circuit, I have not yet been able to play there, but I guess in career mode or online mode, I'll be enjoying it at any time, in what is shown in the image, it seems that the circuit has been adapted for night time and with enough lighting, now in career mode will run 21 circuits, one more than the 2021 season.

 



🎮 Desliza hacia la derecha | Slide to the right 🎮
---
En el cambio de temporada, se siguen conservando las monedas, tokens y vehículos conseguidos en la temporada pasada, esto es bastante bueno, pues muchos quedamos al margen de seguir reuniendo monedas para poder pronto canjearlas para poder sacar alguno de los mejores autos del juego, bien sea un Ferrari, un Red Bull o un Mercedes, personalmente me gusta mucho la escudería Red Bull, pero al parecer, el mejor juega para esta temporada será Ferrari, así que probablemente sea el que termine sacando. Estos vehículos de las escuderías oficiales son bastante útiles para el modo competitivo, pues allí se parte con cierta ventaja o se mantiene al margen a los "Pay to Win" o en español "pagar para ganar".
In the change of season, the coins, tokens and vehicles obtained in the last season are still kept, this is quite good, because many of us are still collecting coins to be able to exchange them soon to get some of the best cars in the game, either a Ferrari, a Red Bull or a Mercedes, personally I really like the Red Bull team, but apparently, the best one to play for this season will be Ferrari, so it will probably be the one that I will end up taking out. These vehicles of the official teams are quite useful for the competitive mode, because there you start with a certain advantage or keep out the "Pay to Win" or in Spanish "pagar para ganar" (pay to win).
Mi vehículo sigue siendo el TRC, con algunos ajustes y subiendo de división hasta la liga "Pro", puedo hacerle competencia a los mejores jugadores, sin embargo siempre estaré un poco por debajo porque los vehículos oficiales tienen mucho mejor rendimiento, tengo desbloqueadas algunas piezas, así que tendré que seguir jugando para poder desbloquearlas y utilizarlas.
My vehicle is still the TRC, with some adjustments and moving up a division to the "Pro" league, I can compete with the best players, however I will always be a little below because the official vehicles have much better performance, I have unlocked some parts, so I will have to keep playing to unlock them and use them.

  



🎮 Desliza hacia la derecha | Slide to the right 🎮
---
Aston Martin es una de las escuderías a parte de Red Bull con las que más empatizo, me gusta mucho el diseño del auto y su rendimiento en competencia es bastante bueno. Justo ahora estoy con esa escudería en el "modo Carrera".
Aston Martin is one of the teams apart from Red Bull with which I empathize the most, I really like the design of the car and its performance in competition is quite good. Right now I'm with that team in the "Carrera mode".
Algo que me pareció inesperado, fue el hecho de que no hayan mejorado la experiencia en este modo, esperaba al menos que las carreras fuesen de 10 vueltas y que se pudieran usar los pits, pero no ha sido así y siguen dejando las típicas carreras de apenas 3 vueltas en las que si bien se disfruta bastante, no se sienten lo suficientemente adaptadas a la realidad, esto en busca de generar estrategias de carrera y algunas otras cosas más, aún así no deja de ser un muy buen modo de juego.
Something that I found unexpected was the fact that they have not improved the experience in this mode, I expected at least that the races would be 10 laps long and that the pits could be used, but it has not been like that and they still leave the typical races of only 3 laps in which although it is quite enjoyable, they do not feel sufficiently adapted to reality, this in order to generate race strategies and some other things, even so it is still a very good game mode.
En líneas generales, las mejoras son notables, la experiencia es mejor, las curvas tienen mucho más realismo al momento de pasarlas y la competitividad tanto contra la IA como con los demás jugadores tiene una curva dificultad mucho más elevada, esperando que en el transcurso de la temporada sigan ajustando algunos pequeños detalles que sigan generando gusto para quienes hacemos vida en Fórmula 1 Mobile Racing, en el Gameplay detallarán mejor mucho de todos los aspectos que les he comentado aquí.
Overall, the improvements are remarkable, the experience is better, the curves have much more realism when passing them and the competitiveness both against the AI and with other players has a much higher difficulty curve, hoping that over the course of the season continue to adjust some small details that continue to generate pleasure for those who make life in Formula 1 Mobile Racing, in the Gameplay will detail better much of all the aspects that I have told you here.
Aquí les dejo el post que hice hace un tiempo de Fórmula 1 Mobile Racing 2022 para que puedan tener referencia de los cambios.
Here is the post I made a while ago of Formula 1 Mobile Racing 2022 so you can have reference of the changes.
---

Fuente de imágenes || Source of images
---
1 - 2
Captures extraídos directamente desde mi juego 🎮 Captures extracted directly from my game

Traducciones de Texto || Text Translations:
Traductor DeepL
---

---
▶️ 3Speak
---
---