Wild Guns: action at its finest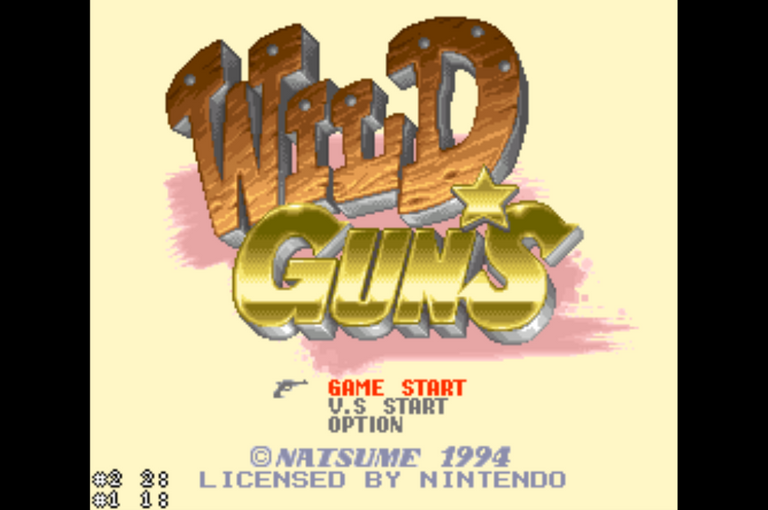 English
A synonym of action could be "Wild Guns", a title that shocked the world of video games for its excellent way of transmitting adrenaline in excessive amounts, its game mechanics allowed us from the first moment to be immersed in the action, you simply could not let go of the control of your super nintendo because you died, the aim and evasion capacity were one of the main elements contained in the game, the difficulty was high and the amount of enemies was like a nest of ants attacking an invader, you did not know whether to shoot or dodge the shots, with a little practice we learned to control our anxiety and take the sequence of the game in a more strategic way, becoming a kind of mercenaries of the old west where there were also robotic machines with a high level of destruction as final bosses.
Español
Un sinónimo de acción podía ser "Wild Guns", un título que conmocionó al mundo de los videojuegos por su excelente forma de transmitir adrenalina en cantidad excesivas, su mecánica de juego nos permitía desde un primer instante vernos inmersos en la acción, simplemente no podías soltar el control de tu super nintendo porque morías, la puntería y capacidad de evasión eran uno de los principales elementos que contenía el juego, la dificultad era elevada y la cantidad de enemigos era como un nido de hormigas atacando un invasor, no sabías si disparar o esquivar los disparos, con un poco de práctica aprendíamos a controlar nuestra ansiedad y llevar la secuencia del juego de una forma más estratégica, convirtiéndonos en una especie de mercenarios del viejo oeste en donde también existían máquinas robóticas con un gran nivel de destrucción como jefes finales.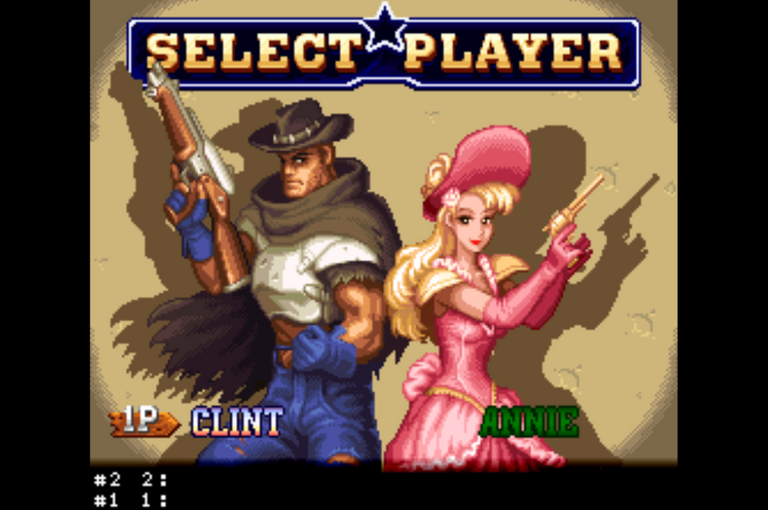 Characters || Personajes

---
The game could be played with 2 characters "Clint and Annie", both had 4 different colors of clothing that could be changed with the buttons "X, Y, B, A", it could be played in single or cooperative mode, the latter was the best to cope with the high difficulty of the game.
El juego se podía llevar a cabo con 2 personajes "Clint y Annie", ambos tenían 4 diferentes colores de vestimentas que podían ser cambiados con los botones "X, Y, B, A", se podía jugar en modo individual o en modo cooperativo, este último era el mejor para hacer frente a la alta dificultad del videojuego.
---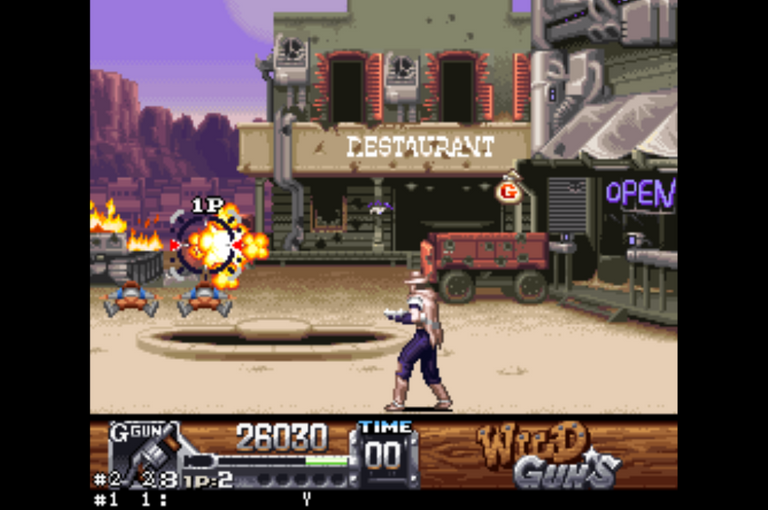 Game Mechanics || Mecánica de Juego

---
The gameplay was quite simple, we had to move only horizontally on the stage, we aimed and shot at our enemies and we also had a button to activate a dynamite with Clint or deploy a massive weapon with Annie, this was mainly used when there were many enemies to be able to liquidate them.
La mecánica de juego era bastante sencilla, debíamos desplazarnos únicamente de forma horizontal en el escenario, apuntábamos y disparábamos a nuestros enemigos y teníamos adicionalmente un botón para activar una dinamita con Clint o desplegar un arma masiva con Annie, esto se usaba principalmente cuando habían muchos enemigos para de esa forma poder liquidarlos.
---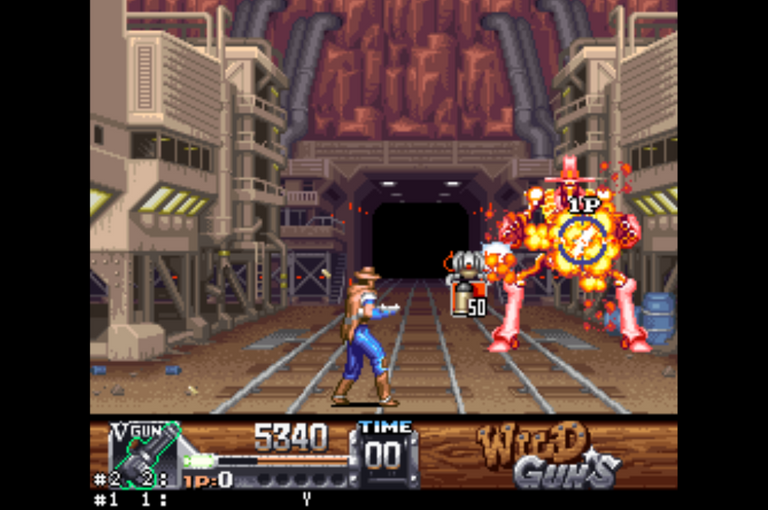 While we were shooting at our enemies, a bar at the bottom of the screen was filling up, when the bar was completed the "V Gun" was activated, which was the most powerful weapon in the game and we could use it for a few seconds, if we were clever enough we could activate it several times throughout the game, Apart from this weapon we also had shotguns, machine guns, grenade launchers, among others, all of them had a limited amount of ammunition, but the good thing is that we could make use of them on many occasions in each game, as well as the huge amount of enemies, also appeared a huge amount of items to equip our character. To know what weapon we had equipped, we just had to look at the bottom left of our screens.
Mientras disparábamos a nuestros enemigos, una barra en la parte inferior de la pantalla se iba llenando, cuando terminaba de completarse la barra se activaba la "V Gun" que era el arma más poderosa del juego y que podíamos utilizar por unos segundos, si eramos lo bastante astutos podíamos hacer que se activara en varias ocasiones en todo el juego, a parte de esta arma también contábamos con escopetas, ametralladoras, lanzagranadas, entre otras, todas ellas tenían una cantidad de municiones limitadas, pero lo bueno es que podíamos hacer uso de ellas en muchas ocasiones en cada partida, ya que al igual que la cantidad enorme de enemigos, también aparecía una cantidad enorme de items para equipar a nuestro personaje. Para saber que arma teníamos equipada, bastaba con mirar la parte inferior izquierda de nuestras pantallas.
---
In each game we had the limited amount of 2 lives, so we had to learn to play very quickly to be able to finish each scenario. In each of these games there was a countdown timer, while that time reached zero, we had to kill as many enemies as we could, but the most important thing is that we had to survive, because once that time was over, we fought against the mini bosses and then against the final boss of the level, each stage was divided into two different scenarios.
En cada partida contábamos con la limitada cantidad de 2 vidas, por lo que debíamos aprender a jugar muy bien rápidamente para poder culminar cada escenario. En cada una de estas partidas existía un contador de tiempo en cuenta regresiva, mientras ese tiempo llegaba a cero, debíamos acabar con todos los enemigos que pudiéramos, pero lo más importante es que debíamos sobrevivir, pues una vez concluido ese tiempo, peleábamos contra los mini jefes y posteriormente contra el jefe final del nivel, cada etapa se dividía en dos escenarios diferentes.
---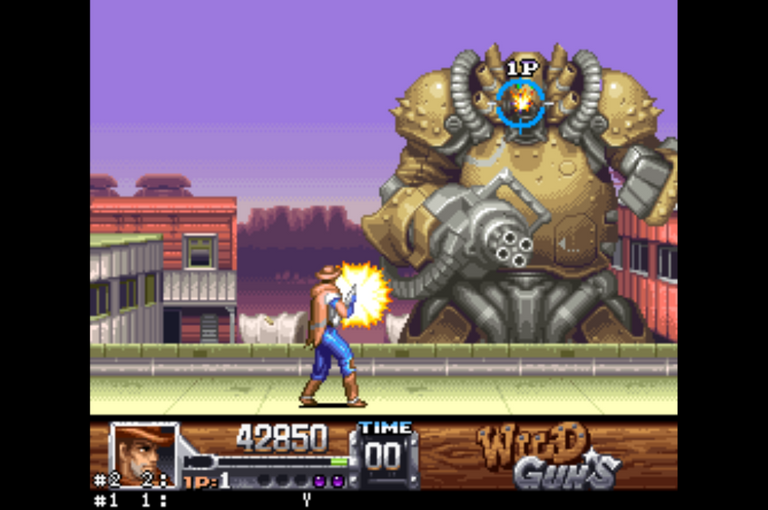 Scenario design || Diseño de escenarios

---
One aspect of the game that deserved praise was its design and musical ambience, when we faced the enemies, in the background we perceived an audio track quite consistent with a scenario of great action, the sound effects were practically perfect, and everything improved even more when we faced the final bosses, as the background music changed for a much more intense by virtue of how little was left to overcome the game level.
Un aspecto del juego que merecía elogios era su diseño y ambientación musical, cuando enfrentábamos a los enemigos, de fondo percibíamos una pista de audio bastante acorde a un escenario de mucha acción, los efectos de sonido eran prácticamente perfectos, y todo mejoraba aún más cuando enfrentábamos a los jefes finales, pues la música de fondo cambiaba por una mucho más intensa en virtud de lo poco que faltaba para superar el nivel de juego.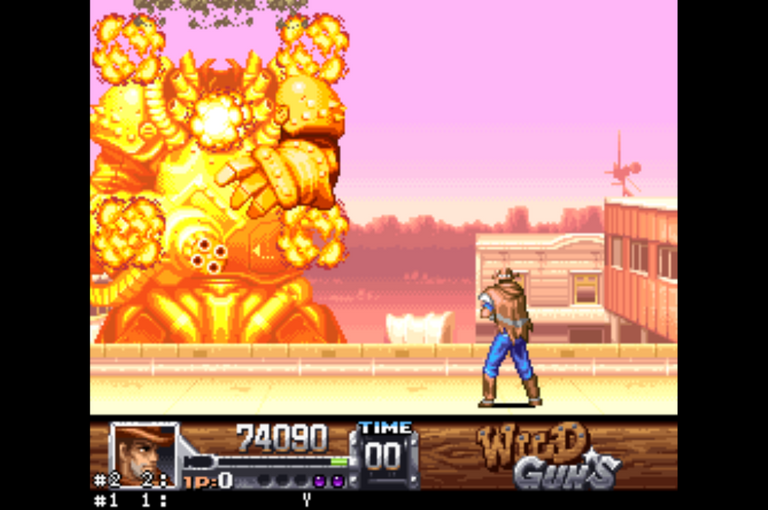 Special Effects || Efectos Especiales

---
The visual effects when we destroyed a mini boss or a final boss, were epic enough to keep us completely hooked to the game, we were simply in the presence of a work of art of 16-bit video games, Wild Guns had no comparisons, it was elegance and quality in its purest state.
Los efectos visuales cuando destruíamos a un mini jefe o a un jefe final, eran lo bastante épicos como para mantenernos completamente enganchados al juego, simplemente estábamos en presencia de una obra de arte de los videojuegos de los 16 bits, Wild Guns no tenía comparaciones, era la elegancia y calidad en su estado más puro.
---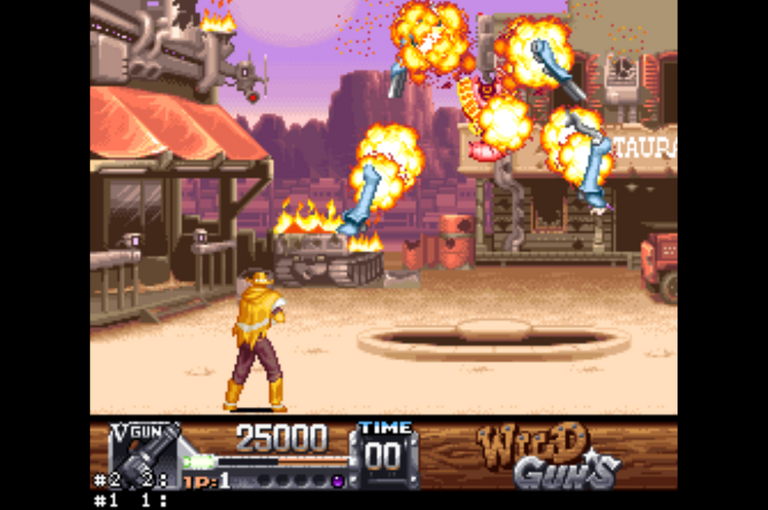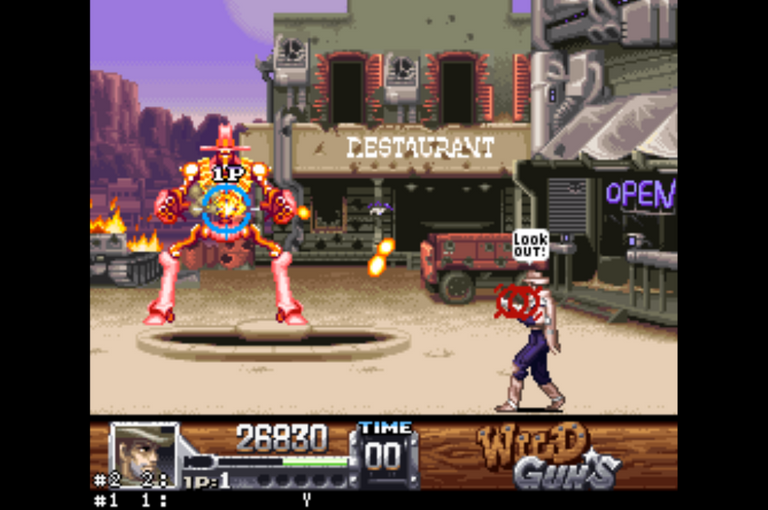 Danger indicator || Indicador de peligro

---
An important aspect that the game contained was a danger indicator, this could be seen when a shot was coming towards us, at that moment a message appeared saying "be careful", it gave us a few moments to avoid the danger, although after a while playing, we avoided almost by instinct, standing still in one place and shooting was not a good option, so we would constantly be shooting and changing position to avoid being hit by enemy weapons.
Un aspecto importante que contenía el juego era un indicador de peligro, este se podía observar cuando un disparo iba en dirección a nosotros, en ese momento aparecía un mensaje que decía "cuidado", el nos daba unos instantes para poder evadir el peligro, aunque al cabo de un tiempo jugando, ya evadíamos casi por instinto, quedarse quieto en un solo lugar y disparar no era una buena opción, por lo que constantemente estaríamos disparando y cambiando de posición para evitar ser alcanzados por las armas enemigas.
---
Game levels || Niveles de juego

---
At the beginning there was a mandatory level that we had to overcome, once passed, a screen appeared that allowed us to venture into the other levels in the order we wanted, each one had a unique and very elegant design, with some repeated enemies but full of plenty of action. The game seemed quite short, but when you played you realized that it was quite difficult to complete each of the levels and it could take you a couple of hours to complete the entire game.
Al inicio existía un nivel obligatorio que debíamos superar, una vez superado, aparecía una pantalla que nos permitía aventurarnos en los demás niveles en el orden que deseáramos, cada uno tenía un diseño único y muy elegante, con algunos enemigos repetidos pero repletos de bastante acción. El juego parecía bastante corto, pero cuando jugabas te dabas cuenta que era bastante difícil completar cada uno de los niveles y te podía tomar un par de horas poder culminar todo el videojuego.
---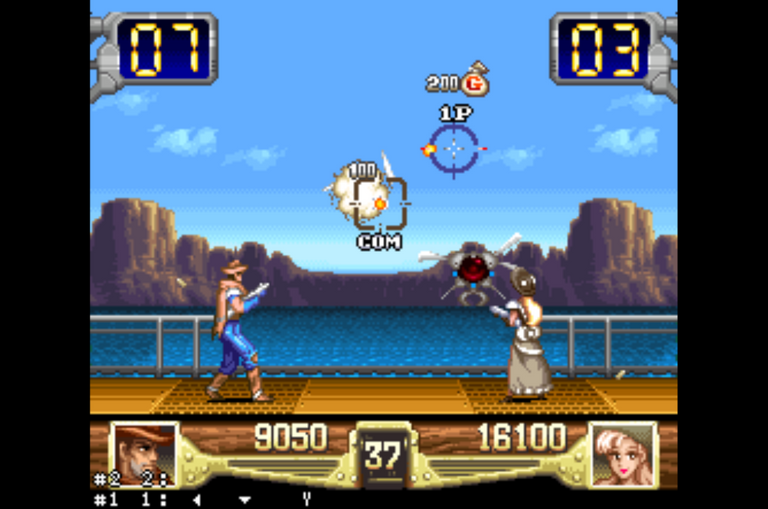 Versus mode || Modo versus

---
The game also had a "versus" game mode, in which we could play against a friend or against the computer, in this mode we would go through different scenarios and our goal would be to destroy more elements than our rival to reach the highest score at the end of the game. This mode in particular allowed us to improve our game skill or also to demonstrate with our friends who was the best.
El juego también disponía del modo de juego "versus", en el que podíamos enfrentarnos a un amigo o contra la cpu, en este modo iríamos a través de distintos escenarios y nuestro objetivo sería destruir más elementos que nuestro rival para alcanzar el mayor score al final del juego. Este modo en particular nos permitía mejorar nuestra habilidad de juego o también demostrar con nuestros amigos quien era el mejor.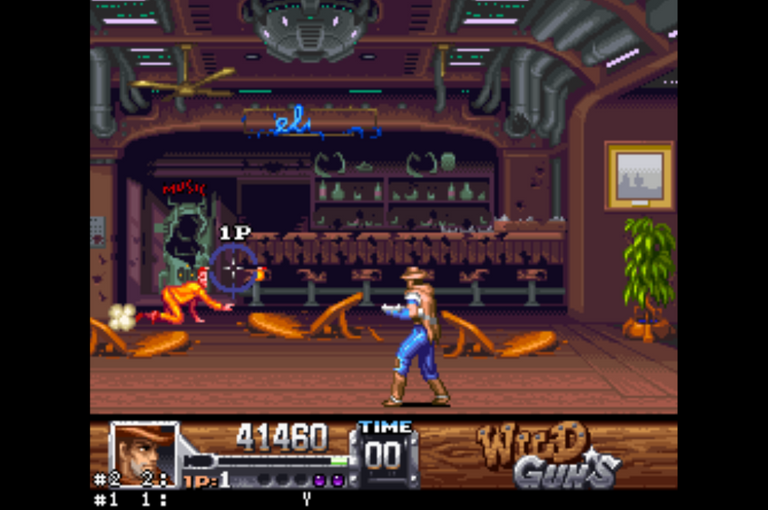 Concluding remarks || Comentarios finales

---
The game was worth so much praise that it could simply have been classified as the best video game of the Super Nintendo, the huge amount of variables of weapons, the high level of action, the high level of difficulty, the exceptional graphic quality and the musical setting that made us overflow with emotion, were part of the arguments that made this title one of the best of its genre and in my personal opinion the best. In 2016 this video game was released in a remastered version available for Nintendo Switch, PS4, Wii U and Microsoft Windows, which allowed all fans of the title to relive all those great memories and emotional experiences in a version that retained the classic style but as many said: it was a 16bit game in HD, the title can be found under the name "Wild Gund Reloaded".
El juego valió de tantos elogios que sencillamente pudo haber sido catalogado como el mejor videojuego de la Super Nintendo, la enorme cantidad de variables de armas, el elevado nivel de acción, el gran nivel de dificultad, la calidad gráfica excepcional y la ambientación musical que nos hacía desbordar de emoción, fueron parte de los argumentos que hicieron de este título uno de los mejores de su género y en mi opinión personal el mejor. En el año 2016 se estrenó este videojuego en una versión remasterizada disponible para Nintendo Switch, PS4, Wii U y Microsoft Windows, que permitió a todos los fanáticos del título revivir todas esos grandes recuerdos y emotivas experiencias en una versión que conservaba el estilo clásico pero como muchos decían: era un juego de 16bits en HD, el título se puede encontrar bajo el nombre de "Wild Gund Reloaded".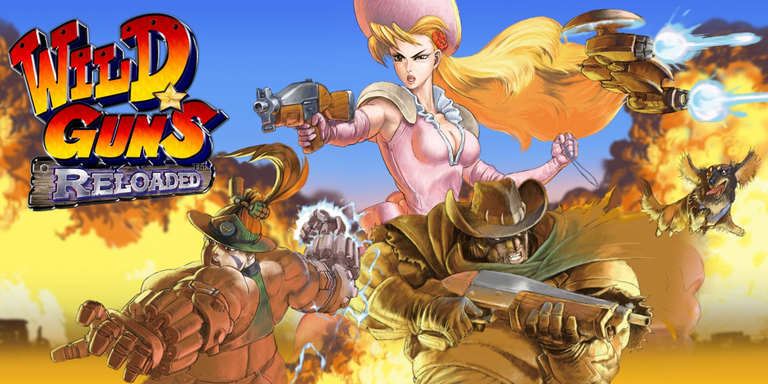 Wild Gun Reloaded Remastered || Wild Gun Reloaded Remasterizado
---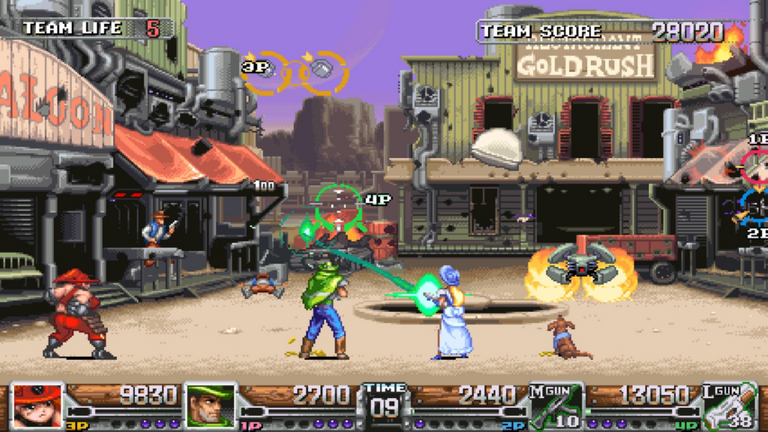 Gameplay: Wild Gun Reloaded Remastered || Gameplay: Wild Gun Reloaded Remasterizado
---

All captures were made by me || Todos los captures fueron hechos por mi
---
Source of images || Fuente de imágenes
---
1 - 2 - 3 - 4


---
---
---