Estas son Batallas Frenéticas | Gameplay
🎮Gameplay🎮
---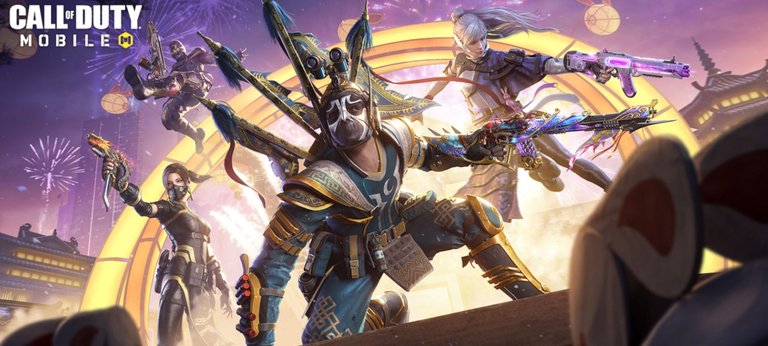 Luego de una semana enfocados en la Guerra de Clanes, llegaría el momento de hacer una pequeña pausa y jugar algún modo interesante, de los aún disponibles, ese era el caso de "Shipment 1944: Recargado", así como su nombre lo indica, un modo bastante frenético, en el que el más mínimo pestañeo cuenta y en donde apenas alcanza el tiempo para recargar nuestra arma o poner en pie una torreta para hacer frente a la oleada de enemigos, batallas 10vs10 en un mapa muy pequeño y con pocos lugares para esconderse y atacar por sorpresa, un modo que como todas las cosas buenas del juego, se terminan yendo, llegan de forma temporal y dejan una huella que quizás los desarrolladores tomen en cuenta, para incluirlo como una especie de "modos pedidos por la comunidad", por el momento queda más que disfrutar su pocas horas que seguirá disponible antes de la actualización respectiva.
After a week focused on the Clan War, it would be time to take a short break and play some interesting mode, of those still available, that was the case of "Shipment 1944: Reloaded", just as its name suggests, a rather frantic mode, where the slightest blink of an eye counts and where there is barely enough time to reload our weapon or set up a turret to face the wave of enemies, 10vs10 battles on a very small map and with few places to hide and attack by surprise, a mode that like all good things in the game, end up leaving, arrive temporarily and leave a trace that perhaps the developers take into account, to include it as a kind of "modes requested by the community", for the moment it remains more than enjoy its few hours that will remain available before the respective update.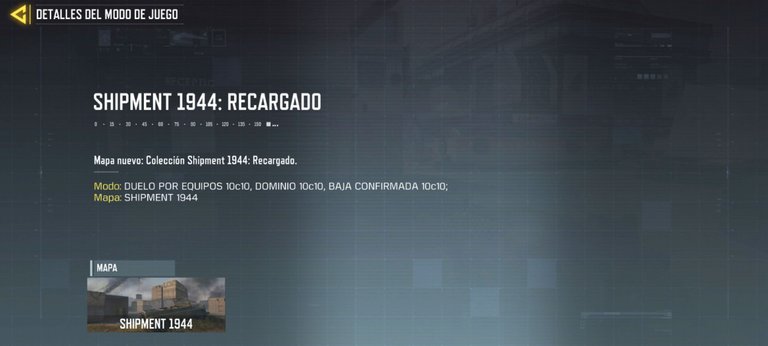 No recuerdo si exactamente así se llama el mapa "original", y digo original entre comillas, porque incluso no sé si este sea el real y tenga en mi mente algún recuerdo errado de este grandioso espacio de batallas.
I don't remember if this is exactly the name of the "original" map, and I say original in quotation marks, because I don't even know if this is the real one and I have in my mind some erroneous memory of this great battlespace.
Un total de 10vs10 como lo mencioné un par de párrafos atrás, más de 160 bajas dependiendo el modo que toque de forma aleatoria. En un gusto personal, Duelos por equipos es el más llamativo, pues solo importan las bajas y la batalla se vuelve mucho más adictiva.
A total of 10vs10 as I mentioned a couple of paragraphs ago, more than 160 casualties depending on the mode you play randomly. In a personal taste, Team Duels is the most striking, because only the casualties matter and the battle becomes much more addictive.

---
Las bajas aquí, son algo que básicamente logras con el menor esfuerzo, no necesitas más que un arma extremadamente rápida en cuanto a cadencia y tiempo de recarga, para obtener una mínima ventaja frente a tus rivales.
The casualties here are something that you basically achieve with the least effort, you only need an extremely fast weapon in terms of cadence and reload time to obtain a minimum advantage over your rivals.
Cada quien puede estimar el tipo de arma adecuado para este modo, tomando en cuenta el espacio de batalla, depende del gusto o lo dominada que tengan alguna de ellas para aportar calidad en el juego, así mismo, es bueno equipar una torreta que será de gran utilidad ante tantos enemigos juntos. El hecho de ocupar más de 100 bajas por partida, es algo absolutamente razonable, pues colocar los modos clásicos con 40 bajas, estimaría un tiempo de partida inferior a los dos minutos, de este modo, cada duelo dura por lo menos unos 4 o 5 minutos.
Everyone can estimate the type of weapon suitable for this mode, taking into account the battle space, it depends on the taste or how mastered you have some of them to bring quality in the game, likewise, it is good to equip a turret that will be very useful in the face of so many enemies together. The fact of occupying more than 100 casualties per game is something absolutely reasonable, because placing the classic modes with 40 casualties, would estimate a game time of less than two minutes, in this way, each duel lasts at least 4 or 5 minutes.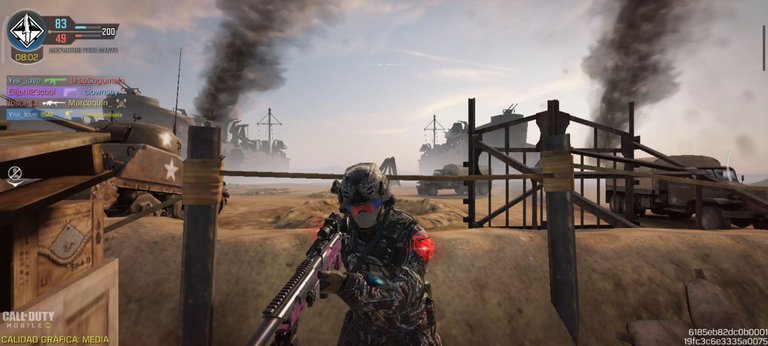 Algunos usan Sniper, un arma con la que sinceramente me siento bastante ansioso, pues primeramente no la domino aún y segundo, prefiero las armas rápidas, sin embargo por letalidad, cargo los guantes de respaldo que de igual forma eliminan con un golpe al enemigo.
Some use Sniper, a weapon with which I honestly feel quite anxious, because firstly I have not mastered it yet and secondly, I prefer fast weapons, however, for lethality, I carry the backup gloves that also eliminate the enemy with a blow.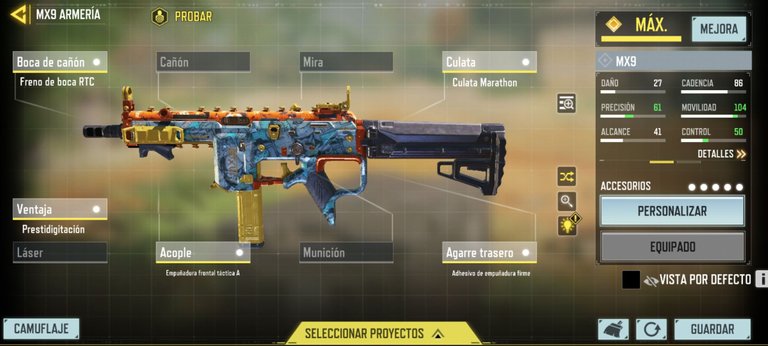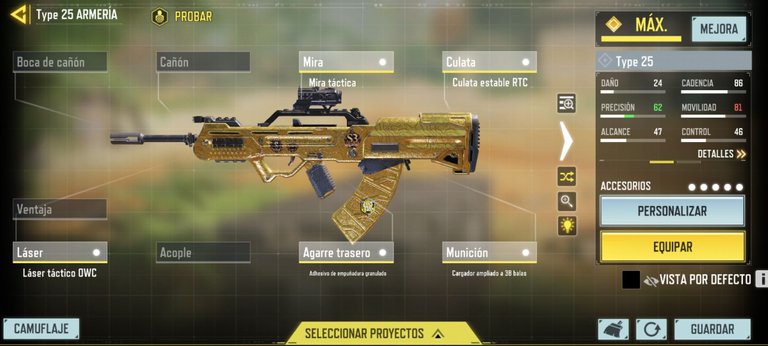 Yéndome un poco al arma implementada en este gameplay, debo resaltar que dejé la Type25 por la MX9, las razones son bastante compresibles, la primera, es que quiero lograr un objetivo para desbloquear un arma mucho más práctica para el multijugador, y el segundo motivo, yace en que el tiempo de recarga es mucho menor con la MX9 y a parte es más letal y ligera, aquí arriba les dejo capture de ambas armas y mis respectivas configuraciones por si gustan probarlas, la mira en multijugador con mapas pequeños, termina siendo algo casi inútil, por ello preferí usar ese espacio de equipamiento para adaptar un acople y mejorar la precisión y el control.
Going a little bit to the weapon implemented in this gameplay, I must emphasize that I left the Type25 for the MX9, the reasons are quite understandable, the first is that I want to achieve a goal to unlock a much more practical weapon for multiplayer, and the second reason lies in that the reload time is much lower with the MX9 and besides it is more lethal and lighter, Here above I leave you capture of both weapons and my respective configurations if you want to try them, the sight in multiplayer with small maps, ends up being almost useless, so I preferred to use that space of equipment to adapt a coupling and improve accuracy and control.
Cuéntenme ahora ustedes, ¿De esta semana, que modo de juego fue el que más les gustó? ¿Alguna estrategia de juego que les haya resultado útil? les leo en la caja de comentarios.
Tell me now, from this week, which game mode did you like the most, any game strategy you found useful, I'll read you in the comments box.


Fuente de imágenes || Source of images
1 - 2 - 3
Captures extraídos directamente desde mi juego 🎮 Captures extracted directly from my game
---
Intro y Cierre del vídeo realizadas en Capcut, con audio libre de copyright y disponible en la app
Intro and Closing of the video made in Capcut, with copyright-free audio available in the app
---
GIF realizado en || GIF made in: Creador y edito de GIF

Traducciones de Texto || Text Translations:
Traductor DeepL
---

---
---