Ancelotti y Real Madrid, una liga que podría contemplar un hecho histórico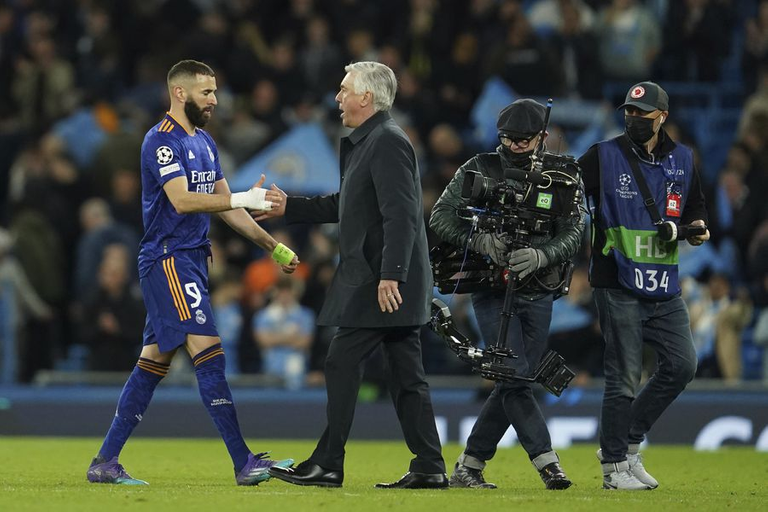 El Real Madrid en su segundo ciclo con Ancelotti al mando del equipo ha encontrado nuevamente el sendero del funcionamiento, con mucho o poco el club hace lo necesario para conseguir resultados importantes que hoy los ponen a un paso de conquistar una nueva Champions League y a unas horas de que el entrenador italiano pase a inscribir su nombre como el primer técnico ganador de las 5 grandes ligas de fútbol del mundo, a estas nos referimos con: la Premier League, la League 1, la Bundesliga, la Serie A y la cuenta pendiente con la Liga Santander, varios aspectos importantes que podrían considerarse con una probable y distinguida victoria que le libraría de carga al Madrid para enfocarse en el siempre deseado título de Champions.
Real Madrid in its second cycle with Ancelotti at the helm of the team has once again found the path of performance, with much or little the club does what is necessary to achieve important results that today put them one step away from winning a new Champions League and a few hours from the Italian coach to pass to inscribe his name as the first winning coach of the 5 major soccer leagues in the world, to these we refer to: Premier League, League 1, Bundesliga, Serie A and the pending account with the Santander League, several important aspects that could be considered with a probable and distinguished victory that would free Madrid from the burden to focus on the always desired Champions League title.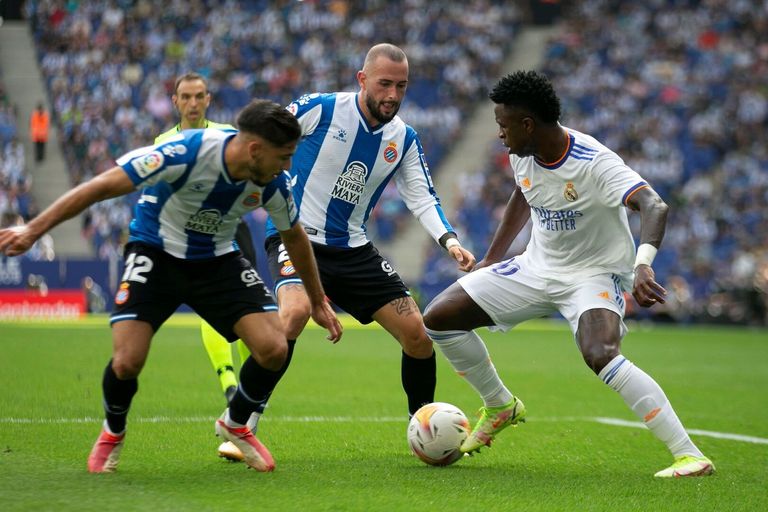 Una victoria probable ⚽️ A probable victory
Sin quitarle méritos a su rival, el equipo del Real Madrid tiene todo para ganarle al equipo del Espanyol de Barcelona, club que actualmente prioriza su permanencia en la Liga Santander y que busca de cualquier forma sumar puntos que le aseguren un espacio en la élite del fútbol para la siguiente temporada, en frente, un club que aspira no solo a ganar la liga, sino que también a ganar la Champions, una diferencia considerable en diversos aspectos, desde la gestión económica, hasta lo futbolístico, aunque considerando las necesidades, el Espanyol podría tomar juicio propio y aguarle la fiesta al Madrid y al entrenador italiano, un duelo con un claro favorito pero sujeto a las cosas impredecibles que podemos ver en el terreno de juego.
Without detracting from the merits of its rival, the Real Madrid team has everything to beat the Espanyol team of Barcelona, a club that currently prioritizes its permanence in the Santander League and that seeks in any way to score points that will ensure a space in the elite of soccer for the next season, in front of a club that aspires not only to win the league, but also to win the Champions League, a considerable difference in several aspects, from economic management to soccer, although considering the needs, Espanyol could take its own judgment and spoil the party for Madrid and the Italian coach, a duel with a clear favorite but subject to the unpredictable things we can see on the field.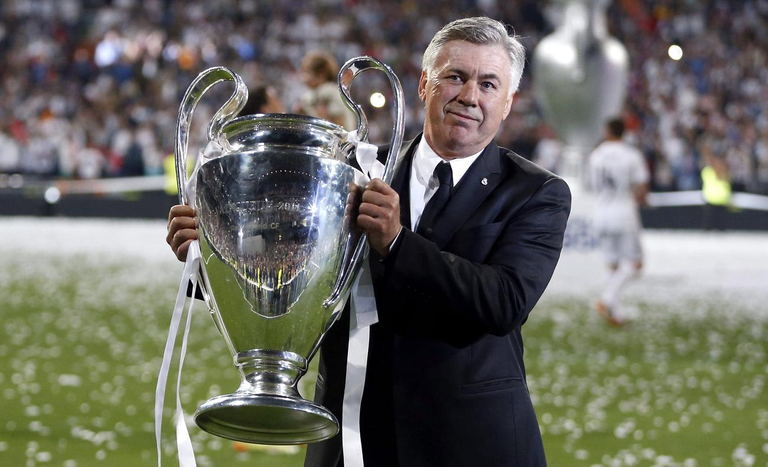 Ancelotti y su cita con la historia 🔥 Ancelotti and his date with history
Pocos técnicos han sido los que han marcado huella en el mundo, atreviéndose a salir de su zona de confort y trascender fronteras, considerando a Francia, Inglaterra, Alemania, España e Italia como las ligas más populares y reñidas del mundo para conquistar, técnicos como por ejemplo José Mourinho solo han podido ganar en 3 de estas grandes ligas, en su caso, sumando a su haber un título en su país de origen con el Porto, por su parte Ancelotti buscará hacer historía y ser el primer entrenador en ganar estas 5 ligas, faltando por supuesto en sus vitrinas la Liga de España, lugar en donde tuvo la oportunidad en su primer ciclo con el club, pero la suerte no estuvo de su lado y perdió una oportunidad dorada.
Few coaches have been those who have made their mark in the world, daring to leave their comfort zone and transcend borders, considering France, England, Germany, Spain and Italy as the most popular and hard-fought leagues in the world to conquer, coaches such as José Mourinho have only been able to win in 3 of these big leagues, in his case, Ancelotti will seek to make history and become the first coach to win these 5 leagues, missing of course in his trophy cabinet the Spanish League, where he had the opportunity in his first cycle with the club, but luck was not on his side and he lost a golden opportunity.
En esta ocasión, la suerte parece sonreír del lado del entrenador italiano, salvo una catástrofe muy improbable, el entrenador podría pasar a la historia del balompié, siendo uno de los pocos misters que no le temen al éxito y que bajo sus virtudes han logrado conquistar las mejores ligas del mundo, en unas horas, Ancelotti podría ser la primera plana de todos los portales del mundo, una gesta grandiosa con mucho merito para un director técnico que ha sabido sembrar triunfos y conquistar el corazón de su fanaticada, pocos como Carlo Ancelotti. La cereza del pastel podría ser una nueva Champions a su historial.
This time, luck seems to be on the Italian coach's side, and barring a very unlikely catastrophe, the coach could go down in football history as one of the few managers who are not afraid of success and who have managed to conquer the best leagues in the world under his virtues, In a few hours, Ancelotti could be on the front page of all the portals of the world, a great feat with much merit for a manager who has managed to sow triumphs and conquer the hearts of his fans, few like Carlo Ancelotti. The icing on the cake could be a new Champions League title.
En Italia conquistó la Serie A con el Milan, en Inglaterra se llevó la Premier con el Chelsea, en Alemania conquistó la Bundesliga con el Bayern Munich, y en Francia se llevó la Ligue 1 con el PSG, y ahora en España espera hacerlo propio con el Real Madrid, un historial técnico que muchos entrenadores desearían tener.
In Italy he won the Serie A with Milan, in England he won the Premier League with Chelsea, in Germany he won the Bundesliga with Bayern Munich, and in France he won the Ligue 1 with PSG, and now in Spain he hopes to do the same with Real Madrid, a technical record that many coaches would like to have.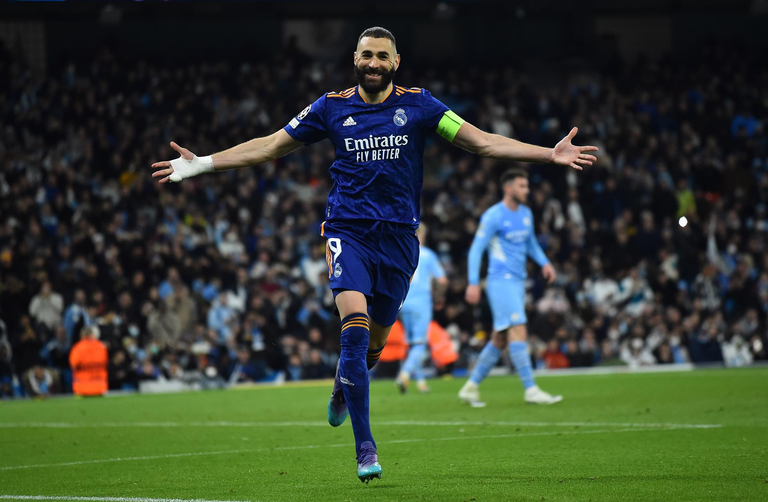 La importancia de sentenciar la liga ⚽️ The importance of clinching the league
En este tramo final de la temporada, es importante el hecho de mantenerse enfocados, para el Real Madrid, los objetivos por lo que aún compite (Champions y la Liga), son primordiales para concretar una temporada de éxitos, por lo que dejar definida y asegurada la liga, le permitiría a los de Ancelotti, jugar con mayor comodidad por el torneo doméstico, dando minutos a jugadores menos habituales y rotando sus líneas para centrar su atención en la Champions, buscando tener jugadores más frescos y con sus miradas puestas en la meta más preciada de la temporada, torneo en el que están a solo 2 partidos de poder nuevamente levantar el titulo más grande a nivel de clubes en Europa y una vez más bajo las ordenes de Ancelotti, una gesta que de ocurrir, resaltaría el excelente trabajo del italiano al mando de los blancos, club con el que mejor expresa su estilo de juego y con quien refleja absoluta satisfacción de dirigir.
In this final stretch of the season, it is important to stay focused, for Real Madrid, the objectives for which it still competes (Champions League and La Liga), are paramount to realize a successful season, so leaving the league defined and secured, would allow Ancelotti's team to play more comfortably for the domestic tournament, giving minutes to less regular players and rotating their lines to focus their attention on the Champions League, The tournament in which they are only two games away from lifting the biggest title at club level in Europe and once again under Ancelotti, a feat that if it happens, would highlight the excellent work of the Italian at the helm of the Whites, the club with which he best expresses his style of play and with whom he reflects absolute satisfaction in directing.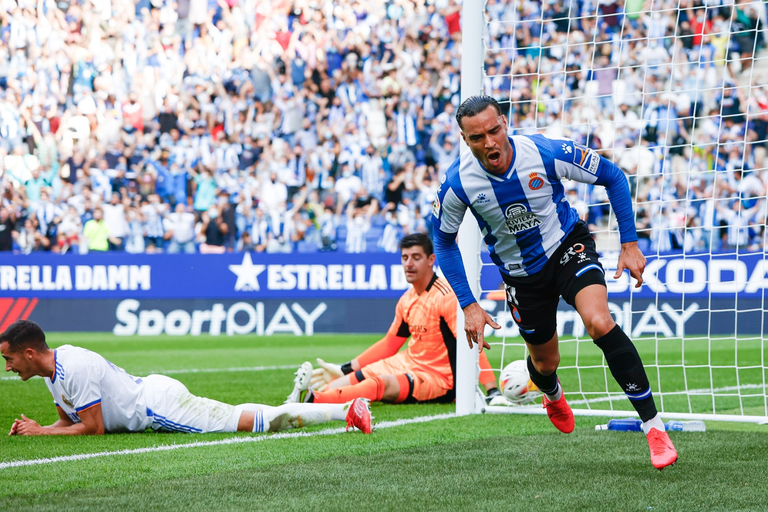 Últimos cinco duelos ⚽️ Last five duels
El Espanyol solo ha podido ganar uno de los últimos cinco encuentros disputados frente al Madrid, endosando apenas 4 goles y dejando su marcador en cero en 3 presentaciones, el último partido entre ambos, dejó una victoria para el Espanyol, equipo que hizo respetar su campo y venció 2x1 a los de Ancelotti el pasado mes de octubre. En esta ocasión, el contexto es diferente, el Madrid se muestra muy sólido para salir ganador, pero en el terreno de juego deberán demostrar todo ese favoritismo que llevan en la previa, el encuentro tendrá lugar en el Santiago Bernabéu hoy a las 10:15 de la mañana, hora de Venezuela. Un momento probablemente histórico que valdrá la pena disfrutar.
Espanyol has only been able to win one of the last five games played against Madrid, scoring just 4 goals and leaving a clean sheet in 3 presentations, the last match between the two, left a victory for Espanyol, a team that respected their field and beat Ancelotti's team 2x1 last October. On this occasion, the context is different, Madrid is very solid to win, but on the field they will have to show all the favoritism they carry in the previous, the match will take place at the Santiago Bernabeu today at 10:15 am, Venezuelan time. A probably historic moment that will be worth enjoying.


Fuente de imágenes || Source of images
---
1 - 2 - 3 - 4 - 5 - 6

---

---
---