Detroit Free Press 2021 Half Marathon
I just finished a 21.718km running that lasted about 1hh:49mm:24ss !

The second or third week end in October is usually the Detroit Free Press marathon week end. One or two weeks after the Chicago marathon week end. After last year in-person event was cancelled for obvious reasons, it was back last week end! Plenty of distances to choose from: 1-mile (never tried such a short distance race, but I guess that could be fun to go all out), 5k, marathon relay, half marathon (both international and US only), marathon and even some combos of these different races. After running one of the legs in the relay many years ago to help out a team that was missing a runner, I got interested in the event and started running the half marathon almost every year, unless I was injured. So early in January 2020, like most years, I registered for the half marathon, to get the early bird discount. That's just $20 off the full $120 price, but it's better than nothing. When they cancelled in 2020, we had the choice to defer our registration to 2021, get a partial reimbursement, or participate in the virtual event. I chose the first option, and that's why I ran the half marathon last week end.
---
The Course
One of the main appeals of the Detroit marathon and half marathon is the fact the course spans two countries: US of course, but also Canada. Runners cross into Canada through the Ambassador bridge (while the sun is rising) and run back to US via the tunnel under the River. There is even a special split time measurement for the underwater mile. Unfortunately this year, borders restrictions made that impossible and both the half marathon and marathon were US only, entirely in the City of Detroit. Same start/finish as usual though on Fort Street. Marathon and half marathon shared the first part of the course, going North first, and passing through several Detroit neighborhoods. The full marathon course kept going through Belle-Isle and the River Walk. Not sure why they chose this first part for the half marathon, as the second one offers much better views.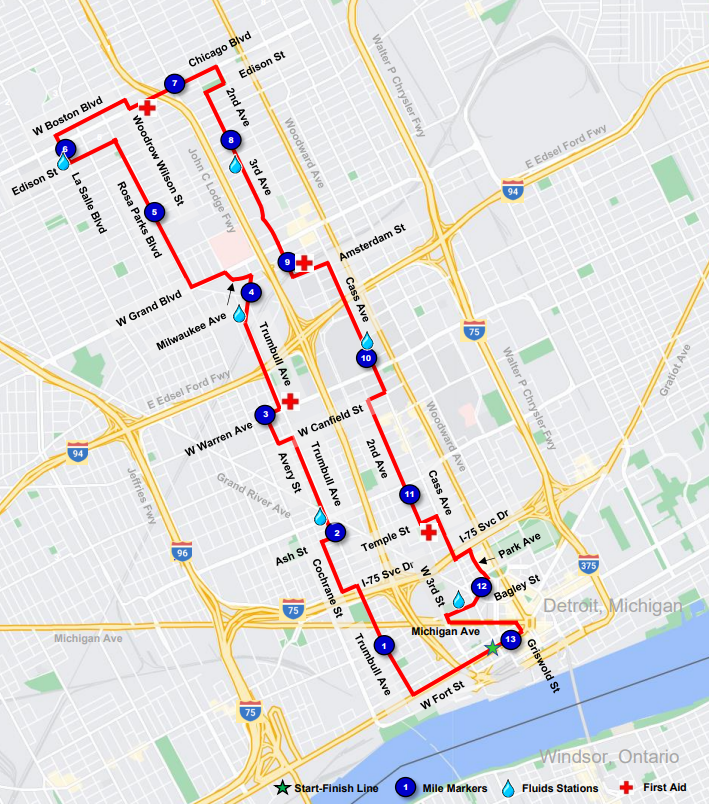 Half Marathon course - source
As is the case for many races I guess, fluid stations were located every other miles, starting just after the second one. Both water and Gatorade were available. One thing missing this year was the "fuel stations", where you can get something for a quick energy boost, like Gu gel or even M&Ms. I remember seeing them other years around mile 9 or 10, but not this time. Too bad because I could have really used them this year!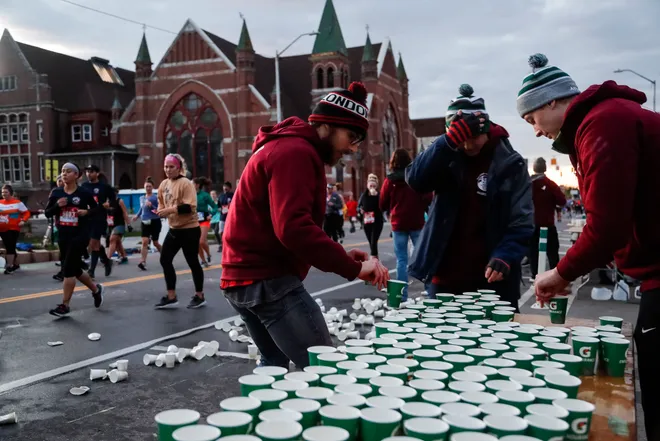 Fluid station - source
---
Pre-race
As usual, runners packet pick up was available at the Health and Fitness Expo at TCF Center (people might know it better under its former name: Cobo Center) from Friday afternoon to Saturday evening. Nothing particularly interesting, just a few merchants with running clothes, shoes, massage and running stuff.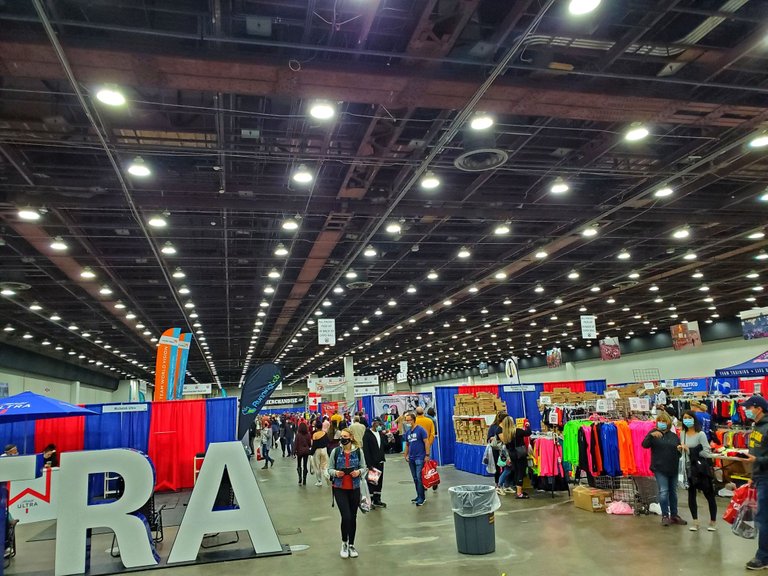 I went there Saturday afternoon, that was a good opportunity to hang around a bit in downtown and enjoy some of the views.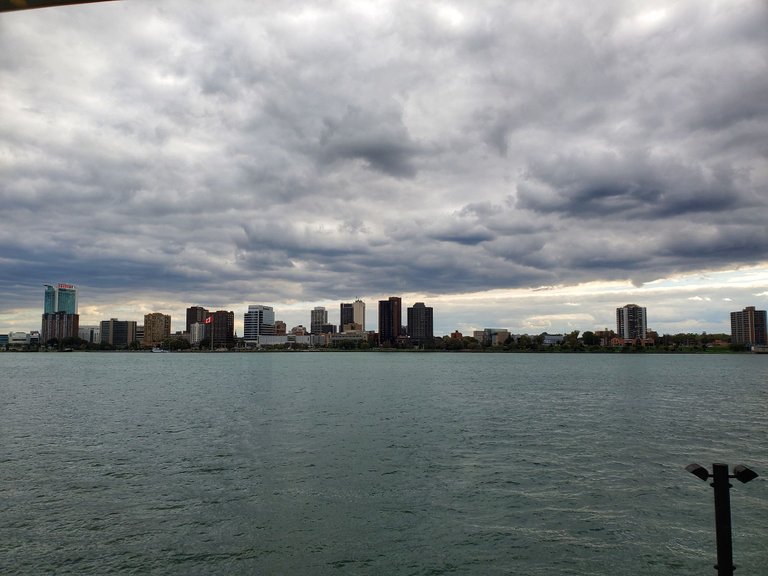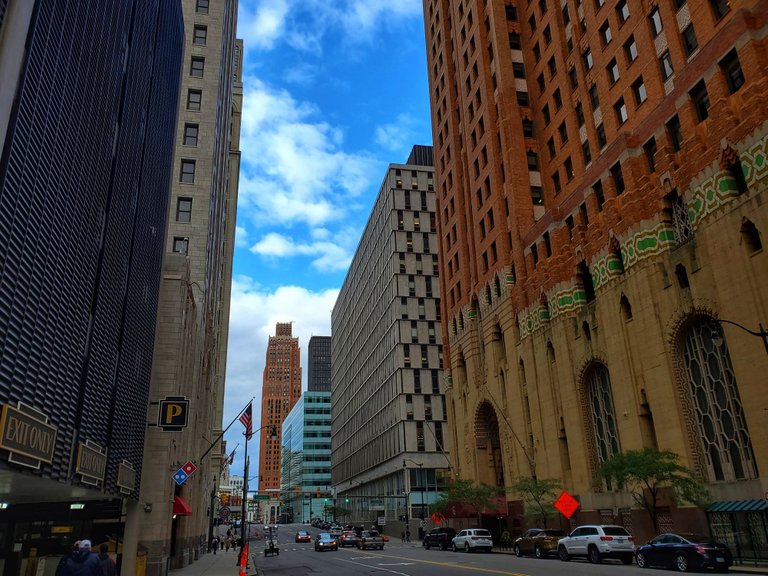 The night before the race was really short. To allow plenty of time before the 7am start, we agreed with a friend to meet at 6am at a parking lot within a walking distance from the start, but not too close as to not get stuck after the race. That meant I needed to get up at a time I'm not even in bed most Saturday nights. In the end, with less than 2 hours of sleep, I got up cursing myself for running this stupid race... We met as planned and it took us about 20 minutes to walk to the start line. Plenty of time to spare, I could have slept at least 15 more minutes! And it was chilly too, around 8 degrees Celsius. Good while running, but not so much when waiting.
---
The run
Even though the number of participants was way below normal (many people deferred their registration to next year again), and the starting waves based on expected final time, the start in the night was as impressive as always.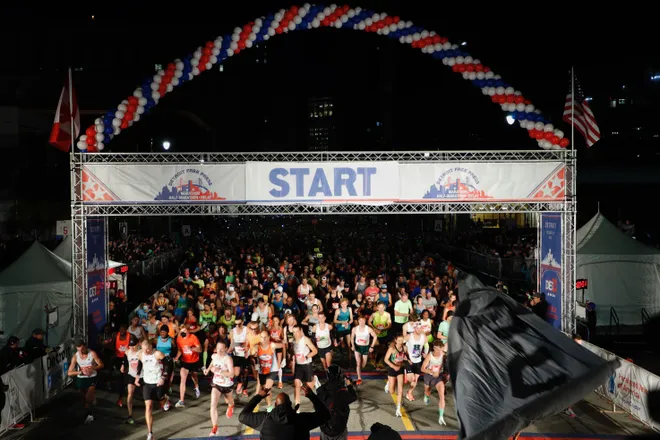 )
Start in the night - source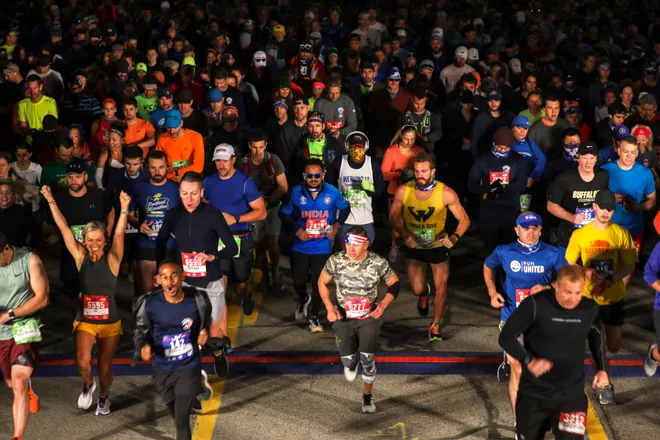 Plenty of runners in spite of the lower participation - source
Based on my current form, my hope for the race was to stay under 8 min/mile. Maybe because of the extra motivation due to the in-person race, I felt really well at the beginning and I just kept a faster pace that felt natural at the time. Probably a bad idea because after just a few miles, I already started to feel low on fuel and my pace slowed down. It was still okay till mile 9 or so, but I completely broke down after that, walking at every fluid stations and even a few other times in between. The end was very tough and without the crowd encouragement and the music all around, that would have been even harder.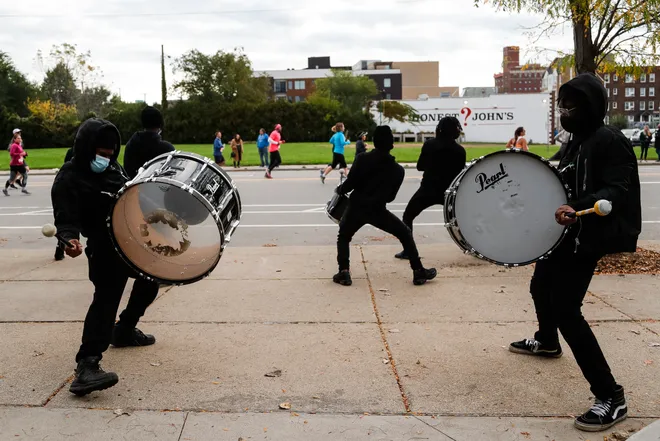 Percussion section - source
In the end, my official final time was exactly 1:49:00. That's of course a few minutes over what I was hoping, but considering the struggle at the end, that could have been worse. That clearly shows that now that I am getting older, my training needs to include longer distances so I can manage my speed much better. I miss the time when I could run that same half marathon with no other training than playing team sports, and with better times too.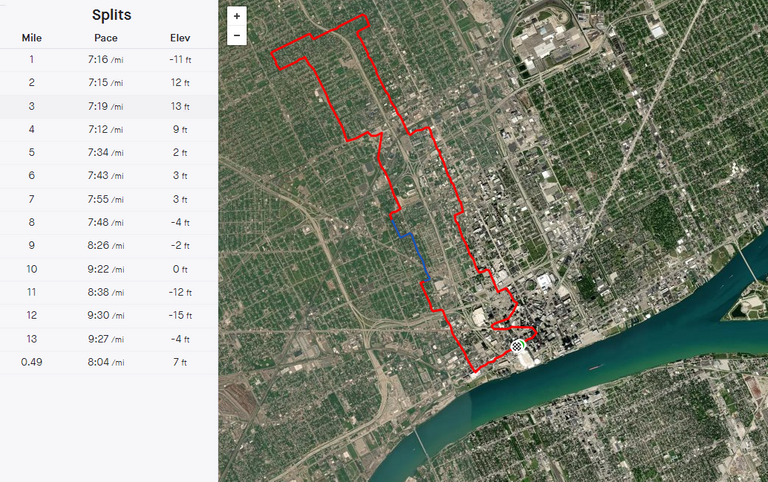 ---
Post-race
Right after passing the finish line, they hand you over your medal, and a heatsheets blanket. After sweating for almost 2 hours (or 4 hours for the ones running the full marathon), you really appreciate the protection these blankets bring. Of course, you also get plenty of drinks and food, which is also very nice after such effort.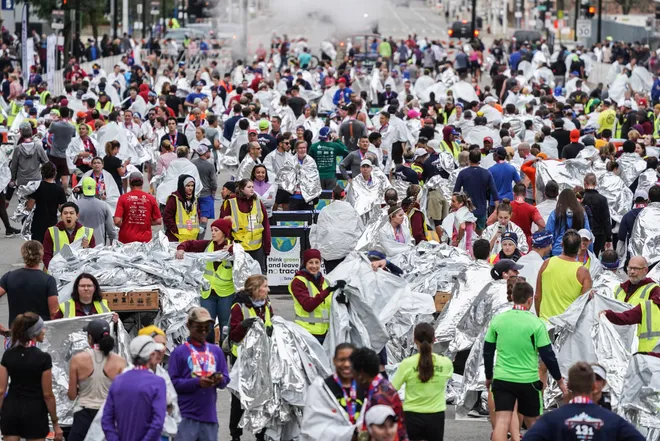 Heatsheets blankets for everyone - source
The walk back to our cars wasn't the best part of the day. Cold and tired, you really wish somebody was there to pick you up, but the roads are closed anyways. The rest of the morning and part of the afternoon was mostly spent half sleeping in front of the TV, and it took me quite a few hours before I could finally get up and go for a walk with the dogs. Now 2 days later, I feel most of the soreness is gone, and I'm hoping to go for an easy run tomorrow.
---
Conclusion
In spite of my disappointing performance, it was once again a great experience to run the Detroit half marathon, especially with the race being cancelled last year. The organizers had to face extra difficulties due to COVID of course, but it was as good as usual. It was also disappointing the route wasn't crossing to Canada though, but hopefully this won't be a problem next year. By the way, I'm planning to train much better for the next one, I have one full year to get ready!
---
PS: The pictures not sourced are mine and some may have been already shared in one of my Actifit reports. All the others (and plenty more) can be found in this Detroit Free Press article
Check out some detailed info at my EXHAUST page
Join me in testing out EXHAUST!
---
---