Mensaje Diario de 5 Minutos - Mamut Lanudo [ENG/ESP]
"¿Qué es la historia? Una sencilla fábula que todos hemos aceptado."
Napoleón
---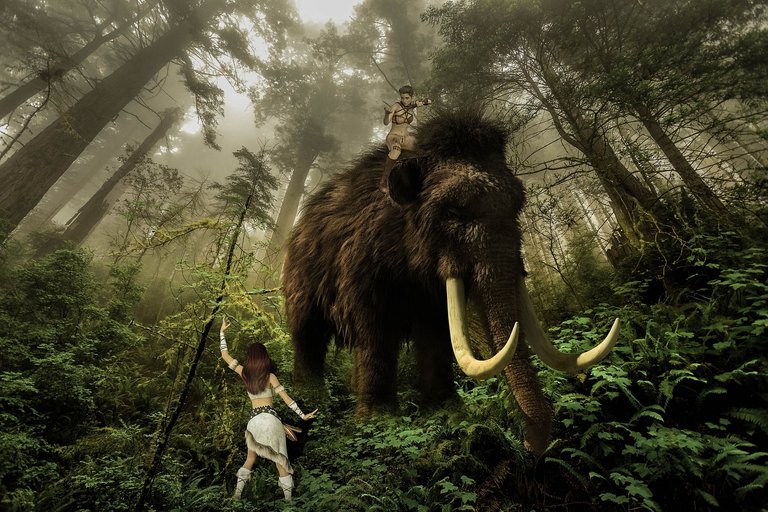 Mamut Lanudo
No tengo mayores referentes sobre los mamuts lanudos que aquel personaje malhumorado y nada simpático, de la película de dibujos animados "La Era de Hielo", que ví algunos años atrás en compañía de mis hijos, cuando estos eran aún niños.
Más allá de esto, sólo he alcanzado verlos a través de fotos de las pinturas rupestres realizadas en las paredes de las cuevas, donde miles de años atrás habitaban nuestros primeros ancestros. Lo cierto es que al parecer, el mamut constituía la principal proteína de original animal disponible en aquellos remotos tiempos, o tal vez, estos gigantescos animales abundaban, razón por la cual eran cazados con la finalidad de alimentar a todo el grupo familiar, o sencillamente, el sabor de su carne era el predilecto de aquellos primeros habitantes de la Tierra.
No imagino como estas imponentes y majestuosas bestias de frondoso pelaje y largos colmillos, parecían ser presa fácil de los cazadores; de haber sido mi caso, tal vez me hubiese paralizado del miedo, o escapado a todo velocidad, sin embargo, como afortunadamente no viví aquella época, cualquier cosa que hoy en día piense, no sería más que una presunción imposible de probar, a menos que tuviese a mi disposición una máquina del tiempo.
Este ha sido mi ejercicio de escritura libre por el día de hoy, y mi primera participación en el Mensaje Diario.
I have no more references about woolly mammoths than that grumpy and unfriendly character from the cartoon movie "Ice Age", which I saw some years ago in the company of my children, when they were still kids.

Beyond this, I have only been able to see them through photos of the cave paintings on the walls of the caves where our first ancestors lived thousands of years ago. The truth is that apparently, the mammoth was the main original animal protein available in those remote times, or perhaps, these gigantic animals were abundant, reason why they were hunted with the purpose of feeding the whole family group, or simply, the taste of their meat was the favorite of those first inhabitants of the Earth.

I can't imagine how these imposing and majestic beasts with thick fur and long fangs, seemed to be easy prey for hunters; had it been my case, perhaps I would have been paralyzed with fear, or escaped at full speed, however, as fortunately I did not live that time, anything I think today, would be nothing more than an assumption impossible to prove, unless I had at my disposal a time machine.

This has been my free writing exercise for today, and my first participation in the Daily Message.
---
Esta es mi participación para el Mensaje Diario de 5 Minutos de Freewrite, una iniciativa de @latino.romano. Espero que lo disfruten.
---

Si les gustó este Post, los invito a apoyar mi trabajo siguiendo mi cuenta @manuelgil64 dejando sus comentarios y votando
¡Gracias!
---
---