Keroline, Queen of Christandath.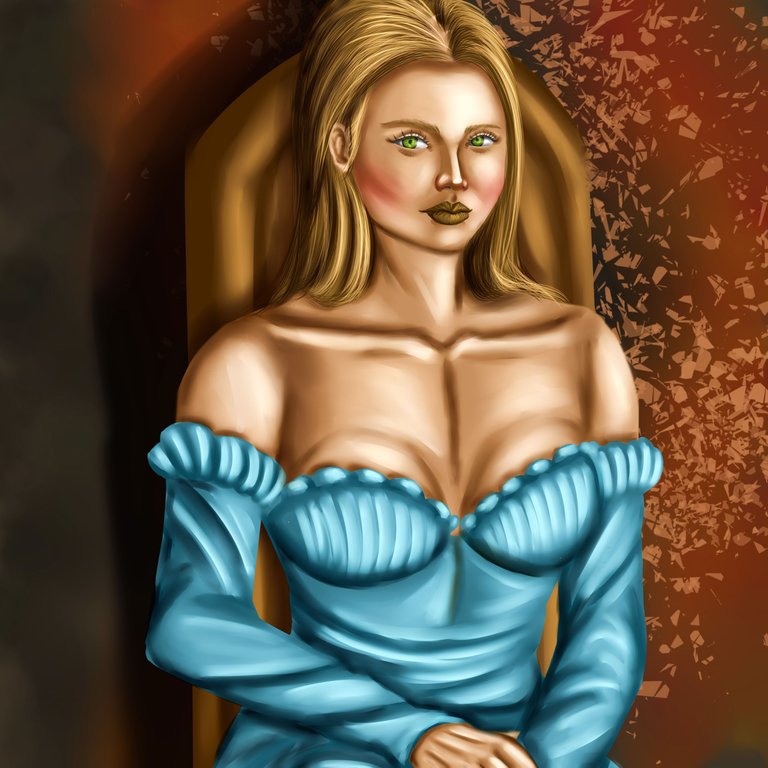 What's up my people happy Friday and hopefully you have had a good week full of productivity, today I want to present a new work in the royal style and it is Keroline, The Queen of (Christandath); Keroline is a young woman who after the death of his father and having no siblings had to take command of (Christandath) which is a small and remote kingdom hidden in the ancient mountains of Denmark which is one of the most prosperous in the area. After the death of his father Keroline had to face a strong rebellion within his kingdom of opportunistic people who wanted to take power, but thanks to the faithful counselor of his father, along with his honor guard and many of the subjects who supported her managed to end the mutiny and since then Keroline rules the kingdom of (Christandath) making it one of the strongest in ancient Denmark.
Que pasa mi gente feliz viernes y ojalá hayan tenido una buena semana llena de productividad, el día de hoy les quiero presentar una nueva obra al estilo realeza y se trata de Keroline, La Reina de (Christandath); Keroline es una joven mujer que tras la muerte de su padre y al no poseer hermanos le toco asumir el mando de (Christandath) el cual es un pequeño y remoto reino oculto en las antiguas montañas de Dinamarca el cual es uno de los más prósperos de la zona. Luego de la muerte de su padre Keroline tuvo que afrontar una fuerte rebelión dentro de su reino de personas oportunistas que querían tomar el poder; pero gracias al fiel consejero de su padre, junto a su guardia de honor y gran parte de los súbditos que la respaldaban lograron acabar con el motín y desde entonces Keroline gobierna el reino de (Christandath) convirtiéndolo en uno de los más fuertes de la antigua Dinamarca.
PROCESS / PROCESO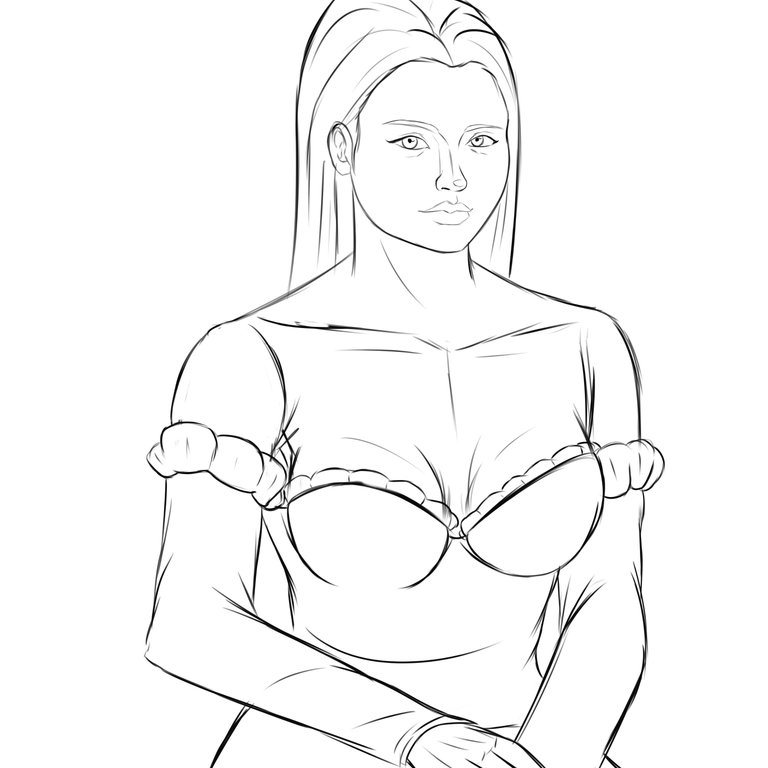 For this character I concentrated on creating a very beautiful woman, with quite delicate and charming features, but at the same time with a structure and look that showed respect and admiration; I did this with a very special brush so that each area of the character would be well established and precise and so I could paint her much better.
Para este personaje me concentre en crear a una mujer muy Hermosa, con rasgos bastante delicados y encantadores, pero al mismo tiempo con un estructura y mirada que demostrara respeto y admiración; esto lo hice con un pincel muy especial para que cada zona del personaje quedara bien establecida y precisa y así poderla pintar mucho mejor.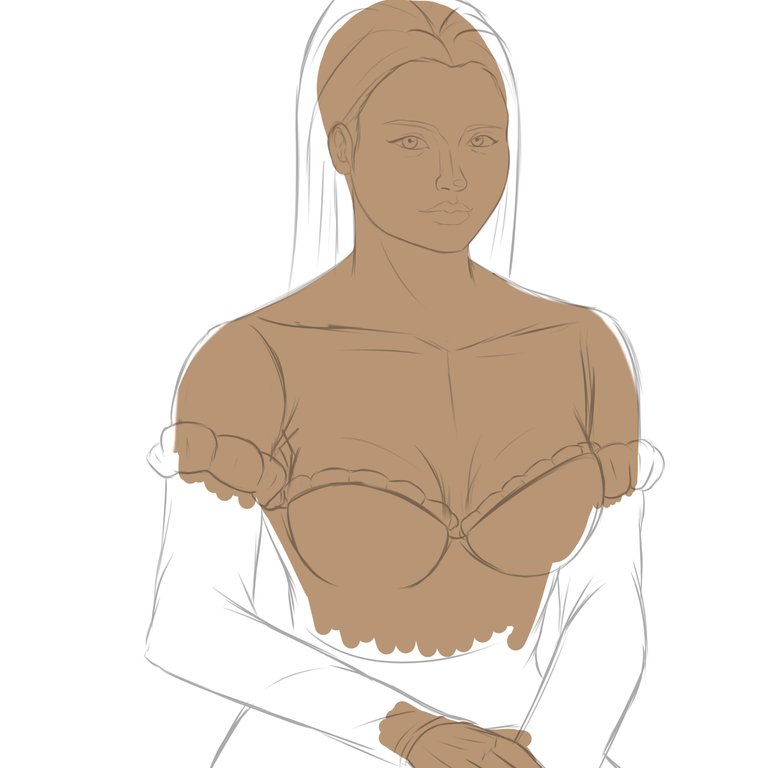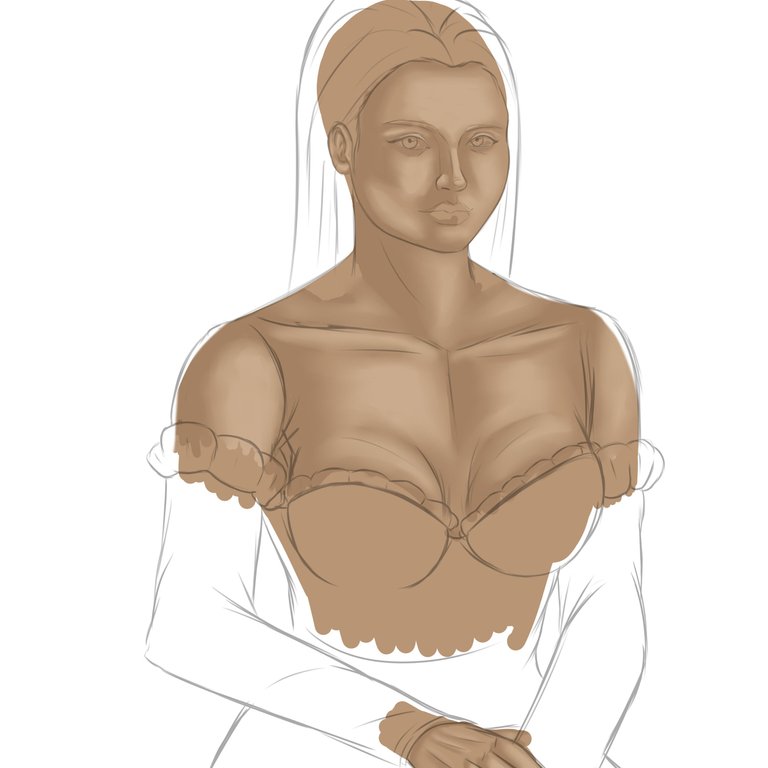 For the skin I used sandy tones mixed with a soft peach tone to achieve a different and much more striking skin, for the volumes I used more intense tones to build a soft and smooth skin texture, with the delicacy that characterizes women. After finishing with the face area where I slightly defined expression features on the cheekbones, nose and cheeks I continued painting light blush on the cheeks and then I went to define the eyes for which I used a watery olive green tone to give a special touch to Keroline.
Para la piel me anime a usar unos tonos arenosos mezclados con una tonalidad durazno suave para lograr una piel diferente y mucho más llamativa, para los volúmenes use tonos algo más intensos para construir una textura de piel algo suave y tersa, con la delicadeza que caracteriza a la mujer. Luego de terminar con la zona del rostro donde definí ligeramente rasgos de expresión en los pómulos, nariz y mejillas continúe pintando rubor leve en las mejillas y luego me fui a definir los ojos para los cuales use un tono verde oliva acuoso para darle un toque especial a Keroline.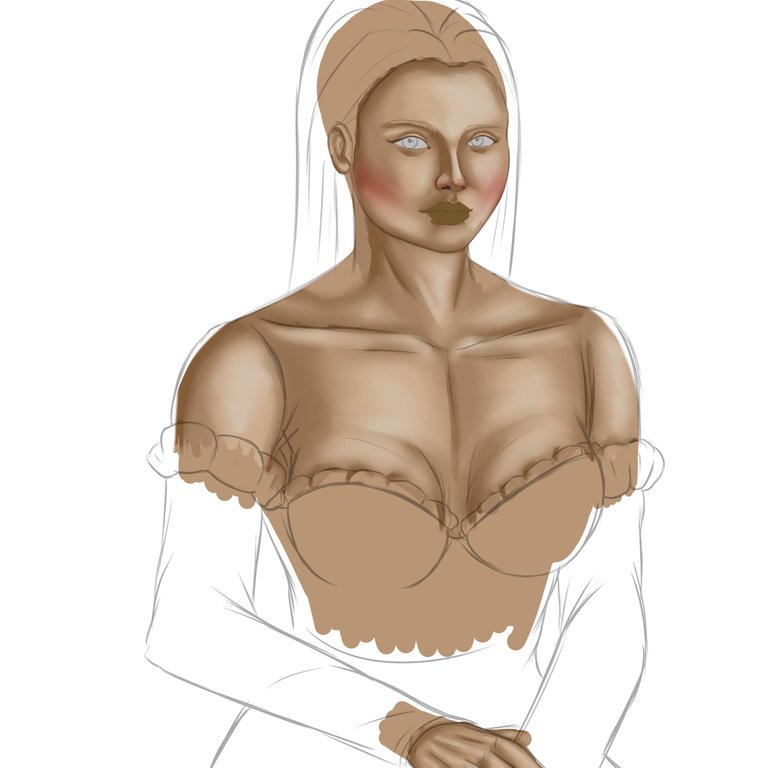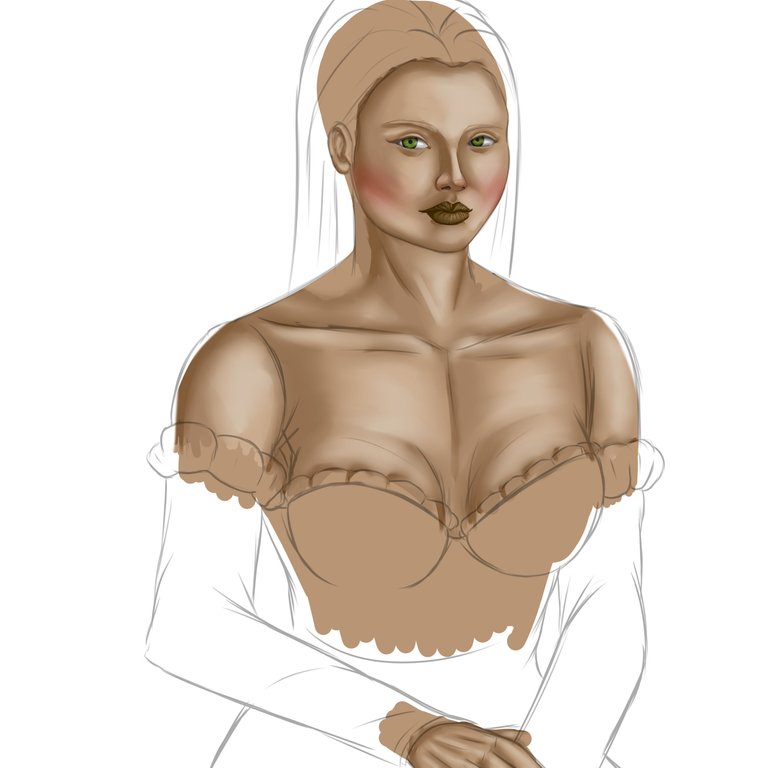 For the dress I focused on creating an elegant dress with lots of details and texture in different areas, at first I had planned to do other things for the dress, but then I decided that as Keroline was a young girl the dress would be a bit more princess-like with details on the sleeves and bust. For the hair I decided to use a light brown shade because I thought it would match perfectly with the green eyes; I gradually created long strokes from top to bottom to give realism to the hair.
Para la vestimenta me enfoqué en crear un vestido elegante con muchos detalles y bastante textura en diferentes zonas, al principio tenía planeado hacer otras cosas para el vestido, pero luego decidí que como Keroline era una joven el vestido sería un poco más como de princesa con detalles en las mangas y busto. Para el cabello me anime a usar una tonalidad marrón clara pues me pareció que combinaría perfectamente con los ojos verdes; fui poco a poco creando trazos largos desde arriba hacia abajo para darle realismo al pelo.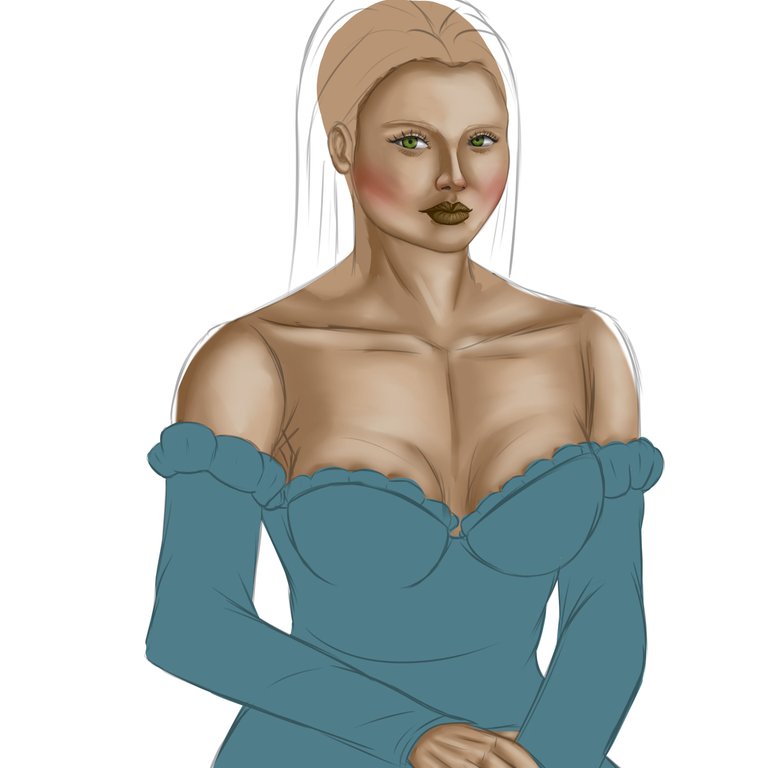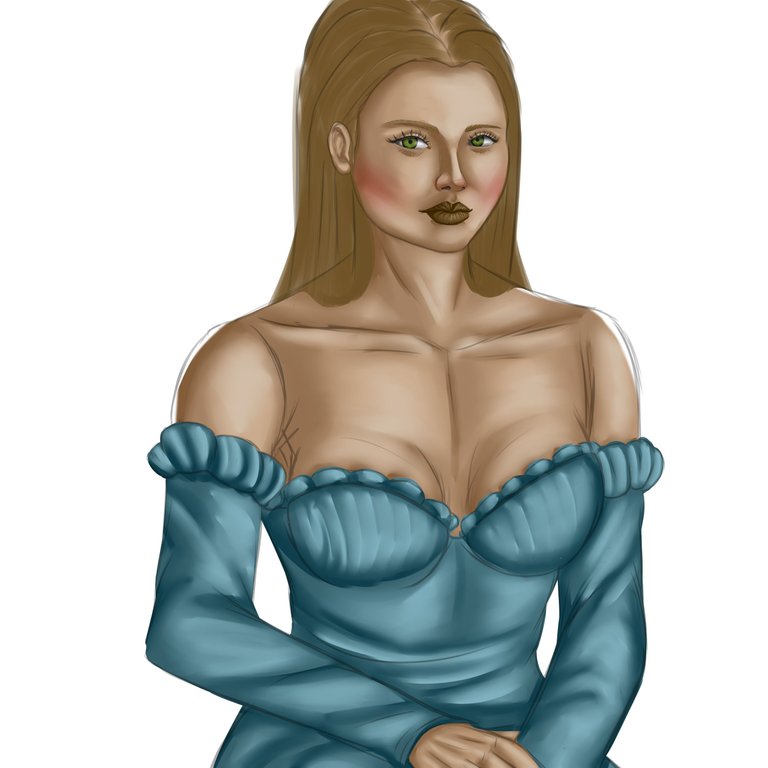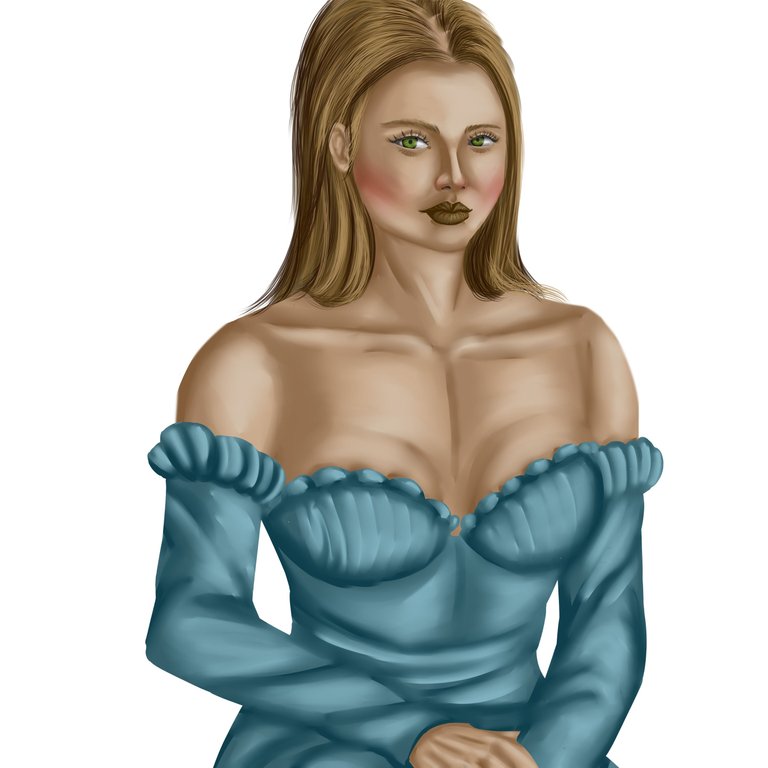 Finally what I did was to create a scenario like a throne where Keroline will be sitting while you listen to the news that brings his faithful advisor before giving orders, this throne I did as an elongated antique wooden chair with a warm brown along with some glitter, then the background I applied some stains as abstract painting to give a little seriousness and elegance to the background of my work.
Ya por ultimo lo que hice fue crear un escenario como de trono donde Keroline se encontrara sentada mientras escuchas las novedades que le trae su fiel consejero antes de darle ordenes, este trono lo hice como una alargada silla de madera antigua con uno marrones cálidos junto con algunos brillos; luego al fondo le aplique algunas manchas como de pintura abstracta para darle un poco de seriedad y elegancia al fondo de mi obra.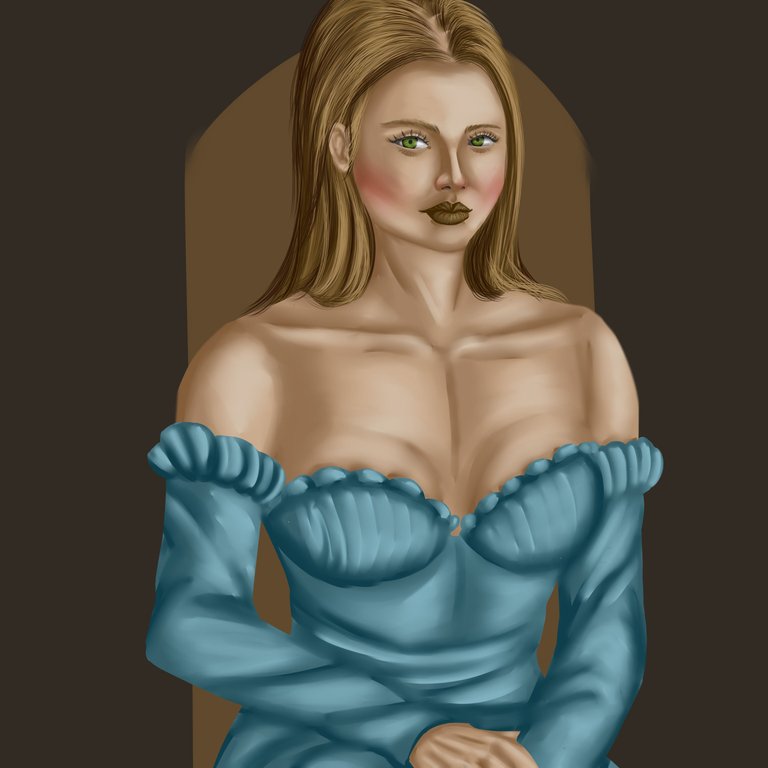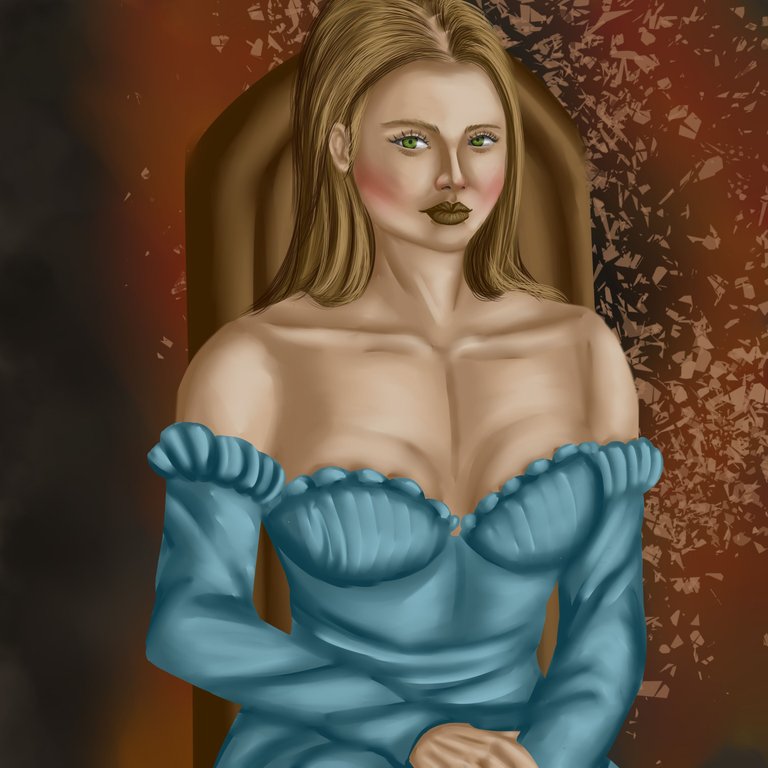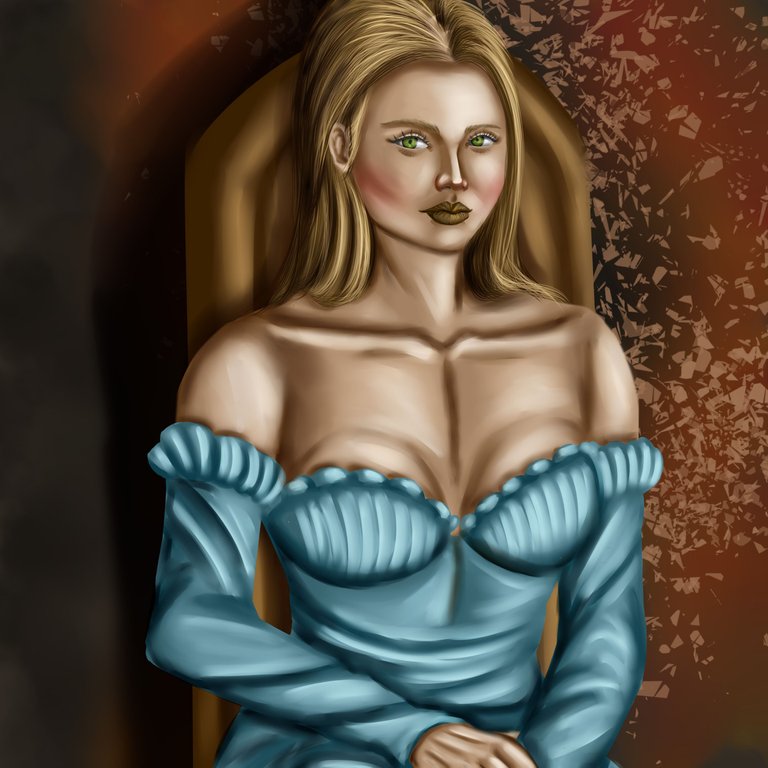 MATERIALS / MATERIALES
Sai Paint Tool Program
Huion inspiroy h610 v2 tablet
Programa Paint Tool Sai
Tableta Huion inspiroy h610 v2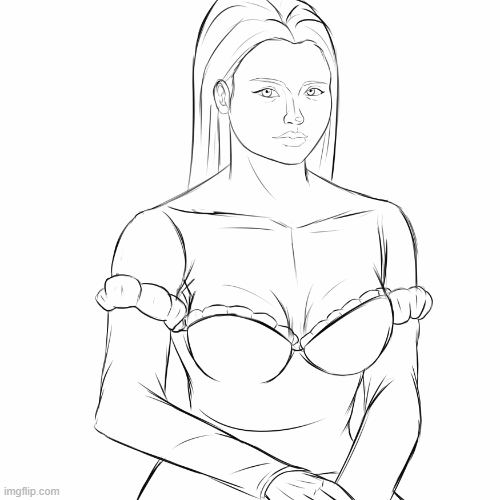 Well my dear community of artists and art lovers this was all for today, thank you very much for coming here and for the support you always give to my drawings, I appreciate it very much. Without further ado I say goodbye my dear people, I wish you a great weekend and I'll see you in the next drawing.... see you later.
Bueno mi querida comunidad de artistas y amantes del arte esto fue todo por el día de hoy, muchas gracias por llagar hasta aquí y por el apoyo que siempre brindan a mis dibujos, lo aprecio mucho. Sin más me despido mi querida gente, les deseo un gran fin de semana y nos veremos en un próximo dibujo….hasta luego!.
---
---