⭐️⭐️⭐️ [ESP-ENG] MEME CHALLENGE #243- ENTRY #2 😃 ⭐️⭐️⭐️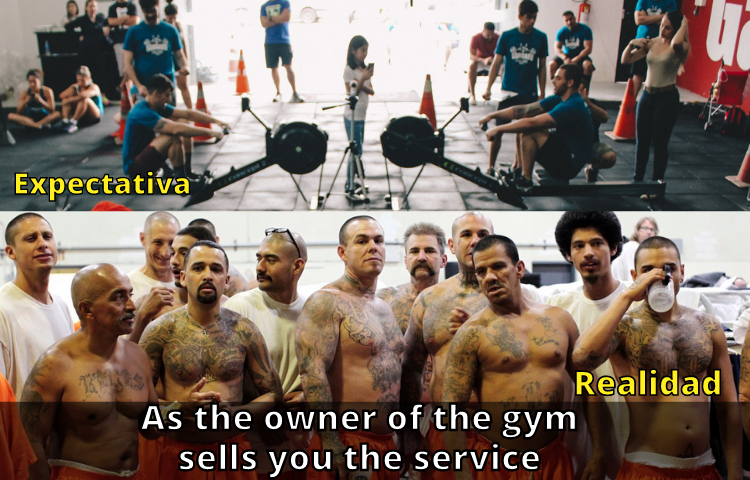 Photo of the challenge, edited with Canva editing software
//Fotografía del reto, editada con programa de edición Canva

░░░ ENGLISH VERSION ░░░
░░░ VERSION ESPAÑOL ░░░

Helloo, Peladiente. 😂
This meme caused me a lot of laughter, because sometimes unexpected things happen to us, because of the expectation that one creates versus reality...😃
A few weeks ago, I heard good things about a gym and I went there to see if I could sign up, when I arrived it was all dark, something that reminded me of a horror movie.... 😱
I kindly entered the place, I imagine with a scared face 😂 I spoke to the receptionist and I think he didn't even see me because of all the darkness 😂 I tried to look towards the machines and to my surprise there were some guys sitting there with rude faces 😅 ok do you know what was the result? I got out as fast as I could, the atmosphere was kind of bizarre and scary 🤣 result: I'm not working out 🙃.
Definitely first impression of a place or person is key to staying there.... First lesson of the day ✔️
I'll take this opportunity to give you some tips that have worked for me:
When you choose a gym make sure the machines are in perfect condition, because if they have faults they can cause you physical harm.
Do not abuse the training, the ideal is to train at least 3 times and maximum 5 times a week, this can vary with a plan created by your trainer...
Let your muscles rest for a few seconds between exercises and between training days so you can see good results.
Remember that any diet plan, to increase or decrease, must be supervised by a specialist and/or trainer.
Use gloves and belt to take care of your spine and your hands, plus proper shoes to train, we are not talking about cost, but that give you good support. 👟
DO NOT take supplements or pills or inject anything without supervision, because it can cause a problem to your health.
Lastly, remember if you want to participate and find out What is this #challenge by @fibra59 about? I'll leave it HERE which is now in its 243rd edition.
Este meme me causo muchísima risa, porque a veces nos pasan cosas inesperadas, a causa de la expectativa que uno se crea versus la realidad...😃
Hace unas semanas, me hablaron bien de un gimnasio y me animé a ir a ver si me inscribía, cuando llegue estaba todo oscuro, algo que me hizo recordar una película de terror... 😱
Entré amablemente al lugar, me imagino con cara de susto 😂 le hablé al recepcionista y creo que de tanta oscuridad ni me veía 😂 intente ver hacia las máquinas y para mi sorpresa estaban sentados unos chicos con caras de rudos 😅 ok sabe ¿Cuál fue el resultado? Salí tan rápido como pude, el ambiente fue algo bizarro y aterrador 🤣 resultado: No estoy haciendo ejercicio 🙃
Definitivamente la primera impresión de un lugar o persona es clave para seguir allí... Primera lección del día ✔️
Aprovecho darte algunos tips que me han funcionado:
Cuando escojas un gym asegúrate que las máquinas estén en perfecto estado, porque si tienen fallas pueden causarte daño físicamente.
No abuses del entrenamiento, lo ideal es entrenar mínimo 3 veces y máximo 5 a la semana, esto puede variar con un plan creado por tu entrenador...
Deja descansar tus músculos unos segundos entre ejercicio y entre día de entrenamiento para que puedas ver buenos resultados.
Recuerda que cualquier plan de dieta, para aumentar o disminuir, debe esta supervisado por un especialista y/o entrenador.
Utiliza guantes y cinturón para cuidar tu columna y tus manos, además de zapatos adecuados para entrenar, no hablamos de costo, sino que te den un buen soporte. 👟
NO tomes suplementos ni pastillas ni te inyectes nada sin supervisión, porque puede causarte un problema a tu salud.
Por último, recuerda que si quieres participar y saber de ¿Qué se trata este #challenge de @fibra59? Te lo dejo AQUÍ que ya va por su edición número #243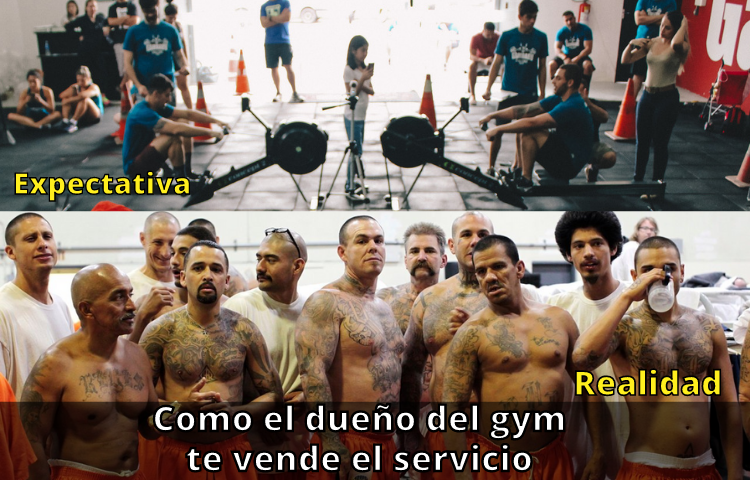 Photo of the challenge, edited with Canva editing software //
Fotografía del reto, editada con programa de edición Canva

Versión en español del #memechallenge





Thanks for reading me... ❤️ See you in the next post of Malomi TV 🤗
Ohhh!!! before I forget, coming soon on Blogger and other platform pending 😃


Gracias por leerme… ❤️ Nos vemos en el próximo post de Malomi TV 🤗
Oyeee!! antes que se me olvide, próximamente en Blogger y otras plataforma pendiente 😃
---
---
Note:
⭐️ Translated with www.DeepL.com/Translator (free version)
⭐️ La redacción y diseños son propiedad exclusivamente de @malomitv, cualquier uso externo, debe ser notificado a mi persona.
---
---
❤️ Conoce mis otras publicaciones/Get to know my other posts:
✔️⭐️ [ESP-ENG] Dato curioso⭐️ // Conoce un dato curioso del cuento infantil "La Caperucita roja" 2 PARTE ❤️⭐️
✔️⭐️⭐️ [ESP-ENG] Reflexión 😶 // Has pensado ¿Qué tanto ocultas? 👀 ⭐️⭐️
✔️⭐️⭐️⭐️ [ESP-ENG] MEME CHALLENGE #242- ENTRY #1😃 ⭐️⭐️⭐️
✔️⭐️⭐️⭐️ [ESP-ENG] MEME CHALLENGE #242- ENTRY #2 😃 ⭐️⭐️⭐️
✔️🎅 [ESP-ENG] A selfie and a good message for you 😍 🎅
✔️❤️❤️ [ESP-ENG] A selfie and a good message for you 😍 ❤️❤️
✔️⭐️⭐️⭐️ [ESP-ENG] El diario de un gato 🐱 // Episodio 1: La presentación 😍 ⭐️⭐️⭐️
✔️🌞🌞🌞 [ESP-ENG] A selfie and a good message for you 🌞🌞🌞
✔️⭐️⭐️⭐️ [ESP-ENG] POETRY ❤️// ¿El valor de la amistad?... ⭐️⭐️⭐️
✔️⭐️⭐️⭐️ [ESP-ENG] POETRY ❤️// Mi alma la alimenta un niño... ⭐️⭐️⭐️
---
---
😀 Si quieres conocer más sobre mí, visítame en mis otras publicaciones en HIVE BLOG, en TWITTER, en Instagram como MALOMI TV y próximamente en Blogger
😀 If you want to know more about me, visit me on my other posts on HIVE BLOG, on TWITTER, on Instagram as MALOMI TV and soon on Blogger.



---
---