PARTIDAZO EN STAMFORD BRIDGE: CHELSEA 2 LIVERPOOL 2/ GREAT MATCH AT STAMFORD BRIDGE: CHELSEA 2 LIVERPOOL 2 ESP/ENG

¡Hola amigos de @fulldeportes! El año 2022 empezó por todo lo alto con una gran cantidad de partidos de la mejor liga del mundo: La Premier League.
El segundo día del año se enfrentaron en un duelo trepidante, Chelsea vs Liverpool, dos de los mejores equipos del mundo, donde luego de una impresionante demostración de poderío físico, jugando un partido en un ritmo de juego impresionante que terminó con un empate a 2 goles.
Hello @fulldeportes friends! The year 2022 started in style with a great number of matches in the best league in the world: The Premier League.
On the second day of the year, Chelsea vs Liverpool, two of the best teams in the world, faced each other in a thrilling duel, where after an impressive demonstration of physical power, playing a match in an impressive pace of play that ended with a 2-2 draw.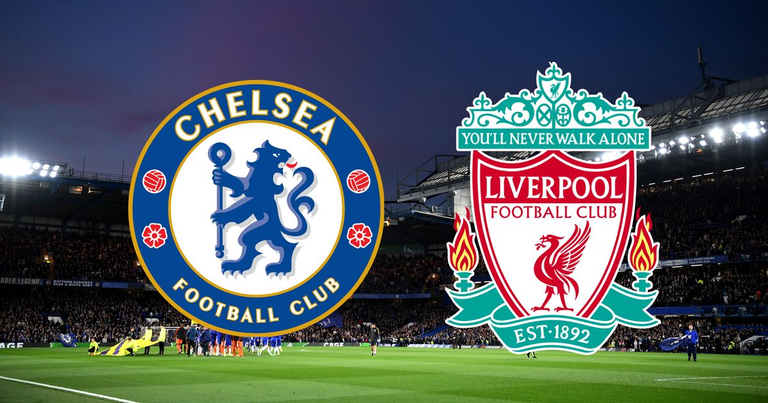 Historial de partidos jugados/History of matches played
Un total de 188 juegos/A total of 188 matches
| CHELSEA | 65PG | 43PE |
| --- | --- | --- |
| LIVERPOOL | 80PG | 43PE |
En Liga
| CHELSEA | 51PG | 36PE |
| --- | --- | --- |
| LIVERPOLL | 70PG | 36PE |
El Chelsea perdió la punta en diciembre con un registro de 2-3-1, dos victorias, tres Empates y una derrota. Consiguiendo sumar solo 9 puntos de 18 posibles.
Mientras tanto en ese mismo tramo el City logró sumar de a 3 puntos en todas las jornadas con una diferencia de gol a favor de +18, muy por encima de +2 del conjunto londinense.
Chelsea lost the lead in December with a record of 2-3-1, two wins, three draws and one loss. They managed to score only 9 points out of a possible 18.
Meanwhile, in the same period, City managed to take 3 points in every matchday with a goal difference of +18, well above the London team's +2.
FUERTE DECISIÓN/STRONG DECISION
Lukaku, quien convirtió en los últimos dos encuentros, no fue convocado por Tuchel.
Lukaku, who scored in the last two matches, was not called up by Tuchel.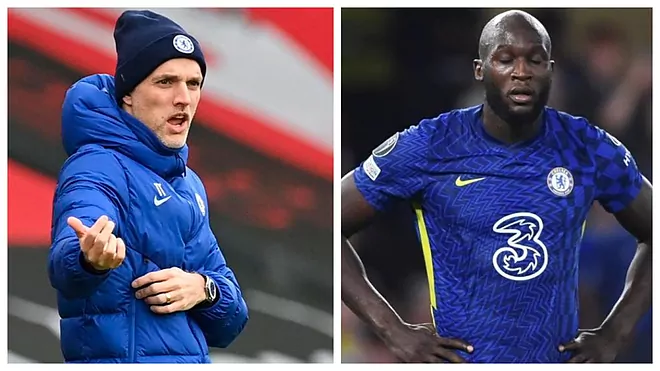 Todo se desencadenó con una entrevista que dió el delantero para Sky Sports Italia:
Lukaku: "Físicamente estoy bien. Pero no estoy contento con la situación en Chelsea. Tuchel ha elegido jugar con otro sistema. Quiero desde el fondo de mi corazón volver al Inter. No lo quiero hacer al final de mi carrera, sino cuando todavía esté al máximo nivel".
Tomas Tuchel sobre las declaraciones de Lukaku: "Para ser honesto, no me gustaron porque es un ruido que no necesitamos. Precisamos mantener un ambiente tranquilo y enfocarnos, esto no ayuda".
Everything was triggered by an interview the striker gave to Sky Sports Italia:
Lukaku: "Physically I'm fine. But I'm not happy with the situation at Chelsea. Tuchel has chosen to play with another system. I want from the bottom of my heart to return to Inter. I don't want to do it at the end of my career, but when I'm still at the highest level."
Tomas Tuchel on Lukaku's statements: "To be honest, I didn't like them because it's a noise we don't need. We need to keep a calm atmosphere and focus, this doesn't help."
El Liverpool venía de caer derrotado por 1'0 vs Leicester poniéndole fin a una seguidilla de 7 partidos sin caer.: 6PG y 1PE.
Liverpool had just lost 1'0 vs Leicester, ending a 7-game unbeaten streak: 6PG and 1PE.
DUPLA EXPLOSIVA/EXPLOSIVE DUO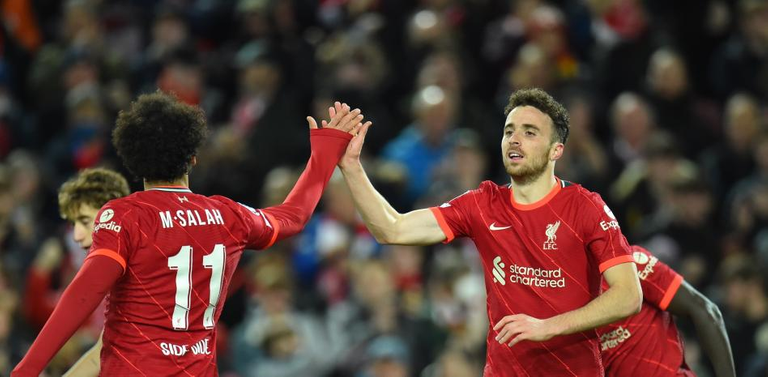 Entre Salah (15) y Diogo Jota (10) convirtieron 25 de los 50 goles a favor del Liverpool.
Fantástico primer tiempo entre Chelsea y Liverpool, en un partido que prometía muchos goles.
Between Salah (15) and Diogo Jota (10) they scored 25 of Liverpool's 50 goals.
Fantastic first half between Chelsea and Liverpool, in a match that promised many goals.
EL PARTIDO/THE MATCH
El Liverpool se adelantó en el marcador en el minuto 9' gracias a un gol de Sadio Mané que aprovechó un regalo de la defensa del Chelsea y no perdonó.
Liverpool took the lead in the 9th minute thanks to a goal by Sadio Mané, who took advantage of a gift from the Chelsea defense and made no mistake.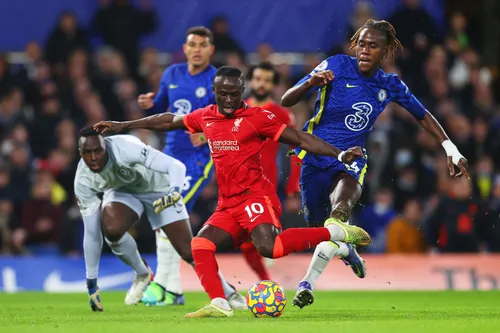 Volvió al Gol: sumaba 9 partidos y 764 minutos con el Liverpool sin marcar. Su último gol fue vs. Arsenal el 20/11/2021.
He returned to the goal: he had 9 matches and 764 minutes without scoring for Liverpool. His last goal was vs. Arsenal on 11/20/2021.
El Chelsea seguía jugando bien hasta que nuevamente apareció Mohamed Salah, que aumentó la ventaja de los visitantes en el minuto 17' con un brillante remate ante el arquero Edouard Mendy.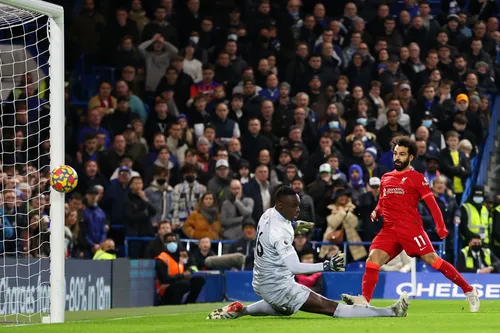 ¡Golazo de Salah! Definición extraordinaria con un gran movimiento corporal para distraer a Mendy y la coloca por el primer palo tras un balón de Trent Alexander-Arnold a la espalda de la defensa del Chelsea.
Es el cuarto gol de Salah contra su ex equipo, el Chelsea, pero es el primero que le convierte en Stanford Bridge.
Chelsea continued to play well until Mohamed Salah came on again to increase the visitors' lead in the 17th minute with a brilliant finish past goalkeeper Edouard Mendy.
Salah's goal! Extraordinary definition with a great body movement to distract Mendy and put it in at the near post after Trent Alexander-Arnold's ball behind the Chelsea defense.
It's Salah's fourth goal against his former Chelsea team, but his first at Stanford Bridge.
Kovacic recortó distancias en el minuto 42, con una magnífica volea, le pega de lleno con el empeine, tras un lanzamiento de falta de Marcos Alonso que despejó Caoimhin Kelleher.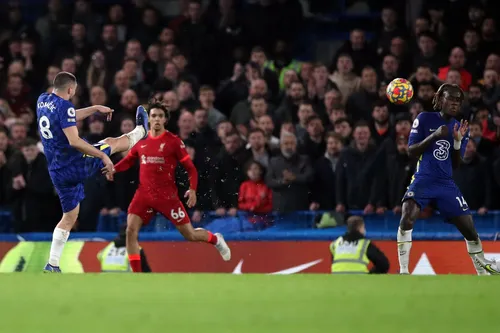 Gesto técnico de Kovacic perfecto que justo antes de terminar la primera mitad recorta distancias.
Kovacic cut the deficit in the 42nd minute, with a magnificent volley, hitting it with his instep, after a free kick by Marcos Alonso that was cleared by Caoimhin Kelleher.
Kovacic's perfect technical gesture that just before the end of the first half cut the deficit.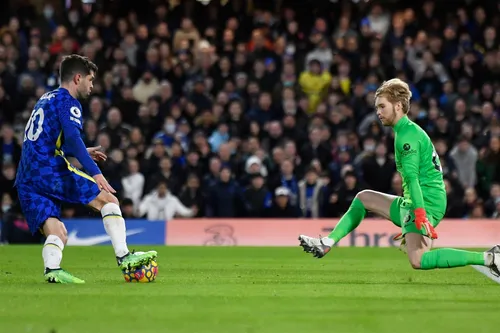 El Chelsea empata 2 a 2, gol de Christian Pulisic en un partidazo en Londres.
Justo antes de ir al filo del descanso, el estadounidense pone tablas en el marcador con un potente remate a pase de N'Golo Kante.
Un cierre de primer tiempo espectacular. El público rugió con ese frenético final del primer tiempo en Londres.
Chelsea drew 2-2, Christian Pulisic goal in a great match in London.
Just before the half-time whistle, the American scored a powerful finish off a pass from N'Golo Kante to level the score.
It was a spectacular end to the first half. The crowd roared at the frantic end of the first half in London.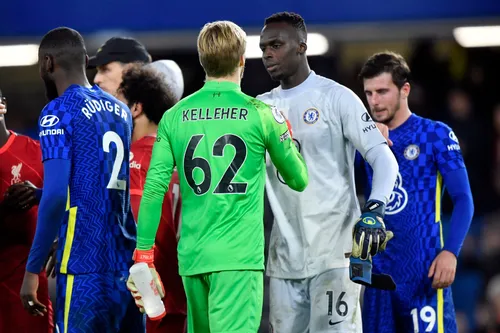 El segundo tiempo no dejo de ser emocionante, con buenas intervenciones individuales de ambos arqueros, el partido continuó con un increíble ritmo, donde ambos equipos iban en un ida y vuelta continuo en busca del gol.
El partido se tornó indescifrable, se repartían las oportunidades de gol y ambos arqueros respondieron cuando su equipo lo necesitaba.
El marcador no se volvió a mover y termina en un empate que no le sirve de mucho a ambos equipos que ven como el City se aleja en la lucha por el título de liga.
El Chelsea sigue segundo con 43 puntos, uno más que el Liverpool, tercero, pero a 10 del líder, el Manchester City.
The second half continued to be exciting, with good individual interventions by both goalkeepers, the game continued at an incredible pace, with both teams going back and forth in search of a goal.
The game became indecipherable, goal opportunities were shared and both goalkeepers responded when their team needed it.
The scoreboard did not move again and ended in a draw that was of little use to both teams, which saw City move further away in the fight for the league title.
Chelsea remain second with 43 points, one more than third-placed Liverpool, but 10 points behind leaders Manchester City.
---
---