ENORME ESPECTÁCULO: ROMA 3 JUVE 4 / AMAZING SHOW: ROMA 3 JUVE 4 ESP/ING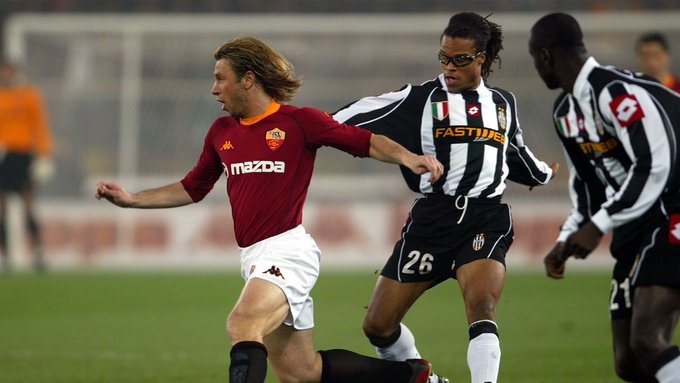 Hola amigos de @fulldeportes, para los seguidores del futbol italiano la imagen de portada será nostálgica, sin duda alguna La Serie A de Italia era la liga por excelencia donde iban a jugar las principales estrellas del futbol mundial. En esa época, los equipos de Italia tenían en su plantilla los mejores jugadores del mundo y eran las escuadras más poderosas de toda Europa.
Hoy los televidentes nos dimos el gusto de volver a recordar esa increíble época con un encuentro que la gente disfrutó. Sin otros partidos importantes en las otras ligas de un nivel superior, hoy era el día de brillar del calcio italiano y vaya que lo hizo.
El encuentro disputado entre Roma vs Juventus por la fecha 21 de la liga italiana en el estadio Olímpico de Roma, fue el partido más llamativo del domingo. El calcio italiano se le presentó la oportunidad para brillar ante los televidentes, recordando la gloriosa época de los años noventa donde eran la mejor y más atractiva liga del mundo.
Ante la ausencia de partidos entre los grandes equipos de la Premier League y con Barcelona y Real Madrid que ya habían disputado sus respectivos encuentros de liga ayer sábado, le quedó al calcio italiano la mesa servida para ser el plato fuerte en la jornada dominical.
El partido era sumamente importante, el que perdiera hoy, le puede decir adiós a la clasificación por la Champions League.
Hello friends of @fulldeportes, for the followers of Italian soccer the cover image will be nostalgic, without a doubt Italy's Serie A was the league par excellence where the main stars of world soccer were going to play. At that time, Italian teams had the best players in the world on their roster and were the most powerful teams in Europe.
Today we, the viewers, had the pleasure of remembering that incredible era with a match that people enjoyed. With no other important matches in the other leagues of a higher level, today was the day for Italian calcio to shine and boy did it shine.
The match played between Roma vs Juventus for the 21st date of the Italian league at the Stadio Olimpico in Rome, was the most eye-catching game of Sunday. Italian calcio was presented with the opportunity to shine in front of TV viewers, recalling the glorious era of the nineties when they were the best and most attractive league in the world.
In the absence of matches between the big Premier League teams and with Barcelona and Real Madrid having already played their respective league matches on Saturday, the table was set for Italian calcio to be the highlight of Sunday's action.
The match was extremely important; whoever lost today could say goodbye to Champions League qualification.
Historial de partidos jugados: 195 /Record of games played: 195
| ROMA | 48 PG | 54 PE |
| --- | --- | --- |
| JUVENTUS | 93 PG | 54 PE |
En el Olímpico de Roma
| ROMA | 35 PG | 33 PE |
| --- | --- | --- |
| JUVENTUS | 28 PG | 33 PE |
En el Olímpico, la Roma ganó 3 de sus últimos 6 partidos como local en liga contra la Juve (2PE 1PP).
Es uno de los pocos equipos que tienen ventaja sobre la Juventus como local. Milán, Nápoles y Inter de Milán son los otros únicos equipos con esa ventaja.
At the Olimpico, Roma won 3 of their last 6 home league games against Juve (2PE 1PP).
They are one of the few teams with home advantage over Juventus. Milan, Napoli and Inter Milan are the only other teams with that advantage.
Marca poco en la liga/ Scores low in the league
La Juve convirtió 28 goles hasta el momento, la cifra más baja tras 20 fechas desde la temporada 1999/00 (26).
Juve have scored 28 goals so far, their lowest tally after 20 games since the 1999/00 season (26).
ALINEACIONES DEL PARTIDO /MATCH LINEUPS
AS ROMA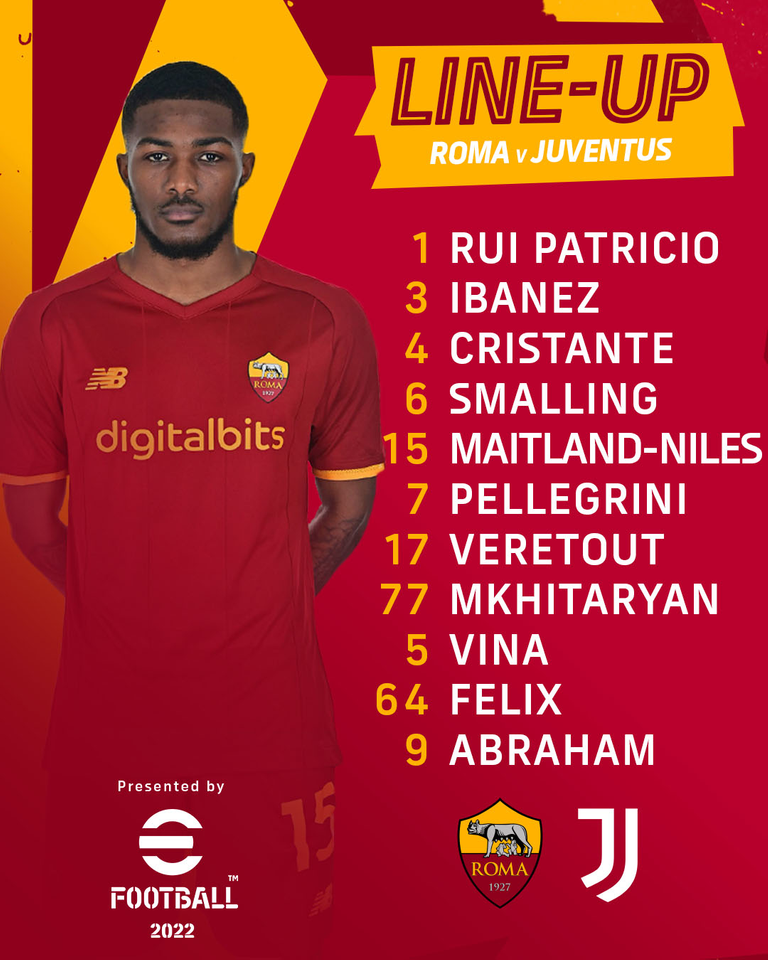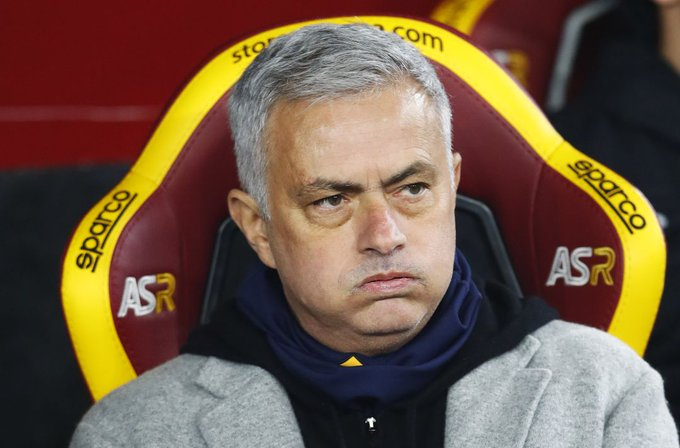 José Mourinho
JUVENTUS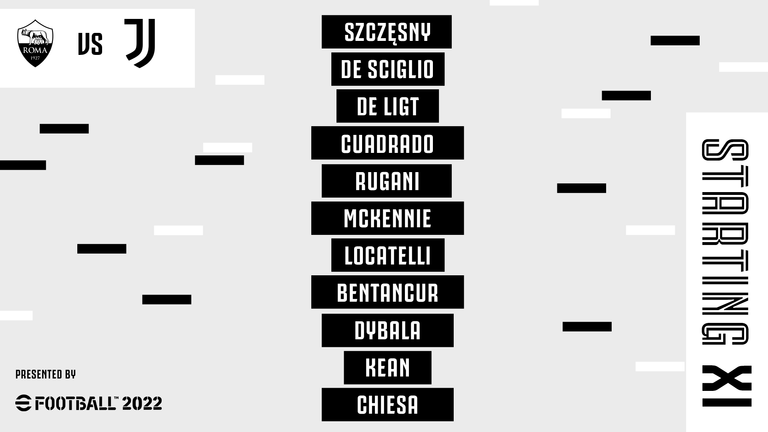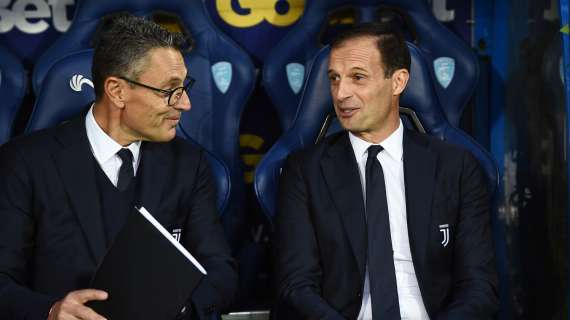 Allegri junto a Marco Landucci
Allegri que se encontraba suspendido, pero su lugar en el banco lo ocupo: Marco Landucci.
Era preparador de arquero con Maximiliano, cuando llegó a la Juve ya había preparador de arquero y para no querer mover los puestos, allegri lo termina promoviendo a asistente de campo. Comentan que Marco Landucci es una persona muy tranquila y con buena lectura de los partidos.
Allegri was suspended, but his place on the bench was taken by Marco Landucci.
He was goalkeeper trainer with Maximiliano, when he arrived at Juve there was already a goalkeeper trainer and in order not to move the positions, Allegri ended up promoting him to assistant coach. They say that Marco Landucci is a very calm person with a good reading of the matches.
EL PARTIDO /THE MATCH
ROMA1 JUVENTUS 0
El primer gol llegó en El minuto 11' por medio de Tammy Abraham.
The first goal came in the 11th minute through Tammy Abraham.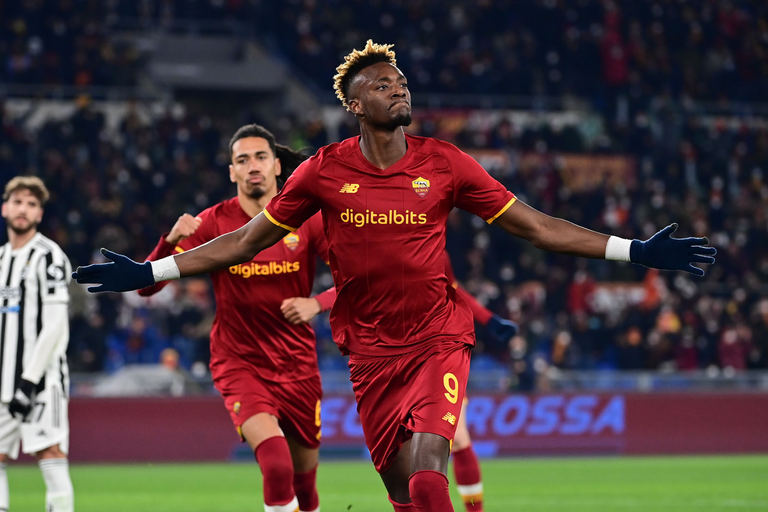 la Roma pega primero en el Olímpico con un gol tempranero. Ante una Juventus que tiene dificultades en anotar.
Es el 8 tanto en el campeonato y el tercero que convierte en casa Tammy Abraham.
La Roma fue muy superior durante los primeros 15 minutos del partido. Le pasó por encima a la Juve con una presión asfixiante, impidiendo al conjunto de Maximiliano Allegri hacerse del balón.
Roma strikes first at the Olimpico with an early goal. Against a Juventus side that is struggling to score.
It is the 8th goal in the championship and the third one scored at home by Tammy Abraham.
Roma was far superior during the first 15 minutes of the match. They went over Juve's head with a suffocating pressure, preventing Maximiliano Allegri's side from getting hold of the ball.
ROMA 1 JUVENTUS 1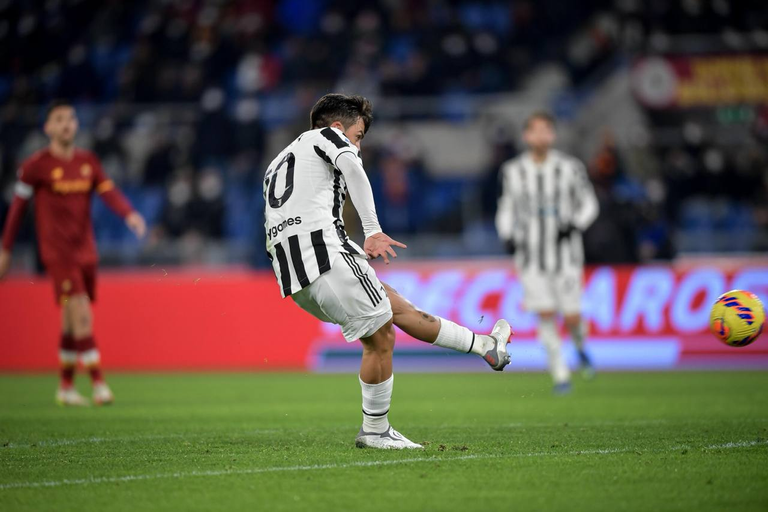 Golazo de Dybala en el minuto 18' con un disparo impresionante desde la media luna, imposible de llegar para el arquero, Rui Patricio.
La capacidad individual de la Juve son los que mantuvieron a la Juve en la pelea, la estaban pasando muy mal en el encuentro y con una buena jugada entre Chiesa y Dybala empataron el partido. 6 goles del jugador argentino en serie A.
Un balde de agua fría para la Roma que estaba apunto de aumentar la ventaja en el marcador. La Roma se cayó en el partido luego del empate del equipo de Turín , demostrando la fragilidad psicológica del equipo romano, bajando su rendimiento ante cualquier adversidad.
Quedaron en el olvido Los primeros quince minutos de la Roma donde fueron los dueños del encuentro, el tramo final del primer tiempo fue mucho más equitativo para las dos escuadras.
Dybala's goal in the 18th minute with a stunning shot from the halfway line, impossible to reach for the goalkeeper, Rui Patricio.
Juve's individual skills are what kept Juve in the fight, they were having a hard time in the match and with a good play between Chiesa and Dybala they tied the match. 6 goals of the Argentine player in Serie A.
A bucket of cold water for Roma who were about to increase the lead on the scoreboard. Roma fell in the match after the draw of the Turin team, demonstrating the psychological fragility of the Roman team, lowering its performance in the face of any adversity.
The first fifteen minutes of Roma's game were forgotten, and the final stretch of the first half was much more equitable for both teams.
SEGUNDO TIEMPO / SECOND HALF
ROMA 2 JUVENTUS 1
El segundo tiempo comenzó con un golazo de Henrikh Mkhitaryan , su 3 gol en serie A. La Roma vuelve a ponerse arriba en el marcador en su casa con un remate desde fuera del área que se desvía en Mattia De Sciglio impidiendo que el arquero Szczesny pudiera llegar a ella.
The second half started with a great goal by Henrikh Mkhitaryan, his 3rd goal in Serie A. Roma got back on the scoreboard at home with a shot from outside the box that deflected off Mattia De Sciglio and prevented goalkeeper Szczesny from reaching it.
ROMA 3 JUVENTUS 1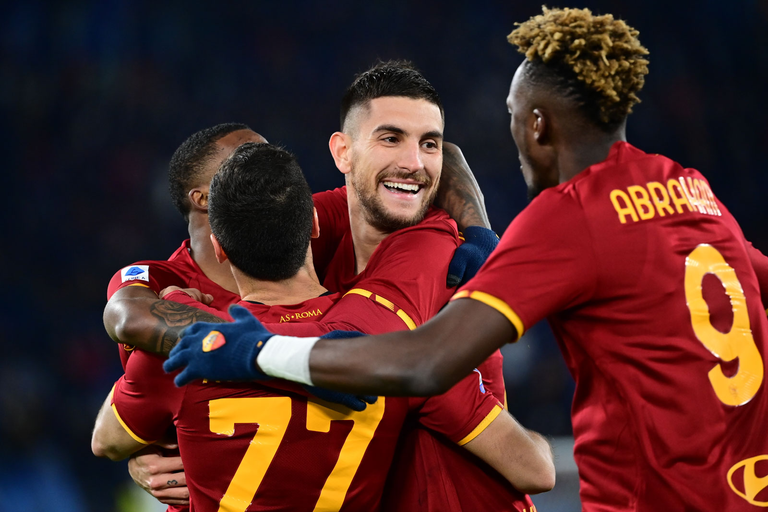 Lorenzo Pellegrini, convierte un increíble gol de tiro libre, su 6 gol en el torneo. Impresionante efecto que agarro el balón con un lanzamiento de falta cobrado a la perfección.
Momento pesado para el equipo de la Juve que en solo 10 minutos del segundo tiempo recibe 2 goles.
Lorenzo Pellegrini scored an incredible goal from a free kick, his 6th goal in the tournament. Impressive effect that caught the ball with a free-kick perfectly taken.
Heavy moment for the Juve team that in only 10 minutes of the second half concedes 2 goals.
EL MOMENTO CUMBRE DEL ENCUENTRO / THE HIGHLIGHT OF THE MEETING:
Arthur y Morata entran en el minuto 63'para tratar de darle un vuelco al partido. Desde la salida de Chiesa el equipo perdió peligro.
Arthur and Morata came on in the 63rd minute to try to turn the game around. Since the departure of Chiesa the team lost danger.
ROMA 3 JUVENTUS 2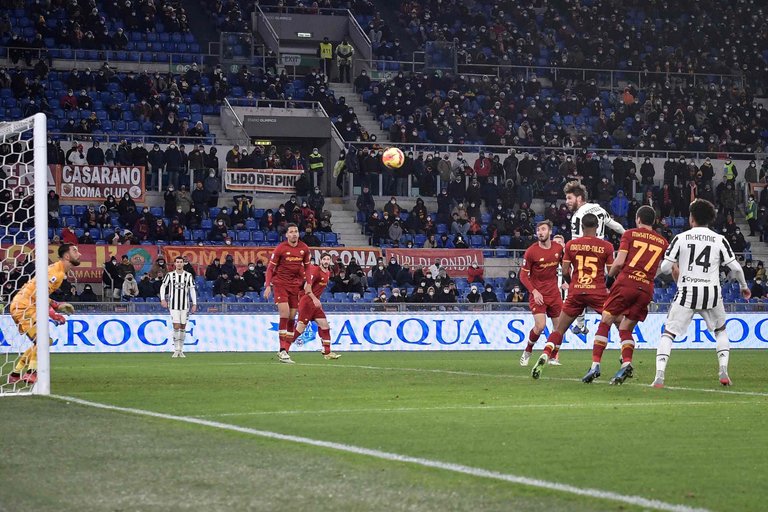 Morata con una buena jugada, manda un centro preciso para que Locatelli termine rematando poniendo el partido 3-2.
Con ese gol nace otro partido que hasta el momento era dominado por la Roma. Dándole al partido unos últimos 20 minutos de gran expectativas.
Morata with a good play, sends a precise cross for Locatelli to finish the game 3-2.
With that goal, another game that until that moment was dominated by Roma was born. Giving the game a last 20 minutes of great expectations.
ROMA 3 JUVENTUS 3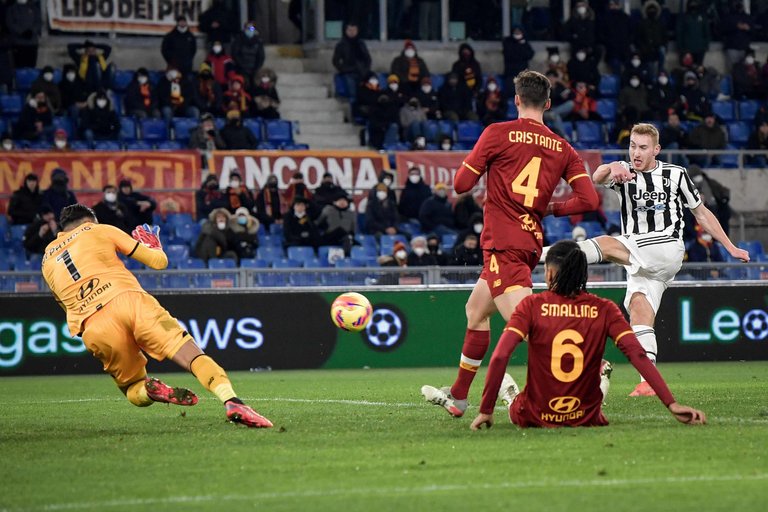 La Juventus que logra empatar el marcador de manera impresionante en el minuto 72' a través de Dejan Kulusevski.
La entrada del delantero Español, Alvaro Morata, pretendido por el Fc Barcelona le cambio el partido al equipo de la Juve.
Juventus managed to tie the score in an impressive manner in the 72nd minute through Dejan Kulusevski.
The entry of Spanish striker Alvaro Morata, wanted by FC Barcelona, changed the game for Juve.
ROMA 3 JUVENTUS 4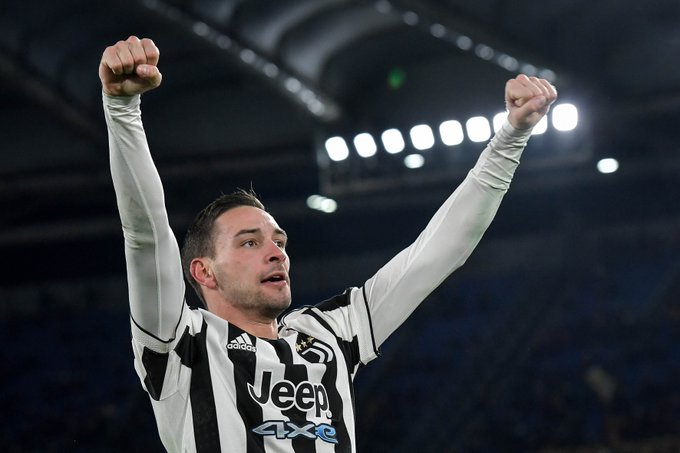 Que increíble remontada con un gol al minuto 77 de Mattia De Sciglio, dándole la ventaja por primera vez en el encuentro a la Juventus. El lateral solo había logrado convertir un gol en la Serie A.
3 goles en 7 minutos para la Juve. Revirtiendo un partido realmente increíble.
What an incredible comeback with a 77th minute goal by Mattia De Sciglio, giving Juventus the lead for the first time in the match. The winger had only managed to score one goal in Serie A.
3 goals in 7 minutes for Juve. Reversing a truly incredible match.
Penal para la Roma y roja para Matthijs De Ligt / Penalty for Roma and red card for Matthijs De Ligt
El partido en el Olímpico es de locos. El defensor holandés cometió un error infantil y cometió un penal cuando el balón tocó su brazo.
La Roma desaprovechó el empate del partido errando un penal por parte de Lorenzo Pellegrini, en la parte final del encuentro.
The match at the Olimpico is crazy. The Dutch defender made a childish mistake and committed a penalty when the ball touched his arm.
Roma missed the equalizer in the match when Lorenzo Pellegrini missed a penalty in the final part of the match.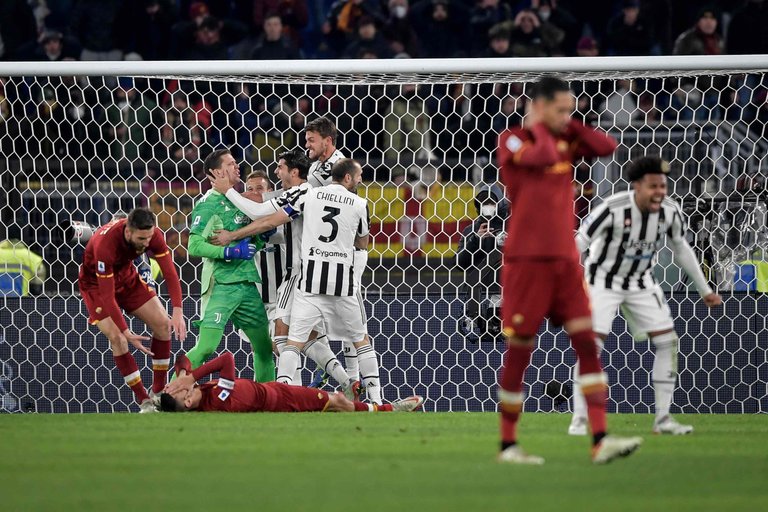 El arquero Szczesny le detiene el disparo y termina siendo la figura de su equipo para mantener la victoria en campo visitante.
Victoria realmente extraordinaria para la Juventus, remontando un partido que estaba perdiendo por mucho. Ganando un partidazo clave para no perderse pisada al Milán que ya había ganado su partido y sacando a la Roma de la lucha que se queda muy lejos en la tabla de posiciones.
The goalkeeper Szczesny saves the shot and ends up being the figure of his team to keep the victory in the visitors' field.
A truly extraordinary victory for Juventus, coming back from a match they were losing by a lot. Winning a key match to keep up with Milan, who had already won their match, and taking Roma out of the fight, who are far behind in the standings.
---
---