5 cosas que haces durante una creación de un post. || 5 things you do during post creation.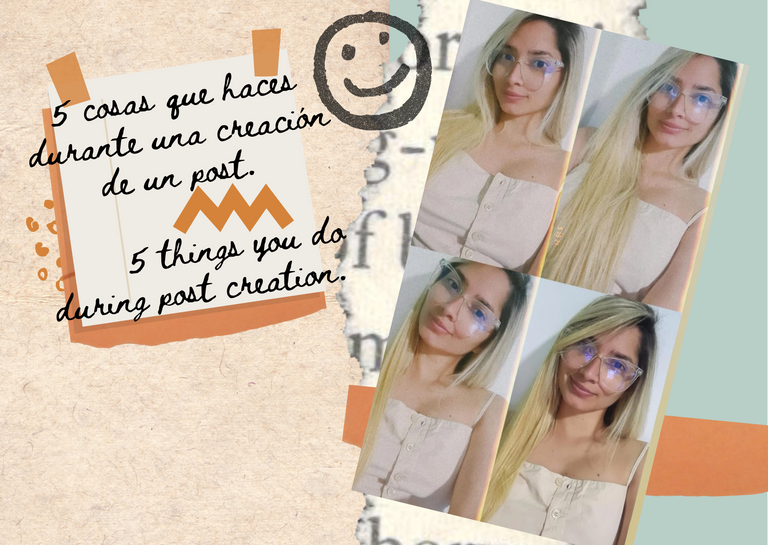 Vengo a responder estas 5 preguntas muy interesantes de las cosas que hacemos durante la creación de un post, así que me uní al tag de @andrea.carolina
I come to answer these 5 very interesting questions about the things we do during the creation of a post, so I joined the @ andrea.carolina tag

💕A la hora de elaborar publicaciones ¿Qué es lo que mas disfrutas?
💕What do you enjoy the most when it comes to producing publications?
Muchas cosas disfruto, y una de esas son investigar sobre lo que voy hablar para tener una buena base de lo que voy a transmitir y así poder dar una buena informacion. ¡¡También me gusta pensar en cómo lo voy a redactar y por donde podría empezar para no ser muy aburrida!!
Y sin dejar a un lado, la parte de editar las fotos… no soy de tener mucha creatividad en realizar diseños, pero #Hive me ha dado ese reto de aprender a ser creativa y dar lo mejor de mi en cada portada.
I enjoy doing a lot of things, and one of them is researching what I'm going to talk about to have a good base of what I'm going to transmit so I can give good information, I also like to think about how I'm going to write it and where I could start to not be too boring!!!
And without leaving aside, the part of editing the photos... I'm not very creative in making designs, but #Hive has given me that challenge to learn to be creative and give the best of me in each cover.
💕¿Qué es lo mas tedioso para ti a la hora de hacer una publicación?
💕What is the most tedious thing for you when making a publication?
Bueno, para mi es algo complicado a la hora de elegir las fotos que poner; me gusta que todo se vea bonito y nítido, y por eso me toma mucho tiempo elegir cual será la indicada para las publicaciones que hago; y como lo mencione en la anterior pregunta a la hora de editar la portada me tardo como 2 horas pensando como hacerlo, que colores, la letra, la forma de la foto jajaaja pero al final del túnel lo logro!!
Well, for me it's a bit complicated when it comes to choosing the photos to put; I like everything to look nice and sharp, and that's why it takes me a long time to choose the right one for the publications I do; and as I mentioned in the previous question when it comes to editing the cover it takes me about 2 hours thinking how to do it, what colors, the font, the shape of the photo haha haha but at the end of the tunnel I make it!!!
💕¿Cuántos post sueles armar por día?
💕How many posts do you usually put together per day?
La verdad hay días para mi que en el trabajo no me da tiempo de nada, ya que tengo muchas reuniones virtuales. Pero en días así puedo realizar un post y dejarlo guardado, para luego cuando este mas libre poderlo acomodar y corregir y publicarlo.
Pero en días libres como a veces los hay, y mas que todo aprovecho la mañana puedo realizar 2 post y de esos 2 publico 1.
A veces tengo que saber manejar mis tiempos para poder publicar en Hive.
The truth is that there are days for me at work that I don't have time for anything, since I have many virtual meetings. But on days like that I can make a post and leave it saved, and then when I'm free I can adjust and correct it and publish it.
But on free days like sometimes there are, and more than anything I take advantage of the morning I can make 2 posts and of those 2 I publish 1.
Sometimes I have to know how to manage my time to be able to publish in Hive.
💕 ¿Cómo es tu planificación a la hora de publicar?
💕How is your planning when it comes to publishing?
Mi planificación, Woow jajaja complicado planificar.
Casi todos los días reviso Hive, las publicaciones de mis seguidores y en las comunidades para ver que Tag, Iniciativa o Concurso puedo ver. Y depende de eso, tengo la idea en mi mente y cuando tenga la oportunidad en mi trabajo o el fin de semana lo realizo.
My planning, Woow hahaha complicated planning.
Almost every day I check Hive, my followers' posts and in the communities to see what Tag, Initiative or Contest I can see. And depending on that, I have the idea in my mind and when I have the opportunity in my work or on the weekend I do it.
💕¿Qué te inspira a la hora de crear tus propias iniciativas / dinámicas /tags?
💕What inspires you when creating your own initiatives / dynamics /tags?
Me inspiras muchas cosas, sobre todo mostrarles un poco de mi vida por este medio, y la fotografía es una pasión que llevo desde que empecé a realizar mi carrera de comunicadora social, y me enfoco mas que todo en las iniciativas o tags que tenga que ver con el día a día.
You inspire me a lot of things, especially to show you a little of my life through this medium, and photography is a passion that I've had since I started my career as a social communicator, and I focus more than anything on initiatives or tags that have to do with the day to day.
Hasta la próxima mis queridos amigos de esta colmena😁😊
Until next time my dear friends of this beehive 😁😊

S e p a r a d o r e s | S e p a r a t o r:
F o t o g r a f í a | P h o t o g r a p h y: @magamontilva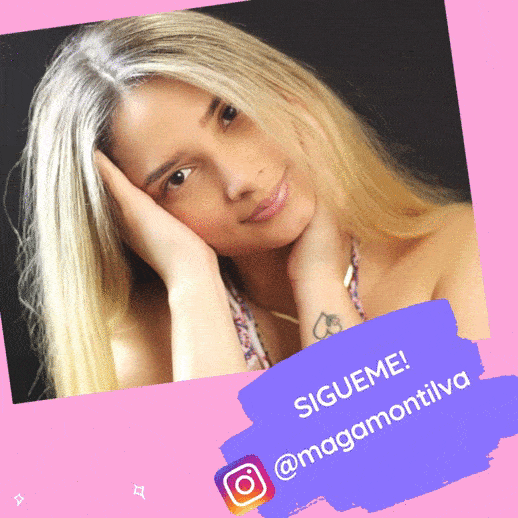 ---
---