Shiro First Day Outside
Technically, this is not his first day outside but today shiro was outside with more control and a calm demeanor, compared to last week when he ran way from home.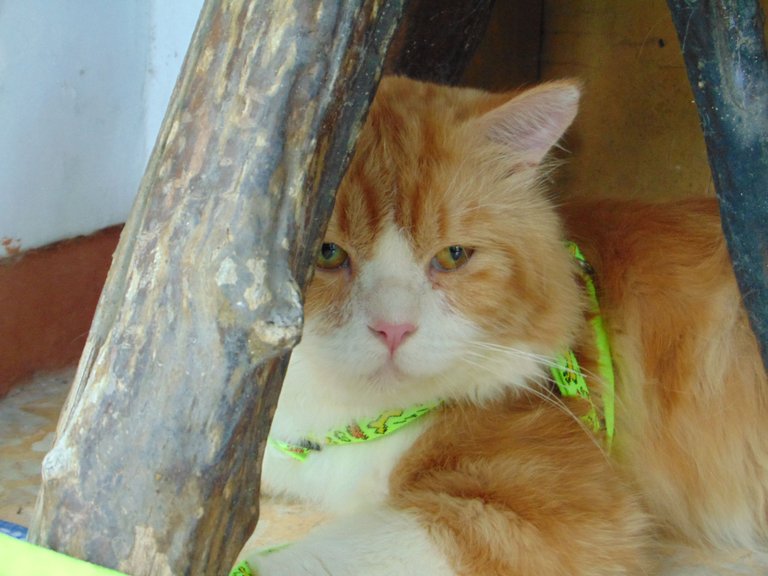 Last week, my mom was hurt by our cat, Shiro. I ended up going back home to check my mom's and his condition. We were advised by many including our relatives to let go of the cat that we only adopted for a few weeks. But, we have grown attached to him, especially my mom who feels like the house is even lively with Shiro's presence. By going home, I hope I could make Shiro a bit more docile and see the problem with the cat. When I first arrived, the cat seemed aloof and distant. He did not want to look me in the eye nor even get close to me. I knew that something was wrong with him. His eyes did not look friendly at all and exuded aggressiveness that I was afraid he might be one of those cats from hell. But after a week of personal approach, I have successfully made him a bit more docile.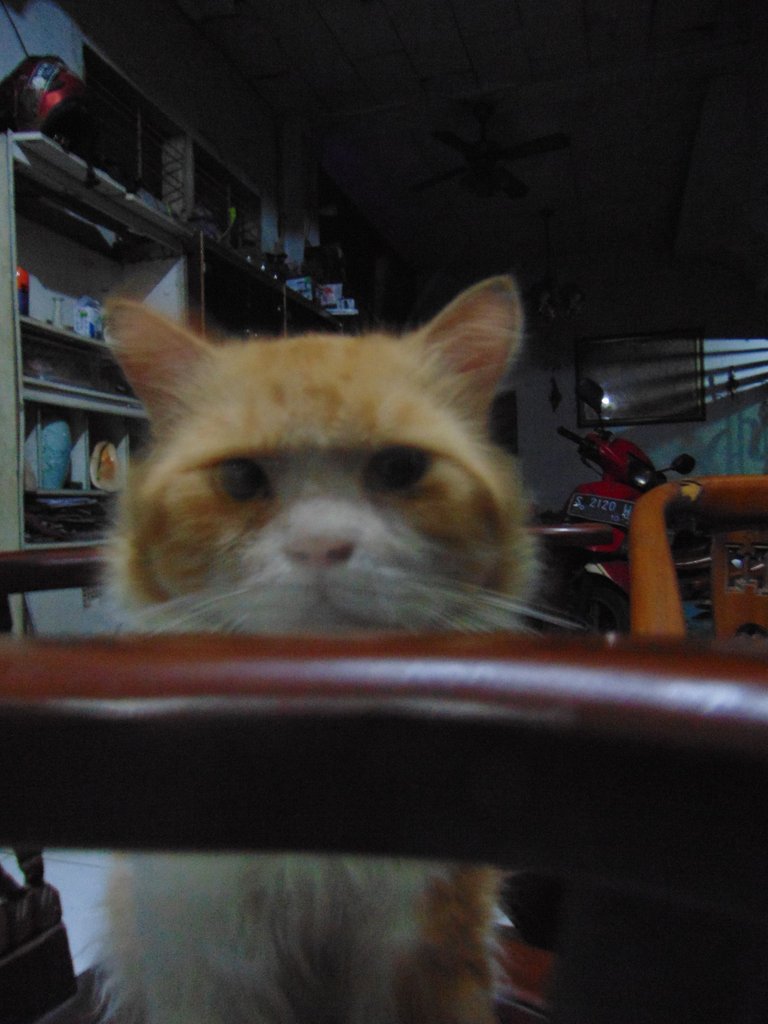 On the first day, I was still busy taking care of my mom and I only socialized with the cat when I could. I approached him with food, talked to him, and petted him as much as I could. He did not want to see me and I did not force him. In my attempt, I was telling him that he should see me. At the same time, I also gathered more information about the cat's previous situation and his health. Apparently, he did not have any major diseases and it's only lice and fungi problems. He is pretty healthy in terms of weight and no major issues. I was relieved to know that. I checked all his health records from the pet and vet that he visited when he first came home.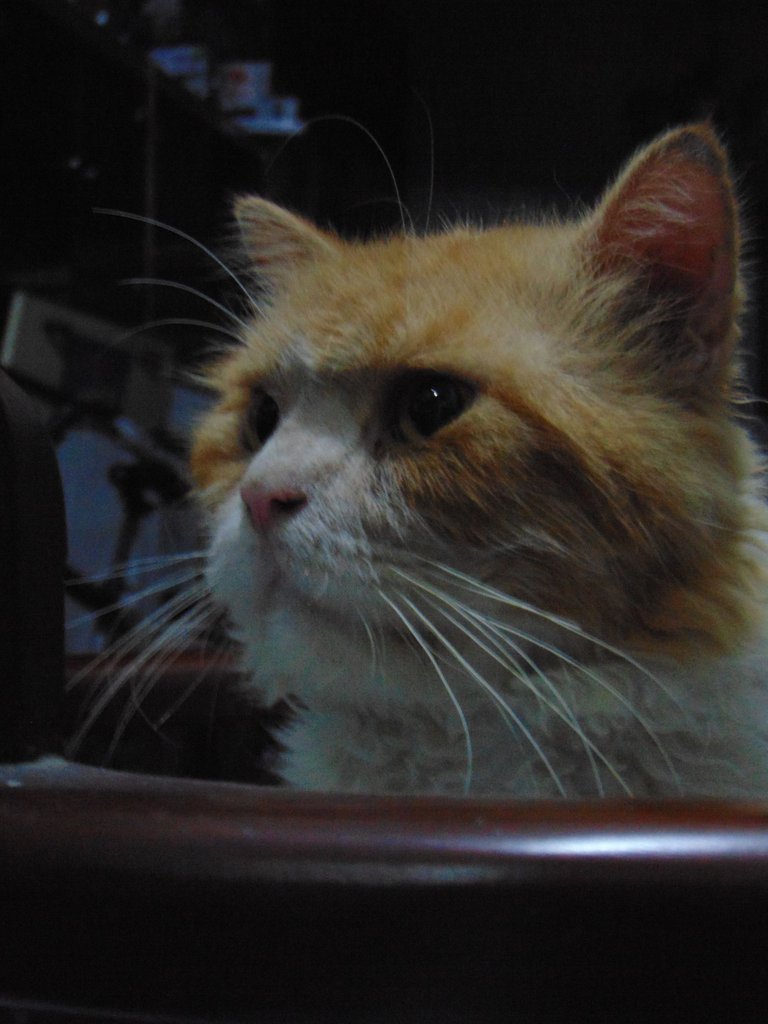 Then, the second day, Shiro started to get closer to me and I kept calling him when I could. He has odd sleep hours just like I do, so we make a good team. Only after the 3rd day, he looked me in the eye and was not shy nor aggressive with me. He would get closer to me and approach me whenever I go downstairs. When it is around 5 AM, I would open his cage and shiro would go inside so that he can enjoy lounging watching people go to the market in front of the door until 8 AM.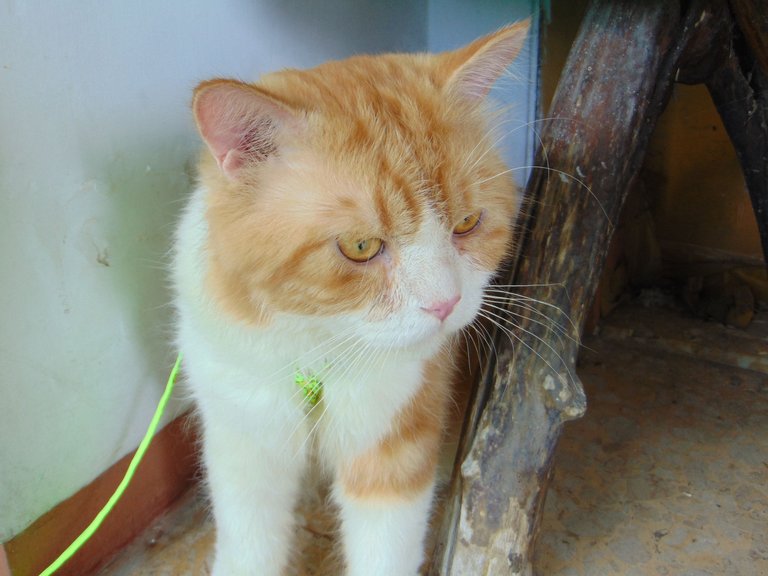 I watched the channel recommended by @castleberry and I eventually learned a few tips here and there. Previously, I never had a cat with shiro's characteristics. Most of our cats were docile or straight up a gangster cat where we never had to worry because for example, Pino, our previous cat, was muscular, strong, and knew his way home. He was an American snowshoe. But he died of old age. We have not had any male house cats since then except the freelancer cats. Shiro on the other hand is a persian and it's something I personally never had much experience with. To my mind, they are docile and lazy but shiro seemed to be an exception. Not only is he in heat but also he doesn't seem like he's that lazy.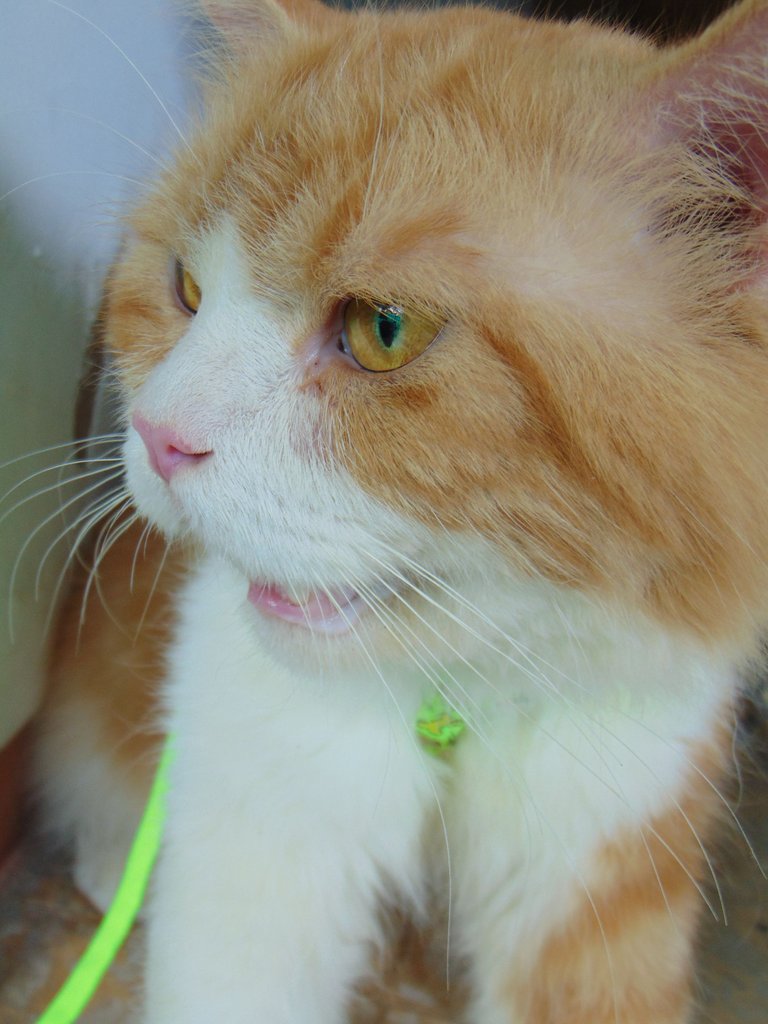 It took a while to gain Shiro's trust and today, I brought him to the vet and also for grooming. The vet told me that Shiro does not have any rabies nor have those symptoms. He only has lice and fungi problems. I also asked if he's obese but the vet told me that he's in a healthy weight although he gained about 1.5kg since the last visit to the vet. At the same time, I wanted to vaccinate him but I was advised to send him another day because it has to be done separately. So, since grooming was much needed, I eventually put the vaccination on hold. The vet also told me that there's no rabies yet in my hometown, especially for indoor cats so I don't have to worry. Strangely, she mentioned that it is not necessary to vaccinate the cat for rabies but I can do that if I want to.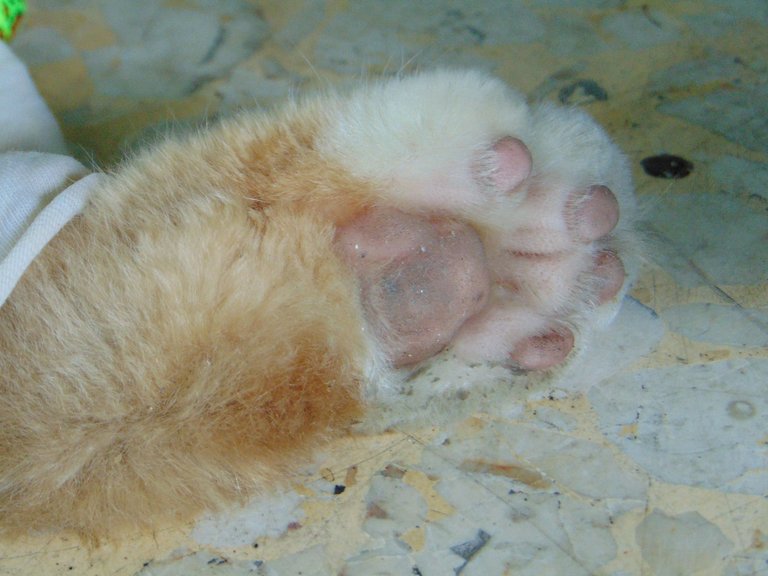 While at the place, I went next door to the pet shop to get the food and also a harness that would help us walk together. I saw someone walking their cat the other day and it seemed like a good idea for Shiro to go walk outside and get to know his surroundings more while still being on our watch. The only problem is, lately it is above 32C and it's pretty hot for a cat to walk outside. After I left Shiro at the vet for grooming, I went home and only after 4 hours, I was called in to pick him up.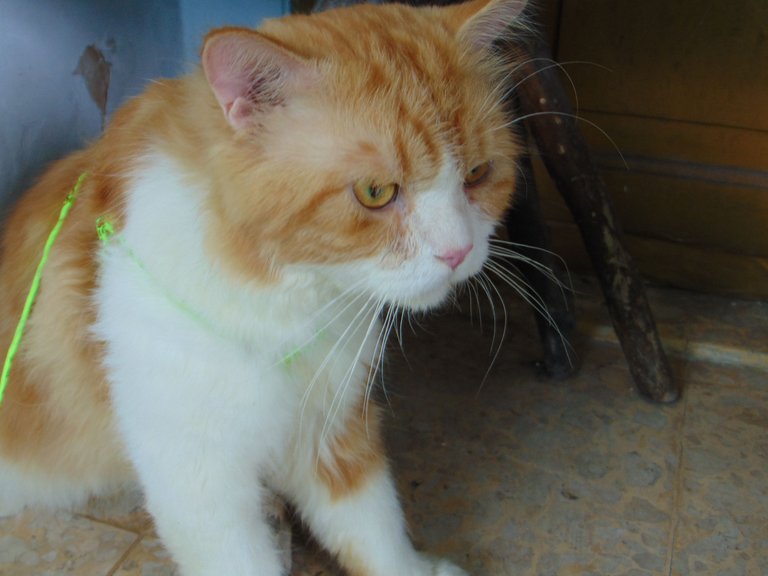 My mom said that he looks unrecognizable because he's clean and his fur is smoother. He seemed to get even docile and was not howling a lot. My mom and I went to visit my dad's place which is even safer for the cat to explore as he lives in a gated residential area. We went there before going back home and I let Shiro out with the harness attached. It didn't take him long to get adjusted to it and he was happy to explore around. In that area, he got to meet other cats, see flowers, plants and walk a lot. But after a 5 minute walk, I noticed that he had heat stroke symptoms. So, I held him and brought him back. We ended up covering him with a dampened cloth, gave him a lot of water and let him sleep. After Shiro got his nap, we went back home and helped him adjust with the environment again. Strangely, he doesn't meow or howl a lot. He was just walking around, doing his thing and eating. When I touched his feet, he was not angry and it is the same way when I petted him, he stood still and did nothing. From the first day I met him until today, I noticed significant improvement in the way he interacted with me and other people inside the house. He no longer seemed aggressive and quite responsive when we said something to him. At the same time, my mom is slowly healing although some of the scars were quite deep and needed a few more weeks to heal.

Don't hesitate to upvote for more content like this ! You can also support me below!

---
𝘔𝘢𝘤 𝘪𝘴 𝘢 𝘴𝘦𝘭𝘧-𝘦𝘮𝘱𝘭𝘰𝘺𝘦𝘥 𝘯𝘪𝘯𝘫𝘢 & 𝘤𝘰𝘧𝘧𝘦𝘦 𝘤𝘰𝘯𝘯𝘰𝘪𝘴𝘴𝘦𝘶𝘳 . 𝘈 𝘵𝘺𝘱𝘪𝘤𝘢𝘭 𝘪𝘯𝘵𝘳𝘰𝘷𝘦𝘳𝘵 𝘪𝘯 𝘭𝘰𝘷𝘦 𝘸𝘪𝘵𝘩 𝘭𝘪𝘵𝘦𝘳𝘢𝘵𝘶𝘳𝘦, 𝘣𝘰𝘰𝘬𝘴, 𝘵𝘦𝘤𝘩𝘯𝘰𝘭𝘰𝘨𝘺 𝘢𝘯𝘥 𝘱𝘩𝘪𝘭𝘰𝘴𝘰𝘱𝘩𝘺. 𝘛𝘩𝘪𝘴 𝘪𝘴 𝘩𝘦𝘳 𝘱𝘦𝘳𝘴𝘰𝘯𝘢𝘭 𝘣𝘭𝘰𝘨, 𝘢 𝘳𝘦𝘧𝘭𝘦𝘤𝘵𝘪𝘰𝘯 𝘰𝘧 𝘩𝘦𝘳 𝘸𝘢𝘯𝘥𝘦𝘳𝘭𝘶𝘴𝘵 𝘢𝘯𝘥 𝘵𝘩𝘪𝘳𝘴𝘵 𝘧𝘰𝘳 𝘬𝘯𝘰𝘸𝘭𝘦𝘥𝘨𝘦. 𝘚𝘩𝘦 𝘰𝘧𝘵𝘦𝘯 𝘤𝘰𝘷𝘦𝘳𝘴 𝘣𝘰𝘰𝘬𝘴, 𝘮𝘰𝘷𝘪𝘦 𝘢𝘯𝘥 𝘴𝘦𝘳𝘪𝘦𝘴 𝘳𝘦𝘷𝘪𝘦𝘸𝘴, 𝘵𝘦𝘤𝘩 𝘳𝘦𝘷𝘪𝘦𝘸𝘴 𝘢𝘯𝘥 𝘵𝘳𝘦𝘯𝘥𝘴, 𝘱𝘩𝘰𝘵𝘰𝘨𝘳𝘢𝘱𝘩𝘺, 𝘢𝘯𝘥 𝘱𝘦𝘳𝘴𝘰𝘯𝘢𝘭 𝘥𝘦𝘷𝘦𝘭𝘰𝘱𝘮𝘦𝘯𝘵. 𝘖𝘯𝘤𝘦 𝘪𝘯 𝘢 𝘣𝘭𝘶𝘦 𝘮𝘰𝘰𝘯, 𝘺𝘰𝘶 𝘤𝘢𝘯 𝘧𝘪𝘯𝘥 𝘩𝘦𝘳 𝘵𝘳𝘢𝘷𝘦𝘭𝘪𝘯𝘨, 𝘪𝘮𝘮𝘦𝘳𝘴𝘪𝘯𝘨 𝘩𝘦𝘳𝘴𝘦𝘭𝘧 𝘪𝘯 𝘭𝘰𝘤𝘢𝘭 𝘤𝘶𝘭𝘵𝘶𝘳𝘦𝘴 𝘢𝘯𝘥 𝘵𝘳𝘢𝘥𝘪𝘵𝘪𝘰𝘯𝘴, 𝘢𝘯𝘥 𝘵𝘢𝘬𝘪𝘯𝘨 𝘱𝘪𝘤𝘵𝘶𝘳𝘦𝘴 𝘰𝘧 𝘵𝘩𝘦 𝘣𝘦𝘢𝘶𝘵𝘪𝘧𝘶𝘭 𝘴𝘪𝘨𝘩𝘵𝘴 𝘴𝘩𝘦 𝘦𝘯𝘤𝘰𝘶𝘯𝘵𝘦𝘳𝘴 𝘢𝘭𝘰𝘯𝘨 𝘵𝘩𝘦 𝘸𝘢𝘺. 𝘚𝘩𝘦'𝘴 𝘢𝘯 𝘰𝘤𝘤𝘢𝘴𝘪𝘰𝘯𝘢𝘭 𝘧𝘰𝘰𝘥𝘪𝘦 𝘢𝘯𝘥 𝘭𝘰𝘷𝘦𝘴 𝘵𝘰 𝘦𝘹𝘱𝘭𝘰𝘳𝘦 𝘯𝘦𝘸 𝘢𝘯𝘥 𝘥𝘦𝘭𝘪𝘤𝘪𝘰𝘶𝘴 𝘤𝘶𝘭𝘪𝘯𝘢𝘳𝘺 𝘦𝘹𝘱𝘦𝘳𝘪𝘦𝘯𝘤𝘦𝘴. 𝘍𝘰𝘭𝘭𝘰𝘸 𝘢𝘭𝘰𝘯𝘨 𝘰𝘯 𝘩𝘦𝘳 𝘢𝘥𝘷𝘦𝘯𝘵𝘶𝘳𝘦𝘴 𝘢𝘯𝘥 𝘫𝘰𝘪𝘯 𝘵𝘩𝘦 𝘤𝘰𝘯𝘷𝘦𝘳𝘴𝘢𝘵𝘪𝘰𝘯! 𝘋𝘰𝘯'𝘵 𝘩𝘦𝘴𝘪𝘵𝘢𝘵𝘦 𝘵𝘰 𝘶𝘱𝘷𝘰𝘵𝘦, 𝘭𝘦𝘢𝘷𝘦 𝘢 𝘤𝘰𝘮𝘮𝘦𝘯𝘵 𝘰𝘳 𝘢 𝘧𝘦𝘦𝘥𝘣𝘢𝘤𝘬. 𝘈 𝘳𝘦-𝘣𝘭𝘰𝘨 𝘪𝘴 𝘢𝘭𝘴𝘰 𝘢𝘱𝘱𝘳𝘦𝘤𝘪𝘢𝘵𝘦𝘥 𝘵𝘰𝘰.
---
---