TE AMO; observa, piensa y escribe por topfivefamily (ESP/ENG)
Buenas tardes tengan todos los participantes de esta comunidad @topfivefamily esta es mi entrada al concurso observa, piensa y escribe. Es mi primera vez por aquí, por lo que es un gusto saludarles.
-Good afternoon to all the participants of this community @topfivefamily this is my entry to the contest observe, think and write. It is my first time here, so it is a pleasure to greet you.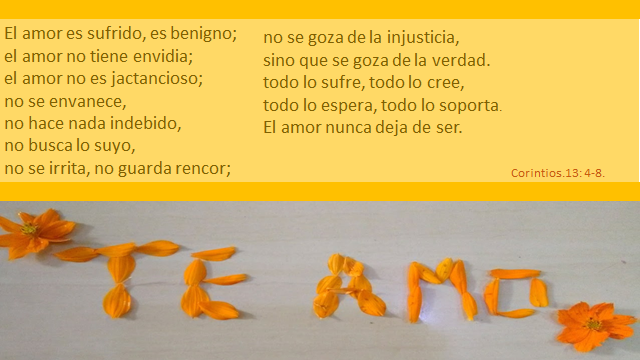 Al mirar la imagen de los colores con la frase te amo, lo primero que me vino a la mente fue este pasaje bíblico de (corintios 13: 4-8) que capture en la imagen, y es que te amo por si solo no significa nada, tan solo una palabra. Un te amo debe de estar acompañado por otros elementos, como el compromiso, el respeto, la sinceridad y la reciprocidad entre otros. sino es solo una fantasía o idealización.
-When looking at the image of the colors with the phrase I love you, the first thing that came to mind was this biblical passage from (Corinthians 13: 4-8) that I captured in the image, and it is that I love you by itself does not mean nothing, just a word. A I love you must be accompanied by other elements, such as commitment, respect, sincerity and reciprocity, among others. if not it is just a fantasy or idealization.
Desde niños nuestro primer amor son nuestros padres, en el caso de las niñas su papá y en el caso de los niños su mamá, son nuestros primeros amores hasta que vamos creciendo y dejamos de idealizarlos y verlos como lo que son, nuestros padres. Y así van naciendo y desarrollando otros lazos de amor entre hermanos, abuelos y demás miembros de la familia.
-From children our first love is our parents, in the case of girls their father and in the case of boys their mother, they are our first loves until we grow up and we stop idealizing them and seeing them for what they are, our parents. And so other ties of love between siblings, grandparents and other members of the family are being born and developing.
Recuerdo en mi época de juventud cuando lleve mi primer pretendiente a casa, mi abuelito me decía "amor con hambre no dura ni que el amor sea sincero". Ese dicho hoy lo recuerdo entre risa y nostalgia, por su sabiduría como padre de crianza que estuvo para guiarme por el buen camino, eso es amor.
-I remember in my youth when I brought my first suitor home, my grandfather used to tell me "love with hunger does not last or that love is sincere". I remember that saying today between laughter and nostalgia, for his wisdom as a foster father who was there to guide me on the right path, that is love.

Con esta frase Te Amo quiero rendir tributo al amor sincero:
*El amor propio en el cual cuidas de ti física, mental y hasta espiritualmente para ser tu mejor versión para ti y compartirla con el mundo.
*El amor hacia los hijos, los padres, la familia, los amigos y hasta nuestras mascotas.
*El amor a la naturaleza y todo lo que la conforma.
*El amor a nuestro pais de origen o de adopción.
*El amor hacia nuestro trabajo y todo lo que me mueve a ser y hacer.
-With this phrase I love you I want to pay tribute to sincere love:
Self-love in which you take care of yourself physically, mentally and even spiritually to be your best version for yourself and share it with the world.
Love towards children, parents, family, friends and even our pets.
The love of nature and everything that makes it up.
The love of our country of origin or adoption.
The love towards our work and everything that moves me to be and to do.
Bonita palabra pero con un gran contenido y significado inmerso. gracias por esta dinámica que nos mueve a reflexionar.
"Que prevalezca la fe, la esperanza y el amor", pero el mayor de ellos es el AMOR. (corintios 13.13)
-Nice word but with great content and immersive meaning. thank you for this dynamic that moves us to reflect.
"Let faith, hope and love prevail", but the greatest of them is LOVE. (Corinthians 13.13)
Foto tomada desde mi nokia2. traductor google.
---
---