🔥 One day taking pictures, and tattooing with a friend 🔥
---
Post in spanish &

english
---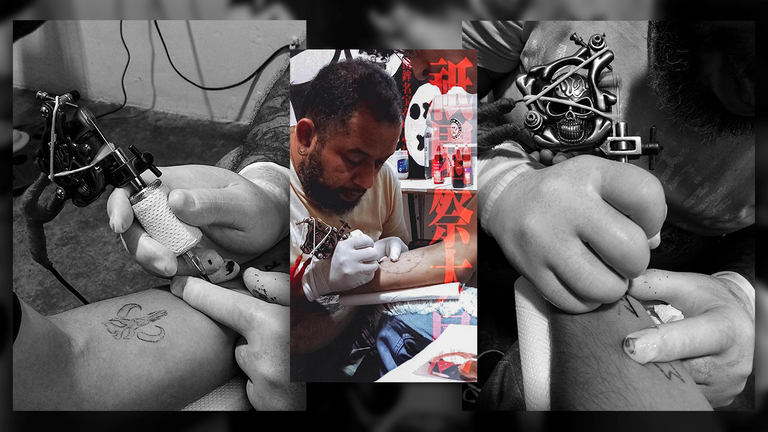 ---
💢 Un día de fotos tatuajes y tinta
---
Hace unos días hice un post donde hablaba de que realicé unas ideas para tatuajes, una me la tatuaría yo y otra que se la tatuaría un amigo.
Luego de cuadrar bien la cita con el tatuador pudimos ir a hacernos nuestros tatuaje, comenté en el post de mi primer tatuaje, que debía ir a tatuarme unos tatuajes que ya tenía pagos desde ese día, esto porque me pagué una promoción de tatuajes pequeños y fuera de eso también me pagué un tatuaje mas grande.
💢 A day of tattoos, photos and ink
---
A few days ago I made a post where I talked about that I made some ideas for tattoos, one would be tattooed by me and another that would be tattooed by a friend.
After squaring well the appointment with the tattoo artist we could go to get our tattoos, I commented in the post of my first tattoo, that I should go to tattoo some tattoos that I already had payments since that day, this because I paid a promotion of small tattoos and outside of that I also paid a larger tattoo.
---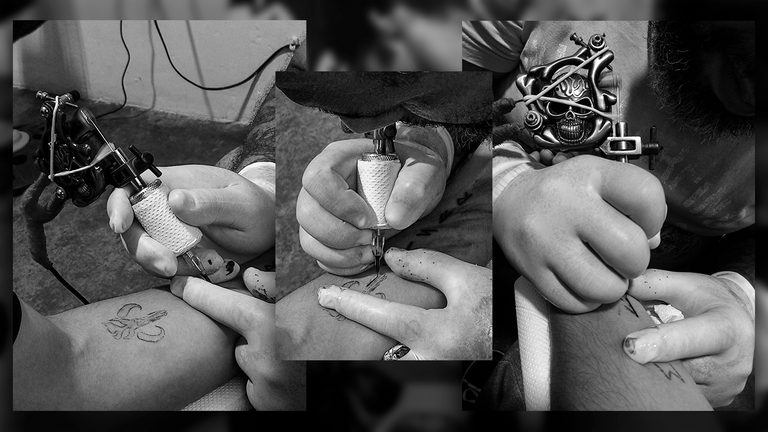 ---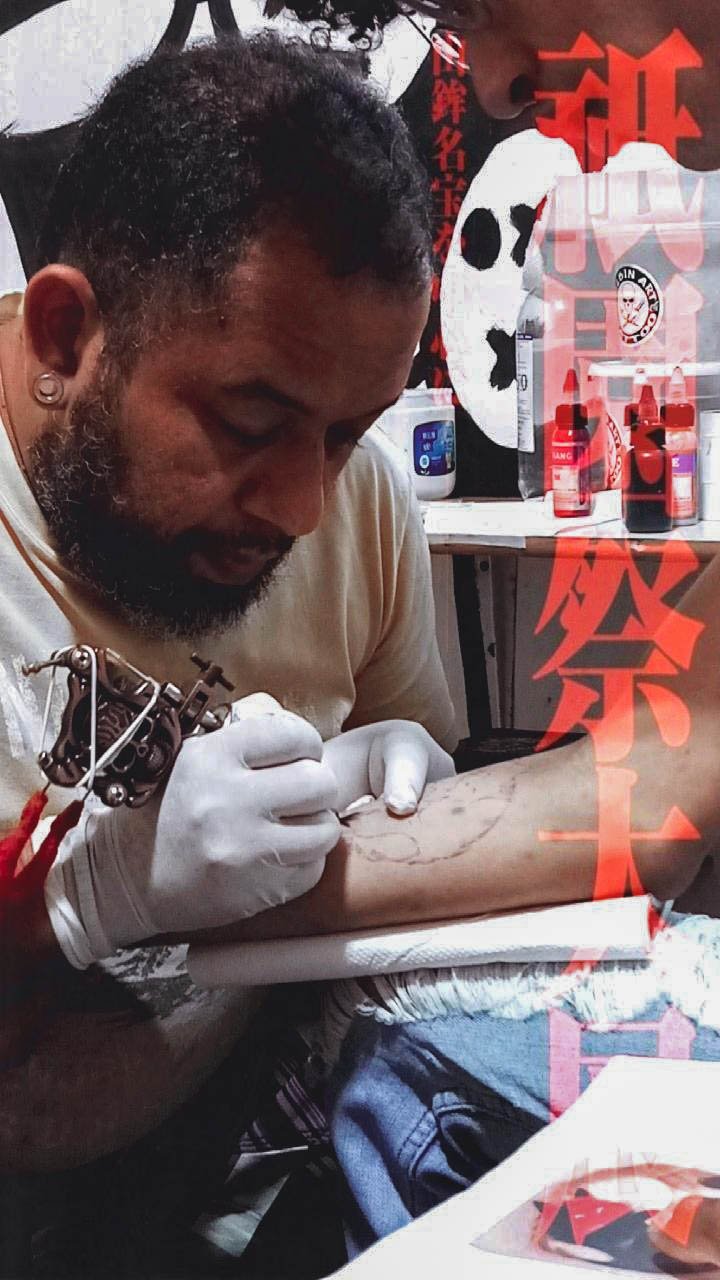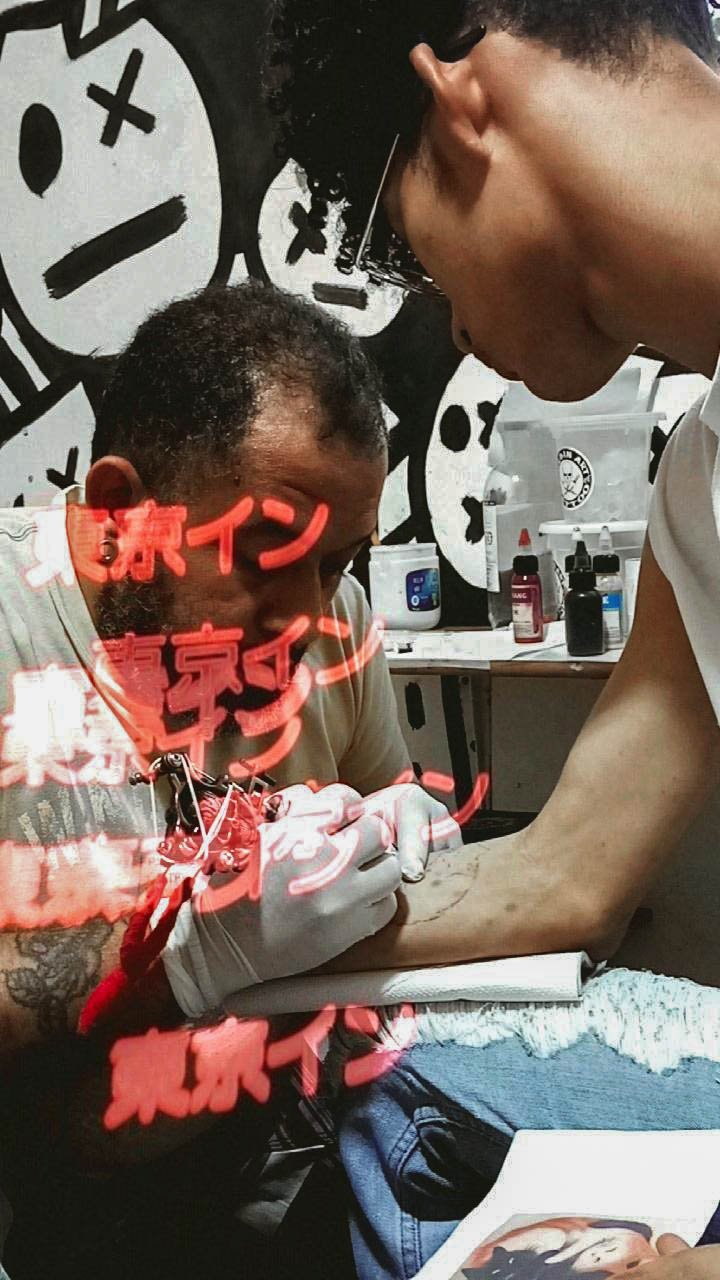 ---
Este día fui con mi amigo César, el sería el que se haría los otros tatuajes, el pagó para hacerse 2, su nombre en rúnico y el emblema de Mandalorian que yo boceté.
Sin duda tenía mucha emoción ese día ya que a pesar de que yo no diseñe originalmente ese logo, si participé pasando el diseño al papel así que lo que yo dibujé el se lo tatuaría.
This day I went with my friend Caesar, he would be the one who would get the other tattoos, he paid to get 2, his name in runic and the Mandalorian emblem that I sketched.
I certainly had a lot of emotion that day because even though I didn't originally design that logo, if I participated by moving the design to paper so what I drew he would tattoo completely.
---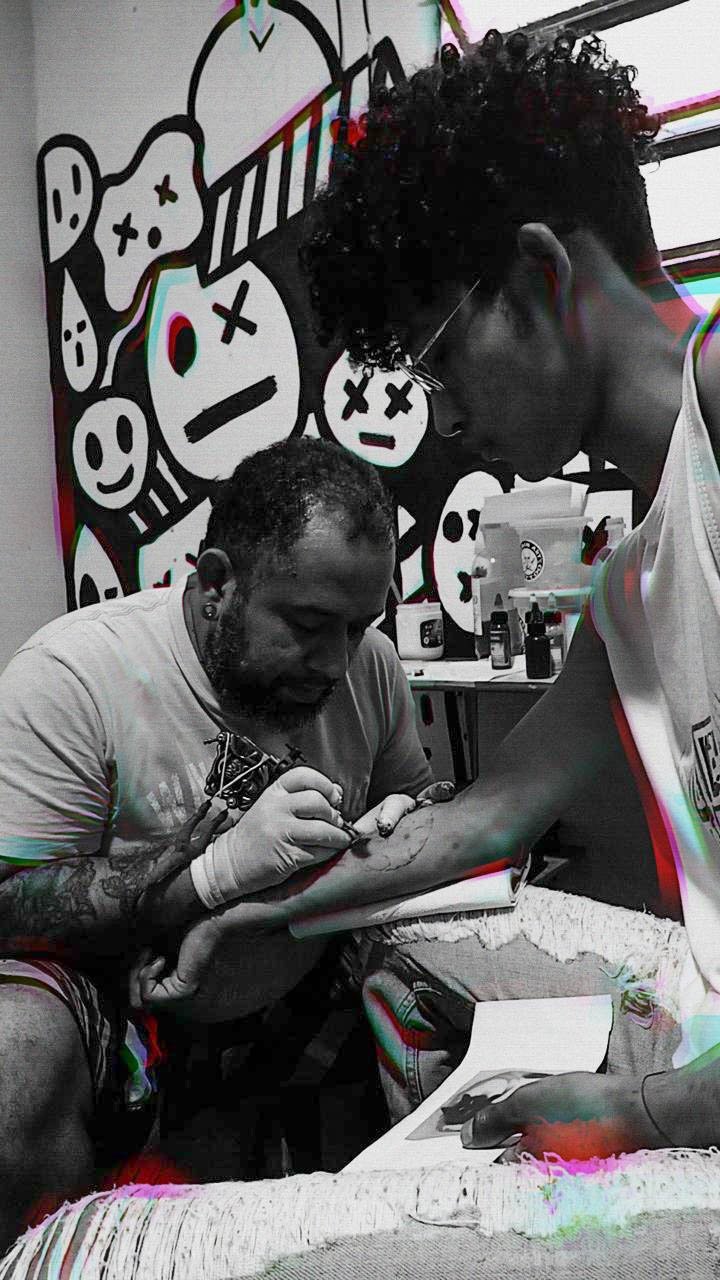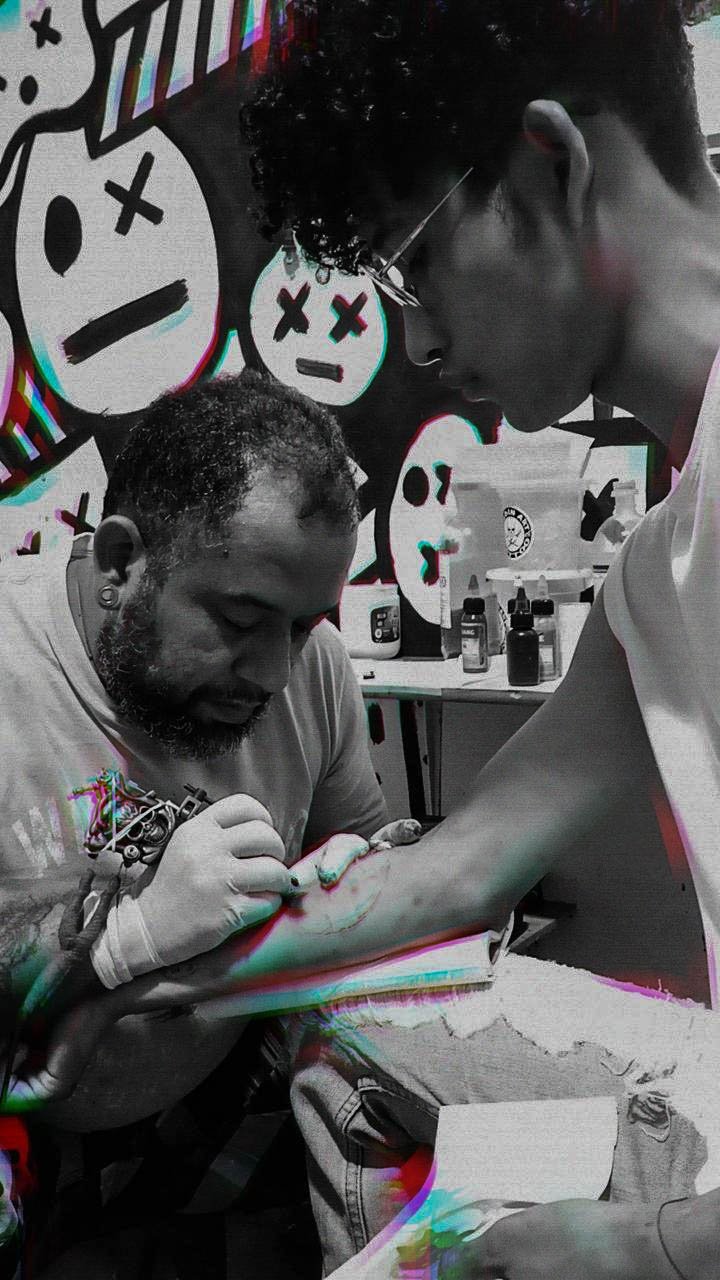 ---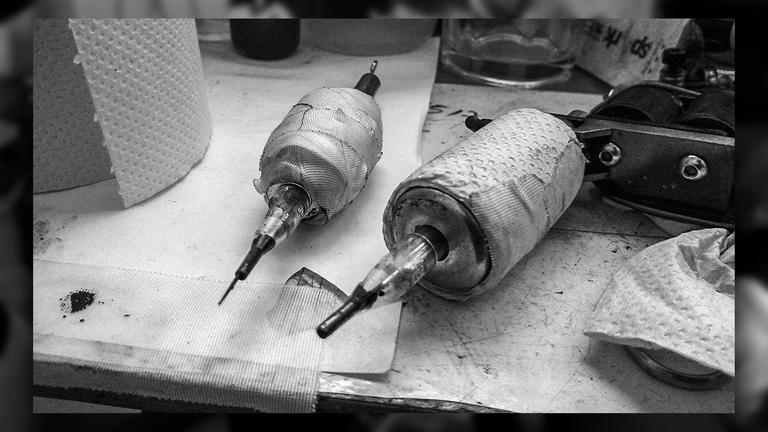 ---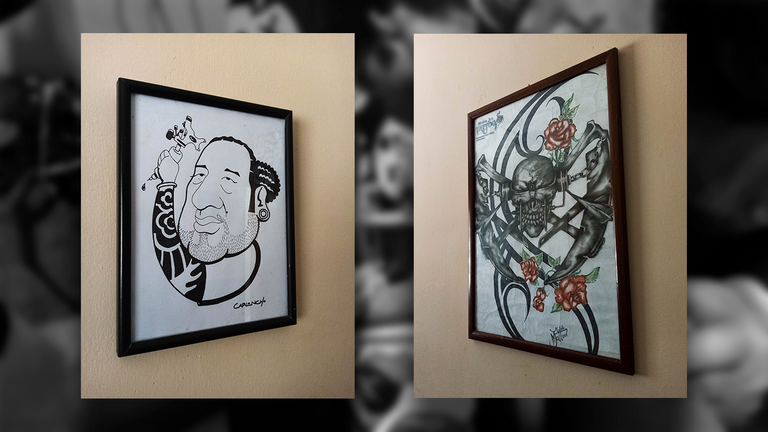 ---
Ese día mientras tatuaban a César pude tomar mas de fotografías en el pequeño estudio de mi amigo Melbin que fue nuestro tatuador.
Pude capturar detalles muy geniales tanto de los momentos donde tatuaban a César, como de el proceso de preparación de los diseños.
That day while tattooing César I was able to take more photographs in the small studio of my friend Melbin who was our tattoo artist.
I was able to capture very great details of both the moments where Caesar was tattooed, and the process of preparing the designs.
---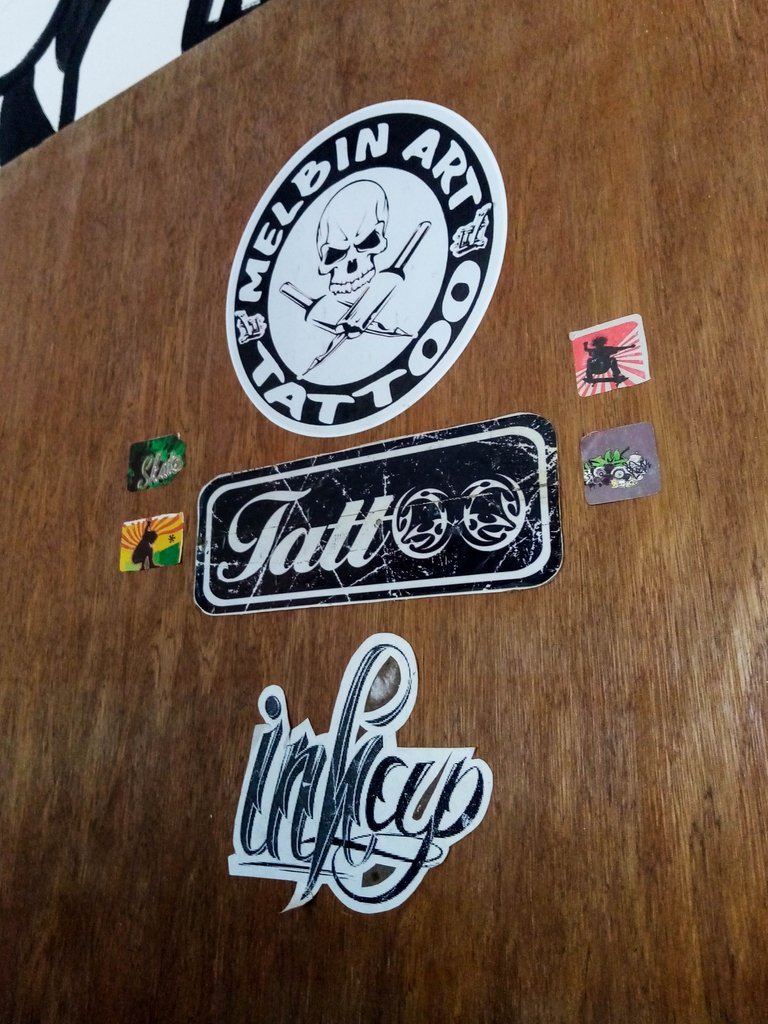 ---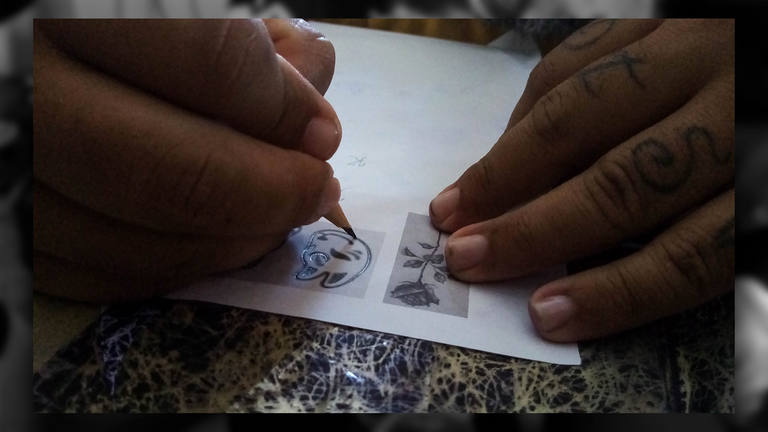 ---
Decidí hacerme unas mascaras Kitsune que son un símbolo japonés que me gusta mucho, no les voy a mentir mas que por el significado me gustó el diseño de las mascaras así que desde que las vi pensé en tatuármelas.
Hice solo un pequeño cambio del diseño original para darle un toque personal al tatuaje.
I decided to make some Kitsune masks that are a Japanese symbol that I like a lot, I will not lie to you more than for the meaning I liked the design of the masks so since I saw them I thought about tattooing them.
I made only a small change from the original design to give a personal touch to the tattoo.
---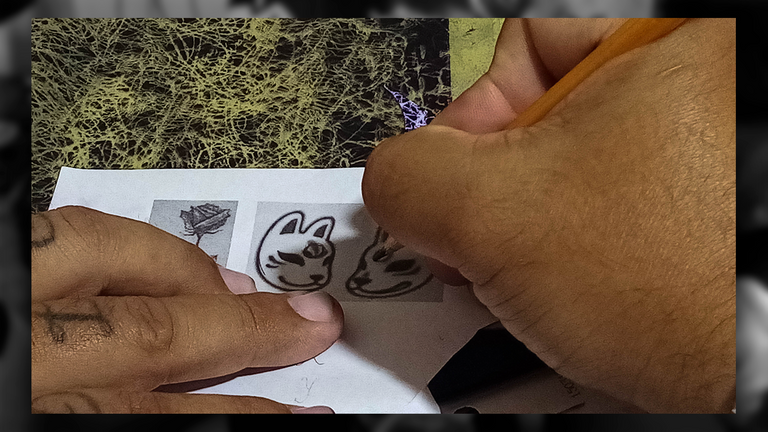 ---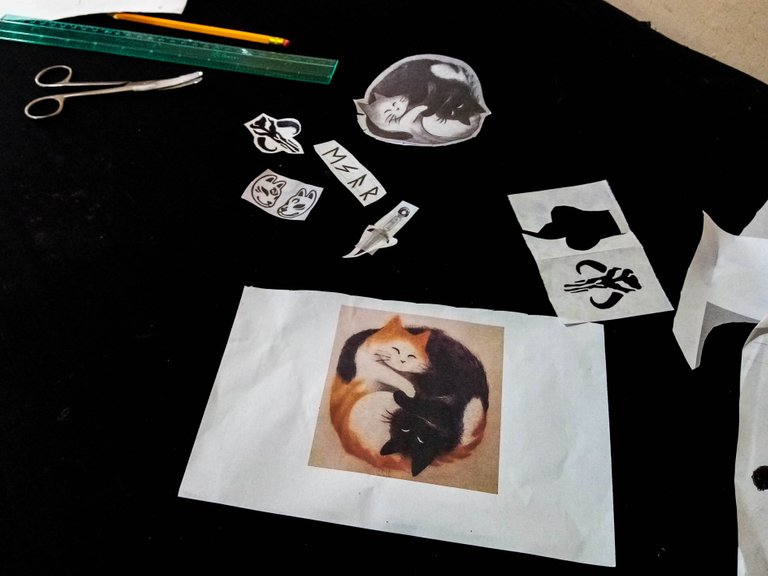 ---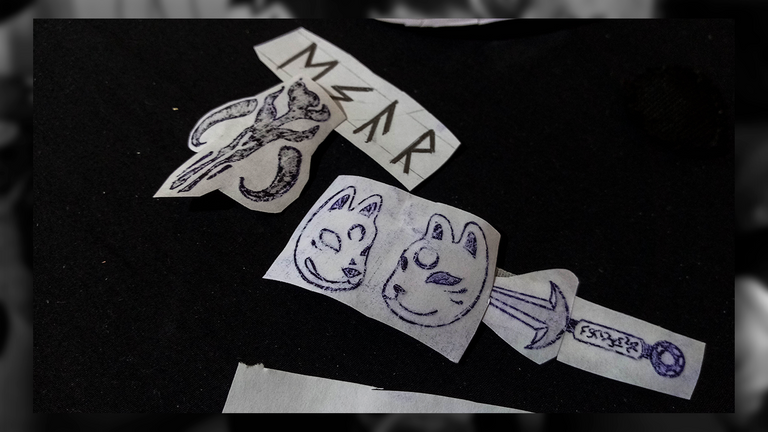 ---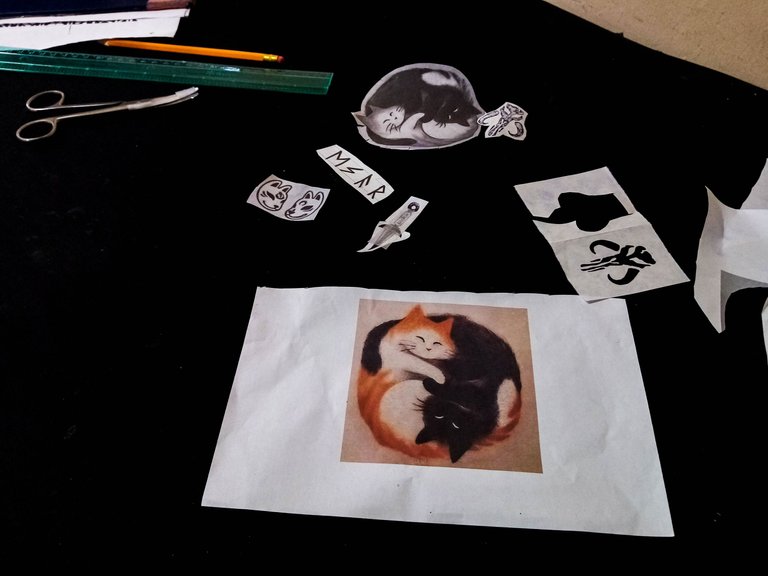 ---
También me quise tatuar a mis dos gatitos, porque son mascotas muy especiales para mí, y tengo pensado tatuarme a las otras mascotas de la casa para llevarlas siempre conmigo aunque algunas no estén físicamente.
Así que tengo que realizar los diseños de varios perritos que he tenido.
I also wanted to tattoo my two kittens, because they are very special pets for me, and I plan to tattoo the other pets in the house to always take them with me even if some are not physically.
So I have to make the designs of several puppies that I have had.
---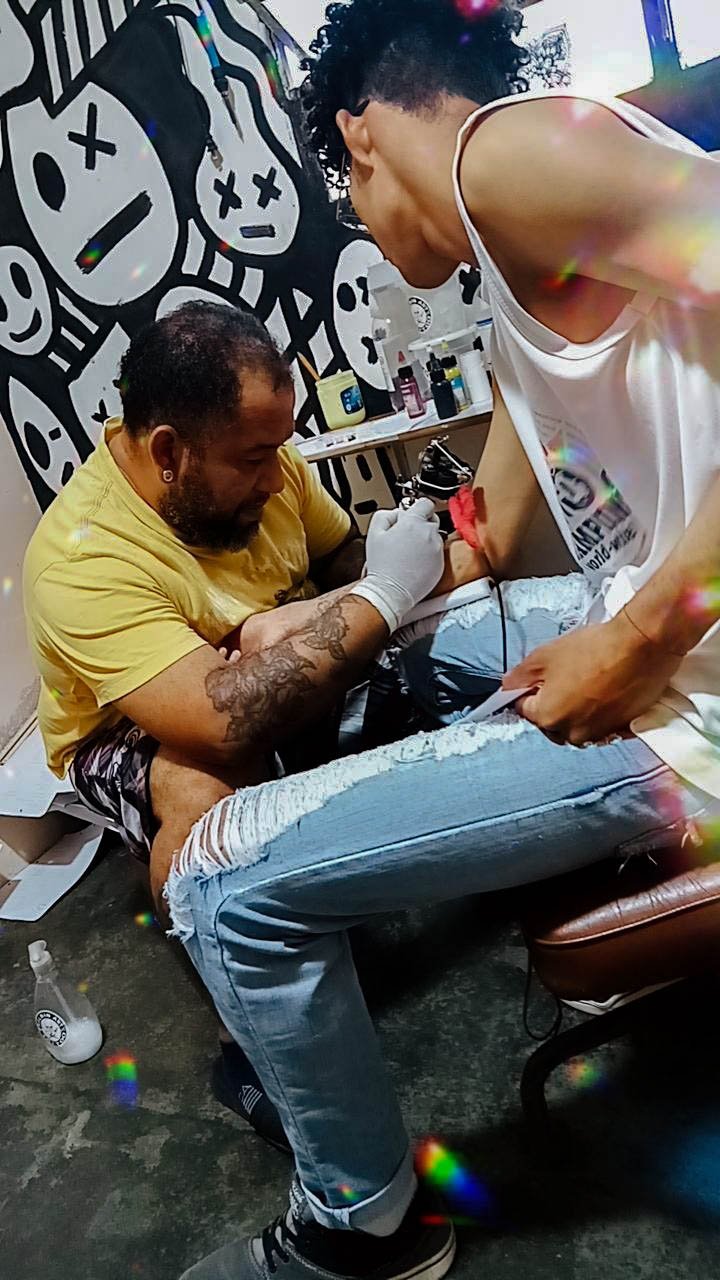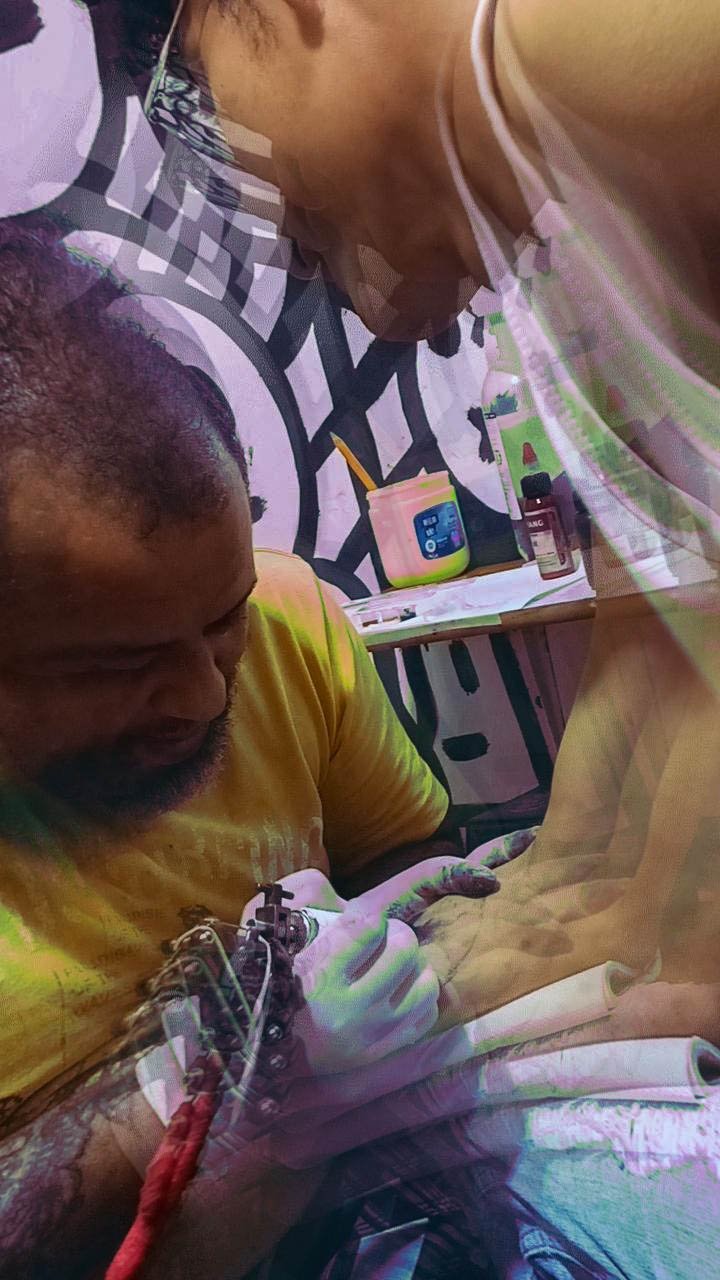 ---
Sinceramente si sentí dolor, sin embargo no era algo bastante fuerte así que fue soportable.
Solo en algunas pequeñas zonas específicas en el antebrazo mientras me tatuaban los gatos fueron las que sentí mas intensas mientras Melbin rellenaba con color.
De resto las mascaras no me dolieron. Entre esos 2 tatuajes del brazo se fueron aproximadamente una hora y media, sentí el tiempo bastante largo pero estaba emocionado por ver como quedaban los tatuajes.
Honestly if I felt pain, however it was not something strong enough so it was bearable.
Only in some small specific areas on my forearm while the cats were tattooing were the ones I felt most intense while Melbin filled with color.
Otherwise the masks did not hurt. Between those 2 arm tattoos they left about an hour and a half, I felt the time quite long but I was very excited and happy to see how the tattoos looked.
---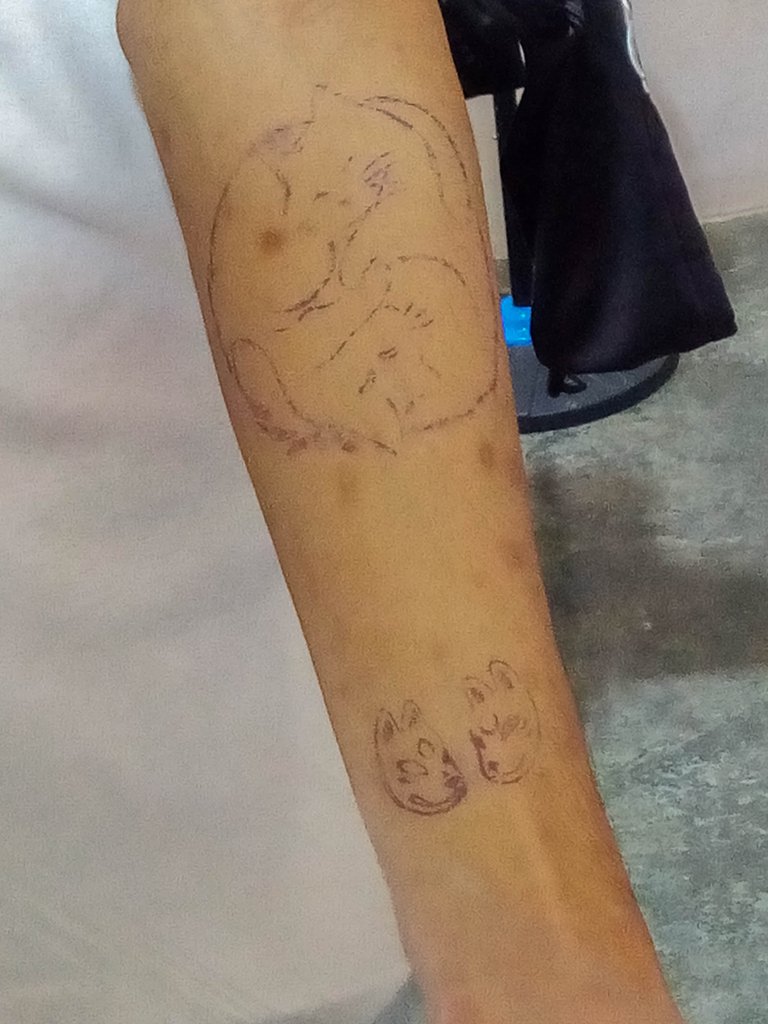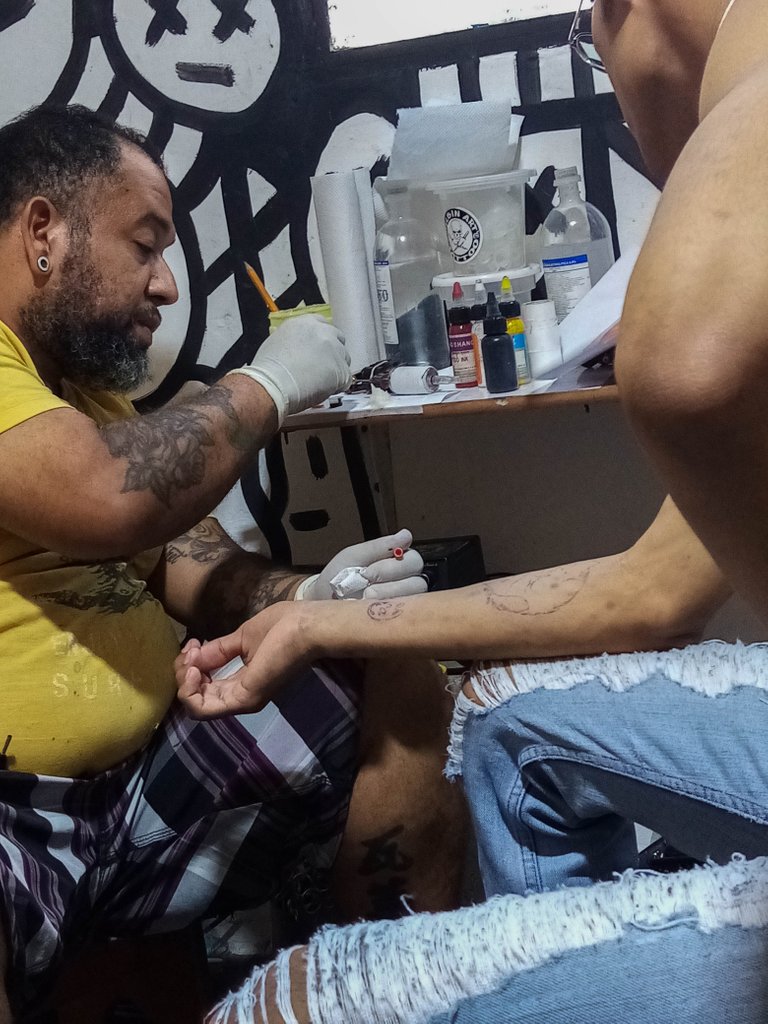 ---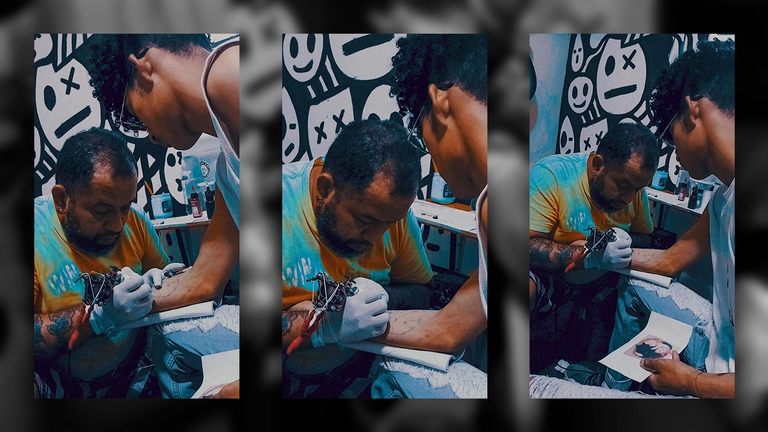 ---
En las siguientes fotos pueden ver como fue parte del proceso de tatuaje de César.
Él no duro tanto tatuándose, fueron casi 30-40 minutos solamente, aunque por lo que me comentó el si sintió bastante dolor, y además sangró mucho mas que yo.
In the following photos you can see how it was part of Caesar's tattoo process.
He didn't last so much tattooing, it was almost 30-40 minutes only, although from what he told me if he felt enough pain, and also bled much more than me.
---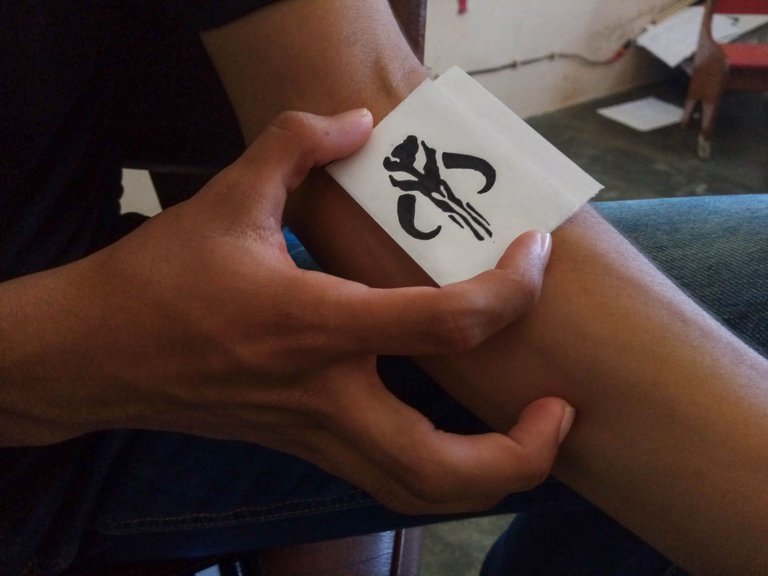 ---
---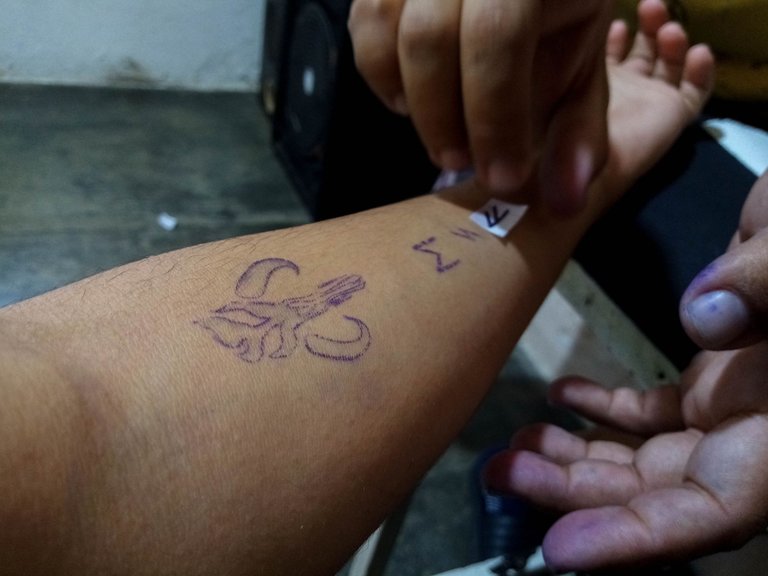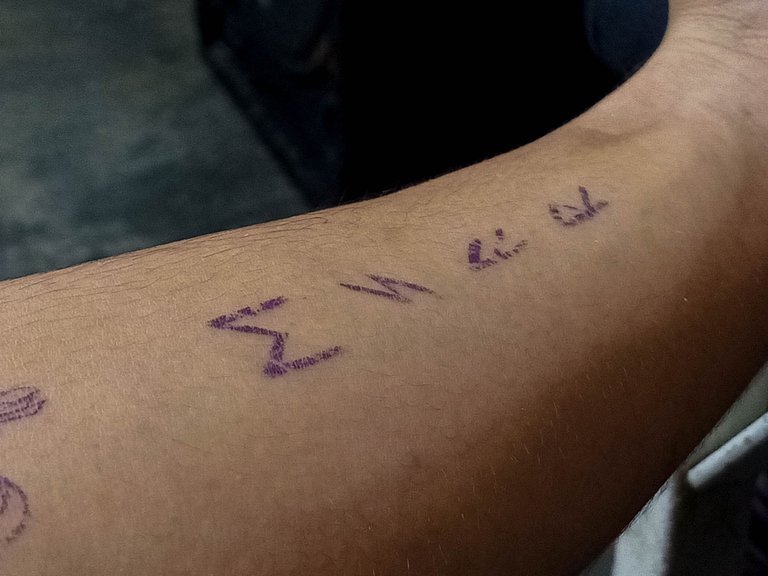 ---
Mis fotos favoritas son estas a blanco y negro que hice mientras lo tatuaban.
My favorite photos are these black and white ones that I took while they were tattooing it.
---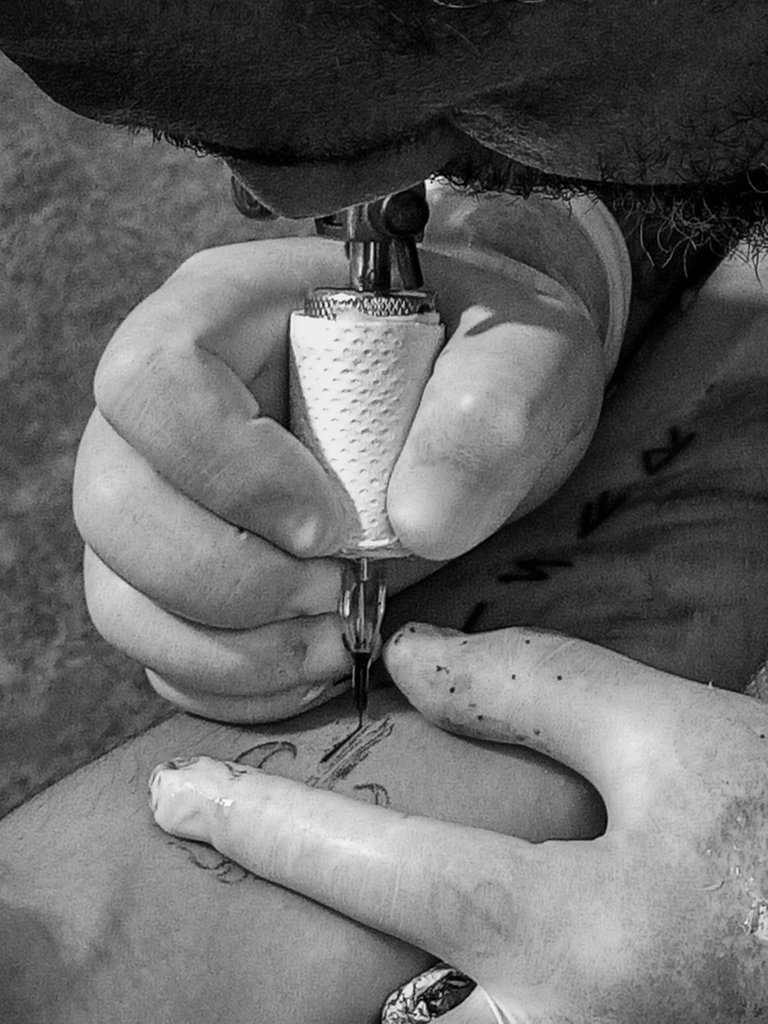 ---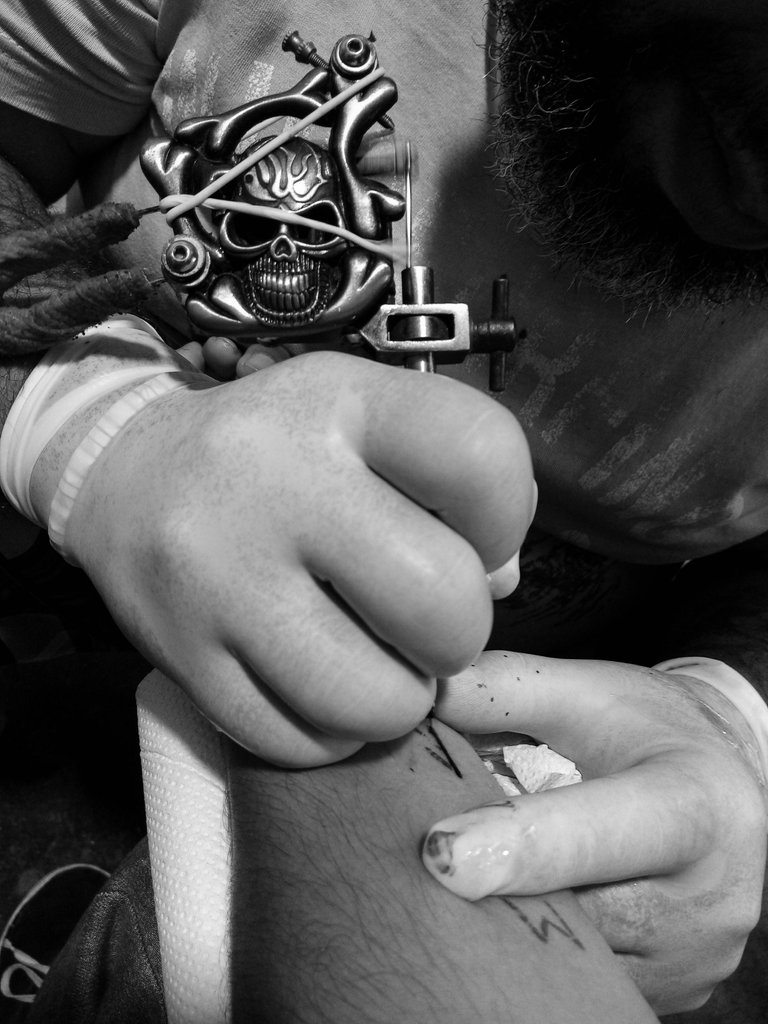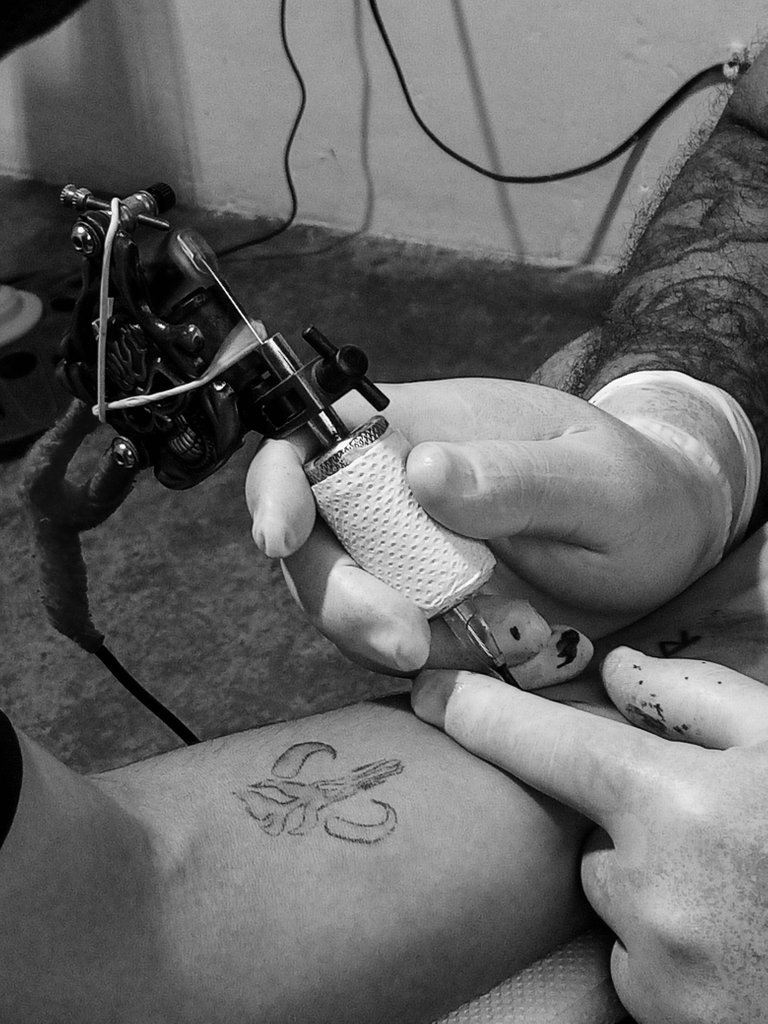 ---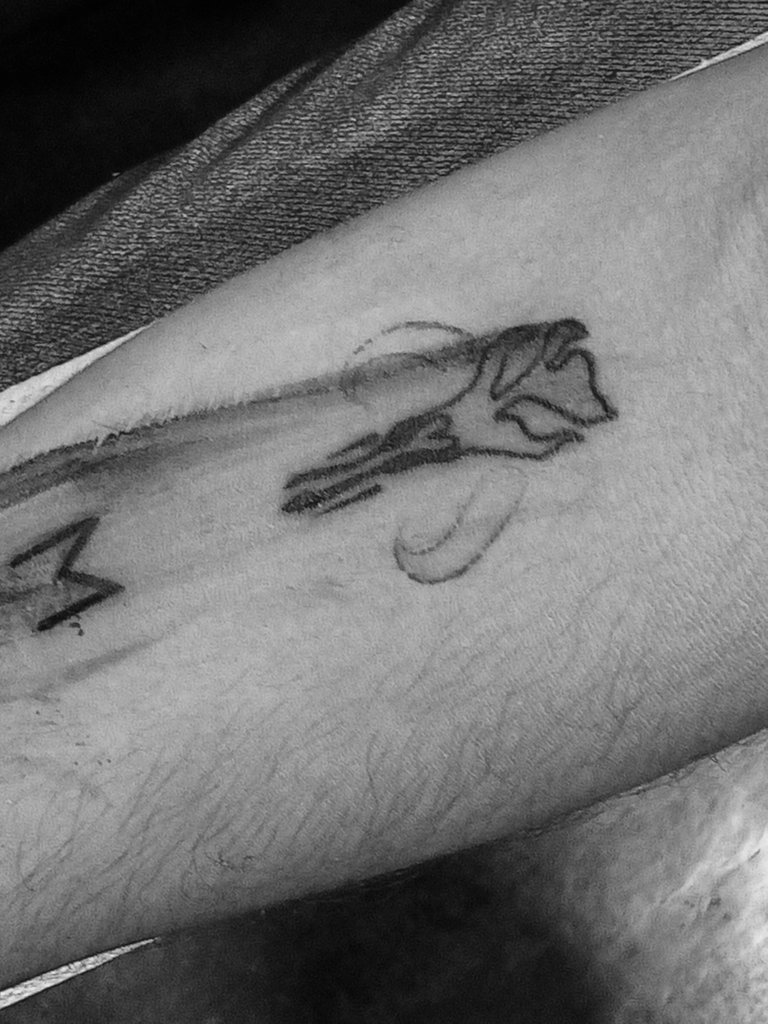 ---
Finalmente así le quedaron los tatuajes a él, quedó bastante irritado y sensible y luego de tatuarse duró varios minutos mas sangrando poco pero constante.
Luego de que yo me terminé de tatuar el ya no siguió botando sangre pero le dolía bastante la zona y su brazo se notaba hinchado.
Yo no boté prácticamente nada de sangre pero a diferencia si tenía el brazo mas hinchado que él.
Finally so the tattoos were left to him, he was quite irritated and sensitive and after tattooing he lasted several minutes more bleeding little but constant.
After I finished tattooing he no longer threw blood but the area hurt a lot and his arm felt swollen.
I did not throw practically any blood but unlike if my arm was much more swollen than him.
---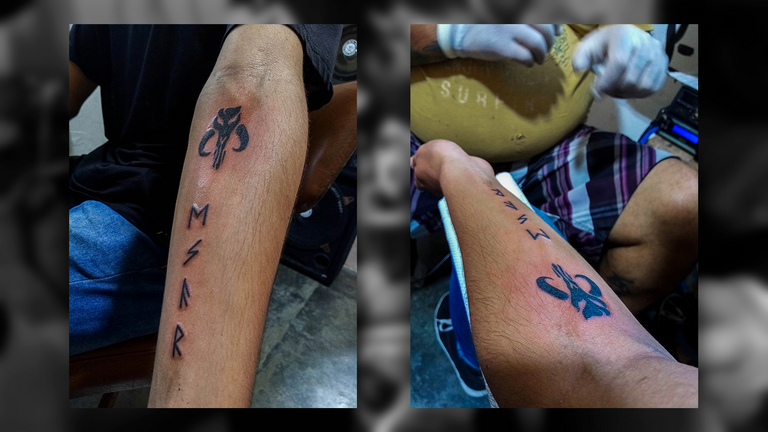 ---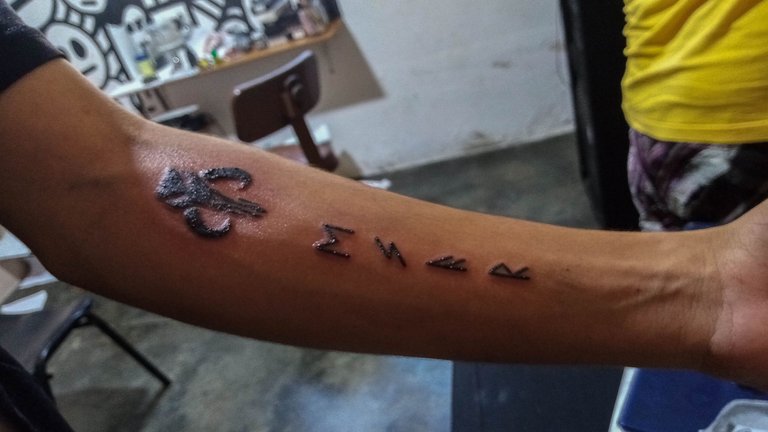 ---
Luego de unos días (casi una semana desde que me hice estos tatuajes) y casi 1 mes desde que me hice el primero así van los tatuajes que tengo hasta ahora.
Pronto me haré mas porque definitivamente no voy a parar hasta tener los brazos llenos de tatuajes como siempre he querido.
After a few days (almost a week since I got these tattoos) and almost 1 month since I got the first one so go the tattoos I have so far.
Soon I will do more because I will definitely not stop until I have arms full of tattoos as I have always wanted.
---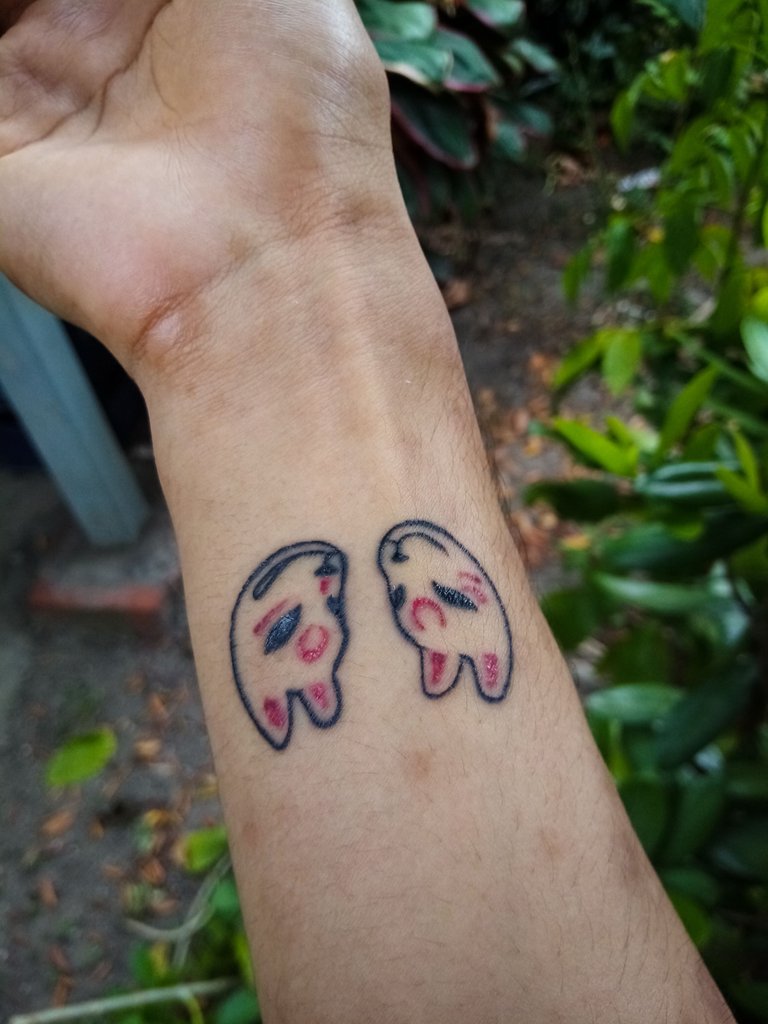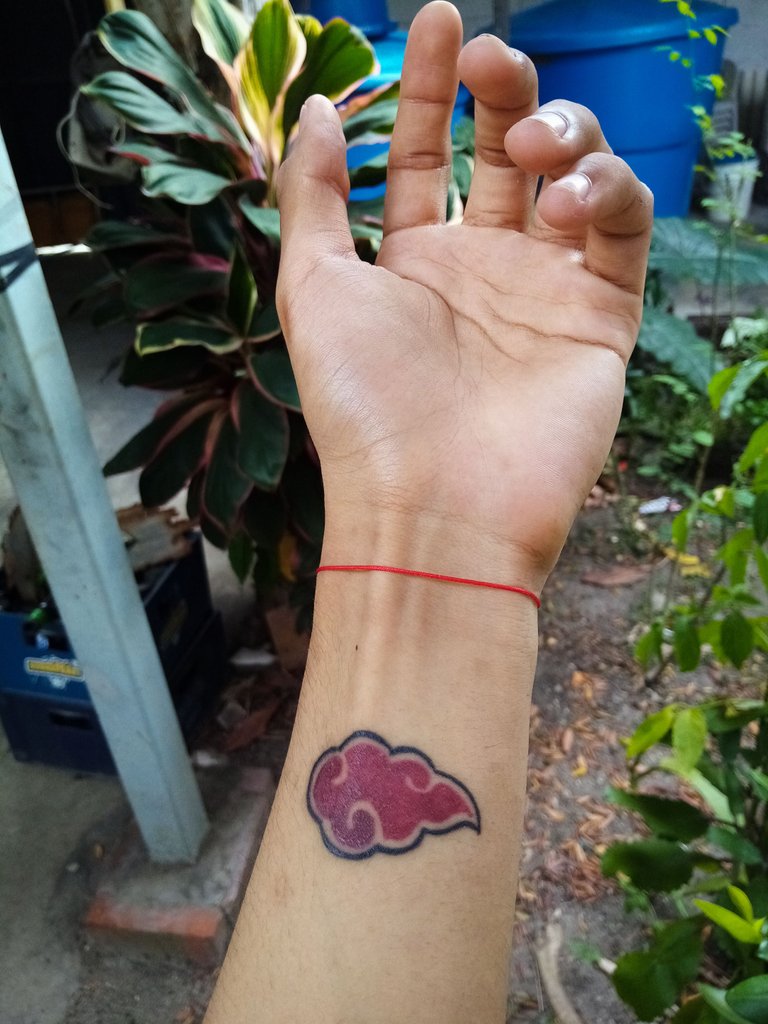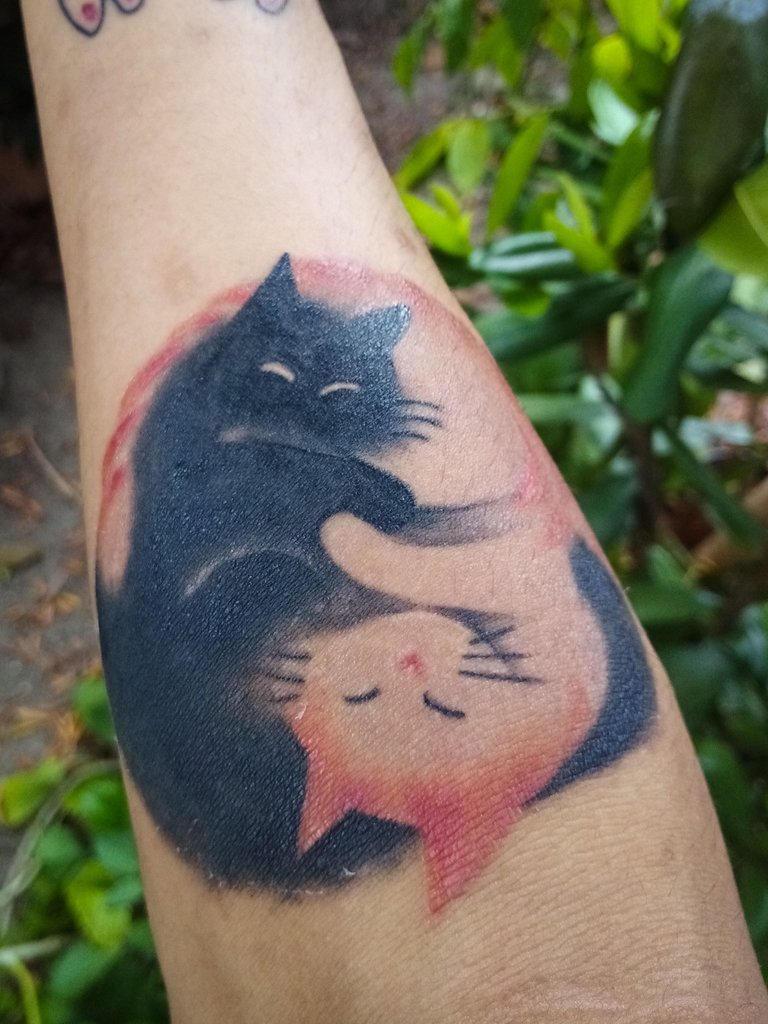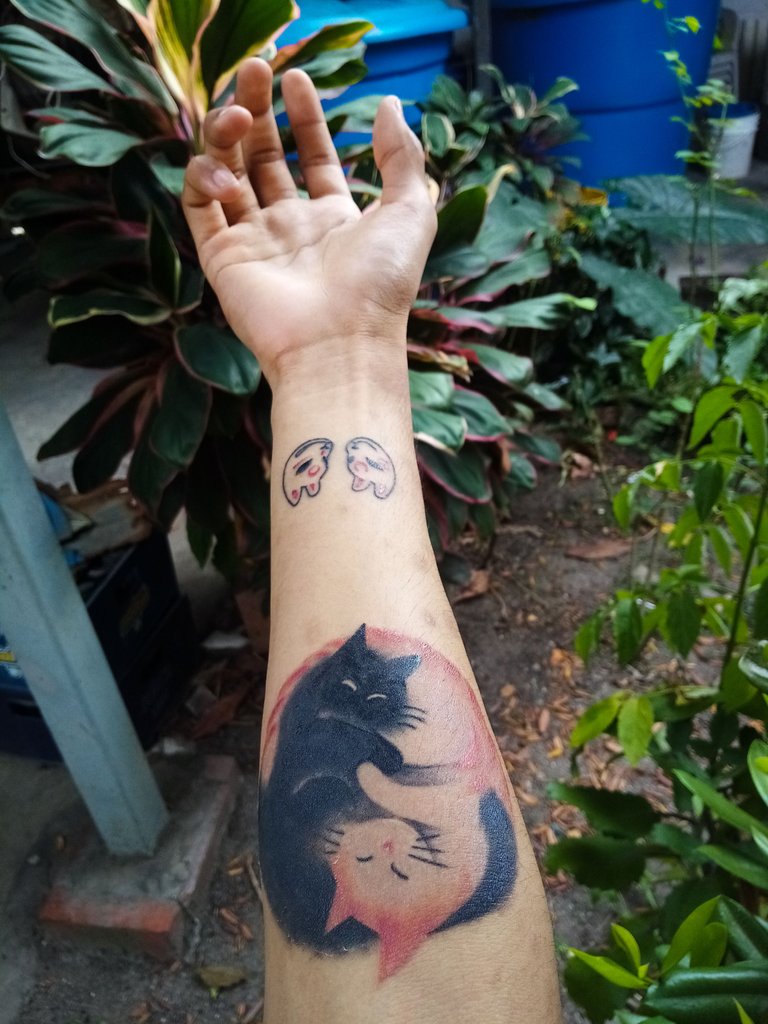 ---
¿Que cámara utilicé?
---
Como comenté anteriormente utilicé mi teléfono celular, un Huawei y6 2019 con una cámara de 13 megapíxeles de resolución, utilicé el modo manual para configurar mejor los parámetros de ISO, exposición, balance de blancos y velocidad de obturación para cada fotografía.
What camera did I use?
---
As I mentioned earlier I used my cell phone, a Huawei Y6 2019 with a 13 megapixel resolution camera, I used manual mode to better configure ISO parameters, exposure, white balance and shutter speed for each photograph.
---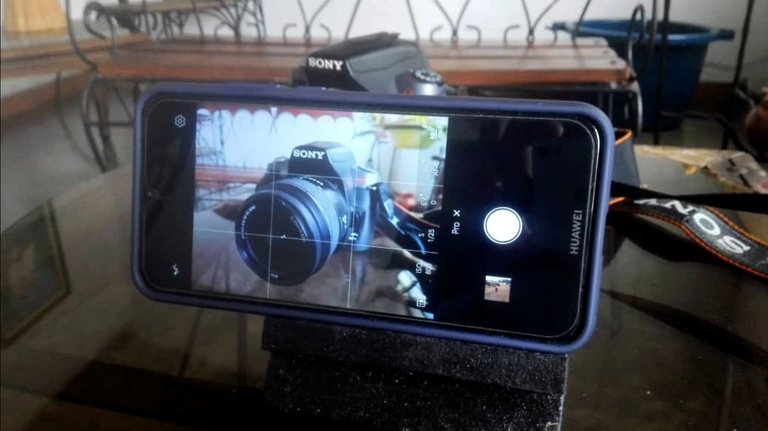 ---

| Image made by me in Canva |
---
Puedes ver ilustraciones, diseño y fotografía en mi cuenta de instagram así que te invito a seguirme por allá
You can see illustrations, design and photography on my instagram account I invite you to follow me
---
🔥 Clic here and go to my instagram account 🔥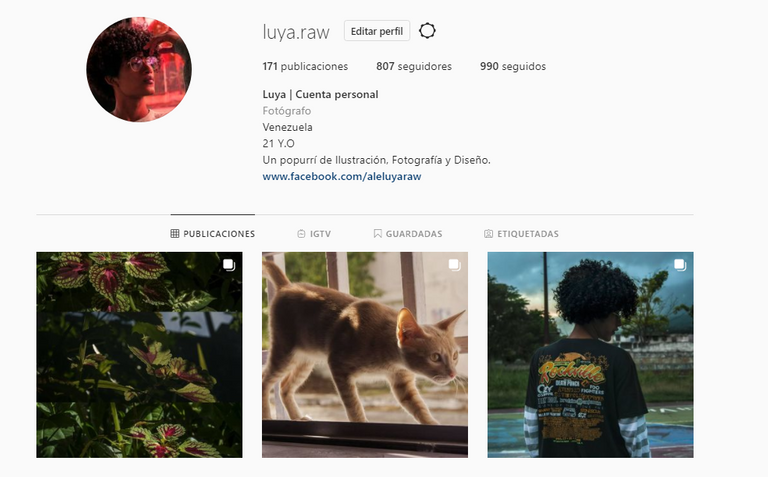 ---
---