Absolutamente Traslúcida/ Absolutely Translucent
¡Hola comunidad de @holoslotus, un saludo para todos! Hoy me animo de nuevo, a compartir con ustedes; una experiencia que me llevó a inspirarme y crear este escrito.
Estas primeras semanas de agosto, fueron bastante difíciles y acontecidas para mí. Para ponerlos al corriente, este 13 y 14 de agosto del 2022, tuve presentación con el "Taller de Danza Caracas"; muestra escolar y fin de curso en danza contemporánea. El estrés y la presión de los ensayos, nos llevó a cometer muchos errores...entre ellos, ensayando con uno de mis compañeros una cargada, me caí...provocándome a solo una semana de la presentación; una lesión en la lumbar.
Como bailarina, no ha sido fácil liderar con el proceso de recuperación, porque estoy acostumbrada a siempre estar activa. Sin embargo, he logrado recuperarme poco a poco y cumplir, casi al 100% con mis actividades y compromisos artísticos. Les cuento esto, porque mi coreógrafo y profesor (Antony Noguera), nombró a la pieza como: "Tengo el alma rota" (todo esto, antes de que ocurriera el accidente)…Y las circunstancias me llevaron a sentirme así.
¿Qué curioso no? Pero debo admitir, que no me arrepiento de nada en lo absoluto. Porque, estuve rodeada de personas maravillosas, que me apoyaron y me animaron a no rendirme. Y les tocó, aguantar mi mal humor, mi odio hacia el mundo, mi llanto y frustración. Es bonito saber que hay muchas personas que te quieren y te admiran, eso da mucha fuerza y valor. Me siento afortunada por eso y más, sobretodo, porque después de tanto tiempo, no estuve sola.
Toda esta experiencia, me llevó a escribir esta pequeña historia. De alguna manera quise narrar, lo que sentí al bailar la pieza...esa sensación de estar literalmente roto. Y al mismo tiempo, esa sensación de alivio, por soltar esas cosas que no podemos solucionar y de las cuales no somos responsables. Por eso la he titulado: "Absolutamente Traslúcida", porque no tuve necesidad de esconder lo que sentía al bailar, todo lo contrario...fui transparente y honesta en cada segundo... fue espontáneo y real.
¡Así que, infinitas gracias a todos aquellos que fueron parte de este proceso...y a ustedes por tomarse el tiempo de leerme. Y mil gracias a ti DANZA…sin ti, estaría perdida.
Siempre habrá una manera de encontrar luz, a pesar de sentirnos opacos...a veces, tienes que dejarte romper... para encontrar tu propio equilibrio.
¡Espero les guste!...
Se ha hecho tarde para alcanzar palabras, que han destrozado en la entrada, en la salida...en el invierno que nunca termina. Caminando casi incompleta, ante las frases de una anticipada despedida primaveral...fueron los ojos cristalinos, atrapados en el deseo lunar, que despertaron mi curiosidad. Una estrella tendrá que bajar...cuando el suspiro invaluable sea sostenido, por el incansable infinito.
Tan agotador y sumiso, espectro de cielo azul...un baile más, solo uno mas. Esta alma apasionada, mortalmente rota...en metáforas de un cuerpo moviéndose, tocando casi desafinada con la noche en descenso, como en la escala de grises, nunca sabes si tendrá que apagarse...o amanecer, en el realismo mágico de firmamentos fugaces.
Arrastrada la realidad a las orillas del mar, se hace palpable y es agotador, escuchar las lágrimas condenadas una vez más...por tristeza inspirar, al artista perdido desde hace tiempo, no hay manera de recuperar las mitades que en alama y cuerpo, pertenecieron a algún lugar. Como el último baile, en cuantas mitades, el alma inspirada tendrá que flotar...bajada la estrella, no habrá marcha atrás.
En un vals miradas tocar, con un beso el aliento recuperar...tacto de un corazón amable, que en segundos no tendrá más opción que volar, de entre tantas nubes. sutilmente una dibujar...el espacio casi perfecto que el cuerpo en movimiento, necesita para dejarse escapar. Aún escampando la noche fría y melancólica, el delirio es masoquista y abunda melódicamente, te enciende, te apaga, te marca. Y si la miseria ama la compañía...el artista ama el dolor que acompaña bailando, aún cuando acaba contigo, no dejes de respirar, o el recuerdo de una nube tendrá que bajar...a pesar de que dicha estrella, haya abandonado el cielo y no exista vals en la Tierra que la haga brillar.
Querida estrella...deja de titilar, y ríndete ante el hecho de que fugaz no serás. Lo sé, se vuelve pesado e insoportable, cuando la nada en absoluto es el principio de un nuevo final. has venido tantas veces, deseando alcanzar lo insostenible, apagada te has quedado y no hubo tiempo de poderte admirar. Ahora sal a relucir, de lo contrario vas a morir, porque tu único deseo es no dejar de existir. estaba, estuve, pero no se si estarás; siempre tan inalcanzable...como la luna a las montañas y el tiempo a las palabras.
Y que la mirada de un alma correspondida te salve, porque hay muchas no destinadas a quedarse. Ese suspiro irrecuperable como vacíos irreparables, de los días desapercibidos... El último baile, perdido casi por inercia...pues, la miseria ama la compañía y la solitaria pena, ama el elipsis de mentira.
He aquí con vista al precipicio, viendo caer las estrellas fugaces que a pedir se quedan, porque no están destinadas a cumplir sus propios deseos...Cayendo, sin bale, sin luna, sin existencia de un cielo que cubra. Fue entonces la estrella tenue, que brilló con su vida...rogando, acompañarse con alguna otra, porque el vals la dejó casi fundida, yéndose la vida...yo me fui detrás.
Y yo se que tú, pudiste haberlo sido todo...pero de ilusión tuvo que romperse, como toda estrella...dejarse así misma, desvanecerse. Perderse, en la entrega arrebatada de los sueños rotos...porque, el primer baile duró para siempre y esta vez como estrella, habría sido hermoso...haber sido nada, y todo en lo absoluto.
En penumbra reposará...dejada pasar esa luz que la incide, no habrá impedimento para volverse fugaz. Llenados de esplendor los ojos, que por suerte la logren captar...como cuerpo celeste, traslúcida será.
Y será hermoso, haber sido todo y nada en lo absoluto.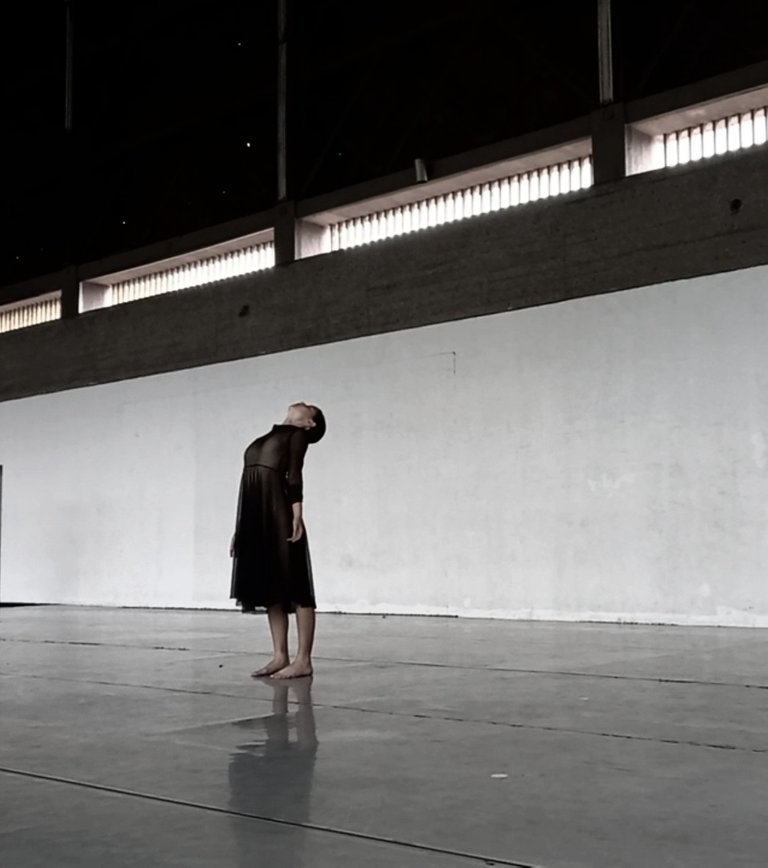 (Todas las fotos son de mi álbum personal y de mi absoluta propiedad)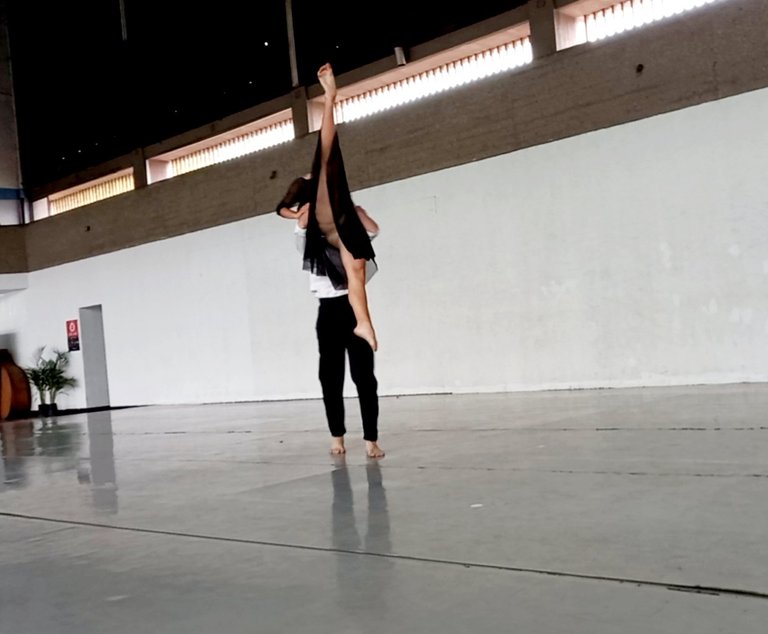 (Todas las fotos son de mi álbum personal y de mi absoluta propiedad)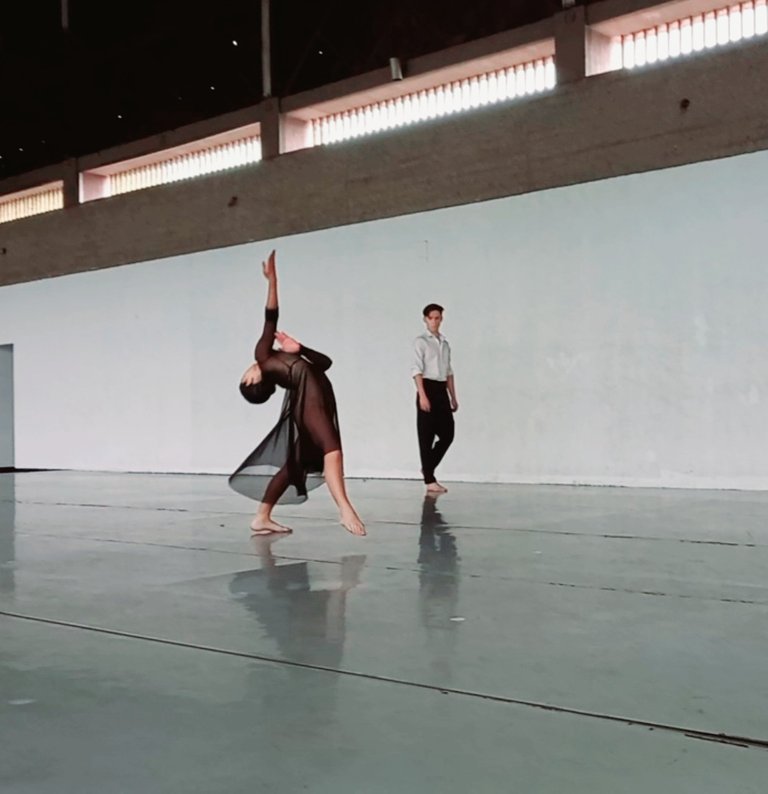 (Todas las fotos son de mi álbum personal y de mi absoluta propiedad)
---
Hello @holoslotus community, greetings to all! Today I am encouraged again, to share with you; an experience that led me to get inspired and create this writing.
These first weeks of August were quite difficult and eventful for me. To bring you up to date, this August 13 and 14, 2022, I had a presentation with the "Taller de Danza Caracas"; school show and end of course in contemporary dance. The stress and pressure of rehearsals, led us to make many mistakes ... among them, rehearsing with one of my partners a cargada, I fell ... causing me just a week before the presentation; a lumbar injury.
As a dancer, it has not been easy to lead the recovery process, because I am used to always being active. However, I have managed to recover little by little and fulfill, almost 100% with my activities and artistic commitments. I tell you this, because my choreographer and teacher (Antony Noguera), named the piece as: "I have a broken soul" (all this, before the accident happened)...And the circumstances led me to feel this way.
Funny, isn't it? But I must admit, I don't regret anything at all. Because, I was surrounded by wonderful people, who supported me and encouraged me not to give up. And they had to put up with my bad mood, my hatred towards the world, my crying and frustration. It is nice to know that there are many people who love and admire you, that gives me a lot of strength and courage. I feel fortunate for that and more, above all, because after so long, I was not alone.
All this experience led me to write this little story. Somehow I wanted to narrate what I felt when I danced the piece... that feeling of being literally broken. And at the same time, that feeling of relief, for letting go of those things that we cannot solve and for which we are not responsible. That's why I have titled it: "Absolutely Translucent", because I had no need to hide what I felt while dancing, on the contrary...I was transparent and honest in every second...it was spontaneous and real.
So, infinite thanks to all those who were part of this process...and to you for taking the time to read it. And a thousand thanks to you DANZA...without you, I would be lost.
There will always be a way to find light, despite feeling opaque...sometimes, you have to let yourself break...to find your own balance.
I hope you like it!...
Absolutely Translucent
It has become late to reach words, that have shattered at the entrance, at the exit...in the winter that never ends. Walking almost incomplete, before the phrases of an anticipated spring farewell...it was the crystalline eyes, caught in lunar desire, that awakened my curiosity. A star will have to come down...when the priceless sigh is sustained, by the tireless infinite.
So exhausting and submissive, blue sky spectrum...one more dance, just one more. This passionate soul, mortally broken...in metaphors of a moving body, playing almost out of tune with the descending night, as in the grayscale, you never know if it will have to extinguish...or dawn, in the magical realism of fleeting firmaments.
Dragged the reality to the shores of the sea, it becomes palpable and exhausting, to listen to the condemned tears once again...for sadness to inspire, the long lost artist, there is no way to recover the halves that in soul and body, belonged somewhere. Like the last dance, in how many halves, the inspired soul will have to float...the star lowered, there will be no turning back.
In a waltz glances touch, with a kiss the breath recover...touch of a kind heart, that in seconds will have no choice but to fly, from among so many clouds. subtly a draw...the almost perfect space that the body in movement, needs to let itself escape. Even in the cold and melancholic night, delirium is masochistic and abounds melodically, it turns you on, it turns you off, it marks you. And if misery loves company...the artist loves the pain that accompanies dancing, even when it ends with you, don't stop breathing, or the memory of a cloud will have to come down...even though that star has left the sky and there is no waltz on Earth to make it shine.
Dear star...stop flickering, and surrender to the fact that you will not be fleeting. I know, it becomes heavy and unbearable, when nothingness at all is the beginning of a new end. you have come so many times, wishing to reach the unsustainable, extinguished you have remained and there was no time to be able to admire you. Now come out, otherwise you will die, because your only desire is not to cease to exist. i was, i was, but i don't know if you will be; always so unreachable... like the moon to the mountains and time to words.
And may the glance of a reciprocated soul save you, because there are many who are not destined to stay. That irretrievable sigh as irreparable emptinesses, of the unnoticed days... The last dance, lost almost by inertia...for, misery loves company and lonely sorrow, loves the ellipsis of lies.
Here I am with a view to the precipice, watching the shooting stars fall, that remain to ask, because they are not destined to fulfill their own desires...Falling, without a bale, without a moon, without the existence of a sky to cover. It was then the faint star, that shone with its life...begging, to be accompanied by some other, because the waltz left it almost melted, leaving life behind...I left behind.
And I know that you, you could have been everything...but the illusion had to break, like every star...to let itself fade away, to fade away. To get lost, in the snatched delivery of broken dreams...because, the first dance lasted forever and this time as a star, it would have been beautiful...to have been nothing, and everything at all.
In penumbra it will rest...let pass that light that strikes it, there will be no impediment to become fleeting. Filled with splendor the eyes, that luckily manage to capture it...as a celestial body, it will be translucent.
And it will be beautiful, to have been everything and nothing at all.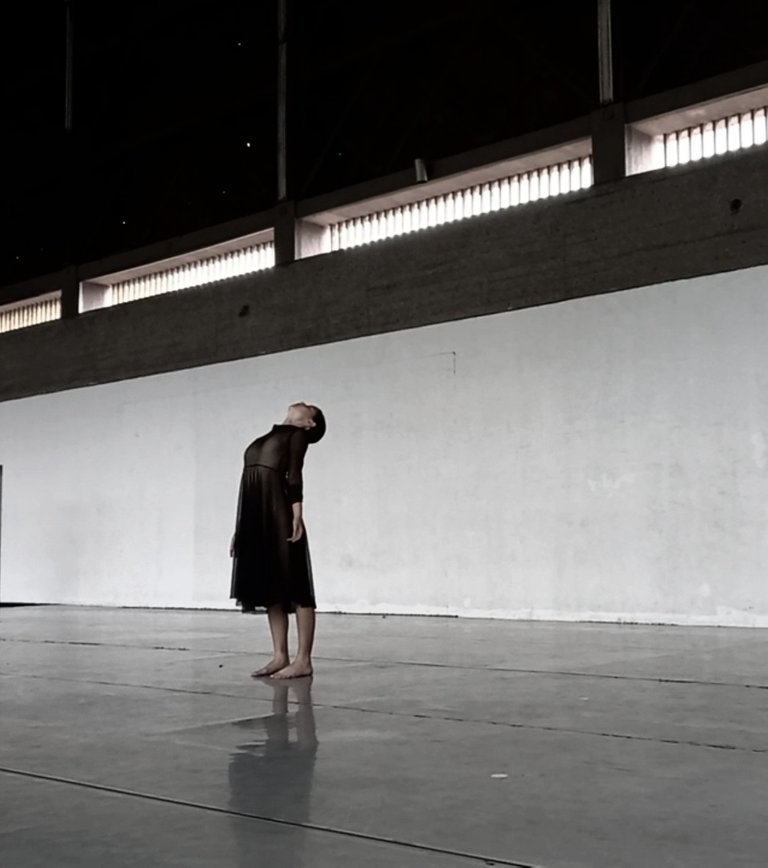 (All photos are from my personal album and are my absolute property).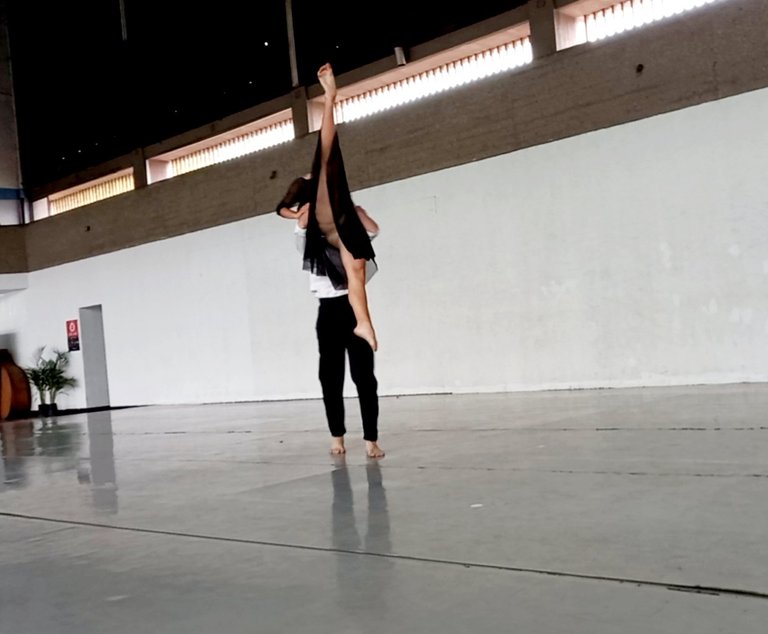 (All photos are from my personal album and are my absolute property).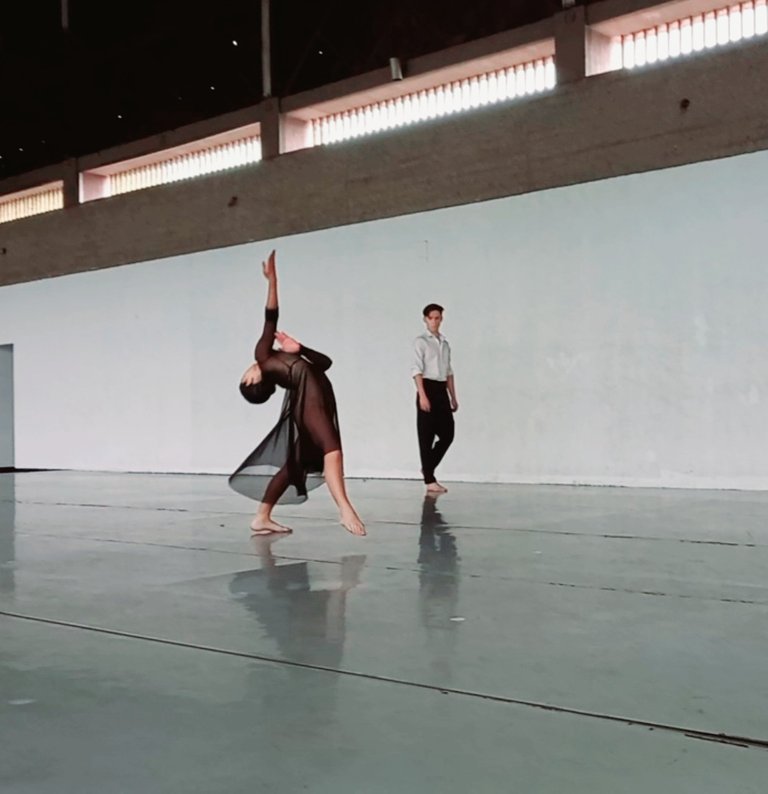 (All photos are from my personal album and are my absolute property).
•Translated with www.DeepL.com/Translator (free version)
•Todas las fotos son de mi álbum personal y de mi exclusiva propiedad / All photos are from my personal album and my exclusive property.
•Banners y separadores diseñados en Canva con los elementos disponibles en su versión gratuita / Banners and dividers designed in Canva with the elements available in its free version.

---
---