[PT-BR] Análise: Dallan, o novo Summoner do Splinter de Morte (Death)
---

[ENG] Review: Dallan, the new Death Splinter Summoner from Riftwatchers
Hello everyone!
This is a video in Portuguese in which I analyze Dallan, the new Summoner that just arrived on the game in the Riftwatchers expansion!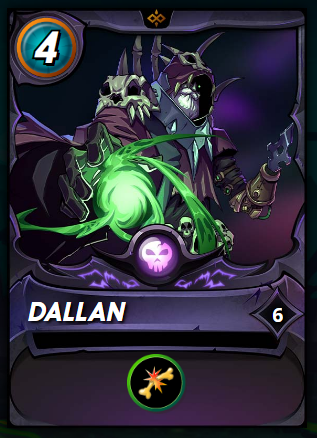 Dallan is a great counter to Heal-heavy strategies, as the Cripple abilities reduces -1 Max Health per attack, also reducing the healed amount that those abilities can actually heal. As those strategies are more common on the higher Leagues, I do believe that we'll see Dallan being heavily played on the Gold/Diamond Leagues, but not so much on the Bronze/Silver League in which healing abilities are rarer.
I also show some Abilities that combo well with the Cripple, including Double Strike and Blast (double trigger to the Cripple!), and which cards are good purchases for both investors (that just want to flip the cards in the near future) and players (that want strong cards that will become meta together with Dallan).
Thanks for watching and reading, and until the next video!

[PT-BR] Análise: Dallan, o novo Summoner do Splinter de Morte (Death) da Expansão Riftwatchers
Fala galera, beleza?
Nesse vídeo, eu vou analisar o Dallan, o novo Summoner que acabou de vir para o jogo na nova expansão Riftwatchers!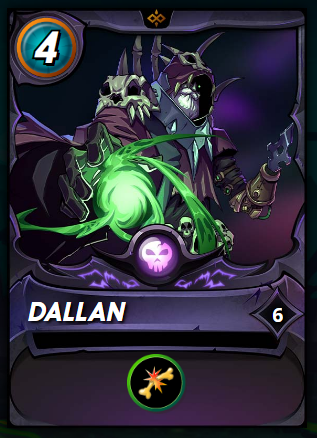 O Dallan é um dos melhores counters do jogo contra estratégias que se baseiam em curas (healing), visto que a habilidade Cripple reduz a vida máxima do inimigo em -1 a cada ataque, reduzindo também a quantidade de vida que as habilidades Heal e Tank Heal curam. Porém, como essas estratégias são mais comuns nas ligas mais altas, eu acredito que vamos ver o Dallan sendo bastante utilizado nas ligas Gold e Diamond, mas sendo pouco usadas nas ligas Bronze e Silver, nas quais habilidades de cura são mais raras de serem encontradas.
Eu também mostro algumas Habilidades que combam legal com o Cripple, incluindo Double Strike e Blast (mais ataques = mais ativações do Cripple), e quais cartas são uma ótima compra para investidores (que só querem revender a carta no futuro) e para jogadores (que querem cartas fortes que se tornarão meta junto com o Dallan).
Valeu galera, e até o proximo vídeo!

If you enjoyed the post, feel free to follow me as I'm routinely writing about Gaming, Investment, Fitness and Writing, and posting about other random fun subjects like Travel, Photography and Metal Detecting!
If you want to play fun NFT Games, I do strongly recommend Splinterlands, RisingStar, Rabona and dCrops. Send me a message if you need help starting out!
And, if you're feeling lucky, go to HiveSlotGames and win money by playing on the 🍀Roulette🍀, 🃏BlackJack🃏, 🎲Dices🎲 and 🎰Slots🎰!

Unless stated otherwise, all images are created and owned by me, or from the game depicted on this post.
This is definitely NOT financial, legal or investment advice. You wouldn't get your financial advice from a squirrel, would you? Cryptocurrencies are very volatile, so don't invest what you can't afford to lose.
Also, believe it or not, I'm not actually a squirrel! This handsome rodent in my profile picture is a character from 'Conker: Live & Reloaded'. Here's Real Life me!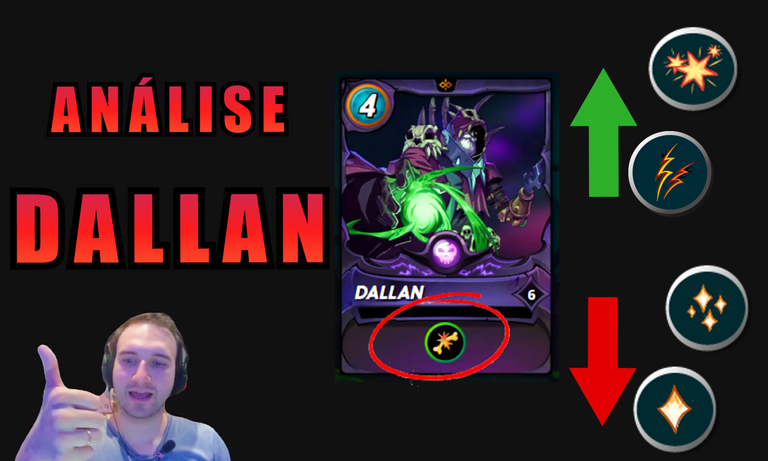 ---
▶️ 3Speak
---
---