[ESP-ENG] Siguen las complicaciones del FC Barcelona de Ronald Koeman // Ronald Koeman FC Barcelona's complications continue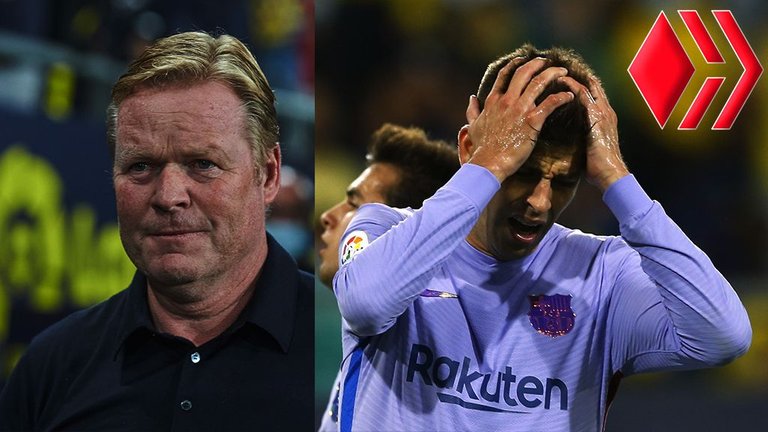 Imagen editada en Adobe Photoshop CS6 / FC Barcelona sufren con Ronald Koeman
---
La identidad ganadora del FC Barcelona se está perdiendo, una nuevo empate suma los dirigidos por el neerlandés Ronald Koeman, en esta ocasión en condición de visitantes ante el Cádiz, un 0-0 que sigue dejando en evidencia el mal momento que vienen pasando los Culé desde el inició de esta Temporada.
FC Barcelona's winning identity is being lost, a new draw for the team coached by Dutchman Ronald Koeman, this time as visitors against Cadiz, a 0-0 draw that continues to show the bad moment that the Culé have been going through since the beginning of this season.
Koeman salió con Ter Steger en el arco, Piqué y Araujo en la zaga central, Óscar Mingueza y Sergiño Dest por los costados (Dest ocupó la banda izquierda por la baja de Jordi Alba), la mitad del campo estuvo el capitán Sergio Busquets, Frenkie De Jong y los acompañó el chico Gavi, quien hacía su debut como titular, en el ataque se encontraba Demir, Luuk De Jong y Memphis Depay.
Koeman started with Ter Steger in goal, Piqué and Araujo in the central defense, Óscar Mingueza and Sergiño Dest on the flanks (Dest occupied the left flank due to the absence of Jordi Alba), captain Sergio Busquets, Frenkie De Jong and the young Gavi, who made his debut as a starter, in the attack were Demir, Luuk De Jong and Memphis Depay.
El objetivo de llevarse los tres puntos en Cádiz cada minuto que pasaban se veía más lejos, los locales creaban juego para aprovechar su localía y el Barca necesitado de sumar de tres para comenzar a subir escalones en la tabla de posiciones de La Liga española, que tiene al Real Madrid como actual líder momentáneo.
The goal of taking the three points in Cadiz seemed further away with each passing minute, the locals were creating play to take advantage of their home advantage and Barca needed to win three points to start climbing up the Spanish La Liga table, which has Real Madrid as the current momentary leader.
El Barcelona contó como figura a Ter Steger, que mantuvo su valla invicta en todo el partido a pesar de los disparos peligrosos del Cádiz. Los culé tuvieron que jugar más de 25 minutos con uno menos por la expulsión de Frenkie De Jong, tras recibir dos amarillas, la segunda muy dudosa en mi perspectiva, Así que Koeman tuvo que hacer ajuste en el campo, dándole ingreso a Coutinho por Luuk De Jong y cambiando el esquema a un 4-4-1, dejando como un llanero solitario a Memphis, quien las peleó todas y fue el más peligroso del conjunto Culé, forcejeando y ganando faltas ante la defensa del Cádiz. En el tiempo agregado falló la más clara, luego de que Piqué se lanzará al ataque para asistir al neerlandés que remataba desviado del arco, la esférica se marchó por la línea de fondo, casi besando el poste.
Barcelona's star player was Ter Steger, who kept his goal unbeaten throughout the match despite Cadiz's dangerous shots. The Culé had to play more than 25 minutes with one less due to the expulsion of Frenkie De Jong, after receiving two yellow cards, the second very dubious in my perspective, so Koeman had to make an adjustment in the field, giving Coutinho to Luuk De Jong and changing the scheme to a 4-4-1, leaving Memphis as a lone ranger, who fought them all and was the most dangerous of the Culé team, struggling and winning fouls against the Cadiz defense. In stoppage time he missed the clearest, after Piqué went forward to assist the Dutchman who shot wide of the goal, the ball went over the end line, almost kissing the post.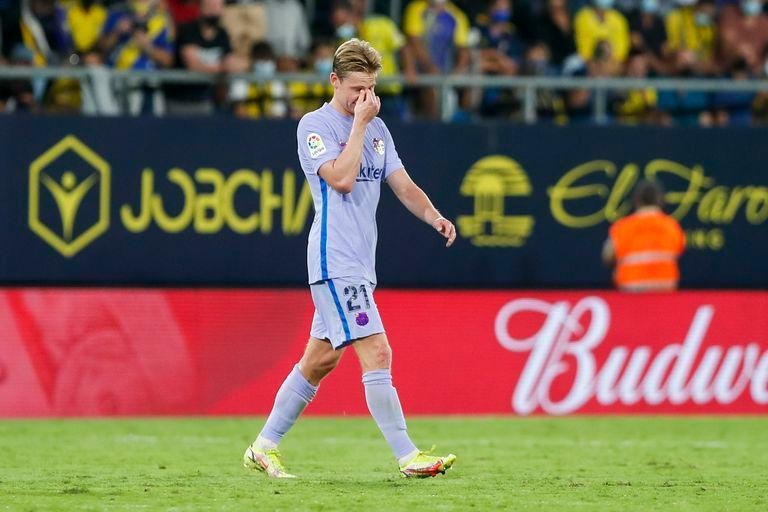 Frenkie De Jong
---
Riqui Puig tuvo minutos y le da más dinamismo en el medio del campo, inentendible el porqué Ronald Koeman no le da más minutos al joven que tiene sangre Culé desde la cuna.
Riqui Puig has minutes and gives more dynamism in the middle of the field, it is incomprehensible why Ronald Koeman does not give more minutes to the young man who has Culé blood from the cradle.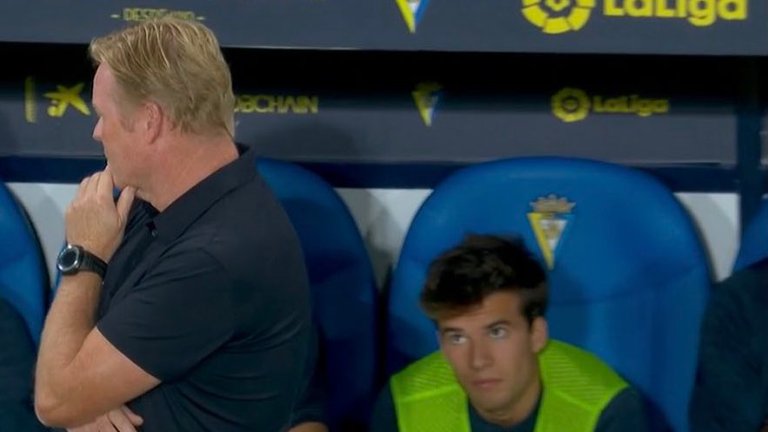 Riqui Puig
---
Muchos ya piden la salida de Ronald Koeman del banquillo Culé, sigue sin dar los resultados que la afición quiere y sin regalar un fútbol gustoso y no solo depender de lo que haga Memphis en la delantera, el holandés en rueda de prensa se ha excusado de no tener la plantilla completa y no tener jugadores con quien soñar, prácticamente pidiendo no ilusionarse con conseguir títulos importantes este año, dejando dicho que la "Champions es prácticamente imposible", afirmó en un comunicado que hizo esta misma semana y anteriormente dijo que el FC Barcelona "tiene futuro gracias a mí", buen momento para que Joan Laporta lo despache para pensar en un entrenador con otras idea y mentalidad ganadora, la personalidad de Koeman no va de la mano con el club como el Barcelona.
Many are already calling for the departure of Ronald Koeman from the Culé bench, still not giving the results that the fans want and not giving away a tasty soccer and not just depending on what Memphis does up front, the Dutchman in a press conference has excused himself for not having the full squad and not having players to dream about, practically asking not to get excited about achieving important titles this year, leaving said that the "Champions League is practically impossible", he said in a statement he made this week and previously said that FC Barcelona "has a future thanks to me", good time for Joan Laporta to send him away to think of a coach with other ideas and winning mentality, Koeman's personality does not go hand in hand with the club like Barcelona.
SÉPTIMOS en la Liga de España
---
Me parece que es momento de llamar a Xavi Hernández, si aún se está a tiempo, todo la historia que tiene Xavi como jugador del FC Barcelona y con las ganas que tiene él de dirigir al club de sus amores, es bonito ver ese panorama a ver si vemos a Riqui Puig más protagonista, aprovechar el posible último años de Gerard Piqué, seguir fortaleciendo las virtudes que pueden proponer Ronald Araujo y Frenkie De Jong (por cierto se pierde el próximo partido), ver en qué cambia el equipo cuando estén al 100% Dembélé, Ansu Fati y el Kun Agüero pero ya con otra entrenador al mandó. ¿Qué otro DT pondrían en la lista de posibles candidatos para suplantar a Koeman?
It seems to me that it is time to call Xavi Hernandez, if there is still time, all the history that Xavi has as a player of FC Barcelona and with the desire he has to lead the club of his love, it is nice to see that scenario to see if we see Riqui Puig more protagonist, take advantage of the possible last years of Gerard Piqué, continue strengthening the virtues that Ronald Araujo and Frenkie De Jong can offer (by the way he misses the next game), see how the team changes when Dembélé, Ansu Fati and Kun Agüero are at 100%, but with another coach at the helm. What other DT would you put on the list of possible candidates to replace Koeman?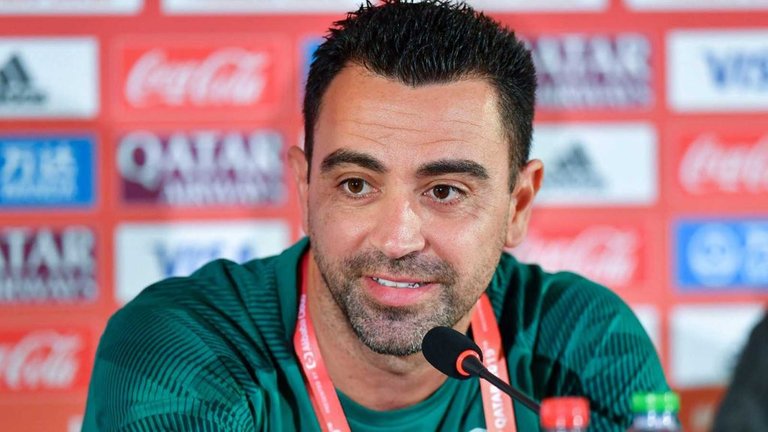 Xavi Hernández
---
---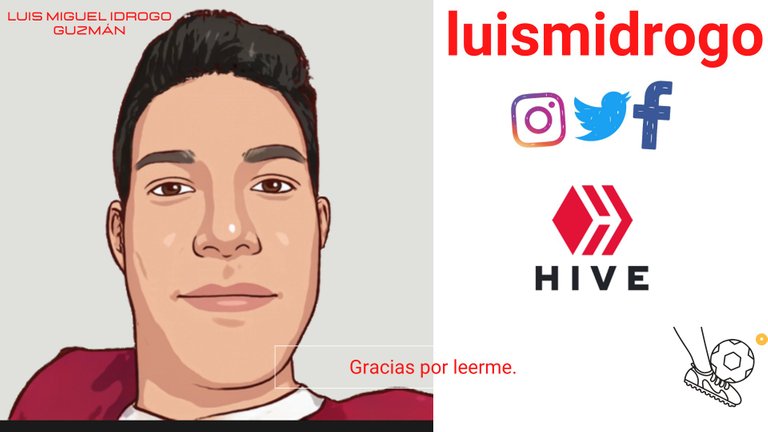 ---
---