[ESP-ENG] Asistí al Venezuela-Bolivia en Maturín (5-0) // I attended the Venezuela-Bolivia in Maturín (5-0)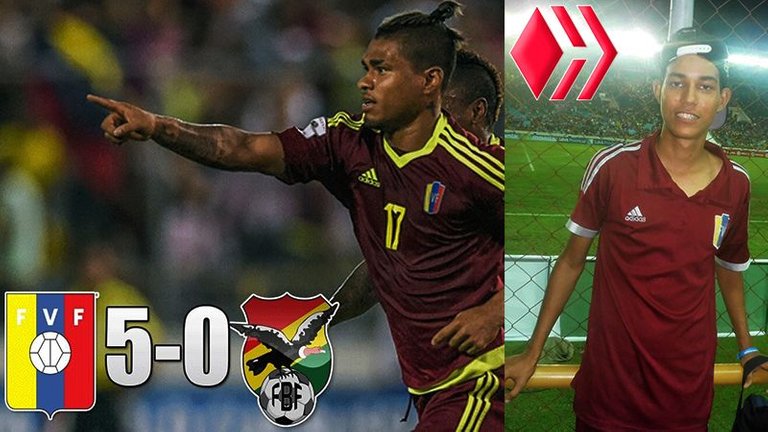 Imagen editada en Adobe Photoshop CS6 / Venezuela 5-0 Bolivia / Asistí al Monumental de Maturín |
---
Hola a toda la comunidad de #Hive y amigos de #FullDeportes, les vengo a contar mi experiencia al asistir al partido más exitoso de La Vinotinto en Eliminatorias mundialistas, y es que nunca antes la selección de Venezuela había marcado un total de ¡¡5 GOLES!! en un mismo encuentro, pues eso sucedió el 10 de noviembre del 2016 en el estadio Monumental de Maturín ante Bolivia y yo pude estar presente en la tribuna principal.
Hello to all the #Hive community and friends of #FullDeportes, I come to tell you my experience attending the most successful match of La Vinotinto in World Cup Qualifiers, and that never before the Venezuelan national team had scored a total of 5 GOALS!!! in the same game, because that happened on November 10, 2016 at the Monumental Stadium in Maturin against Bolivia and I was able to be present in the main stand.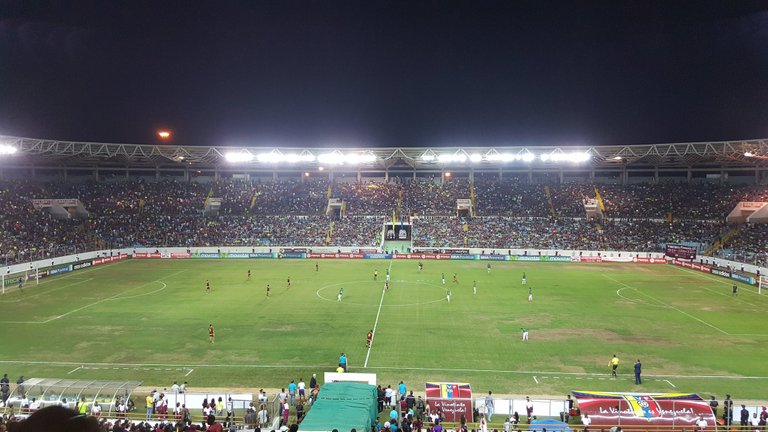 Estadio Monumental de Maturín
---
A casi 5 años de cumplirse ese sueño que tenía pautado y como cosa de la vida se me cumplió antes de lo previsto, y era de asistir a un partido de La Vinotinto. Aunque cabe recordar que fui a un amistoso en 2008 en donde Venezuela derrotó 1 gol por 0 a Haití en el inició de la era de César Farías, pero solo tenía 11 años y no tengo ese recuerdo tan claro, el goleador de ese día fue Jorge 'Zurdo' Rojas.
Almost 5 years away from fulfilling that dream that I had planned and as a thing of life it was fulfilled ahead of schedule, and it was to attend a game of La Vinotinto. Although it is worth remembering that I went to a friendly in 2008 where Venezuela defeated Haiti 1 goal to 0 at the beginning of the era of Cesar Farias, but I was only 11 years old and I do not have that clear memory, the scorer of that day was Jorge 'Zurdo' Rojas.
Ahora sí, adentramos al día del 5-0 // Now we enter the day of 5-0.
Días anteriores al partido cayó un palo de agua en la ciudad de Maturín y eso complicó la organización del evento pre-mundialista, ya que el engramado del Monumental mostró su peor cara ante ese partido de nivel internacional. Por otra parte, ninguna de las dos selecciones iban a realizar el respectivo reconocimiento de cancha un día antes del choqué como se suele hacer. Se decía que era para evitar que se hiciera público el mal estado de la cancha antes de lo previsto. Los trabajos de última hora terminaron retocando el césped afectado por la lluvia.
Days before the match, the city of Maturín was hit by a heavy rainstorm, which complicated the organization of the pre-World Cup event, since the Monumental stadium showed its worst side for this international level match. On the other hand, neither of the two teams were going to carry out the respective field reconnaissance the day before the clash as it is usually done. It was said that this was to prevent the bad state of the field from being made public earlier than planned. The last minute works ended up retouching the grass affected by the rain.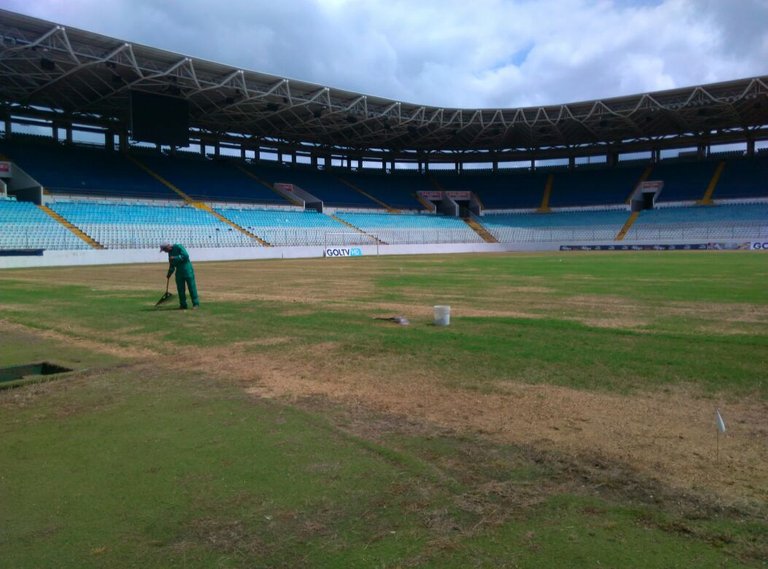 Los trabajos en el Monumental previo al Venezuela-Bolivia
---
10/11/2016
Hasta que llegó el día que volvería a ver a la selección de Venezuela en vivo, esa vez con más conocimiento de lo que significaba asistir a ver un partido de Eliminatorias Sudamericanas. Llegue muy temprano al estadio para poder comprar entrada (típico venezolano que deja todo a última hora) y me encontré con la sorpresa que no había taquilla disponible, solo revendedores que se pasaban de mi presupuesto, fui con Javier Tenía (amigo), ambos en las afuera del Monumental de Maturín sin entradas y pensando que íbamos hacer.
Until the day came that I would see the Venezuelan national team live again, this time with more knowledge of what it meant to attend a South American Qualifying match. I arrived very early to the stadium to be able to buy tickets (typical Venezuelan who leaves everything to the last minute) and I was surprised to find that there was no ticket office available, only scalpers that were beyond my budget, I went with Javier Tenía (friend), both outside the Monumental de Maturin without tickets and thinking about what we were going to do.
El proceso para ingresar al estadio era muy lento, ya que había solo una entrada para acceder al estacionamiento que era donde las autoridades de seguridad revisaban persona por persona. Duramos mucho tiempo en esa cola para entrar y solo quedaba una hora para el inició del partido.
The process to enter the stadium was very slow, as there was only one entrance to the parking lot where the security authorities checked person by person. We spent a long time in that line to get in and there was only one hour left before the game was scheduled to start.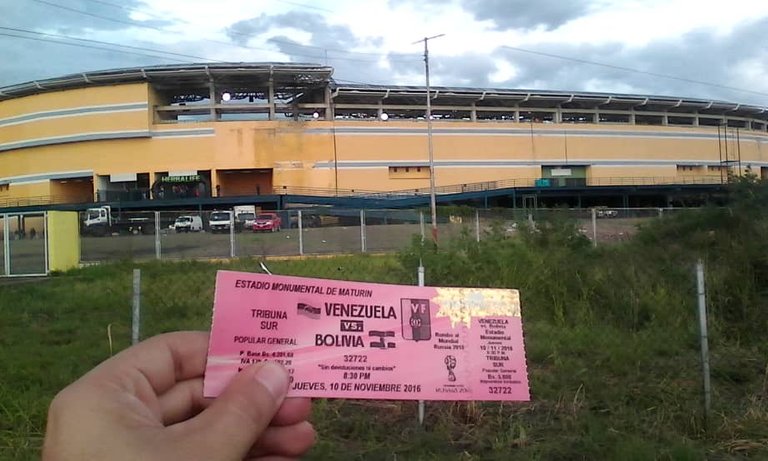 Las afuera del Monumental
---
Todos los asistentes comenzaban a exigir que movilizaran el ingreso. Cada vez el pitazo inicial del partido se acercaba y no había ingresado ni el 15% por ciento a las tribunas del Monumental de Maturín, nosotros aún sin entradas pudimos pasar al estacionamiento y vimos llegar el bus de la selección de Venezuela, fue ahí donde la seguridad se descuido de la puertas y todos comenzaron a entrar, las personas con entrada a la mano o sin entrada (como era nuestro caso), pero nosotros esperamos que la marea bajará para poder entrar, mientras nos quedamos viendo y saludando a los jugadores.
All the attendees began to demand that the entrance be mobilized. Each time the starting whistle of the match was approaching and not even 15% of the stands of the Monumental de Maturin had entered, even without tickets we were able to go to the parking lot and we saw the bus of the Venezuelan national team arrive, it was there where the security was careless of the doors and everyone began to enter, people with tickets in hand or without tickets (as was our case), but we waited for the tide to go down to enter, while we stood watching and greeting the players.
Fue así como se llenó el estadio en un abrir y cerrar de ojos, tanto así que nosotros nos quedamos sentados en las escaleras de la tribuna principal, sentados es un decir, porque el partido nos mantuvo más de pie gritando los goles.
That's how the stadium filled up in the blink of an eye, so much so that we sat on the steps of the main stand, seated is an understatement, because the game kept us on our feet shouting the goals.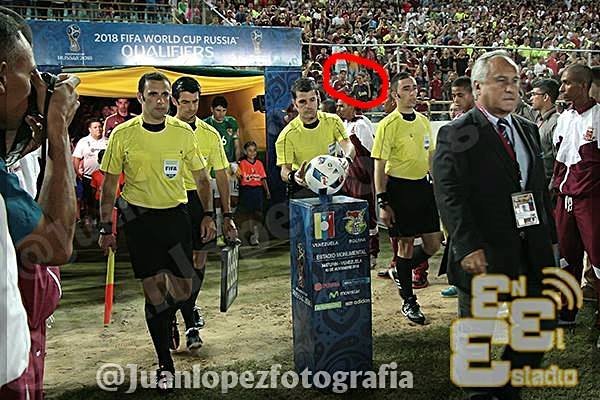 Los del circulo rojo somos nosotros
---
Todos alucinábamos por ver a Adalberto Peñaranda, quien era el chamo del momento y venía de hacer una Copa América Centenario espectacular, pero no fue titular ni tampoco Rafael Dudamel le dio ingreso al partido. Así que tuvimos que conformarnos con ver por primera vez a un jugador venezolano marcar un hat-trick en un partido de Eliminatorias. Casi nada.
We were all excited to see Adalberto Peñaranda, who was the boy of the moment and had just had a spectacular Copa America Centenario, but he was not a starter and Rafael Dudamel did not give him a start in the match. So we had to settle for the first time a Venezuelan player scored a hat-trick in a knockout match. Almost nothing.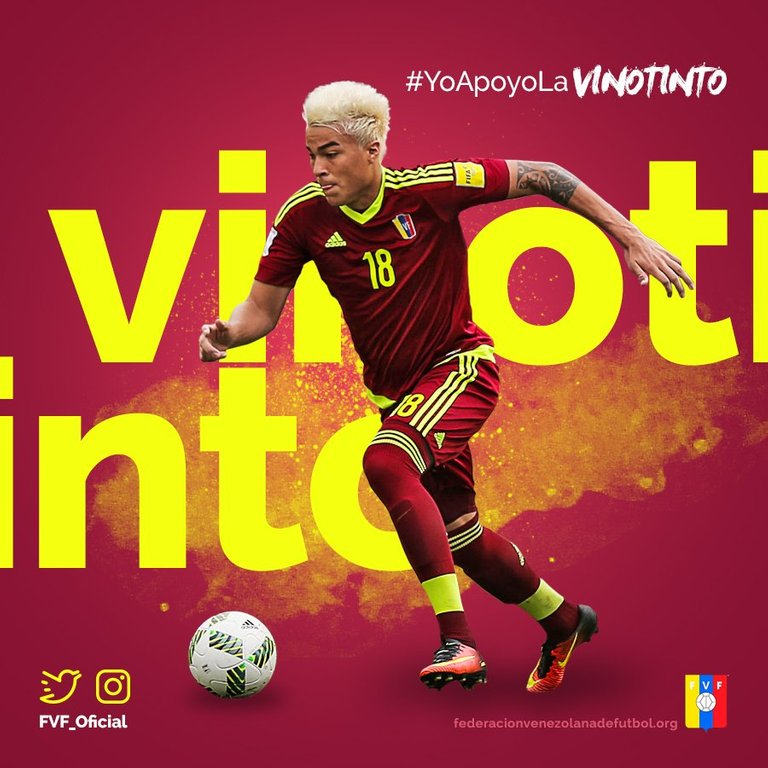 Adalberto Peñaranda
---
La euforia de cómo se cantó el himno nacional es indescriptible, todos con los pelos de puntas y abrazados sin conocer al que tenías de lado, ese momento el país se une por completo. Ya la noche había sido especial con eso, pero no teníamos ni idea de lo que estábamos a punto de presenciar. Aún se encontraban personas buscando asiento cuando el turco-venezolano y además monaguense Jacobo Kouffaty abrió el marcador de cabeza, el Monumental de Maturín retumbó por primera vez en esa noche y más cuando los asistentes se enteraban de quién lo había convertido.
The euphoria of how the national anthem was sung is indescribable, everyone with their hair standing on end and hugging each other without knowing the person next to you, that moment the country was completely united. The night had already been special with that, but we had no idea what we were about to witness. There were still people looking for a seat when a Turkish-Venezuelan and also from Monaguense Jacobo Kouffaty opened the score with a header, the Monumental de Maturin rumbled for the first time that night and even more when the assistants found out who had scored it.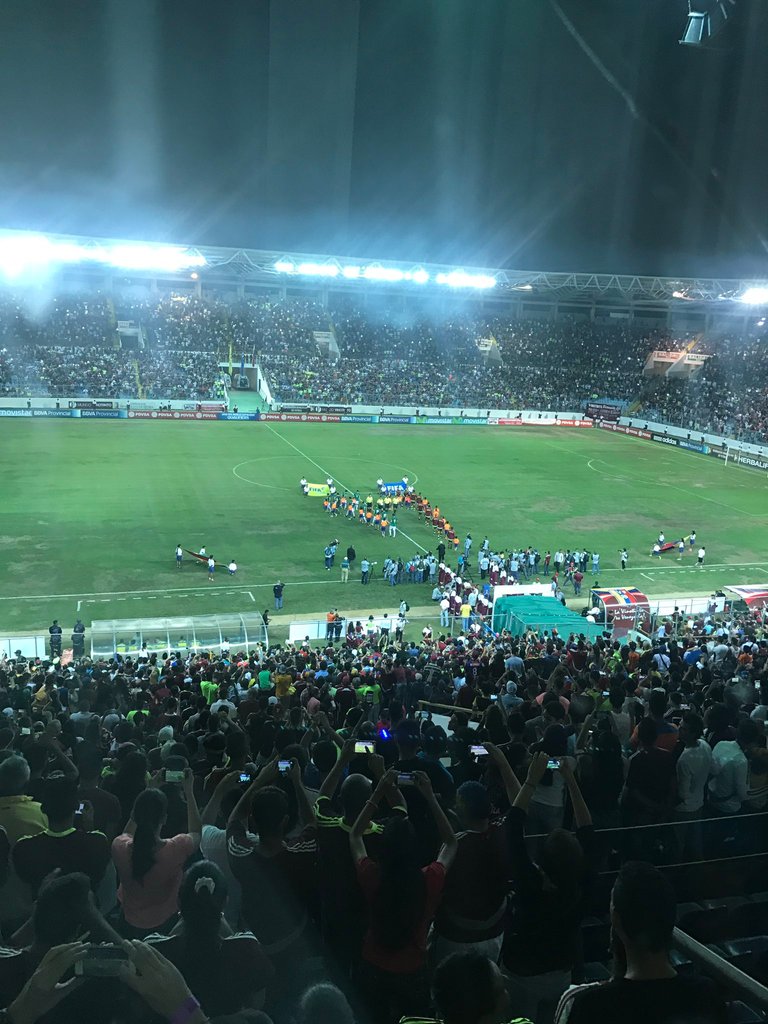 Récord histórico de asistencia en un partido de local de Venezuela
---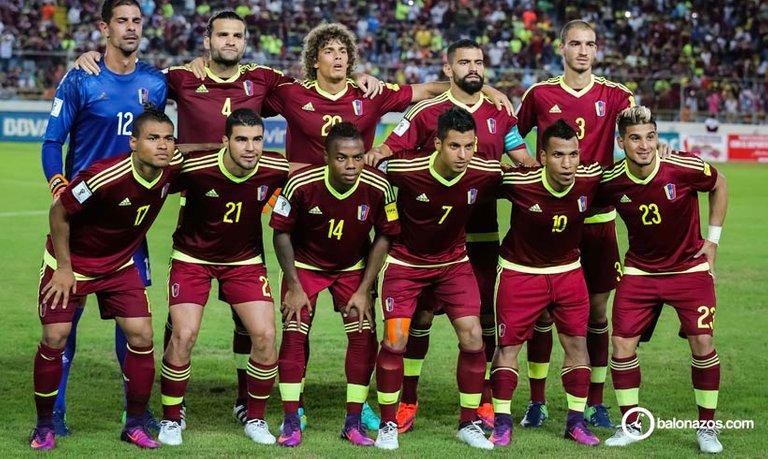 Once titular del histórico 5-0
---
Rápidamente aparecería Josef Martínez para colocar el 2-0, tras un tiro de esquina y aprovechando el mal marcaje que realizaron los bolivianos, siendo él no muy alto pudo conectar de cabeza.
Josef Martinez quickly appeared to make it 2-0, after a corner kick and taking advantage of the poor marking by the Bolivians, being not very high, he was able to head in.
En el complemento, la alegría seguiría, no nos cansabamos de gritar desde las gradas, caía en cuenta que estaba viendo a la selección y sentía que había que disfrutarlo lo máximo posible y más cuando se estaba ganando, y jugando muy bien. Recuerdo la ovación que le regalaron al cuestionado (para ese tiempo) Oswaldo Vizcarrondo, el defensor estaba haciendo un buen trabajo. El mismo Vizcarrondo cabeceó un tiro de esquina que el portero rechazó y le quedó a Josef Martínez para solo empujarla y sumar su segundo gol de la noche.
In the second half, the joy would continue, we did not get tired of shouting from the stands, I realized that I was watching the national team and I felt that we had to enjoy it as much as possible and even more when we were winning and playing very well. I remember the ovation given to the questioned (at that time) Oswaldo Vizcarrondo, the defender was doing a good job. Vizcarrondo himself headed a corner kick that the goalkeeper rejected and it was left for Josef Martinez to just push it in and score his second goal of the night.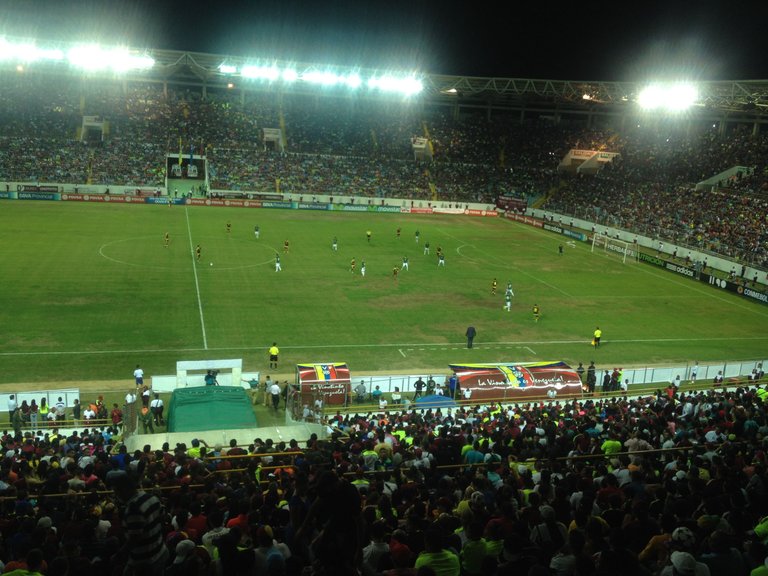 A casa llena
---
Pero Koufatty no fue el único monaguense titular de ese partido, ya que en cancha se encontraba el oriundo de Aragua de Maturín, Renzo Zambrano quien le mandó una asistencia a Josef por arriba de la defensa para que este peinara la esférica bañando al portero boliviano y completar su hat-trick y con ello el 4-0.
But Koufatty was not the only player from Monagüense in that match, as the native of Aragua de Maturín, Renzo Zambrano, was also on the field, who sent an assist to Josef over the defense for him to comb the ball past the Bolivian goalkeeper and complete his hat-trick and with it the 4-0 win.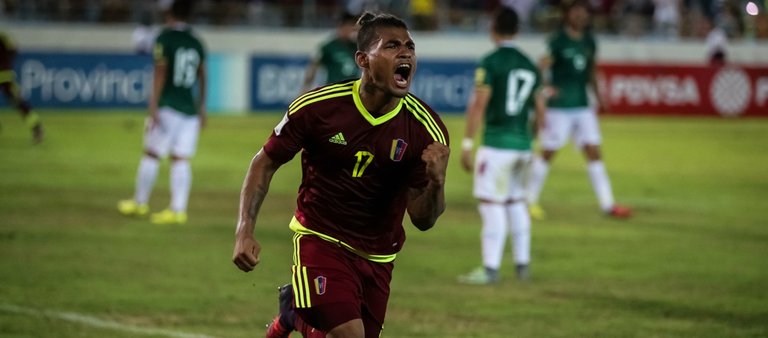 Josef Martínez
---
Pero no hay quinto malo // But there is no bad fifth
Cabe recalcar el partido consolidante con la selección que tuvo ese día Jhon Murillo, yo escuchaba a los asistentes preguntando por ese negrito que corrió todo el partido y parecía no cansarse, pues esa velocidad sirvió para cerrar la goleada, un desvorde de Murillo hasta la línea de fondo para luego asistir a Rómulo Otero, quien se pasó todo el partido llevando peligro al arco rival con sus tiros libres tuvo su recompensa.
It is worth mentioning the consolidating match that Jhon Murillo had that day with the national team, I listened to the assistants asking about this little black guy who ran the whole match and seemed not to get tired, because that speed was used to close the goal, a Murillo's dribble to the back line to then assist Rómulo Otero, who spent the whole match bringing danger to the rival goal with his free kicks had its reward.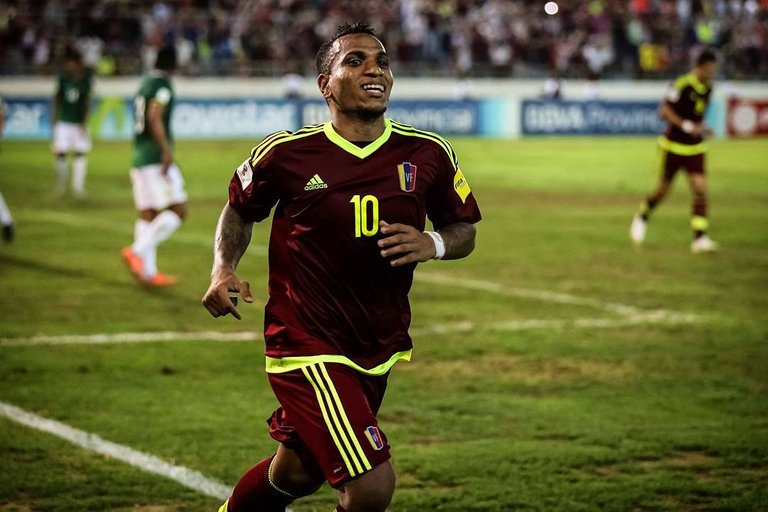 Rómulo Otero
---
Luego Otero salió sustituido por Luis 'Cariaco' González, en ese momento jugaba con el Monagas Sport Club, por eso todo el estadio comenzó a corear su nombre, yo en realidad no sabía quien era para ese entonces pero igual me sume al "Cariaco, Cariaco…" que se escuchaba en todo el estadio, además estaba haciendo su debut con la selección de Venezuela. No es monaguense pero lo quieren como si lo fuera. Hablando de monaguenses, Edder Farías también se encontraba en el banco de suplentes y se quedó sin ver minutos, pero igual ese partido fue el que más jugadores nacidos en el estado Monagas tuvo.
Then Otero was replaced by Luis 'Cariaco' González, at that time he was playing with Monagas Sport Club, that's why the whole stadium started to chant his name, I didn't really know who he was at that time but I still joined the "Cariaco, Cariaco..." that was heard all over the stadium, besides he was making his debut with the Venezuelan national team. He is not from Monagüense but they love him as if he were. Speaking of Monaguenses, Edder Farias was also on the substitutes' bench and did not see minutes, but that match was the one with the most players born in the state of Monagas.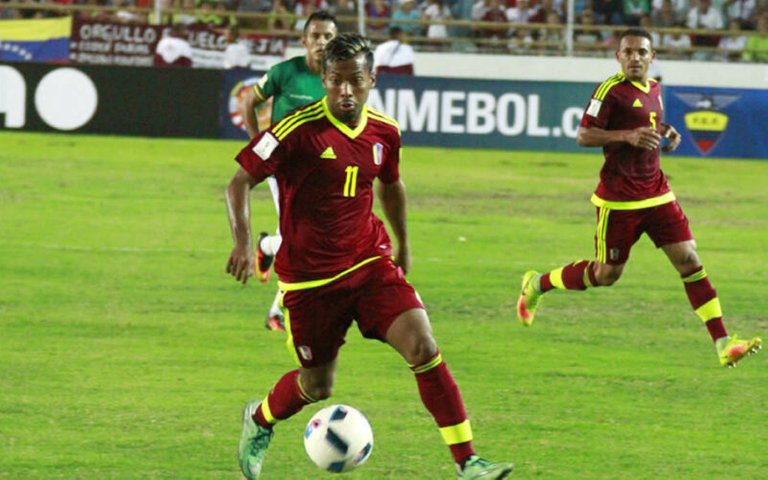 Luis 'Cariaco' González
---
Un partido redondo que parecía que Venezuela había encontrado un buen camino, con jugadores que estaban teniendo su primera oportunidad y respondían bien en la cancha, eso daba una señal de esperanza a pesar de en ese entonces estar penúltimos en el camino a Rusia 2016, pero se veía que se pudo haber cerrado mejor las Eliminatorias y teniendo un equipo armado pensando en Qatar. Lastima que no fue así y en la actualidad seguimos sufriendo y posponiendo la alarma para ir a un Mundial de fútbol.
A round match that seemed that Venezuela had found a good path, with players who were having their first opportunity and responded well on the field, that gave a sign of hope despite being second to last on the road to Russia 2016, but it was seen that the qualifiers could have been closed better and having an armed team thinking about Qatar. Too bad it was not so and today we are still suffering and postponing the alarm to go to a World Cup.
---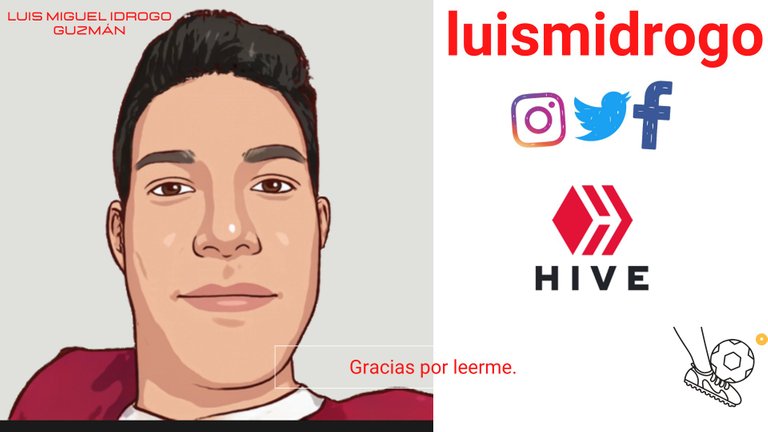 ---
---