Celebrando dos años de amor infinito (Esp/Eng)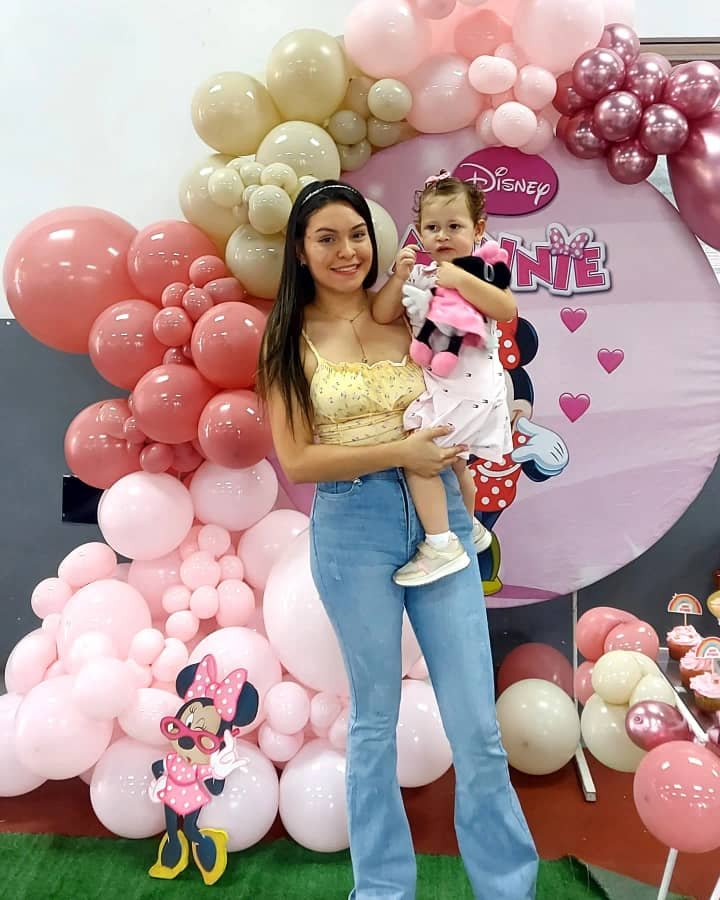 Hola mis lindos amigos de hive y la comunidad de Motherhood, feliz día, espero que hayan tenido un excelente fin de semana para descansar. Les quiero hablar sobre la celebración del cumpleaños de mi hija Valerie (recién los cumplió).
La realidad es que todas como madres nos sentimos más sensibles, y nos gustaría poder resumir todo lo que sentimos, pero es muy difícil. La emoción de verlos crecer, ¡¡la nostalgia del tiempo que ha pasado, la añoranza de nuestro bebé!! Mi niña es fuerza, inspiración, energía en estado puro.
Hello my beautiful friends of hive and the community of Motherhood, happy day, I hope you had an excellent weekend to rest. I want to talk about my daughter Valerie's birthday celebration (she just had her birthday).
The reality is that all of us as mothers feel more sensitive, and we would like to be able to summarize everything we feel, but it is very difficult. The emotion of seeing them grow, the nostalgia for the time that has passed, the longing for our baby!! My girl is strength, inspiration, energy in its purest form.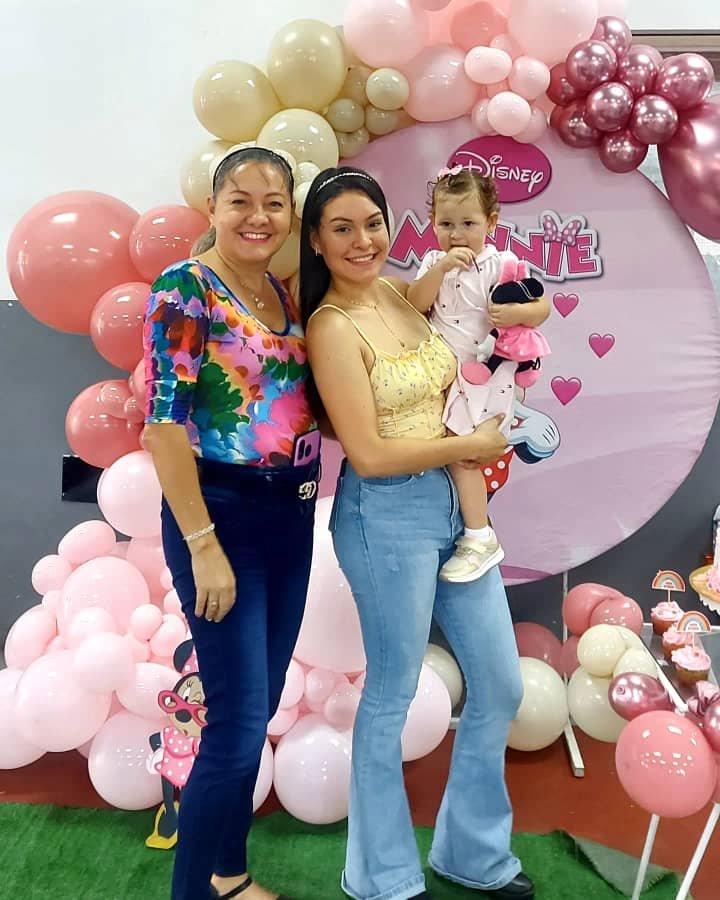 Que lindo se siente poder celebrar dos años de haber llegado a mi vida, la verdad estaba mucho mas emocionada y ansiosa (a comparación de cuando es mi cumpleaños). Desde agosto comencé a reunir dinero, a tener mil ideas de como quería que fuera su fiesta, como seria la decoración, la torta, la piñata; en fin, me esforcé mucho por complacer a mi niña.
A ella le encantan las piñatas, y también le gusta mucho minie mouse, entonces su cumpleaños fue de la ratoncita. Toda la decoración quedo hermosa escogí varios colores de globos de colores claros, alquilé un mobiliario: con el paraban y las mesas, la torta y los cupcakes los hizo mi hermana y yo la decoré.
How nice it feels to be able to celebrate two years of having come into my life, the truth was I was much more excited and anxious (compared to when it's my birthday). Since August I began to raise money, to have a thousand ideas of how I wanted her party to be, what the decoration, the cake, the piñata would be like; Anyway, I tried really hard to please my girl.
She loves piñatas, and she also really likes minie mouse, so her birthday was the little mouse's themed. All the decoration was beautiful I chose several colors of light-colored balloons, I rented furniture: with the stand and the tables, the cake and cupcakes were made by my sister and I decorated it.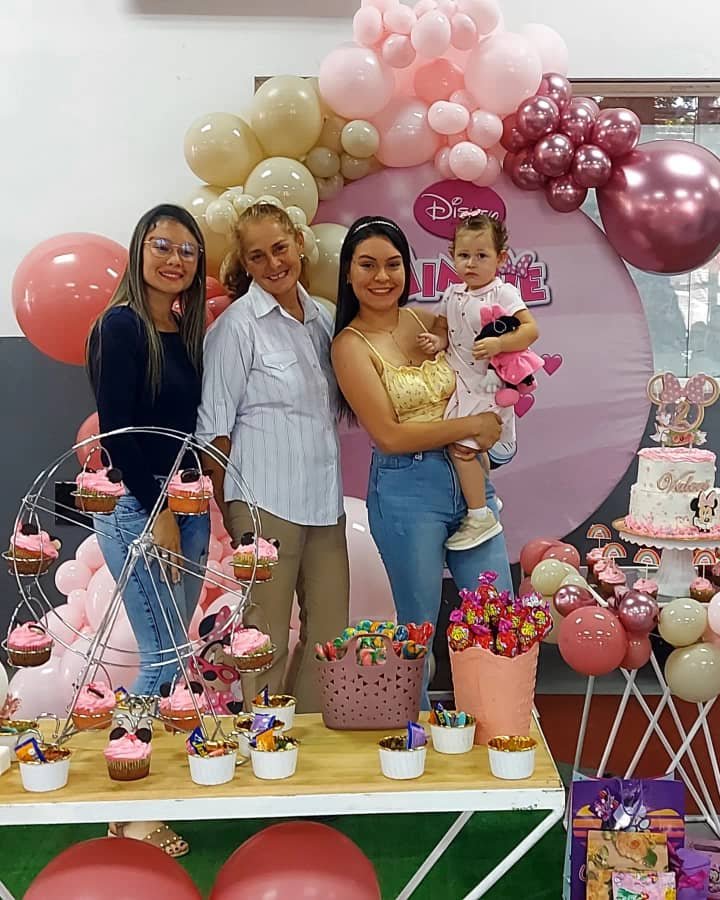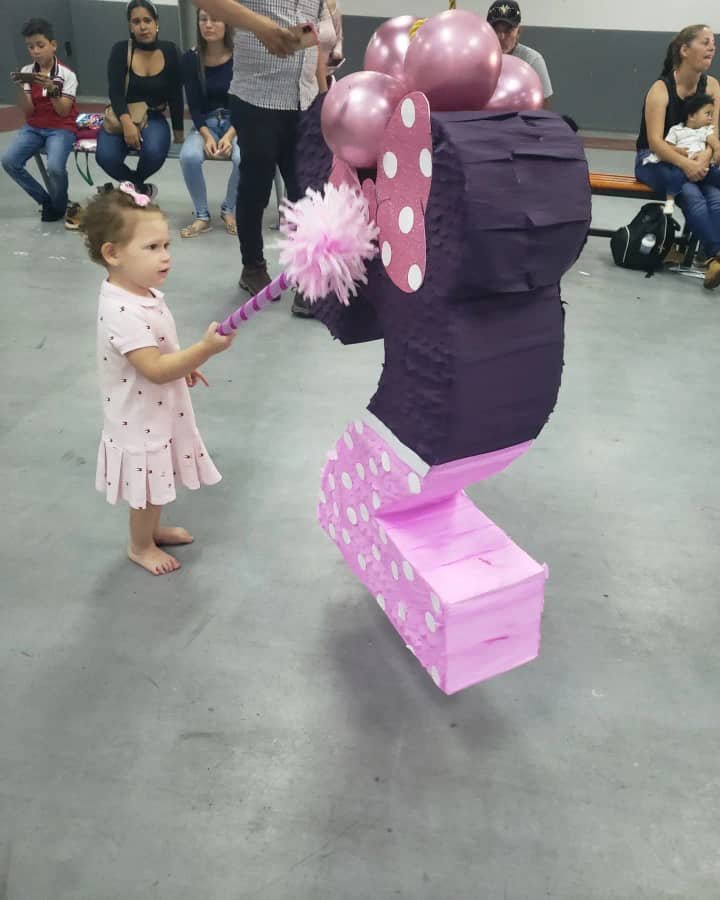 Les cuento que fue una planificación muy hermosa, todo salió tal cual lo soñé, pude alquilar también un parque de juegos, donde ella disfrutó mucho, y pudo compartir con sus amigos.
Y qué bonito es hacer algo para la persona que amas, se hace con un amor infinito, no importa que tanto debiste hacer para lograrlo, ¡la satisfacción es ver su carita de alegría!
I tell you that it was a very beautiful planning, everything turned out just as I dreamed it, I was also able to rent a playground, where she enjoyed a lot, and was able to share with her friends.
And how nice it is to do something for the person you love, it is done with infinite love, no matter how much you had to do to achieve it, the satisfaction is to see their happy face!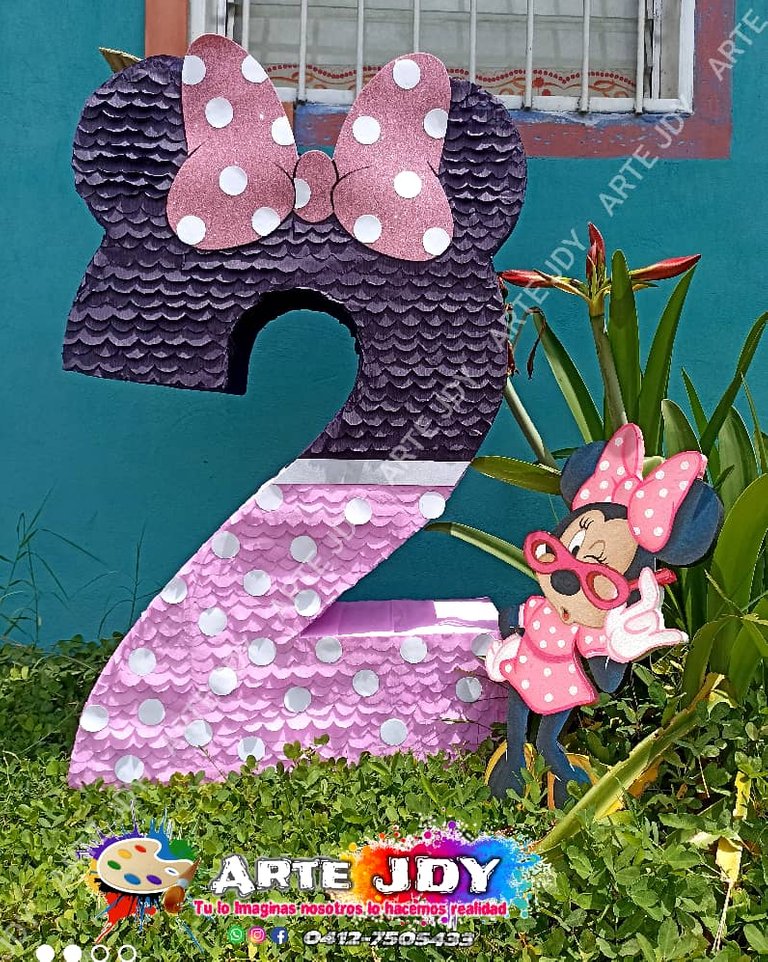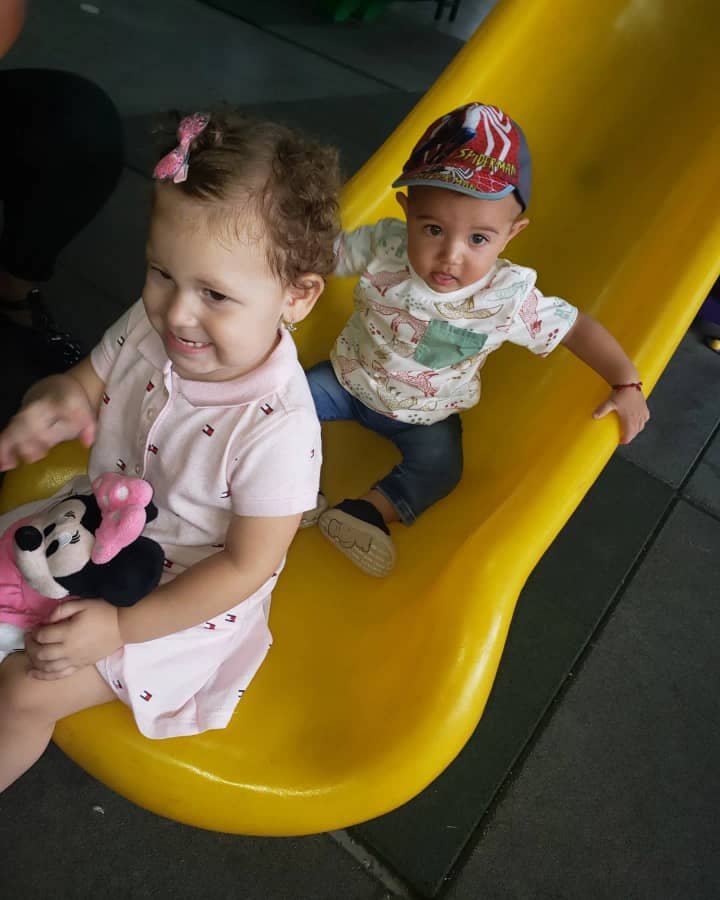 ¿Como fue la decoración de la torta?
La torta era un ponqué de kilo y medio, distribuido en dos pisos. Para el betún necesitamos: leche líquida, crema chantilly en polvo (personalmente creo que rinde más el chantilly en polvo), usé sprinkles de perlas entre grandes y pequeñas, de color blanco perla y rosa; también sprinkles en forma de estrella color rosa y dorado. Una chica me hizo los toppers que fueron parte también de la decoración de la torta. Hice 30 cupcakes los cuales también se decoraron con betún de crema chantilly con colorante rosa. Unos cuantos llevaban dos galletas oreo de las minis con una corbata en la mitad (simulando la figura de minie mouse). Otros solo betún y sprinkles de perlas y estrella.
Por otra parte, quería hacer una invitación digital diferente, algo personalizado y creado por mí misma. instale diferentes aplicaciones para poder hacerlas y ninguna me funcionaba, no llenaban mis expectativas. Así que comencé a leer reseñas de las aplicaciones que había descargado (y no me habían funcionado), muchos de esos comentarios mencionaban la app de canva.
How was the decoration of the cake?
The cake was a pound cake of a kilo and a half, distributed over two floors. For the bitumen we need: liquid milk, powdered chantilly cream (personally I think powdered chantilly yields more), I used pearl sprinkles between large and small, pearly white and pink; Also pink and gold star shaped sprinkles. A girl made me the toppers that were also part of the cake decoration. I made 30 cupcakes which were also decorated with whipped cream frosting with pink coloring. A few carried two oreo cookies from the minis with a tie in the middle (simulating the figure of minie mouse). Others only bitumen and sprinkles of pearls and stars.
On the other hand, I wanted to make a different digital invitation, something personalized and created by myself. I installed different applications to be able to do them and none of them worked for me, they did not meet my expectations. So I started reading reviews of the apps I had downloaded (and they hadn't worked for me), many of those reviews mentioned the canva app.
Invitación hecha en Canva app / Invitation made using Canva app
Así que descargué canva en mi celular, comencé a practicar a ver como hacia para agregar las imágenes, como darles movimiento, como colocarle texto, etc. Y durante varios días estuve haciendo diferentes modelos de tarjetas para el cumpleaños de mi Valerie, cada vez iba mejorando, finalmente amé el resultado y además me dio un poco de experiencia para saber aprovechar esa maravillosa app.
De igual manera con la decoración de los globos me ayudó un familiar que aunque no trabaja con eso, pero si le apasiona y ha ido aprendiendo y tomando diferentes tips en YouTube e Instagram. El resultado quedó espectacular, se le aplicó un spray que se llama brillo de globos y esto permitió que los globos lucieran mucho más brillantes.
So I downloaded canva on my cell phone, I began to practice seeing how to add the images, how to give them movement, how to place text, etc. And for several days I was making different models of cards for my Valerie's birthday, each time I was improving, I finally loved the result and it also gave me a little experience to know how to take advantage of this wonderful app.
Also, a relative helped me with the decoration of the balloons who, although she does not work with it, is passionate about it and has been learning and taking different tips on YouTube and Instagram. The result was spectacular, a spray called balloon gloss was applied and this allowed the balloons to look much brighter.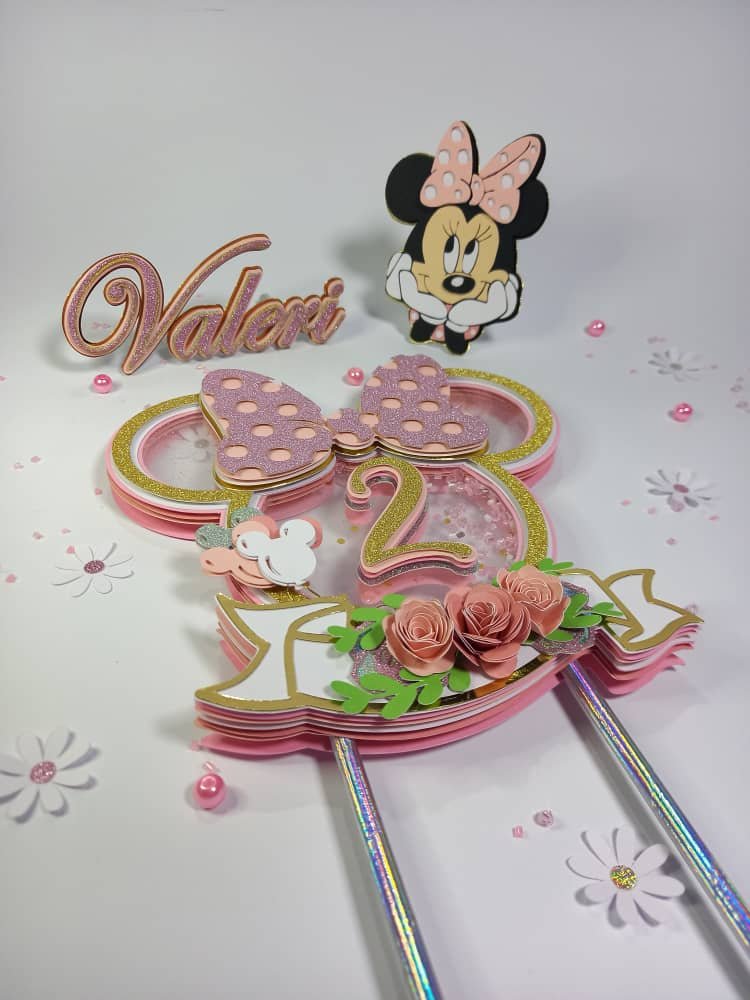 En fin, que tanto se puede hacer por un hijo, ¿por qué es tan grande nuestra alegría por su cumpleaños?, de solo pensar que apenas van dos años y mi vida esta llena de muchos lindos momentos, de muchas experiencias, de muchas fotografías, recuerdos que llegan a mi cabeza hacen que me emocione y luego que las lagrimas agolpen en mis ojos. Valerie llegó a mi vida a cambiarla, a mejorarla, a enseñarme infinidad de cosas, y todo para convertirse en mi persona favorita.
In short, how much can be done for a child, why is our joy for their birthday so great? Just thinking that it has barely been two years and my life is full of many beautiful moments, many experiences, many photographs, memories that come to my head make me emotional and then tears come to my eyes. Valerie came into my life to change it, to improve it, to teach me countless things, and all to become my favorite person.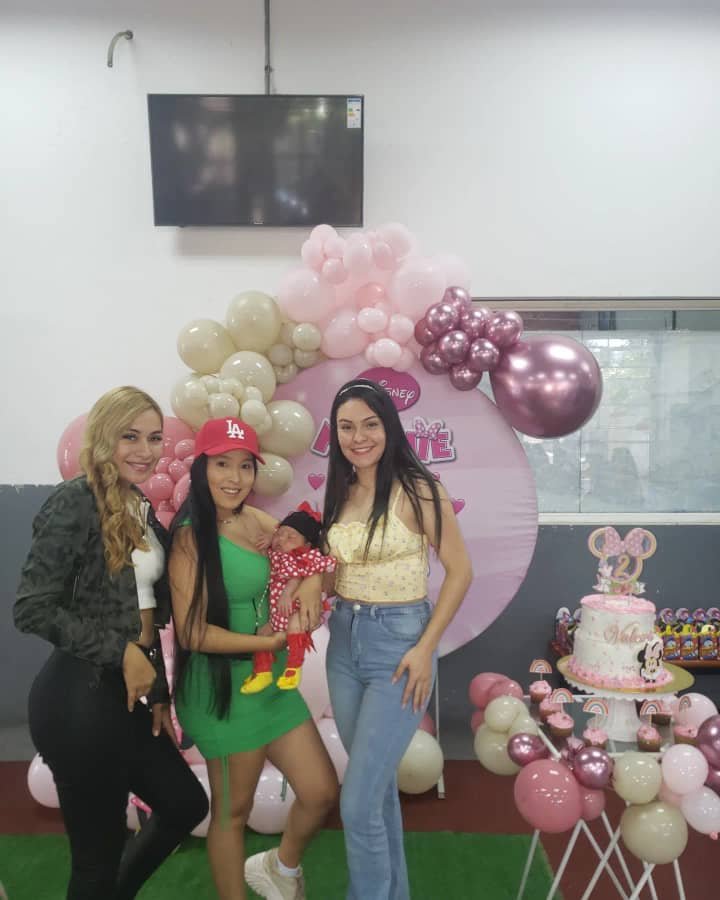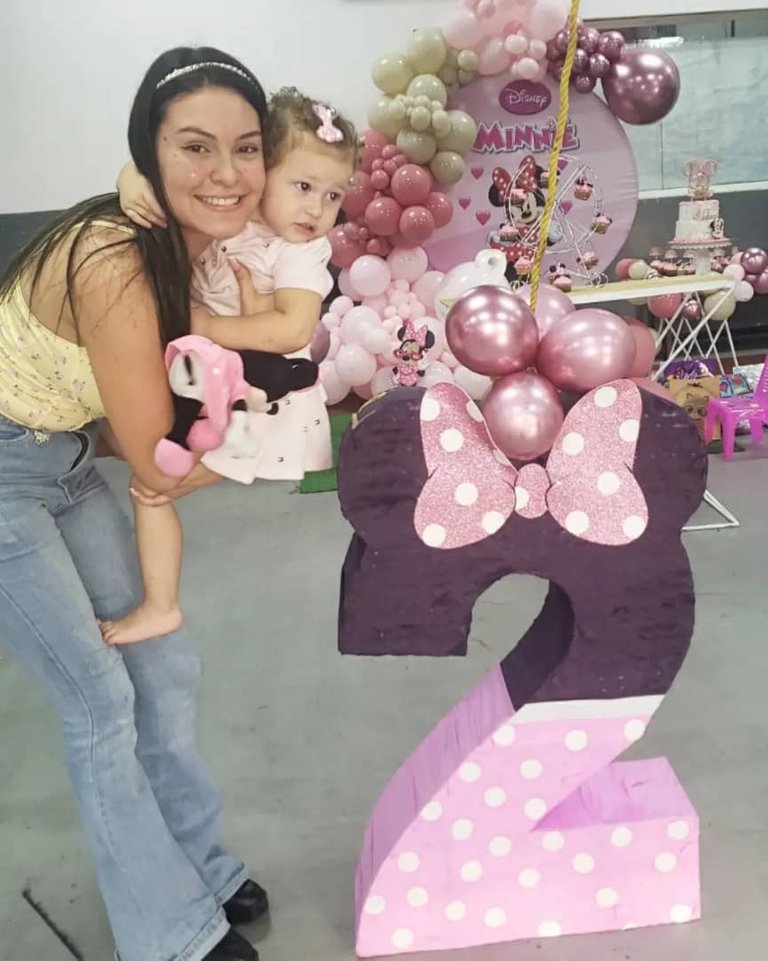 Como madres amamos lo que hacemos sin moderación. Me siento amada, me siento acompañada, ¡me siento feliz! ¡¡Gracias!!
As mothers we love what we do without moderation. I feel loved, I feel accompanied, I feel happy! Thank you!!
---
---