Makeup Inspired by Bloom from Winx Club
💕 Hello Hive Community! 💕
---
---
El Club Winx es uno de mis programas favoritos de mi infancia y de mi vida actual también, sonara muy estúpido decir que me encanta una serie "infantil" como esta, pero la verdad es que si me gusta y hasta el día de hoy la he estado viendo cuando necesito desconectarme absolutamente de todo. Bloom es mi personaje favorito de todas las Winx y es por ello que hoy quise hacer un maquillaje inspirado en ella, precisamente de la primer temporada de las Winx cuando las transformaciones eran bastante sencillas aunque con mucho brillo.
The Winx Club is one of my favorite shows of my childhood and of my current life too, it will sound very stupid to say that I love a "childish" series like this, but the truth is that I do like it and to this day I have been watching it when I need to disconnect from absolutely everything. Bloom is my favorite character of all the Winx and that's why today I wanted to do a makeup inspired by her, precisely from the first season of the Winx when the transformations were quite simple but with a lot of shine.
---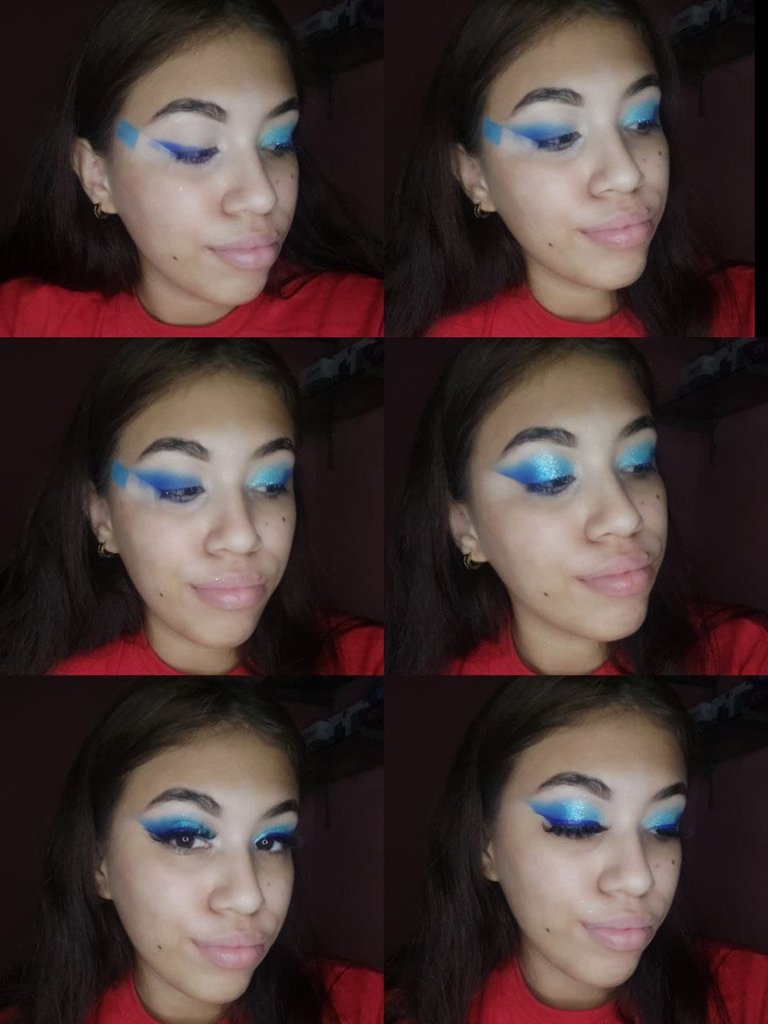 ---
Para empezar con el look de ojos estuve realizando mis cejas con el Browgel y fijándolas con un producto nuevo, en mi parpado coloque un corrector claro para tener una base limpia. El color característico de Bloom es el azul, en su traje obvio, porque de lo contrario seria el Rojo por su cabello, es por ello que comencé este maquillaje colocando en la esquina exterior una sombra azul a manera de delineado, la cual estuve difuminando con un azul más claro. En el resto de mi parpado coloque un Glitter Azul haciendo representación a los brillos del traje, y pase a colocar pestañas postizas.
To start with the eye look I was doing my eyebrows with the Browgel and fixing them with a new product, on my eyelid I put a clear concealer to have a clean base. Bloom's signature color is blue, in his suit obviously, because otherwise it would be Red for his hair, that's why I started this makeup by placing in the outer corner a blue shadow as an eyeliner, which I was blurring with a lighter blue. On the rest of my eyelid I placed a Blue Glitter representing the glitter of the suit, and then I placed false eyelashes.
---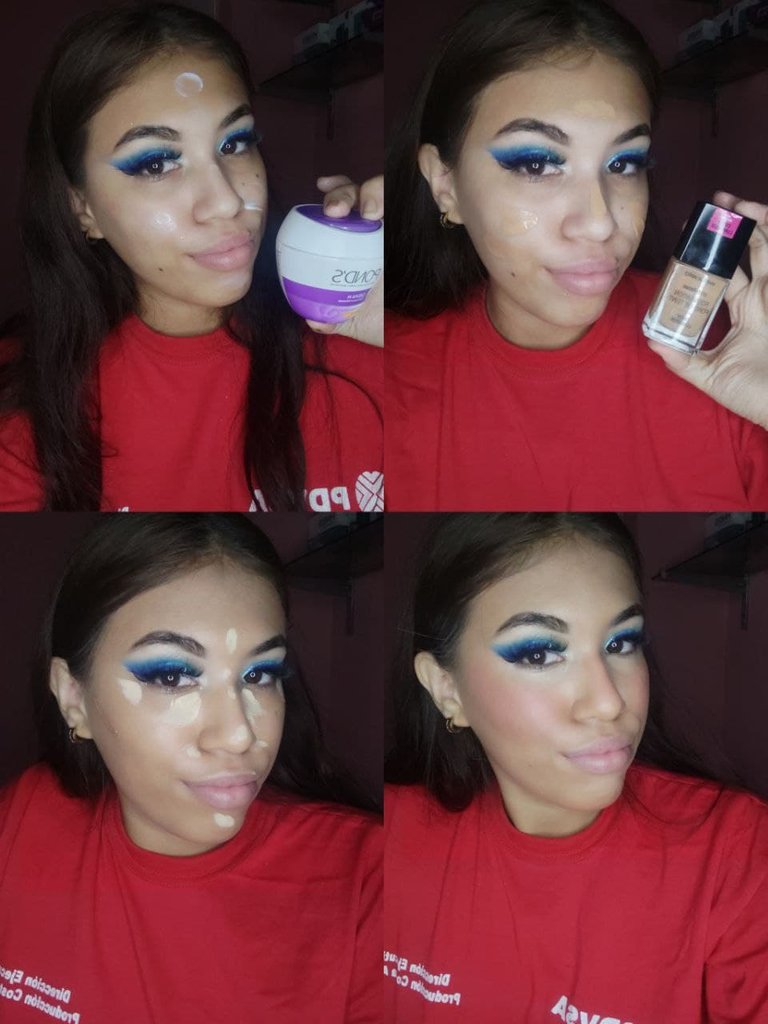 ---
A la hora de hacer mi piel comencé colocando una crema hidratante para tener mi rostro en perfectas condiciones, luego aplique una base por todo mi rostro, precisamente la base A+ de AOA, la satinada que viene en presentación de gotero. Como corrector estuve utilizando uno de la marca Dolce Bella el cual es hidratante y tiene una cobertura media, luego realice contornos leves con un corrector oscuro y coloque como rubor uno de la marca Kleancolor en la tonalidad Guava.
When it was time to do my skin I started by applying a moisturizer to have my face in perfect condition, then I applied a foundation all over my face, precisely the AOA A+ foundation, the satin one that comes in a dropper presentation. As concealer I was using one of the brand Dolce Bella which is moisturizing and has a medium coverage, then I made slight contours with a dark concealer and placed as a blush one of the brand Kleancolor in the shade Guava.
---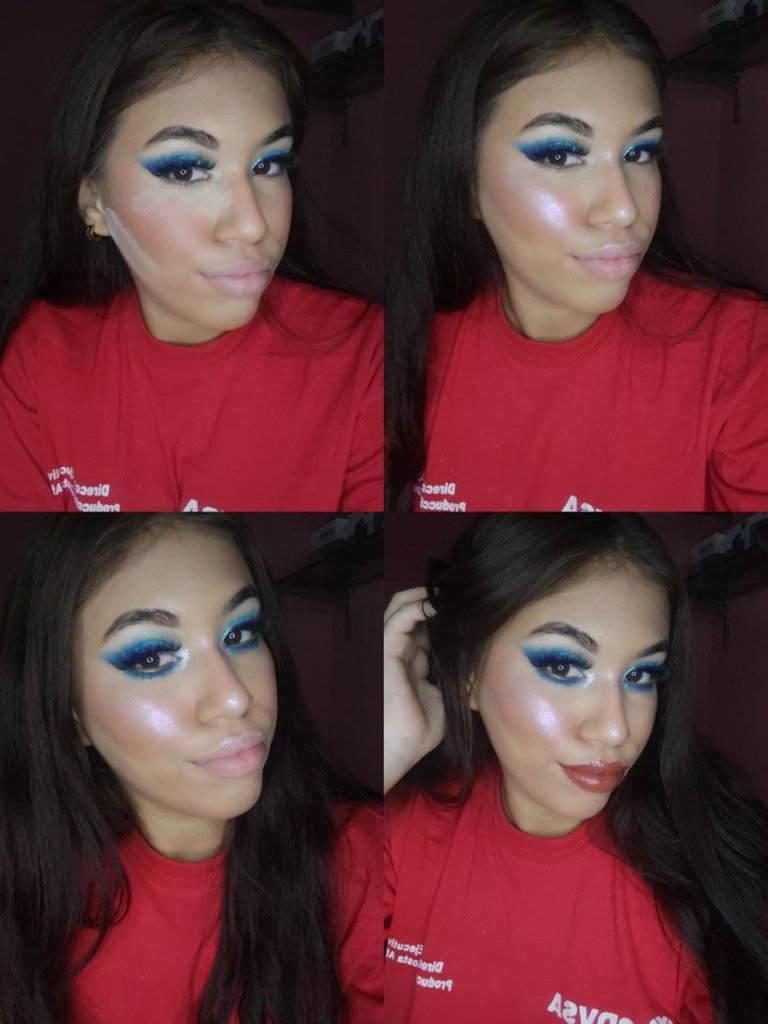 ---
Selle mi piel con Polvo Suelto, nuevamente utilizando el Polvo de Kleancolor, en esta oportunidad solo Selle la Zona T y marque un poco los contornos haciendo un mini backing. Refresque un poco mi rostro para colocar iluminador en los puntos altos, resaltando mucho el del pómulo ya que me encanta hacer esto para las fotos. En la línea inferior de las pestañas coloque sombra azul y en la línea de agua coloque una sombra metálica dorada haciendo representación de la coronita que lleva Bloom en su cabello. Finalizo con un poco de mascara de pestañas y un labial naranja con un poco de Gloss.
I sealed my skin with Loose Powder, again using Kleancolor Powder, this time I only sealed the T-Zone and did a little bit of contouring with a mini backing. I refreshed my face a bit to place highlighter on the high points, highlighting a lot the cheekbone as I love to do this for photos. On the lower lash line I placed blue shadow and on the water line I placed a golden metallic shadow representing the little crown that Bloom has in her hair. I finished with a bit of mascara and orange lipstick with a bit of gloss.
---
---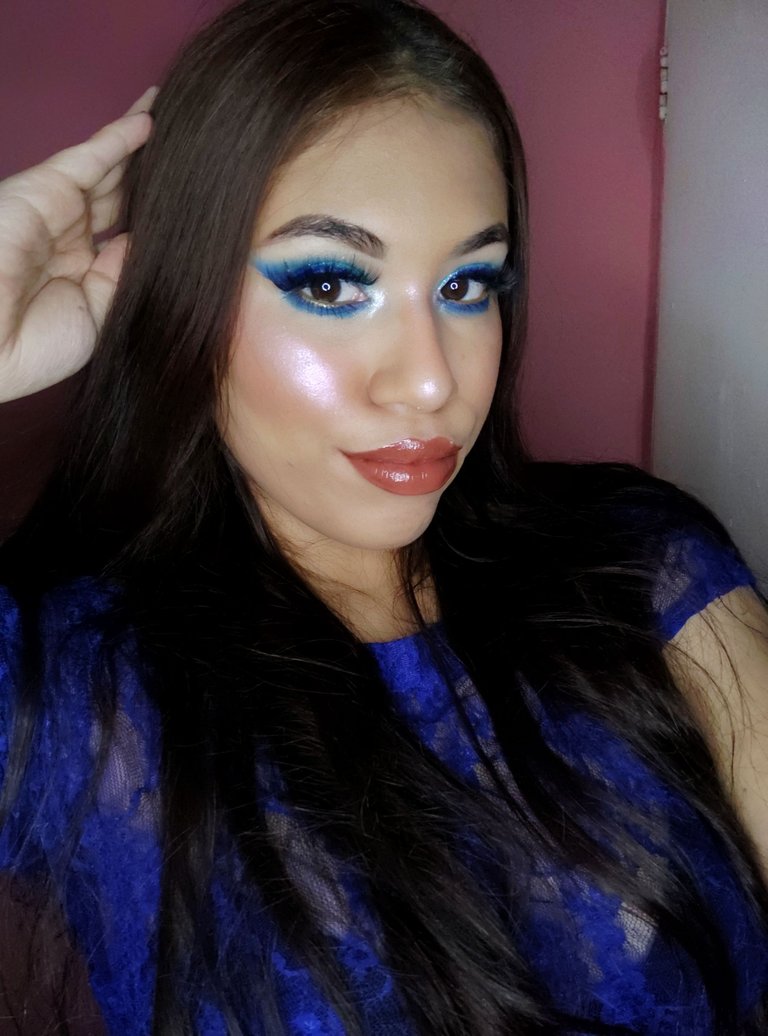 ---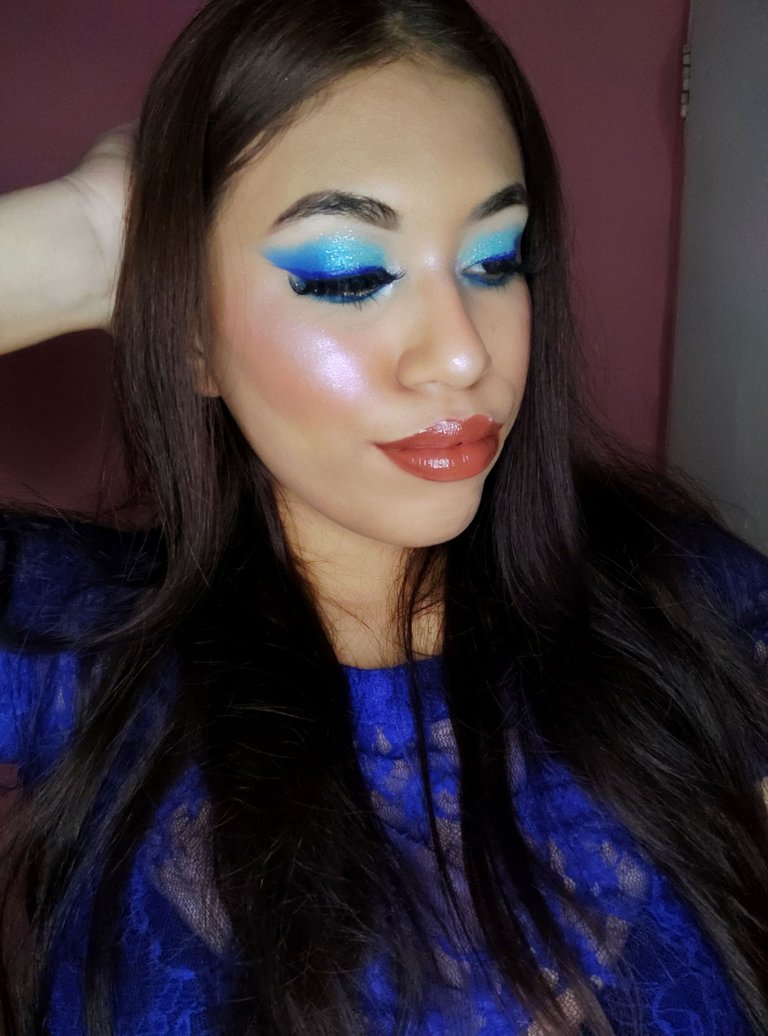 ---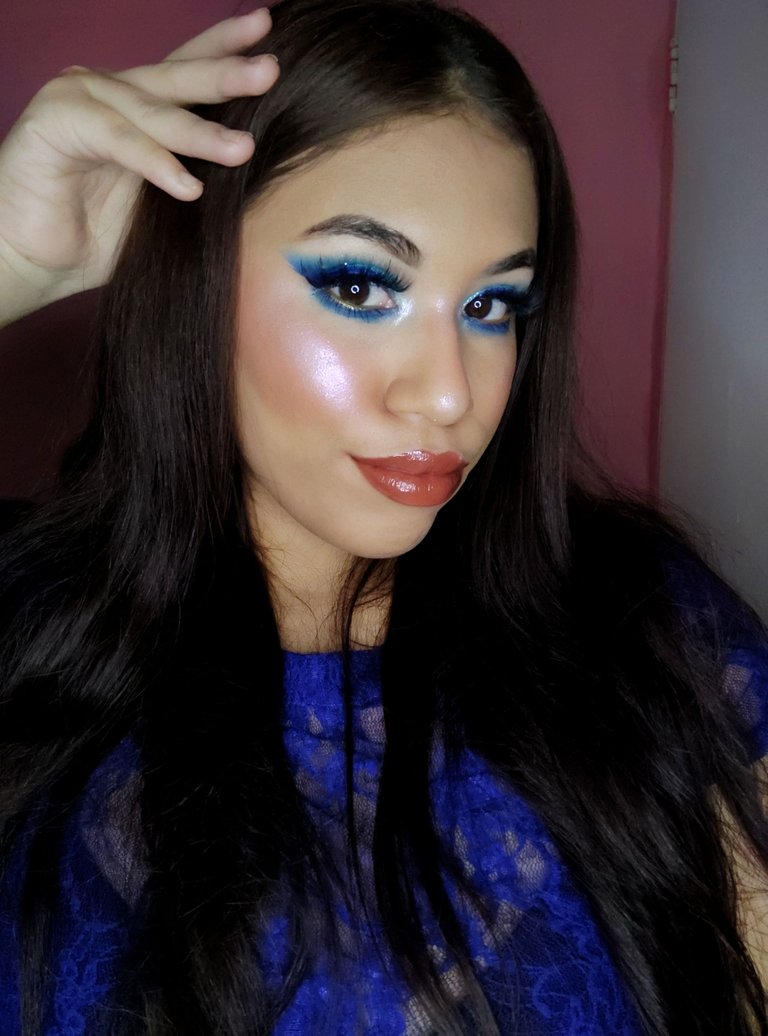 ---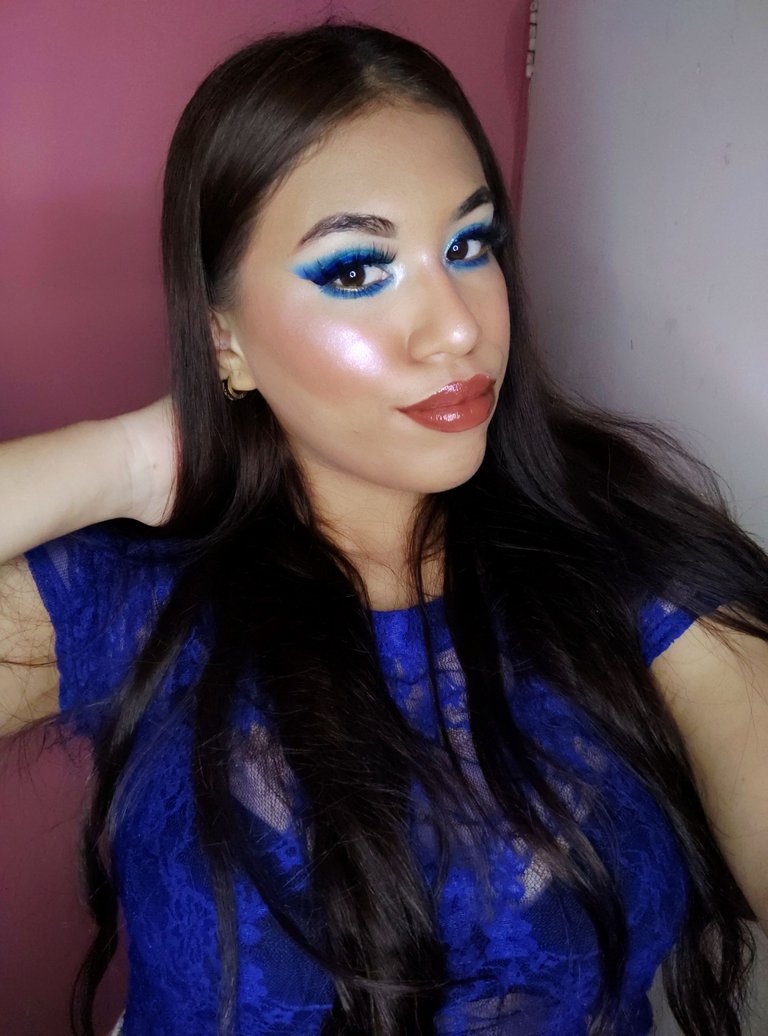 ---
Este maquillaje no nació por inspiración propia, lo estuve haciendo gracias a mi mejor amiga @marijo0 la cual menciono que debía hacer un maquillaje inspirado en Bloom cuando estábamos reunidas viendo las Winx en mi casa. Bloom ha tenido muchísimas transformaciones en esta serie, pero me quise inspirar en la primera de ellas porque es la más emblemática de todas y la que dio comienzo a todo el universo del Club Winx. Potencialmente esto pueda ser el inicio de una serie de maquillajes inspirados en todas las chicas del Club Winx. Espero que les haya este maquillaje tanto como a mi, nos vemos pronto!
This makeup was not born by my own inspiration, I was doing it thanks to my best friend @marijo0 who mentioned that I should do a makeup inspired by Bloom when we were together watching the Winx at my house. Bloom has had many, many transformations in this series, but I wanted to be inspired by the first of them because it is the most emblematic of them all and the one that started the whole Winx Club universe. Potentially this could be the beginning of a series of makeovers inspired by all the Winx Club girls. I hope you like this make-up as much as I do, see you soon!
Pictures of my property.

Camera: CellPhone Xiaomi Redmi Note 10.









Si te gusta el maquillaje, el mundo de la belleza o hacer arte en tu piel te invito a la comunidad y al Telegram:




If you like makeup, the world of beauty or making art on your skin I invite you to the community and the Telegram:



---

---
---