Fuchsia Makeup with Cut Crease Closed Sunset Style
💕 Hello Hive Community! 💕
---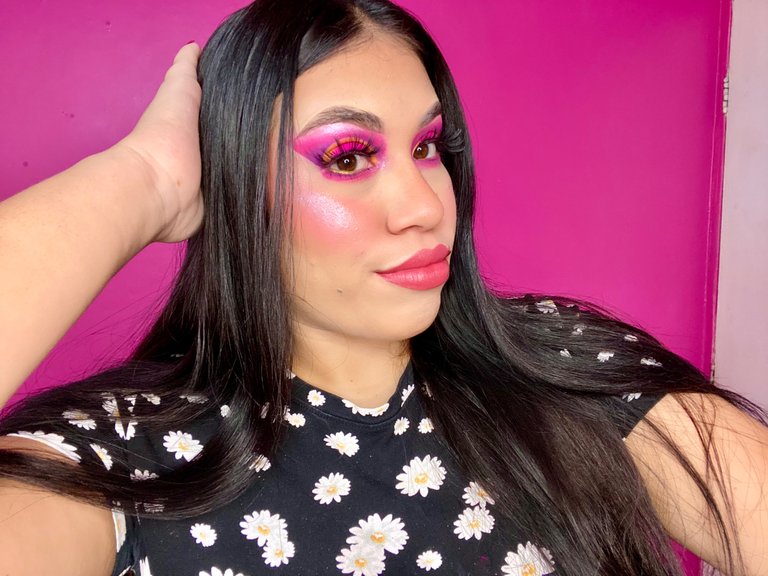 ---
He mencionado un montón de veces que uno de mis colores favoritos es el rosado y sus derivados, más claros, más intensos, más fuertes, en terminado pasteles y en neón, por supuesto el fucsia es uno de los que más utilizo. En mis maquillajes, siempre me gusta incluir este tono y cuando siento que tengo ya varios looks sin utilizar este color, entonces hago un maquillaje donde sea el protagonista. En esta oportunidad quería hacer un Cut Crease pero al mismo tiempo hacerle algo diferente, así que lo hice cerrado, lo cual no parecía un reto ni nada por el estilo, pero me pareció bastante lindo.
I have mentioned a lot of times that one of my favorite colors is pink and its derivatives, lighter, more intense, stronger, in finished pastels and neon, of course fuchsia is one of the ones I use the most. In my makeup, I always like to include this shade and when I feel that I already have several looks without using this color, then I do a makeup where it is the protagonist. This time I wanted to do a Cut Crease but at the same time do something different, so I did it closed, which didn't look like a challenge or anything like that, but I thought it was pretty cute.
---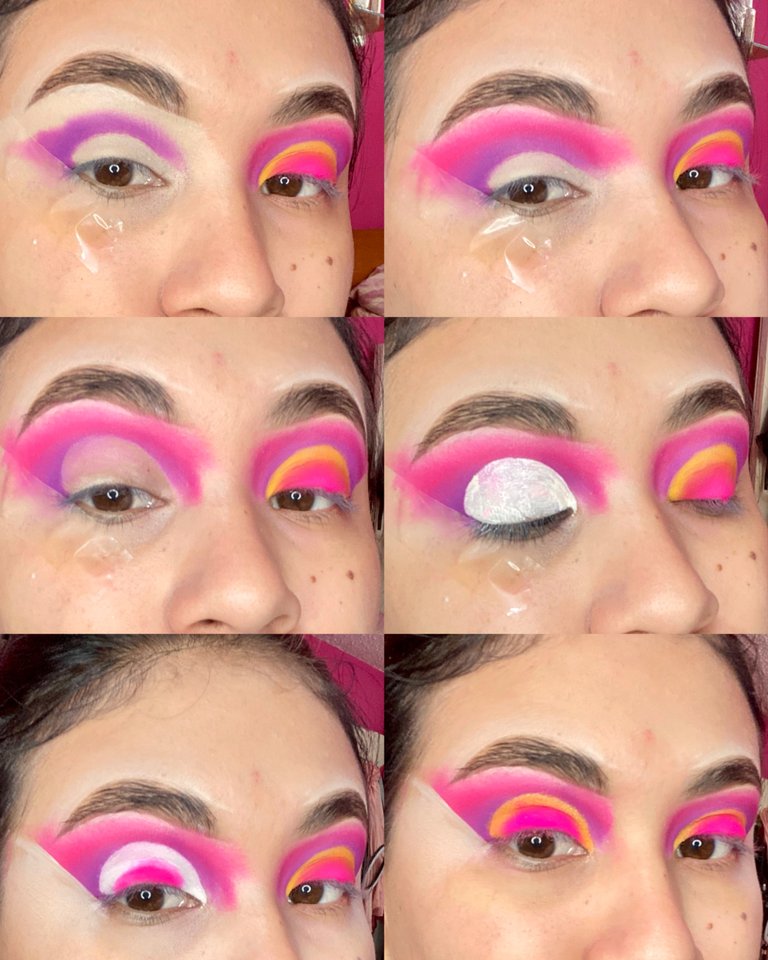 ---
Para comenzar con este maquillaje estuve haciendo mis cejas utilizando un jabón de glicerina, tenia ya varios looks que no lo hacia por flojera jaja pero ya volvió, luego coloque una sombra marrón para dar color y bastante corrector para perfeccionar. Luego estuve aplicando sombra morada para marcar mi cuenca, seguidamente difuminé con una sombra fucsia neón que me gusta demasiado. Para hacer el corte estuve utilizando una brocha plana con agua micelar, donde luego coloque corrector y aplique en el centro la sombra fucsia, luego coloque el tono amarillo brillante y realicé este degradado.
To start with this makeup I was doing my eyebrows using a glycerin soap, I had several looks that I didn't do it because of laziness haha but now it's back, then I applied a brown shadow to give color and a lot of concealer to perfect. Then I was applying purple shadow to mark my basin, then I blended with a neon fuchsia shadow that I like too much. To make the cut I was using a flat brush with micellar water, where I then placed concealer and applied in the center the fuchsia shadow, then I placed the bright yellow tone and made this gradient.
---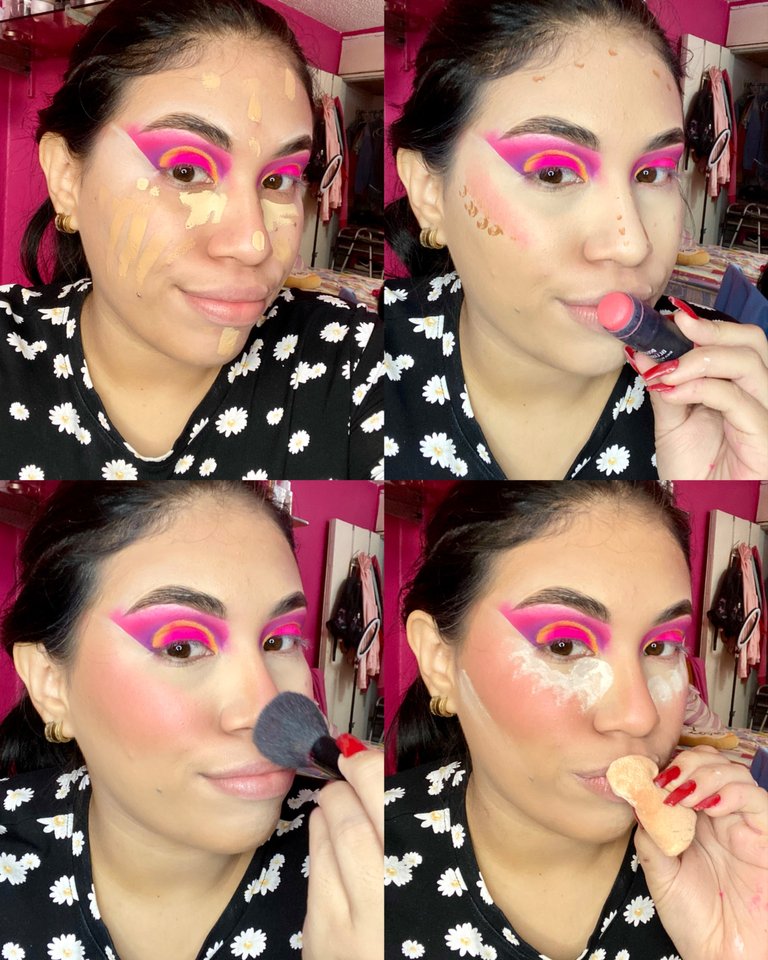 ---
A la hora de hacer mi piel estuve comenzando directamente con la base de maquillaje, ya que estaba acabando de hacer mi skincare y mi piel estaba super preparada, la base que utilicé fue la de Dolce Bella y el corrector que aplique también al mismo tiempo fue el Camo de ELF Cosmetics. Luego estuve haciendo las dimensiones de mi rostro con una base oscura de AOA Studio que me gusta bastante y también coloque un rubor de Dolce Bella para dar un poco de color, finalizando esta parte con polvos para sellar.
At the time of doing my skin I was starting directly with the foundation, since I was just finishing my skincare and my skin was super prepared, the foundation I used was Dolce Bella and the concealer I applied also at the same time was ELF Cosmetics Camo. Then I was doing the dimensions of my face with a dark foundation from AOA Studio that I like a lot and I also applied a blush from Dolce Bella to give a little color, finishing this part with powder to seal.
---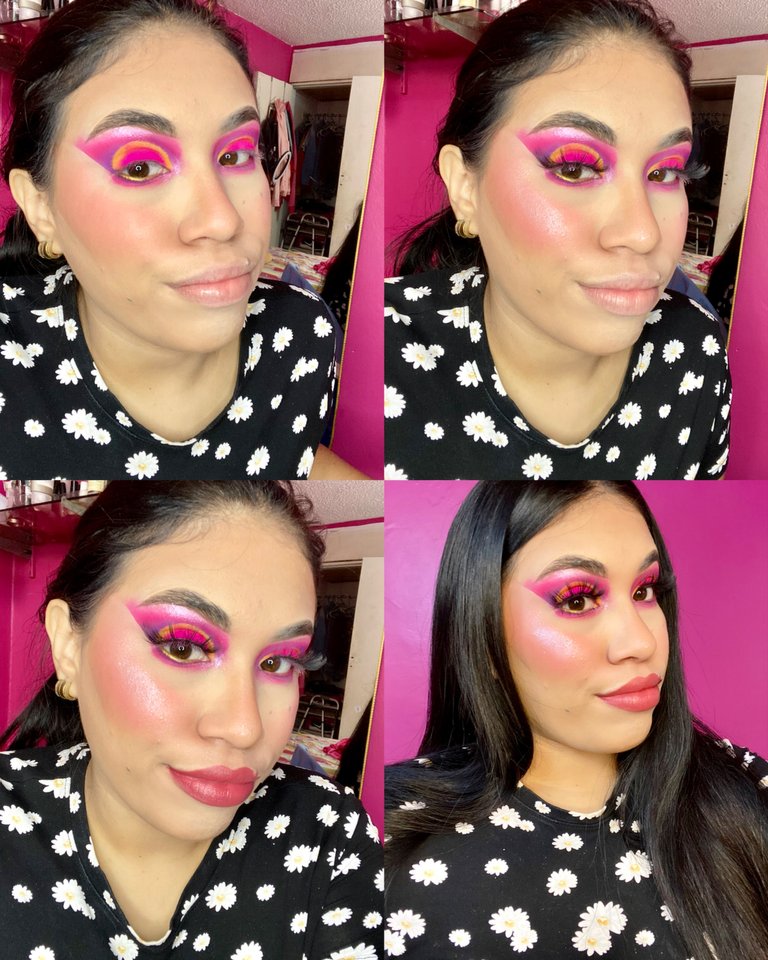 ---
Pase rápidamente a terminar este look de ojos, colocando la sombra amarillo brillante en la línea de agua, luego estuve aplicando la sombras morada y fucsia matte en la línea inferior de las pestañas, pase a colocar pestañas postizas largas y un poco de mascara para marcar mejor la mirada. Luego pase a la piel, donde aplique un poco más de rubor e iluminador en los puntos altos de mi rostro, dando dese toque brillante que me gusta mucho y finalicé con un labial rosado de AOA Studio.
I quickly moved on to finish this eye look, placing the bright yellow shadow on the waterline, then I was applying the purple and fuchsia matte shadows on the lower lash line, I applied long false eyelashes and a little mascara to mark the look better. Then I moved on to the skin, where I applied a little more blush and highlighter on the high points of my face, giving a shimmery touch that I really like and I finished with a pink lipstick from AOA Studio.
---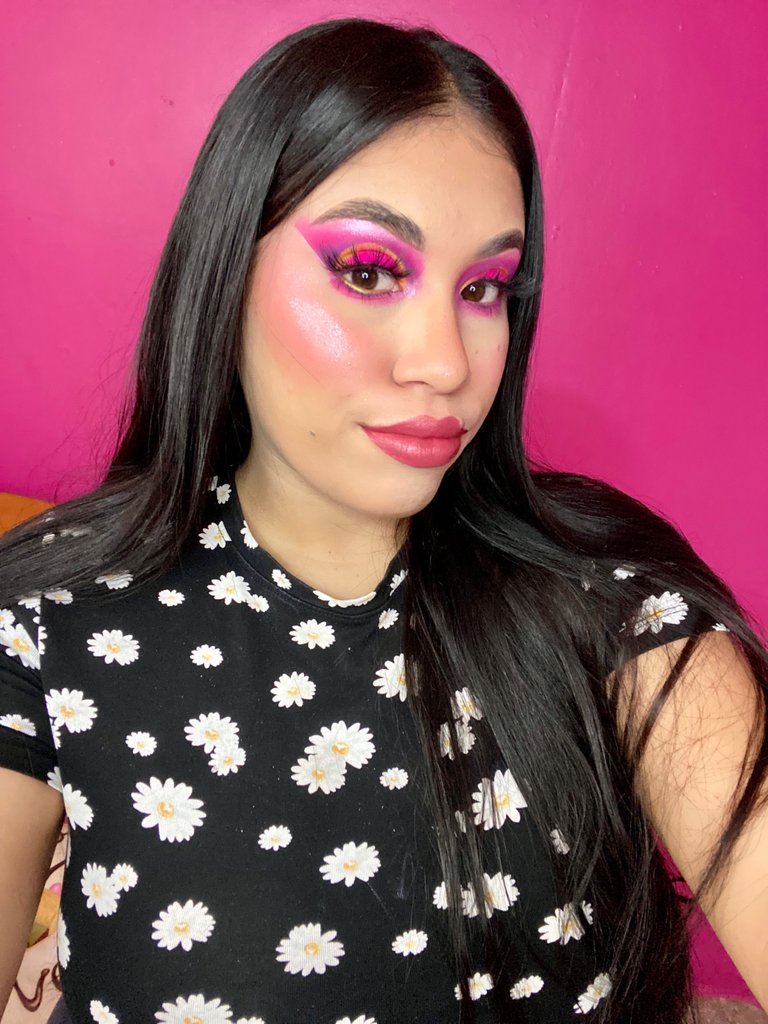 ---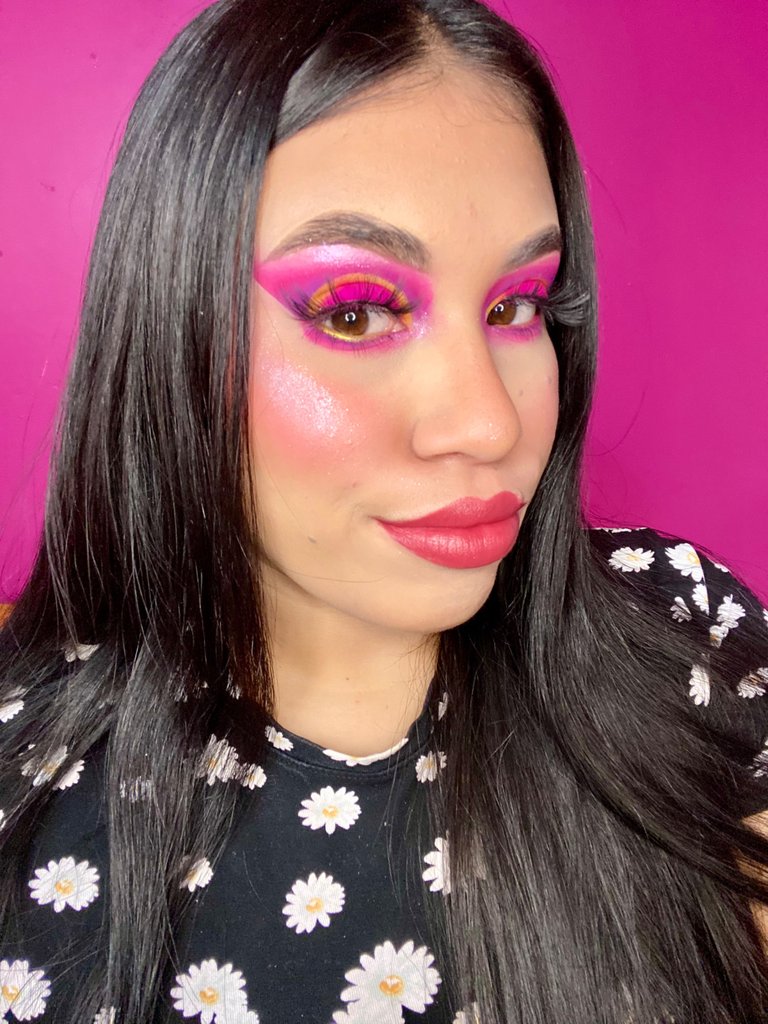 ---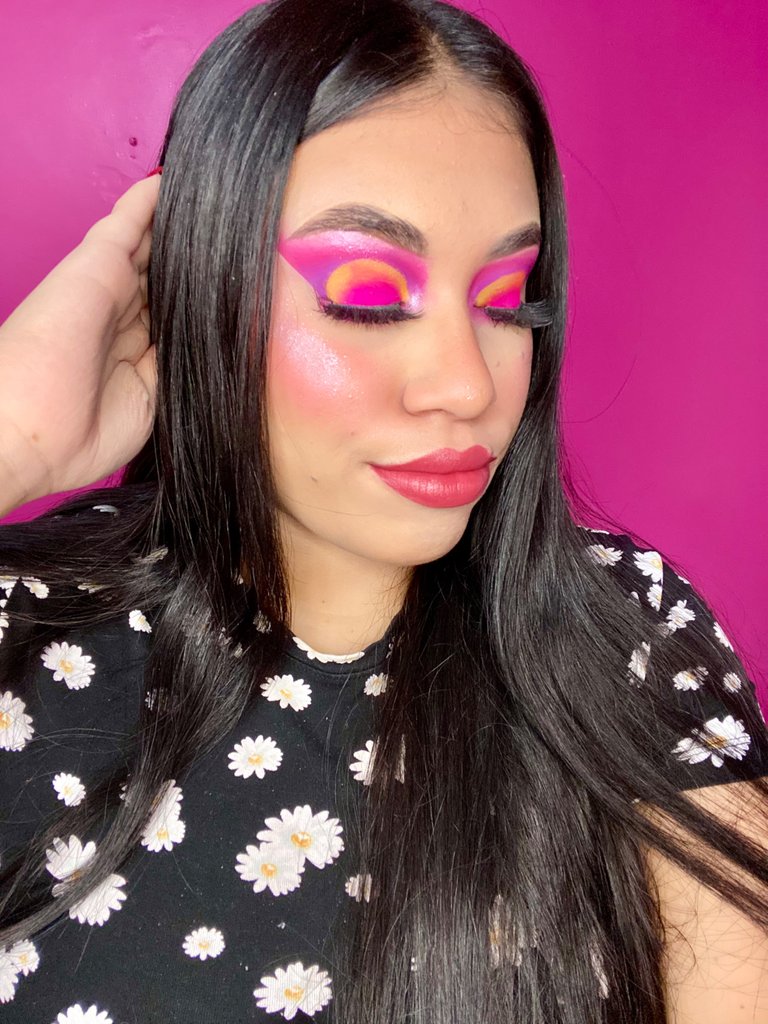 ---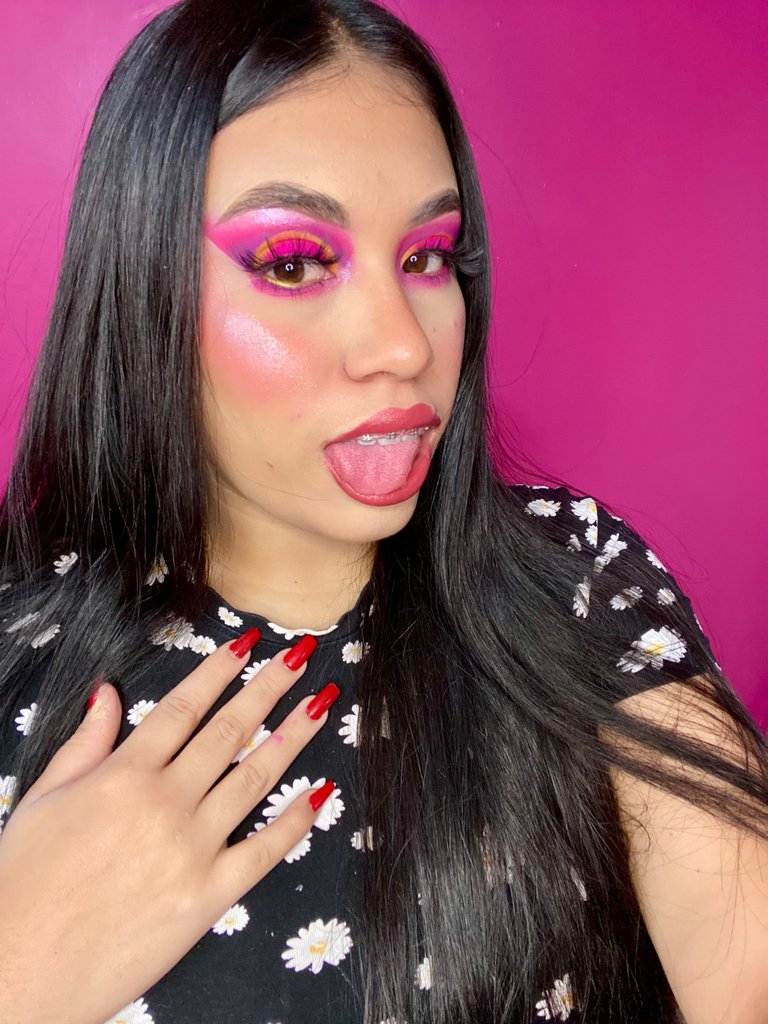 ---
---
Cuando vi este maquillaje en Instagram, que fue de donde me inspire, me dio ese feeling de atardecer pero luego que lo hice en mi no tanto jajaja, aunque si un poco. Lo que más me parecía una puesta de sol era ese Cut Crease en degradado de amarillo a fucsia, aunque obviamente la puesta de sol es más naranja, quería hacerlo en Fucsia porque es un tono que se parece y es uno de mis favoritos. La verdad fue un look que me gustó muchísimo, pero las fotos no me gustaron tanto, no se porque no me salían bien. Espero que les haya encantado este maquillaje tanto como a mi, nos leemos pronto!
When I saw this makeup on Instagram, which was where I got my inspiration from, it gave me that sunset feeling but after I did it on me not so much hahaha, although a little bit. What looked more like a sunset to me was that Cut Crease in gradient from yellow to fuchsia, although obviously the sunset is more orange, I wanted to do it in Fuchsia because it's a shade that looks similar and it's one of my favorites. The truth was a look that I really liked, but I didn't like the pictures as much, I don't know why they didn't come out well. I hope you loved this makeup as much as I did, see you soon!
---
CloseUp
---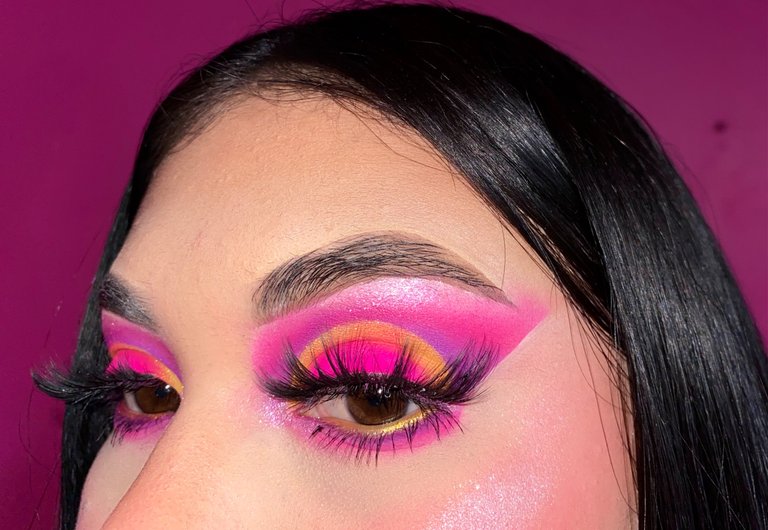 ---
Pictures of my property.
Contenido exclusivo para Hive
Camera: Apple iPhone 11.

If you like makeup, the world of beauty or making art on your skin I invite you to the Makeup Power Community and the Makeup Power Telegram
---
Scan the QR and follow me!
| Instagram | Twitter | Telegram | TikTok | 3speak |
| --- | --- | --- | --- | --- |
| | | | | |
---

---
---