An incomplete message...
---
I stare into his eyes and they are as empty as if I were looking at a doll or mannequin, I feel strangely light as if I were floating in a thick cloud in the middle of nowhere, I feel his fingers around my hair, they slowly caress me but beyond that I can't understand what is going on around me or with me.
I see that he smiles a slight smile in the darkness and takes my hands very slowly, I feel him take me somewhere inside the apartment, but I can't see beyond his body or around me, the darkness became incredibly thick and the whale of the people inside the room had completely disappeared.
Something kept my emotions totally blocked, I was not able to feel fear or anguish, nor curiosity or desire, neither could I process my ideas very well, as if analyzing beyond that I am with Zara and trying to do so generates me an incredible level of mental and physical fatigue, suddenly I feel that she is laying me down on a piece of furniture and puts my head on a very soft cushion.
Then I feel that she throws herself on me and lies on my chest, the only thing I can see is the darkness that extends all over the white ceiling, beyond that I could not move a single muscle, just feel the weight of her body on it and as if she was slowly absorbing my oxygen, I began to feel suffocated with every second that passed, I feel her hands run over my neck and face again.
With every second that passes I find it twice as hard to breathe and as if suddenly releasing the blockage of my emotions, I begin to feel a giant desperation to try to get up and run away, but I can not move, I feel his hands run through my body and a nasty tingling runs along my spine and spreads throughout the area where I feel his body next to mine.
I begin to feel it slowly creep up my neck and he says in my ear.
Everything is going to be all right. You have nothing to worry about. I am here for you and you will see that everything will be fine.
Those words echoed in my head and for a second I felt a brief sense of peace, but a flashback of all my experiences with her, makes the unpleasant feeling come back stronger than before and the desperation to get up and get her off me makes me start to struggle internally with myself.
I could not breathe, nor move a muscle, I felt inside a puddle of quicksand full of worms or insects that pecked and crawled all over my body, I begin to scream internally and I hear her let out a light laugh while she continues caressing me, each caress was as if a rusty razor was running through the place where she touches, I felt a lot of pain in my chest and my vision was beginning to become blurry due to the lack of oxygen.
I couldn't see beyond the ceiling and I didn't want to either, I was afraid to turn down and see his face deformed or some kind of specter or demon absorbing my soul, when I hear him outline my name, I managed to let out a "NOOOOOOOOO" so loud that I felt my throat tearing, suddenly a strange veil flies out of my face and burns in front of me, I feel that I can breathe again and I can move my legs and arms.
I stand up quickly from the furniture and look around me, the tingling sensation and suffocation had disappeared along with Zara and everyone in the place, I was alone even with my pulse racing, things were changing very fast pace but I concentrated on staying calm, I look inside the apartment, it looks familiar but I do not know from where, a pang of nostalgia fills my chest, suddenly a spectral cold and a sense of loneliness surrounds the whole gloom of the place.
I walk towards the entrance towards the corridor, but this time for no apparent reason instead of going through the door illuminated by the city that had generated so much intrigue in me, I chose to
go in the other direction, towards the infinite darkness of the corridor, something was calling me from there, somehow I knew I had to go there, so I walked slowly immersing myself in an infinite darkness.
I walked for about a minute, in a scorching darkness but I felt no fear, somehow I knew I was walking through a familiar place and before I knew it, I was already in the living room of my house, in the morning light that illuminated every corner from the window and the window of the front door, with my head spinning, I walk to the couch and sit down, I stare at the reflection coming through the window and a feeling of warmth surrounds my whole body, until suddenly I feel the presence of someone near the door.
I quickly turn around when I felt the presence and when I saw who it was I couldn't believe it, she was sitting on her hand knitted leather couch, with her housecoat and the giant brown wool knitted sweater she always wore, when she sees me she smiles and I try to say grandma but an incredibly strong lump in my throat prevents me from uttering any words, so I jump off the couch and run towards her direction.
I lay down on my knees in her lap and hug her so tight that she probably felt some pain, so I let go and hold on to her sweater, she just holds me and caresses my hair and face, which was already a sea of tears, she looks at me with a smile and says:
Look how giant you have become.
I could only babble her name and nonsense words, she begins to coo at me as she did when I cried as a child, that broke my heart more but also managed to calm a little the crying in me and managed to conjugate the words I never said to her 8 years ago.
I am so sorry for not saying goodbye, I couldn't see you there in that bed and witness how your life was slipping away, I miss you so much, I am so sorry.
But she interrupts me and says:
You don't have to apologize mijo, I know it was very difficult.
I answer her in tears:
You didn't recognize me either and that hurt me a lot, but I knew it was because you didn't see anymore and you didn't listen either and-
He interrupts me again:
It's okay my love calm, remember that I love you and that you have ...
Suddenly as if they put on mute everything around me, I see how her lips move but I can't hear the words coming out of her mouth, when I try to ask her what she had said, she was no longer in her chair, I was alone on the floor, I shout her name but she doesn't even hear my own voice and in a fraction of a second, I was already looking at the ceiling of my room again, with my eyes full of tears and with the living voice of my grandmother in my head telling me I love you.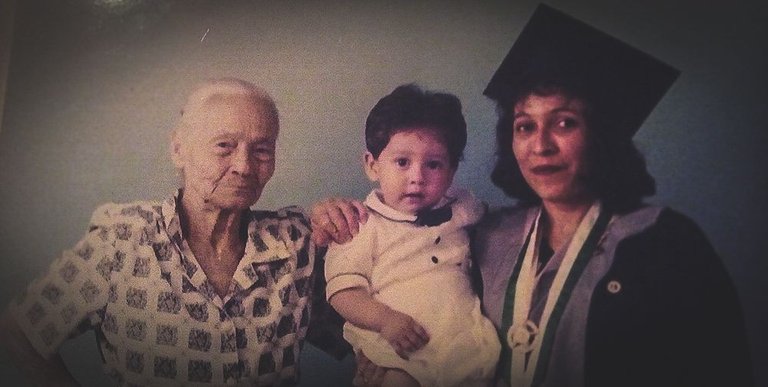 I stayed in bed for about an hour, staring at the ceiling, lost, analyzing, thinking what would be her last words and what was the point of all that I had dreamed, until my mom came into the room to ask me for help with breakfast, quickly without feeling like telling her about it yet, I went to the bathroom and washed my face, when I was with her in the kitchen, she asked me what the hell was wrong with me in the early morning, because she heard me screaming "NOOOOOOO" that I had raised her upset, for some reason I burst into laughter and started to tell her everything. Now I find myself here, writing this down so I don't forget it during the course of the day, and see if I can make any sense of it...

Miro fijamente sus ojos y estos están tan vacíos como si estuviera viendo una muñeca o maniquí, me siento extrañamente liviano como si flotara en una nube espesa en medio de la nada, siento sus dedos al rededor de mi cabello, estos me acarician lentamente pero mas allá de eso no puedo comprender que pasa a mi alrededor o conmigo.
Veo que esboza una leve sonrisa en plena penumbra y toma mis manos muy lentamente, siento como me lleva consigo hacia alguna parte en el interior del apartamento, pero no logro ver mas allá de su cuerpo o alrededor de mi, la oscuridad se volvió increíblemente espesa y el ballico de las personas dentro de la sala había desaparecido completamente.
Algo mantenía mis emociones totalmente bloqueadas, no era capaz de sentir miedo o angustia, ni curiosidad o deseo, tampoco podía procesar muy bien mis ideas, como si analizar mas allá de que estoy con Zara y intentar hacerlo me genera un nivel de cansancio mental y físico increíble, de repente siento que me esta acostando en un mueble y pone mi cabeza en un cojín muy suave.
Luego siento que ella se lanza sobre mi y se tumba sobre mi pecho, lo único que puedo ver es la oscuridad que se extiende por todo el techo blanco, mas allá no podía mover ni un solo musculo, solo sentir el peso de su cuerpo sobre el y como si absorbiera mi oxigeno lentamente, me comencé a sentir asfixiado con cada segundo que pasaba, siento como sus manos recorren mi cuello y cara de nuevo.
Con cada segundo que pasa me cuesta el doble respirar y como si liberaran de repente el bloqueo de mis emociones, comienzo a sentir una desesperación gigante por intentar levantarme y salir corriendo, pero no me puedo mover, siento que sus manos recorren mi cuerpo y un desagradable hormigueo recorre toda mi espina y se extiende por todo el sector donde siento su cuerpo junto a el mío.
Comienzo a sentir como sube lentamente por mi cuello y me dice al oído.
Todo va a estar bien. No tienes nada de que preocuparte. Yo estoy aquí para ti y veras que todo va salir bien.
Esas palabras retumbaron en mi cabeza y por un segundo sentí una breve sensación de paz, pero un flashback de todas mis experiencias con ella, hace que la sensación desagradable regrese mas fuerte que antes y la desesperación por querer levantarme y quitarla de encima hace que comience a forcejar internamente conmigo mismo.
No podía respirar, ni mover un musculo, me sentía dentro de un charco de arena movediza lleno de gusanos o insectos que picoteaban y se arrastraban por todo mi cuerpo, comienzo gritar internamente y escucho ella suelta unas leves carcajadas mientras sigue acariciándome, cada caricia era como si una navaja oxidada recorriera el lugar donde toca, sentía mucho dolor en el pecho y mi visión se estaba comenzado tornar borrosa por la falta de oxigeno.
No podía ver mas allá del techo y tampoco quería, tenia miedo de voltear hacia abajo y ver su rostro deformado o algún tipo de espectro o demonio absorbiendo mi alma, cuando escucho que esboza mi nombre, logro soltar un "NOOOOOOO" tan fuerte que sentí como mi garganta se desgarraba, de repente un extraño velo sale volando de mi rostro y se quema al frente de mi, siento que puedo respirar nueva mente y que puedo mover mis piernas y brazos.
Me levanto rápidamente del mueble y miro al mi alrededor, la sensación de hormigueo y de asfixia habían desaparecido junto con Zara y todos en el sitio, me encontraba solo aun con el pulso acelerado, las cosas cambiaban muy rápido de ritmo pero me concentre en mantener la calma, miro el interior del apartamento, se me hace familiar pero no se de donde, una punzada de nostalgia llena mi pecho, de repente un frio espectral y una sensación de soledad rodea toda le penumbra del lugar.
Camino hacia la entrada en dirección al pasillo, pero esta vez sin motivo aparente en vez de ir por la puerta iluminada con la ciudad que me había generado tanta intriga, opte por ir en la otra dirección, hacia la infinita oscuridad del pasillo, algo me llamaba desde allá, de alguna manera sabia que tenia que dirigirme hacia allá, así que camine lentamente sumergiéndome en una oscuridad infinita.
Camine alrededor de un minuto, en una oscuridad abrasadora pero no sentía temor alguno, de alguna forma sabia que caminaba por un lugar conocido y antes de darme cuenta, me encontraba ya en la sala de mi casa, en plena luz de la mañana que iluminaba cada rincón desde la ventana y la ventanilla de la puerta principal, con la cabeza dándome vueltas, camino hacia el sofá y me siento, me quedo mirando el reflejo que entra por la ventana y una sensación de calidez rodea todo mi cuerpo, hasta de repente siento la presencia de alguien cerca de la puerta.
Volteo rápidamente al sentir la presencia y cuando vi quien era no podía creerlo, ella estaba sentada en su sillón de cuero tejido a mano, con su bata de hogar y el suéter tejido de lana marrón gigante que siempre usaba, al verme sonríe y yo intento decir abuela pero un nudo increíblemente fuerte en mi garganta impide que emita alguna palabra, así que salte el sofá y corrí hacia en su dirección.
Me tumbe de rodillas en su regazo y la abrace tan fuerte que probablemente sintió algo de dolor, así que la solté y me sostuve de su suéter, ella solo me sostiene y me acaricia el cabello y el rostro, que estaba ya hecho un mar de lagrimas, me observa con una sonrisa y me dice:
Mira lo gigante que te haz vuelto.
Yo solo podía balbucear su nombre y palabras sin sentido, ella comienza arrullarme como lo hacia cuando lloraba de niño, eso me quebranto mas el corazón pero también logro calmar un poco el llanto en mi y logro conjugar las palabras que nunca le dije hace 8 años.
Lo siento mucho, por no despedirme, no podía verte ahí en esa cama y presenciar como se te escapaba la vida, yo te extraño muchísimo, lo siento mucho..
Pero ella me interrumpe y dice:
No tienes porque disculparte mijo, yo se que era muy difícil.
Le respondo entre llanto:
Tampoco me reconocías y eso me dolía mucho, pero yo sabia que era porque ya no veías y tampoco escuchabas y-
Vuelve a interrumpirme:
Esta bien mi amor tranquilo, recuerda que te amo y que tienes …
De repente como si pusieran en mute todo a mi alrededor, veo como se mueven sus labios pero no logro escuchar las palabras que salen de su boca, cuando intento preguntarle que había dicho, ya no estaba en su silla, me encontraba solo en el piso, grito su nombre pero ni siquiera escucho mi propia voz y en una fracción de segundo, ya estaba mirando el techo de mi cuarto otra vez, con los ojos llenos de lagrimas y con la viva voz de mi abuela en mi cabeza diciéndome te amo.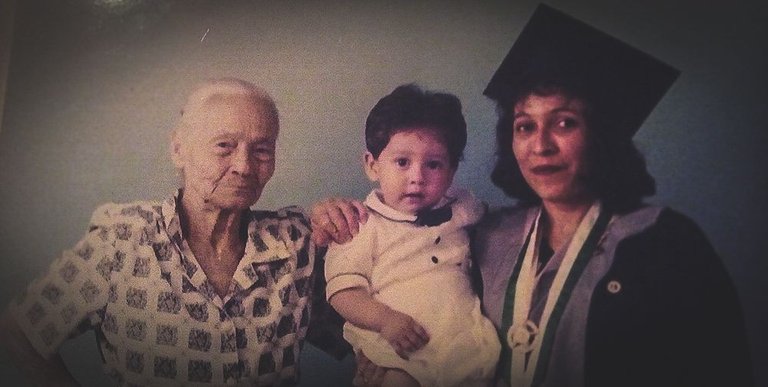 Me quede alrededor de una hora en la cama, mirando el techo, perdido, analizando, pensando cuales serian sus ultimas palabras y cual era el rollo tras todo lo que había soñado, hasta que mi mama entro al cuarto para pedirme ayuda con el desayuno, rápidamente sin ánimos de contarle el tema aun, fui al baño y me lave la cara, cuando ya estaba con ella en la cocina, me pregunta que demonios pasaba conmigo en la madrugada, porque escucho grito mío diciendo "NOOOOO" que la había levantado alterada, por alguna razón me rompí en risas y le comencé a contar todo. Ahora me encuentro aquí, redactando esto para no olvidarlo en el transcurso del día, y ver si le encuentro algún sentido...

Discord: lowlifevzla08#1400
---
---