Mahabalipuram Mandir - NFT
Rock-cut monuments, caves and temples are clustered near the shoreline and represent the pinnacle of early Dravidian artistic and architectural achievement.
Pallava kings were not only great patrons of all the arts, but they were also pioneers. Many of them were themselves accomplished poets, dramatists and artists. Mamallapuram provided them with the field, the material and the setting for experimentation. It was here that they set about to realise all that their highly aesthetic minds dreamed.
A kilometre-long, 35-metre-high rocky ridge runs parallel to the coast at the mouth of the Palar River. Rocks and boulders scattered all over the place appear to have fired their imaginations and the Pallavas to convert the place into a vast gallery of art. The tops and sides of the hill were carved, scoured or excavated and the outlying rocks and boulders were hewn into shrines and monuments.
The wonders of Mamallapuram have endured for 13 centuries, withstanding the pitiless onslaught of the monsoon, battering of sea-waves and the treachery of drifting sands.
The Pallava era which represents a transition from the ancient to the medieval saw the beginnings of the Dravidian style of art and architecture. It may broadly be divided into two phases: The first phase consists of only rock-cut monuments of which (besides many mandapas) Arjuna's Penance and Pancha Rathas are most noteworthy. The second phase favoured structural or stone-built temples which provided a large canvas for the display of the sculptors' skill. Of these structural temples, the most outstanding example is the Shore Temple.
Mahabalipuram Mandir - NFT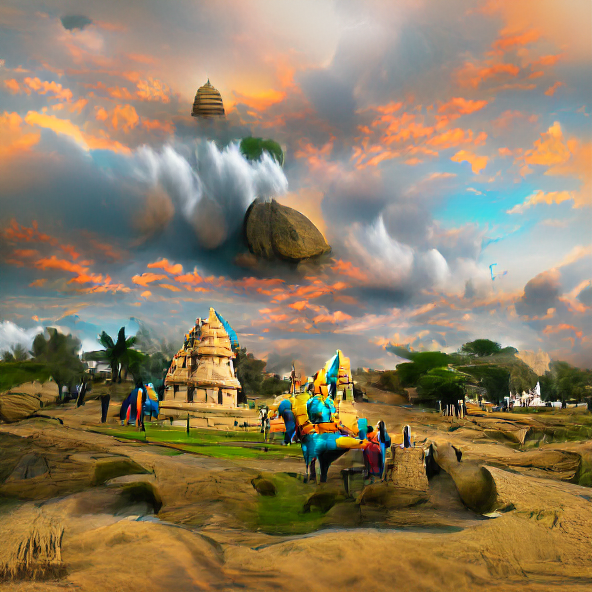 ---
---