#spillthebeans #themagiccoffeepot / The woe that not even a ristretto would subdue!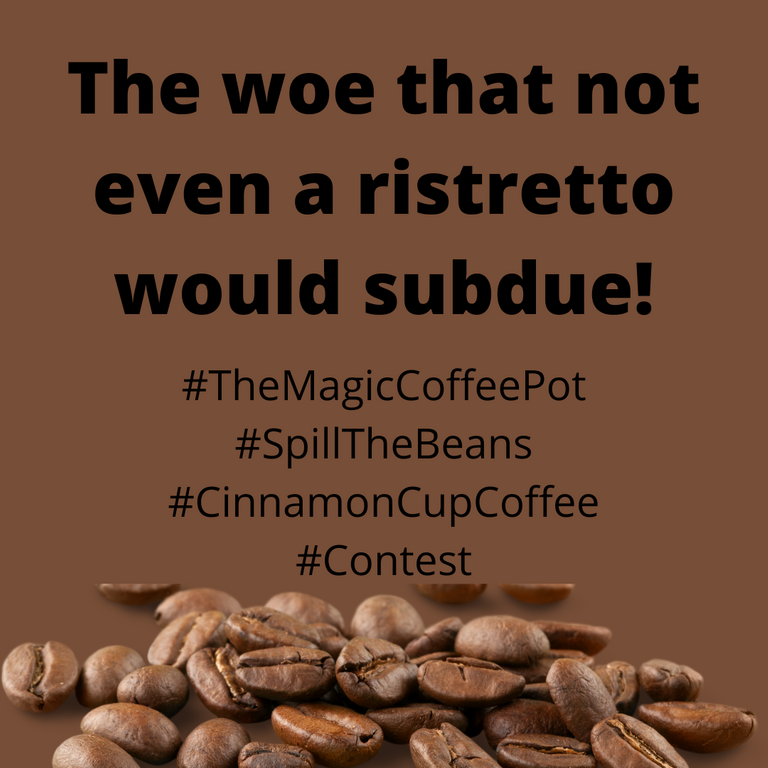 The woman with the blue headscarf was wandering through the ambling rows of the car boot sales. She had come on a whim, her curiosity teased by her mother, who chimed, 'You never know what you'll find Margo'. As Margo now poked and prodded purported antiques, she felt duped. She had hoped to find treasures innumerable, but instead, she found herself drowning in old records, knock-offs and what she politely quipped as being, 'Not good enough for the trashcan'.
The realisation had set in, that she was not going to be carrying home anything in her basket. The emptiness of it felt quite heavy, but the day was not yet wasted, and she resolved to start listening more intently to the folk stories that sellers offered buyers as a way to add value to their wares. Such hyperbole as, 'And this was once owned by the Raj of India!', and 'Most surely this was the rubber ducky used by the Queen herself!' The absurdity grew as did Margo's smile, 'And this magic coffee pot will allow you to read the minds of all you meet!'
Still shaking her head, Margo felt her bemusement at the vendor's nonsense morph into a sense of necessity. She simply had to own that teapot. She could already imagine sitting around her little apartment with her closest friends, laughing at the silliness of the situation when she attempted to read their minds. They of course would all laugh and she would recall the king's ransom that the coffee pot set her back was not value, and that she had, of course, been led astray by false advertising gimmicks!
Margo took a crisp ten dollar note from her purse and exchanged it with the vendor for the coffee pot. With good humour, she even rubbed it as she would a genie bottle, but it did not surprise anyone when no singing figure with the voice of Robin Williams popped through the spout. Yet, what did surprise Margo was a sudden headache which overtook her completely. Thoughts that were not her own begun to plague her mind, thoughts of love and desire, of malice and sexuality. She was overtaken by a moment of chaos, and her feet undermined by a sense of dread.
She looked back over to the vendor who was casually smiling and waving her off. He looked lighter, happier; a burden had been lifted from his shoulders and he looked altogether content with life. As Margo narrowed her focus on his face, it was with a sense of great clarity that she heard the thoughts as if they were spoken with sharp pronunciation, 'I am free of the curse of the coffee pot! Whoever owns the damned relic will slowly succumb to a mental exhaustion. I pity her'.
At that revelation, Margo knew she needed to head over to the coffee van and take a moment to reflect on her thoughts. Had she really purchased an enchanted relic? How did the tarnished silver possibly reflect a sense of her own demise? As the coffee brewed, she had to sit down, as thoughts constantly echoed through her entire being. She wanted to cry out and shriek, but all she could do was put her head between her hands and feel betrayed. She had just wanted some cheap junk that she could pretend was worth something, and now she wanted a hot bath and some Chinese food and perhaps to fall in love with a stranger for the night - she felt that life was getting all too hard in this moment and that she needed an escape – and then it all stopped.
A tap on her shoulder followed, a young man wearing a button through cotton shirt had come over concerned for her. He said he didn't know how, but that he had to tell her it was all going to be fine. He handed her the coffee order: a medium cappuccino with some fun chocolate design on top – and then, with a sincere expression on his face, he told her to think about getting her meal from the Golden Palace, as the Golden Inn had some suspicious smells coming from their kitchen when he'd walked past it the night before. He then leaned in and whispered casually, 'I'm also a stranger'.
It was far too much for Margo, whose feelings of hysteria could barely be contained. She looked at the stranger, and thought she could do worse – but then she noticed him smile at the thought. She took the coffee pot from her bag and gifted it to him for his kindness. She then did the only sensible thing, she took off, running as fast as she could. Her mother had always told her she ran like a duck; and indeed, this was the image that the yellowed shirted stranger would remember, as he started his own spiral into despair that not even a ristretto would subdue.
Cover image made in CANVA using free elements.
This post was in response to the Cinnamon Cup Coffee contest prompt, get on board it here:
https://peakd.com/hive-152524/@cinnccf/spillthebeans-contest-2-and-week-1-winner-announcement
@samsmith1971 have you seen this new writing concept?
---
---