My most recent accomplishment: I bought a laptop with my hive savings!❤️❤️🐝 || Thank you hive 💪
¡BIENVENIDOS A MI BLOG!
By: @Lolysacc❤️
Siempre he sido de las personas a las que le gusta celebrar cada logro por diminuto que sea, y es que cuando logramos ciertos objetivos por nosotros mismos la sensación de realización es incomparable y única, no hay nada mejor que cumplir nuestros sueños o metas a corto plazo, aunque sean insignificantes para otras personas, para nosotros son lo mejor del mundo.
Hace tiempo tenía una idea rondando por mi mente específicamente en enero del presente año quería iniciar por hacer unos cuantos cambios que beneficiaran mi estilo de vida, para mayor comodidad y obviamente evolución en mi vida profesional además de mi vida como creadora de contenido activa. Quería cambiar de computadora, ya que, aunque tenía una un poco vieja ya quería cambiar para algo mucho mejor, pues es algo que todos queremos hacer mejorar.
I have always been one of those people who likes to celebrate every achievement however small it may be, and when we achieve certain goals for ourselves the feeling of accomplishment is incomparable and unique, there is nothing better than fulfilling our dreams or short term goals, even if they are insignificant for other people, for us they are the best thing in the world.
Some time ago I had an idea running around in my mind, specifically in January of this year I wanted to start making a few changes that would benefit my lifestyle, for greater comfort and obviously evolution in my professional life in addition to my life as an active content creator. I wanted to change my computer, because, although I had an old one, I wanted to change it for something much better, because it is something that we all want to improve.
Les comentaré un poco, cuando inicie mis estudios universitarios con ayuda de mi una laptop usada recuerdo que la compramos por un precio de 60$ la laptop estaba en muy buenas condiciones, aunque para el precio económico era evidente que tenía algunos detalles. Lo primero es que la batería estaba dañada, por ende, funcionaba solo conectada al cargador, eso no me importo mucho porque sentía que era lo mismo a tener una computadora de mesa así que no me importó. El siguiente detalle fue que no le funcionaba el micrófono y tampoco el lector de CD.
Debo recalcar que eso no me importo en lo absoluto a que gracias a esa computadora pude sacar adelante mis compromisos universitarios sin ningún tipo de complicación y además de ello fue mi fiel compañera durante el confinamiento. Sin embargo, desde finales del año pasado decidí que era hora de un cambio, quería una computadora que en teoría fuese un poco más funcional o actualizada, y que las condiciones de uso fuesen más optimizadas que las de mi antigua computadora.
I will tell you a little, when I started my university studies with the help of my a used laptop I remember that we bought it for a price of $60 the laptop was in very good condition, although for the economic price it was evident that it had some details. The first thing is that the battery was damaged, therefore, it worked only connected to the charger, that didn't matter much to me because I felt it was the same as having a desktop computer so I didn't care. The next detail was that the microphone did not work and neither did the CD player.
I must emphasize that I didn't care at all because thanks to that computer I was able to carry out my university commitments without any complications and besides that it was my faithful companion during the confinement. However, since the end of last year I decided it was time for a change, I wanted a computer that in theory was a little more functional or updated, and that the conditions of use were more optimized than those of my old computer.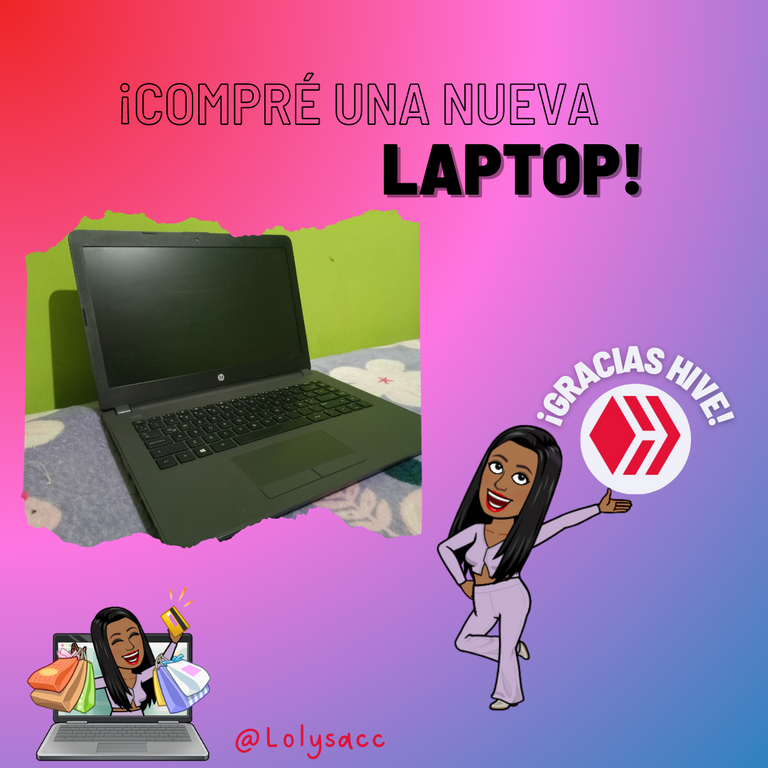 Es real cuando dicen que el universo conspira a nuestro favor cuando queremos algo, y estoy segura de ello porque a mí me pasó. Hace tres semanas atrás tuve noticias de una amiga de mi padre que estaba vendiendo su computador por simplemente falta de uso, la señora me comentó que, aunque compró ese pc por la emoción de sus hijos ella nunca fue capaz de utilizarla, y luego de un tiempo decidió que era mejor venderla. Se trataba de una laptop marca Hp, específicamente el modelo es Hp 240 G6 Notebook Pc, Hp es una marca reconocida y a mi parecer de muy buena calidad, estaba completamente funcional y con todos sus accesorios disponibles.
Tuve la oportunidad de visualizar la computadora antes de tomar cualquier decisión y lo que me maravilló de ella fue el poco uso que evidentemente se nota le han dado, sin rayones, ni tachones, teclado y pantalla intactos sinceramente fue una buena oportunidad para mí. Luego de realizar la revisión estética me dispuse a mirar un poco las especificaciones del computador y aunque no soy una experta en tecnología jajaja, el rango de memoria estaba entre los niveles aceptables (Esto se los comentaré más a fondo en un futuro post) luego comprobé la funcionalidad y volví a quedar sorprendida, todo funcionaba inclusive el micrófono elemento que a mi antigua computadora no le funcionaba, así que para mí esto era evolución. Otro punto importante es que la batería también le funciona, esto para mí es un triunfo porque dura un aproximado de 5 horas lo cual es más que suficiente según mis necesidades.
It is true when they say that the universe conspires in our favor when we want something, and I am sure of it because it happened to me. Three weeks ago I heard from a friend of my father's who was selling her computer for simply lack of use, the lady told me that, although she bought that pc for the excitement of her children she was never able to use it, and after a while she decided it was better to sell it. It was an Hp laptop, specifically the model is Hp 240 G6 Notebook Pc, Hp is a recognized brand and in my opinion of very good quality, it was fully functional and with all its accessories available.
I had the opportunity to visualize the computer before making any decision and what amazed me about it was the little use that evidently I could tell it had been given, no scratches, no scratches, keyboard and screen intact sincerely was a good opportunity for me. After performing the aesthetic review I set out to look a little computer specifications and although I'm not an expert in technology hahaha, the range of memory was between acceptable levels (I will discuss this in more depth in a future post) then I checked the functionality and I was again surprised, everything worked including the microphone element that my old computer did not work, so for me this was evolution. Another important point is that the battery also works, this is a triumph for me because it lasts about 5 hours which is more than enough for my needs.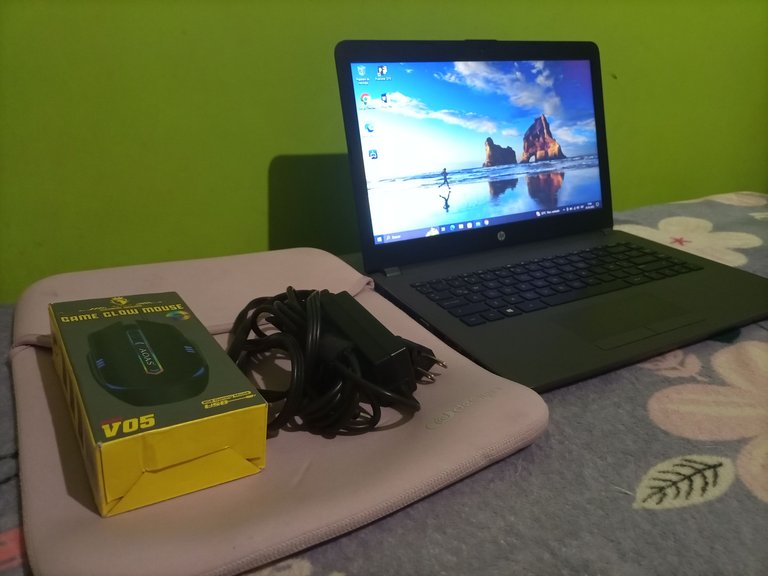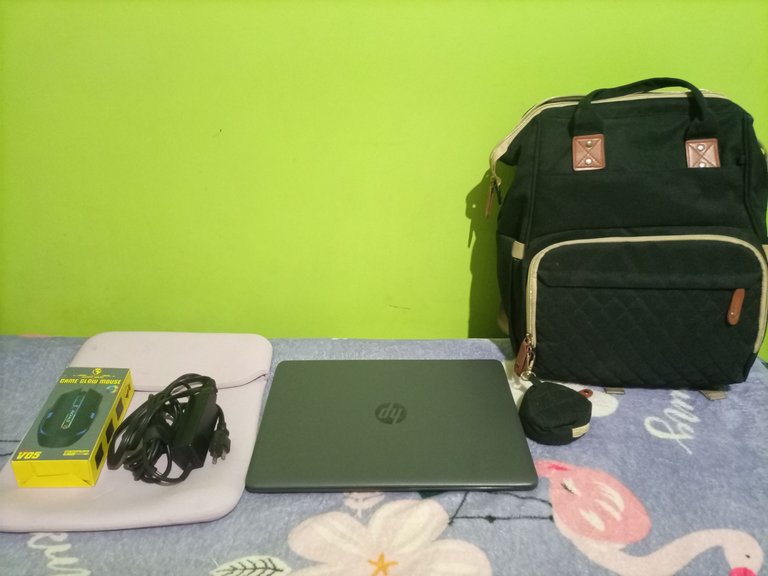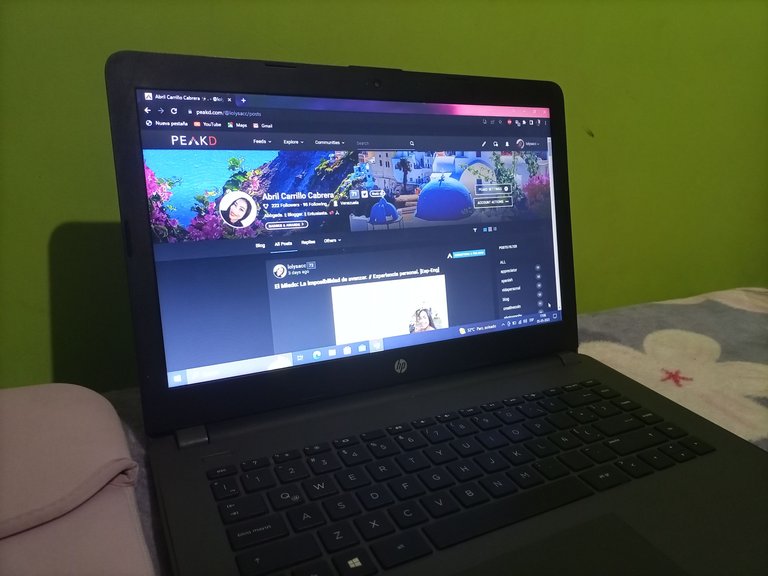 No tuve que pensarlo mucho, decidí hacer el negocio de inmediato. La laptop incluía su cargador original, un forro, un mouse inalámbrico y un bolso viajero. El precio total fue de 100$ para mí fue un excelente negocio, y aunque suelo ser una persona a la que no le gusta comprar artículos usados me hace feliz saber que no me equivoqué con esta compra y que de hecho es una excelente inversión para mi futuro, quizás más adelante pueda tener una nueva laptop de agencia con mejores capacidades que la actual pero la verdad, hoy me siento muy contenta con mi nuevo computador y agradecida con #hive ya que esta compra fue posible gracias a mis ahorros producto de mi trabajo aquí dentro.
De momento no tengo pensado deshacerme de mi antigua computadora, ya que poseo un vínculo muy lindo con ella, por el contrario, tengo la intención de próximamente mandarla a reparar, remplazarle la batería y mejorarle aquellas funciones de la cual carece conociéndome sé que usaré las dos jajaja. Estoy tan feliz que no puedo explicarlo y hoy solo puedo decirles que todo en la vida es posible con esfuerzo, amor y trabajo duro. Otro de mis propósitos del 2023 se ha cumplido ¡Gracias por leer!
I didn't have to think about it much, I decided to do the deal right away. The laptop included its original charger, a liner, a wireless mouse and a travel bag. The total price was $100 for me it was an excellent deal, and although I am usually a person who does not like to buy used items it makes me happy to know that I was not wrong with this purchase and that in fact it is an excellent investment for my future, maybe later I can have a new agency laptop with better capabilities than the current one but the truth, today I feel very happy with my new computer and grateful to #hive since this purchase was possible thanks to my savings product of my work here inside.
At the moment I do not plan to get rid of my old computer, since I have a very nice bond with her, on the contrary, I intend to soon send it to repair, replace the battery and improve those functions of which it lacks knowing me I know I will use both hahaha. I am so happy that I can't explain it and today I can only tell you that everything in life is possible with effort, love and hard work. Another one of my 2023 resolutions has been fulfilled Thank you for reading!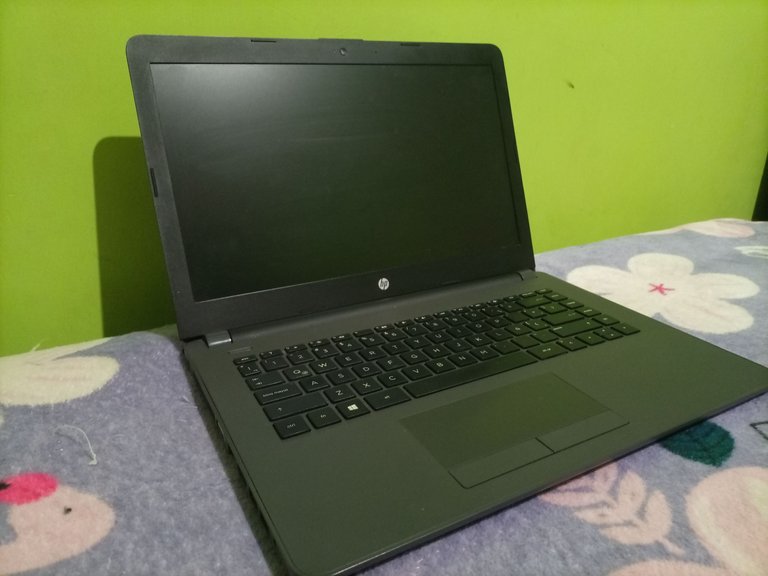 XOXO💜
¡GRACIAS POR LEER MI BLOG, ESPERO LEER TUS COMENTARIOS!
CREDITOS: Todas la imágenes de esta publicación son de mi propiedad salvo se indique lo contrario, imágenes de portada editadas en canva y texto traducido en DeeLp
CAMERA: teléfono Infinix Note 8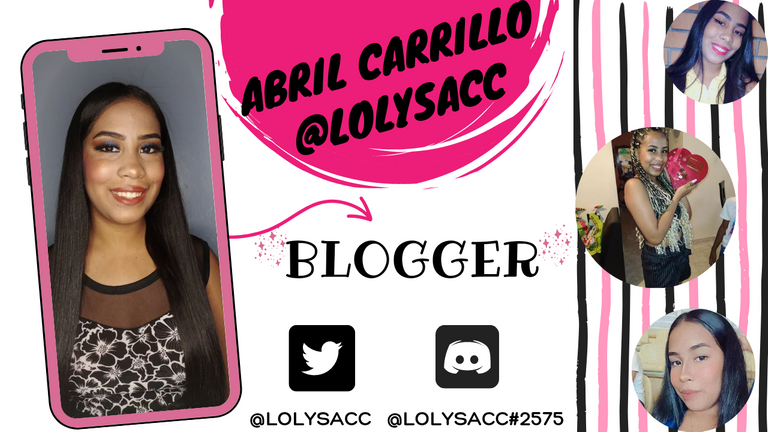 ---
---