$250 Found on the Street 🤑 [EN/PT-BR]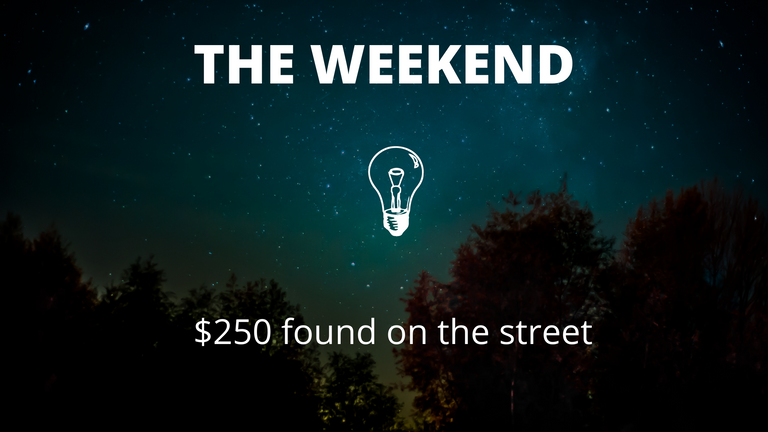 A beautiful Friday off walking down the street from my house after washing my car for the weekend I see something green looking like money, but just like that on the street....
I run to the place and there really were some dollars 🤑 very strange because my neighborhood is very simple, you would hardly find Reais, the chance of finding Dollars then much smaller but today is my lucky day!
---
Uma linda sexta de folga andando pela rua da minha casa depois de lavar meu carro para o final de semana vejo algo verde parecendo dinheiro, mas assim na rua....
Corri para o local e realmente havia alguns dólares 🤑 muito estranho porque meu bairro é muito simples, dificilmente você encontraria reais, a chance de encontrar dólares então muito menor mas hoje é meu dia de sorte!

Asking if someone lost money is irrelevant because everyone will say it's theirs, so initially I go to the store in front of my house and say that if someone lost something I found it, but I don't say what it is, only for the owner.
At the end of the afternoon no one shows up, probably some tourist who wouldn't need such a value, so give it to the poor, in this case ME!
1 Dollar = 4.76 Reais at the current exchange rate
250 $ = BRL 1,190
---
Perguntar se alguém perdeu dinheiro é irrelevante porque todo mundo vai dizer que é dele, então inicialmente eu vou até a loja na frente da minha casa e digo que se alguém perdeu algo eu encontrei, mas não digo o que é, apenas para o proprietário.
Ao fim da tarde ninguem aparece, provavelmente algum turista que não faria falta tal valor, sendo assim dê aos pobres, no caso EU!
1 Dolar = 4,76 Reais na cotação atual
250 $ = R$ 1.190

Good money for the weekend :) First thing to fill the car's tank, the high price fuel let's enjoy the money I was waiting for.
Enjoying Saturday with the puppy, taking him to the mall and letting him enjoy everything he's entitled to, it's been a while since I took him to enjoy the day without limits.
Sunday is daddy's day, call your friends, call the hotties, get in touch with that samba group and let them know that the day is going to be fun in the favela!
On Monday, with a little left over from a gift from a stranger, I give it to Mom to make a purchase for the week.
---
Uma boa grana para o fim de semana :) Primeira coisa a fazer encher o tanque do carro, o combústivel com alto preço vamos aproveitar o dinheiro que esperava.
Curtir o sabadão com o filhote, levar ao shopping e deixar ele aproveitar tudo que tem direito, já faz um tempo que não o levo pra curtir o dia sem limites.
Domingão é o dia do papai, chama os amigos, liga pras gatas, entra em contato com aquele grupo de samba e avisa que o dia vai ser de curtição na favela!
Na segunda sobrando um pouco do presente de um desconhecido dou a mamãe para fazer uma compra para a semana.

How good it is to dream a little, I always find myself wondering what it would be like to win the lottery, but in the meantime let's have fun with this cool theme, have a great weekend everyone!
---
Como é bom sonhar um pouco, sempre me pego pensando como seria ganhar na lotéria, mas enquanto isso vamos nós divertir com esse tema bacana, um ótimo fim de semana a todos!
Source image: Canva

---
---