Two Little Sausages - most faithful companions

Feeling like school kids being let out of jail was how we felt when we took a drive to see my brother and favourite sister in law in their new home last week.
Trying to get soon-to-be 90 year old Mom Lily to walk again following a fractured ankle with the threat of Covid in hospitals is no fun, plus she has a severe balance problem due to an Acoustic Neuroma, so she now is forced to use the much hated walker! We have our own Superman who comes to the rescue to take her up and down the flight of stairs to and from the car.
Yesterday I showed you The Barking and Flying Sparring Partners that was video'd at my brother's old house, really funny seeing the battle!
Today we will take a walk through their stunning new garden and the two new sausages as the old man who was brave enough to fight off the fierce Woolly-necked Stork sadly died of old age.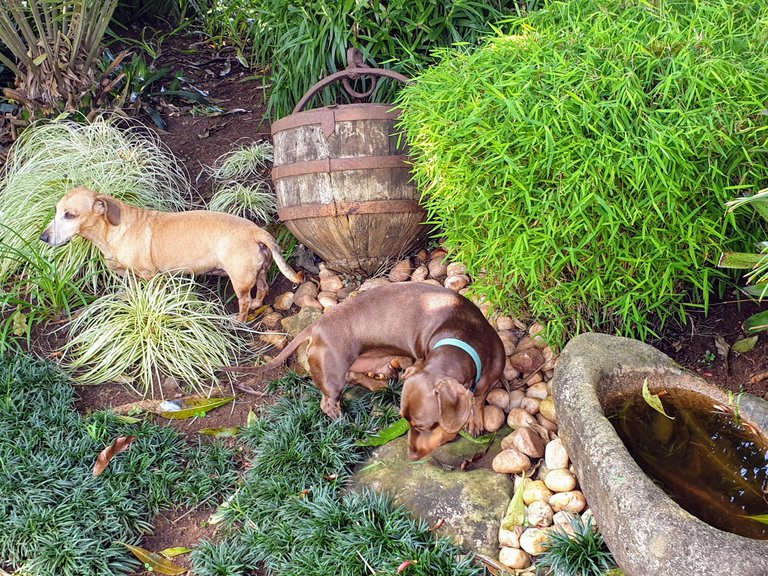 Lucy is the luckiest little girl who was abandoned by her owners and adopted by Mandy who adores her and showers her with love, but she is always looking for attention jumping onto my lap while Crusoe was happy to just cuddle next to me on the couch.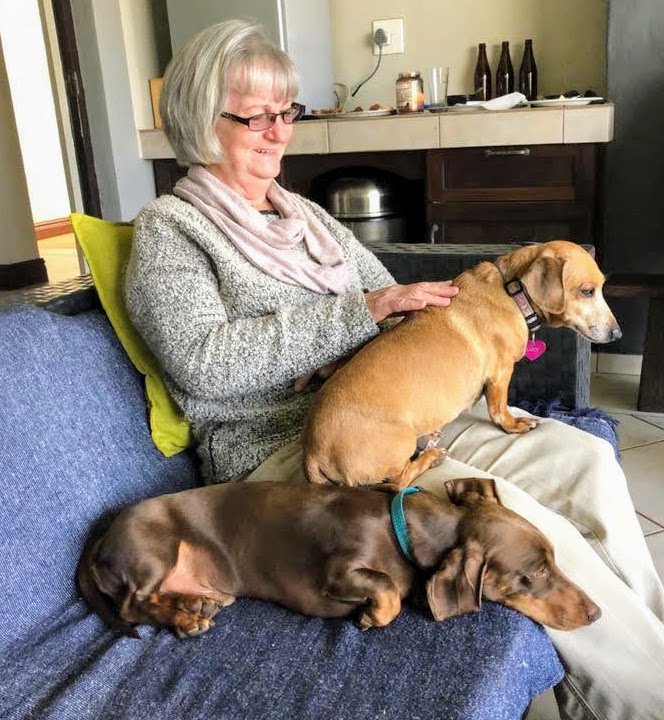 Crusoe is a confident and self-assured young man who knows exactly what he wants and is very content with life, and so he should be, as he comes from a proud lineage of purebred Dachshund.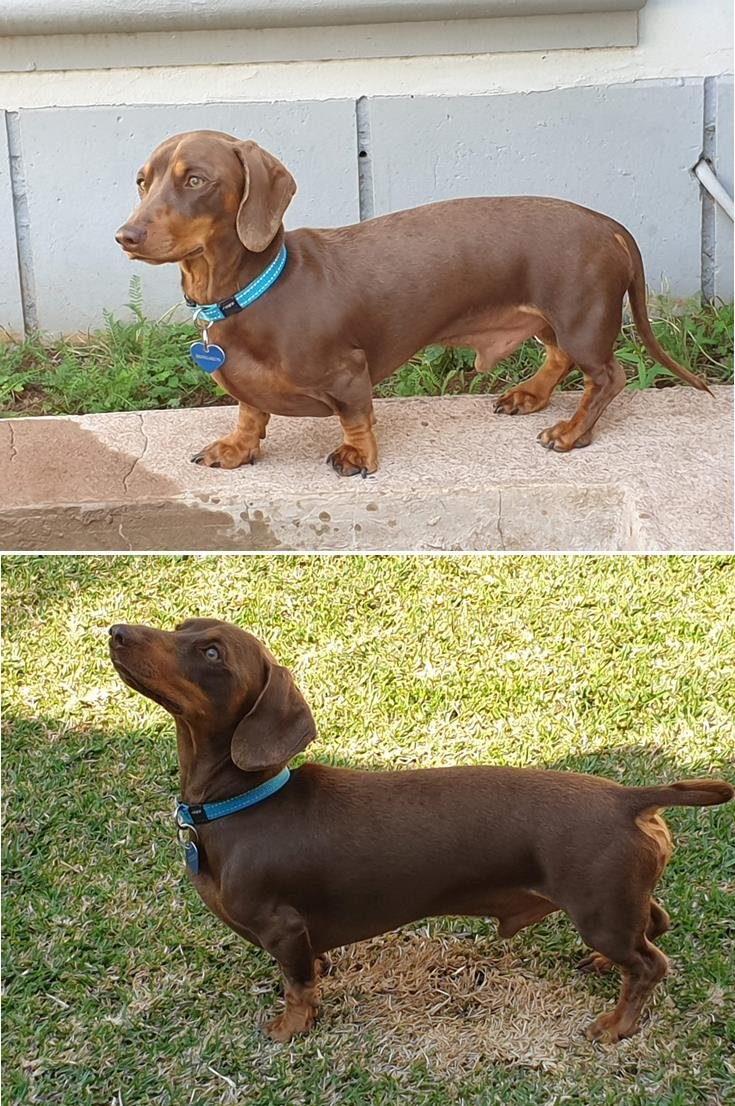 These busy little sausage dogs joined us in our walkabout in their lovely garden and strangely they are always nibbling on this one particular plant; does anyone know what it could be?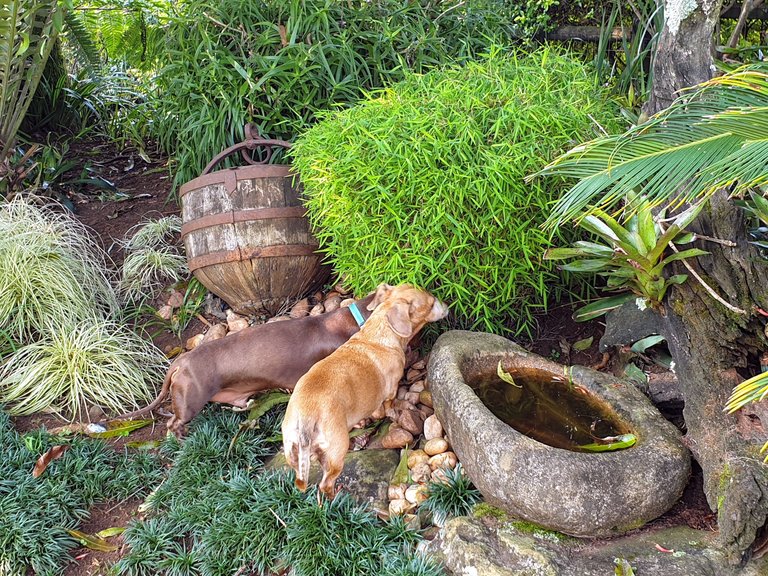 Lovely tranquil manicured garden, still green even though we're entering autumn, but that's because of our mild subtropical climate.
Cycads and Palms happily grow side by side with other ornamental plants trimmed into lollipops.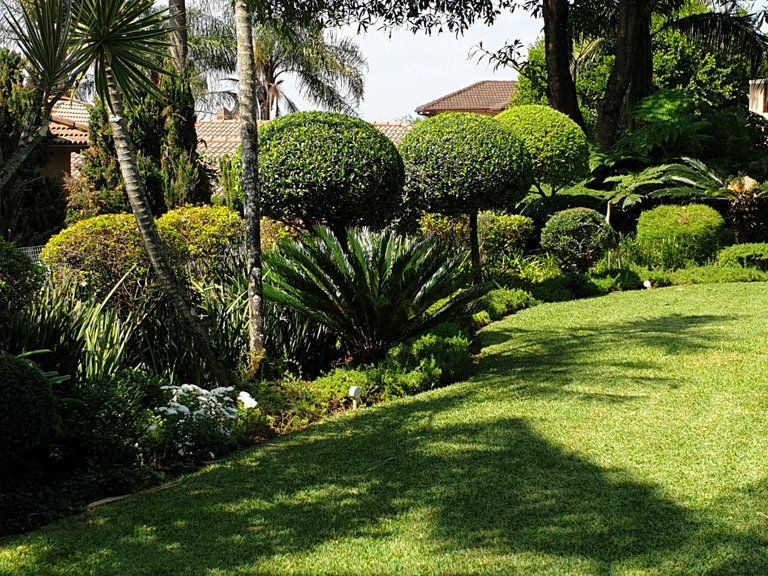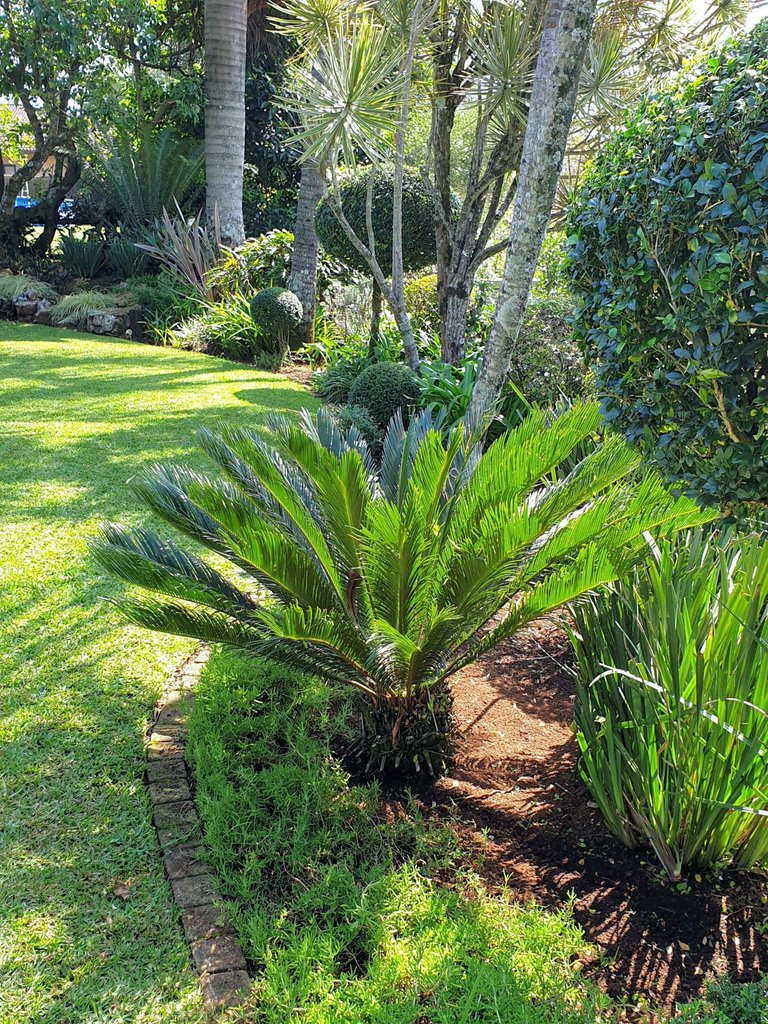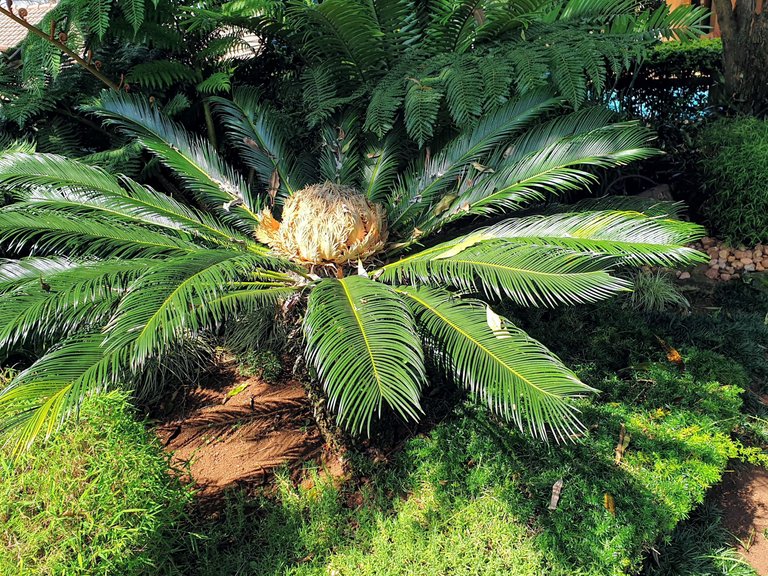 A close-up of some of the pretty bunch of white Dahlias.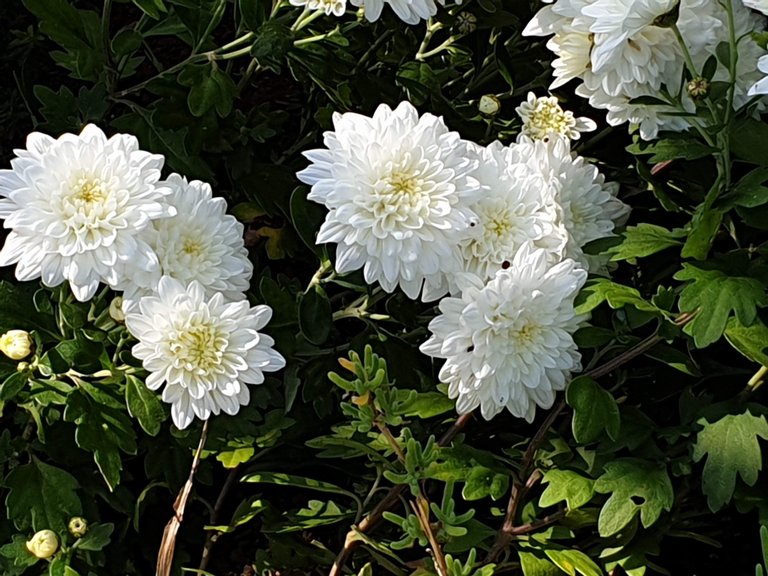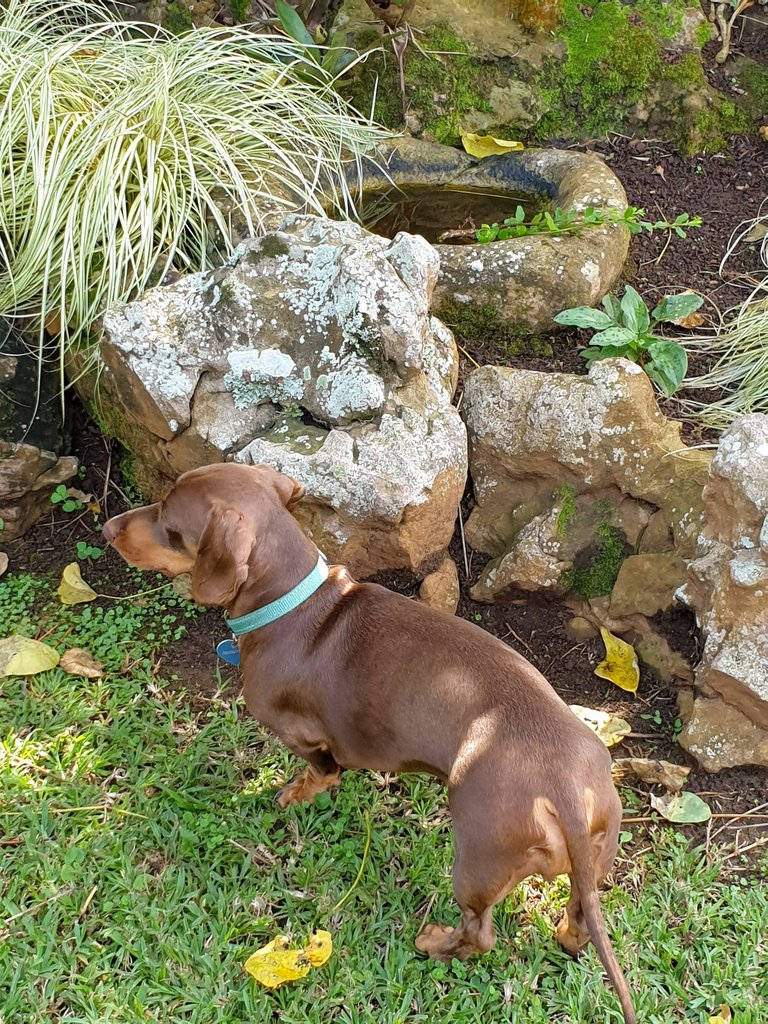 Lastly I'll show you my pets but they're not real ones, only ornamental as our little pavement special Snowy died many years ago and we only replaced him with a ginger cat, a pair of budgies and hamsters who all eventually died of old age; giving my age away here as I outlived them all!
Our children have all fled the nest and as we run a BnB, it's not wise to adopt any new pets, as we have families visiting with young children and not only do the cars moving up and down the driveway make it risky but we also don't want young kiddies teasing the dogs as we could run into trouble.
These two below are well-behaved and don't require much attention!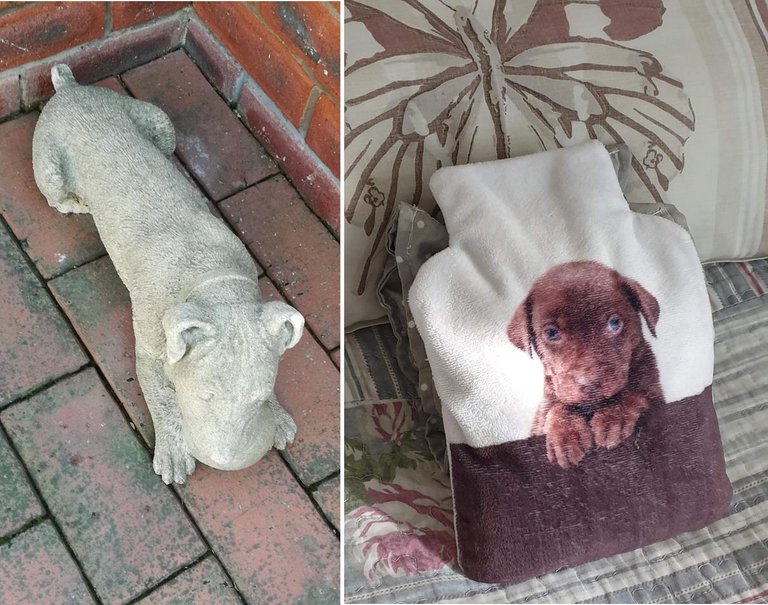 We do have tons of stunning garden birds, and this photo of the red-crested Turaco or Knysna Loerie showing off its crimson wings was taken before our giant papaya trees fell over.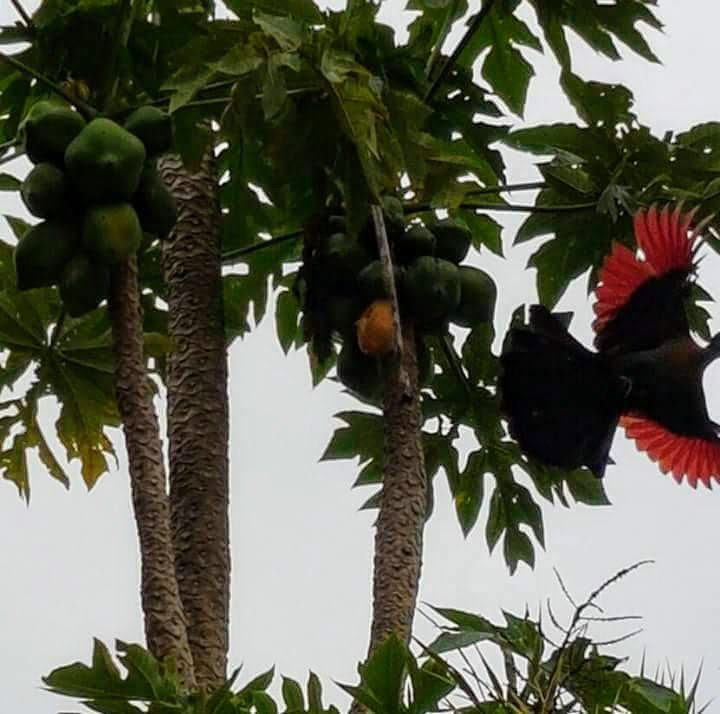 One last goodbye, hope you enjoyed taking a walk with me and meeting Mandy's Lucy and Crusoe:)
My two nephews have both also fled the nest; one is a pilot in Minnesota and the other one an Emergency Room Specialist; my brother mostly works abroad, so these two make the most faithful companions for Mandy who often is on her own; and they are spoiled to bits by their Mom!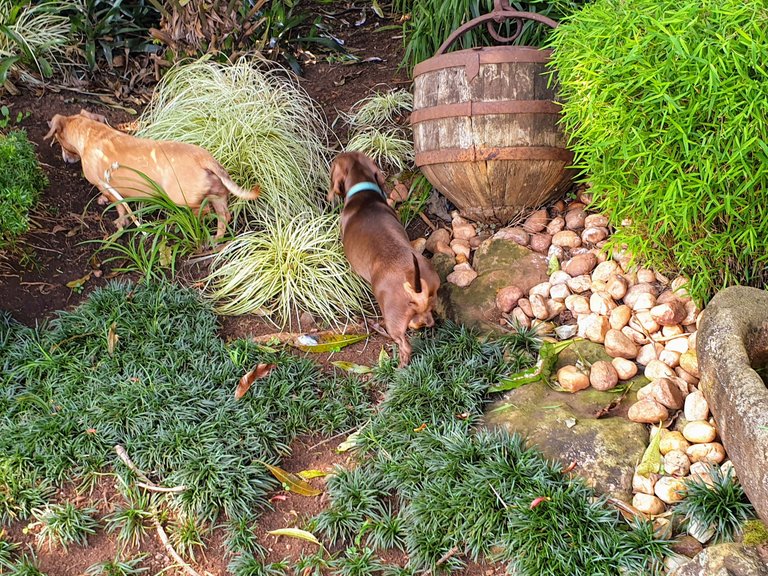 --- Banner created by @zord189



Original Content by @lizelle
Thank you for stopping by
Copyright @lizelle – All Rights Reserved


Do you know this Badge?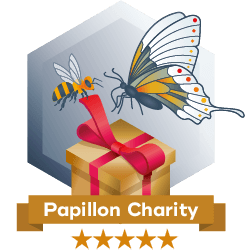 It says "Thank you for partnering with the Papillon Foundation by participating in the
Weekly Hive Charity Giveaway."
Do you want this Badge?
If you like this badge and if you want to help too, you can learn more about @combination and the badge in their blog post:
Some Exciting News! Badge release!


Why not join Hive RIGHT HERE and become part of this amazing community!


Banner created by @derangedvisions
---
---