Doornkop Wildlife & Fishing Reserve

Going nowhere slowly really is how one feels when going to Doornkop Fish & Wildlife Reserve, until you drive through the gates and see thatch roofed chalets scattered here and there with trout dams everywhere; a fly fisherman's paradise.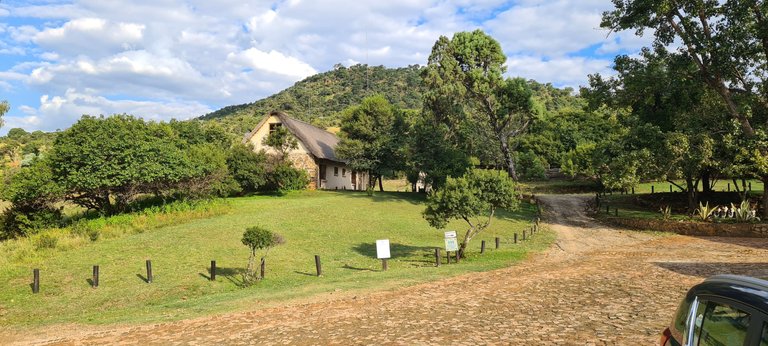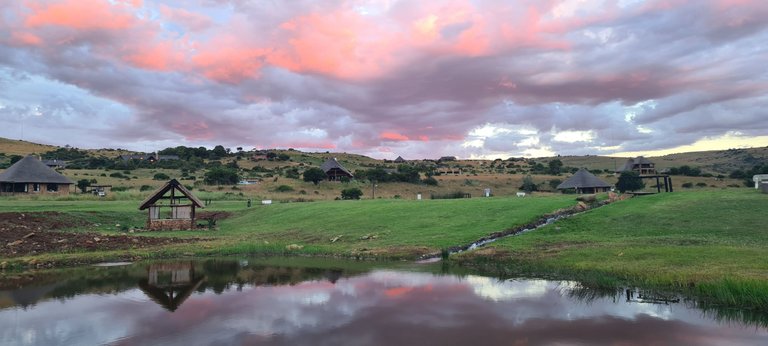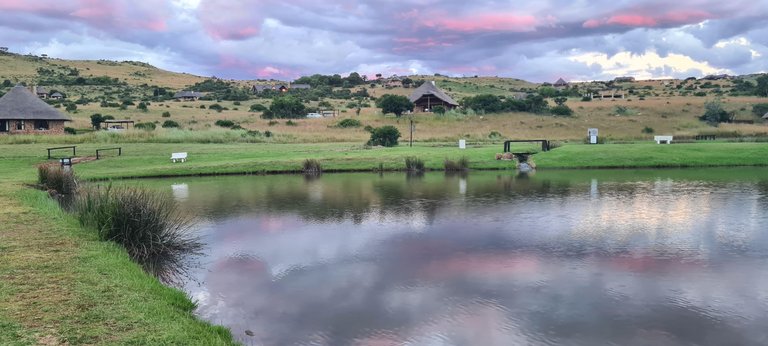 This peaceful scenic private game reserve situated in the Komati Valley in Mpumalanga, surrounded by mountains, dams, rivers and grasslands, is an easy 3 hour drive from Johannesburg where our oldest son lives.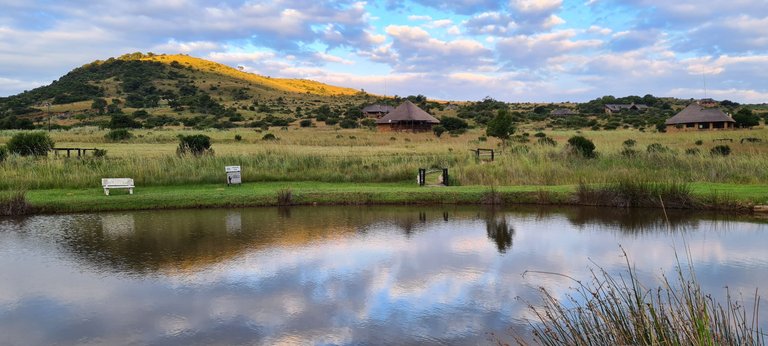 Boasting wildlife such as Hartenbos, Zebra, Waterbuck, Impala, Giraffe, Ostrich, Warthog, Hyenas, Jackal, Aardwolf, Porcupines, Baboons and Monkeys plus over 200 bird species, makes this a wildlife lover's paradise.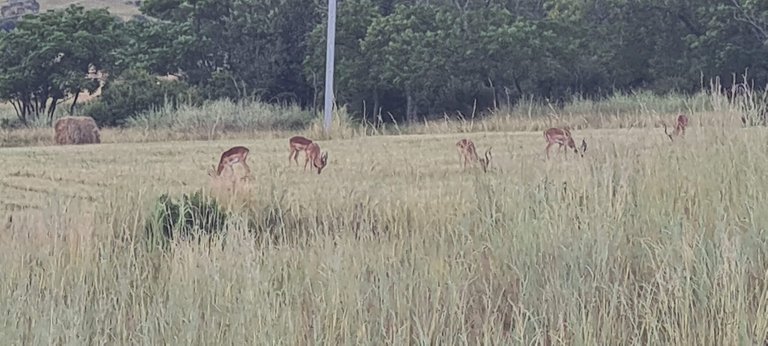 Majestic views of rolling green hills and grassland savannahs greets one and can be seen from the stylish luxury fully self-catering time-share chalets.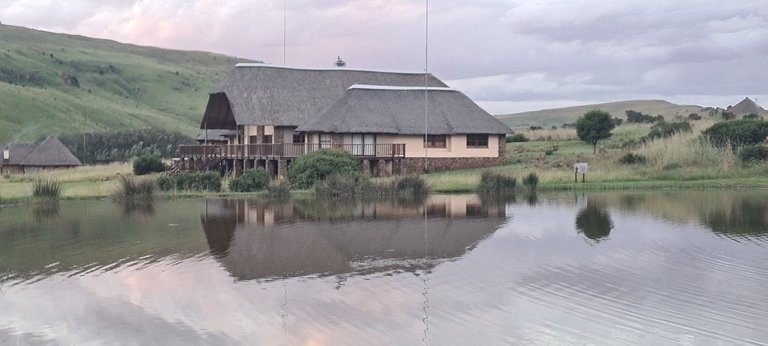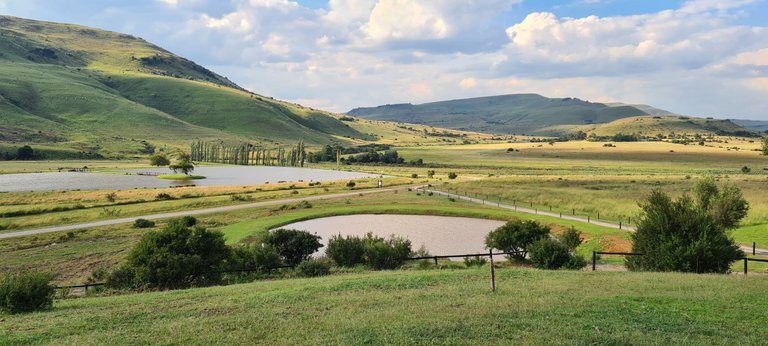 The comfy well appointed chalet perfect for a getaway.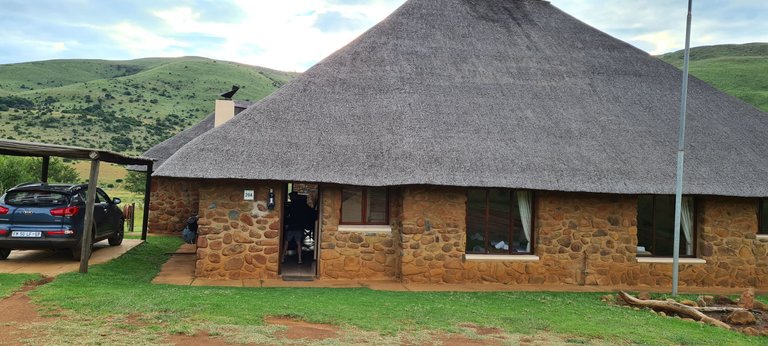 A wonderful stone fireplace in the living room added to the ambience for nattering well into the cool autumn night with sparks and crackling from the flames joining in the conversation.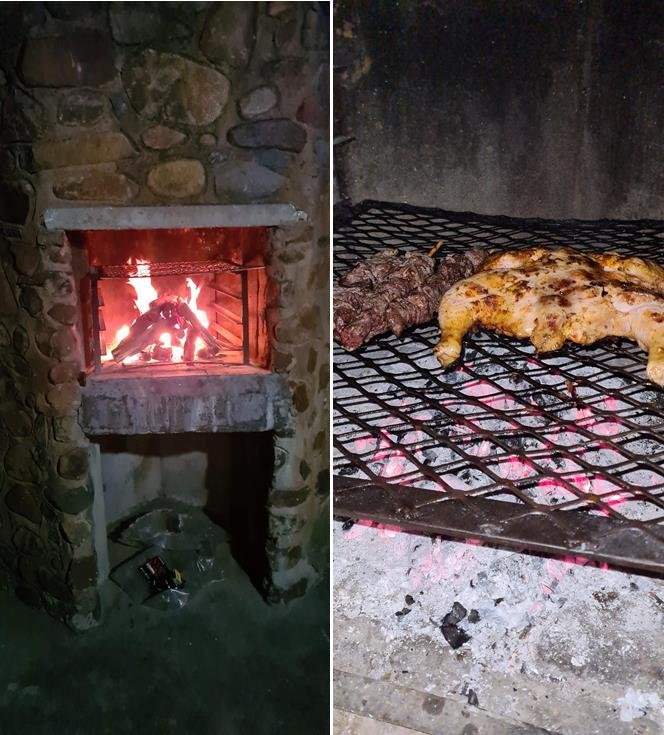 South Africans love their braais (BBQ) no matter the weather, but this time it was a perfect cool autumn evening and a spatchcock chicken and lamb kebabs were on the menu.
A 10 km stretch of the Upper Komati River and Swartwater Spruit runs through this Reserve with the elusive yellowfish offering hours of entertainment. There's plentiful trout in the eight trout dams, so you're spoilt for choice and sure to catch something for the pan.
The reserve works on a catch and release system or one can buy your catch at approx ZAR160 per kg at the time.
My son is a very patient fly fisherman and always manages to catch something for the pan when they visit here.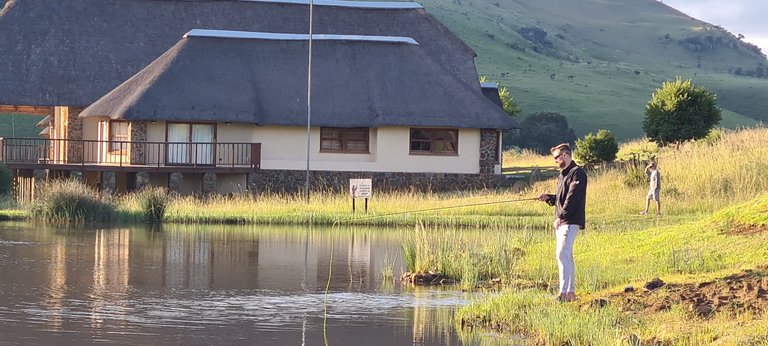 Now and then a fish is a tad underweight, and live to see another day as it gets released back into the dam.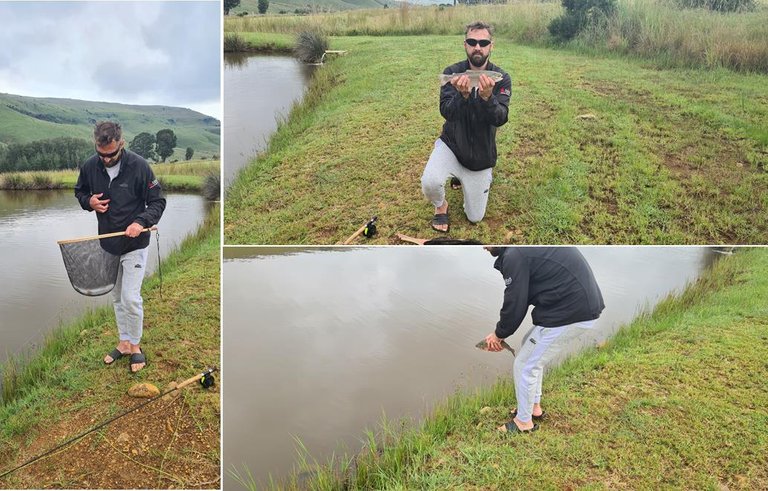 The images below were taken on a previous visit, but I'm including it here to show you that there are some big ones here plus giving you a taste of how I prepared this Rainbow Trout.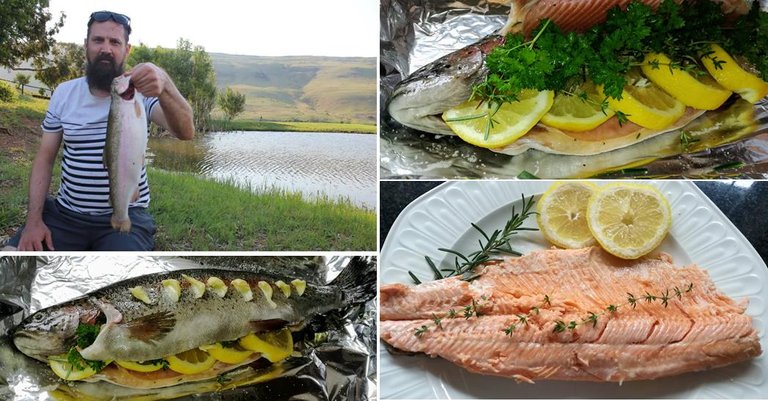 Besides fly fishing, there are many other activities on offer such as hiking to historical ruins, forests and waterfalls, game viewing, horse riding, mountain bike trails, trail running and tennis are some of the activities to enjoy.
They came across this little structure on their walkabout, but could not figure out its purpose.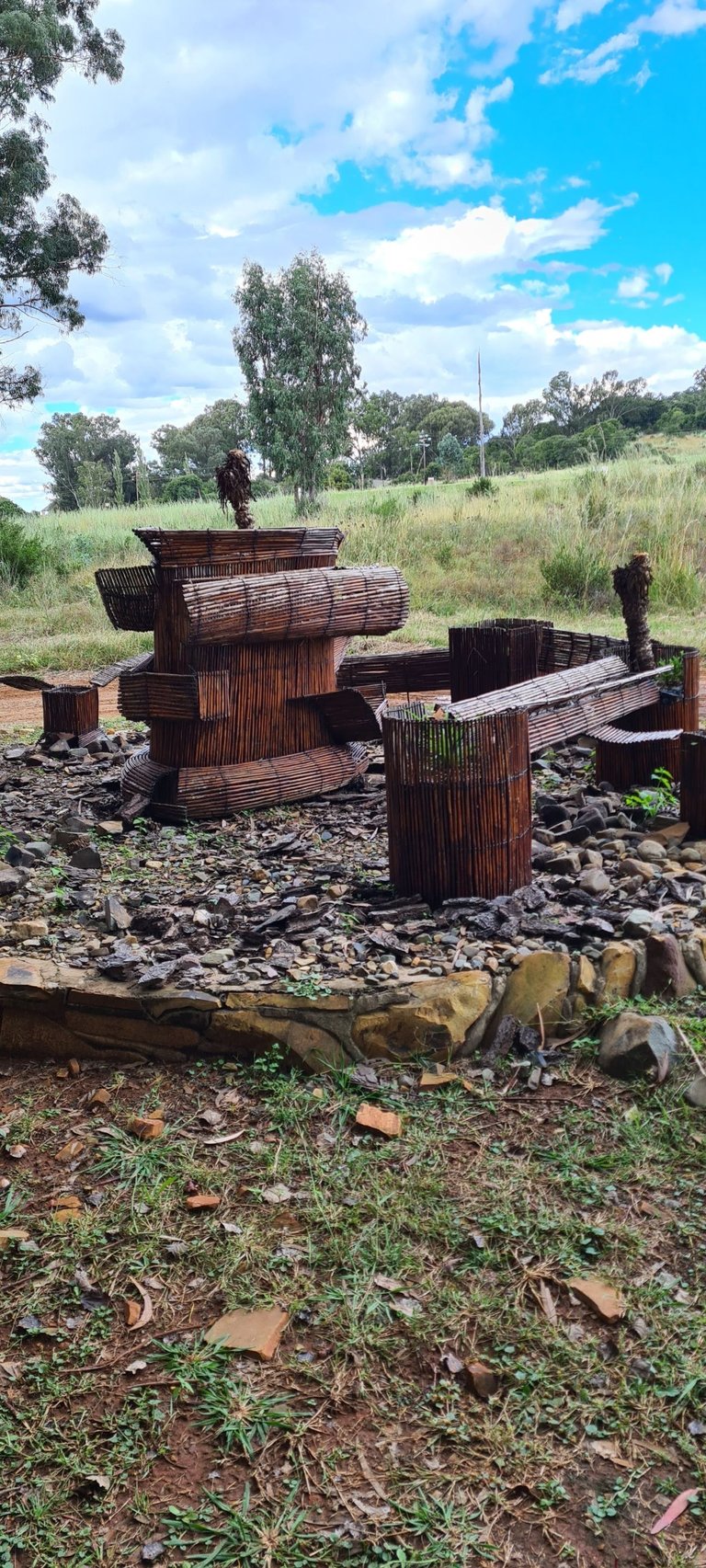 The clubhouse boasts a gym, games room as well as hot and cold swimming pools with wooden loungers for relaxing under the thatch roof with a drink which can be bought on site. The stables and tennis courts are also next to the clubhouse.
Best of all, should you really want to get away from it all, this is the place to come to with lack of cell phone reception from a major provider, making Doornkop the perfect place for a media detox.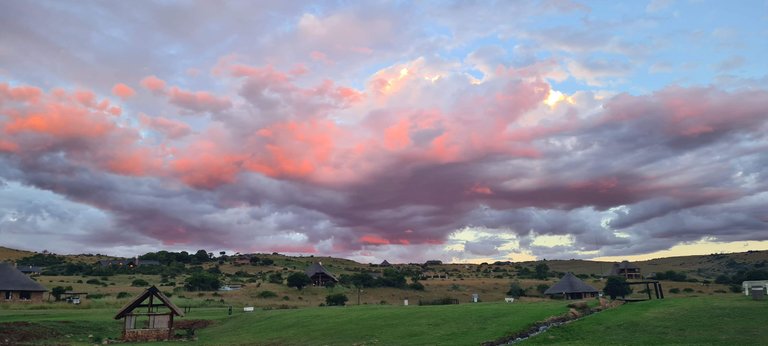 We have not been able to get away this year but are hoping to take a trip there some time later in the year as our son is keen to take us with on their next visit to this magical place.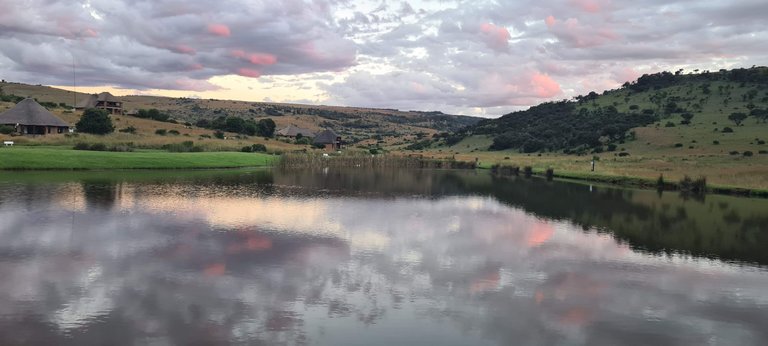 Banner created by @zord189



Original Content by @lizelle
Photos taken by Kirsten.

Thank you for stopping by
Copyright @lizelle – All Rights Reserved


Do you know this Badge?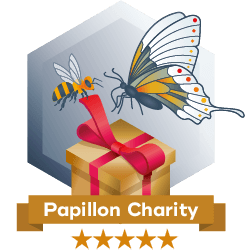 It says "Thank you for partnering with the Papillon Foundation by participating in the
Weekly Hive Charity Giveaway."
Do you want this Badge?
If you like this badge and if you want to help too, you can learn more about @combination and the badge in their blog post:
Some Exciting News! Badge release!


Why not join Hive RIGHT HERE and become part of this amazing community!


Banner created by @derangedvisions
---
---